Hundreds of Fast-Food, Airport, Uber Workers Arrested as Strikes for $15, Union Rights Sweep America
'We Won't Back Down'
NATIONWIDE
Police early Tuesday handcuffed fast-food cooks and cashiers, Uber drivers, home health aides and airport workers who blocked streets outside McDonald's restaurants from New York to Chicago, kicking off a nationwide wave of strikes and civil disobedience by working Americans in the Fight for $15 that is expected to result in additional mass arrests throughout the day.
In Detroit, dozens of fast-food and home care workers wearing shirts that read, "My Future is My Freedom" linked arms in front of a McDonald's and sat down in the street. As the workers were led to a police bus, hundreds of supporters chanted, "No Justice, No Peace." In Manhattan's Financial District, dozens of fast-food workers placed a banner reading "We Won't Back Down" on the street in front of a McDonald's on Broadway and a sat down in a circle, blocking traffic, until they were hauled away by police officers. And in Chicago, scores of workers sat in the street next to a McDonald's as supporters unfurled a giant banner from a grocery store next door that read: "We Demand $15 and Union Rights, Stop Deportations, Stop Killing Black People." Fast-food, home care and higher education workers were arrested, along with Cook County Commissioner Jesus "Chuy" Garcia.
The strikes, which began early Tuesday on the East Coast, are rolling westward throughout the morning, with McDonald's and other fast-food workers walking off their jobs in 340 cities from coast to coast, demanding $15 and union rights; baggage handlers, cabin cleaners and skycaps walking picket lines at Boston Logan International Airport and Chicago O'Hare International Airport to protest against unfair labor practices, including threats, intimidation and retaliation when they tried to join together for higher pay and union rights; Uber drivers in two-dozen cities idling their cars calling for a fair day's pay for a fair day's work; and hospital workers at the University of Pittsburgh Medical Center, who won a path to $15 earlier this year, joining in too, fighting for union rights.
Throughout the day, working Americans will wage their most disruptive protests yet to show they won't back down to newly-elected politicians and newly-empowered corporate special interests who threaten an extremist agenda to move the country to the right. Fast-food, airport, child care, home care, child care, higher education and Uber workers will make it clear that any efforts to block wage increases, gut workers' rights or healthcare, deport immigrants, or support racism or racist policies, will be met with unrelenting opposition.
"We won't back down until we win an economy that works for all Americans, not just the wealthy few at the top," said Naquasia LeGrand, a McDonald's worker from Albemarle, NC. "Working moms like me are struggling all across the country and until politicians and corporations hear our voices, our Fight for $15 is going to keep on getting bigger, bolder and ever more relentless."
The wave of strikes, civil disobedience, and protests follows an election defined by workers' frustration with a rigged economy that benefits the few at the top and comes exactly four years after 200 fast-food cooks and cashiers in New York City first walked off their jobs, sparking a movement for $15 and union rights that has compelled private-sector employers and local and state elected representatives to raise pay for 22 million Americans. A report released Tuesday by the National Employment Law Project shows the Fight for $15 has won nearly $62 billion in raises for working families since that first strike in 2012. That's 10 times larger than the total raise received by workers in all 50 states under Congress's last federal minimum wage increase, approved in 2007.
In all, tens of thousands of working people from coast to coast will protest Tuesday at McDonald's restaurants from Detroit to Denver and at 20 of the nation's busiest airports, which carry 2 million passengers a day. They will underscore to the country's biggest corporations that they must act decisively to raise pay and let President-elect Donald Trump, members of Congress, governors, state legislators and other elected leaders know that the 64 million Americans paid less than $15/hour are not backing off their demand for $15/hour and union rights. In addition to $15 and union rights, the working Americans will demand: no deportations, an end to the police killings of black people, and politicians keep their hands off Americans' health care coverage.
"To too many of us who work hard, but can't support our families, America doesn't feel fair anymore," said Oliwia Pac, who is on strike Tuesday from her job as a wheelchair attendant at O'Hare. "If we really want to make America great again, our airports are a good place to start. These jobs used to be good ones that supported a family, but now they're closer to what you'd find at McDonald's."
All over the country, working families are being supported in their protest by community, religious and elected leaders. In Chicago, U.S. Rep Jan Schakowsky walked the picket line with striking workers and Cook County Commissioner Jesus Garcia got arrested supporting strikers; while in New York City, councilmembers Brad Lander, Mark Levine and Antonio Reynoso got arrested alongside workers outside a McDonald's in Lower Manhattan. In Durham, NC the Rev. William Barber II, founder of the Forward Together Moral Movement, is expected to risk arrest with striking McDonald's workers later this afternoon, while in Kansas City, Mo. several dozen clergy members plan to get arrested alongside scores of fast-food workers.
"By rejecting the reactionary politics of divisiveness and relentlessly opposing injustice in all its forms, the workers in the Fight for $15 are lighting the way forward for our nation," said the Rev. William Barber II. "We need to come together across lines of class, race, and gender, and tell our newly elected leaders in one clear voice that we will not let you divide us, oppress us, or take us one step backward in our march towards a more perfect union. The fight for voting rights, living wages, and civil rights are all one fight."
While McDonald's workers are striking and risking arrest in the U.S., the company is also on the hot seat Tuesday for its mistreatment of workers in Europe, where the company is already under scrutiny for allegedly dodging more than EUR1.5 billion in taxes from 2009 to 2015. The European Parliament's Petition Committee held a hearing Tuesday, on three petitions filed by British, Belgian and French unions on mistreatment of McDonald's workers across the continent, including the widespread use in the United Kingdom of zero-hour contracts, in which workers are not guaranteed any hours; a bogus flexi-jobs program in Belgium that saps public coffers and undermines labor standards without created jobs; and a union-busting scheme in France. Protests are also expected by airport workers in Berlin and Amsterdam.
Poverty Pay Doesn't Fly
Tuesday's strikes by workers at Logan and O'Hare and the rush of protests at airports around the country mark an intensification of the participation in the Fight for $15 of airport workers, who have been linking arms with fast-food and other underpaid workers as the movement has grown. Skycaps, baggage handlers and cabin cleaners point to jobs at the nation's airports as a symbol of what's gone wrong for working-class Americans and their jobs. Four decades ago, every job in an airport was a good, family-sustaining one. Men and women worked directly for the major airlines, which paid a living wage, provided pensions and health care and respected Americans' right stick together in a union. That's no longer the case. Today, most Americans who work at airports are nonunion and are employed by subcontractors that pay low wages, without any benefits. Their jobs now represent the failures of a political and economic system geared towards the wealthy few and corporate profits at any cost.
Between 2002 and 2012 outsourcing of baggage porter jobs more than tripled, from 25 percent to 84 percent, while average hourly real wages across both directly-hired and outsourced workers declined by 45 percent, to $10.60/hour from more than $19/hour. Average weekly wages in the airport operations industry did not keep up with inflation, but instead fell by 14 percent from 1991 to 2011.
America's airports themselves are also a symbol of the concerted effort to erode the ability of working people to improve their jobs. President Reagan fired and permanently replaced 11,000 striking air traffic controllers in 1981, paving the way for a decades-long march by corporations and elected officials to systematically dismantle Americans' right to join together on the job. By zeroing in on airports Nov. 29, working-class families are looking to transform a symbol of their decline into a powerful show of their renewed force.
$15/hour: From 'Absurdly Ambitious to Mainstream'
The catalyst for that revival, the Fight for $15, launched Nov. 29, 2012, when 200 fast-food workers walked off their jobs at dozens of restaurants across New York City, demanding $15 and the right to form a union without retaliation. Since then it has grown into a global phenomenon that includes fast-food, home care, child care, university, airport, retail, building service and other workers across hundreds of cities and scores of countries. Working American have taken what many viewed as an outlandish proposition - $15/hour- and made it the new labor standard in New York, California, Seattle and Washington, D.C. Home care workers in Massachusetts and Oregon won $15/hour statewide minimum wages and companies including Facebook, Aetna, Amalgamated Bank, JP Morgan Chase and Nationwide Insurance have raised pay to $15/hour or higher. Union members working in nursing homes, public schools and hospitals have won $15/hour via collective bargaining.
All told, the Fight for $15 has led to wage hikes for 22 million underpaid working families, including more than 10 million who are on their way to $15/hour, by convincing everyone from voters to politicians to corporations to raise pay. The movement was credited as one of the reasons median income jumped last year by the highest percentage since the 1960s.
By joining together, speaking out and going on strike workers in the Fight for $15 have "elevated the debate around inequality in the U.S." and "entirely changed the politics of the country." Slate wrote that the Fight for $15 has completely "rewired how the public and politicians think about wages" and called it "the most successful progressive political project of the late Obama era, both practically and philosophically:" The New York Times wrote that the movement, "turned $15/hour "from laughable to viable," and declared, "$15 could become the new, de facto $7.25;"and The Washington Post said that $15/hour has "gone from almost absurdly ambitious to mainstream in the span of a few years."
This election year working-class voters made the fight for $15 and union rights a hot button political issue in the race for the White House through an effort to mobilize underpaid voters. Workers dogged candidates throughout the primary and general election debates, calling on candidates to "come get our vote" and forcing presidential hopefuls to address their demands for $15/hour. Strikes and protests at more than a dozen debates  forced candidates on both sides of the aisle to address working families' growing calls for higher pay and union rights. This summer, the Democratic Party adopted a platform that includes a $15/hour minimum wage, and recently even Republican elected leaders, including Mr. Trump (who had earlier said wages are "too high"), began to break from their opposition to raising pay.
Voices from the Fight for $15
Dayla Mikell, a child care worker in St. Petersburg, Fla., said: "Risking arrest today isn't the easy path, but it's the right one. My job is all about caring for the next generation, but I'm not paid enough to be able to afford my own apartment or car. Families like mine and millions others across the country demand $15, union rights and a fair economy that lifts up all of us, no matter our race, our ethnicity or our gender. And when it's your future on the line, you do whatever it takes to make sure you are heard far and wide."
Sepia Coleman, a home care worker from Memphis, Tenn., said: "For me, the choice is clear. I am risking arrest because our cause is about more than economic justice--it is about basic survival. Like millions of Americans, I am barely surviving on $8.25/hour. Civil disobedience is a bold and risky next step, but our voices must be heard: we demand $15, a union and justice for all Americans."
Scott Barish, a teaching assistant and researcher at Duke University in Durham, N.C., said: "I do research and teach classes that bring my university critical funding, but the administration doesn't respect me as a worker and my pay hasn't kept up with the rising cost of living. I could barely afford to repair my car this year. And I'm risking arrest today because millions of American workers are struggling to support their families and the need for change is more urgent than ever. We are ramping up our calls for $15 and union rights, healthcare for all workers, and an end to racist policies that divide us further."
Justin Berisie, an Uber driver in Denver, Co., said: "Everyone says the gig economy is the future of work, but if we want to make that future a bright one, we need to join together like fast-food workers have in the Fight for $15 and demand an economy that works for all. Across the country, drivers are uniting and speaking out to fight for wages and working conditions that will allow us to support our families and help get America's economy moving."
U.S. Rep. Keith Ellison (D-Minnesota) said: "When I talk to people on the picket lines in Minnesota and around the country, they tell me they're striking for a better life for their kids and their families. They tell me they're working harder than ever, and still struggling to make ends meet. In the wealthiest country in the world, nobody working full time should be living in poverty. But the power of protest and working people's voices can make all the difference. Politics might be the art of the possible, but organizing is the art of making more possible. Workers around the country are fighting to make better working conditions and better wages possible. And I stand with them."
Fast food workers are coming together all over the country to fight for $15 an hour and the right to form a union without retaliation. We work for corporations that are making tremendous profits, but do not pay employees enough to support our families and to cover basic needs like food, health care, rent and transportation.
LATEST NEWS
"This dismisses decades of work by IPCC scientists," said one expert. "Disgraceful."
Scientists and climate advocates responded with outrage Sunday to COP28 president Sultan Ahmed Al Jaber's claim that there is "no science" behind the push to rapidly phase out planet-warming fossil fuels, which Al Jaber's company is extracting on a large scale.
Al Jaber's comments, first reported by The Guardian on Sunday, came in response to questioning from Elders chair Mary Robinson during a virtual She Changes Climate discussion. Robinson told Al Jaber that "we're in an absolute crisis that is hurting women and children more than anyone... and it's because we have not yet committed to phasing out fossil fuel."
The COP28 chief and Abu Dhabi National Oil Company (ADNOC) CEO responded dismissively, saying he "accepted to come to this meeting to have a sober and mature conversation" and not to take part in "any discussion that is alarmist," according to audio published by The Guardian.

"There is no science out there, or no scenario out there, that says that the phaseout of fossil fuel is what's going to achieve 1.5°C," Al Jaber added. "Please help me, show me the roadmap for a phaseout of fossil fuel that will allow for sustainable socioeconomic development, unless you want to take the world back into caves."
That position runs directly counter to the outspoken stance of United Nations Secretary-General António Guterres, who said Friday that "the 1.5°C limit is only possible if we ultimately stop burning all fossil fuels," arguing that "the science is clear."
Joelle Gergis, a climate scientist and lead author of the Intergovernmental Panel on Climate Change's (IPCC) Working Group I contribution to the Sixth Assessment Report, called Al Jaber's remarks "disgraceful."
"This dismisses decades of work by IPCC scientists," Gergis wrote on social media.
"'Sending us back to caves' is the oldest of fossil fuel industry tropes: it's verging on climate denial."
The IPCC, which has synthesized the research of hundreds of climate scientists from around the world, has argued that any successful effort to prevent catastrophic planetary warming "will involve a substantial reduction in fossil fuel use."
"More than a century of burning fossil fuels as well as unequal and unsustainable energy and land use has led to global warming of 1.1°C above pre-industrial levels," the IPCC said following the release of its latest report earlier this year. "This has resulted in more frequent and more intense extreme weather events that have caused increasingly dangerous impacts on nature and people in every region of the world."
Other recent research has warned that rich nations must completely halt oil and gas production by 2034 to give the world a 50% chance of limiting warming to the 1.5°C target set by the Paris Agreement.
Bill Hare, chief executive of Climate Analytics, toldThe Guardian that Al Jaber's response to Robinson was "extraordinary, revealing, worrying, and belligerent."
"'Sending us back to caves' is the oldest of fossil fuel industry tropes: it's verging on climate denial," said Hare.
Al Jaber's comments, which he says have been misrepresented, were seen as further confirmation that he is ill-suited to lead a climate summit given his simultaneous role as the top executive at one of the world's largest fossil fuel firms. A Global Witness analysis released over the weekend found that ADNOC is on track to become the second-largest oil producer in the world by 2050, and Al Jaber has been accused of using his position as COP28 president to pursue oil and gas deals.
"ADNOC plans to produce more oil than any of the 'Big 5' supermajors—ExxonMobil, Chevron, Shell, BP, TotalEnergies," Global Witness found. "In fact, its projected output will positively dwarf that of the European majors; ADNOC's 35.9 billion barrels is 49% higher alone than the projected 24.1 billion barrels production of Shell, BP, and Total combined."
On Monday, the COP28 presidency published a summary of the World Climate Action Summit, a gathering of more than 150 heads of state aimed at facilitating coordinated climate action.
The document states that world leaders "highlighted the opportunities to cut emissions in every sector and to accelerate the technology innovation to address scope 3 emissions, as well as the phase-down of fossil fuels in support of a transition consistent with limiting warming to 1.5°C."
Romain Ioualalen, global policy lead at Oil Change International, said in a statement that "strong support from the leaders' summit to address fossil fuels in the final COP28 agreement is a promising sign, but it is just good enough."
"Leaders must raise their ambition above a phase-down, and agree to immediately stop new fossil fuel expansion, and build a fast, full, fair, and funded phaseout of all fossil fuels while rapidly phasing in renewables," said Ioualalen. "Contrary to the COP28 president's assertions, the science is abundantly clear that warming will continue as long as we keep producing and burning fossil fuels."

News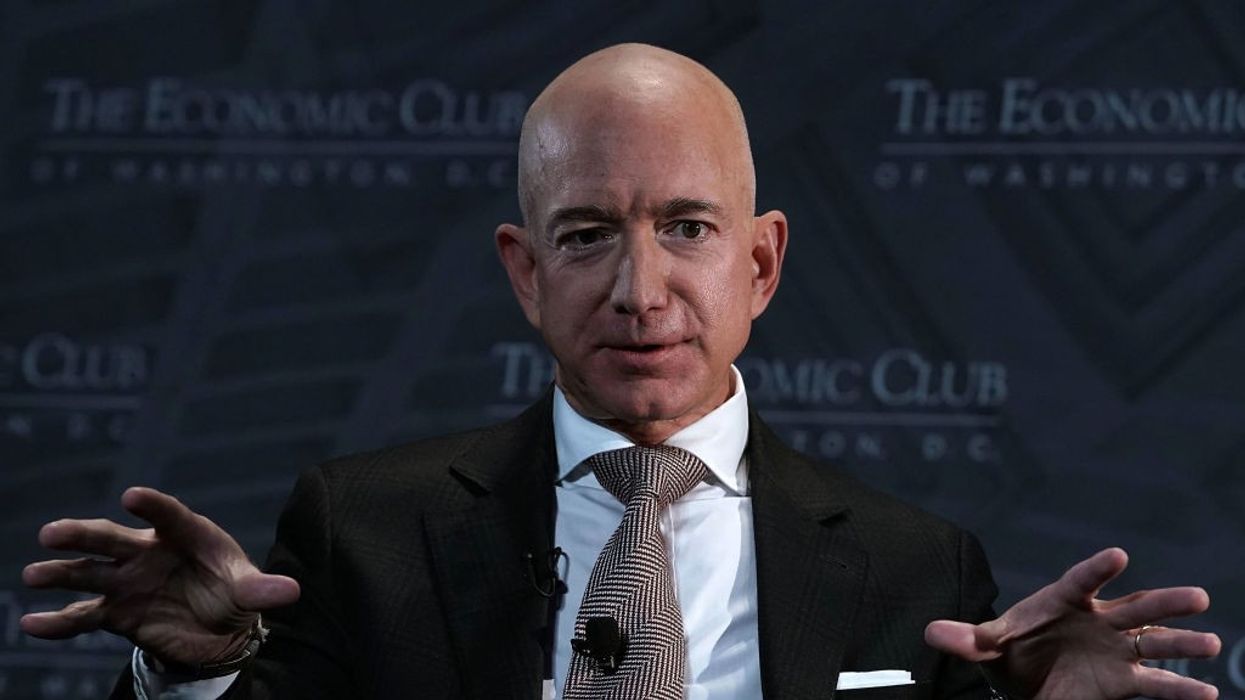 "The last thing Americans need is a Bezos-backed investment company further consolidating single-family homes and putting homeownership out of reach for more and more people. Housing should be a right, not a speculative commodity."
Among the three richest people on the planet, mega-billionaire Amazon founder Jeff Bezos received some praise last week for announcing approximately $120 million in donations to a number of groups fighting the scourge of homelessness in the United States.
"It's a privilege to support these orgs in their inspiring mission to help families regain stability," Bezos wrote in an Instagram post touting the multiple grants to 38 individual nonprofits in 22 states.
But hold your applause.
Just days after word of the charitable gifts—a minuscule drop in the bucket compared to the estimated $170 billion fortune he possesses—a Bezos-controlled company called Arrived dropped $500 million of new investment in single-family homes with a venture fund that critics warn will make the nation's housing crisis even worse.
According toGV Wire:
Since its inception in 2021, Arrived has attracted nearly a half a million customers, operating as a fractional real estate investing platform. The company's model is similar to buying a slice of the American pie, allowing investors to purchase shares of single-family rentals for as little as $100.
The fund itself—called the Single Family Residential Fund—allows investors to purchase portions of various homes and later trade, hold, or redeem their "chips" on a rolling basis like players at a casino.
While many Americans, especially younger people and working-class families, have been steadily priced out of homeownership by soaring costs and, more recently, higher interest rates, Arrived prays on that reality by selling the idea that owning a piece of a home as an investment is an "American Dream" akin to owning the home one lives in.
Speculative investors, however, are likely not among those struggling to make ends meet but this kind of investment behavior, warn critics, is certain to drive home prices even higher.

Rep. Ro Khanna (D-Calif.)—who has co-authored legislation to halt the rent-gouging and inflated home prices that result from such investment schemes—ripped Bezos' latest move.

"The last thing Americans need is a Bezos-backed investment company further consolidating single-family homes and putting homeownership out of reach for more and more people," Khanna tweeted on Friday. "Housing should be a right, not a speculative commodity."
As the author writing under the name Homeless Romantic on Mediumnoted last week, a primary concern "raised by critics is the monopolization of housing" that Arrived is pushing.
"By acquiring a large number of single-family homes," reads the post, "Bezos and other investors could consolidate control over the housing supply, giving them significant influence over rental prices and market dynamics. This could make it more difficult for ordinary individuals and families to find affordable housing, particularly in high-demand areas."
It wasn't lost on many that there was a disconnect between his relatively paltry gift to organizations valiantly standing on the frontlines to fight homelessness with the one hand, while simultaneously using his massive fortune to exacerbate the crisis with a for-profit venture on the other.
What else could he do? People had ideas.
According to the Department of Housing and Urban Development, it would cost a mere $20 billion annually to end homelessness in the United States.
In response to the latest revelations about his charitable giving, a few people said a person worth nearly $200 billion like Bezos "could literally end homelessness by himself if he wanted to."

News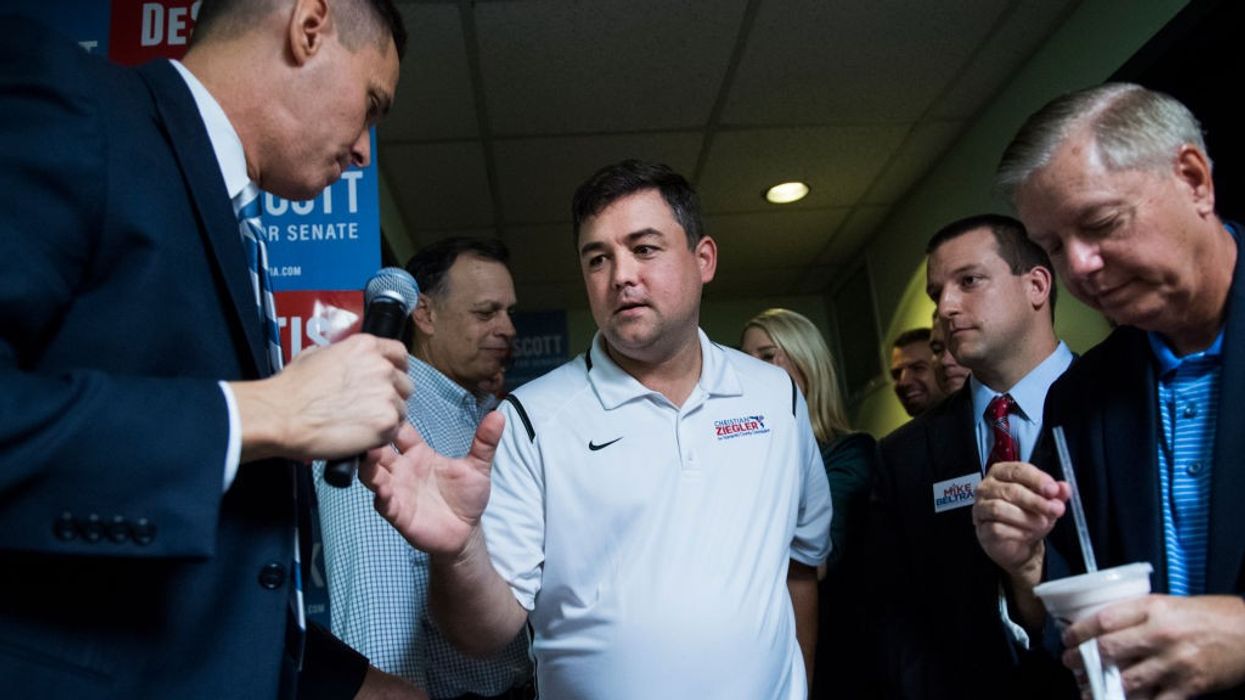 Amid charges of gross hypocrisy and many celebrating the possible downfall of a powerful far-right couple following revelations about their private sexual activities, the severity of the accusations led one Florida Democrat to remark, "None of this is funny."
New details made public over the weekend via police documents of a rape investigation have added fresh fuel to the political firestorm surrounding the chair of the Republican Party of Florida, Christian Ziegler, and his wife Bridget Ziegler, co-founder of the far-right Moms for Liberty, which engages in book-banning efforts, attacks on public education, religious moralizing, and the promotion of fascist ideology in chapters nationwide.
After an unnamed longtime associate accused Christian Ziegler of rape last week, the emergence of a police search warrant and associated affidavit showed that the alleged victim said she had engaged in consensual three-way sexual relations with the Zieglers in the past but on the day of the assault, on Oct 3., tried to call off the encounter because Bridget would not be there to participate.

"Sorry I was mostly in for her," the victim said, according to text messages quoted in the affadavit.
The high-profile political work of the Zieglers—who rail against the sexual identities and lifestyle choices of others and who have been openly hostile to the LGBTQ+ community, often suggesting queer people are somehow deviant or morally problematic—has resulted in my cries of hypocrisy and calls for Christian's resignation.
"Allegations of rape and sexual battery are severe and should be taken seriously," said Florida Democratic Party chair Nikki Fried in a statement on Thursday. "I applaud the accuser's bravery in coming forward against a political figure as powerful as Christian Ziegler, and I trust that the Sarasota Police Department will conduct a thorough investigation into these allegations of criminal behavior."
Given the severity of the allegations against him, Fried called on Christian Zeigler to resign from his post, a call echoed later by Gov. Ron DeSantis, a Republican currently running for the GOP presidential nomination.
Fried said that "what happens behind closed doors is Christian and Bridget's personal business," but added that she did "find it interesting that two people who are so obsessed with banning books about gay penguins might be engaged in a non-traditional sexual relationship," referring to a children's book about gay parents which has been targeted by Republicans for banning in schools in Florida and elsewhere.
"As leaders in the Florida GOP and Moms for Liberty," said Fried, "the Zieglers have made a habit out of attacking anything they perceive as going against 'family values'—be it reproductive rights or the existence of LGBTQ+ Floridians. The level of hypocrisy in this situation is stunning."
According to the Washington Post:
News reports emerged several days ago about the allegations of rape, but more records were obtained via a Freedom of Information Act request late Friday and reported by several Florida news outlets. They include details of recorded conversations via Instagram and phone calls between the woman and Christian Ziegler that detectives obtained. Police have filed search warrants for Ziegler's phone, email and other devices. The Sarasota Police Department did not reply to several requests for comment.

Christian Ziegler's attorney, Derek Byrd, said in a statement Thursday that his client "will be completely exonerated." Byrd and Ziegler did not respond to requests for comment Saturday about the details in the affidavit.
"It's certainly deeply, deeply troubling," state Rep. Spencer Roach, a member of the Florida GOP executive committee, told the Post in an interview. "I would describe this as just an absolute body blow to the Republican Party. Everyone that I've talked to about this is in an absolute tailspin."

Paulina Testerman, a co-founder of the nonprofit Support Our Schools, which defends public education, spoke to The Daily Beast about the allegations of rape in the context the Ziegler's political activities in Florida.
"Many of us have stood at the podium of countless school board meetings and listened to Mrs. Ziegler drag the LGBT+ community, so it's natural to want to celebrate when bullies get what's coming," Testerman said. "But we must remind ourselves that there are many victims in this story. An alleged rape victim is the obvious victim, but our LGBT children and all marginalized children have all been the victim of the Zieglers and their hate machine. We are hopeful that their reign is over, and our community can start healing."
Bridget Ziegler—who reportedly confirmed to detectives she and her husband did have a consensual sexual relationship in the past—is not named in the affadavit, but Moms for Liberty defended her in a post on X following the initial revelations last week.
"#StrongWomen scare those that seek to destroy our country," the group stated. "We stand with Bridget Ziegler and every other badass woman fighting for kids and America."
But critics like Anne-Marie Principe and others pushed back on that.
"The hypocrisy is real," Principe tweeted. "First, they engaged in the sexual freedoms they want to deny others. Second, the alleged sexual assault of their threesome partner is not only denigrating women, it's a crime. So, I guess you are only about YOUR liberties. #WrongWomen not strong ones."
News