Farmers Warn of Threats to Farm Economies Posed by Dow's New Genetically Engineered Corn and Soybean Varieties
Today over 387,000 farmers, farmworkers, health professionals, and concerned individuals from across the country joined together in urging the U.S. Department of Agriculture (USDA) to reject Dow AgroSciences' application seeking approval of controversial genetically engineered (GE) corn and soybean varieties that are resistant to the hazardous herbicide 2,4-D.
WASHINGTON
Today over 387,000 farmers, farmworkers, health professionals, and concerned individuals from across the country joined together in urging the U.S. Department of Agriculture (USDA) to reject Dow AgroSciences' application seeking approval of controversial genetically engineered (GE) corn and soybean varieties that are resistant to the hazardous herbicide 2,4-D.
In addition, over 800 farmers from across the country petitioned Agriculture Secretary Vilsack to reject the pesticide-promoting seeds, warning that their introduction would directly harm their crops, farm businesses, livelihoods and health. The comments were submitted Tuesday, March 11, the last day of USDA's public comment period on its draft Environmental Impact Statement (EIS), a report that was supposed to assess possible harms associated with release of the new seed varieties. Thousands of additional comments critical of the GE seeds are expected to be submitted by the midnight deadline.
As USDA itself concedes, approval of 2,4-D-resistant corn and soybeans would lead to an unprecedented 200% to nearly 600% increase in agricultural use of 2,4-D by 2020, from 26 million to as much as 176 million lbs. per year. Independent scientists have projected far greater increases in corn alone. Even at current use levels, 2,4-D drift is responsible for more episodes of crop injury than any other herbicide.
"Farmers are on the front lines of this potential chemical disaster," said Lisa Griffith of the National Family Farm Coalition. "Losing crops means they lose wages, seeds for future plantings and markets, which also stresses their communities."
Karri Stroh, Executive Director of the Northern Plains Sustainable Agriculture Society explains, "Our farmer members raise a variety of certified crops, including organic soybeans, fruit and vegetables, that are highly sensitive to 2,4-D. If Dow's new 2,4-D seeds are approved and planted, and 2,4-D use surges across the country, those crops and the markets that depend on them will suffer tremendous losses. Those of us who live in farm country know that drift happens."
Texas-based Farm and Ranch Freedom Alliance leader, Judith McGeary, added, "With its rich diversity of farms, Texas agriculture is particularly at risk. Our farmers have orchards, vineyards, and produce farms in close proximity to row crop operations. The high volatility of 2,4-D, especially of the older, still widely available formulations, means that all of these farmers are at risk."
Critics point out that the main beneficiaries of the pesticide-promoting seeds are the pesticide manufacturers. "The new GE herbicide-resistant seeds are part of a technology package explicitly designed to facilitate increased, indiscriminate herbicide use and pump up chemical sales," explained Marcia Ishii-Eiteman, senior scientist at Pesticide Action Network. "These GE seeds are the growth engine of the pesticide industry's marketing strategy. That's why Dow itself describes weed resistance to herbicides as a 'great opportunity for chemical companies.'"
"Dow Chemical's 2,4-D resistant crops are bad for the farmer, the environment and the consumer. If approved, these pesticide-promoting crops will lead to millions of more pounds of this toxic pesticide contaminating our farms, our water, our air and our food. They will not solve our superweed problem, only spur the evolution of yet more herbicide-resistant weeds," said Andrew Kimbrell, executive director for Center for Food Safety.
The health of rural communities, especially children, is also at stake. 70 medical and public health professionals submitted a letter to USDA in 2012 warning of the severe health harms to rural communities that would likely accompany the expected massive increase in 2,4-D use.
"Many studies show that 2,4 D exposure is associated with various forms of cancer, Parkinson's disease, hormone disruption and birth defects. Children are especially susceptible," said Wenonah Hauter, executive director of Food & Water Watch. "USDA must take these significant risks seriously and reject approval of this crop."
"Secretary Vilsack has repeatedly stated his commitment to family farmers, rural communities and the revitalization of our local food systems. Rejecting Dow's 2,4-D seeds is the most important step he can take today to support our farmers and accomplish this aim," said Margot McMillen, Missouri farmer, member of the Executive Council to the National Family Farm Coalition and a victim of 2,4-D drift.
Groups submitting public comments to USDA include the Center for Food Safety, Farm and Ranch Freedom Alliance, Food & Water Watch, National Family Farm Coalition, National Organic Coalition, Organic Consumer Alliance, Organic Seed Alliance and Pesticide Action Network.
PANNA (Pesticide Action Network North America) works to replace pesticide use with ecologically sound and socially just alternatives. As one of five autonomous PAN Regional Centers worldwide, we link local and international consumer, labor, health, environment and agriculture groups into an international citizens' action network. This network challenges the global proliferation of pesticides, defends basic rights to health and environmental quality, and works to ensure the transition to a just and viable society.
LATEST NEWS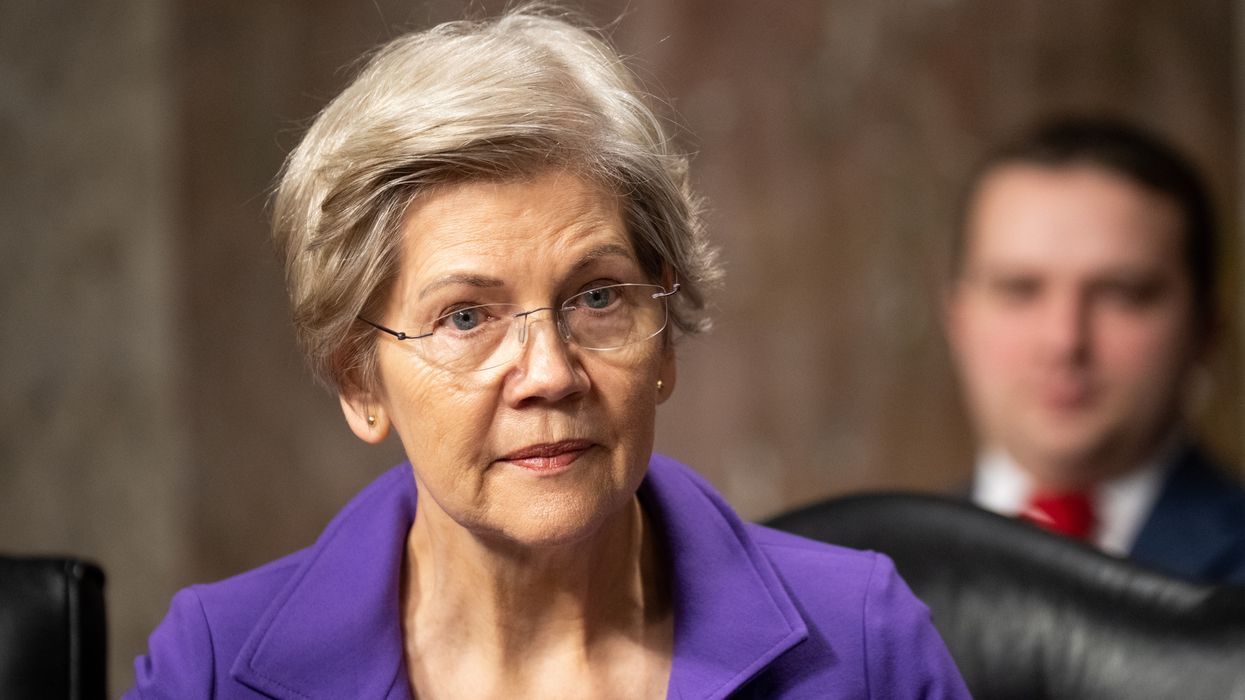 Sen. Elizabeth Warren said a 2018 law backed by Republicans and dozens of Democrats allowed banks to "load up on risk to boost their profits," endangering "our entire economy."
Sen. Elizabeth Warren and Rep. Katie Porter unveiled legislation Tuesday to repeal the section of a Trump-era law that weakened regulations for banks with between $50 billion to $250 billion in assets, a move that experts and lawmakers have blamed for the collapse of Silicon Valley Bank and the resulting turmoil.
"In 2018, I rang the alarm bell about what would happen if Congress rolled back critical Dodd-Frank protections: banks would load up on risk to boost their profits and collapse, threatening our entire economy—and that is precisely what happened," Warren (D-Mass.) said in a statement. "President Biden called on Congress to strengthen the rules for banks, and I'm proposing legislation to do just that by repealing the core of Trump's bank law."
That law, authored by Sen. Mike Crapo (R-Idaho) and backed by dozens of Democrats, raised the asset threshold for more stringent regulations to $250 billion or higher, exempting firms such as Silicon Valley Bank (SVB)—a major venture capital lender that controlled around $212 billion—from enhanced liquidity requirements and more frequent federal stress tests imposed on banks considered "systemically important."
SVB's leadership specifically lobbied for the higher threshold, insisting the tougher regulations were unnecessary even as experts and lawmakers raised concerns that gutting them would increase the risk of bank failures and cascading effects on the financial system.

"Americans deserve to know their money is safe when they deposit it in the bank," Porter (D-Calif.) said Tuesday. "In 2018, politicians rolled back critical regulations protecting Americans' deposits—ignoring warnings from financial experts in favor of Wall Street special interests. I'm calling on Congress to restore commonsense guardrails that keep corporate greed in check and restore confidence in our financial system."
Titled the Secure Viable Banking (SVB) Act, Warren and Porter's legislation would place more stringent regulations on institutions like Silicon Valley Bank by reviving safeguards for firms with between $50 billion and $250 billion in assets.
Facing backlash from Warren and others for glaring oversight failures, the Federal Reserve is considering stronger regulations for banks with between $100 billion and $250 billion in assets, Reutersreported late Tuesday.
Warren and Porter introduced their bill with the support of 31 Democrats in the House and 17 members of the Senate Democratic caucus, including Sens. Bernie Sanders(I-Vt.) and Ed Markey(D-Mass.).
"Taxpayers should not have to pay for the mistakes and mismanagement of big bank executives," Markey said in a statement. "The American people should have confidence in their financial institutions, and that starts with undoing Trump-era deregulation so that we can ensure a collapse like we saw last week never happens again."
Notably absent from the list of co-sponsors were the Democrats who helped Republicans usher the bill through Congress in 2018, often misleadingly arguing that the measure was chiefly about providing relief for "community banks."
In the Senate, 16 Democrats and Sen. Angus King (I-Maine) supported the bill, giving Republicans the votes they needed to overcome the chamber's legislative filibuster.
One of the Democratic supporters, Mark Warner of Virginia, defended the 2018 law over the weekend, tellingABC News that he believes it "put in place an appropriate level of regulation on mid-sized banks" and that "these mid-sized banks needed some regulatory relief."
The Leverreported last week that SVB chief Greg Becker held a fundraiser for Warner in 2016.
"The bank's political action committee also donated a total of $10,000 to Warner's campaigns in the 2016 and 2018 election cycles," the outlet noted.
Sen. Jon Tester (D-Mont.), another major backer of the 2018 law, held a fundraiser in Silicon Valley earlier this week, just days after SVB collapsed.

News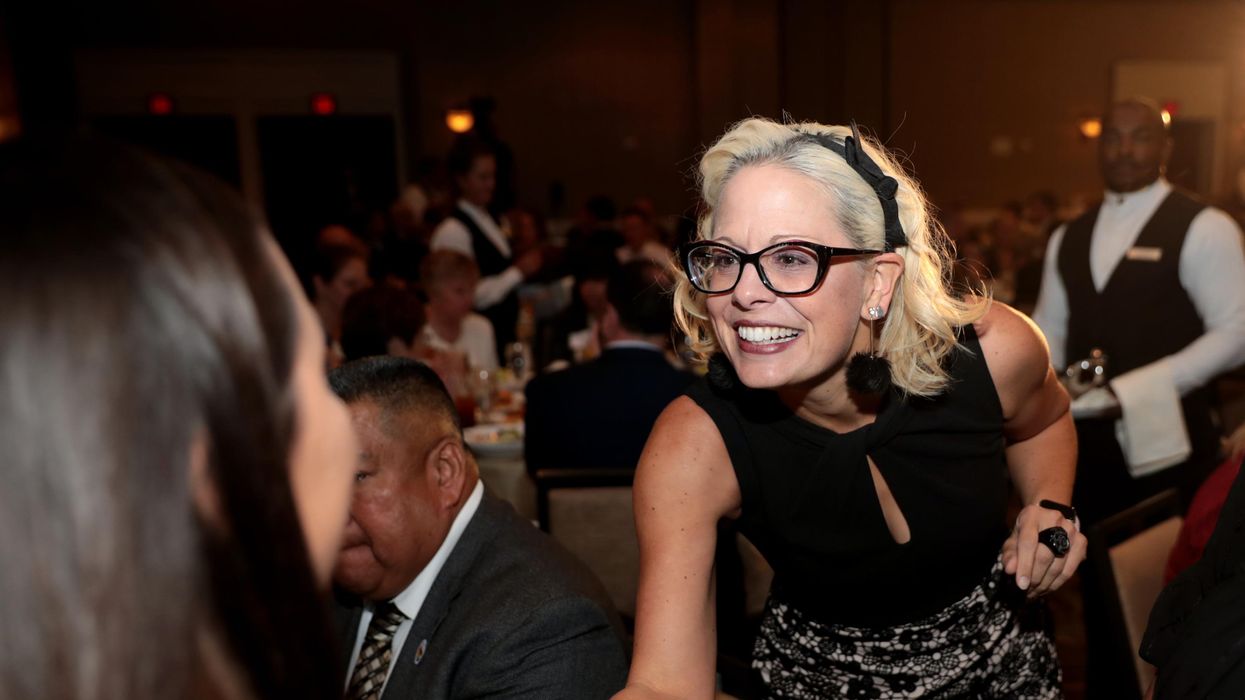 "When bank lobbyists asked me to weaken bank regulations, I said no. When they asked Sen. Sinema, she asked how much—and voted yes," said the Democratic Arizona congressman, who is running for Sinema's Senate seat.
Democratic Arizona Congressman Ruben Gallego on Tuesday accused Sen. Kyrsten Sinema—who he hopes to oust from the U.S. Senate next year—of playing a major role in the Silicon Valley Bank collapse by taking campaign contributions from lobbyists that represented the bank and then voting to deregulate it.
Politicoreports that Sinema (I-Ariz.) was one of numerous members of Congress to take campaign donations from Franklin Square Group, which once counted Silicon Valley Bank (SVB) among its clients. In 2018, Sinema—then a Democrat serving in the U.S. House of Representatives—received more than $8,000 from the lobbyists before she voted for Sen. Mike Crapo's (R-Idaho) Economic Growth, Regulatory Relief, and Consumer Protection Act.
"Before voting to loosen bank safeguards, Sinema received over $100,000 from big banks. And among those who bought Sinema's vote were three Silicon Valley Bank lobbyists that maxed out," Ruben said in a campaign email. "Simply put, she voted to give the banks free rein. And I did not."
"The SVB collapse is a direct result of Kyrsten Sinema's choice to side with big banks over everyday Arizonans."
Dubbed the Bank Lobbyist Act by critics, the law rolled back the Dodd-Frank Act—which was passed in the wake of the 2007-08 global financial meltdown—and exempted banks with between $50 billion and $250 billion in assets from rigorous stress-testing and capital requirements. Both SVB and Signature Bank, which are both now under federal government control, qualified for the "medium-sized bank" exemption.
Sinema argued at the time that "these important reforms will help protect the financial security of Arizonans young and old as they plan for homeownership, a college education, or a stable retirement."
Gallego asked Monday: "What's the difference between Sen. Sinema and me? When bank lobbyists asked me to weaken bank regulations, I said no. When they asked Sen. Sinema, she asked how much—and voted yes. Now we are all going to pay for her mistake."
On Twitter Tuesday, Gallego wrote that "the SVB collapse is a direct result of Kyrsten Sinema's choice to side with big banks over everyday Arizonans."
"FEC records and public lobbying reports show that three SVB lobbyists maxed out donations to Sinema ahead of 2018 Dodd-Frank rollback which led to the collapse," Gallego continued, referring to the Federal Election Commission. "Sinema is in the pocket of Wall Street and her vote put hardworking Arizonans, their families, and their small business, at risk of another 2008-like meltdown."
"Arizonans deserve a leader in the Senate who will fight for them, not Wall Street," he added. "Sinema is not that person and Arizonans know it."
Sinema was far from alone in taking campaign cash from SVB's lobbyists and political action committee.
As Politico's Hailey Fuchs, Jessica Piper, and Holly Otterbein noted:
Between 2017 and 2022, Silicon Valley Bank's PAC gave more than $50,000 to the campaigns of nearly two dozen senators and representatives, according to filings with the Federal Election Commission. The donations largely went to members—Republicans and Democrats—who served on relevant committees including the House Financial Services Committee or Senate Finance Committee. Sen. Mark Warner (D-Va.) and Rep. Patrick McHenry (R-N.C.) received the most from the PAC, each bringing in $7,500 over the six-year period.
SVB CEO Greg Becker "also made maximum individual donations to the campaigns of Warner and Senate Majority Leader Chuck Schumer (D-N.Y.) during the 2022 cycle," the reporters added, citing FEC records.
Sinema—who has been accused of "cartoonish-level corruption" for coziness with corporations and lobbyists—was excoriated in a Tuesday Daily Beast article by Michael Daly, who called the senator "a wolf for Wall Street."
Daly took aim at Sinema's Sunday statement asserting that "the federal government must now ensure those responsible [for the SVB collapse] are held accountable, while maintaining stability for all Americans who rely on our banking system."
"Sinema need only step in front of a mirror to find a prime suspect," wrote Daly. "Whether she's calling herself a Democrat or an independent, her voting record is the same. And it marks her a shill for the banking industry."

News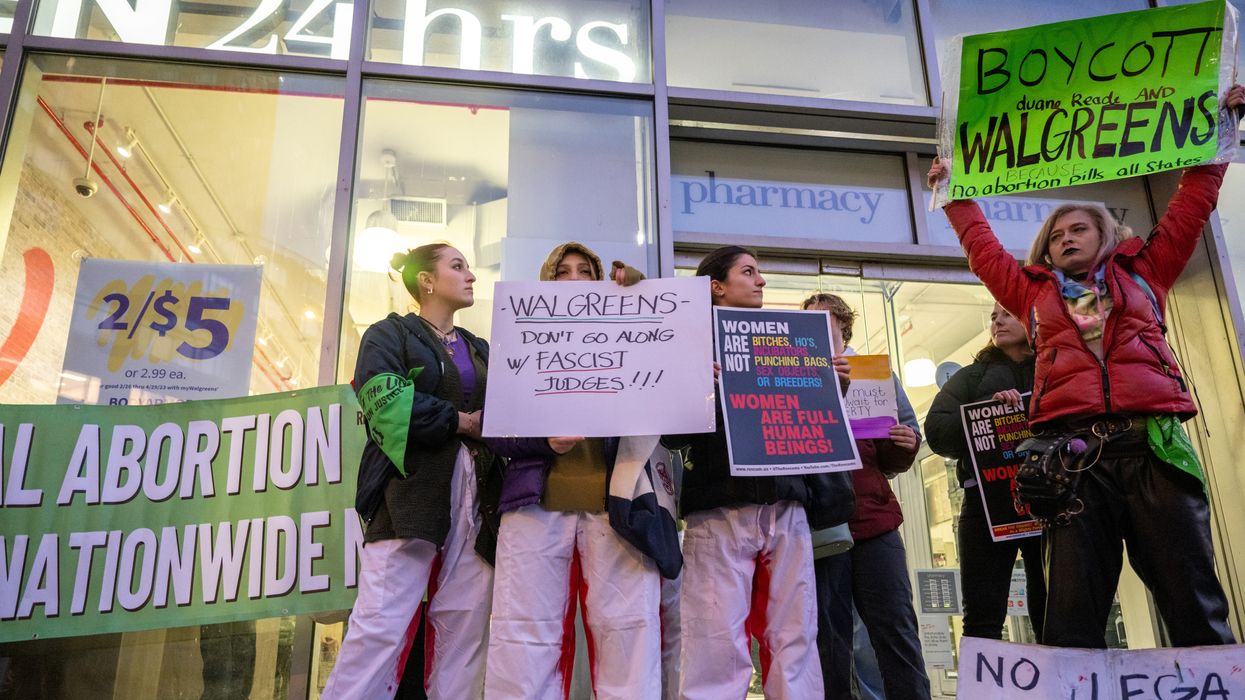 "As companies that dispense critical, lifesaving medications, we urge that your decisions continue to be guided by well-established science and medical evidence and a commitment to the health and well-being of patients—not politics or litigation threats," wrote 14 governors.
With Walgreens under fire for its new abortion pill policy, 14 Democratic U.S. governors on Tuesday asked the corporate leaders of seven other major pharmacies to clarify their plans to lawfully distribute abortion medication like mifepristone.
The Food and Drug Administration (FDA) in January announced a regulatory change to allow retail pharmacies to dispense mifepristone, one of two medications commonly taken in tandem to induce abortion. The move came after the U.S. Supreme Court last summer reversedRoe v. Wade with its 6-3 ruling in Dobbs v. Jackson Women's Health Organization.

In the wake of the high court decision, patients have had to contend with trigger laws, new efforts to enact abortion bans, and other attempts by right-wing political leaders to cut off access to healthcare, including 20 GOP state attorneys general who last month threatened legal action against Walgreens and CVS if they dispense abortion medication by mail.

While shortly after the FDA announcement both pharmacy giants confirmed they planned to seek certification to distribute mifepristone, Walgreens later clarified it won't offer the drug in states where Republican AGs have threatened legal action—prompting California Gov. Gavin Newsom last week to not renew his state's $54 million contract with Walgreens.

Newsom is spearheading the Reproductive Freedom Alliance and on Tuesday joined the Democratic governors of Illinois, Maine, Maryland, Massachusetts, Michigan, Minnesota, North Carolina, New Jersey, New Mexico, New York, Oregon, Washington, and Wisconsin in sending letters to the leaders of Costco, CVS, Health Mart, Kroger, Rite Aid, Safeway, and Walmart.

As the governors wrote:

We are deeply committed to protecting and expanding reproductive freedom and the health and well-being of all of our residents. As governors of 14 states, we not only represent over 141 million residents with a combined economy of over $11 trillion, but we are also direct customers who have partnered with many of your companies for years on a variety of issues and initiatives. We understand you are carefully reviewing the new mifepristone certification process. We look forward to receiving your plans for dispensing mifepristone in states where such care is legal, as well as any other actions you plan to take to safeguard access to reproductive healthcare.
"As companies that dispense critical, lifesaving medications, we urge that your decisions continue to be guided by well-established science and medical evidence and a commitment to the health and well-being of patients—not politics or litigation threats," the governors added.

Meanwhile, Sens. Patty Murray (D-Wash. ) and Debbie Stabenow (D-Mich.) revealed a series of letters—backed by several Senate Democrats—sent to various pharmacy leaders in recent days. They wrote to Walgreens' chief executive officer "with grave concerns about the misunderstanding and confusion your company has created with regard to patients' access to mifepristone from retail pharmacies."

Walgreens' response to Republican attorney generals' pressure "was unacceptable and appeared to yield to these threats—ignoring the critical need to ensure patients can get this essential healthcare wherever possible," the senators continued. "As you work through the FDA certification process, we urge you to fully assess the laws in each state and ensure your policies provide the strongest possible legal access to this critical patient care."
Stabenow told NBC News, which first reported on the senators' letters Tuesday, that "in no way, shape, or form should businesses deny legal healthcare to women who have the right to access this vital medication. All businesses should follow the FDA certification process and fully comply with applicable state and federal law."
The Senate Democrats wrote to the CEOs of Albertsons, Costco, Kroger, and Walmart "with great frustration" that none of them has publicly indicated whether they plan to allow customers to access mifepristone through their pharmacies across the country.

After expressing concern that GOP intimidation tactics could "lead companies like yours to continue to sit on the sidelines and undermine critical care for your customers," the senators urged those four chains "to pursue policies that provide the strongest possible access to the full range of essential healthcare they need, including mifepristone, and to communicate clearly to your customers about how they can access this care."

"We look forward to hearing back from you by March 21, 2023 about your intentions to ensure access to this critical FDA-approved product," the lawmakers added.
In letters to CVS and Rite Aid leadership, the Senate Democrats expressed appreciation for both chains' ongoing efforts to become distributors of mifepristone while also stressing that "at a time of great confusion about abortion access, it is imperative that no company adds to it."

The senators asked both companies' leaders to respond to three questions by March 21:

If certified, how do you plan to notify current customers about access to mifepristone in any given state, where restrictions do and do not exist?
If a new state law to restrict access to medication abortion is proposed, at what stage will you clarify to your customers whether they still have access to mifepristone?
Will your company conduct any community outreach to ensure customers are aware of the full range of legal health services available to them?
"Medication abortion is how most women across our country get abortion care," Murray told NBC, "and it's absolutely critical patients can access this safe, FDA-approved drug without being forced to jump through medically unnecessary hoops or drain their bank accounts to travel hundreds of miles."
The questions and concerns about accessing mifepristone at retail pharmacies come as patients and providers nationwide prepare for a secretive Wednesday hearing before right-wing U.S. District Court Judge Matthew Kacsmaryk regarding an anti-choice group's effort to limit abortion access by arguing that the FDA never should have approved the drug over two decades ago.

News
SUPPORT OUR WORK.
We are independent, non-profit, advertising-free and 100%
reader supported.