Secret TPP Treaty IP Chapter: Advanced Text with Negotiation Positions for All 12 Nations
WASHINGTON
Today, 13 November 2013, WikiLeaks released the secret negotiated draft text for the entire TPP (Trans-Pacific Partnership) Intellectual Property Rights Chapter. The TPP is the largest-ever economic treaty, encompassing nations representing more than 40 per cent of the world's GDP. The WikiLeaks release of the text comes ahead of the decisive TPP Chief Negotiators summit in Salt Lake City, Utah, on 19-24 November 2013. The chapter published by WikiLeaks is perhaps the most controversial chapter of the TPP due to its wide-ranging effects on medicines, publishers, internet services, civil liberties and biological patents. Significantly, the released text includes the negotiation positions and disagreements between all 12 prospective member states.
The TPP is the forerunner to the equally secret US-EU pact TTIP (Transatlantic Trade and Investment Partnership), for which President Obama initiated US-EU negotiations in January 2013. Together, the TPP and TTIP will cover more than 60 per cent of global GDP. Both pacts exclude China.
Since the beginning of the TPP negotiations, the process of drafting and negotiating the treaty's chapters has been shrouded in an unprecedented level of secrecy. Access to drafts of the TPP chapters is shielded from the general public. Members of the US Congress are only able to view selected portions of treaty-related documents in highly restrictive conditions and under strict supervision. It has been previously revealed that only three individuals in each TPP nation have access to the full text of the agreement, while 600 'trade advisers' - lobbyists guarding the interests of large US corporations such as Chevron, Halliburton, Monsanto and Walmart - are granted privileged access to crucial sections of the treaty text.
The TPP negotiations are currently at a critical stage. The Obama administration is preparing to fast-track the TPP treaty in a manner that will prevent the US Congress from discussing or amending any parts of the treaty. Numerous TPP heads of state and senior government figures, including President Obama, have declared their intention to sign and ratify the TPP before the end of 2013.
WikiLeaks' Editor-in-Chief Julian Assange stated: "The US administration is aggressively pushing the TPP through the US legislative process on the sly." The advanced draft of the Intellectual Property Rights Chapter, published by WikiLeaks on 13 November 2013, provides the public with the fullest opportunity so far to familiarise themselves with the details and implications of the TPP.
The 95-page, 30,000-word IP Chapter lays out provisions for instituting a far-reaching, transnational legal and enforcement regime, modifying or replacing existing laws in TPP member states. The Chapter's subsections include agreements relating to patents (who may produce goods or drugs), copyright (who may transmit information), trademarks (who may describe information or goods as authentic) and industrial design.
The longest section of the Chapter - 'Enforcement' - is devoted to detailing new policing measures, with far-reaching implications for individual rights, civil liberties, publishers, internet service providers and internet privacy, as well as for the creative, intellectual, biological and environmental commons. Particular measures proposed include supranational litigation tribunals to which sovereign national courts are expected to defer, but which have no human rights safeguards. The TPP IP Chapter states that these courts can conduct hearings with secret evidence. The IP Chapter also replicates many of the surveillance and enforcement provisions from the shelved SOPA and ACTA treaties.
The consolidated text obtained by WikiLeaks after the 26-30 August 2013 TPP meeting in Brunei - unlike any other TPP-related documents previously released to the public - contains annotations detailing each country's positions on the issues under negotiation. Julian Assange emphasizes that a "cringingly obsequious" Australia is the nation most likely to support the hardline position of US negotiators against other countries, while states including Vietnam, Chile and Malaysia are more likely to be in opposition. Numerous key Pacific Rim and nearby nations - including Argentina, Ecuador, Colombia, South Korea, Indonesia, the Philippines and, most significantly, Russia and China - have not been involved in the drafting of the treaty.
In the words of WikiLeaks' Editor-in-Chief Julian Assange, "If instituted, the TPP's IP regime would trample over individual rights and free expression, as well as ride roughshod over the intellectual and creative commons. If you read, write, publish, think, listen, dance, sing or invent; if you farm or consume food; if you're ill now or might one day be ill, the TPP has you in its crosshairs."
Current TPP negotiation member states are the United States, Japan, Mexico, Canada, Australia, Malaysia, Chile, Singapore, Peru, Vietnam, New Zealand and Brunei.
WikiLeaks is a not-for-profit media organisation. Our goal is to bring important news and information to the public. We provide an innovative, secure and anonymous way for sources to leak information to our journalists (our electronic drop box). One of our most important activities is to publish original source material alongside our news stories so readers and historians alike can see evidence of the truth. We are a young organization that has grown very quickly, relying on a network of dedicated volunteers around the globe. Since 2007, when the organization was officially launched, WikiLeaks has worked to report on and publish important information. We also develop and adapt technologies to support these activities.
LATEST NEWS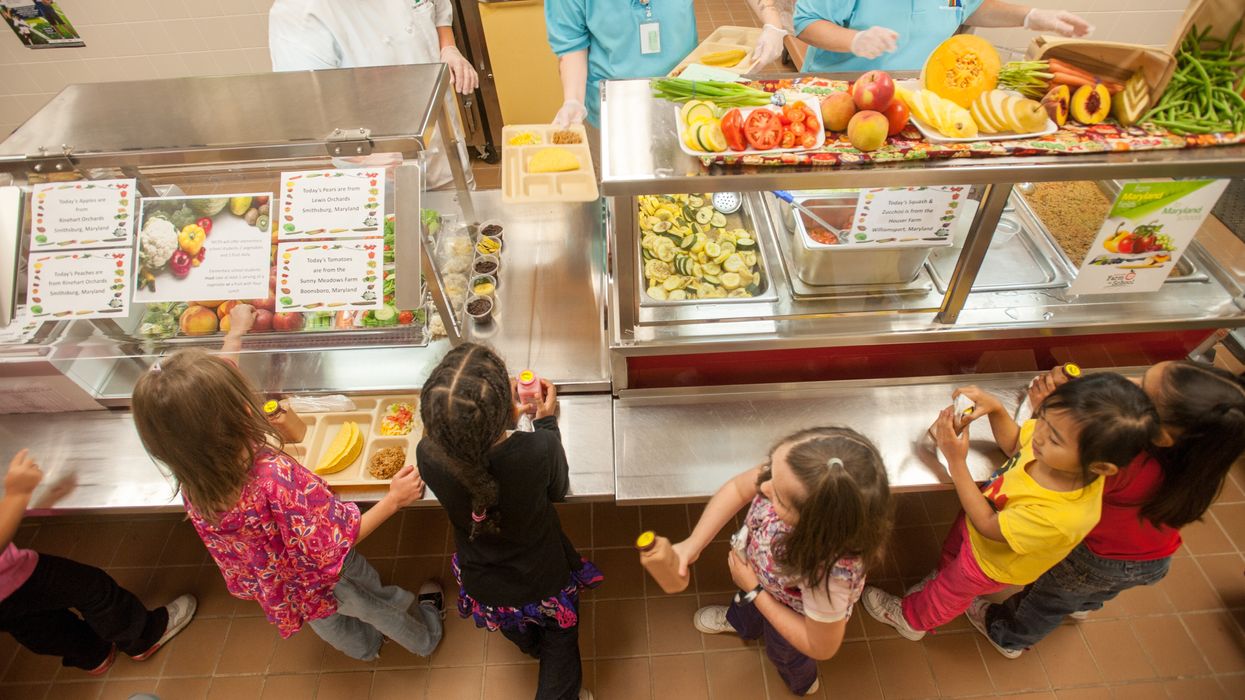 U.S. Sen. John Fetterman said the aim of the bill is to "stop humiliating kids and penalizing hunger."
As children across the United States have started a new academic year over the past month, many families have had to contend with federal lawmakers' refusal to guarantee universal free meals and the resulting "lunch shaming"—which three U.S. Senate Democrats hope to partially combat with new legislation to cancel student lunch debt nationwide.
"'School lunch debt' is a term so absurd that it shouldn't even exist," Sen. John Fetterman (D-Pa.) declared in a statement Monday. "That's why I'm proud to introduce this bill to cancel the nation's student meal debt and stop humiliating kids and penalizing hunger."
"It's time to come together and stop playing political games with Americans' access to food," he added. "September is Hunger Action Month and I'm proud to be introducing this bill to help working families now, while we work to move our other priorities to combat food insecurity in our nation."
Fetterman—who chairs the Senate Committee on Agriculture, Nutrition, and Forestry's Subcommittee on Food and Nutrition, Specialty Crops, Organics, and Research—is leading the fight for the School Lunch Debt Cancellation Act with Sens. Sheldon Whitehouse (D-R.I.) and Peter Welch (D-Vt.).
"No child in Rhode Island—or anywhere in America—should be penalized for not being able to afford school lunch. It's that simple," asserted Whitehouse. "Our legislation will eliminate lunch debt in schools, supporting every child's access to a healthy meal and positioning them for long-term success."
Welch agreed, saying: "Our students shouldn't have to worry about how they're paying for lunch—full stop. I'm proud to partner with my colleagues Sen. Fetterman and Whitehouse on this commonsense bill, and urge my colleagues to stand with us."
Congress initially responded to the Covid-19 pandemic by enabling public schools to provide free breakfast and lunch to all 50 million children nationwide, but Republicans blocked the continuation that policy last year. Instead, lawmakers passed the Keep Kids Fed Act, a bipartisan compromise that increased federal reimbursement rates for programs serving low-income students. However, as Common Dreamsreported in January, only around a quarter of districts that responded to a survey from the School Nutrition Association said those levels are sufficient, and 99.2% had concerns about raised rates expiring.
Further burdening American families trying to feed children amid food companies' price gouging, congressional Republicans and right-wing Sen. Joe Manchin (D-W.Va.) also killed the pandemic-era expansion of the child tax credit—a move that contributed to the U.S. child poverty rate more than doubling in 2022 compared with the previous year, according to data released this month.
"Prior to the pandemic, some schools had resorted to tactics that embarrassed kids, such as stamping their hands to remind parents of unpaid bills and substituting cold cheese sandwiches for hot meals," Civil Eatsreported Monday. "Sometimes meals were thrown out in front of the children. And while experts say that fewer districts have resumed these practices—often dubbed 'lunch shaming'—they haven't gone away entirely either."
Crystal FitzSimons, director of school and out-of-school time programs at the Research and Action Center (FRAC), told the outlet, "Schools, families, and states really did not want to go back to having the complicated school nutrition operations where some kids have access to free meals and other kids do not, and they have to struggle with unpaid debt."

The families of almost half a million food insecure children in Pennsylvania collectively owe nearly $80 million in public school lunch debt, according to Fetterman's office. Nationally, more than 30 million kids can't afford their school meals and the total debt is $262 million annually.
California, Colorado, Maine, Massachusetts, Michigan, Minnesota, New Mexico, and Vermont have all guaranteed universal free school meals, and Nevada has a policy in place for the 2022-23 school year only. While lawmakers in other states are working to pass similar bills, advocates have called for federal legislation to ensure all schoolchildren are fed.
In addition to the new debt cancellation bill, Fetterman is among the co-sponsors of the Universal School Meals Program Act, reintroduced in May by Sen. Bernie Sanders (I-Vt.) and Rep. Ilhan Omar (D-Minn.).
"It is downright cruel that we are letting our children in America go hungry," Fetterman said at the time. "No child in America should be worried about if they are going to be able to get breakfast, lunch, or dinner. I am proud and honored to co-sponsor this bill that will finally make sure that our children are fed."

News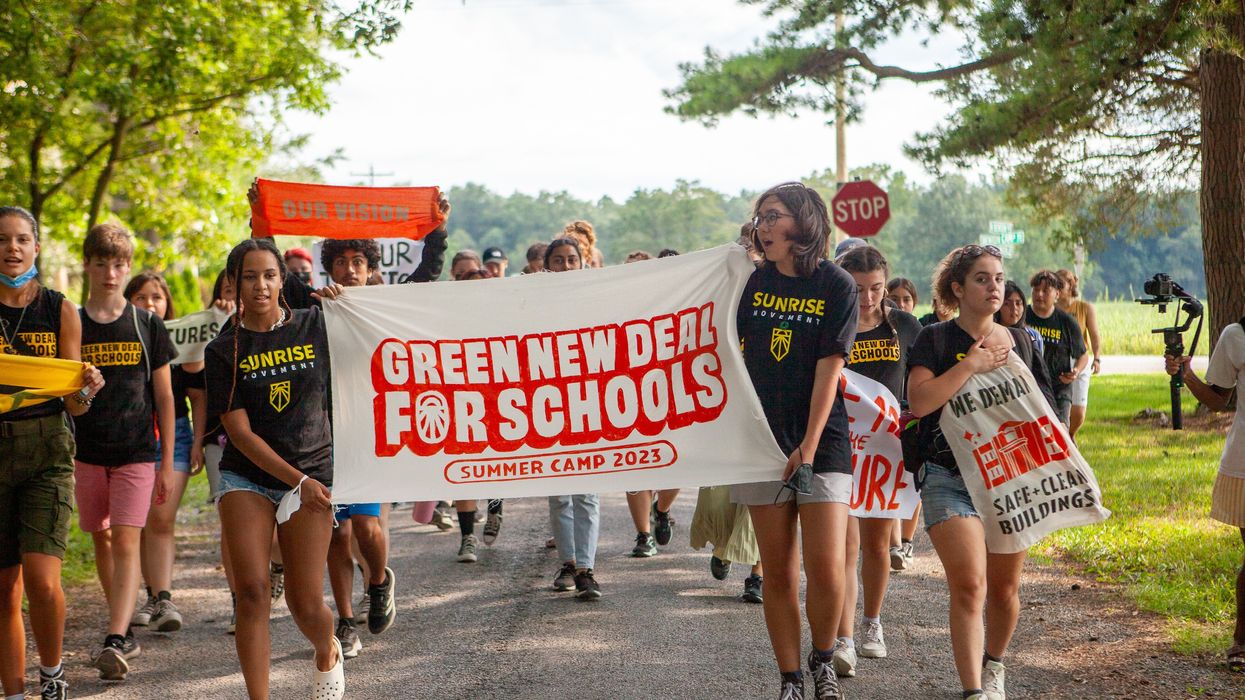 "Public schools belong to us, and we know we deserve better," said a Sunrise Movement organizer and the youngest school board member in Idaho.

In the face of right-wing attacks on public schools—including climate education—more than 50 high schools nationwide launched the Green New Deals for Schools campaign Monday.
The campaign, organized by the youth-led Sunrise Movement, is demanding that school boards and districts act to provide buildings powered with renewable energy; free, healthy, local, and sustainable meals; support for finding well-paying, unionized green careers; plans for extreme weather events; and instruction about the climate crisis.
"The Republican Party knows that they don't have the youth vote," Aster Chau, who organizes for Green New Deal for Schools while attending the Academy at Palumbo in Philadelphia, Pennsylvania, said in a statement. "They've spent the last few years antagonizing students and teachers—eroding trust in public education—in order to distract from all of the problems they've created in our society. Today, we say no more—these are our schools and our futures."
The push comes as lawmakers in Republican-controlled states have increasingly attempted to mandate what can be taught in the classroom. In Georgia, for example, a "divisive concepts" law prohibits teachers from discussing nine race-related topics. This would include the unequal impacts of the climate crisis, The Guardian pointed out, and has had an overall chilling effect on educators' willingness to raise political issues in the classroom.
"We don't learn about climate change at all," 16-year-old Summer Mathis, who studies at North Cobb High School in Kennesaw, Georgia, told The Guardian.
In Texas, meanwhile, education officials are imposing their views on climate science textbooks, and in Idaho there is an ongoing dispute over whether or not the climate crisis can be included in the curriculum at all. Florida under Gov. Ron DeSantis has approved the use of PragerU Kids materials, which include climate denying and pro-fossil fuel talking points.
"It's really scary knowing that I'm underage, and can't vote to elect the people making these big decisions about our futures."
Beyond curriculum building, there are many things that schools in all states can do to better prepare for and fight the climate crisis.
Currently, public elementary, middle, and high schools use around 9% of the energy consumed by commercial buildings in the U.S., Lisa Hoyos, the national climate strategy director for the League of Conservation Voters, wrote in an op-ed for The Progressive Friday. Switching them all to renewable energy would have the same impact as removing 18 coal plants from the grid.
Schools can also do more to prepare for extreme weather events. In Philadelphia, for example, Chau started school during a heatwave in a building that lacked air conditioning, they told The Guardian.
"Being a youth right now is really scary," Chau said. "It's really scary knowing that I'm underage, and can't vote to elect the people making these big decisions about our futures, not having a say in that."
The new campaign is partly a way to change that.
"For too long, students have been left out of the decision-making spaces within our schools," Shiva Rajbhandari, a Sunrise Movement organizer who is also the youngest school board member in Idaho, said in a statement. "Students are the most important constituents of our school boards, and they deserve to call the shots for their own education. Public schools belong to us, and we know we deserve better."
The campaign comes out of a camp that the Sunrise Movement ran this summer to train hundreds of high school students to advocate for themselves and their communities.
The young people have older allies as well. This week Rep. Jamaal Bowman (D-N.Y.) and Sen. Ed Markey (D-Mass) will reintroduce their Green New Deal for Public Schools Act with hundreds of students present, according to The Guardian.
"Our generation is on the frontlines of this fight," 17-year-old campaign leader Adah Crandall said in a statement, "and it's time for our school districts to take real action."
News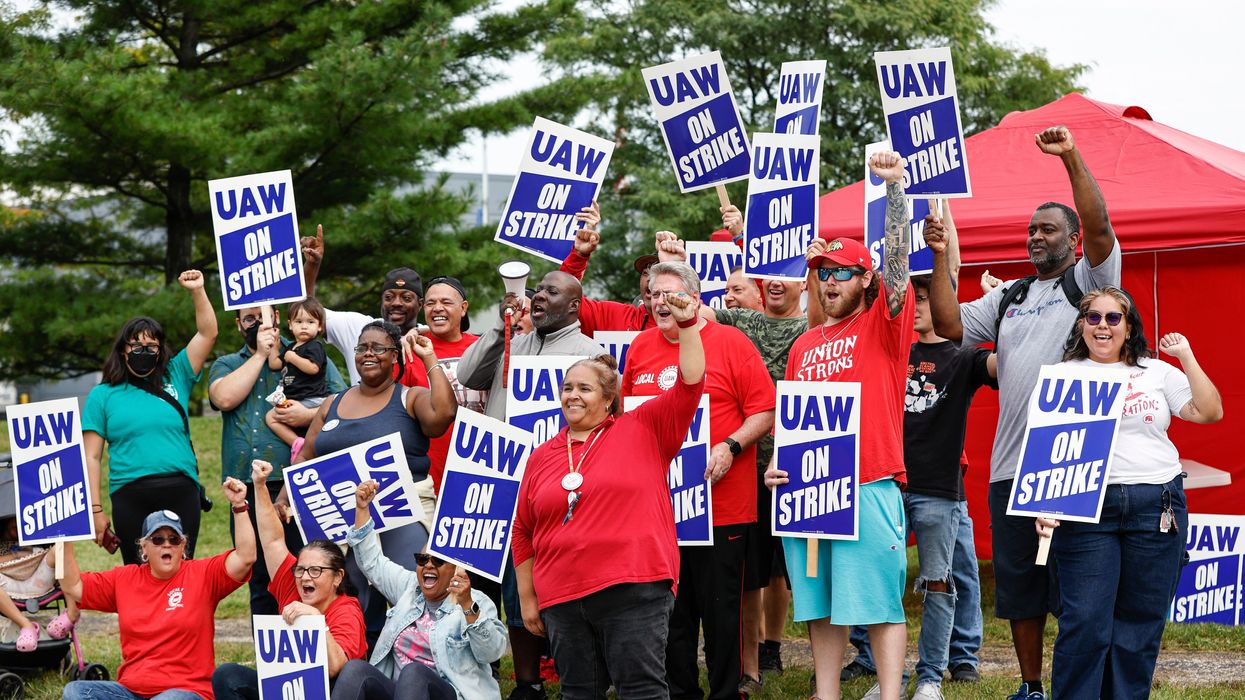 "Compared to the week before, when we asked the same question just after the announcement of the strike, support for the UAW strikes has risen from 55% to 62%," Data for Progress found.
Survey data released Monday shows that the United Auto Workers strikes have grown in popularity with U.S. voters since they kicked off 10 days ago.
A Data for Progress poll of 1,229 likely U.S. voters conducted on September 20-21 found that 62% of all voters support the UAW strikes, which expanded last week to every General Motors and Stellantis parts distribution facility in the country.
Nearly half—48%—of Republican voters support the strikes, according to Data for Progress, along with 79% of Democratic voters and 59% of Independent and third-party voters.
"Compared to the week before, when we asked the same question just after the announcement of the strike, support for the UAW strikes has risen from 55% to 62%, while opposition has dropped from 35% to 29%," noted Lew Blank, a communications associate at Data for Progress. "Notably, we find a seven percentage point increase in support among Independents and a 10 percentage point increase in support among Republicans."
Data for Progress also asked voters whether they trust President Joe Biden or former President Donald Trump more to support labor unions.
Forty-four percent of all likely voters said they trust Biden and 29% chose Trump, while 21% said they trust neither.
"More than 2 in 5 Independents (42%) report that they trust neither figure more or that they don't know which one they trust more, indicating that the Democratic Party has a considerable opportunity to bolster support among Independent voters by standing alongside UAW workers," Blank wrote.
The new polling comes a day before Biden—who is seeking reelection in 2024—is set to join striking UAW members on the picket line in Michigan, a historic show of support for the union's fight for major contract improvements.
Trump, for his part, is scheduled to speak to around 500 current and former union members on Wednesday night in Clinton Township, Michigan, skipping the 2024 Republican presidential debate.
"If Trump is a friend of workers, why did his administration repeatedly do what corporate lobbyists asked for instead of what worker advocates wanted?"
With his Michigan visit, Trump—the GOP front-runner—is attempting to posture as a champion of the working class, running radio ads in Detroit and Toledo, Ohio that praise autoworkers and claim he has "always had their back."
Steven Greenhouse, a veteran labor reporter, called that narrative "appalling poppycock" in an op-ed for The Guardian on Monday.
"During Trump's four years as president, he and his administration did far more to stab workers in their backs," Greenhouse wrote. "Trump didn't lift a finger to increase the federal minimum wage, which has been stuck at a pathetically low $7.25 an hour since 2009. And he certainly didn't have workers' backs when he scrapped [former President] Barack Obama's move to expand overtime coverage, thereby denying 8 million workers the ability to receive time-and-a-half overtime pay."
"If Trump is a friend of workers," Greenhouse asked, "why did his administration repeatedly do what corporate lobbyists asked for instead of what worker advocates wanted?"
News
Independent, nonprofit journalism needs your help.
Please Pitch In
Today!