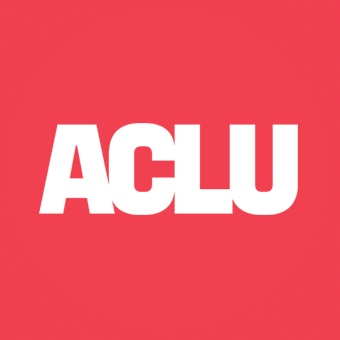 For Immediate Release
August, 12 2013, 01:11pm EDT
ACLU Comment on DOJ Plans to Reduce Non-Violent Drug Sentences
WASHINGTON
Laura W. Murphy, director of American Civil Liberties Union's Washington Legislative Office, responded to Attorney General Eric Holder's proposed policy to reverse the growth of the federal prison population in advance of a speech today at the American Bar Association's Annual Meeting:
"Today, the attorney general is taking crucial steps to tackle our bloated federal mass incarceration crisis, and we are thrilled by these long-awaited developments.
"By mandating that U.S. attorneys change charging practices for low-level, non-violent offenders, these policies will make it more likely that wasteful and harmful federal prison overcrowding will end. Over the last year, in one of the few areas of bipartisanship, members of Congress have come together to call for smart criminal justice reform. While today's announcement is an important step toward a fairer justice system, Congress must change the laws that lock up hundreds of thousands of Americans unfairly and unnecessarily."
Throughout Eric Holder's tenure, going back to the successful passage of the Fair Sentencing Act in 2010, the ACLU has worked closely with the attorney general, his staff, and DOJ leadership to develop several of the policy changes announced today.
For more on the ACLU's work on criminal justice reform, see:
aclu.org/racial-justice/criminal-justice
This statement is available at:
aclu.org/criminal-law-reform/aclu-comment-doj-plans-reduce-non-violent-drug-sentences
The American Civil Liberties Union was founded in 1920 and is our nation's guardian of liberty. The ACLU works in the courts, legislatures and communities to defend and preserve the individual rights and liberties guaranteed to all people in this country by the Constitution and laws of the United States.
(212) 549-2666
LATEST NEWS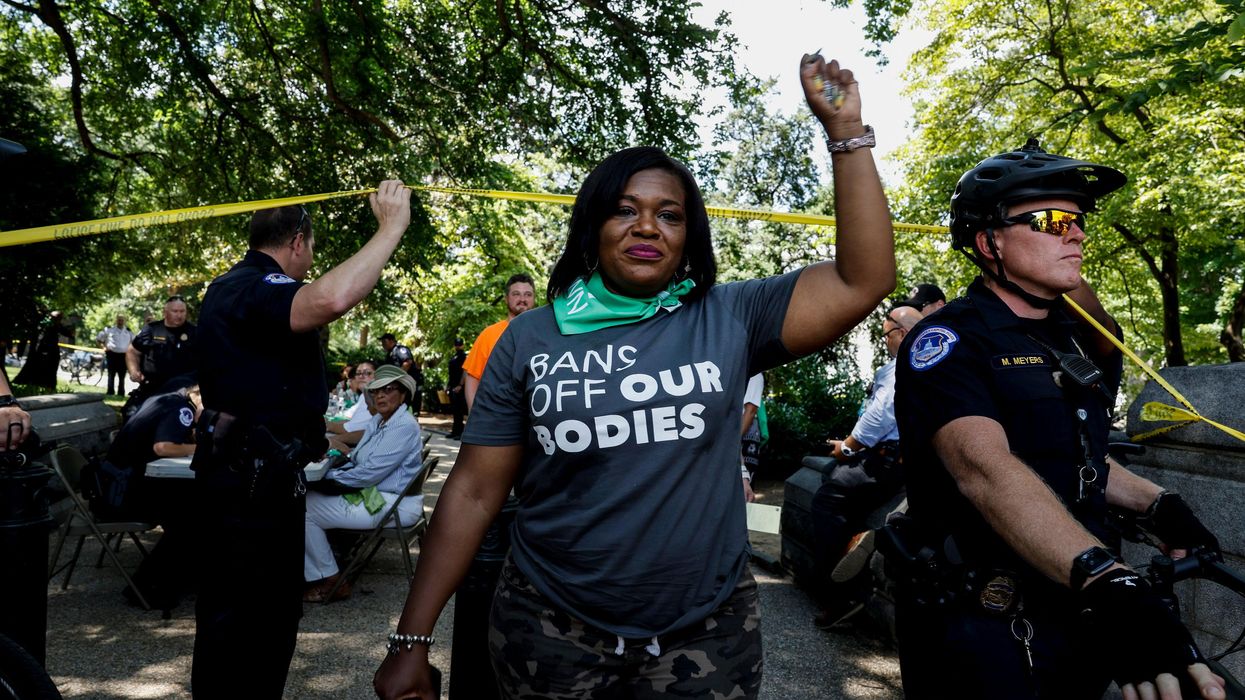 "I had been told without an immediate abortion, or dilation and evacuation, that my life was at risk," said Rep. Marie Gluesenkamp Pérez. "I got the care I needed, and now I'm the mother of my 17-month-old son."
As thousands of people gathered at pro-choice rallies across the United States, multiple congresswomen marked the 50th anniversary of Roe v. Wade on Sunday by sharing their own experiences with abortion care and renewing calls to protect reproductive rights in the wake of the U.S. Supreme Court reversing its landmark ruling.
"I'm one of the 1 in 4 women in America who has had an abortion. Terminating my pregnancy was not an easy choice, but more importantly, it was MY choice," tweeted Rep. Pramila Jayapal (D-Wash.), chair of the Congressional Progressive Caucus, who has previously shared her story in a New York Timesopinion piece and during a House hearing.
"Everyone's story is different, but I know this for certain: The choice to have an abortion belongs to pregnant people, not the government. We are not free if we cannot make these fundamental choices about our bodies," she continued. "MAGA Republicans' extreme abortion bans aren't about saving lives, they're about control. We must stand up and fight these bans. Together."
Fellow Washington state Democrat Rep. Marie Gluesenkamp Pérez, who was sworn in for her first term earlier this month, wrote on Twitter: "Three years ago I miscarried in the second trimester of a pregnancy. It's a painful memory but something many women have experienced. I traveled hours to the nearest clinic, and I encountered anti-choice protesters. Thankfully I got the care I needed that day."
"I had been told without an immediate abortion, or dilation and evacuation, that my life was at risk. That I could die, or not be able to have children in the future. I got the care I needed, and now I'm the mother of my 17-month-old son," she said. "On what would've been Roe v. Wade's 50th anniversary, I'm thinking of the millions of Americans with stories like mine who are forced to go without access to safe reproductive care. I won't stop fighting to restore this fundamental right and defend reproductive freedom for all."
Nearly seven months since the high court's right-wing majority overturned Roe with Dobbs v. Jackson Women's Health Organization, "abortion is currently unavailable in 14 states, and courts have temporarily blocked enforcement of bans in eight others," according to a December review by the pro-choice Guttmacher Institute, which tracks state laws.
Just after the Dobbs decision leaked last May, Ellepublished a roundtable discussion with the only five then-members of Congress who had publicly shared abortion stories: Jayapal; Sen. Gary Peters, whose ex-wife got a potentially lifesaving emergency abortion in the 1980s; and Reps. Cori Bush (D-Mo.), Barbara Lee (D-Calif.), and Jackie Speier (D-Calif.), who did not seek reelection last year.

In the weeks that followed, Reps. Gwen Moore (D-Wis.) and Marie Newman (D-Ill.)—who lost her June primary after redistricting—also detailed their abortions when they were each 19 years old. During a House hearing, Rep. Lucy McBath (D-Ga.) shared that "when my doctor finally induced me, I faced the pain of labor without hope for a living child."
"Would it have been after the first miscarriage, after doctors used what would be an illegal drug to abort the lost fetus?" McBath asked. "Would you have put me in jail after the second miscarriage?"
McBath took to Twitter Sunday to highlight that testimony and warn that "without Roe, all reproductive care is on the line."
Bush—who has spoken about seeking an abortion after becoming pregnant as a result of rape at 17—said in a statement Sunday that "the Roe v. Wade decision was not only historic in that it protected people accessing abortions; it also served as precedent for several more court cases and laws to follow that would further advance gender equality, reproductive rights, and our collective freedoms."
"Unfortunately, we all know what happened last June. Republicans spent decades stacking the federal judiciary with far-right anti-abortion judges and successfully stripped millions of people of their right to safe, legal, and accessible abortion care, particularly Black, Brown, LGBTQ+, and other marginalized communities," she said. "And, let's be clear, Republicans aren't stopping with Roe."
"In just their first couple of days in power, House Republicans passed two anti-abortion bills in a blatant attempt to lay the groundwork for a national abortion ban," added Bush, who was among the 17 federal lawmakers arrested in July while protesting Dobbs at the Supreme Court. "As a congresswoman, a mother, a pastor, and as a person who has had abortions, I will never stop fighting for a person's bodily autonomy, reproductive rights, and for a country that lives up to its proclamation of freedom."
Moore—who represents a state where abortion is now unavailable due to a contested 1849 ban—issued a similar warning in a series of tweets, declaring that "this Roe anniversary is a reminder of what we've lost, and we must fight for a future that creates more equitable healthcare access for all."
"The chaos we've seen over the past six months is the environment anti-abortion politicians have worked for decades to create, and they won't stop with Roe. While we work to protect and restore access to abortion, more attacks on sexual and reproductive health are happening now," she said. "The path ahead will be challenging. It will require us to think bolder than ever before to ensure our very basic rights and freedoms are permanently protected—not subject to whoever happens to be in power."

News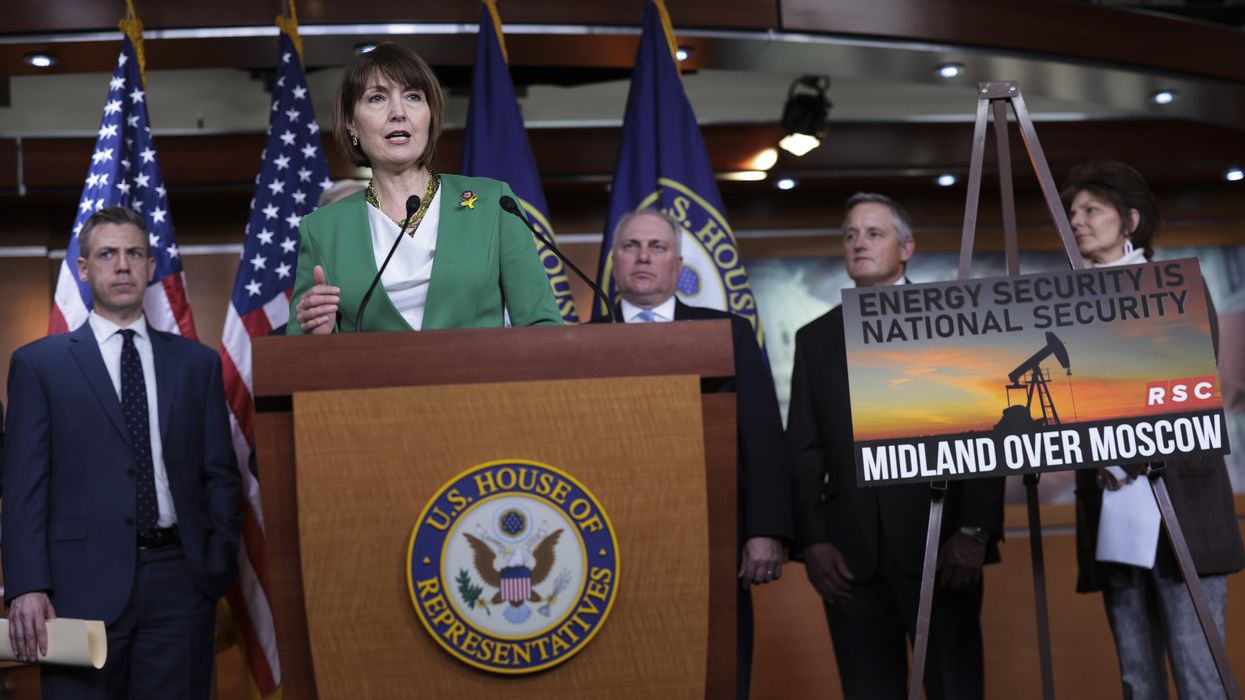 "Instead of holding accountable Big Oil CEOs for causing last year's record-setting gas prices, the new majority is hellbent on making political statements as American families suffer."
Climate watchdogs warned Monday that a bill House Republicans are expected to vote on this week is a thinly veiled effort to open more public lands and waters to planet-wrecking oil and gas drilling.
The Strategic Production Response Act, led by new House Energy and Commerce Committee chair Rep. Cathy McMorris Rodgers (R-Wash.), aims to curtail presidential authority to release oil from the United States' strategic reserve—something President Joe Biden did on a major scale last year in an attempt to curb gas prices.
But Joshua Axelrod, a senior advocate at the Natural Resources Defense Council (NRDC) who focuses on public lands, noted in a blog post Monday that "despite its title, the bill neither responds to any existing problem nor advances any coherent or achievable energy policy."
"Under the guise of limiting the use of the Strategic Petroleum Reserve (SPR), the Strategic Production Response Act appears, in fact, to be focused on establishing a federal oil and gas leasing mandate that eclipses all past efforts to hand over public lands and offshore areas to oil and gas companies," Axelrod wrote. "How? Under the proposed language, no non-emergency drawdown of the SPR can take place without the development of a plan from the Secretary of Energy and other relevant agency heads to 'lease for oil and gas production... [on lands and waters] by the same percentage' as the planned SPR drawdowns (up to 10%)."
"Put more clearly: If 1% of the SPR is to be drawn down, a plan to lease 1% of available public lands or offshore areas must first be developed," Axelrod added, cautioning that—if passed—the measure would "lock in another century of oil and gas."

In a letter to the House Energy and Commerce Committee last week, Energy Secretary Jennifer Granholm expressed strong opposition to Rodgers' bill, arguing it would cause "more oil supply shortages in times of crisis and higher gasoline prices for Americans."
Jordan Schreiber, the director of energy and environment at the progressive watchdog group Accountable.US, echoed that warning in a statement Monday.
"McCarthy and his MAGA majority are making it clear right out of the gate—they'd rather play politics than provide much-needed relief for American consumers," said Schreiber. "This bill hamstrings the executive branch, taking away a critical tool in combating rampant price gouging at the pump while making it easier to give our public lands away to the very companies responsible for artificially high prices. Instead of holding accountable Big Oil CEOs for causing last year's record-setting gas prices, the new majority is hellbent on making political statements as American families suffer."
Accountable.US also released an analysis countering Republican claims that have been used to justify the Strategic Production Response Act.
\u201cJUST IN: The @HouseGOP is taking up legislation that would prevent @POTUS from combating industry price gouging and make it easier for Big Oil to gain control of public lands.\n\nThe MAGA majority would rather play politics than provide relief to Americans. \nhttps://t.co/XtmCpd1hmw\u201d

— Accountable.US (@Accountable.US) 1674487452
The Biden Interior Department has itself come under fire from environmentalists for auctioning off huge swaths of public lands and waters for oil and gas extraction despite the president's campaign vow to put an end to such drilling. Recent research shows that drilling on public lands and waters has been responsible for roughly a quarter of all U.S. greenhouse gas pollution since 2005.
In 2021, the Biden administration approved more onshore oil and gas drilling permits per month than the Trump administration did during its first three years in power.
Nonetheless, Republicans awash in Big Oil campaign cash have repeatedly accused the Biden administration of being insufficiently aggressive when it comes to turning federal lands and waters over to the profit-soaked fossil fuel industry.
Rodgers, who received $218,367 from individuals and PACs associated with the oil and gas industry during the last election cycle, said in a floor speech earlier this month that "it's time to cut the red tape and expand energy production here at home."
In recent days, branches of the Koch-funded group Americans for Prosperity have been boosting Rodgers' legislation on Twitter, urging the GOP-controlled House to pass it.
With Democrats narrowly controlling the Senate, the bill—one of several Big Oil-friendly measures Republicans are planning to advance in the coming months—is unlikely to make it to Biden's desk.

Axelrod of NRDC argued it is "not hyperbole" to conclude that Rodgers' legislation proposes "a leasing plan so massive in scale it would eclipse all historic precedent and pave the way for federal oil and gas leasing well into the next century."
"The agencies implicated by this proposal have jurisdiction over 3.1 billion acres of onshore and offshore areas, suggesting that the 10% limit on acreage that could be leased translates into 314 million acres. That's more than eight times as many acres currently under lease," Axelrod wrote.
"This attempted public lands and waters giveaway comes as we are inundated daily with news of the escalating effects of the climate crisis on the United States," he added. "The incoming House majority appears to view those hardships and the enormous costs they impose on the U.S. economy as mere inconveniences to their laser-focused drive to prop up an oil and gas industry that not only recorded record-breaking profits in 2022, but also, is about to achieve record-breaking domestic production."
News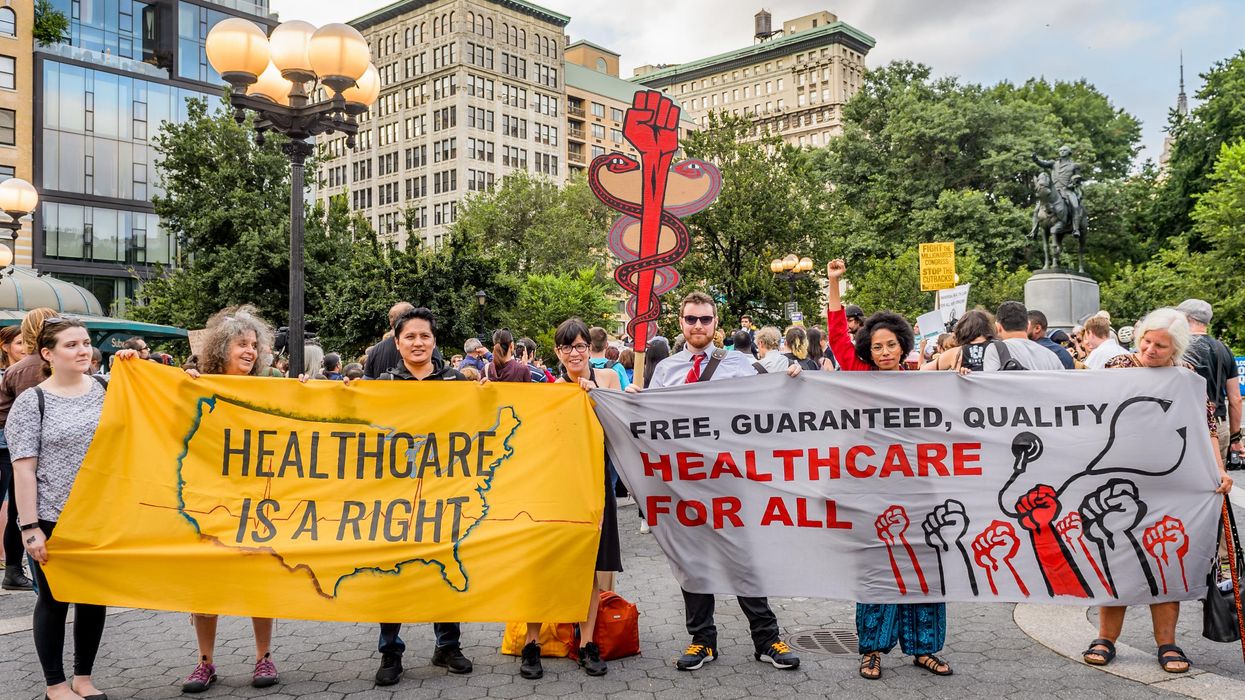 Across the political spectrum, 57% of respondents said they believe the government should ensure everyone in the U.S. has health coverage.
A new poll released by Gallup on Monday offered the latest evidence that Democratic leaders who continue to fight the progressive push for Medicare for All are out of touch with their own party, as more than 7 in 10 Democratic voters support a government-run healthcare system in which every American could participate and receive high-quality, free care.
Seventy-two percent of Democratic voters support what Gallup referred to as a "government-run healthcare system," compared to just 26% who backed continuing a "system based mostly on private health insurance," such as the "healthcare marketplace" created by the Affordable Care Act under the Obama administration in 2010. Under the law, 27.5 million Americans still were without health insurance as of 2021.
President Joe Biden suggested in 2020 that he would veto Medicare for All legislation if it passed in Congress and reached his desk, and said during the 2020 presidential campaign that the proposal to improve Medicare and expand it to all Americans was "unrealistic," adding that voters would prefer the option of keeping their employer-based health insurance if they have it.
The Gallup poll calls that claim into question, "with Democrats indicating support for a system where the government not only guarantees coverage but provides healthcare," reported Gallup.
The survey suggested that a majority of Democratic voters—contrary to repeated claims by the corporate media and Democratic leaders—hold views on healthcare that are closer to those of Medicare for All proponents such as Sen. Bernie Sanders (I-Vt.) and Reps. Alexandria Ocasio-Cortez (D-N.Y.) and Pramila Jayapal (D-Wash.), among a growing number of progressives in Congress.

The poll also found that across the political spectrum, 57% of respondents said the government should ensure all people have healthcare coverage—the highest number to say so in a Gallup poll since 2018.
Nearly half—46%—of independents also backed a government-run national healthcare program, but 50% were opposed, and the vast majority of Republicans backed a private health insurance system.
The poll comes days after another Gallup survey showed that under the current healthcare system, in which private insurance companies are expected to raise premium prices by between 6% and 12% this year, nearly 40% of Americans said they or a family member avoided or delayed seeking medical care in the last year due to cost.
\u201c@Gallup's annual #healthcare poll reports nearly 40% of Americans delayed medical care due to cost concerns last year. Experts emphasize that patients who skip preventive care and screenings risk worsening medical conditions. https://t.co/KKS8VQ1ttL\u201d

— Podimetrics (@Podimetrics) 1674168241
Just 12% of respondents in another poll released last September said they believed the U.S. healthcare system is run "very" or "extremely" well.
News
SUPPORT OUR WORK.
We are independent, non-profit, advertising-free and 100%
reader supported.