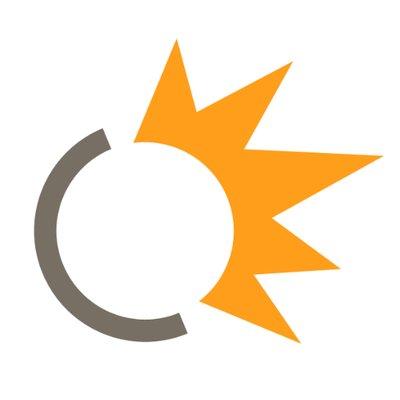 For Immediate Release
May, 23 2013, 03:49pm EDT
Contact:
Email:,info@corporateaccountability.org
Shareholders Vote for McDonald's to Assess Its Health Impacts
Moms, health professionals call for junk food giant to leave hospitals, stop marketing to kids
OAK BROOK, IL
Today shareholders voted on a resolution requiring McDonald's to assess whether it's doing enough to address increasing concerns and pressure to limit the fast-food environment. The resolution received a 6.3 percent vote; an impressive showing considering the Board's opposition.
The vote comes as mounting public pressure, local food policies and sagging sales conspire to dampen McDonald's prospects if it doesn't change course in responding to today's epidemic of diet-related disease - an epidemic advocates of the resolution say is being driven in large part by the burger giant.
"McDonald's can no longer ignore the tremendous costs of its business practices on our children's health and on the healthcare system," said Dr. Andrew Bremer, a pediatric endocrinologist and associate professor of Pediatrics and Medicine at Vanderbilt University. "This issue is not only critical to the health and well-being of generations to come, but also to shareholders who should be better informed about the liabilities associated with the businesses they're investing in."
Over the last year, Dr. Bremer and more than 3000 health professionals have expanded their commitment to end the burger giant's marketing to kids. Truman Medical Center in Kansas City became the fourth hospital in recent years to give McDonald's the boot, while dozens of other facilities are being urged to follow suit. What's more, a new book by Michael Moss details how the food industry purposefully engineers food high in salt, sugar and fat - ingredients with huge power to condition our eating habits - to keep people coming back for more.
Yet, McDonald's continues to argue that healthier offerings, like oatmeal with the nutritional value of a Snickers, are sufficient responses to the public's increasing intolerance of junk food and its marketing. When this line of reasoning doesn't work, executives herald "Get Moving with Ronald McDonald" school assemblies: as if promoting physical activity with the icon for a fast-food chain were the solution to staggering rates of diet-related disease.
Such arguments have done little to quell public and shareholder concerns, instead stirring a demographic the corporation calls "gatekeepers" (e.g. moms). Over the last few weeks prominent parenting and food blogs have pummeled the burger giant with criticism as part of the #MomsNotLovinIt initiative. Representatives of the growing network of engaged parents and their children attended the meeting to endorse the resolution and communicate their concerns, including blogger Kia Robertson and her daughter Hannah of TodayIAteARainbow.com.
"From one parent to another, I appeal to you, CEO Thompson, to stop substituting PR for action," said Robertson. "McWorld, the adver-games, branded school curricula, celebrity endorsements, cross-promotions with kids' movies: it all needs to stop. Stop undermining the choices parents like me everywhere are making for our kids. Deep down you must understand how destructive the inundation of marketing is to our children's health."
Another member of the network, Tanya Fields, who has advocated for healthier food environments in the Bronx, added, "and perhaps nowhere is McDonald's predatory marketing more pervasive than in communities of color. Marketing is plentiful and food options are limited. It's a recipe, Mr. Thompson, for disproportionate disease rates my community can no longer stomach."
If Thompson was predictably unmoved, it's not for lack of evidence that McDonald's marketing has real-world consequences. The White House and four federal agencies (FTC, FDA, CDC, USDA) have recommended the end of junk food marketing to children. The Institute of Medicine has repeatedly affirmed the importance of addressing food marketing to children and adolescents. The American Academy of Pediatrics recommends banning junk food advertising during children's TV programs.
Figuring financial implications will speak louder than science, the resolution called on McDonald's to report on whether its efforts to address its public health impacts are enough to deal with increasing risk to both its bottom line and all-important brand value. Indicators like McDonald's failure to rank among the top 10 restaurant chains for millennials may be the answer: no.
And while the corporation has been compelled to take some initial steps since the introduction of the first health resolution in 2011, such as changing its Happy Meals, McDonald's has also lavished millions of dollars on PR aimed to nutri-wash away public health concerns.
"McDonald's new leadership can continue hedging its bets, allowing short-term profits to obscure the looming risks to the corporation's long-term profitability, like its predecessors," said Kelle Louaillier, executive director of Corporate Accountability International. "Or CEO Thompson and his team can publicly take the sobering look at how inextricably linked McDonald's business practices are with today's health crisis. There is far too much at stake for this industry leader to balk at economic concerns and at the wisdom of the medical establishment, shareholders and parents everywhere."
Click below for statements from today's shareholders' meeting:
* Kia Robertson
* Hannah Robertson
* Tanya Fields
* Dr. Andrew Bremer
* Michelle Dyer
* Sriram Madhusoodanan, Corporate Accountability International
* Hannah Freedberg, Corporate Accountability International
Corporate Accountability stops transnational corporations from devastating democracy, trampling human rights, and destroying our planet.
(617) 695-2525
LATEST NEWS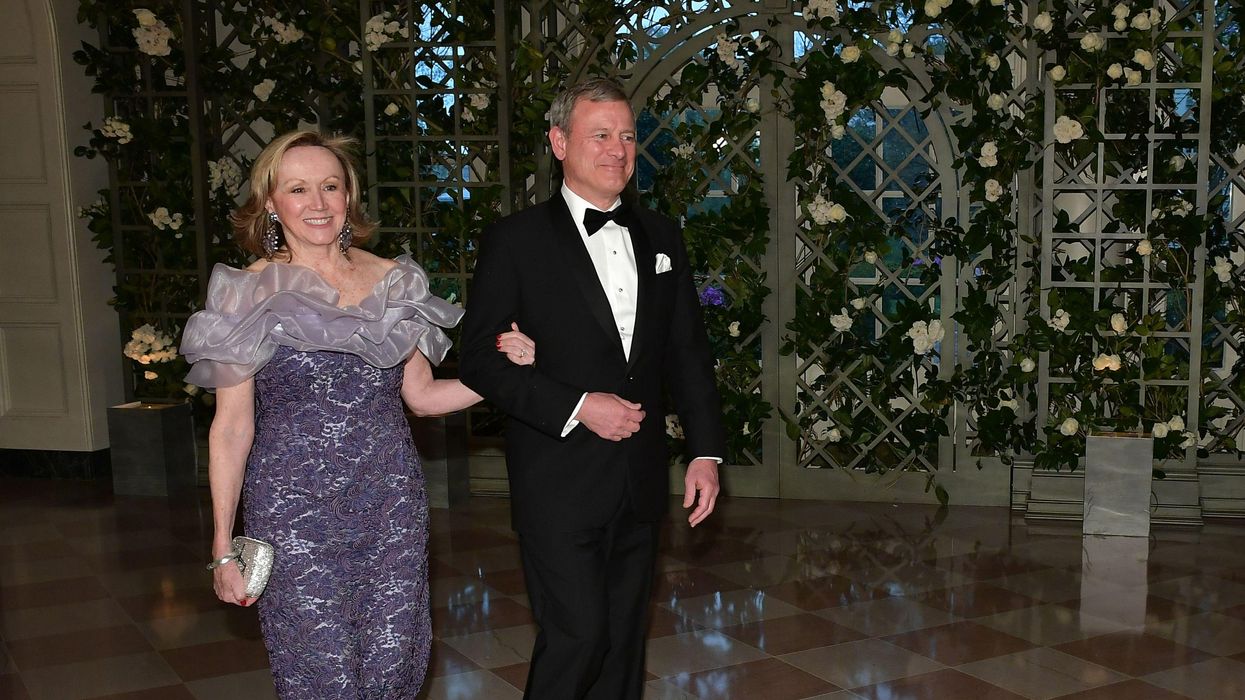 "It's clear that the ultraconservative justices in particular cannot be trusted to hold themselves to the same ethical standard as other federal judges," said one advocate, calling for congressional action.
Fresh calls for federal lawmakers to pass new ethics rules for the U.S. Supreme Court mounted after The New York Times on Tuesday revealed that a former colleague of Chief Justice John Roberts' wife raised concerns to Congress and the U.S. Department of Justice.
After her husband joined the nation's top court, Jane Sullivan Roberts left her job as a law firm partner to work as a legal recruiter. Though Roberts is now the managing partner of the Washington office of Macrae Inc., she and Kendal Price, the author of a letter obtained by the Times, worked as recruiters for the global firm Major, Lindsey & Africa.
"No wonder public trust in the Supreme Court is at an all-time low."
In his letter, Price "argued that the justices should be required to disclose more information about their spouses' work," the newspaper reported. "He did not cite specific Supreme Court decisions, but said he was worried that a financial relationship with law firms arguing before the court could affect justices' impartiality or at least give the appearance of doing so."

As the Times detailed:
According to the letter, Mr. Price was fired in 2013 and sued the firm, as well as Mrs. Roberts and another executive, over his dismissal.

He lost the case, but the litigation produced documents that he sent to Congress and the Justice Department, including spreadsheets showing commissions attributed to Mrs. Roberts early in her headhunting career, from 2007 to 2014. Mrs. Roberts, according to a 2015 deposition in the case, said that a significant portion of her practice was devoted to helping senior government lawyers land jobs at law firms and that the candidates' names were almost never disclosed.
Patricia McCabe, a spokesperson for the Supreme Court, told the paper that all the justices were "attentive to ethical constraints" and complied with financial disclosure laws, and that the chief justice and his wife had consulted the code of conduct for federal judges.
The reporting comes after Justice Clarence Thomas—one of the Supreme Court's six right-wing members—ignored calls to resign over efforts by his wife, activist Ginni Thomas, to help former President Donald Trump overturn the results of the 2020 presidential election. It also follows a September survey showing that U.S. adults' confidence in the court hit a record low.
"No wonder public trust in the Supreme Court is at an all-time low," Brett Edkins, managing director of policy and political affairs for Stand Up America, said Tuesday. "Jane Roberts is just the latest Supreme Court spouse to raise questions about potential conflicts of interest and influence peddling before the nation's highest court."
\u201cThe Roberts Court is corrupt, illegitimate, and undemocratic\n\n\u201cI do believe that litigants in U.S. courts, and especially the Supreme Court, deserve to know if their judges\u2019 households are receiving six-figure payments from the law firms"\nhttps://t.co/meehrlhwgf\u201d

— The Debt Collective \ud83d\udfe5 (@The Debt Collective \ud83d\udfe5) 1675199600
Edkins argued that "while she did not join a seditious conspiracy to overthrow the government, as Ginni Thomas did, her actions may nonetheless undermine Chief Justice Roberts' impartiality when his wife's clients argue before the court."
"It's clear that the ultraconservative justices in particular cannot be trusted to hold themselves to the same ethical standard as other federal judges," he added. "It's time for Congress to step up and pass meaningful reforms to fix the Supreme Court, including a code of ethics that would require justices to recuse themselves from cases where they have an actual or apparent conflict of interest."
In a Tuesday tweet, U.S. Sen. Elizabeth Warren (D-Mass.), lead sponsor of the Judicial Ethics and Anti-Corruption Act, pointed to the reporting as "example #4,394 of why the Supreme Court needs a binding code of ethics."
Senate Judiciary Chair Dick Durbin (D-Ill.) did not say how his panel may respond to Price's letter but told the Times that it raised "troubling issues that once again demonstrate the need" for ethics reforms to "begin the process of restoring faith in the Supreme Court."
News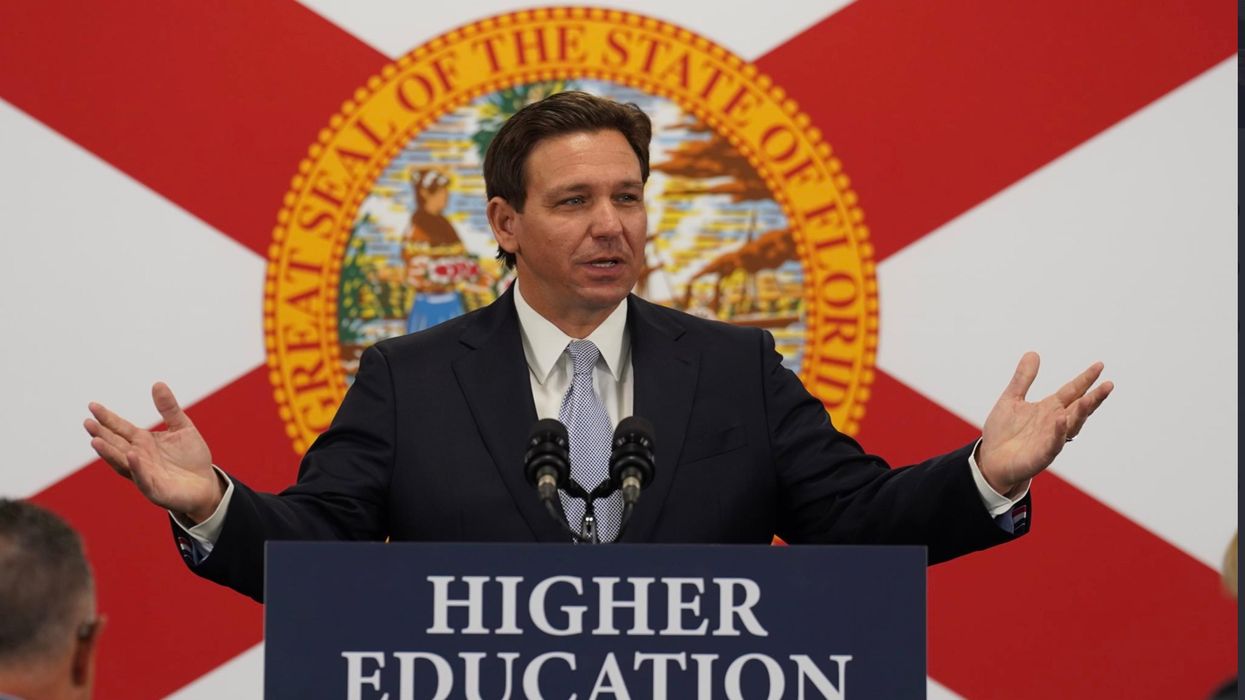 The union representing Florida's professors said it would "stand in lockstep opposition to any and all so-called 'reforms' that will actually destroy our state's world-class degree programs and their ability to serve our students."
Taking aim yet again at higher education, Republican Florida Gov. Ron DeSantis on Tuesday proposed sweeping changes to the state's university system, including banning state funding for diversity, equity, and inclusion programs and critical race theory education, as well as forcing tenured professors to undergo reviews at any time.
Speaking during a press conference at the State College of Florida in Bradenton, DeSantis said he is asking the state Legislature to cut all funding for programs he believes are "ideological."
Referring to diversity, equity, and inclusion programs—which aim to promote fair treatment and full participation—and critial race theory, a graduate-level framework dealing with systemic racism, DeSantis said that "we're also going to eliminate all DEI and CRT bureaucracies in the state of Florida. No funding, and that will wither on the vine."
Apparently not satisfied with a state law requiring tenured professors at state colleges and universities to undergo reviews every five years, DeSantis also called for legislation that would subject such educators to reviews at any time, at risk of their jobs.
"Yes, we have the five-year review of all the tenured faculty, which is, which is good… and the board of trustees has to determine whether they stay or go. But you may need to do review more aggressively than just five," he said.
"I've talked with folks around the country who've been involved in higher ed reform, and the most significant deadweight cost at universities is typically unproductive tenured faculty," the governor added. "And so why would we want to saddle you as taxpayers with that cost if we don't have to do that?"
United Faculty of Florida (UFF), the union representing college and university educators in the state, said it would fight DeSantis' proposals.
"The United Faculty of Florida stand in lockstep opposition to any and all so-called 'reforms' that will actually destroy our state's world-class degree programs and their ability to serve our students," UFF President Andrew Gothard said in a statement. "We will not allow Florida's future to be sacrificed for cheap political points."
Writing for The Chronicle of Higher Education, Francie Diep and Emma Pettit contended that "it's been a dizzying month for higher ed in the Sunshine State."
As the authors explained:

The recent avalanche of activity began in late December, when DeSantis' office requested that state colleges and universities list their spending on programs related to diversity, equity, inclusion, and critical race theory. Florida's Republican House Speaker, Paul Renner, later asked the same campuses to turn over a mountain of additional DEI-related information.

DeSantis' office also requested that state universities report data on transgender students, and he appointed six new trustees to the New College of Florida's board because, according to his press secretary, the small liberal arts institution has put "trendy, truth-relative concepts above learning."

"What I find most troubling is that DeSantis is putting out a blueprint for other governors and state legislatures," Kristen A. Renn—a professor at Michigan State University who researches LGBTQ+ college issues—told The Chronicle of Higher Education. "He's doing these things in ways that anybody else can pick this up and do it."
DeSantis—a potential 2024 presidential candidate—has also come under fire for other policies and actions including rejecting a college preparatory African-American studies course, banning unapproved books from K-12 libraries, and the Stop WOKE Act, a CRT ban that applies to schools from the primary through university levels and is meant to combat what the governor called "wokeness as a form of cultural Marxism."
Mia Brett, legal historian at The Editorial Board, last week compared Republicans' attacks on education across the country to similar moves by the leaders of Nazi Germany during the early months of their regime.
"I'm not being hyperbolic when I say this is directly out of Nazi laws passed in 1933. Though if this Republican effort is successful, you might not be able to learn things like that anymore," she wrote, adding that the legislation banning courses on CRT and racial and gender identity are a "chilling erosion of academic freedom and a huge step toward fascist academic control in the service of right-wing narratives."
"While it's still legal to teach history, remember where such efforts have led and take them seriously," Brett ominously warned.
News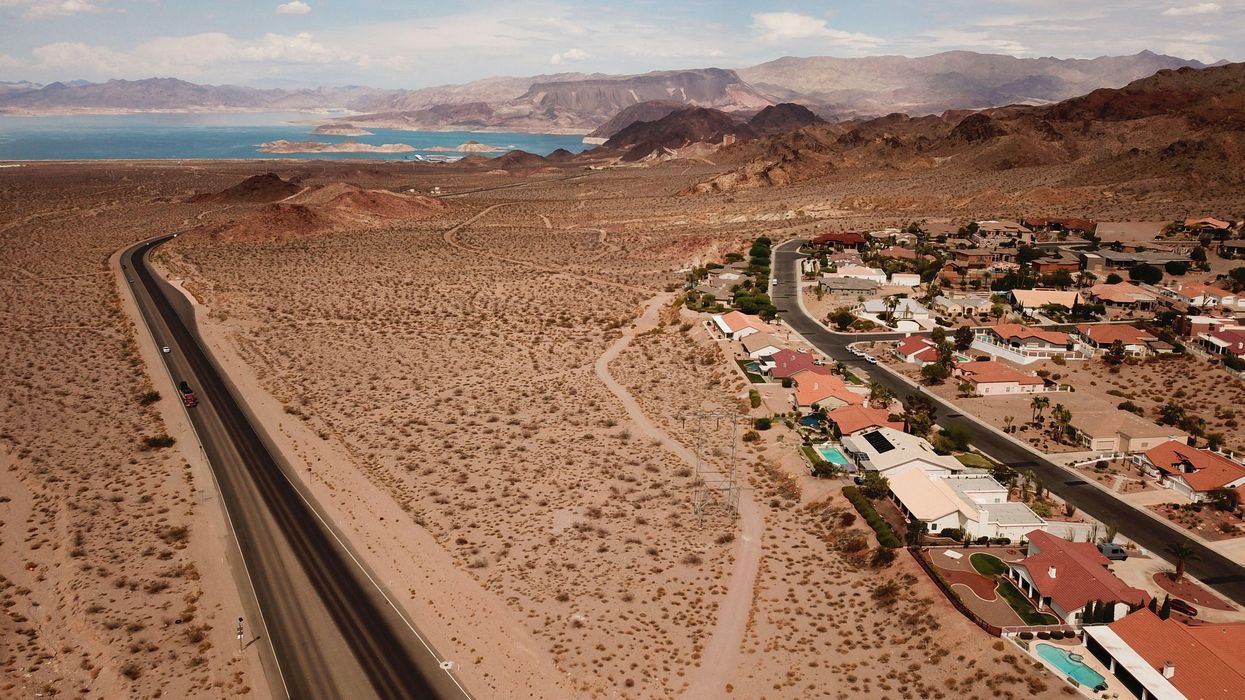 "Vultures," said one critic, are "looking to make a lot of money off this public resource."
Financial speculators are buying and selling rights to the Colorado River's dwindling water resources in a bid to profit as historic drought conditions intensified by the fossil fuel-driven climate crisis lead to worsening scarcity.
Wall Street investment firms "have identified the drought as an opportunity to make money," Andy Mueller, general manager of the Colorado River Water Conservation District, toldCBS News on Tuesday. "I view these drought profiteers as vultures. They're looking to make a lot of money off this public resource."
Matthew Diserio, the co-founder and president of a Manhattan-based hedge fund called Water Asset Management (WAM), makes no secret of his intentions, having described water in the United States as "the biggest emerging market on Earth" and "a trillion-dollar market opportunity." The company's website declares that "scarce clean water is the resource defining this century, much like plentiful oil defined the last."
A newly published joint investigation by CBS News and The Weather Channel found that WAM has purchased at least $20 million worth of land in Western Colorado over the past five years, making it one of the biggest landowners in a farming and ranching region known as the Grand Valley.
According to Mueller, WAM has bought more than 2,500 acres of farmland in the area. But "it's the water"—not the land—that investors are really interested in, he said, observing that the farmland comes with water rights.
"There are real fears that this crucial water supply for the West is on the brink of disaster."
Notably, WAM has "hired Colorado's former top water official as one of its lawyers," CBS News reported. Diserio previously stated that "one of his firm's strategies is to profit from water in part by making the farms it buys more efficient and then selling parts of its water rights to other farmers and cities increasingly desperate for the natural resource."
Mueller is tasked with protecting Colorado's share of the Colorado River—a sprawling 1,450-mile waterway that traverses seven states and is a key water source for 40 million people in the western U.S. and northern Mexico, including those in the metropolitan areas of Los Angeles, Phoenix, San Diego, Denver, Las Vegas, Albuquerque, and Salt Lake City.
Clean water is becoming increasingly scarce in the region for a variety of reasons, not least of which is the fossil fuel-driven climate emergency.
"The Colorado River relies mostly on snowpack in the Rocky Mountains that feeds into the river as it melts in the spring and summer," Weather Channel storm specialist Greg Postel explained. "But climate change is making the West hotter and drier. For every degree the temperature has gone up, the flow of the river has dropped by about 5%—a nearly 20% reduction over the past century."
The volume of water being withdrawn from the Colorado River has fallen since 2000 despite more people moving to the region. But with less water flowing into the river amid the West's ongoing 23-year megadrought—more severe than anything seen in the preceding 1,200 years—recent decreases in per capita water consumption are insufficient.
"It's taken a major toll on the nation's largest reservoirs," Postel said of climate change-amplified drought. "Lake Powell in Arizona and Lake Mead in Nevada—they are at historic lows. They're at just 25% of their full, combined capacity. There are real fears that this crucial water supply for the West is on the brink of disaster."
\u201cDisaster capitalism. \nInvestors like "Water Asset Mangement" (an actual company) are betting on a water crisis.\u201d

— Leslie (@Leslie) 1675176003
As the long-brewing crisis surrounding the Colorado River grows more acute, the federal government has taken steps to compel state-level policymakers to improve how they manage water resources in the increasingly arid region.
For instance, "Congress recently allocated $4 billion in drought funding that can be used to pay farmers to fallow their land and not use their water," CBS News reported. "Some Western states, including Colorado, are also considering paying some farmers to keep their lands fallow." Agriculture accounts for 70% of withdrawals from the Colorado River.
Last August, after the Colorado River Basin states failed to meet a federal deadline to approve a plan for achieving a 15% to 30% reduction in water use, the U.S. Department of Interior (DOI) announced—based on projected water levels for 2023—that Arizona, Nevada, and Mexico would be forced to draw less from the river this year.
On Tuesday, for the second time in six months, the seven states that depend on the Colorado River failed to reach a water conservation pact by the DOI's deadline, increasing the likelihood the agency will impose cuts later this year. Six states—Arizona, Colorado, Nevada, New Mexico, Utah, and Wyoming—agreed to slash water use. But California, the largest water consumer of the bunch, refused, setting the stage for what CNNdescribed as a "high-stakes legal battle."
In August, Food & Water Watch research director Amanda Starbuck implored policymakers to "eliminate rampant corporate water abuse before it's too late," decrying the "massive water use of Big Ag and Big Oil."
"By switching to renewable energy sources like solar and wind, California could save 98% of the water currently needed for its fossil fuel production," said Starbuck. "And by transitioning away from industrial megadairies, thirsty crops like almonds and pistachios, and engaging in regenerative farming, California will gain enormous water savings that could serve small farmers and domestic households."
Regarding WAM and other hedge funds looking to profit from looming water shortages, Rep. Ro Khanna (D-Calif.) and Sen. Elizabeth Warren (D-Mass.) unveiled legislation last March that would prevent Wall Street from speculating on life-sustaining water resources.
The Future of Water Act, as the congressional Democrats' bicameral legislation is titled, would amend the Commodity Exchange Act to affirm that water is a human right to be managed for public benefit—not a commodity to be bought and sold by investment firms. The bill would also prohibit the trading of water rights on futures markets—a recently invented financial ploy widely condemned as "dystopian."
Wenonah Hauter, executive director of Food & Water Watch, said at the time of the bill's introduction that "with the climate crisis delivering historically devastating droughts across the West, it is clearer than ever that water should be treated as a scarce, essential resource, not a commodity for Wall Street and financial speculators."
"This groundbreaking legislation would put a lid on dangerous water futures trading before it creates a crisis," said Hauter, "and it reinforces the fact that water must be managed as a public resource, not a corporate profit center."
Mueller, for his part, said Tuesday that "water in Colorado, water in the West, is your future."
"Without water," he added, "you have no future."
Economy
SUPPORT OUR WORK.
We are independent, non-profit, advertising-free and 100%
reader supported.