For Immediate Release
Contact:
(202) 466-3234,Joe Conn,Rob Boston,Sandhya Bathija
Corporations Don't Have Religious Liberty Right To Deny Workers Access To Birth Control, Americans United Tells Court
Exemption From Obama Contraceptive Mandate Would Harm Women, Undercut Civil Rights Laws, Says Church-State Watchdog
WASHINGTON
Corporations do not have a religious liberty right to opt out of providing health insurance plans that include contraceptive coverage, Americans United for Separation of Church and State has told a federal appeals court.
In a friend-of-the-court brieffiled March 8, Americans United urged the 7th U.S. Circuit Court of Appeals to uphold the Obama administration's contraceptive mandate, which requires most businesses to provide workers with health insurance that includes no-cost birth control.
More than 40 lawsuits have been filed in opposition to the birth control mandate, with several for-profit corporations contending that they have a religious liberty right to refuse to comply with the mandate, a federal regulation issued as part of the Affordable Care Act.
Americans United and allied groups say that viewpoint is wrong.
"Corporations don't have a conscience, let alone one that's entitled to religious liberty rights," said the Rev. Barry W. Lynn, Americans United executive director. "Americans' access to birth control should not be left to the whims of business interests. Women's healthcare - and, in some cases, their very lives - are at stake."
The case, Korte v. Sebelius, concerns an Illinois-based construction firm called Korte & Luitjohan Contractors that works on a range of projects such as warehouses, schools, office buildings, hospitals and water treatment facilities. The company's Roman Catholic owners say they object to artificial contraceptives and argue that a 1993 federal law, the Religious Freedom Restoration Act (RFRA), exempts them from providing it to their employees, even indirectly.
Although the trial court denied the plaintiff's request for an injunction against the rules, in December, a 7th Circuit panel ruled 2-1 that, while the case was on appeal, the U.S. government cannot require Korte & Luitjohan to buy insurance coverage for contraceptives.
Americans United and its allies say the appeals court should uphold the trial court's ruling and allow the government to enforce the women's health mandate. In the brief, AU argues that the firm's owners don't suffer a substantial burden and should not be allowed to impose their religious beliefs on employees.
The brief also discusses the far-reaching harm that could come from allowing a for-profit employer to opt out of providing insurance that covers birth control due to a religious objection. If accepted, the rationale could allow employers to gain exemptions from an array of anti-discrimination laws dealing with employment and accommodations.
"Such a broad interpretation of RFRA," the brief asserts, "would conflict not only with congressional intent, but with the vision of the Founding Fathers, who recognized the need to cabin religious exemptions that impose substantial harms on third parties."
The brief in Korte v. Sebelius was drafted by Americans United Legal Director Ayesha N. Khan and Senior Litigation Counsel Gregory M. Lipper, with assistance from Legal Fellow Victoria Roth (admitted in Virginia only and supervised by Khan, a member of the D.C. Bar).
Other groups signing the brief were Women of Reform Judaism, the Hindu American Foundation, the Union for Reform Judaism and the Central Conference of American Rabbis.
Americans United is a religious liberty watchdog group based in Washington, D.C. Founded in 1947, the organization educates Americans about the importance of church-state separation in safeguarding religious freedom.
LATEST NEWS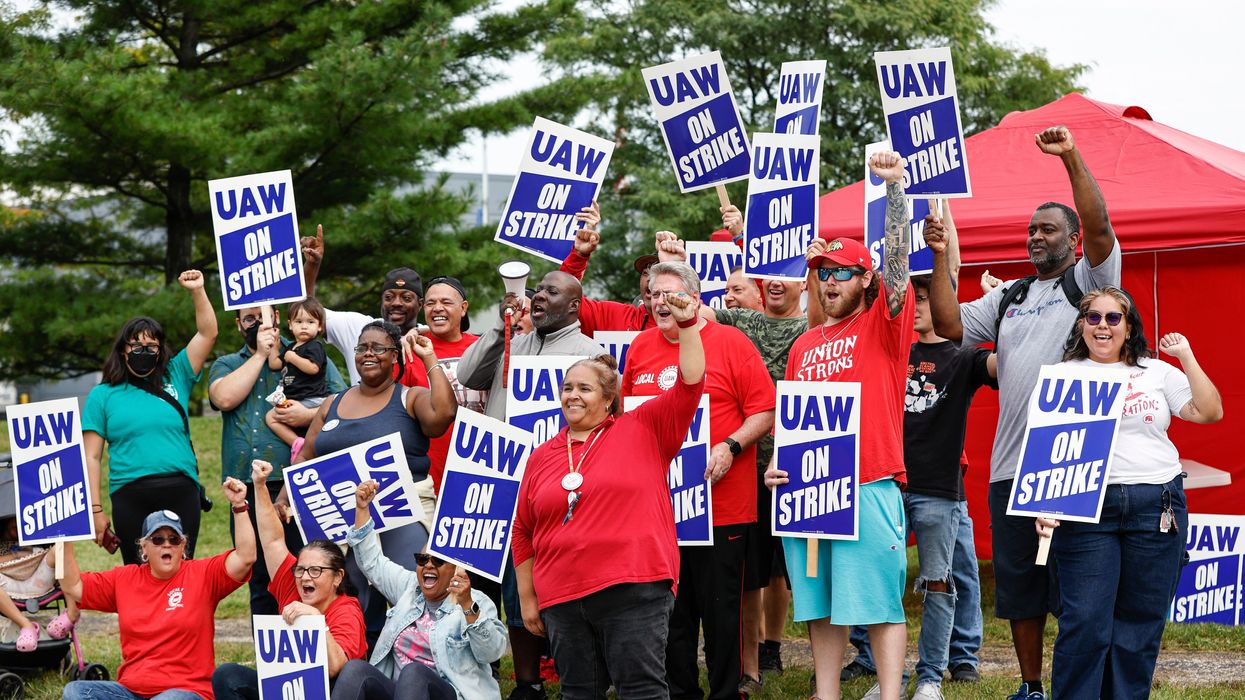 "Compared to the week before, when we asked the same question just after the announcement of the strike, support for the UAW strikes has risen from 55% to 62%," Data for Progress found.
Survey data released Monday shows that the United Auto Workers strikes have grown in popularity with U.S. voters since they kicked off 10 days ago.
A Data for Progress poll of 1,229 likely U.S. voters conducted on September 20-21 found that 62% of all voters support the UAW strikes, which expanded last week to every General Motors and Stellantis parts distribution facility in the country.
Nearly half—48%—of Republican voters support the strikes, according to Data for Progress, along with 79% of Democratic voters and 59% of Independent and third-party voters.
"Compared to the week before, when we asked the same question just after the announcement of the strike, support for the UAW strikes has risen from 55% to 62%, while opposition has dropped from 35% to 29%," noted Lew Blank, a communications associate at Data for Progress. "Notably, we find a seven percentage point increase in support among Independents and a 10 percentage point increase in support among Republicans."
Data for Progress also asked voters whether they trust President Joe Biden or former President Donald Trump more to support labor unions.
Forty-four percent of all likely voters said they trust Biden and 29% chose Trump, while 21% said they trust neither.
"More than 2 in 5 Independents (42%) report that they trust neither figure more or that they don't know which one they trust more, indicating that the Democratic Party has a considerable opportunity to bolster support among Independent voters by standing alongside UAW workers," Blank wrote.
The new polling comes a day before Biden—who is seeking reelection in 2024—is set to join striking UAW members on the picket line in Michigan, a historic show of support for the union's fight for major contract improvements.
Trump, for his part, is scheduled to speak to around 500 current and former union members on Wednesday night in Clinton Township, Michigan, skipping the 2024 Republican presidential debate.
"If Trump is a friend of workers, why did his administration repeatedly do what corporate lobbyists asked for instead of what worker advocates wanted?"
With his Michigan visit, Trump—the GOP front-runner—is attempting to posture as a champion of the working class, running radio ads in Detroit and Toledo, Ohio that praise autoworkers and claim he has "always had their back."
Steven Greenhouse, a veteran labor reporter, called that narrative "appalling poppycock" in an op-ed for The Guardian on Monday.
"During Trump's four years as president, he and his administration did far more to stab workers in their backs," Greenhouse wrote. "Trump didn't lift a finger to increase the federal minimum wage, which has been stuck at a pathetically low $7.25 an hour since 2009. And he certainly didn't have workers' backs when he scrapped [former President] Barack Obama's move to expand overtime coverage, thereby denying 8 million workers the ability to receive time-and-a-half overtime pay."
"If Trump is a friend of workers," Greenhouse asked, "why did his administration repeatedly do what corporate lobbyists asked for instead of what worker advocates wanted?"
News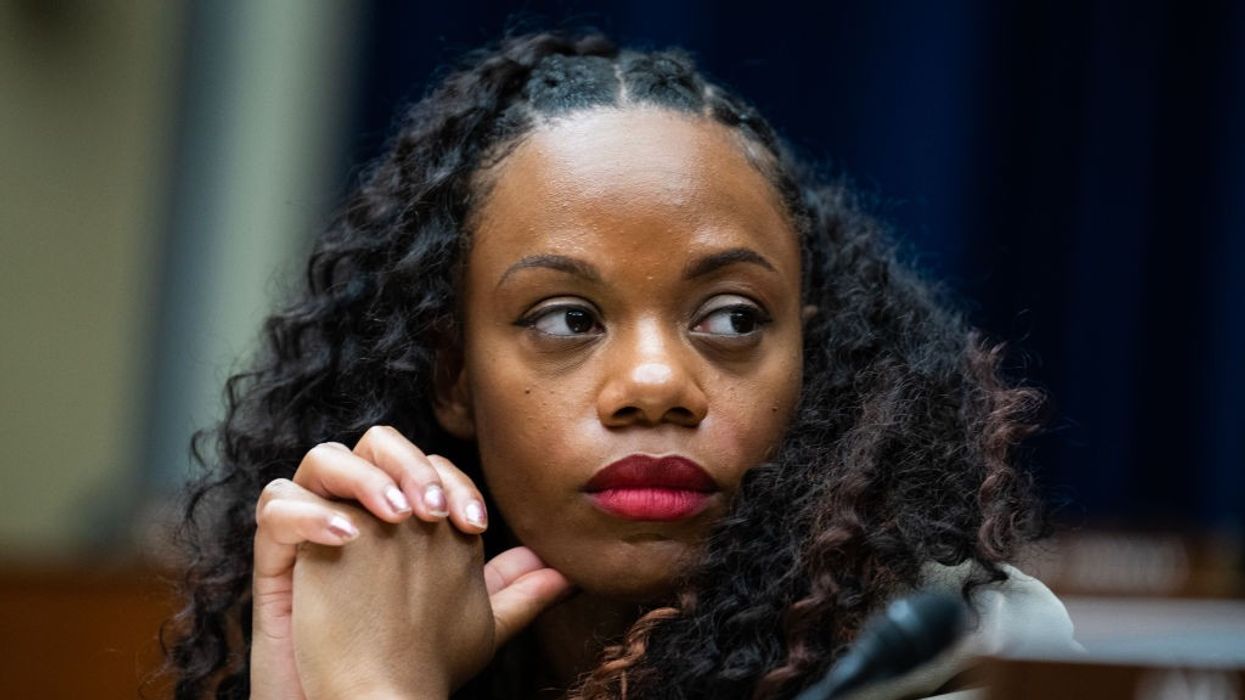 "We can't talk about holding Thomas and Alito accountable for selling out our freedoms for luxury vacations and private jet flights if we fail to hold a senator accountable for selling out his chairmanship," she said.
Pennsylvania Rep. Summer Lee has become the latest prominent Democrat to call on New Jersey Sen. Bob Menendez to resign following his indictment on bribery charges Friday.

Menendez was accused along with his wife Nadine and three businessmen over a "corrupt relationship" that saw Menendez exchange political favors—including aiding the Egyptian government—for kickbacks such as cash, gold, and help with a mortgage payment.
"Senator Menendez must resign," Lee said in a statement released Monday. "Corruption is corruption. Bribery is bribery. We can't talk about holding Thomas and Alito accountable for selling out our freedoms for luxury vacations and private jet flights if we fail to hold a senator accountable for selling out his chairmanship to a dictator gifting gold bars and cash to keep military aid flowing to Egypt as its government violates human rights."
Lee has been outspoken in calling out corruption in the Supreme Court. Her statement Monday comes the day after she spoke on MSNBC about a ProPublica article, also released Friday, revealing that Supreme Court Justice Clarence Thomas had attended at least two political fundraisers organized by the Koch network.
During Sunday night's interview, host Mehdi Hasan also asked Lee about the fact that only one other senator—John Fetterman of Pennsylvania—had called on Menendez to resign.
At the time, Lee stopped short of calling for his resignation herself, saying that the people who knew him in the Senate needed to speak out. However, she also said it was important that public servants hold themselves to higher standards, especially as the Republican Party continues the descent into extremism that escalated on January 6, 2021.
"We need to be clear about the types of people who should represent us, about the standards by which we should hold them, about what they are allowed to do, their conduct. We need a code of conduct for the Supreme Court, and we also need to adhere to our own conduct, whether we're in the Senate, or the House, or anywhere else," she said.
As of Monday, Lee adds her name to a small but growing list calling for Menendez's resignation including Fetterman and Reps. Alexandria Ocasio-Cortez (D-N.Y.), Jeff Jackson (D-N.C.), Dean Phillips (D-Minn.), Josh Gottheimer (D-N.J.), Tom Malinowski (D-N.J.), Frank Pallone (D-N.J.), Mikie Sherill (D-N.J.), Bill Pascrell (D-N.J.), and Andy Kim (D-N.J.)
Menendez, meanwhile, said Monday that he thought the calls for his resignation were a mistake, as The Hill reported.
"The allegations leveled against me are just that: allegations," Menendez said while speaking to supporters and reporters in Union City, New Jersey. "I recognized that this will be the biggest fight yet. But as I have stated through this whole process, I firmly believe that when all of the facts are presented, not only will I be exonerated, but I will still be New Jersey's senior senator."
However, while Lee acknowledged that Menendez had not yet been found guilty, more was at stake than his career.
"Menendez is of course owed due process, but the American people are owed trust in our institutions," she said. "Our fight against right-wing fascism depends on that trust."
News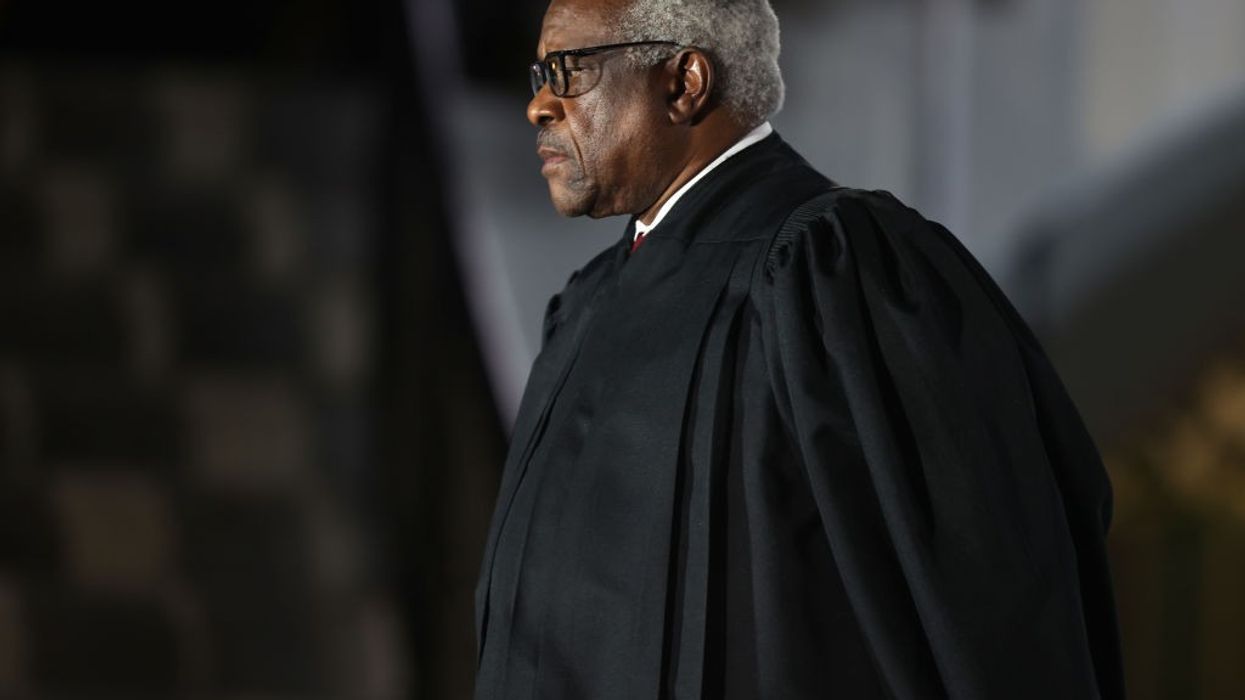 "All justices personally close to proprietors of shady financial services firms should recuse themselves, full stop," said Revolving Door Project's Jeff Hauser.
U.S. Supreme Court Justice Clarence Thomas on Monday faced mounting pressure to recuse himself from a case that experts warn "poses an existential threat" to a consumer-focused federal agency in the wake of revelations that he secretly served as an in-person "fundraising draw" for Koch network donor events.
ProPublica's Friday reporting on Thomas' Koch connections came amid heightened scrutiny of the justice's ties to billionaires with business before the court. Next week, the court is scheduled to hear oral arguments in Consumer Financial Protection Bureau (CFPB) v. Community Financial Services Association of America (CFSA)—a case challenging the agency's funding structure brought by a group that represents payday lenders.
"His repeated abuse of his office for personal gain is a national disgrace."
"Clarence Thomas' close ties to the Koch network—which has spent billions trying to make it easier for corporate predators to rip off everyday Americans and face zero accountability—are grounds for his immediate recusal from the CFPB case," Revolving Door Project (RDP) senior researcher Vishal Shankar argued Monday.
"He cannot be trusted to rule impartially on matters that would financially benefit his billionaire benefactors, and by extension himself," Shankar said of Thomas. "His repeated abuse of his office for personal gain is a national disgrace."
Critics—including Democrats in Congress and watchdog groups—have called for new Supreme Court ethics policies, a U.S. Department of Justice probe, and even Thomas' resignation over recent reporting about his relationship with billionaire Harlan Crow and other rich GOP donors who have showered the justice with luxury vacations and other gifts.
Crow's "real estate empire has bankrolled the National Multifamily Housing Council—a landlord lobbying group that has opposed CFPB regulation of the tenant screening industry," RDP highlighted Monday.
"While the artificial 'Community Financial Services Association of America' is the named litigant opposite the CFPB, all observers understand that the stakes in this litigation are shared by every investor in the types of companies that profit from unfair, deceptive, or abusive practices," said RDP executive director Jeff Hauser. "Just because Koch and others have used a shell organization to back this lawsuit doesn't mean that their ties to justices are any less relevant."
RDP also noted that attorney John Eastman—an ex-adviser to former President Donald Trump who was indicted in the Georgia election interference case and corresponded with right-wing activist Ginni Thomas, the justice's wife, before the January 6, 2021 insurrection—filed an amicus brief in CFPB v. CFSA supporting the payday lenders.
RDP's recusal demand echoed Accountable.US senior adviser Kyle Herrig's response to ProPublica's reporting last week.
"It's clear that Justice Thomas sees his position on our nation's highest court as a way to upgrade his own lifestyle with no regard for ethics or consequences," Herrig said Friday. "It was his own decadeslong improper financial relationship with Harlan Crow that sparked the Supreme Court corruption crisis in the first place—and that was just the tip of the iceberg."
"As ethics violations by Thomas and others keep piling up, Chief Justice Roberts' lack of action becomes more egregious," he added. "The chief justice must demand Justice Thomas recuse himself from upcoming cases with Koch network conflicts of interest. We need accountability and reform now."

As Common Dreamsreported last Monday, Justice Samuel Alito, another member of the court's right-wing supermajority, has also faced calls to recuse himself from CFPB v. CFSA, given his private jet travel with billionaire Paul Singer, whose investment management firm holds at least $90 million in financial companies overseen by the agency.
"All justices personally close to proprietors of shady financial services firms should recuse themselves, full stop," Hauser declared Monday. "And if any justices persist in hearing this case despite being self-evidently biased, the case for rebalancing the Supreme Court to create an ethical majority will become even stronger."

News
Independent, nonprofit journalism needs your help.
Please Pitch In
Today!