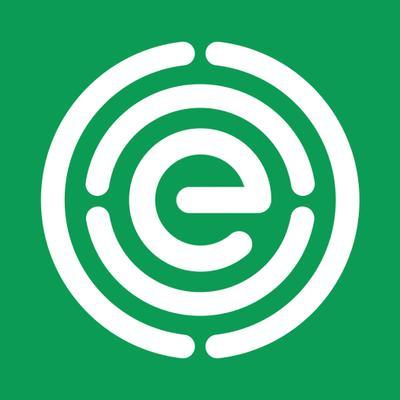 One Million Americans to Fight Industry Efforts to Kill Clean Energy Agenda
Three Dozen Citizen Organizations From Across Nation Take on Undue Influence of Energy Company "Goliath"; Push Reflects Views of 83 Percent of Americans That a "New-Grassroots Driven" Effort is Needed.
WASHINGTON
Fed up with the undue influence of the energy companies, utilities, lobbyists and other interests that are making it impossible for Washington to move forward decisively in achieving America's clean energy future, 36 citizen organizations with more than 1.1 million combined members are joining forces to advance a nine-point "American Clean Energy Agenda" and to push for a serious renewable energy agenda no matter who is the next President or which party controls Congress.
The American Clean Energy Agenda is available online at https://www.CivilSocietyInstitute.org.
As crafted by the groups, the new American Clean Energy Agenda calls for a number of bold steps, including: phasing out nuclear power, natural gas, coal and industrial biomass in favor of efficient use of renewable, non-polluting resources; opposition to a "clean energy standard" that includes coal, nuclear, oil, gas and unsustainable biomass; retooling federal "loan guarantees" to make smarter investments in renewable energy; greater emphasis on renewable energy and energy efficiency programs; and avoiding a future in which Americans suffer the consequences of mountaintop mining for coal and fracking of shale gas that is then exported for use in other nations.
Organized by the nonprofit Civil Society Institute (CSI) and the Environmental Working Group (EWG), the emergence of the new network of citizen-run organizations reflects a deep dissatisfaction among Americans about the iron grip maintained by the energy industry and its lobbyists in promoting the non-solution of an "all of the above" approach to energy that would preserve the worst options and dilute the focus on real solutions.
How do the three dozen groups know they reflect the thinking of the vast majority of Americans? On April 25, 2012, the Civil Society Institute released a national opinion poll conducted by ORC International finding that:
* More than three out of four Americans (77 percent) - including 70 percent of Republicans, 76 percent of Independents, and 85 percent of Democrats -- believe that "the energy industry's extensive and well-financed public relations, campaign contributions and lobbying machine is a major barrier to moving beyond business as usual when it comes to America's energy policy."
* More than eight out of 10 Americans (83 percent) - including 69 percent of Republicans, 84 percent of Independents, and 95 percent of Democrats -- agree with the following statement: "The time is now for a new, grassroots-driven politics to realize a renewable energy future. Congress is debating large public investments in energy and we need to take action to ensure that our taxpayer dollars support renewable energy-- one that protects public health, promotes energy independence and the economic well being of all Americans."
CSI President Pam Solo said: "It is time for the communities who are suffering the ill effects of fracking, mountaintop mining, and other forms of wasteful and dangerous energy production to have a say in moving America to a clean energy future. The political power of the energy industry has deferred a clean energy agenda at the expense of the health and safety of too many communities in the country. To those who will say that these groups do not have a place at the policy-making table, we say this: These are exactly the people who need to be heard. The harms caused by continued reliance on fossil fuels and nuclear power may not be felt in the Hart Senate Office Building on Capitol Hill, but they are experienced in the heartland of this nation. We do not have the money, the water or the time to waste delaying and deferring serious solutions to these hidden costs of relying on an old energy path. This agenda puts the burden of proof on those who claim that coal can be clean, fracking natural gas is not harmful, and nuclear power is safe. It is time for reason and precaution over politics. The health of Americans and our environment can no longer be made a secondary priority behind energy development at any price."
Heather White, chief of staff, Environmental Working Group, said: "Whether it be oil and shale gas drilling, coal mining or nuclear energy, this coalition of grassroots experts have witnessed firsthand the devastating impacts of mountaintop mining removal, fracking for natural gas, uranium mining and nuclear waste. We've banded together to take back our clean energy future from the seemingly all-powerful big oil, natural gas and energy companies that continue to spend hundreds of millions of dollars to keep us trapped in a dirty energy economy. As this research shows, the vast majority of Americans agree that we need clean, renewable energy, and don't want big subsidies flowing to oil and nuclear companies. They want us to invest in energy efficiency, renewable and technology to ensure an economically viable and livable economy. We must make a clear choice that will put the nation on the right track to clean energy future."
As signed by the supporting citizen organization, the American Clean Energy Agenda statement reads, in part as follows: "The time is now for a new, grassroots-driven politics to bring about a renewable energy future. As Congress debates major new public investments in energy, we need to ensure that our taxpayer dollars support an energy system that protects public health, promotes energy independence and ensures the economic well being of all Americans.
The precautionary principle must be the lodestar for the effort to create a new energy future for America that goes "beyond business as usual." In the energy sphere, the core of the precautionary principle is to prevent degradation of the environment, protect public health, preserve access to clean water, sustain the electric grid and combat global climate change, all while laying the basis for an adequate standard of living for today's populations and future generations .
We, the undersigned, agree to this fundamental principle and further commit to work toward a truly renewable, sustainable energy standard that built on the following shared premises:
1. We must generate the political will to create a sustainable healthy energy future by 2030 by accelerating the phase-out of nuclear power, natural gas, coal and industrial biomass and driving a grand transition to efficient use of renewable, non-polluting resources.
2. Achieving a sustainable energy future hinges on grassroots organizing to mobilize and educate the public and to demand support from our community, business, and political leaders.
3. The entrenched dirty energy industry's public relations machine and lobbyists block the path to healthy energy options and sources. We will expose their misleading tactics and promote a truly healthy and renewable energy system.
4. The renewable energy standard is a proven model for a sustainable future, and our goal is to see it implemented on a national basis - as it already is in many states and other nations. We oppose the so-called "clean energy standard" as a dishonest political ploy designed to protect polluting energy industries - coal, nuclear, oil, gas and unsustainable biomass - that have brought us to the crisis we are in today.
5. We urge our local, state and federal authorities with jurisdiction over energy generation, power distribution and rate-setting to ensure a level playing field for renewable energy and efficiency. It is essential to take fully into account the long-term risks and costs to health, environment and communities of all energy resources, and to adopt policies based on least cost to consumers and minimal risk. We urge specific policies that will ensure this full reckoning as well as strong energy efficiency standards that minimize the demand for resources and provide good jobs and clear benefits to consumers.
6. We hold that the overall use of taxpayer dollars for energy projects - whether called "subsidies," "tax incentives" or "loan guarantees" - currently runs counter to the public interest. Government incentives must benefit public health, economic well-being and the environment. We will develop clear guidelines to direct smarter public investment in energy.
7. We will educate our fellow citizens about the negative impacts of water-intensive energy choices on human and environmental health. Families and communities deserve clean air, access to clean water, safe, sustainable food and good health.
8. We will demonstrate that renewable energy and energy efficiency programs can be flexibly configured and adapted across the country to accommodate regional differences in energy portfolios.
9. Exporting dirty energy harms public health and contaminates our water, with the result that Americans pay the environmental and health price of meeting the energy needs of other countries while gaining nothing in the way of energy independence. Exporting coal extracted by mountaintop removal and shale gas obtained by fracking are especially egregious examples. Forcing US industries to compete with other nations for domestic supplies is likely to drive up prices dramatically and may cause them to relocate overseas."
The 36 organizations joining together to support the agenda are: Appalachian Citizens Law Center; Beyond Nuclear; Catskill Citizens for Safe Energy; Chesapeake Climate Action Network; Christians for the Mountains; Citizens Action Coalition of Indiana; Citizens' Greener Evanston; Civil Society Institute; Clean Air Council; Coal River Mountain Watch; Community Environmental Defense Council; Dakota Resource Council; Don't Waste Michigan; Environmental Advocates of New York; Environmental Working Group; GRACE Communications Foundation; Healthy Planet; Kentucky Coalition; Long Island Progressive Coalition; Northern Plains Resource Council; Nuclear Information and Resource Service; Ohio Valley Environmental Coalition; Oregon Rural Action; Otsego 2000; Partnership for Policy Integrity; Physicians, Scientists, and Engineers for Sustainable and Healthy Energy; Powder River Basin Resource Council; Renewable Energy Long Island; Responsible Drilling Alliance; Shut Down Indian Point Now; Statewide Organizing for Community Empowerment; VT Citizens Action Network; West Michigan Jobs Group; Western Colorado Congress; Western Organization of Resource Councils; and Women's Energy Matters.
The 36 organizations work on the ground in the following 23 states (plus the District of Columbia): California, Colorado, Delaware, Florida, Georgia, Indiana, Kentucky, Maryland, Michigan, Montana, North Dakota, New Jersey, New York, North Carolina, Oregon, Pennsylvania, South Carolina, South Dakota, Tennessee, Vermont, Virginia, West Virginia, and Wyoming.
The April 25, 2012 ORC International survey conducted for CSI is available online at https://www.civilsocietyinstitute.org/media/042512release.cfm.
The Environmental Working Group is a community 30 million strong, working to protect our environmental health by changing industry standards.
(202) 667-6982
LATEST NEWS
"As Jews who support freedom and dignity for all people, no exceptions, we will not just sit in horror as the state of Israel carries out ethnic cleansing in our names."
Hundreds of Jewish New Yorkers rallied and marched on the home of Senate Majority Leader Chuck Schumer on Sunday to protest his embrace of far-right Israeli Prime Minister Benjamin Netanyahu amid growing violence against Palestinians—violence that demonstrators said is enabled by the U.S. government's unwavering military and diplomatic support.
"As Jews who support freedom and dignity for all people, no exceptions, we will not just sit in horror as the state of Israel carries out ethnic cleansing in our names," said Jewish Voice for Peace member Jay Saper. "We are calling for an end to all U.S. military funding to Israel now."
The protest came less than two weeks after Schumer visited Israel and pledged the U.S. Senate's "fullest support" even as the Netanyahu government faces mass demonstrations over its authoritarian judicial reform proposal and international backlash for expanding illegal settlements on Palestinian territory.
"What we are witnessing is not a ' cycle of violence,' but rather a military superpower against an occupied people," said Eve Feldberg, a member of Jewish Voice for Peace's New York chapter. "Make no mistake—the Israeli government's oppression of Palestinians is the root cause of every violent death."
\u201cJFREJers are in the streets today with @jvpliveny channeling our collective anger, grief, horror, and responsibility for the relentless atrocities in Palestine, including the recent pogrom in Huwara\u201d

— Jews for Racial & Economic Justice (@Jews for Racial & Economic Justice) 1678048180
Israeli forces have killed dozens of Palestinians since the start of the new year. In addition to official state violence, Palestinians are also facing increasingly frequent attacks by Israeli settlers, including a massive assault on the town of Huwara last week.
Last year, the United Nations recorded nearly 850 Israeli settler attacks on Palestinians in the occupied West Bank.
"Research by the Israeli organization Yesh Din found that 93% of all investigations into settler attacks against Palestinians in the occupied West Bank were closed without an indictment in the period between 2005 and 2022," Amnesty International noted in a statement last week. "Yesh Din also found that more than 80% of Palestinians' complaints to Israeli police were not investigated at all."
Joining demonstrators during Sunday's rally and march was New York State Sen. Jabari Brisport, who said that "until Palestinians are free, neither are we."
Brisport also took aim at the U.S. government's annual military aid to Israel, declaring that "every dollar of that $3.8 billion" is "killing Palestinians abroad and it's killing Americans who can't afford health insurance."
\u201c.@JabariBrisport tells the 500+ people gathered at Grand Army Plaza that none of us are free until Palestinians are free\u201d

— beth miller (@beth miller) 1678050252
In an interview just days before Schumer's trip to Israel last month, Sen. Bernie Sanders of Vermont said he is "very worried about what Netanyahu is doing and... what may happen to the Palestinian people."
"The United States gives billions of dollars in aid to Israel," said Sanders, a member of the Senate Democratic leadership. "And I think we've got to put some strings attached to that and say you cannot run a racist government. You cannot turn your back on a two-state solution. You cannot demean the Palestinian people there. You just can't do it and then come to America and ask for money."
The senator went on to say that he "may well" introduce legislation to place conditions on U.S. military aid to Israel, adding, "If a government is acting in a racist way, and they want billions of dollars from the taxpayers of the United States, I think you say, 'Sorry, but it's not acceptable. You want our money? Fine. This is what you got to do to get it.'"

News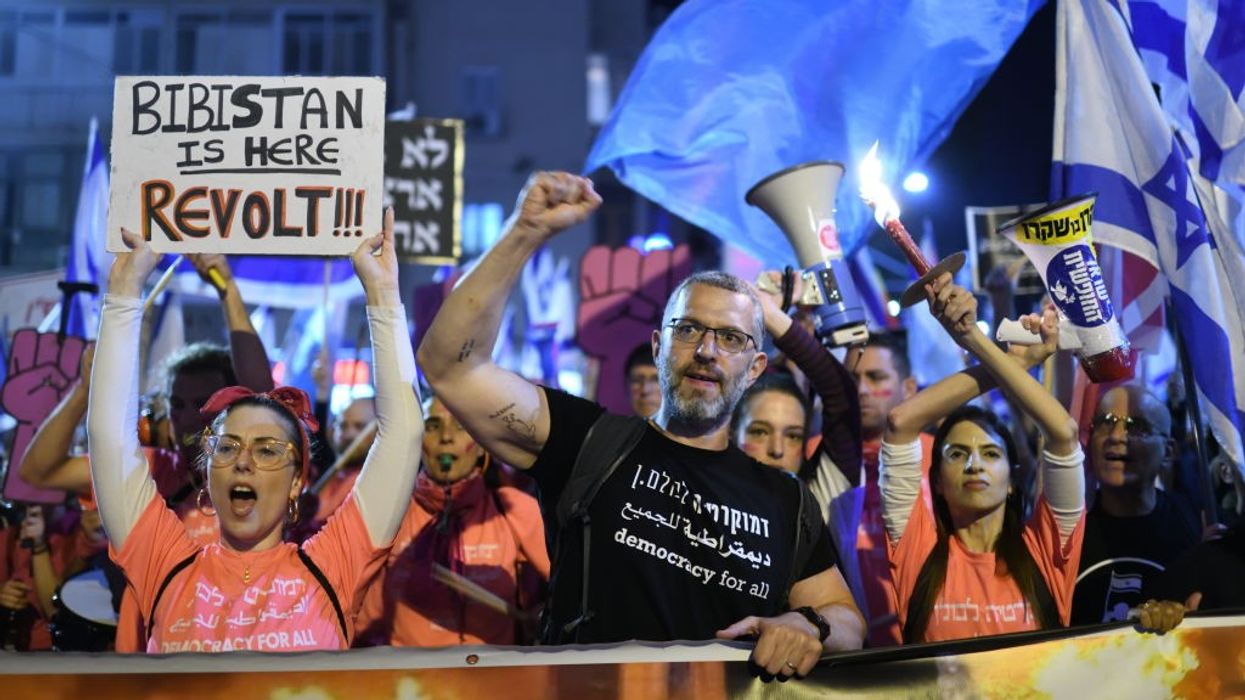 "There's a great danger that Israel will turn into a dictatorship," warned one protester.
Ongoing protests against the far-right Israeli government of Prime Minister Benjamin Netanyhu were larger than ever on Saturday night as an estimated 200,000 people or more took to the streets in Tel Aviv and other cities to denounce judicial reforms they warn put the nation on a path towards dictatorship.
For over two months, weekly protests—mostly on the weekends but increasingly during the workweek as well—large demonstrations have taken place in response to Netanyahu and his coalition government pushing a judicial takeover that critics say would curtail democracy.
Haaretzreported Saturday's turnout as a record since the movement started in early January.
"There's a great danger that Israel will turn into a dictatorship," Ophir Kubitsky, a 68-year-old high school teacher at the demonstration, toldReuters. "We came here to demonstrate over and over again until we win."
\u201cAn incredible photo. \n\nDowntown Tel Aviv is flooded with Israelis protesting the government\u2019s judicial reform package.\u201d

— Aviva Klompas (@Aviva Klompas) 1677972433
The demonstrations in Tel Aviv and other locations "began peacefully," reports Reuters. "However, footage released by police later showed protesters breaking down barriers in Tel Aviv and igniting fires as they blocked roads. Police sprayed water cannons at the protesters."
While Israeli liberals increasingly register fear and discomfort over the direction of its government's growing autocratic tendencies, Palestinian rights advocates have noted that the right-wing slide is a direct and predictable continuation of a system that denies its Palestinian citizens full rights under the law while overseeing a brutal and repressive apartheid regime.
As American-Palestinian scholar Yousef Munayyer recently wrote in a column about the protest movement for +972 Magazine:
As tens of thousands of Israelis protest the reforms that Netanyahu's government seeks to ram through in hopes of "saving the essence" of Israeli democracy, they are largely avoiding a confrontation with the foundational problem, namely that the essence of the Israeli system is to put settler colonialism ahead of any liberal principles around democracy, equality, or human rights.
A key question for many concerned not only about Israel's increasingly autocratic and right-wing lurch, but its ever-worsening treatment of the Palestinians living under hostile military occupation is this: "Does this loose group oppose the settler-colonial system that these legal reforms would further enable, or does it simply seek a return to the settler-colonial system, but without Netanyahu at its head?"
Munayyer believes all evidence thus far indicates the latter is the unfortunate answer, which is why Palestinians are noticeably absent from celebrating the display of dissent and opposition in Tel Aviv and elsewhere.
"For all Palestinians, including those with Israeli citizenship, there is little urgency to try to 'save' Israeli democracy, primarily because for them it has never existed," Munayyer concluded. "Not only is a political system that is constructed to be democratic toward some, but not all, not a democracy, it is also not going to seem worth saving to those it disadvantages."
News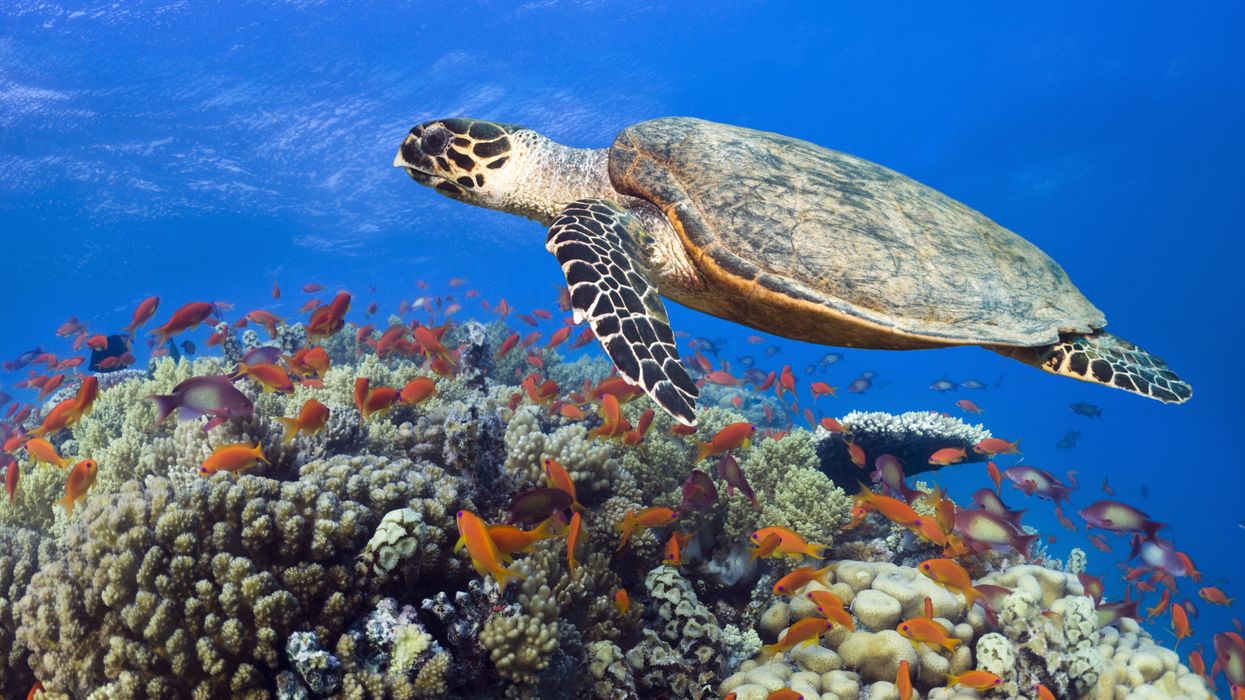 "This is a historic day for conservation and a sign that in a divided world, protecting nature and people can triumph over geopolitics," said Greenpeace in response to an agreement to protect world's marine biodiversity.
Ocean conservationists expressed elation late Saturday after it was announced—following nearly two decades of consideration and effort—that delegates from around the world had agreed to language for a far-reaching global treaty aimed at protecting the biodiversity on the high seas and in the deep oceans of the world.

"This is a historic day for conservation and a sign that in a divided world, protecting nature and people can triumph over geopolitics," declared Dr. Laura Meller, the oceans campaigner for Greenpeace Nordic.
"We praise countries for seeking compromises, putting aside differences, and delivering a Treaty that will let us protect the oceans, build our resilience to climate change and safeguard the lives and livelihoods of billions of people," Meller added.
The final text of the Global Ocean Treaty, formally referred to as the Biodiversity Beyond National Jurisdiction treaty (BBNJ), was reached after a two-week round of talks that concluded with a 48-hour marathon push between delegations at the United Nations headquarters in New York.
"The High Seas Treaty opens the path for humankind to finally provide protection to marine life across our one ocean."
"This is huge," said Greenpeace in a social media post, calling the agreement "the biggest conservation victory ever!"
Rena Lee of Singapore, the U.N Ambassador for Oceans and president of the conference hosting the talks, received a standing ovation after announcing a final deal had been reached. "The shipped has reached the shore," Lee told the conference.
\u201cBBNJ President Rena Lee: "The ship has reached the shore."\n\nThe BBNJ Agreement is agreed.\u201d

— Duncan Currie (@Duncan Currie) 1677984046
"Following a two-week-long rollercoaster ride of negotiations and super-hero efforts in the last 48 hours, governments reached agreement on key issues that will advance protection and better management of marine biodiversity in the High Seas," said Rebecca Hubbard, director of the High Seas Alliance, a coalition of over 40 ocean-focused NGOs that also includes the International Union for the Conservation of Nature (IUCN).
Minna Epps, director of the Global Marine and Polar Programme at the IUCN, said the agreement represents a new opportunity.
"The High Seas Treaty opens the path for humankind to finally provide protection to marine life across our one ocean," Epps said in a statement. "Its adoption closes essential gaps in international law and offers a framework for governments to work together to protect global ocean health, climate resilience, and the socioeconomic wellbeing and food security of billions of people."
Protecting the world's high seas, which refers to areas of the oceans outside the jurisdiction of any country, is part of the larger push to protect planetary biodiversity and seen as key if nations want to keep their commitment to the UN-brokered Kunming-Montreal Global Biodiversity Framework—also known as the known as the 30x30 pledge—that aims protect 30 percent of the world's natural habitat by 2030.
"With currently just over 1% of the High Seas protected," said the High Seas Alliance in a statement, "the new Treaty will provide a pathway to establish marine protected areas in these waters." The group said the treaty will make acheiving the goals of the Kunming-Montreal agreement possible, but that "time is of the essence" for the world's biodiversity.
"The new Treaty will bring ocean governance into the 21st century," said the group, "including establishing modern requirements to assess and manage planned human activities that would affect marine life in the High Seas as well as ensuring greater transparency. This will greatly strengthen the effective area-based management of fishing, shipping, and other activities that have contributed to the overall decline in ocean health."

According to Greenpeace's assessment of the talks:
The High Ambition Coalition, which includes the EU, US and UK, and China were key players in brokering the deal. Both showed willingness to compromise in the final days of talks, and built coalitions instead of sowing division. Small Island States have shown leadership throughout the process, and the G77 group led the way in ensuring the Treaty can be put into practice in a fair and equitable way.

The fair sharing of monetary benefits from Marine Genetic Resources was a key sticking point. This was only resolved on the final day of talks. The section of the Treaty on Marine Protected Areas does away with broken consensus-based decision making which has failed to protect the oceans through existing regional bodies like the Antarctic Ocean Commission. While there are still major issues in the text, it is a workable Treaty that is a starting point for protecting 30% of the world's oceans.

The group said it is now urgent for governments around the world to take the final step of ratifying the treaty.

"We can now finally move from talk to real change at sea. Countries must formally adopt the Treaty and ratify it as quickly as possible to bring it into force, and then deliver the fully protected ocean sanctuaries our planet needs," Meller said. "The clock is still ticking to deliver 30×30. We have half a decade left, and we can't be complacent."
News
SUPPORT OUR WORK.
We are independent, non-profit, advertising-free and 100%
reader supported.