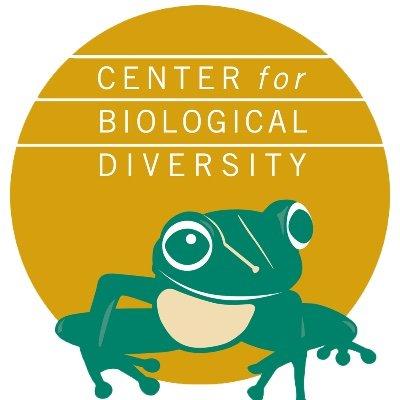 For Immediate Release
Contact:
Hilary White, Sheep Mountain Alliance, (970) 728-3729
Matt Sandler, Rocky Mountain Wild, (303) 546-0214 x 1
Taylor McKinnon, Center for Biological Diversity, (928) 310-6713
Public to Feds: No New Uranium Mining, Clean Up Mess
TELLURIDE, Colo.
The public voiced strong opposition to new uranium mining at a series of regional public forums recently hosted by the Department of Energy focusing on its 42-square-mile uranium-leasing program in southwestern Colorado. Dozens told the department to prohibit new uranium mining and create new jobs by cleaning up pollution from past mining. The meetings in Telluride, Colo. and other towns added to a groundswell of opposition to uranium mining on western public lands, including those near Grand Canyon, in northwestern New Mexico and other parts of the United States.
The Department of Energy was asking for public comments on a new environmental impact statement, which it had launched to avoid a still-pending lawsuit from conservation groups challenging its 2007 approval of the uranium program. On June 11 the department concurrently published a Federal Register notice of the new environmental impact statement and filed a legal brief citing that same notice and asking a federal judge to dismiss the lawsuit. The department claims the lawsuit and the new impact study are unrelated.
"Instead of promoting mining when DOE has plentiful uranium stockpiles, the public has requested DOE turn its focus to the environmental and economic benefits that would flow from requiring the immediate and comprehensive reclamation of 13 of the leased tracts," said Hillary White of Sheep Mountain Alliance. "This would require no federal monies as the reclamation responsibilities must be met by the private companies who leased these tracts."
Since approving the leasing program in 2007, and despite having sidestepped environmental laws, the Department of Energy has approved 31 lease agreements authorizing mining for 10 years. The program includes 13 previously active but unreclaimed uranium leases; uranium tailings have contaminated the Dolores and San Miguel river watersheds, affecting water quality and fish populations in both rivers.
"Pollution from uranium development can be fatal for people, fish and wildlife, and can last for hundreds and even thousands of years," said Taylor McKinnon of the Center for Biological Diversity. "The Department of Energy works for the public and the public is right to insist on reclamation rather than more uranium pollution. It's time for the government to start listening."
Uranium development threatens to further deplete and contaminate the Colorado River and its tributaries with toxic and radioactive waste products. Selenium and arsenic contamination in the Colorado River basin from abandoned uranium-mining operations has been implicated in the decline of the four endangered Colorado River fish species and may be impeding their recovery.
"The Dolores, San Miguel and Colorado rivers and watersheds are too precious to subject to another round of uranium contamination," said Matt Sandler of Rocky Mountain Wild. "Communities, hunters, fisherman and endangered species all depend on these waters. Their protection should be our first priority."
The Colorado Environmental Coalition, Information Network for Responsible Mining, Center for Native Ecosystems (now Rocky Mountain Wild), Center for Biological Diversity and Sheep Mountain Alliance sued the Department of Energy and Bureau of Land Management in July 2008 for their 2007 approval of the leasing program after incomplete and absent National Environmental Policy Act and Endangered Species Act reviews. The groups are represented in that litigation by Travis Stills of the Energy Minerals Law Center and Jeff Parsons of the Western Mining Action Project.
At the Center for Biological Diversity, we believe that the welfare of human beings is deeply linked to nature — to the existence in our world of a vast diversity of wild animals and plants. Because diversity has intrinsic value, and because its loss impoverishes society, we work to secure a future for all species, great and small, hovering on the brink of extinction. We do so through science, law and creative media, with a focus on protecting the lands, waters and climate that species need to survive.
(520) 623-5252
LATEST NEWS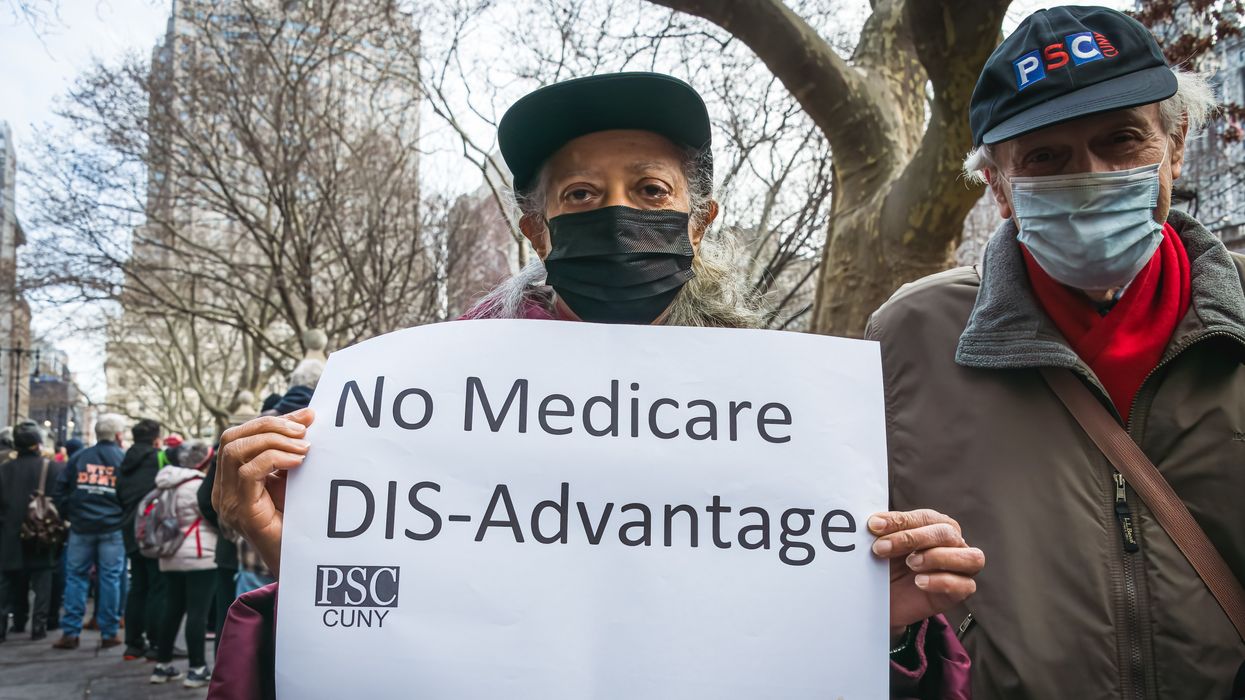 "Robots should not be making life-or-death decisions," said healthcare campaigner Ady Barkan.
Sen. Elizabeth Warren joined healthcare campaigner Ady Barkan and others on Monday in sounding alarm over a recent investigation showing that Medicare Advantage insurers are using unregulated artificial intelligence systems to determine when to end payments for patients' treatments, a practice that has prematurely terminated coverage for vulnerable seniors.
STATreported earlier this month that while "health insurance companies have rejected medical claims for as long as they've been around," AI is "driving their denials to new heights in Medicare Advantage," a privately run program funded by the federal government.
"Behind the scenes, insurers are using unregulated predictive algorithms, under the guise of scientific rigor, to pinpoint the precise moment when they can plausibly cut off payment for an older patient's treatment," the outlet found. "The denials that follow are setting off heated disputes between doctors and insurers, often delaying treatment of seriously ill patients who are neither aware of the algorithms, nor able to question their calculations."
"Older people who spent their lives paying into Medicare, and are now facing amputation, fast-spreading cancers, and other devastating diagnoses, are left to either pay for their care themselves or get by without it," STAT continued. "If they disagree, they can file an appeal, and spend months trying to recover their costs, even if they don't recover from their illnesses."
Barkan, co-executive director of Be a Hero and an ALS patient who is acutely aware of the injustices at the heart of the United States' for-profit healthcare system, tweeted Monday that STAT's reporting is "outrageous and terrifying" and circulated a petition imploring the Biden administration to crack down on the Medicare Advantage industry's use of AI.
"This barbaric practice must end," the petition states. "We're calling on President Biden and the [Centers for Medicare and Medicaid Services] to stop this practice immediately."
Warren (D-Mass.), who blasted the huge profits of top Medicare Advantage insurers last week, echoed Barkan in a tweet of her own.
"Medicare Advantage insurers make patients look as sick as possible to overcharge taxpayers billions," Warren wrote, referring to a common industry practice known as upcoding.
"At the same time, they deny seniors and people with disabilities care—with the help of AI algorithms," the senator continued. "We must crack down on these abuses. No more #DeathByAI."
An analysis published last year in the Journal of Medical Internet Research found that "despite the plethora of claims for the benefits of AI in enhancing clinical outcomes, there is a paucity of robust evidence."
But that lack of evidence hasn't stopped hugely profitable private healthcare companies from increasingly using AI tools to "help make life-altering decisions with little independent oversight," STAT determined after reviewing secret corporate documents and hundreds of pages of federal records and court filings.
"Over the last decade, a new industry has formed around these plans to predict how many hours of therapy patients will need, which types of doctors they might see, and exactly when they will be able to leave a hospital or nursing home," STAT reported. "The predictions have become so integral to Medicare Advantage that insurers themselves have started acquiring the makers of the most widely used tools."
"Elevance, Cigna, and CVS Health, which owns insurance giant Aetna, have all purchased these capabilities in recent years," the outlet continued. "One of the biggest and most controversial companies behind these models, NaviHealth, is now owned by UnitedHealth Group."
"President Biden has the power to stop this. We're meeting with White House staff this week to discuss this outrage."
In 2020, a UnitedHealthcare algorithm determined that 89-year-old Dolores Millam—who broke her leg in a fall that year—would only need to stay in a nursing home for 15 days following surgery, STAT reported.
After the 15 days were up, Millam "received notice that payment for her care had been terminated." Millam's daughter, Holly Hennessy, told STAT that "she couldn't fathom UnitedHealthcare's conclusion that her mother unable to move or even go to the bathroom on her own—no longer met Medicare coverage requirements."
"Hennessy said she had no choice but to keep her mother in the nursing home, Evansville Manor, and hope the payment denial would get overturned," STAT reported. "By then, the bills were quickly piling up."
UnitedHealthcare rejected Millam and Hennessy's appeal, forcing them to pursue relief in federal court—an arduous process.
A federal judge finally ruled months later that UnitedHealthcare improperly denied Millam that she was entitled to full coverage.
The total bill for her nursing home stay was $40,000, according to STAT.
Barkan warned Monday that "insurance behemoths using AI to squeeze every cent out of us." Just seven healthcare companies control more than 70% of the Medicare Advantage market.
"President Biden has the power to stop this," Barkan wrote of Medicare Advantage plans' use of AI. "We're meeting with White House staff this week to discuss this outrage."
News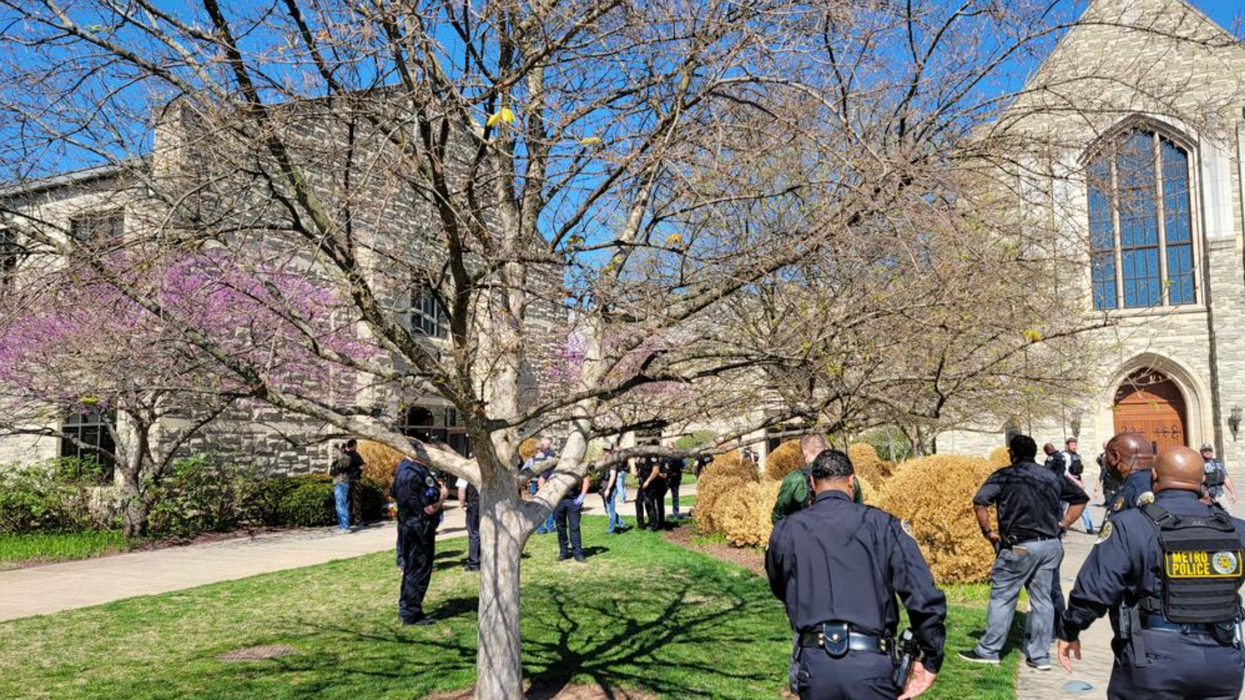 The shooting took place less than a month after Republican Gov. Bill Lee signed legislation banning gender-affirming healthcare for transgender youths and public drag shows, both of which the GOP claimed were aimed at protecting children.
This is a developing story... Please check back for updates...

At least three children and three adults were killed Monday by a shooter at the Covenant School, a private Christian school in Nashville which serves students from preschool through sixth grade.
The suspect was "engaged by police" who arrived at the scene Monday morning, and was reported dead, according toThe Tennessean.
In a news briefing, the Metropolitan Nashville Police Department said the suspected shooter was female, and had not been identified as of early Monday afternoon. Spokesperson Don Aaron said she appeared to be in her teens and was armed with at least two assault rifles and a handgun.
Geoff Bennett of PBS Newshour reported the suspect entered the school through a side entrance.

Police responded to a call at 10:13 am regarding an "active shooter."
The Nashville Fire Department reported on Twitter that officials had set up a family reunification center at a nearby church at 2100 Woodmont Boulevard.
As Fox News covered the police department's press conference, a woman stepped up to a microphone on camera and asked the assembled news team, "Aren't you guys tired of being here and having to cover all of these mass shootings?"
"How is this still happening?" said the woman, who said she was from Highland Park, Illinois and survived the mass shooting there last summer. "How are our children still dying and why are we failing them?"
"As we wait for more details, our hearts are with the families and the community in Nashville," said March for Our Lives, the gun control advocacy group started in 2018 by survivors of the Parkland, Florida school shooting. "No child should go to school in fear of being shot. Adults are failing kids."
Shannon Watts, founder of gun control group Moms Demand Action, took aim at Republican lawmakers in the state including Rep. Andy Ogles, who posed with his family holding assault rifles in front of their Christmas tree last year. Ogles represents the district where the Covenant School is located.
Watts also condemned Republican Gov. Bill Lee, who said he was "praying for the school, congregation, and Nashville community."
Lee signed legislation in 2021 to allow most adults in Tennessee carry a handgun without a permit.
Earlier this month, Lee also made Tennessee the first U.S. state to criminalize public drag shows, on the same day that he signed legislation banning gender-affirming healthcare for transgender youth. Both laws, Republicans said, were aimed at protecting children.
"Just a reminder that the people talking about library books, history classes, and drag queens don't really give a shit about the well-being of children in this country," said Robert Maguire, research director for Citizens for Responsibility and Ethics in Washington.

News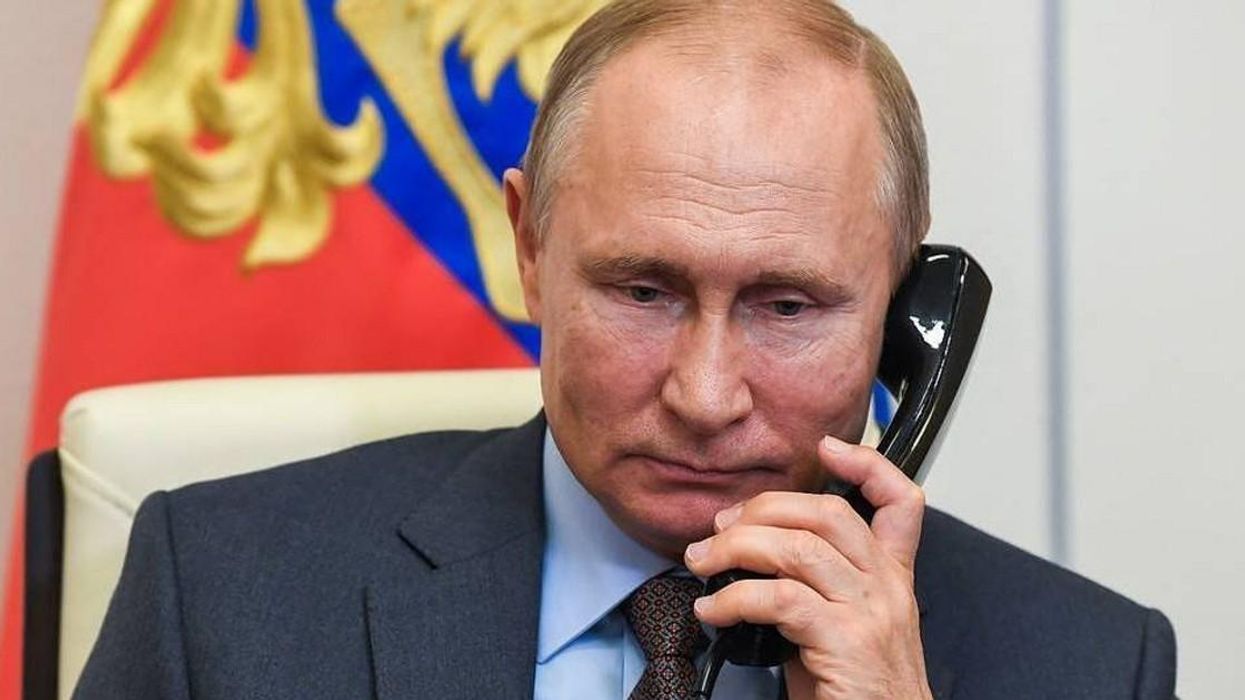 "As long as countries continue their complicity in considering nuclear weapons as anything other than a global problem, this helps give Putin cover to get away with this kind of behavior," said one expert.
In addition to denouncing Russian President Vladimir Putin's plan to station so-called "tactical" nuclear weapons in Belarus, anti-war campaigners are calling into question the effectiveness of "nuclear deterrence" and reiterating their demands for global disarmament.
"As long as Putin has nuclear weapons, Europe cannot be safe," Daniel Högsta, acting executive director of the International Campaign to Abolish Nuclear Weapons (ICAN), said Monday in a statement.
But "he has justified this dangerously escalating proposal to move nuclear weapons into Belarus by citing decades of NATO nuclear sharing," said Högsta. "As long as countries continue their complicity in considering nuclear weapons as anything other than a global problem, this helps give Putin cover to get away with this kind of behavior."
When announcing the Kremlin's plan on Saturday, Putin pointed to the United States' positioning of tactical nuclear weapons in Belgium, Germany, Italy, the Netherlands, and Turkey.
"We're basically doing the same thing they've been doing for a decade," said Putin. "They have allies in certain countries and they train their carriers, they train their crews. We are going to do the same thing."
"We need to urgently stigmatize and delegitimize the use, threat to use, testing, stationing, and possession of nuclear weapons."
Russia "will not hand over" warheads to Belarus, Putin said. He explained that his country has already provided its ally with a nuclear-capable Iskander missile system and ensured that 10 Belarusian aircraft are equipped to use such weapons. According to Putin, Moscow intends to start training crews next week and aims to finish building a special storage facility for the arms by the beginning of July.
Putin's announcement came 13 months into Russia's ongoing invasion of Ukraine. Three days after Putin launched the military assault, Belarusian President Alexander Lukashenko amended the Belarus Constitution to remove its nuclear-free clause. In late 2021, Lukashenko had offered to host Russian nuclear weapons if NATO moved U.S. atomic bombs from Germany to Eastern Europe.
Moscow's deployment decision also came just days after the United Kingdom unveiled its plan to send armor-piercing tank rounds containing depleted uranium to Ukraine—a proposal that has elicited concerns about provoking a nuclear war as well as causing public health and environmental harms.

Putin said the U.K.'s announcement "probably served as a reason" why Lukashenko agreed to Russia's plan, which he argued won't violate the country's obligations under the Treaty on the Nonproliferation of Nuclear Weapons (NPT).
As Reutersexplains, the NPT "says that no nuclear power can transfer nuclear weapons or technology to a nonnuclear power, but it does allow for the weapons to be deployed outside its borders but under its control—as with U.S. nuclear weapons in Europe."
ICAN warned Monday that "the deployment of nuclear weapons in additional countries... complicates decision-making and increases the risk of miscalculation, miscommunication, and potentially catastrophic accidents."

Belarusian human rights activist and opposition leader Sviatlana Tsikhanouskaya said Saturday that "Russia's deployment of tactical nuclear weapons in Belarus directly violates the Constitution of Belarus and grossly contradicts the will of the Belarusian people."
"This unacceptable development" makes "Belarus a potential target for preventive or retaliation strikes," she warned, imploring world leaders to demand that Russia "stop this threatening deployment and impose adequate and severe sanctions on the regimes of Lukashenko and Putin as outright threats to international peace and security."
According toAgence France-Presse, "Kyiv is seeking an emergency meeting of the United Nations Security Council over the move."
The U.S., for its part, "has reacted cautiously," Reutersreported Sunday. An unnamed senior Biden administration official told the news outlet that "we have not seen any reason to adjust our own strategic nuclear posture nor any indications Russia is preparing to use a nuclear weapon."
But a European Union official said Monday that the bloc would respond with fresh sanctions if Russia moves ahead with its plan, according toAnadolu Agency, Turkey's state-run news agency.
"That will be a further escalation and direct threat to European security," said Peter Stano, the European Commission's lead spokesperson on foreign affairs.
E.U. authorities "haven't seen any confirmation from the Belarusian side about this being on the agenda or happening anytime," Stano stressed. But if it happens, "there will be consequences."
The Kremlin, meanwhile, said Monday that Russia won't abandon its plan to deploy tactical nuclear weapons in Belarus because of mounting Western criticism.
In the words of Kremlin spokesperson Dmitry Peskov, "Such a reaction of course cannot influence Russian plans."
For Beatrice Fihn, the former executive director of ICAN who led the organization when it was awarded the Nobel Peace Prize in 2017, the entire episode underscores the dangerous incoherence of "nuclear deterrence" theory, which asserts that threatening to use atomic bombs dissuades governments from taking certain actions and thus helps avert nuclear war.
In a Twitter thread, Fihn argued that "the way nuclear deterrence has been talked about this past year has been so bizarre."
According to Fihn:
Most proponents of nuclear weapons have spent this past year arguing that we now shouldn't believe in nuclear deterrence. They say, "Don't believe Russia's threats, it doesn't deter us," but also, "Don't worry, Russia will definitely believe and be deterred by our nuclear threats."

This doesn't make any sense. And I genuinely would like to know from pro-nuclear weapons people in the U.S., U.K., France, and NATO, what could Putin do with his nuclear weapons that would deter you?

If your answer is "nothing" then you either admit nuclear deterrence doesn't work or you're basically saying nuclear deterrence only is credible when you do it but it's not when your enemies do it.

"We know Putin is a war criminal who has no problem killing civilians, so how can you be so sure he won't go ahead with this while at the same time [be] so sure that Putin... would be convinced that Biden would?" she asked.
"Nuclear weapons don't seem to deter any real war and conflict situations," said Fihn. "They only possibly deter hypothetical abstract scenarios in people's minds."
She continued:
None of this means that I'm saying Putin won't use nuclear weapons. There is a risk that Putin will use nuclear weapons in this war. We can debate how high it is, but everyone knows that this risk isn't zero and agrees that it has grown this last year.

But the decision to use nuclear weapons doesn't actually have much to do about believing or not believing in nuclear deterrence, it's just a decision by one man—and will be made based on whatever goes through his head at that point.

He makes the decision based on whatever he's thinking at that moment. Are you really that confident he will always think the right thing? That he'll always make the decision you think he should be making?

"We have to stop being so stupid by continuing to say nuclear deterrence works," Fihn added. "We need to urgently stigmatize and delegitimize the use, threat to use, testing, stationing, and possession of nuclear weapons."
For the first time since the Cold War, the global nuclear stockpile—90% of which is controlled by Moscow and Washington—is projected to grow in the coming years, and the risk of weapons capable of annihilating life on Earth being used is rising.

"We need to use all available methods and tools of the international community to pressure Russia on this," said Fihn. "And then we need to urgently work to eliminate nuclear weapons and remove this option from all counties. For Ukraine and also for every other country and person on this planet."
In October, U.S. President Joe Biden warned that the war in Ukraine had brought the world closer to "Armageddon" than at any point since the Cuban Missile Crisis. Just days later, however, his administration released a Nuclear Posture Review that nonproliferation campaigners said increases the likelihood of calamity, in part because it preserves the option of a nuclear first strike. The U.S. remains the only country to have used nuclear weapons in war, destroying the Japanese cities of Hiroshima and Nagasaki with atomic bombs in August 1945.
"As we're hurtling straight towards climate disaster, where large parts of our Earth will become inhabitable, the incentives for some leaders to use nuclear threats to grab whatever land and resources they feel they need will only increase," Fihn argued. "Nuclear disarmament and stopping climate change are the two central fights for the fate of humanity. You need to get on the right side of these two issues if you want a chance for us all to survive."
News
SUPPORT OUR WORK.
We are independent, non-profit, advertising-free and 100%
reader supported.