For Immediate Release
June, 28 2011, 12:58pm EDT
WASHINGTON
BRUCE FEIN, bruce at thelichfieldgroup.com
Obama legal adviser Harold Koh is scheduled to testify on Libya and war powers this morning before the Senate Foreign Relations Committee. Koh maintains that the attack on Libya is legal because it does not amount to "hostilities,' a position reportedly at odds with virtually every other legal view from within the administration itself; see: "Obama Rejects Top Lawyers' Legal Views on Libya."
Fein has written a series of pieces on war powers with regards to Libya and was among the first to note Obama's prior position: "On December 20, 2007, then Senator Barack Obama insisted to the Boston Globe: 'The President does not have power under the Constitution to unilaterally authorize a military attack in a situation that does not involve stopping an actual or imminent threat to the nation.'" Fein was deputy attorney general under President Ronald Reagan and is author of Constitutional Peril: The Life and Death Struggle for Our Constitution and Democracy and American Empire: Before the Fall.
VIJAY PRASHAD, Vijay.Prashad at trincoll.edu
Author of "The Darker Nations: A People's History of the Third World," Prashad is director of International Studies at Trinity College, Hartford, Conn. He just wrote the piece "A Beggar's Banquet: The Undoing of Libya."
PATRICK COCKBURN, patrick.cockburn at attglobal.net
Cockburn has recently written an article titled "Don't believe everything you see and read about Gaddafi: Both sides in this conflict are guilty of spreading propaganda -- and foreign journalists have on occasion been all too eager to help."
He also recently wrote "Remember the Kuwaiti Incubators! Those Libyan Atrocities: Do They Really Stand Up?"
Cockburn is the author of Muqtada: Muqtada Al-Sadr, the Shia Revival, and the Struggle for Iraq. He is available for a limited number of interviews Tuesday, Wednesday and next week.
A nationwide consortium, the Institute for Public Accuracy (IPA) represents an unprecedented effort to bring other voices to the mass-media table often dominated by a few major think tanks. IPA works to broaden public discourse in mainstream media, while building communication with alternative media outlets and grassroots activists.
LATEST NEWS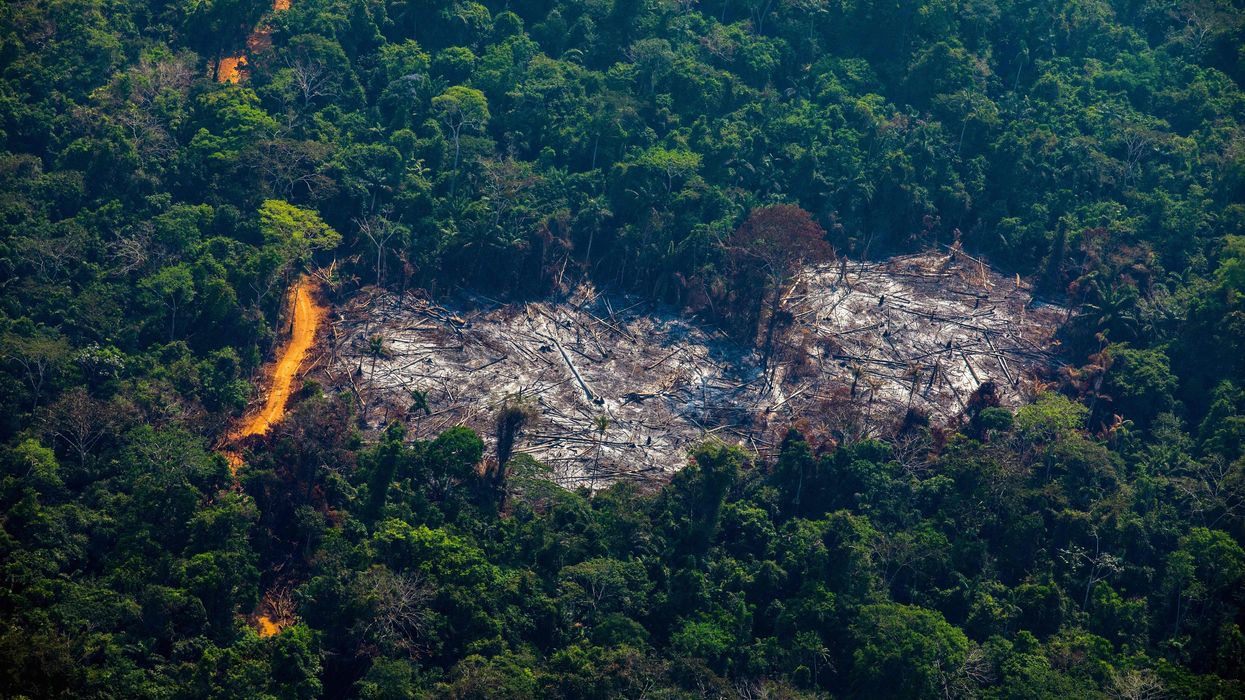 With Lula in power "there is hope now, but our paper shows it is not enough to resolve deforestation," said one co-author. "There is much more work to be done."
Peer-reviewed research out Friday shows that human activity has degraded much more of the Amazon rainforest than previously believed, with over a third of the remaining forest area afflicted and at risk of being irreversibly damaged.
Deforestation in the Amazon has been well-documented, but the new paper published in Science focuses on anthropogenic disturbances that harm what is left of the biodiverse ecosystem and threaten its future.
According to the international team of 35 scientists who conducted the study, the four most consequential sources of disruption are "edge effects" (forest changes caused by nearby deforestation and the ensuing habitat fragmentation); "selective logging"; and forest fires and extreme droughts intensified by the fossil fuel-driven climate crisis.
Based on their analysis of existing data on the extent of edge effects, timber extraction, and fires from 2001 to 2018, researchers found that 5.5% of intact Amazonian forests are degraded. When data on extreme droughts was considered, their estimate of the total degraded area grew to 38%.
The Guardian, which had early access to the full paper, summarized the scholars' findings as follows on Thursday: "Fires, land conversion, logging, and water shortages have weakened the resilience of up to 2.5 million square kilometers of the forest, an area 10 times the size of the U.K. This area is now drier, more flammable, and more vulnerable than before, prompting the authors to warn of 'megafires' in the future."
A substantial chunk of the world's largest tropical rainforest—nicknamed the "lungs of the Earth" due to its unparalleled capacity to provide oxygen and absorb planet-heating pollution—is "less able to regulate the climate, generate rainfall, store carbon, provide a habitat to other species, offer a livelihood to local people, and sustain itself as a viable ecosystem," The Guardian noted.
Degradation, defined as human-induced changes in forest conditions, has led to carbon emissions equivalent to or greater than those from deforestation, the authors note. As an accompanying statement explains: "Degradation is different from deforestation, where the forest is removed altogether and a new land use, such as agriculture, is established in its place. Although highly degraded forests can lose almost all of the trees, the land use itself does not change."
Co-author Jos Barlow, a professor of conservation science at Lancaster Univerity, said that the cumulative impact of the key degradation factors examined "can be as important as deforestation for carbon emissions and biodiversity loss."
In addition, the paper makes clear that Amazon forest degradation is associated with significant socioeconomic harms that require further investigation.
"Degradation benefits the few, but places important burdens on many," said co-author Rachel Carmenta from the University of East Anglia. "Few people profit from the degradation processes, yet many lose out across all dimensions of human well-being— including health, nutrition, and the place attachments held for the forest landscapes where they live."
"Many of these burdens are hidden at present," Carmenta added. "Recognizing them will help enable better governance with social justice at the center."
"Preventing the advance of deforestation remains vital, and could also allow more attention to be directed to other drivers of forest degradation."
Looking ahead to 2050, the paper projects that the four main drivers of Amazon forest degradation "will remain a major threat and source of carbon fluxes to the atmosphere" regardless of whether deforestation is halted.
"Even in an optimistic scenario, when there is no more deforestation, the effects of climate change will see degradation of the forest continue, leading to further carbon emissions," said lead author David Lapola, a researcher at the Centre for Meteorological and Climatic Research Applied to Agriculture at the University of Campinas. However, "preventing the advance of deforestation remains vital, and could also allow more attention to be directed to other drivers of forest degradation."
Luiz Inácio Lula da Silva, the recently inaugurated leftist president of Brazil—home to roughly 60% of the Amazon—has vowed to make "this devastation" of the forest "a thing of the past."
"There's no climate security for the world without a protected Amazon," Lula said during a mid-November speech at the United Nations COP27 summit—the first he made on the international stage after defeating Brazil's far-right ex-president, Jair Bolsonaro.
The Amazon passed a key tipping point at the tail end of Bolsonaro's four-year reign, during which ecological destruction accelerated as logging, mining, and agribusiness companies routinely violated the rights of Indigenous forest dwellers.
Last week, Lula accused Bolsonaro of committing genocide against the Yanomami people, who are enduring a deadly rise in hunger and disease due to a surge in illegal gold mining.
Lula, who drastically reduced deforestation and curbed inequality when he governed Brazil earlier this century, recently launched the first anti-deforestation raids of his new administration.
"There is hope now, but our paper shows it is not enough to resolve deforestation," Barlow told The Guardian. "There is much more work to be done."
As the new paper notes: "Whereas some disturbances such as edge effects can be tackled by curbing deforestation, others, like constraining the increase in extreme droughts, require additional measures, including global efforts to reduce greenhouse gas emissions. Curbing degradation will also require engaging with the diverse set of actors that promote it, operationalizing effective monitoring of different disturbances, and refining policy frameworks."
The authors propose creating high-tech systems to monitor forest degradation and implementing policies to prevent illegal logging and better manage the use of fire.
"Public and private actions and policies to curb deforestation will not necessarily address degradation as well," said Lapola. "It is necessary to invest in innovative strategies."
News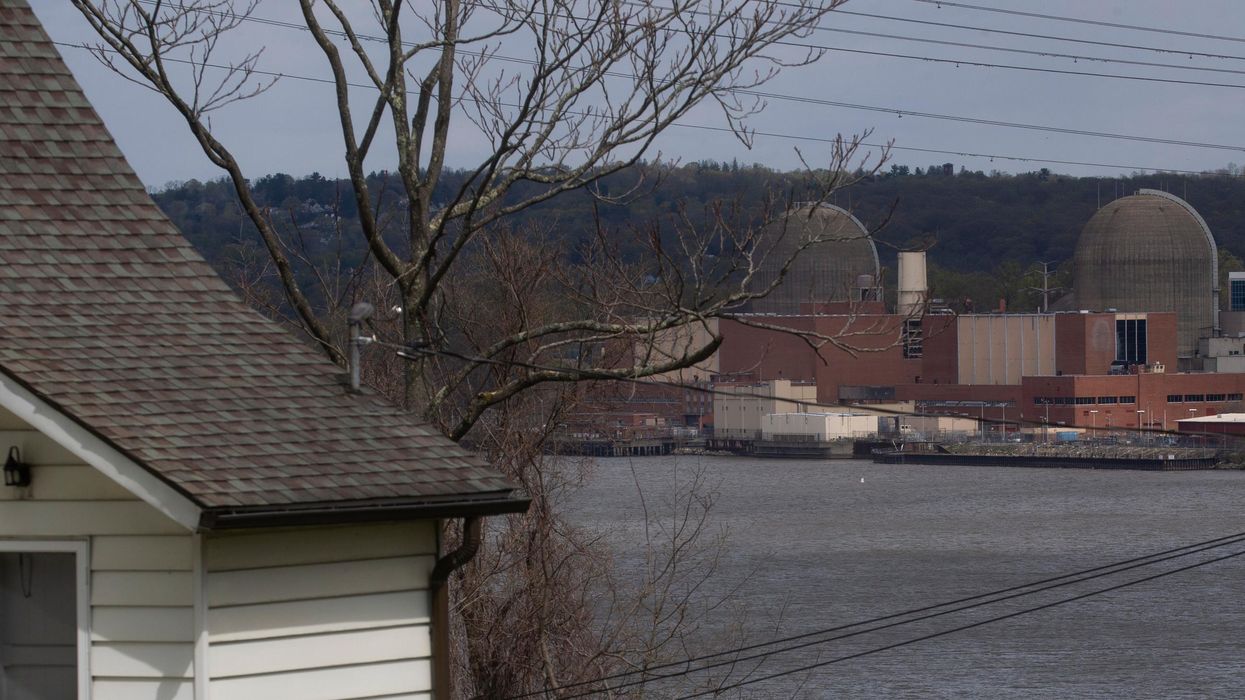 "Doctors know that there is no such thing as a safe dose of radiation, and that harmful impacts are cumulative," said the president of Physicians for Social Responsibility.
Two years after the closing of Indian Point Energy Center, a nuclear power plant in Buchanan, New York, public health experts and campaigners are warning that an energy technology company's plan to discharge one million gallons of wastewater from the plant's fuel-cooling pools into the Hudson River could harm at least 100,000 people who rely on the river for their drinking water.
Physicians for Social Responsibility (PSR) is among the groups sounding the alarm about radioactive contaminants, including the radioactive isotope tritium, which could be present in the treated water that Holtec International plans to release into the Hudson.
Spent fuel pools at the plant, which was decommissioned after decades of advocacy by anti-nuclear campaigners, have cooled radioactive fuel for more than 45 years, and health experts from PSR and other groups warned on Thursday at the first of several public forums that Holtec has not been transparent about the risks associated with the wastewater discharge plan.
"There has been no prior disclosure of what pollutants or radioactive contaminants are in the wastewater or any public education on the environmental safety and public health risks associated with any potential discharges from the site," said the groups in a statement.
The Hudson River is the primary drinking water source for seven cities and towns including Poughkeepsie, Rhinebeck, and Hyde Park, as well as the backup water source for other communities along the river.
"Since the Hudson is a tidal river, radioactive wastewater can affect communities all the way up to Poughkeepsie and down to Manhattan, Staten Island, and New Jersey," said Nancy S. Vann, president of the Safe Energy Rights Group, last year.

\u201cSince the Hudson is a tidal river, radioactive wastewater can affect communities all the way up to Poughkeepsie & down to Manhattan, Staten Island & New Jersey\n\nWater from the nuclear plant has already leaked into the river and dead & mutant fish were common when plant was active\u201d

— Nancy S Vann, Esq. (JD) (@Nancy S Vann, Esq. (JD)) 1649617375
Dr. Helen Caldicott, president of PSR, was among the experts who spoke at the forum on Thursday and warned that tritium poses risks for adults, children, and developing fetuses.
"It's highly carcinogenic, of course, it enters the fetus," she said at the meeting. "There's no way to remove tritium from the water."
Tritium has also been the subject of concern in Japan as officials prepare to release wastewater from the decommissioned Fukushima Daiichi nuclear power plant into the Pacific Ocean, with fishing communities and South Korean officials warning of potential harm to marine life.

Holtec International that told local outlet News 12 that during the 12-15 year process of decommissioning the plant, the discharge of the wastewater will be regulated by the U.S. Environmental Protection Agency and the U.S. Nuclear Regulatory Commission and will result in the presence of substances that "are typically indistinguishable from the natural radioactivity present in the environment."
Caldicott dismissed the company's claims.

"Physicists talk convincingly about 'permissible doses' of radiation," she said in a statement. "They consistently ignore internal emitters—radioactive elements from nuclear power plants that are ingested or inhaled into the body, giving very high doses to small volumes of cells. They focus instead on external radiation from sources outside the body."
"Doctors know that there is no such thing as a safe dose of radiation, and that harmful impacts are cumulative," Caldicott added. "Children are ten to twenty times more vulnerable to the deleterious effects of radiation than adults and little girls twice that of boys."
Also speaking at the forum on Thursday was Diane Turco, director of the grassroots group Cape Downwinders in Cape Cod, Massachusetts, where Holtec is also planning to discharge wastewater from Pilgrim Nuclear Power Station, another decommissioned facility.
"From California to Massachusetts to New York to Michigan to New Mexico, Indigenous and civil society groups are connecting in our efforts," said Turco. "Holtec has no right to dump radioactive wastewater into our waterways or radioactive waste into our communities."
The experts also raised concerns about the demolition activities taking place at Indian Point without efforts to mitigate the spread of radioactive dust and other airborne contaminants, even as Buchanan-Verplanck Elementary School stands less than 4,000 feet from the site and lacks air, water, and soil monitoring.

"Although a school air monitoring study has been under consideration, a Request for Proposal for an air monitoring program was only recently issued," said the experts. "Still, hundreds of students were allowed to return to the school this past September. Parents still lack critical information regarding emergency planning and preparedness, monitoring, and protections."
They noted that in 2019, a middle school in Piketon, Ohio was forced to close due to radioactive contamination from demolition projects at a nuclear enrichment facility less than two miles away.
"Independent expert analysis regarding potential health and environmental impacts from these exposures is imperative," said the experts.

Another public forum will be held at nearby Cortlandt Town Hall on February 3, according toNews 12.
News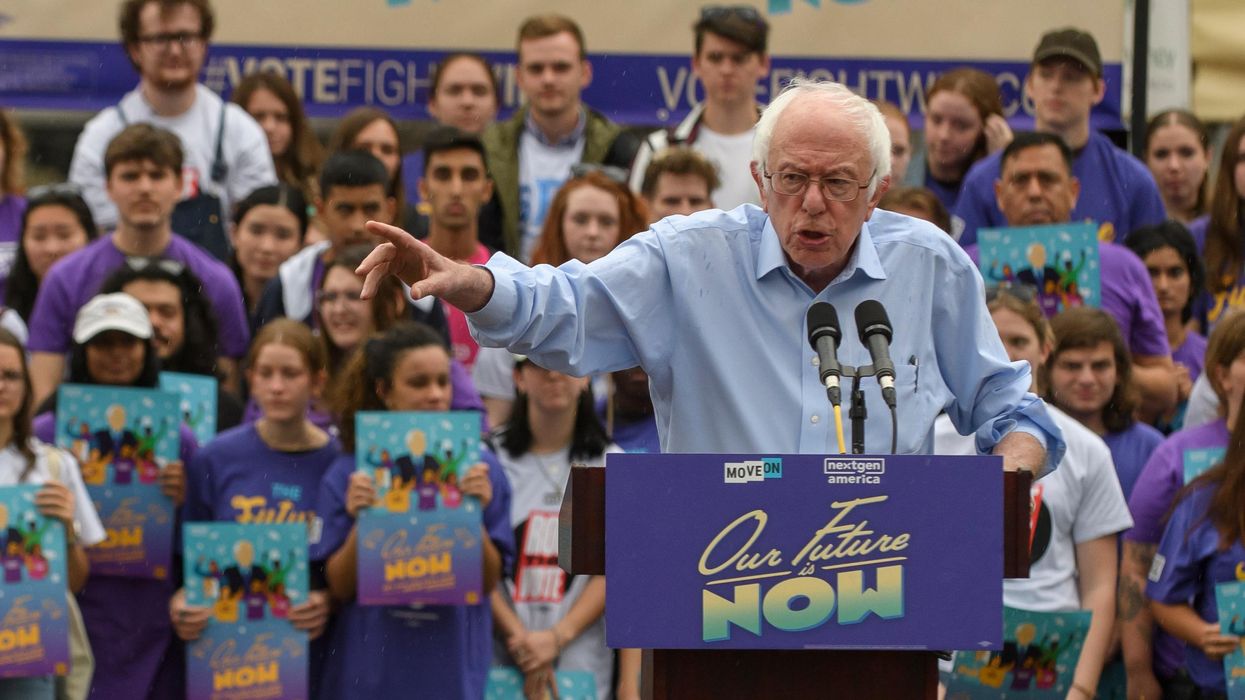 "If Democrats really believe in democracy and campaign finance reform, we must ban super PACs in primaries," said Sen. Bernie Sanders.
Sen. Bernie Sanders on Thursday voiced support for a renewed progressive push at the Democratic National Committee to ban dark money donations in the party's primaries, an effort that comes months after the DNC Resolutions Committee refused to allow a vote on the proposal.

"Billionaires and their super PACs must not be able to buy Democratic Party primaries," Sanders (I-Vt.) wrote on social media. "If Democrats really believe in democracy and campaign finance reform, we must ban super PACs in primaries. I stand with progressive reformers advocating for this change."
James Zogby, a longtime DNC member who helped craft the resolution, welcomed Sanders' continued support, writing that "Democrats mustn't let billionaires buy campaigns and our politics with deceitful ads."
"We introduced a resolution to ban dark money at the last DNC meeting," Zogby tweeted Thursday. "They wouldn't let it be discussed or come to a vote. We're bringing it back again."
The 2022 midterms were the most expensive on record, with billionaire-backed super PACs pumping torrents of cash into congressional races across the country.
During last year's Democratic primaries, a number of progressive candidates—including Summer Lee in Pennsylvania, who won her race, and Nida Allam in North Carolina, who lost—faced massive opposition spending from super PACs, including at least one bankrolled by Republican billionaires.
Super PACs, entities that are allowed to spend unlimited sums advocating for or against political candidates, are an outgrowth of the Supreme Court's Citizens United ruling, which unleashed an avalanche of corporate cash into the U.S. political system.
Though they are legally required to disclose their donors, some super PACs "are effectively dark money outlets when the bulk of their funding cannot be traced back to the original donor," OpenSecrets explains.
"While Citizens United may allow for unlimited corporate money in general elections, that Supreme Court ruling does not govern Democratic Party rules."
Appalled by the growing influence of super PACs on Democratic races, progressive DNC members led by Nevada Democratic Party Chair Judith Whitmer proposed a resolution late last year that would have prohibited dark money funding "during any and all Democratic primary elections" and set up "procedures for the investigation of 'dark money' use by candidate committees as well as possible disciplinary action."
But during a September meeting, the DNC Resolutions Committee didn't allow the measure to come up for a vote even though it had the support of dozens of DNC members, spotlighting the committee's increasingly undemocratic procedures and emboldening progressives who vowed to keep fighting for a full floor vote on the dark money ban.
"It was absolutely stunning," Zogby said in an interview after the meeting. "The resolution was never even considered. I know how that works. I was chair of the resolutions committee for 10 years. I was a member of the resolutions committee for 20 years. It means that staff whipped the members and said, 'Don't you dare.'"
"I went up to folks afterwards who I've known," Zogby added. "I mean, you know, they've served on the committee with me. And I said, 'Why? Why did this happen?' They wouldn't look me in the eye."
In a column for In These Times on Thursday, Our Revolution board chair and DNC member Larry Cohen wrote that "while Citizens United may allow for unlimited corporate money in general elections, that Supreme Court ruling does not govern Democratic Party rules."
However, Cohen added, "it is likely that in February, for the second time, the resolutions committee (which determines which proposals move forward) will refuse to report out the dark money ban—despite the significant support it has received from DNC members in about 20 states."
"Increasingly, both the DNC and political leadership in the Biden White House appear interested in preventing party discussion and debate," Cohen wrote. "The good news is that the number of progressives at the DNC is growing, slowly but surely, and grassroots activists increasingly understand that without change within the Democratic Party, we won't win the advances in healthcare, childcare, workers' rights, and climate change that are desperately needed."
News
SUPPORT OUR WORK.
We are independent, non-profit, advertising-free and 100%
reader supported.