For Immediate Release
May, 05 2011, 12:36pm EDT
Contact:
Shonna Carter or David Lerner, Riptide Communications 212-260-5000
September 11th Families for Peaceful Tomorrows Urge President Obama to Lead the Nation on a Path to Peace
Families Group calls for Re-Commitment to Rule of Law, Closing Guantanamo and Bringing Our Troops Home
NEW YORK
Today as President Obama travels to Ground Zero where he will lay a wreath at the site and then meet with families of victims of the terror attacks, September 11th Families for Peaceful Tomorrows issued the following statement:
September 11th Families for Peaceful Tomorrows has always believed violence should be met with nonviolence, terror should be confronted with courage, and grief could be fashioned into action for peace. We said this in the days and months after 9-11, and we stand by our convictions today.
The recent death of Osama Bin Laden brings our nation full circle - back to the fall of 2001. Two wars did not lead to the capture of Bin Laden. Good intelligence work did. Two wars have caused untold human suffering, wasted trillions of dollars, and diverted precious attention and resources from bringing to justice the murderers that committed the horrific crimes against our nation.
President Obama today marks a new beginning. May the wreath you lay today, at the grave site of our loved ones, bemore than a symbolic gesture. Lead our nation by following the rule of law, accomplish a new mission by bringing our troops home now, open the door to human dignity by closing the prison at Guantanamo Bay and honor our nation's collective loss by gaining our trust in a government of the people, and for the people, once again.
Peaceful Tomorrows is an organization founded by family members of those killed on September 11th who have united to turn our grief into action for peace. By developing and advocating nonviolent options and actions in the pursuit of justice, we hope to break the cycles of violence engendered by war and terrorism. Acknowledging our common experience with all people affected by violence throughout the world, we work to create a safer and more peaceful world for everyone.
LATEST NEWS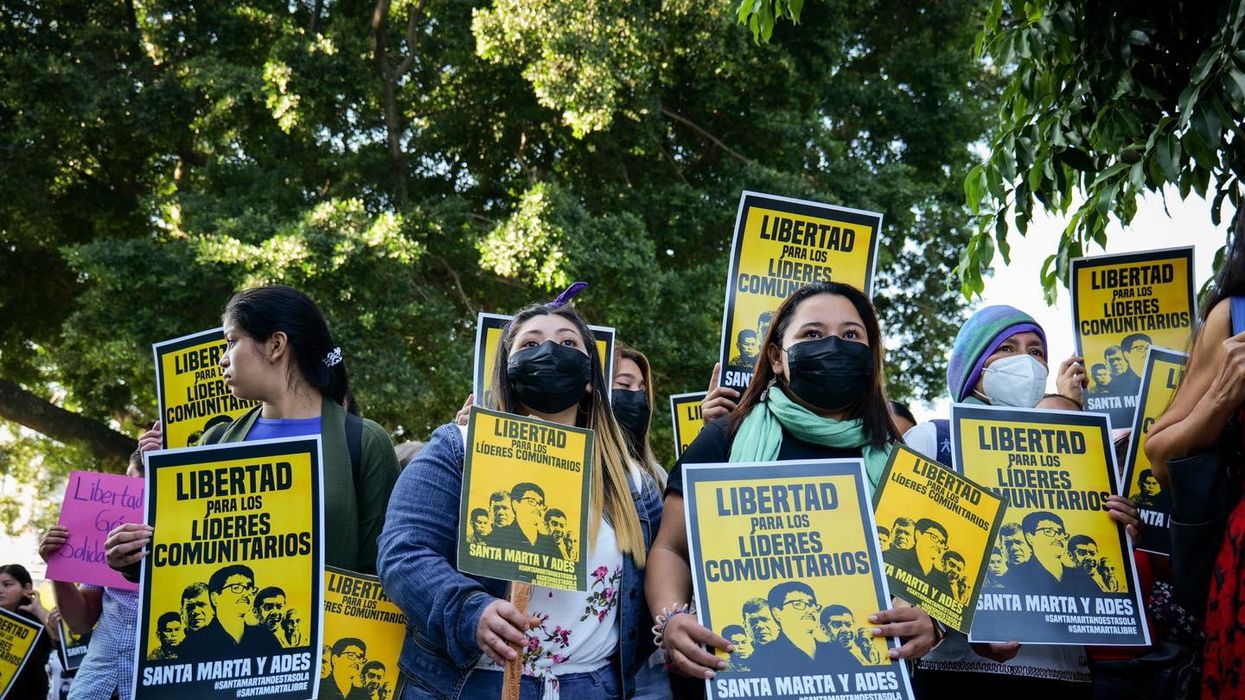 Critics warn that the Salvadoran government is "desperate for revenues" and trying to "demobilize potential grassroots opposition" to reversing a historic nationwide ban on environmentally destructive metal mining.
More than 250 organizations from 29 countries came together Friday to pressure the Salvadoran government to drop the charges against and release five water defenders who were instrumental in achieving a 2017 legislative ban on metal mining in El Salvador.
Global alarm has been building since Miguel Ángel Gámez, Alejandro Laínez García, Pedro Antonio Rivas Laínez, Teodoro Antonio Pacheco, and Saúl Agustín Rivas Ortega were detained in northern El Salvador on January 11. In a case that critics call politically motivated, they are accused of murdering an alleged military informant over three decades ago and of illicit association, which the government of Salvadoran President Nayib Bukele has used to detain tens of thousands of supposed gang members.
The groups' joint statement highlights that "thanks in part to its ill-advised embrace of Bitcoin, the Salvadoran government is under enormous pressure to find new revenues" and is reportedly considering reversing the historic mining ban—despite environmental concerns and the Central American country's ongoing water issues due to the climate emergency and pollution.
"Among El Salvador's greatest heroes of this century are the brave water defenders, including several of those arrested last week."
"The five are accused by El Salvador's attorney general of an alleged murder over 30 years ago during the brutal civil war in El Salvador that claimed the lives of 75,000," explained the organizations. "The victims of crimes from that war, which saw a U.S.-backed dictatorship and right-wing death squads kill tens of thousands, have, for decades, been calling for justice."
"The current government, however, has chosen to actively uphold decades of impunity," the groups continued. "Rather than investigate or prosecute those responsible for the dozens of cases of human rights violations and crimes against humanity that members of the Salvadoran military committed against the Santa Marta community (including the murders of the Lempa River massacre in 1980, where 30 people were assassinated and 189 were disappeared), the government is now re-victimizing the community by targeting their leaders, who have been outspoken against the policies of the current government."
"This further raises questions about whether the attorney general's true motivation is to attempt to silence these water defenders, especially in light of the current administration's crusade to criminalize, persecute, and demobilize its political opponents," adds the statement, spearheaded by the U.S.-based Institute for Policy Studies (IPS)—which in 2009 honored the National Roundtable on Metals Mining, a coalition the arrested men helped build, with its annual Letelier-Moffitt Human Rights Award.
The collective demand that Bukele's government "drop the charges against the five water defenders and otherwise release them from prison to await their trial" came a day after a Salvadoran judge ruled that the case should proceed and the leaders of the Association of Economic and Social Development (ADES) Santa Marta should remain detained.
\u201c#SantaMartaNoEst\u00e1Sola| La comunidad Santa Marta es ejemplo de organizaci\u00f3n en defensa de los bienes naturales. El movimiento ambiental acompa\u00f1a sus resistencias y demanda que se respete los derechos de los l\u00edderes ambientalistas detenidos de @ades_sm y la comunidad.\u201d

— ADES Santa Marta (@ADES Santa Marta) 1674151327
"Among El Salvador's greatest heroes of this century are the brave water defenders, including several of those arrested last week, who led the 13-year fight that culminated in El Salvador's legislature voting unanimously in 2017 to make that country the first in the world to ban all metals mining to save its rivers," IPS senior adviser John Cavanagh told Common Dreams.
Cavanagh, who co-authored with Robin Broad The Water Defenders: How Ordinary People Saved a Country from Corporate Greed, stressed that Bukele "is desperate for revenues" because he "has so mismanaged El Salvador's finances."
"So for Bukele's government, why not arrest key water defenders if you are exploring overturning the mining ban for the revenues that gold mining brings?" he said. "This is the great fear of water defenders in El Salvador. And, this is why there is now a global outcry over these arrests."
\u201c#SantaMarta | Diversos colectivos ambientalistas est\u00e1n afuera del Centro Judicial Isidro Men\u00e9ndez, exigiendo la libertad de los l\u00edderes comunitarios de Caba\u00f1as.\n\nVidalina Morales, presidenta de @ades_sm, habla de la lucha antiminera que han librado.\n\n\u270d\ud83c\udffb @GuerreroMarvin\u201d

— MalaYerba (@MalaYerba) 1674140382
Pedro Cabezas of the Central American Alliance on Mining said in an email to Common Dreams that "different from previous presidents, the government of Nayib Bukele has shown no interest in implementing pending aspects of the mining prohibitions of 2017, like environmental remediation and reparation for the victims of the mining conflicts."
"On the contrary," he explained, "recent government actions signal an imminent reopening of the mining sector: El Salvador joined the Intergovernmental Forum on Mining in 2021, legislation to create a Directorate of Hydrocarbons, Energy, and Mines was passed at the legislature this year, there are rumors that the current secret negotiations of a Free Trade Agreement with China involve negotiations on mining, and there are testimonies from the communities that representatives of mining companies are visiting their territories to offer social programs and to lease large quantities of land."
"With that in mind," Cabezas concluded, "the only explanation for the arbitrary detention of five community leaders of Santa Marta, the community that led the anti-mining struggle for more than 12 years in order to protect the fragile water supply in El Salvador, is to demobilize potential grassroots opposition to the government's plans."
News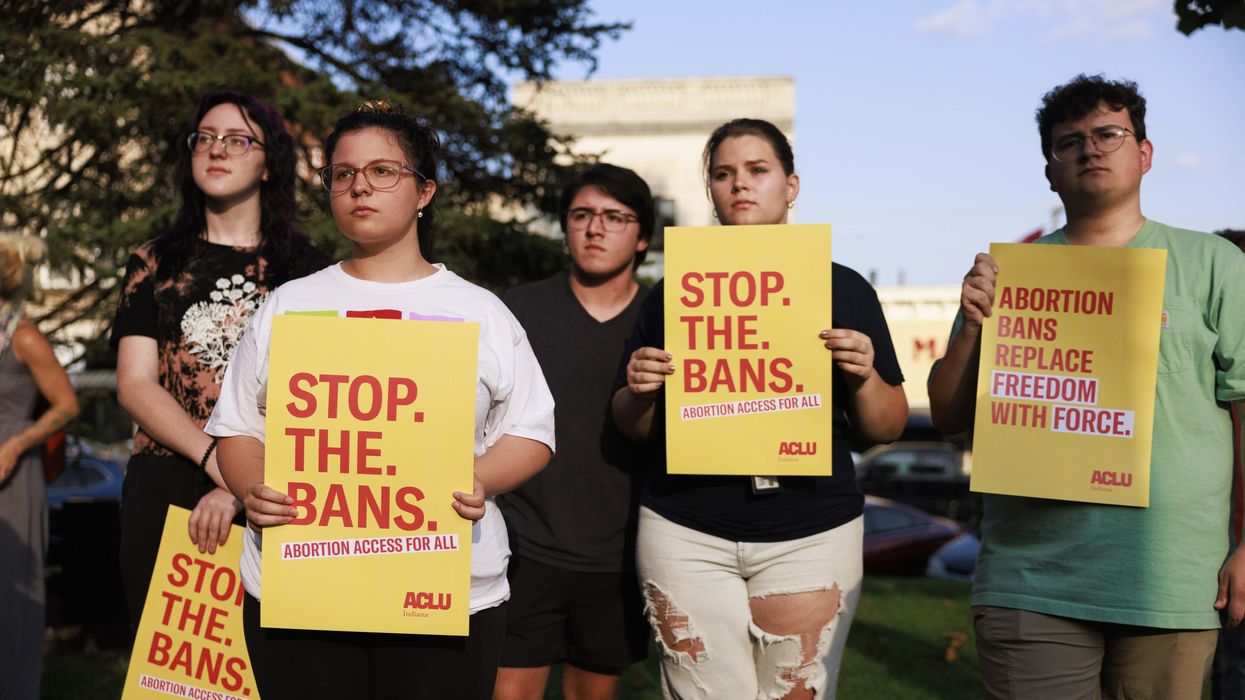 "This is an attempt to blatantly disregard the will of the people."
Kansas voters left little room for interpretation when a sizable majority voted in August to reject a ballot measure that would have paved the way for a statewide abortion ban—but that isn't stopping Republicans from attempting to force residents to continue unwanted pregnancies by imposing city-by-city bans.
State Sen. Chase Blasi on Thursday introduced Senate Bill 65, which would authorize cities and counties "to enact local laws more stringent than state law regarding regulation of abortion" and would repeal the state law which prohibits "political subdivisions" from enacting bans.
The proposal's language makes clear that cities and counties would not be permitted to protect abortion rights if a state ban were to be imposed in the future—only to pass bans if abortion care remains legal in Kansas.
\u201cNEWS: Kansas lawmakers have introduced a bill that would allow cities + counties to ban abortion -- despite the August referendum where Kansans voted overwhelmingly in favor of protecting abortion rights.\u201d

— Caroline Kitchener (@Caroline Kitchener) 1674215954
"The irony of this bill is too much," Anamarie Rebori Simmons, a spokesperson for Planned Parenthood Great Plains Votes, told The New Republic on Friday. "The party that tried to remove fundamental protections from the state constitution didn't get the outcome they wanted when Kansans overwhelmingly supported abortion access. This is an attempt to blatantly disregard the will of the people."
Blasi proposed the legislation five months after 59% of Kansas voters rejected a ballot measure which would have removed the right to abortion care from the state constitution. In 2019, the Kansas Supreme Court ruled that under the constitution, pregnant people have a "right to personal autonomy" and that Kansans could legally obtain abortion care even if Roe v. Wade was overturned as it was last year.
The rejection of the ballot measure in August was seen as a major victory for abortion rights advocates and a clear illustration of the fact that Americans in both red and blue states "want to make their own decisions about abortion," as Nancy Northrup, president and CEO of the Center for Reproductive Rights, said at the time.
Since then, voters in Michigan, California, Kentucky, Montana, and Vermont have been asked whether they support or oppose restricting reproductive rights, and in all the states they have voted in favor of abortion access.
Washington Post reporter Caroline Kitchener noted that proposals like Blasi's "could become part of the playbook for combating the success of ballot initiatives that protect the right to abortion."
In Kansas, Rebori Simmons told The New Republic, "Abortion rights won in a landslide, including in the home county of the bill's sponsor."
"Politicians serve as the voice of the people in the legislature," she said, "and Republican lawmakers should know better than to silence those they represent."
News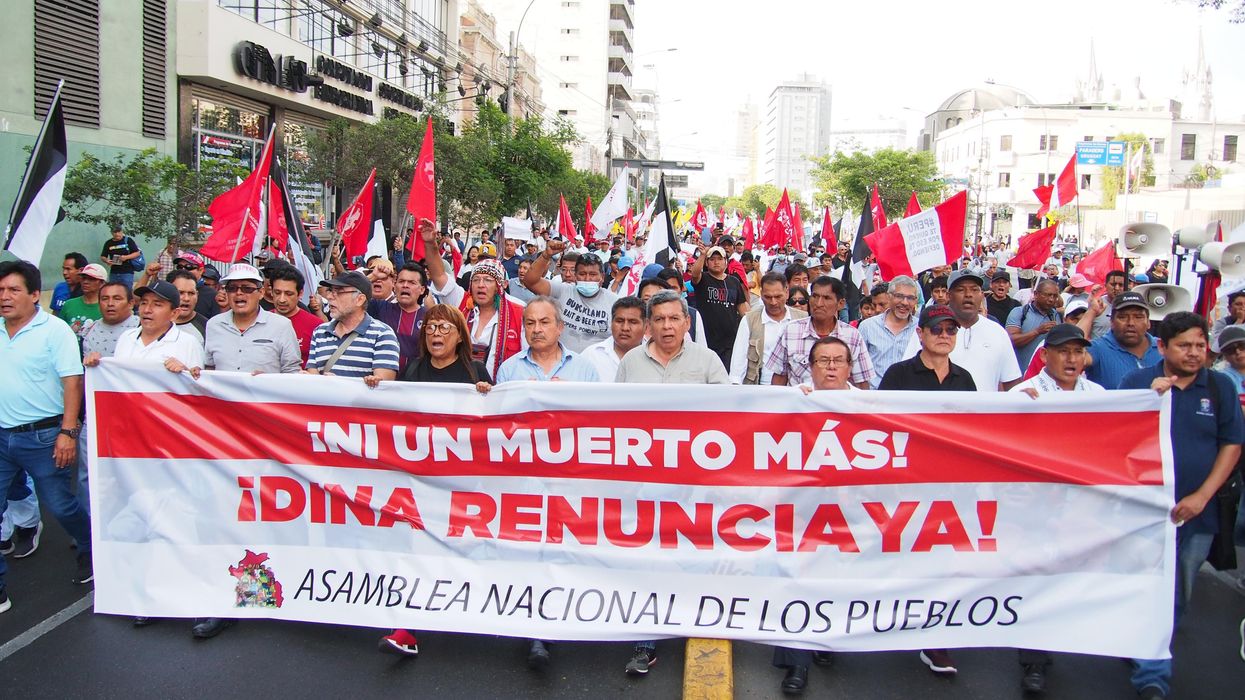 "We're at a breaking point between dictatorship and democracy," warned one student demonstrator.
Thousands of Peruvians took to the streets of the nation's capital on Thursday demanding the resignation of Dina Boluarte—the unelected U.S.-backed president—justice for the more than 50 people killed during the six-week uprising, the return to power of jailed former President Pedro Castillo, and the dissolution of the Congress that ousted him.
The protesters, many of them Indigenous Aymara and Quecha people, traveled to what they called the "Takeover of Lima" from all over the nation of 34 million inhabitants to take part in mostly peaceful demonstrations against what opponents call a "coup regime." The demonstrators carried banners with slogans including "Out, Dina Boluarte," "Dina, Murderer," and "Not One More Death."

"We want justice, we don't want our dead to be forgotten," protester Zulema Chacón toldThe Guardian.
"We want that usurper out, she doesn't represent us," she added, referring to Boluarte.
\u201cDespite repression, anti-coup protesters in Lima, Peru, continue in the streets calling for the fall of the regime.\n\ud83d\udcf9 @LuciaAlvites\u201d

— Kawsachun News (@Kawsachun News) 1674181008
Carrying a Bible, protester Paulina Consac, who traveled 750 miles from the Andean city of Cusco to coastal Lima, told the Associated Press that "our God says thou shalt not kill your neighbor. Dina Boluarte is killing, she's making brothers fight."
Referring to the right-wing-controlled Congress that overthrew Castillo—a leftist who was democratically elected but moved to dissolve the legislature before it could overthrow him—shopkeeper Delia Zevallos told The Guardian that "they are the thieves and they lie and lie to us."
"The people have woken up, we're not children anymore, we know how to read and write... and no one can tell us what to do," she added.

Pedro Mamani, a student at the National University of San Marcos, said that "we're at a breaking point between dictatorship and democracy."
According to Defensoria del Pueblo, Peru's national ombudsman, the 6,000-7,000 demonstrators who marched on Plaza 2 de Mayo and Plaza San Martín were peaceful. However, "violent groups" attempted to reach the building housing Peru's Congress. A massive fire broke out at a building near Plaza San Martín late in the evening; there was no indication that the blaze was related to the protests, although some on the left accused police of causing the inferno.
Defensoría del Pueblo reported injuries to 13 civilians and four of the more than 11,800 police officers deployed in the capital. The ombudsman said at least 53 people including one police officer have been killed and hundreds more were wounded since Castillo was ousted on December 7.
Protests continued elsewhere Thursday, including in the southern city of Arequipa, where a group of around 200 people attempted to storm Rodríguez Ballón International Airport. One protester, identified as 30-year-old Jhancarlo Condori Arcana, died after being shot in the abdomen by police at the airport.
Boluarte said during a nighttime television address that the protests had "no social agenda" and that protesters wanted to "break the rule of law, generate chaos and disorder, and seize power."
Earlier on Thursday, Boluarte met with officials from the United Nations Office of the High Commissioner for Human Rights, whose spokesperson, Maria Hurtado, said earlier this month that the agency was "very concerned at the rising violence."
\u201cYojana gives us the demands of Peruvian protestors that Western media fails to make clear.\n\nListen to "The Coup in Peru w/ Yojana Miraya Oscco and Renzo Aroni" now streaming wherever you get your podcasts!\u201d

— The Red Nation #TheRedDeal (@The Red Nation #TheRedDeal) 1674189927
Weighing in on the protests in a Spanish-language tweet, U.S. Ambassador Lisa Kenna—a former CIA agent appointed by former President Donald Trump whom Castillo claims met with Boluarte the day before his removal—said it's "fundamental that the forces of order respect human rights and protect the citizenry."
Commenting on the uprising, former Greek Finance Minister and progressive activist Yanis Varoufakis tweeted that "the protesters in Peru are right: When the elected president is deposed in a palace coup, only fresh elections can cure the rift and restore democracy."
"Solidarity with Peruvian democrats = solidarity with democracy," Varoufakis added.

News
SUPPORT OUR WORK.
We are independent, non-profit, advertising-free and 100%
reader supported.