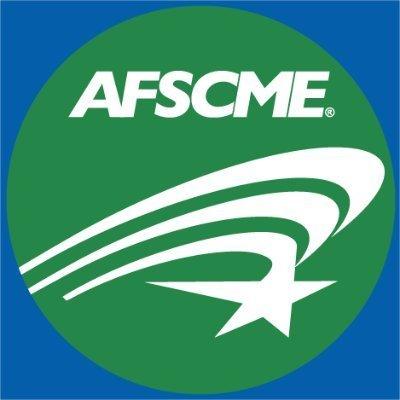 For Immediate Release
June, 30 2010, 03:49pm EDT
Contact:
Jim Durkin, 617-376-6012
Korey Hartwich, 617-954-3401
Out of Time: Struggling Families Hoping for Assistance Shafted by Congress
AFSCME Rallies to Demand Aid, Promote Jobs, Protect Services
WASHINGTON
Dire economic predictions turn to reality this week as states prepare for a new fiscal year without billions of dollars in federal Medicaid assistance, small-business tax breaks, and education funding that Congress has failed to pass. Thousands of AFSCME activists from across the country rallied on Boston Common on Wednesday to demand that Congress help state and local governments fill budget gaps to keep Americans working and protect vital public services that support our communities.
"Right now, services and jobs are on the line. America's workers, with families to support and bills to pay, just can't wait for Congress any longer," said AFSCME International President Gerald W. McEntee. "With each vote against the jobs bills in Congress, Washington is slamming the door in the faces of hard-working Americans wondering what they did to lose their jobs, cops, teachers and child-care. States have reached the point of no return and are now facing economic crises of historic proportions. It's time for Congress to pass a real jobs bill."
More than 30 states counted on $24 billion in FMAP funds-money which helps states cover the cost of Medicaid, the health insurance program for the poor-while drawing up their 2011 FY budgets. Without this funding, states will be forced to siphon money from other programs in order to close the gap. The results of this shifting will be devastating, and it is likely states will start to see the effects this week.
The rally on Boston Common was also aimed at Massachusetts and Boston politicians who are threatening to close the state's facilities for people with developmental disabilities and make devastating cuts to the city's public libraries. The rally called for fair contracts for Massachusetts' higher education workers represented by AFSCME.
"We are struggling with politicians who want to place the burden of our economic crisis on the backs of public employees and the less fortunate members of society who rely on AFSCME members for essential public services," said Tony Caso, Executive Director of AFSCME Council 93 and AFSCME International Vice President. "If they think they can beat us then they don't know what AFSCME is about. When we put our hearts and soul into a fight-nothing can stop us!"
On this last day of the fiscal year in most states, efforts are underway throughout the nation to urge Congress to end the GOP filibuster on the jobs bill and enact legislation to help the unemployed and states dealing with unprecedented budget shortfalls. Ten governors are holding a joint afternoon press conference in Washington, D.C., and rallies are taking place in 18 states. AFSCME members are fighting to preserve essential public services and for working families across the country.
AFSCME members provide the vital services that make America happen. With members in hundreds of different occupations, AFSCME advocates for fairness in the workplace, excellence in public services and prosperity and opportunity for all working families.
(202) 429-1000
LATEST NEWS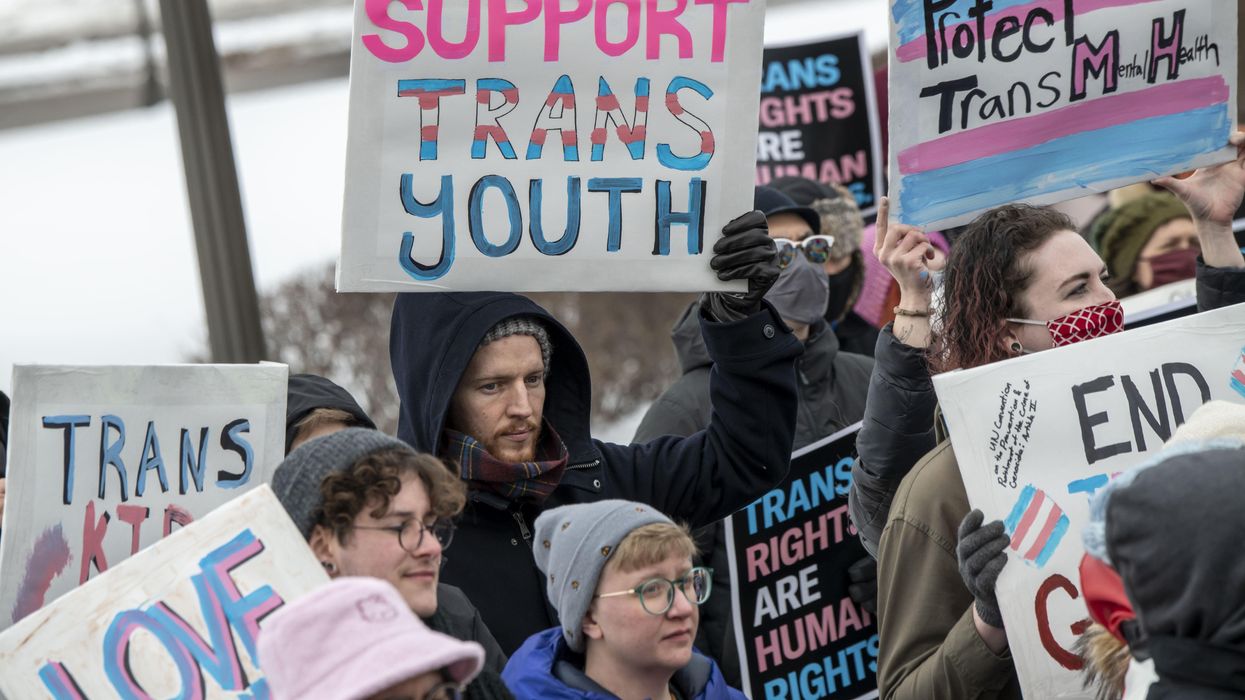 "It undermines the health and well-being of adolescents, limits the options of doctors, patients, and parents, and violates the constitutional rights of these families," the ACLU of Utah's executive director.
Defying the guidance of the nation's leading medical organizations, Republican Utah Gov. Spencer Cox on Saturday signed into law a bill banning gender-affirming care for minors in the state.
Passed by the Utah House of Representatives on Thursday and the state Senate on Friday, S.B. 16 prohibits gender-affirming surgeries for trans youth and bars hormonal treatment for new patients who were not diagnosed with gender dysphoria before the bill's effective date, May 3.
"This bill effectively bans access to lifesaving medical care for transgender youth in Utah," said Brittney Nystrom, executive director of the ACLU of Utah, after the Senate vote Friday. "It undermines the health and well-being of adolescents, limits the options of doctors, patients, and parents, and violates the constitutional rights of these families."
Nystrom also sent Cox a letter urging him to veto the bill. She wrote that "the ACLU of Utah is deeply concerned about the damaging and potentially catastrophic effects this law will have on people's lives and medical care, and the grave violations of people's constitutional rights it will cause."
\u201c"Treating transgender families with respect" by interfering with their healthcare decisions and depriving them of the standards of care endorsed by every major medical org in the country.\u201d

— Alejandra Caraballo (@Alejandra Caraballo) 1674939187
Cathryn Oakley, Human Rights Campaign's state legislative director and senior counsel, had also pressured Cox to veto the bill, arguing Friday that "Utah legislators capitulated to extremism and fear-mongering, and by doing so, shamelessly put the lives and well-being of young Utahans at risk—young transgender folks who are simply trying to navigate life as their authentic selves."
"Every parent wants and deserves access to the highest quality healthcare for our kids," Oakley said. "This discriminatory legislation bans care that is age-appropriate and supported by every major medical association, representing more than 1.3 million doctors. Medical decisions are best left to medical experts and parents or guardians, not politicians without an ounce of medical training acting as if they know how to raise and support our children better than we do."
Dr. Jack Turban, an assistant professor of child and adolescent psychiatry at the University of California, San Francisco who researches the mental health of transgender and gender diverse youth, also pointed out that the new Utah law contradicts the positions of various medical organizations.
\u201chttps://t.co/y7aqIjCzcW\u201d

— Jack Turban MD \ud83c\udff3\ufe0f\u200d\u26a7\ufe0f\ud83e\udde0\ud83c\udff3\ufe0f\u200d\ud83c\udf08\ud83e\ude7a (@Jack Turban MD \ud83c\udff3\ufe0f\u200d\u26a7\ufe0f\ud83e\udde0\ud83c\udff3\ufe0f\u200d\ud83c\udf08\ud83e\ude7a) 1674936238
Some LGBTQ+ advocates had hoped Cox would be compelled to block the bill because last March, citing trans youth suicide rates, he vetoed H.B. 11, which banned transgender girls from playing on school sports teams that align with their gender identity. Utah lawmakers swiftly overrode his veto but a state judge in August issued a preliminary injunction blocking enforcement of the law.
Republican lawmakers in various states have ramped up efforts to enact anti-trans laws—particularly those targeting youth—over the past few years. As The New York Timesreported Wednesday:
But even by those standards, the start of the 2023 legislative season stands out for the aggressiveness with which lawmakers are pushing into new territory.

The bills they have proposed—more than 150 in at least 25 states—include bans on transition care into young adulthood; restrictions on drag shows using definitions that could broadly encompass performances by transgender people; measures that would prevent teachers in many cases from using names or pronouns matching students' gender identities; and requirements that schools out transgender students to their parents.
Legislative researcher Erin Reed, who is transgender, told the Times that the more aggressive proposals could make others seem like compromises.
"I really hope that people don't allow that to happen," Reed said. "Because these bills still target trans people who will then have to suffer the consequences."
In a tweet about Cox's decision Saturday, Reed said that "my heart breaks for Utah trans kids."
\u201cMy heart breaks for Utah trans kids.\n\nThe governor of Utah has signed a gender affirming care ban for trans youth into law. Utah becomes the first state of 2023 to ban gender affirming care and unless it is blocked in court, it would be the only state with such a ban in effect.\u201d

— Erin Reed (@Erin Reed) 1674931607
After the Utah House passed the measure Thursday, the chamber's Democrats expressed their disappointment with what they called "a misguided step by our Legislature and a violation of parents' rights," and said that "we recognize that gender-affirming healthcare is lifesaving, patient-center healthcare."
"With no pathway forward for children in need of care, this legislation will inevitably lead to litigation and a likely injunction," they added. "This is a tremendous waste of taxpayer money, and worse, a terrible message for our Legislature to send to transgender Utahns, their family, and their friends."
After the governor signed the bill, the ACLU of Utah tweeted Saturday that "trans kids are kids—they deserve to grow up without constant political attacks on their lives and healthcare; we will defend that right. We see you. We support you."

News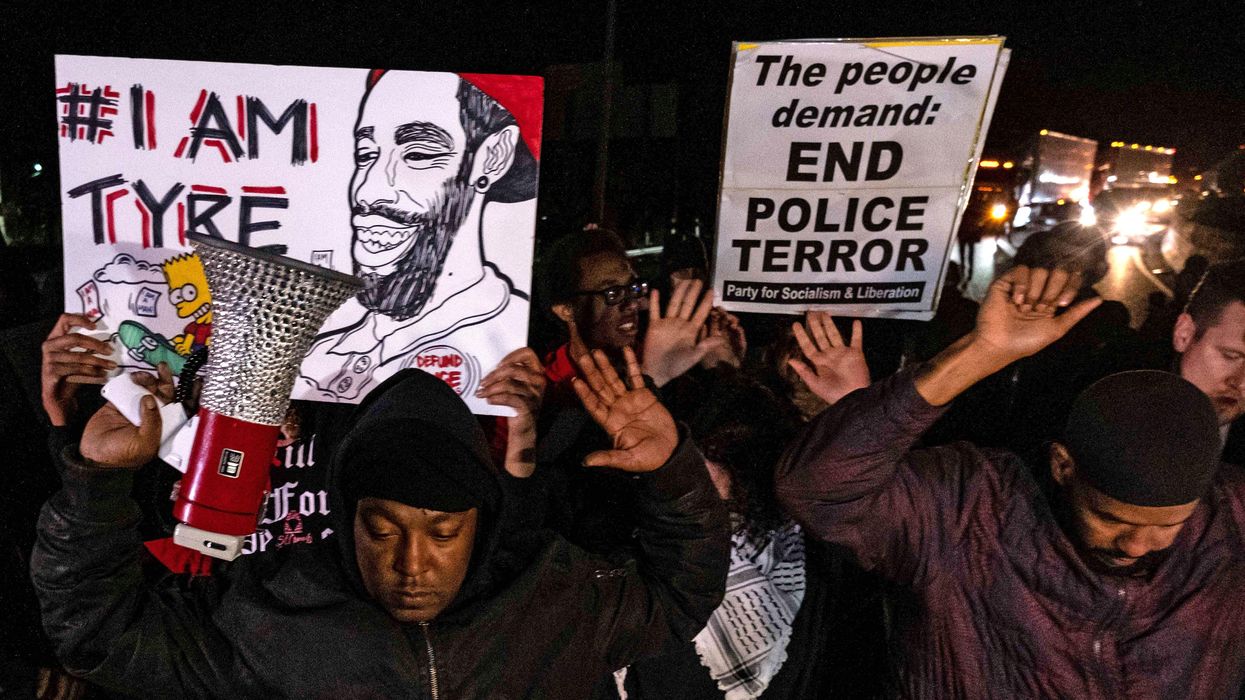 "These killer cops have got to go," chanted demonstrators in Chicago who carried signs that read, "Justice for Tyre Nichols" and "End police terror."
This is a developing story… Please check back for possible updates...
People took to the streets across the United States Friday night after the city of Memphis, Tennessee released videos of a January 7 traffic stop that led to five police officers being fired and charged with the murder of 29-year-old Black motorist Tyre Nichols.
MEMPHIS, TENNESSEE

The Memphis-based Commercial Appealreported that protesters advocating for police reform shut down the Interstate 55 bridge that connects Tennessee and Arkansas:
As of 8:30 pm, more than 100 people remained on the Harahan Bridge with protest leaders saying they wanted to talk with Memphis Mayor Jim Strickland and Memphis Police Department Chief Cerelyn "C.J." Davis before disbanding. MPD officers closed off roads leading to the bridge―and several others downtown―but had not directly confronted protesters.

Protesters started moving off of the bridge around 9:00 pm. As they marched eastbound on E.H. Crump Boulevard towards police, they locked arms and chanted "we ready, we ready, we ready for y'all." Protestors then turned north, toward central downtown. As they passed by residences, some people came out on their balconies to cheer.
Surrounded by protestors on I-55, NBC News' Priscilla Thompson said that "they are chanting, they are calling the name of Tyre Nichols. They are calling for change."
Demonstrators and the Nichols family have called for disbanding the MPD Street Crimes Operation to Restore Peace in Our Neighborhoods (SCORPION) team that launched in 2021 and was involved in the traffic stop. The Memphis mayor said Friday afternoon that the unit has been inactive since Nichols' January 10 death.
The footage shows that after police brutally beat Nichols—pushing him to the ground; using pepper spray; punching and kicking him; and striking him with a baton—it took 22 minutes from when officers said he was in custody for an ambulance to arrive and take him to the hospital, where he later died from cardiac arrest and kidney failure.
ATLANTA, GEORGIA

In Georgia, though Republican Gov. Brian Kemp earlier this week signed an executive order enabling him to deploy 1,000 National Guard troops "as necessary" following protests in Atlanta over law enforcement killing 26-year-old forest defender Manuel "Tortuguita" Teran, those who gathered after the video release Friday night "expressed outrage but did so peacefully."
That's according toThe Atlanta Journal-Constitution, which detailed that "a small but spirited crowd" of roughly 50 people formed in downtown Atlanta.
"We want to make one thing very clear, no executive order and no National Guard is going to stop the people for fighting for justice," Zara Azad said at the corner of Marietta Street and Centennial Olympic Park Drive. "We do not fear them because we are for justice."
BOSTON, MASSACHUSETTS
Just before the footage was released Friday, a vigil was held at "The Embrace" statue installed on Boston Common to honor Rev. Dr. Rev. Martin Luther King Jr. and his wife Coretta Scott King.
The Boston Globereported that Imari Paris Jeffries, executive director of King Boston, which installed the monument, highlighted that the civil rights icon was assassinated while visiting Memphis in 1968 to advocate for sanitation workers whose slogan was "Am I a man?"
"Today we are thinking about Memphis and Brother Tyre, and the slogan of today is still, 'Am I a man?'" Jeffries said. "Seeing the humanity in each of us is the cornerstone of true change. Experiencing another heinous display reminds us that no family should feel this pain, ever. And there's still work to do."
"This is a problem that confronts us all," he added. "This is a problem that we need to defeat together, as a family, as a community."
CHICAGO, ILLINOIS
"From Memphis to Chicago, these killer cops have got to go," chanted about a dozen people who gathered near a police precinct in the Illinois city despite freezing temperatures, according toUSA TODAY. Their signs read, "Justice for Tyre Nichols" and "End police terror."
Kamran Sidiqi, a 27-year-old who helped organize the protest—one of the multiple peaceful gatherings held throughout the city—told the newspaper that "it's tough to imagine what justice is here because Tyre is never coming back."
"That's someone's son, someone's friend lost forever. That's a human being's life that is gone," he said. "But a modicum of justice would be putting these killer cops in jail. A modicum of justice would be building a whole new system so that this can't happen again."
DALLAS, TEXAS
In Texas, The Dallas Morning Newsreported that Dominique Alexander, founder of the Next Generation Action Network, called Nichols' death a "total disregard for life, for humanity."
"The culture of policing is what is allowing these officers to feel like they can take our lives," Alexander said. "We want peace and calm in our communities, and we will do whatever is necessary to demand justice so our children don't have to deal with the same bullcrap we are dealing with now."
Around two dozen people who came together outside the Dallas Police Department headquarters Friday night shouted, "No justice, no peace" and "No good cops in a racist system," and held signs that said, "Stop the war on Black America" and "Justice for Tyre Nichols," according to the newspaper.
DETROIT, MICHIGAN
The Detroit branch of the Party for Socialism and Liberation (PSL) organized a Friday rally featuring speeches and a moment of silence. Michiganders held signs that declared, "Unions against police murder" and "Systems of racist police, violence must end."
"I'd like to see a civilian oversight board in every city, community control of the police department," 30-year-old Cameron Harrison, a member of the United Food and Commercial Workers Local 876 who attended the rally, told the Detroit Free Press.
"I'd like to see funding go away from weapons and [go to] jobs, housing, and water," said Harrison, adding that he does not need to watch the footage released from Memphis to know "what the police are capable of."
LOS ANGELES, CALIFORNIA

A demonstration outside the Los Angeles Police Department (LAPD) headquarters became "tense" late Friday after a "protest march grew out of a candlelight vigil for Nichols and Keenan Anderson, who died this month after L.A. police pinned him to the ground and discharged a Taser on him at least six times in 42 seconds," according to the Los Angeles Times.

The videos of Memphis police brutalizing Nichols have provoked comparisons to the 1991 footage of LAPD officers brutally beating Rodney King—who survived the assault but died in 2012.
"My dad didn't die that night, but a big part of him did that we never got back," Lora Dene King, who was seven years old when her father was abused by police, toldNBC News this week. She said that Nichols' death was "very triggering" for her and part of a "repetitive pattern" that includes her father, Eric Garner, and George Floyd.
"The whole situation is sickening to me, there is no reason he shouldn't be alive," she said of Nichols. "It'll just be another hashtag and we'll go on with our lives, and then it'll happen again."
NEW YORK, NEW YORK

In New York City, "protests were mostly peaceful, but emotions ran high," reported a local ABC affiliate, noting three arrests.
According to the outlet:
Demonstrators held up signs, chanting: "What's his name? Tyre! Say his name. Tyre!"

They demonstrated at Grand Central Terminal and Union Square, and crisscrossed the city, eventually bringing the Crossroads of the World to a screeching halt.
"When is this gonna end?" Bronx resident Chris Campbell said of police killings during a street interview with a CBS reporter.
PHILADELPHIA, PENNSYLVANIA

"It's absolutely disgusting," PSL organizer Talia Gile said of the footage during a Friday speech in Philadelphia's Center City. "It shows the complete and utter disregard for human life. It shows the fact that police, no matter what their race is, are going to terrorize people because that's what the system is meant to do. It's meant to abuse its power against citizens."
Five former MPD cops, Tadarrius Bean, Demetrius Haley, Justin Smith, Emmitt Martin III, and Desmond Mills Jr.—who are all Black—were charged with second-degree murder and other crimes related to Nichols' death on Thursday.
After the videos were released Friday, Shelby County Sheriff Floyd Bonner Jr. announced that two deputies "who appeared on the scene following the physical confrontation between police and Tyre Nichols" have been relieved of duty pending the outcome of an internal investigation.
PORTLAND, OREGON

The Oregonianreported that in Portland on Friday night, "People kept mostly to sidewalks but blocked the Burnside Bridge for a few minutes as they stood to honor Nichol."
"The marchers chanted 'Whose lives? Black lives!' 'No justice, no peace,' and 'Say his name—Tyre Nichols!'" the newspaper added. "Some people knocked down road barriers but there were none of the clashes with police that had marked many of the nights of unrest in Portland after the 2020 killing of George Floyd by police in Minneapolis."
WASHINGTON, D.C.
Protests were held in the nation's capital Friday night on K Street Northwest and at Lafayette Square.
"It should not take the releasing of body cam footage of a Black man being murdered by police for people to jump to action, and for those who feel moved by this, and you should, 'cause it could be any one of us standing out here today," said one speaker at the former event. "We urge you to not only protest, to not only engage on social media, to not only be flabbergasted and distraught and angry, but to take action."
Additional protests were planned for the weekend. The group ColorOfChange shared resources for demonstrators on Twitter:
"Tyre Nichols was a father to a 4-year-old boy, a son, a skateboarder, a beloved member of his community. And he was murdered after complying while the cameras were rolling," ColorOfChange president Rashad Robinson said in a series of tweets Friday. "Cosmetic 'solutions' like body cameras will not prevent the police from taking Black lives, nor will hiring Black police officers without reforming the overall racist, violent system."
"Now," he argued, "we must make sure the Memphis City Council takes action to end the practice of pretextual stops, hold officers accountable, eliminate the [Organized Crime Unit] and the SCORPION task force that killed Tyre, and fund a civilian response unit."

News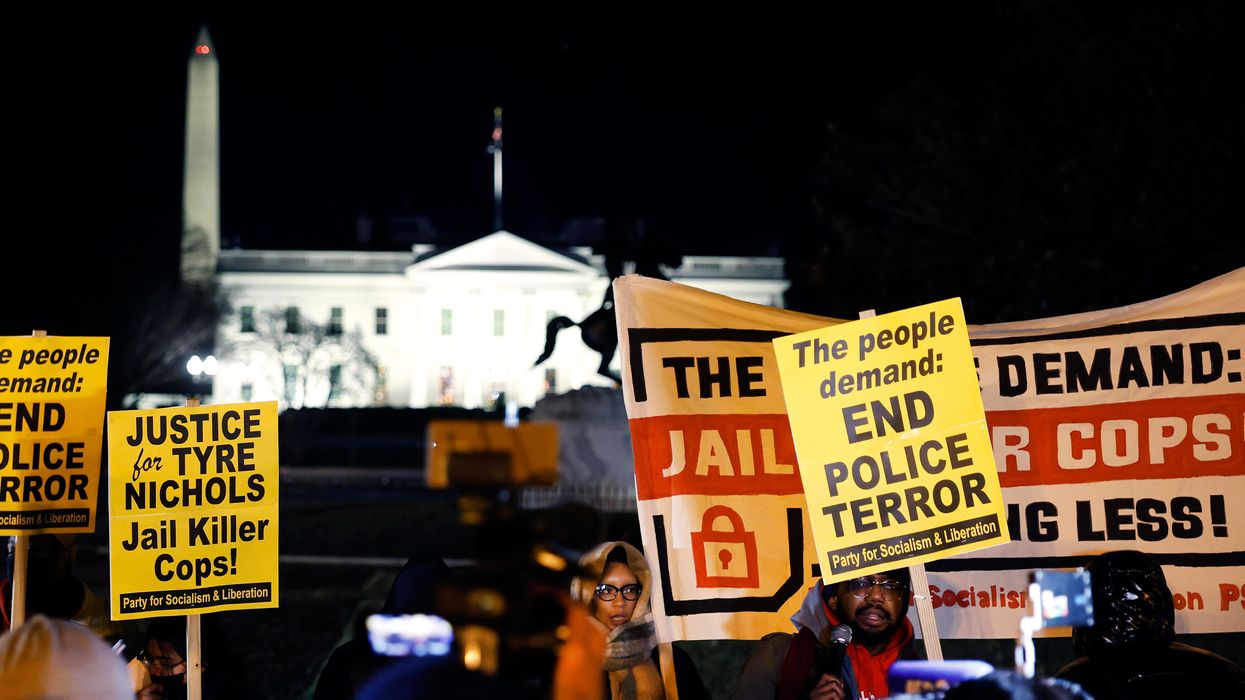 "Charging or jailing the killers is not enough," said the national director of the Working Families Party. "Justice is changing the conditions so no one dies during a traffic stop."
Editor's note: The videos at the end of this article contain graphic and violent content.
The city of Memphis, Tennessee on Friday night released four videos of the January 7 arrest of Tyre Nichols, a 29-year-old Black motorist who died after being beaten by five officers who were subsequently fired and charged with murder.
The footage was privately seen by Nichols' family on Monday. Three of the videos are from body-worn cameras issued by the Memphis Police Department (MPD). Another is from a camera mounted on a pole and contains no audio.
Before the videos were released, MPD Chief Cerelyn "C.J." Davis warned that they show "acts that defy humanity."
Nichols was pulled over by Memphis officers for alleged reckless driving that Davis has since said her department has been "unable to substantiate." After three days in the hospital, he died on January 10 from cardiac arrest and kidney failure.
"I am disturbed and disgusted by the sheer brutality and lack of humanity on display in the footage released today," said NAACP president and CEO Derrick Johnson in a statement Friday night. "No person should ever be subjected to such violence, to have to call for their mother as they are being brutalized by police."
"This video is a stark reminder that in America, on any day of the week, a Black person can be brutally beaten to death less than a hundred feet from his home by those who are supposedly here to 'serve and protect' our communities," he continued. "Let me be clear—a traffic stop should not result in the brutal death of an unarmed man—period."
Turning his attention to federal lawmakers, Johnson added: "As you leave the halls of Congress today and return to your comfortable homes, take a moment to think about the pleas for mercy that Tyre cried as he begged for his mother, and ask yourself the question: What if this was your child? Your continued failure to act has left Tyre's blood, and the blood of the countless Black lives claimed by police violence, on your hands. Get up and do something. We are done dying."
As Common Dreamsreported Thursday, former MPD cops Tadarrius Bean, Demetrius Haley, Justin Smith, Emmitt Martin III, and Desmond Mills Jr.—who are all Black—were charged with second-degree murder and various other crimes.
In a series of tweets responding to the charges, ColorOfChange president Rashad Robinson said Friday, "Let's be clear, while the mass movement of people demanding some level of accountability has succeeded in this one instance, convictions aren't the goal."
"WE WANT AN END TO POLICE MURDERS OF BLACK PEOPLE. So, this moment isn't about Black vs. white, it's about blue vs. Black. Diversity cannot and does not solve systemic problems," he continued. "If we don't change the structure of policing and safety in our country, Black people will continue to be killed, by police of all races. The evidence is clear—investing in communities will keep us safe, not the police."
Damon Hewitt, president and executive director of the Lawyers' Committee for Civil Rights Under Law, said Friday evening that "Tyre's death is a bitter reminder of the Black lives that we've lost due to police brutality. Thirty years ago, we were horrified by the footage of police beating Rodney King. And yet, despite our decades of protest, we're still fighting the same battle."
"The only difference now is more of the horrific incidents are being captured on video, whether it be bodycams or bystanders," he added. "Tinkering at the margins of a violent police state is not enough. It never was. This death must amount to more than just another viral moment or hashtag. It must spark a serious reconsideration and shifting of priorities, deployment, and resources."

Before the footage was released, major cities across the United States were preparing for potential Friday evening protests.
According toThe Associated Press:
As a precaution, Memphis-area schools canceled all after-class activities and postponed an event scheduled for Saturday morning. Other early closures included the city power company's community offices and the University of Memphis.

Nichols' mother, RowVaughn Wells, warned supporters of the "horrific" nature of the video but pleaded for peace.

"I don't want us burning up our city, tearing up the streets, because that's not what my son stood for," she said Thursday. "If you guys are here for me and Tyre, then you will protest peacefully."
Noting that "there's been a lot of focus on the perceived threat of violence,"MLK50: Justice Through Journalism, a nonprofit Memphis newsroom, on Friday published a collection of stories and columns "to add context to this tragedy" for those who may be unfamiliar with "the antagonistic relationship police have cultivated with the community, dating back decades."
The coalition Decarerate Memphis shared on Twitter demands from Nichols' family and the community, including reforms to reduce the chances of similar future events.
The Movement for Black Lives tweeted advice on "how to limit viewing sensitive content" on social media platforms, for those who do not want to be traumatized by the footage.
"We grieve with Tyre's family, friends, and the entire Memphis community," the movement said in a statement. "Had those officers not pulled Tyre over, he would be here right now with his four-year-old son, taking photos of sunsets and skateboarding. Yet, even as we try to grieve and stand in solidarity with Tyre's family, we know the police are ramping up to criminalize our actions—meeting our calls for justice and accountability with more state violence and suppression."

Editor's note: The videos below contain graphic and violent content.

News
SUPPORT OUR WORK.
We are independent, non-profit, advertising-free and 100%
reader supported.