For Immediate Release
Contact:
Telephone: (202) 546-7961,Email:,africaaction@igc.org
AIDS Activists to Obama and Fenty: Your Decisions are Failing People Living with HIV: "Funeral" Staged at White House, Creative Action At DC's City Hall: 12 noon Assembly at Lafayette Park
On World AIDS Day, December 1 2009, AIDS activists gathered in front of
the White House and then marched to DC's Wilson Building with a clear
message for President Obama and Mayor Fenty: "maintain the current,
flawed course and millions will die--or fix the system and they will
live."
WASHINGTON
On World AIDS Day, December 1 2009, AIDS activists gathered in front of
the White House and then marched to DC's Wilson Building with a clear
message for President Obama and Mayor Fenty: "maintain the current,
flawed course and millions will die--or fix the system and they will
live."
In front of the White House the activists staged a funeral procession,
presided over by Rev. Jeffrey Jordan of Philadelphia and Rev. Carolyn
Boyd of Washington, DC. The somber funeral revealed the human impact of
President Obama's planned flat-lining of global AIDS funding in next
year's budget. Without promised funding increases, thousands will be
denied access to AIDS treatment. According to a recent WHO report, HIV
is now the number one killer of women of reproductive age worldwide.
Global AIDS groups on Monday gave President Obama a "D+ " having failed
to deliver new funding promised when he was running for President reportavailable at https://www.africaaction.org/resources/docs/WADreportcard.pdf).
Activists then marched to the John A. Wilson Building, seat of the DC
government, to demand action from the Mayor and City Council. In a
creative display of street theater, the group demonstrated how deeply
the health system is failing people living with HIV in the District of
Columbia. Local AIDS activists say that while progress has been made
under Director of the HIV/AIDS Administration Dr. Shannon Hader, the
Fenty Administration still lacks a plan turn the tide of the epidemic
and has made insufficient progress in correcting the impact of years of
neglect. For example, neither the District nor the federal Department
of Housing and Urban Development have a plan to house the hundreds of
homeless people who are currently sick with complications from AIDS and
who have languished on a waiting list for years while funding was
mismanaged.
Jose De Marco of ACT UP Philadelphia and Health GAP stated:
"Many of us around the world living with HIV had the highest of hopes
for President Obama when he promised major new funding for global AIDS.
In this year's budget he didn't include that funding. Money for bankers
and war gets priority, but we can't put one half of one percent of that
into lives and communities hanging in the balance in Africa, Asia, and
the Caribbean?"
Larry Bryant, co-chair of DC Fights Back said: "We keep hearing
about 'wake-up calls'--as our city leaders are 'shocked' and 'appalled'
at the severity of our epidemic and poor use of funds. But how many
wake up calls do we need to see the system is failing? Where is the
emergency plan to address the full breadth of the epidemic and where
are the city funds to house the hundreds of homeless people living with
AIDS languishing on waiting lists for years?"
Gerald LeMelle, Executive Director of Africa Action stated:
"Already, we are hearing of reports that in several countries in Africa
the waiting lists are growing and clinics being forced to turn away
patients due to lack of promised funding. As the continent of Africa is
beginning to see results in the fight against its biggest killer, it
would be disastrous for the U.S. to abandon its promise to continue
expanding its support to human rights and Universal Access to
treatment, care and prevention."
The event was sponsored by: DC Fights Back, ACT UP Philadelphia, the
Campaign to End AIDS, Health GAP, Women's Collective; START at
Westminster, National AIDS Housing Coalition, Metropolitan Washington
Public Health Association, Housing Works, Universal Fellowship of
Metropolitan Community Churches, Positive Places and Women of Color
United, and Africa Action.
Africa Action is a national organization that works for political, economic and social justice in Africa. Through the provision of accessible information and analysis combined with the mobilization of public pressure we work to change the policies and policy-making processes of U.S. and multinational institutions toward Africa. The work of Africa Action is grounded in the history and purpose of its predecessor organizations, the American Committee on Africa (ACOA), The Africa Fund, and the Africa Policy Information Center (APIC), which have fought for freedom and justice in Africa since 1953. Continuing this tradition, Africa Action seeks to re-shape U.S. policy toward African countries.
LATEST NEWS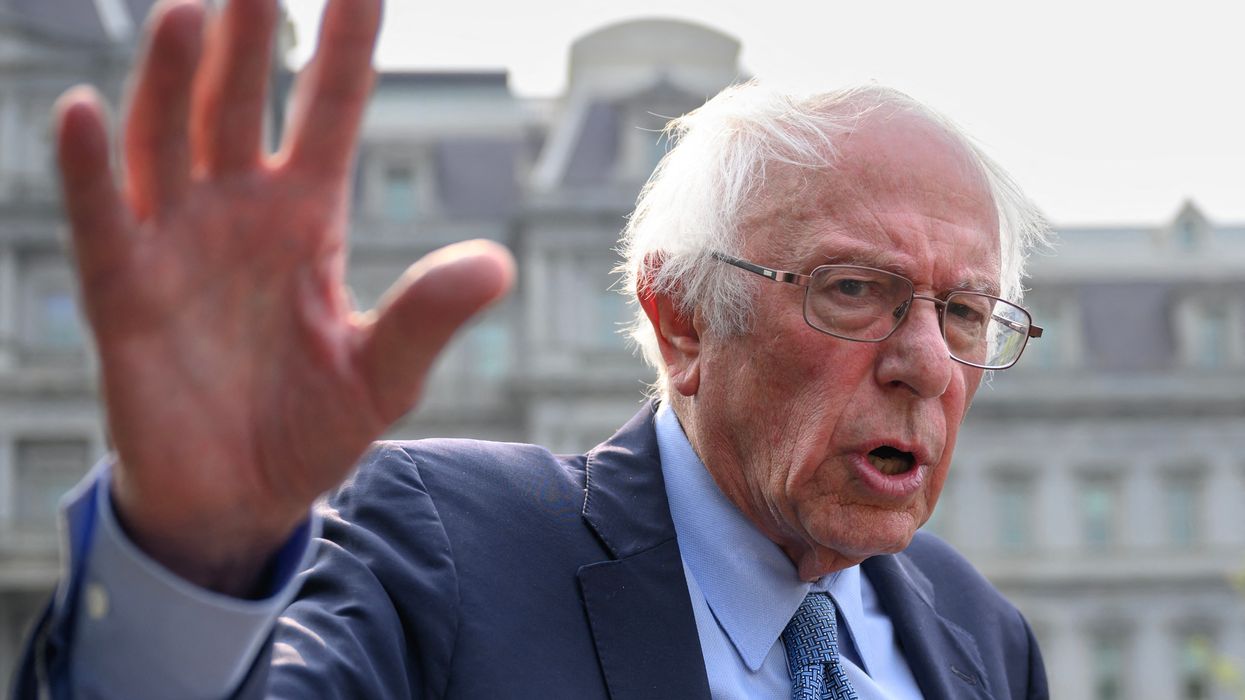 The senator—under progressive pressure to change his position on Israel's war—noted that AIPAC "has supported dozens of GOP extremists who are undermining our democracy" and is "now working hard to defeat progressive members of Congress."

After the American Israel Public Affairs Committee on Sunday publicly thanked U.S. Sen. Bernie Sanders for declining to join global calls for a cease-fire in Israel's war on the Gaza Strip, the Vermont Independent rebuffed the lobbying group.
"AIPAC has supported dozens of GOP extremists who are undermining our democracy," Sanders said on social media. "They're now working hard to defeat progressive members of Congress. We won't let that happen. Let us stand together in the fight for a world of peace, economic and social justice, and climate sanity."
Sanders' comments were similar to those of Rep. Alexandria Ocasio-Cortez (D-N.Y.) earlier this week. Responding to the group attacking her on social media, the congresswoman, who supports a cease-fire, said: "AIPAC endorsed scores of January 6th insurrectionists. They are no friend to American democracy. They are one of the more racist and bigoted PACs in Congress as well, who disproportionately target members of color. They are an extremist organization that destabilizes U.S. democracy."

On Sunday, the pro-Israel organization—which has given tons of money to federal lawmakers in both major parties—shared on social media a clip from Sanders' nearly 10-minute appearance on CNN's "State of the Union" with Dana Bash.
During the interview, Sanders pointed out that Israel gets $3.8 billion in annual military aid from the United States and stressed the need for the nation to stop its indiscriminate bombing campaign in Gaza, echoing his Senate floor speech from Wednesday.
Like his address earlier this week, Sanders also decried the current conditions in the besieged enclave, blasted the right-wing government of Israeli Prime Minister Benjamin Netanyahu for undermining regional peace, and stuck with his call for a "humanitarian pause," or a temporary halt to hostilities, rather than a cease-fire, or a long-term suspension of fighting.
Asked by Bash about his position, Sanders responded, "I don't know how you can have a cease-fire, a permanent cease-fire, with an organization like Hamas, which is dedicated to turmoil and chaos and destroying the state of Israel."
"The immediate task right now is to end the bombing, to end the horrific humanitarian disaster, to build, go forward with the entire world, for a two-tier, two-state solution to the crisis, to give the Palestinian people hope," he continued.
Sen. Dick Durbin (D-Ill.), the number two Senate Democrat, on Thursday became the first senator to call for a cease-fire and fewer than two dozen House Democrats support the "Cease-Fire Now Resolution" introduced last month by Rep. Cori Bush (D-Mo.). Later Thursday, Durbin also joined a dozen other Senate Democrats in advocating for a "cessation of hostilities" in Gaza.
Sanders, who did not sign that letter, has faced mounting pressure from progressives across the country—including hundreds of people who worked on his 2016 and 2020 presidential campaigns, when he ran as a Democrat—to change his position on a cease-fire.
In response to AIPAC's tweet about Sanders, Yonah Lieberman—co-founder of the American Jewish group IfNowNow, which opposes Israeli apartheid—said that "it has been a very long time since I've been this disappointed in a politician."
As David Klion wrote Friday at The Nation:
To understand where Sanders is coming from, it helps to know a little about his personal history. Though he is well to the left of his Senate colleagues and has consistently voiced support for the basic human rights of Palestinians and criticized the Israel lobby, Sanders is in many ways a product of the liberal Zionist tradition. During his 2020 campaign, Sanders advisers urged the instinctively private candidate to talk more about his Jewish background, including the fact that his father, an immigrant from Poland, lost most of his family in the Holocaust. The slaughter of Europe's Jews is deeply personal for Sanders, and it likely factors into his response to the October 7 attacks, which were the single deadliest day for Jews anywhere in the world since 1945. The members of the Squad, who come from a wide diversity of backgrounds and are on average many decades younger than Sanders, lack this direct connection to the personal trauma that many American Jews of Sanders' generation feel.

They also lack his direct connection to Israel itself, including his time living on a socialist kibbutz near Haifa in 1963. As Sanders wrote in Jewish Currents in 2019: "It was there that I saw and experienced for myself many of the progressive values upon which Israel was founded. I think it is very important for everyone, but particularly for progressives, to acknowledge the enormous achievement of establishing a democratic homeland for the Jewish people after centuries of displacement and persecution." Sanders went on to acknowledge that Palestinians experienced the founding of Israel very differently, "as the cause of their painful displacement," and to call for a two-state solution.
"To put my own cards on the table, I wish Sanders would call for a cease-fire, and as a longtime supporter and admirer, I'm disappointed that he hasn't," Klion noted. "I understand the reasons why, but I don't think they excuse the call he's made."
While Bash on Sunday acknowledged Sanders' history, the 82-year-old senator insisted that "this is not—it's nothing to do with me, Dana," and went on to detail why he believes that "as a nation, we are living now, in my view, through a more difficult moment than we have lived in my lifetime."
News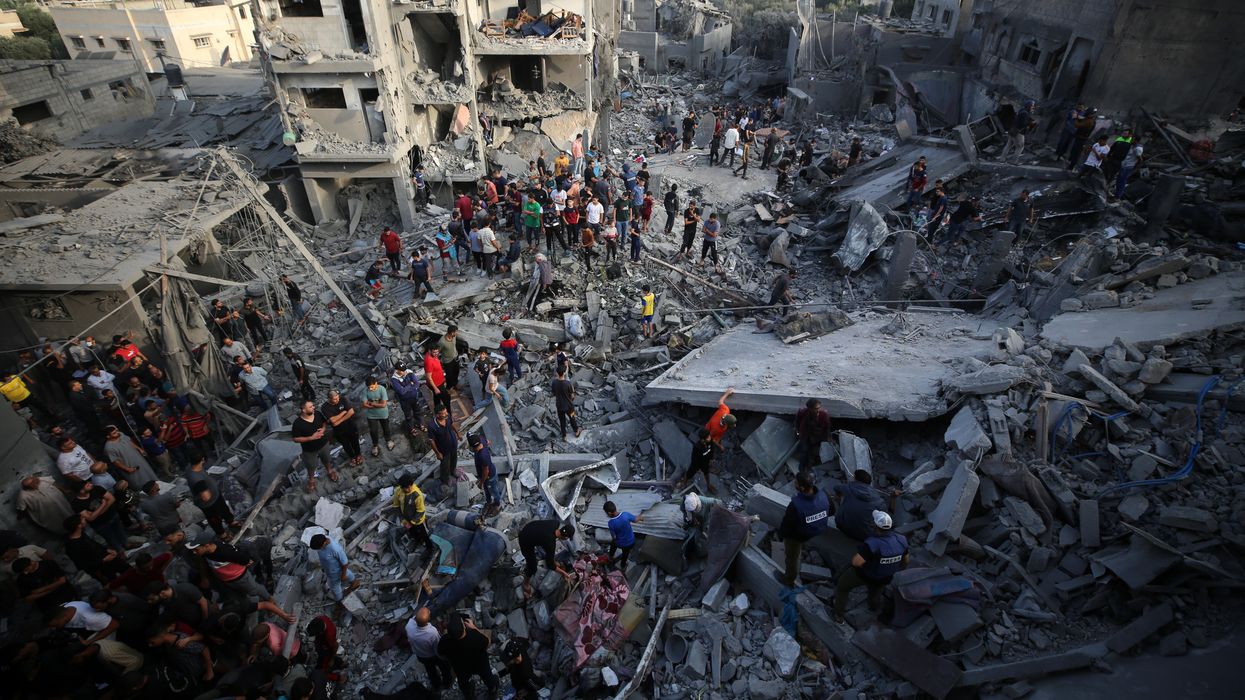 "Does he think the world is not seeing the horrific reality in Gaza? Does he think we will believe his lies?" said one peace advocate. "No, we won't."
Despite the abundance of evidence to the contrary, Israel's ambassador to the United Nations claimed in a televised interview Sunday that "there is no humanitarian crisis in Gaza," and was swiftly rebuked by people around the world.
Challenged by CNN's Dana Bash, Ambassador Gilad Erdan doubled down on his position: "I'm not saying that the life in Gaza is great. And, obviously, Hamas is the only one that should be held accountable for any situation in Gaza. But there's a standard, due to international humanitarian law."
"What does it mean, a humanitarian crisis? And I'm saying, again, there is no humanitarian crisis, based on the international humanitarian law, right now in Gaza," added Erdan, who also cast doubt on the death toll being shared by local officials.
U.S. Congressman Mark Pocan (D-Wis.) called Erdan's comments "unbelievable," given the current conditions in Gaza a month into the war Israel launched after a Hamas-led attack on October 7, and urged the ambassador to resign from his position.
Also responding to Erdan's appearance on "State of the Union," Medea Benjamin, co-founder of the anti-war group CodePink, said: "Does he think the world is not seeing the horrific reality in Gaza? Does he think we will believe his lies? No, we won't."
As of Sunday, Israel's air and ground assault of the besieged enclave—enabled by billions in U.S. military support—has killed at least 9,770 people, including over 4,000 children, according to the Palestinian Health Ministry in Gaza. The ministry last month publicly identified thousands of the dead as Israeli officials and others, including U.S. President Joe Biden, questioned the figures.
Those who have so far survived the Israeli assault are facing limited power, water, and communication services as well as dwindling supplies of food and medicine. The United Nations World Food Program stressed Sunday that the aid entering Gaza "is nowhere near enough to meet the exponentially growing needs."
"Right now, parents in Gaza do not know whether they can feed their children today and whether they will even survive to see tomorrow," said Cindy McCain, the U.N. program's executive director, as she returned from the Rafah border crossing in Egypt. "The suffering just meters away is unfathomable standing on this side of the border."
Erdan's interview Sunday was not the first time during the war that the Israeli government has contested conditions in Gaza. During a Sky News appearance in Mid-October, Israeli diplomat Tzipi Hotovely also said that "there is no humanitarian crisis."
As The New York Timesreported Wednesday:
Israel's agency overseeing policy for the Palestinian territories, known as COGAT, maintained in a statement on Tuesday that there is "currently no humanitarian crisis in the Gaza Strip" despite the mounting evidence to the contrary from aid agencies, journalists, and people living there.

The statement said the Israeli government was monitoring the supply of water, food, fuel, and energy in Gaza and asserted that "the situation is far from crisis."
The newspaper added that "asked on Tuesday why Israel had cut off water supplies, in particular, to Gaza, the agency said that 'according to international law, Israel has no obligation to provide goods and services to the terrorist organization Hamas—especially in cases where the enemy uses them for war purposes (for example, with respect to electricity and fuel).'"
Former U.S. Ambassador David Satterfield, recently appointed by Biden as the special envoy for Middle East humanitarian issues, told reporters in Jordan on Saturday that "there is no evidence that Hamas is seizing or blocking aid entering the Gaza Strip."

News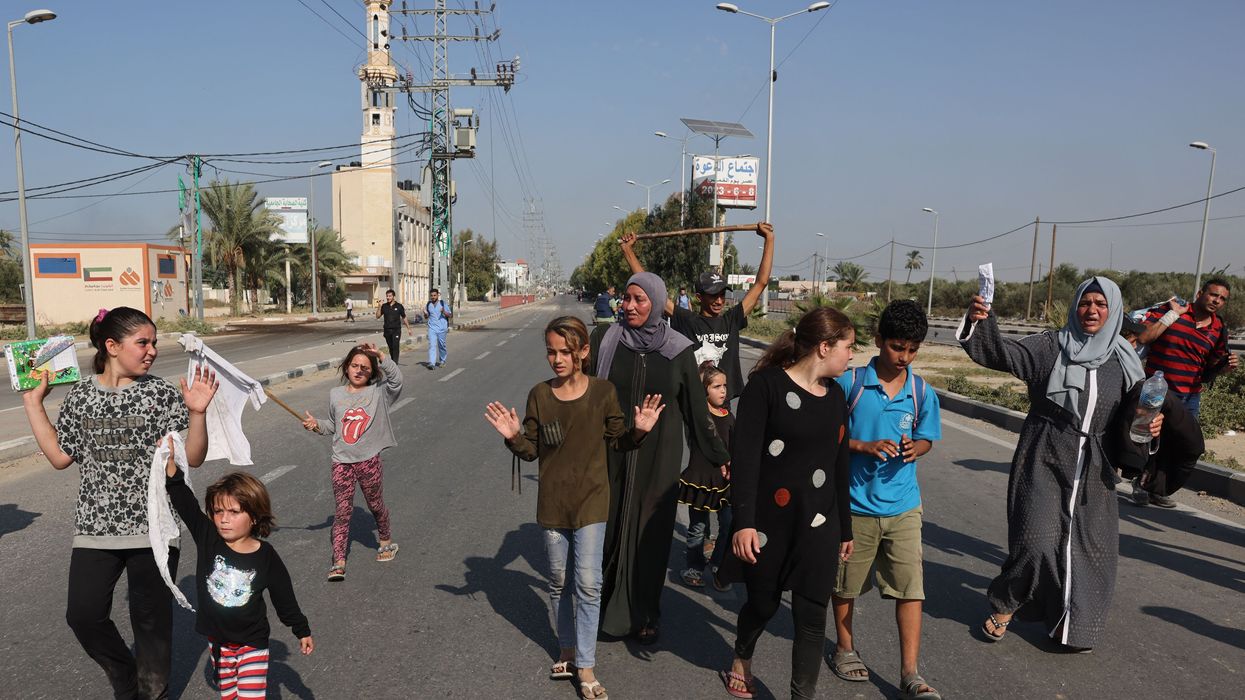 Israel has been accused of waging a genocidal war as multiple plans to ethnically cleanse Gaza have surfaced.
A month into Israel's war on Hamas, Sunday
reporting
from
The New York Times
is bolstering fears of Israelis using the devastating war to
ethnically cleanse
the besieged Gaza Strip of Palestinians.
According to the Times:
Israel has quietly tried to build international support in recent weeks for the transfer of several hundred thousand civilians from Gaza to Egypt for the duration of its war in the territory, according to six senior foreign diplomats.

Israeli leaders and diplomats have privately proposed the idea to several foreign governments, framing it as a humanitarian initiative that would allow civilians to temporarily escape the perils of Gaza for refugee camps in the Sinai Desert, just across the border in neighboring Egypt.
The proposal has been rejected by not only Palestinians but also "most of Israel's interlocutors—who include the United States and Britain—because of the risk that such a mass displacement could become permanent," the newspaper noted.
Spokespeople for both Israeli Prime Minister Benjamin Netanyahu and Egyptian President Abdel Fattah El-Sisi declined to comment, though the latter delivered a mid-October speech in which he forcefully opposed any relocation.
At least two separate Israeli plans to permanent expel Palestinians from Gaza to Egypt have circulated during the war. One, reported by the Israeli business daily Calcalist, came from Israel's intelligence minister, Gila Gamliel. Another, reported by Middle East Eye, was authored by Amir Weitmann, who chairs the Libertarian faction of Netanyahu's Likud party, and published by the Israeli think tank Misgav Institute for National Security & Zionist Strategy.
Recent comments from Israeli leaders have also stoked fears of "a second Nakba," or catastrophe—a reference to when more than 750,000 Arabs were ethnically cleansed from Palestine in 1947-48 during the creation of the modern state of Israel. For example, Ariel Kallner, a Likud lawmakers, last month
called for
a "Nakba that will overshadow the Nakba of '48."
Ameed Abed, a 35-year-old resident of Jabaliya—part of northern Gaza, from which the Israel Defense Forces (IDF) have told civilians to evacuate to the south—suggested in a phone interview with the Times that forced relocation to Egypt would be another Nakba: "As a Palestinian, I won't renew the Nakba again... We will not leave our homes."
Allegations of genocide and war crimes have mounted since Israel declared war on Hamas in retaliation for the Palestinian militant group leading an attack on October 7. Netanyahu has been accused of an "explicit call to genocide" due to a Biblical reference during an address last weekend in which he also described Israel's invasion of Gaza as a "holy mission."

The prime minister on Sunday indefinitely suspended Israeli Heritage Minister Amichai Eliyahu for publicly suggesting that dropping a nuclear bomb on Gaza was on the table. Israel is one of the world's nine nuclear-armed nations.
As Politicodetailed:
A member of the ultra-nationalist Otzma Yehudit (Jewish Power) party, Eliyahu earlier on Sunday claimed in a radio interview that since there were "no noncombatants in Gaza," using an atomic weapon on the Palestinian enclave was "one of the possibilities."

Eliyahu later sought to rectify his statement, saying it was "clear to all sensible people" that his reference to nuclear weapons had been "metaphorical."
Netanyahu said that "Minister Amihai Eliyahu's statements are not based in reality. Israel and the IDF are operating in accordance with the highest standards of international law to avoid harming innocents. We will continue to do so until our victory."

According to officials in Israel, over 1,500 Israelis have been killed in the past month and Palestinian militants still have around 240 hostages. The Gaza Health Ministry said Saturday that the Israeli assault has killed more than 9,400 Palestinians, including 3,900 children. Another 144 Palestinians have been killed in the West Bank, where Israeli settler violence has surged.
Some Israeli settlers in recent weeks have tried to scare Palestinians into fleeing the West Bank with displays of dolls covered in blood or a substance meant to mimic it and leaflets with messages like, "Run to Jordan before we kill our enemies and expel you from our Holy Land, promised to us by God."

News