For Immediate Release
November, 19 2009, 04:16pm EDT
Contact:
Mark Kastel, 608-625-2042
Food Manufacturers and Organic Industry Lobbyists Circle the Wagons
Defend Organic Scofflaw in Court to Protect Corporate Takeover of Organics
CORNUCOPIA, Wisc.
Two powerful lobby groups in the food industry, The Grocery
Manufacturers of America and the Organic Trade Association, recently intervened
as friends of the court in a
federal consumer class-action lawsuit accusing the nation's largest supplier of
private-label organic milk of consumer fraud. In what has been described as
"the largest scandal in the history of the organic industry" USDA
investigators, in 2007, found that Aurora Dairy had willfully violated federal
organic standards. However, industry lobbyists are now concerned that
convicting Aurora
will set a dangerous legal precedent. Aurora
bottles private-label organic milk for Wal-Mart, Costco, Target, Safeway and
many other grocery chains.
In
August 2007 Bush administration officials were widely criticized for overruling
career staff at the USDA and instead of decertifying Aurora as
staff had recommended, banning it from organic commerce, the corporate
dairy was allowed to continue in business under a one-year probation. Now
agribusiness lobbyists are concerned that citizens prevailing in court, alleging
fraud, will set a precedent necessitating large corporations to incur added
expenses to more carefully check the sources and credibility of their organic
suppliers.
"Due
diligence by food manufacturers and retailers is the heart and soul of what
maintaining the integrity of the organic label is about," said Mark Kastel, Codirector of The Cornucopia Institute,
the farm policy research group that initially exposed the corruption taking
place at Aurora.
In
an internal document, the Organic Trade Association told its membership that,
"OTA is taking this action in order to protect consumers' access to
organic products and the guarantee by organic farmers, producers and processors
that their valid organic certificate fully demonstrates that their product is
considered organic when marketed." Lobbyists from the Grocery
Manufacturers also were concerned that if the consumers prevail in this legal
matter it would become, according to a copy written article in Sustainable Food News, "prohibitively
expensive to continue developing organic products."
"This
type of rhetoric is just a stick in the eye to the ethical participants in this
industry who make it a point, in their everyday course of business, to
judiciously assure that their products meet not only the letter but the spirit
of the organic law," added Kastel.
Just
like Aurora Dairy, Wal-Mart and Target were both found to have misrepresented
organic products in the marketplace and were the subject of separate USDA
investigations.
"Yes,
it does cost more money to legally and ethically participate in organic
commerce, said Will Fantle, Research
Director for Cornucopia. "One of the reasons that big-box retailers are
able to undercut their competition on price is they refuse to hire, train and
adequately compensate management and frontline employees who know anything
about the organic law."
Aurora produces private label, or storebrand milk, for about
20 of the largest grocery chains in the United States.

In
an ironic twist to this story Organic Valley, the nation's second-largest organic milk
marketer and a cooperative, is receiving criticism for its underwriting of a brief
supporting Aurora's
position. The farmer-owned cooperative provided the financial support allowing
the Organic Trade Association to file its amicus brief opposing the class-action
lawsuit brought by consumers in over 40 states. The consumers allege that they
were defrauded by the Colorado-based Aurora Dairy corporation.
The
news of Organic Valley's
involvement was a shock to some of its co-op members including Kevin Engelbert,
a nationally recognized organic leader and dairy farmer from Nichols, New York.
"Can this possibly be true? Has OV made a pact with the
devil? I know OTA is controlled by the big money interests," said Engelbert.
"The 14 willful violations [by Aurora]
prove that some organic certificates aren't enough to demonstrate that a
product is organic when marketed. The 'organicness' of
questionable products must be challenged when necessary to maintain organic
integrity."
The
Cornucopia's Kastel said he was "flabbergasted" that a cooperative
owned by family farmers would stick up for a corporation at the heart of the
biggest scandal in history in the organic food industry and he characterized
Aurora as a "bad actor" and "bad aberration" in the
industry where consumers can generally trust the organic label.
"Aurora's factory farm milk has injured the vast
majority of Organic
Valley's own farmer-members
by depriving them of markets for their milk and unfairly driving down retail
pricing. Earlier this year the cooperative cut the pay price to its members
and required its farmers to reduce production because of a milk surplus in the
marketplace - a surplus that would be much smaller if Aurora legitimately
managed its dairy cows like Organic Valley's ethical dairy
farmers," Kastel added.
Cornucopia
analysis, and USDA research, suggests that as much as a third of the nation's
organic milk supply comes from giant factory farms. Another organic factory
farm operator, Dean Foods, the country's largest milk marketer, and an OTA and
GMA member, has been widely criticized in the organic community for procuring
much of its milk for its Horizon brand from mega-dairies allegedly breaking the
same rules as Aurora.
"If
you connect the dots here you have to wonder why the management at Organic Valley is getting into bed with Aurora,
Dean Foods and the most powerful lobbyists representing corporate agribusiness,"
Kastel lamented. "Not only would Organic
Valley membership benefit from Aurora being banned from
organics, but if the lobbyists concerns are true, and some of the largest
corporate players that have been playing fast and loose with the rules decide
to exit the organics, that will only pump up their brand's market
share."
The
friend
of the court brief, opposing a lower court ruling, which was funded by Organic Valley,
expresses fears about a precedent should consumers be compensated for any fraud
committed by Aurora.
Melissa Hughes, an in-house lawyer for Organic Valley,
told the editor of Sustainable Food News,
that if the appeal is upheld "it could have vast implications on
retailers, processors, handlers, and ultimately consumers."
Analysts
at Cornucopia strongly refute the contention that the Aurora matter would leave all organic
marketers open to tort complaints by consumers. "Obviously, there is
strong evidence for these consumers to believe they were defrauded by Aurora and the supermarket
chains," Kastel said. "This is an exceptional situation not indicative
of the industry as a whole."
Kastel
cited the fact that Cornucopia sent certified letters to every one of Aurora's retailer customers
informing them that the reputation of their store's label was at risk and
encouraging them to take action. Only two marketers, the Publix supermarket
chain in Florida and United Natural Foods
International, the largest organic food distributor in the country, did the due
diligence necessary and switched suppliers.
"The
organic certification documents alone are not enough if evidence is brought to
a marketer's attention that some kind of improprieties are taking
place," Fantle added. "There is always the possibility that
collusion or incompetence has taken place on the part of the supplier,
certifier or the USDA."
A
comprehensive investigative story that appeared in the pages of the Washington
Post referenced the Aurora matter, and a cozy
relationship between the powerful Washington
lawyer and lobbyist for Aurora, Dean and the OTA, and the former director of
the organic program at the USDA. Alleged malfeasance at the Department has
sparked the interest of Congress and an expanded investigation is currently
taking place by the Office of the Inspector General at the USDA.
"Congress
passed the Organic Foods Production Act of 1990 charging the USDA with
preventing fraud; protecting the interests of ethical industry participants and
consumers," observed Cornucopia's Kastel. "The obvious
allegation here is that the regulatory branch, the USDA under the Bush
administration, failed to properly enforce the law. It is appropriate for
citizens who feel they were defrauded to seek a judicial remedy," he
added.
MORE:
When
the nation's largest organic milk producer Aurora
dairy, with five "factory style" farms, in Colorado
and Texas,
each milking thousands of cows, entered the marketplace in 2004 they proudly stated
that they would make organic milk more "affordable." What they
didn't tell their customers was that their products would be more affordable,
allowing them to undercut competitors in the marketplace, because they wouldn't
go to the expense of meeting the strict federal regulations governing organic
marketing.
In 2007, after investigating legal complaints filed
by Cornucopia about Aurora's organic livestock practices, USDA
staff concluded that Aurora had "willfully violated" 14 tenets
of federal organic regulations. Aurora
was found by federal investigators to have been illegally confining their
cattle to feedlots, brought in conventional cattle that could not comply with
organic regulations and, most seriously, selling milk labeled as
"organic" that did not meet the legal requirements.
In its formal letter to the company, USDA staff at
the National Organic Program stated: "Due to the nature and extent of
these violations, the NOP proposes to revoke Aurora Organic Dairy's production
and handling certifications under the NOP."
But
the powerful Washington-based lobby of Covington
in Burling, representing Aurora,
worked with the Bush administration officials at the USDA to instead allow the
$100 million corporation to continue in the organic business with a one-year
probation and some modest changes to their operations
The
"sweetheart" settlement between Aurora and the USDA provoked a
consumer led effort to seek justice in federal courts. Nineteen separate class
action lawsuits were brought against Aurora and several national grocery
retailers selling Aurora's
suspect organic milk including Wal-Mart, Target and Safeway. The lawsuits
claiming consumer fraud were eventually consolidated into a single case in the
federal district court in St. Louis.
Earlier this year, federal court judge E. Richard Webber dismissed the lawsuit
on procedural grounds. An appeal has since been filed seeking to bring the
merits of the lawsuit, which have not been heard, back before the
court.
"OTA's
action, apparently backed by CROPP [Organic
Valley], infuriates me,"
said Kevin Engelbert. "I hope every person and organization that
belongs to OTA drops their membership immediately."
The Cornucopia Institute, a Wisconsin-based nonprofit farm policy research group, is dedicated to the fight for economic justice for the family-scale farming community. Their Organic Integrity Project acts as a corporate and governmental watchdog assuring that no compromises to the credibility of organic farming methods and the food it produces are made in the pursuit of profit.
LATEST NEWS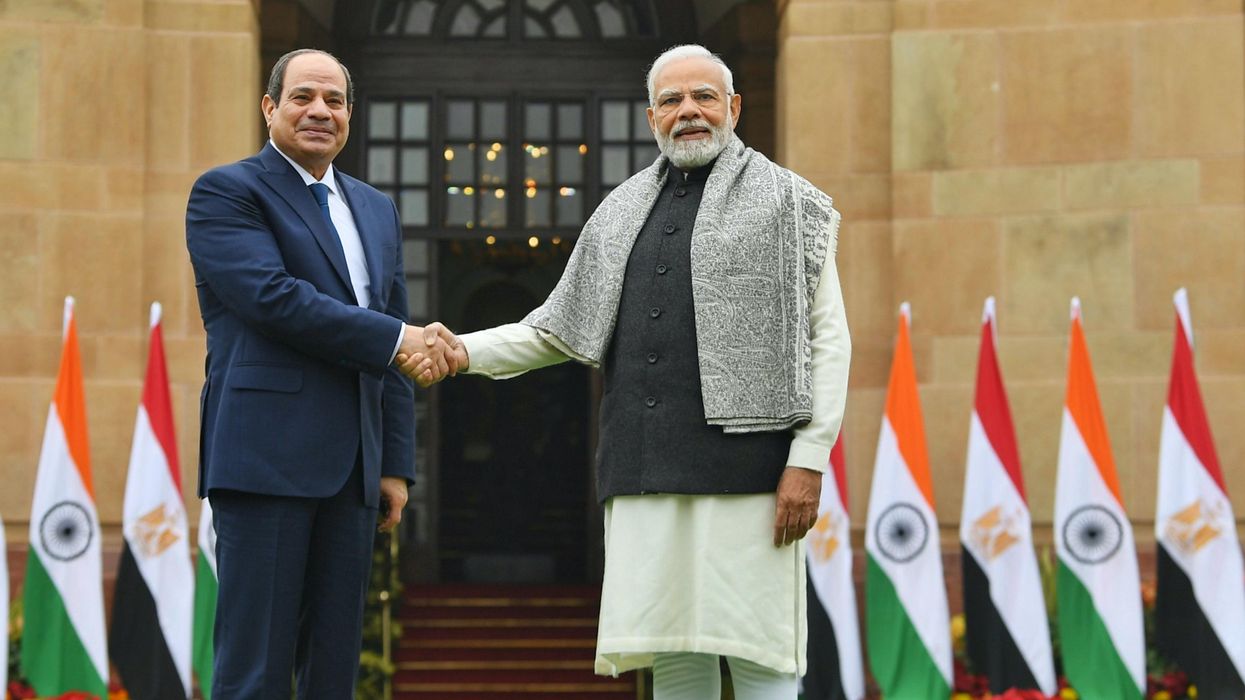 "Both countries show striking parallels in their attempts to harass and intimidate into silence all actual or perceived government critics and opponents."
As Indian Prime Minister Narendra Modi welcomed Egyptian President Abdel Fattah El-Sisi as the chief guest at his nation's 74th Republic Day celebrations, Amnesty International on Thursday led calls for both right-wing leaders to "address the ongoing human rights and impunity crises" in their respective countries.
Meeting ahead of events commemorating the adoption of India's constitution—including a military parade in which members of the Egyptian army marched—Modi and El-Sisi agreed to elevate bilateral ties to a "strategic partnership," while calling for a "coordinated and concerted" effort to combat "terrorism."

Modi—who said Wednesday that he and El-Sisi "are in agreement that terrorism is the biggest threat to humanity"—has, like his Egyptian counterpart, been accused of using anti-terrorism laws to crush critics and silence dissent.
"The current human rights crises in India and Egypt are characterized by entrenched impunity and misuse of counterterrorism legislation to clamp down on civic space and peaceful dissent."
"The current human rights crises in India and Egypt are characterized by entrenched impunity and misuse of counterterrorism legislation to clamp down on civic space and peaceful dissent," Philip Luther, Middle East and North Africa research and advocacy director at Amnesty International, said in a statement.
"Both countries show striking parallels in their attempts to harass and intimidate into silence all actual or perceived government critics and opponents. This unrelenting assault on human rights must end," he added.
\u201cThe Indian and Egyptian authorities must address the ongoing human rights and impunity crises in the two countries. Both show striking parallels in their unrelenting assault on rights. https://t.co/gbmoAkMnXT\u201d

— Amnesty India (@Amnesty India) 1674710907
As Amnesty noted:
In recent years, authorities in both countries have severely repressed the rights to freedom of expression, association, and peaceful assembly and failed to address entrenched discrimination against religious minorities.

[...]

Human rights defenders, lawyers, political opponents, peaceful protesters, academics, and students, face arbitrary arrests and detention, unjust prosecutions, and other forms of harassment and intimidation solely for their peaceful exercise of their human rights in both India and Egypt.
"India and Egypt seem to have taken their long-standing bilateral cooperation to a different level where they share tactics to increasingly repress rights and freedoms," Amnesty International India board chief Aakar Patel said in a statement. "As the leaders of the two countries take the center stage, celebrations of the adoption of India's constitution 74 years ago should not overshadow the grim reality that the human rights situations in both countries have been on a downward spiral."
\u201c\u201cThe current human rights crises in #India & #Egypt are characterized by entrenched impunity and misuse of counterterrorism legislation to clamp down on civic space & peaceful dissent\u201d, @amnesty said today, as India hosts President Sisi as the chief guest at its Republic Day.\u201d

— Nuria Tes\u00f3n (@Nuria Tes\u00f3n) 1674743767
Leading an open letter from Egyptian and Indian diaspora members published Tuesday by the Canadian alternative news site rabble.ca, Ehab Lotayef, Samaa Elibyari, and Jooneed Jeeroburkhan noted that India's constitution "guarantees full equality and rights to all Indians and declares the country a secular, socialist republic."
"However today's India is led by a Hindu ethno-nationalist party committed to converting it into a Hindu nation," the authors continued, and "the government of India has been called out by domestic and international human rights organizations for unleashing and engendering violence and detentions against Muslim, Dalit, and Christian minorities as well as any human rights defenders."
"Meanwhile, January 25 marks the start of the 17 days in 2011 which forced one of the region's longest-serving and most influential leaders, Egyptian President Hosni Mubarak, from power," they continued. "We recall that moment of incredible exhilaration as all Egyptians aspired to more democracy and social justice. Unfortunately, on July 3, 2013, then-Gen. Abdel Fattah El-Sisi staged a coup d'état that toppled President Mohamed Morsi, the first democratically elected president of Egypt, and returned the country to dictatorial rule."
\u201c"What is happening in Egypt and India should be of interest to all Canadians, even if they are not of Egyptian or Indian origin. Support for governments that violate fundamental rights diminishes democracy everywhere." https://t.co/sXAmcQlOba\u201d

— Canadians for Justice and Peace in the Middle East (@Canadians for Justice and Peace in the Middle East) 1674656645
"Since his ascent to power through dubious elections, El-Sisi has governed Egypt with an iron fist," the trio wrote. "Under his direct command, on August 14, 2013, two encampments of protesters in Rabaa and al-Nahda squares, demanding that President Morsi be reinstated, were dismantled by lethal force and more than 1,000 people were killed."
"To date, no one has been held accountable," the authors added. "Since then, all dissenting voices have been silenced and more than 60,000 political prisoners languish behind bars in abject conditions."
News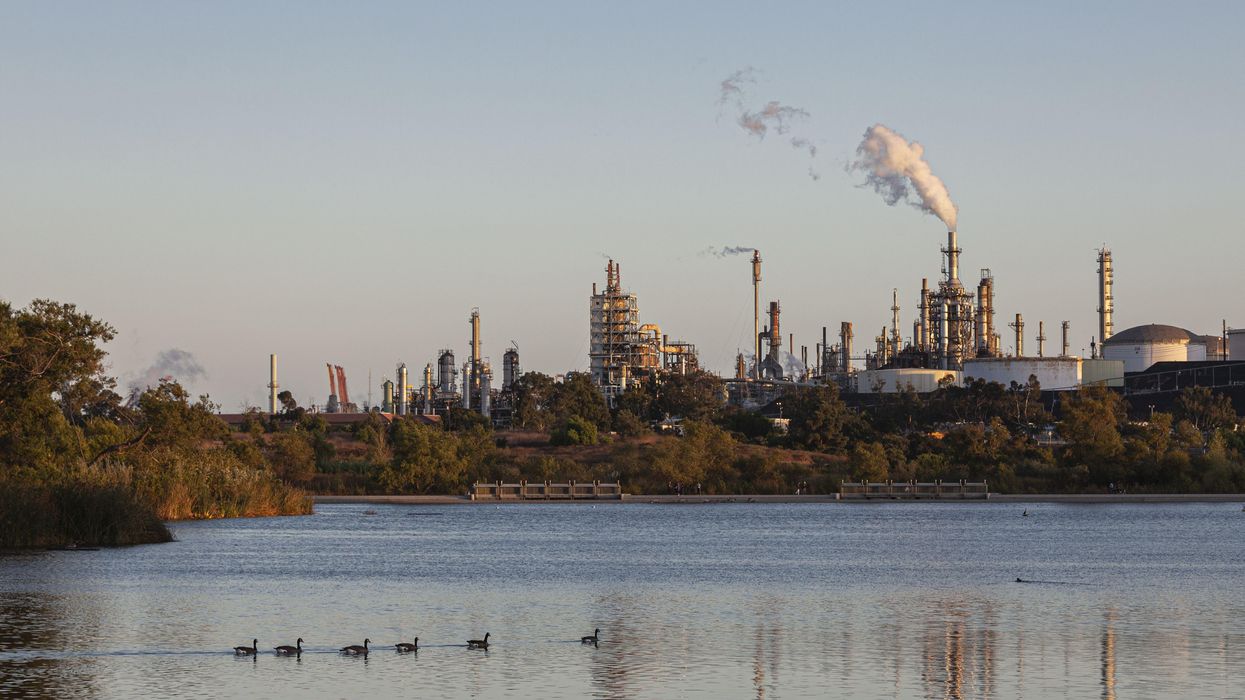 "It's high time for EPA to crack down on the toxic pollution from oil refineries that's threatening both wildlife and human health," said one environmental justice advocate.
The U.S. Environmental Protection Agency is failing to uphold its legal obligation to regulate the nearly half-billion gallons of toxic wastewater that petroleum refineries dump into the nation's waterways on a daily basis, according to an exhaustive study published Thursday.
The Environmental Integrity Project (EIP), a watchdog founded by former EPA enforcement attorneys, analyzed publicly available records and found that in 2021 alone, the 81 refineries across the U.S. that discharge into rivers, streams, and estuaries released 1.6 billion pounds of chlorides, sulfates, and other dissolved solids harmful to aquatic life; 15.7 million pounds of algae-feeding nitrogen; 60,000 pounds of selenium, which can cause mutations in fish; and other pollutants, including cyanide; heavy metals such as arsenic, chromium, copper, lead, mercury, nickel, and zinc; and petrochemicals like benzene.
"Much of the water pollution from refineries is legal," EIP's report explains, "because EPA and the states have failed to set any limits on certain pollutants and have failed to update and modernize permit limits for other pollutants" despite the Clean Water Act's mandate that EPA does so. "But a portion of the problem is also illegal. As it turns out, EPA and state enforcement of existing permit limits for refineries is lax and rarely results in penalties for violations."
"Almost 83% of refineries (67 of 81) exceeded their permitted limits on water pollutants at least once between 2019 to 2021, according to EPA enforcement and compliance records," the report notes. "But only about a quarter of the refineries with violations (15 of the 67) were penalized during this period."
Other key findings of the report, titled Oil's Unchecked Outfalls, include:
Wastewater discharged by 68% of the refineries examined (55 of 81) contributes to the "impairment" of downstream waterways—meaning they are too polluted to support aquatic life or allow for recreational uses like swimming or fishing.
U.S. refineries are often old–averaging 74 years, but some dating back to the 1880s—and many have antiquated and inadequate pollution control systems. Most have also expanded over the last forty years, increasing both the volume and variety of pollutants they discharge. But EPA has not updated its standards for refineries since 1985.
Two-thirds of the refineries examined by EIP (56 of 81) are located in areas where the percentage of low-income households within three miles exceeds the national average, and over half are located in areas where the percentage of people of color exceeds the national average.
Sixty-seven refineries were flagged by EPA as violating permitted pollution limits 904 times between 2019 and 2021, including for dumping excessive amounts of cyanide, zinc, total suspended solids, ammonia, and oil and grease.
"Oil refineries are major sources of water pollution that have largely escaped public notice and accountability in the U.S., and too many release a witches' brew of contaminants to our rivers, lakes, and estuaries," EIP executive director Eric Schaeffer said in a statement. "This is because of lax federal standards based on wastewater treatment methods that are nearly forty years old."
"The Clean Water Act requires EPA to impose more stringent standards that reflect the advanced wastewater treatment methods available today," said Schaeffer, former director of civil enforcement at EPA. "After decades of neglect, EPA needs to comply with the law and set strong effluent limits for refineries that protect public health and environment. EPA and the states also need to start enforcing the limits that exist and penalizing polluters."
EIP identified which refineries are the top dischargers of key pollutants. When it comes to selenium, the Chevron El Segundo Refinery in California and the Motiva Port Arthur Refinery in Texas are the worst offenders, each dumping more than 12 pounds per day into local waterways. The Phillips 66 Wood River Refinery in Illinois and the BP Cherry Point Refinery in Washington pour out more nickel than any other facility in the country. El Segundo is also the biggest discharger of nitrogen, at 4,351 pounds per day, followed by the PBF Delaware City Refinery's 3,283 pounds per day. For total dissolved solids, the worst offenders are the ExxonMobil Baytown Refinery (347,345 pounds per day) and the Valero Corpus Christi Bill Greehey Refinery (291,527 pounds per day), both in Texas.
EIP also documented the worst refineries for permit violations from 2019 to 2021. The Hunt Southland Refinery in Mississippi exceeded its permitted pollution limits 144 times during that time period but faced just two Clean Water Act enforcement actions totaling $85,500. The Phillips 66 Sweeny Refinery in Texas, meanwhile, ran up 44 violations but was hit with just a single $30,000 fine.
"After decades of neglect, EPA needs to comply with the law and set strong effluent limits for refineries that protect public health and environment. EPA and the states also need to start enforcing the limits that exist and penalizing polluters."
"EPA's national discharge limits for refineries apply to just ten pollutants, including ammonia, chromium, and oil and grease," states the report. "These skeletal standards do not begin to address the variety and volume of dangerous contaminants found in the wastewater from refining processes."
For example, the report documents that refineries are "a notable source" of toxic "forever chemicals" (PFAS, or per- and polyfluoroalkyl substances), in part because they use firefighting foams that contain them. Even though PFAS have been linked to numerous adverse health impacts, EPA's newly released plan for regulating industrial discharges does not establish limits on these synthetic compounds in refinery wastewater.
"EPA's current rules for refineries are almost 40 years old, based on outdated treatment methods, and do not even apply to most of the pollutants that refineries discharge," says EIP's report. "EPA needs to waste no further time and move quickly to update these standards and impose the more stringent discharge limits the law requires."
"The states and the EPA also need to penalize permit violations more consistently so that refining companies have an economic incentive to clean up waterways," the report continues. "Currently, most violations by refineries are not penalized at all, and when they are, the amounts are paltry compared to the profitability of the industry. More stringent enforcement will provide a financial incentive for violators to update their pollution control systems and improve their operations to protect public health and the environment."
Bruze Reznick, executive director of Los Angeles Waterkeeper, lamented that "once again, the U.S. government has turned a blind eye while oil and gas companies pollute our environment, including our sensitive marine ecosystems, and disproportionately harm our frontline communities."
"We must now put the spotlight on oil refineries' essentially unregulated water pollution and demand that EPA fulfill its duty under the Clean Water Act by setting, updating, and actually enforcing discharge limits for these refineries," said Reznick.
He was echoed by Sejal Choksi-Chugh, executive director of San Francisco Baykeeper, who said that "it's high time for EPA to crack down on the toxic pollution from oil refineries that's threatening both wildlife and human health."
EIP researchers argued that "EPA's failure to require the cleanup of refinery wastewater is a part of a wider pattern."
"Most of the discharge limits in effect today for industries across the U.S. were established well before the end of the last century," the report points out. "According to the latest state water quality reports, about half of America's rivers, streams, and lakes, and a quarter of our estuaries are too polluted to support aquatic life, swimming, fishing, or to supply drinking water. The 1972 Clean Water Act promised to make all waters fishable and swimmable, but we are only halfway home to that goal more than fifty years later."
Rights & Justice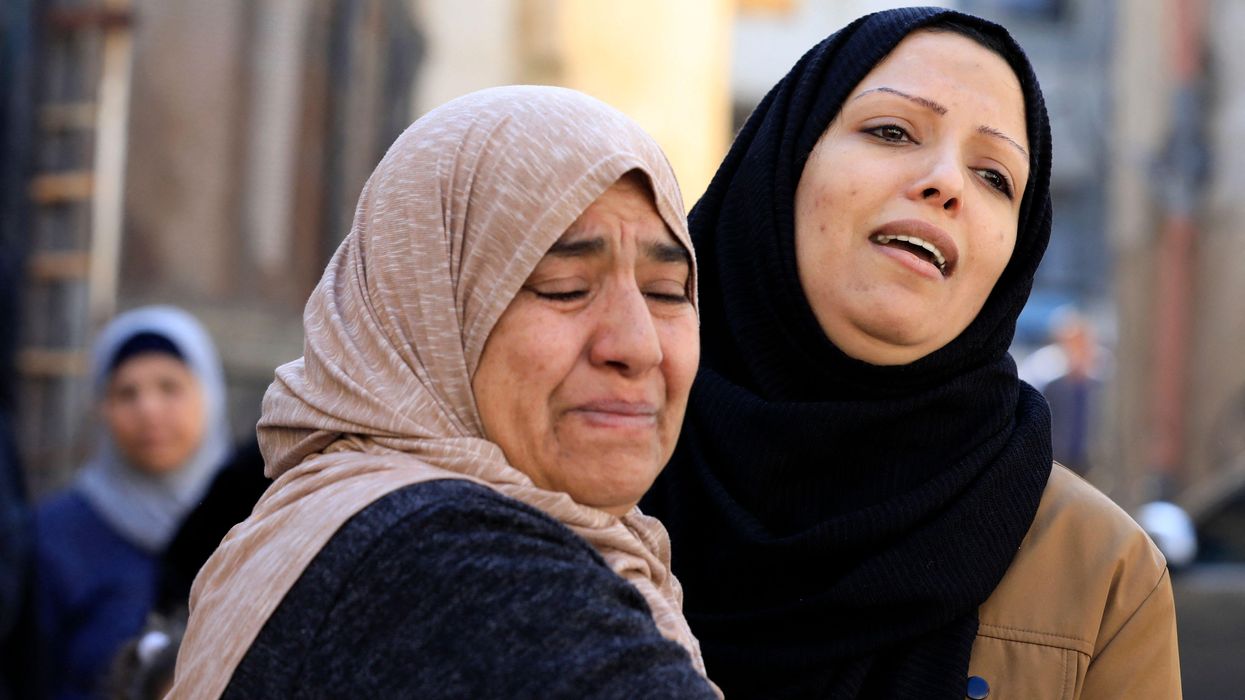 Without a "real, strong response" from the international community to Thursday's raid in the occupied West Bank, said one analyst, "Israel will continue to do what it wants without punishment."
An elderly woman was among at least nine Palestinian people killed in an early morning raid at a refugee camp in Jenin in the occupied West Bank on Thursday, in what President Mahmoud Abbas denounced as "a massacre from the Israeli occupation government, in the shadow of international silence."
The woman died of a gunshot wound in her neck, Middle East Eye (MEE) reported.

Heavily armed soldiers with the Israel Defense Forces (IDF) entered the refugee camp in a commercial truck and shot at residents who were trying to block them. The IDF also used bulldozers in the raid and targeted an area that was used as a meeting place for residents. According to Al Jazeera, "dozens of armored vehicles and snipers" were involved in the raid.
"The sounds of bullets and gunfights were intense, and clouds of smoke covered the sky," Anas Huwaisheh, a correspondent at a local channel, told MEE. "The Israeli occupation cut off the electricity, the internet, and the cell phone network during the storming. This shows that it was planned."
At least 20 people were injured as of this writing, including four who were in critical condition.
\u201cIsraeli forces shot dead nine Palestinians and wounded at least 16 others during a raid on Jenin refugee camp in the occupied West Bank. \n\nThe attack is one of the deadliest days since Israeli raids intensified at the start of last year, and has been described as a \u201cmassacre\u201d.\u201d

— Middle East Eye (@Middle East Eye) 1674741232
The raid made Thursday one of the deadliest days in the occupied West Bank since the IDF intensified its attacks early last year in response to the Palestinian resistance.
At least 29 Palestinians have now been killed by Israeli forces in the occupied West Bank and East Jerusalem this month, including five children and 15 people from Jenin.

Palestinian Health Minister Mai al-Kaila accused the IDF of obstructing ambulances as emergency workers tried to take victims to a nearby public hospital and of "deliberately [firing] tear gas bombs at the hospital's children's department, choking children."
"There is an invasion that is unprecedented... in terms of how large it is and the number of injuries," Wissam Baker, the head of the public hospital, told Al Jazeera. "The ambulance driver tried to get to one of the martyrs who was on the floor, but the Israeli forces shot directly at the ambulance and prevented them from approaching him."
The IDF denied firing tear gas at the hospital deliberately but said soldiers fired the chemicals close enough to the hospital that it could have entered the children's ward.
Murad Khamayseh, a medic, told MEE that "it was almost impossible to go into the camp" to rescue victims.
"Israeli forces fired warning shots and signaled at the team to not approach the area," Khamayseh said. "As paramedics we have gotten used to this, but I honestly couldn't keep myself together after the things I have seen today."
Political analyst Aleef Sabbagh told Al Jazeera that the raid is likely "the first shot in a coming, larger Israeli operation" and warned that without a "real, strong response" to the attack and other incidents like the killing of Palestinian-American journalist Shireen Abu Akleh last year, "Israel will continue to do what it wants without punishment."
"The targeting of ambulances and hospitals, preventing aid to wounded people, the field executions—even the killing of Shireen Abu Akleh—there has been no accountability," Sabbagh said.
Abu Akleh was shot to death while covering an IDF raid in Jenin last May; multiple investigations have determined the Israelis were responsible for her killing, either intentionally or unintentionally, but Israel said in recent weeks it would not cooperate with a U.S. investigation into the matter.
Jewish Voice for Peace said Thursday that the Jenin raid was "the result of unrestrained violence by the Israeli military."
\u201cThe massacre in Jenin is the result of unrestrained violence by the Israeli military: 9 killed in one day, including 2 children. We support the calls for a national strike across all Palestine.\u201d

— Jewish Voice for Peace (@Jewish Voice for Peace) 1674749525
The group also called on the U.S. to "end its complicity in Israel's brutal violence and apartheid."
"Over and over, the Biden administration has refused to take action in response to Israel's blatant war crimes against Palestinians, all while continuing to send billions of dollars to the Israeli military," said Beth Miller, the group's political director. "Next week, Secretary Blinken is visiting Israel to continue normalizing relations with its far-right extremist and violent government. Enough is enough."

A general strike was called across the West Bank on Thursday to protest the raid at the refugee camp.

News
SUPPORT OUR WORK.
We are independent, non-profit, advertising-free and 100%
reader supported.