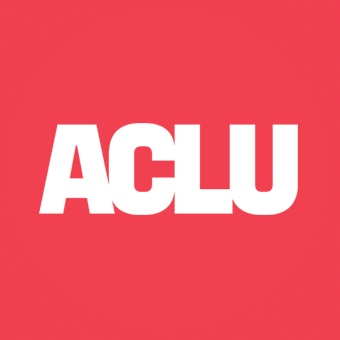 Flawed Employment Verification Stripped Out Of Stimulus Package By Conference Committee
ACLU Welcomes Development, Calls For Full Examination Of E-Verify
WASHINGTON
A requirement to use a flawed employment verification program (E-Verify) for all recipients of stimulus funding was stripped out of the conference report for the economic stimulus package on Capitol Hill today. The American Civil Liberties Union applauds this development, noting that if the E-Verify mandate had been included, the stimulus package could have failed to achieve its objective of putting unemployed Americans back to work. E-Verify, a Department of Homeland Security (DHS) initiative, checks employees' citizenship status against Social Security Administration and DHS files that are plagued with errors.
The conference committee has been meeting this week to iron out the differences in the stimulus packages passed by the House of Representatives and the Senate. The House version contained a provision that all recipients of stimulus funding would be required to use the E-Verify system. The Senate version, passed on Tuesday, did not contain the mandate.
"Removing the problematic employment verification provision from the economic stimulus package will help unemployed Americans get back to work," said Caroline Fredrickson, Director of the ACLU Washington Legislative Office. "E-Verify is known to create significant delays in hiring new employees, a consequence our economy and American workers should not have to suffer in such difficult economic times. Both employers and employees can now sleep easier knowing their efforts to find employment will not be unnecessarily thwarted once President Obama enacts the stimulus funding."
This latest development will likely lead to a debate in Congress on employment verification over the next three weeks, with the expiration for authorization of E-Verify coming up on March 6. Furthering the discussion is the program review ordered by DHS Secretary Janet Napolitano.
"By stripping out this counterintuitive provision in the stimulus package, Congress has reaffirmed the fact that E-Verify should be voluntary at best," said Timothy Sparapani, ACLU Senior Legislative Counsel. "Secretary Napolitano's review should conclude that employment verification systems are not an effective means of enforcing immigration policy. The conference committee has done the right thing by removing E-Verify from the stimulus package."
The American Civil Liberties Union was founded in 1920 and is our nation's guardian of liberty. The ACLU works in the courts, legislatures and communities to defend and preserve the individual rights and liberties guaranteed to all people in this country by the Constitution and laws of the United States.
(212) 549-2666
LATEST NEWS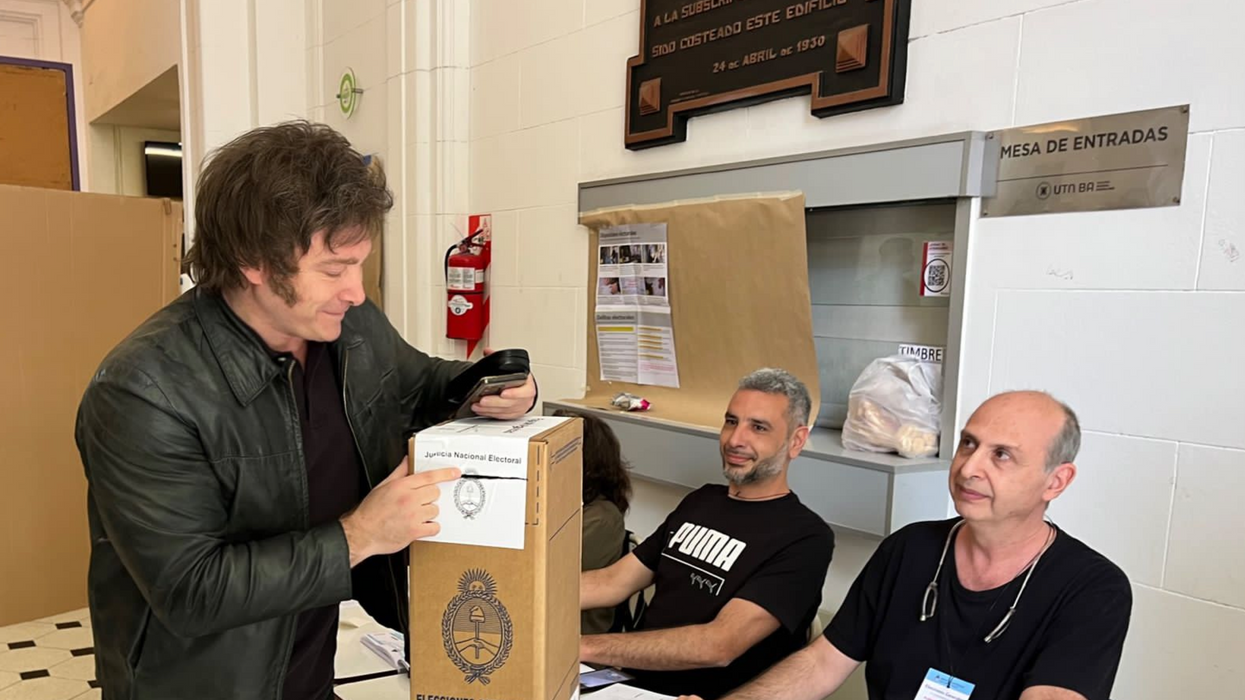 "No one so extremist on economic issues has been elected president of a South American country," said U.S. economist Mark Weisbrot.
Javier Milei—a far-right admirer of former U.S. President Donald Trump who says that climate change is a "socialist lie" and who pledged to take a "chainsaw" to social programs—will be Argentina's next president after winning a decisive victory in Sunday's runoff.
Sergio Massa, Argentina's Peronist economy minister, conceded defeat Sunday evening to the 53-year-old Milei, a radical libertarian economist often called the "Trump of Argentina" who will take office amid a looming recession, triple-digit inflation, and a nearly 40% poverty rate in Latin America's third-largest economy.
Following Massa's concession speech, Argentinian election officials said that with nearly 87% of votes tallied, Milei had 56% and Massa 44%.
Gone Sunday were the baseless allegations of voter fraud that Milei supporters said cost him the first round of the presidential contest, as well as the chainsaw he often used as a prop to show how he would eviscerate social programs.

"No one so extremist on economic issues has been elected president of a South American country," economist Mark Weisbrot, co-director of the Center for Economic and Policy Research, warned Friday.

In addition to deploring socialism for "stealing the fruits of one person's labor and giving it to someone else," Milei has asserted that "all the policies that blame humans for climate change are false" and has called abortion—which has only been legal in Argentina since 2021—"murder."
Milei, a self-described "anarcho-capitalist" libertarian, is also an advocate of same-sex marriage, transgender rights, and drug legalization.

Referring to former center-right Argentinian President Mauricio Macri—a Milei supporter—Weisbrot said that "much of the current crisis in Argentina is a result of what happened during [his] administration, including unsustainable borrowing combined with large-scale capital flight, as well as an inflation-depreciation spiral that takes on a momentum of its own."
"But a crazed, economically suicidal approach would only make things worse—and as Argentina has experienced, things can get a lot worse," he added. "Milei displays a callous disregard for most people's living standards, values, and well-being, as well as a commitment to widely discredited economic policies, that is unprecedented."
Human rights defenders have also sounded the alarm over Milei and his running mate Victoria Villarruel's open admiration for Argentina's former U.S.-backed military dictatorship, whose reign of terror and repression spanned from 1976 to 1983.
Massa unsuccessfully tried to distance himself from intensely unpopular outgoing President Alberto Fernández and Vice President Cristina Fernández de Kirchner, a former president who was convicted last year of fraud.
And so now the next president of Argentina will be a man who wants to legalize the sale of children and human organs, renounce his country's monetary sovereignty in favor of the U.S. dollar, and says he receives political advice from his dead dog.
"God help us all," wrote one anti-Trump Republican group on social media.

News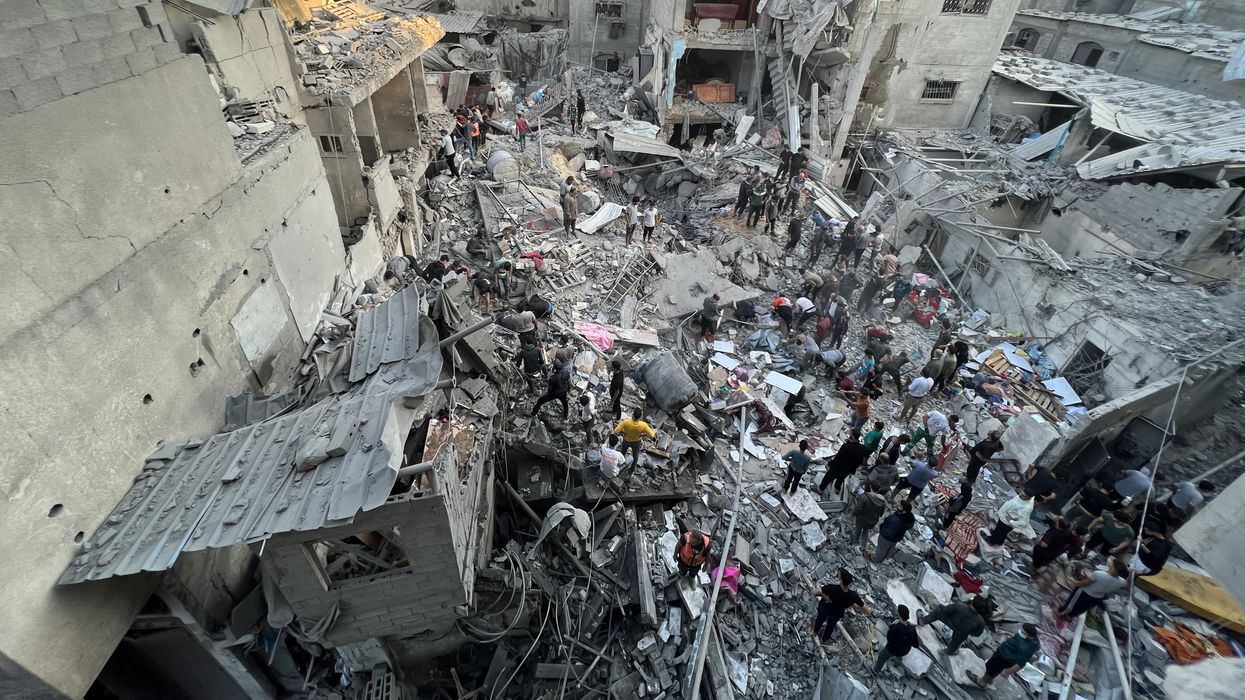 Yet another attack on the heavily bombed Jabalia refugee camp reportedly killed more than 80 people, including 32 members of one family—19 of them children.
Israeli airstrikes on Gaza reportedly killed more than 100 Palestinians on Saturday—including upwards of 80 people in the hard-hit Jabalia refugee camp—bringing the Palestinian death toll in the 44-day war to over 13,000 as the Biden administration refuted reports of a breakthrough in cease-fire negotiations between Israel and Hamas.
The Gaza Health Ministry said Saturday that a pair of Israeli airstrikes on the densely populated Jabalia camp—including on a United Nations school where thousands of people were sheltering from relentless bombardment—killed more than 80 people. Among the dead are reportedly 32 members of the Abu Habal family, including 19 children.

"Shelters are a place for safety. Schools are a place for learning. Tragic news of the children, women, and men killed while sheltering at al-Fakhouri school in northern Gaza," United Nations Under-Secretary-General for Humanitarian Affairs and Emergency Relief Coordinator Martin Griffiths said on social media. "Civilians cannot and should not have to bear this any longer."
Philippe Lazzarini, director of the U.N. Relief and Works Agency for Palestine Refugees in the Near East, lamented the "horrifying images" he saw of the bombing, while stressing that "a humanitarian cease-fire cannot wait any longer."
Previous Israeli attacks on Jabalia—including one last week that killed at least 126 Palestinians—more than half of them children—have been condemned by international experts as war crimes.

Meanwhile, Palestinian officials said Israeli bombardment of an apartment building in Khan Younis in southern Gaza—where Israeli authorities had directed Palestinians to flee for their lives—killed 26 people and injured 23 more. Six Palestinians were also reportedly killed in an Israeli attack on a house in Deir Al-Balah.
Gaza officials said that more than 13,000 Palestinians—including over 5,500 children and 3,500 women—have been killed during Israel's retaliatory war on the embattled enclave since the October 7 Hamas-led attacks that left around 1,200 Israeli and others dead and approximately 240 people taken hostage.
Tens of thousands of Palestinians have been injured, while as many as 1.7 million people—or about 70% of Gaza's population—have been forcibly displaced in a war that numerous experts have called "genocidal."
In the United States, the White House on Saturday refuted reports of an imminent Qatari-brokered temporary cease-fire between Israel and Hamas.
"No deal yet but we continue to work hard to get a deal," White House National Security Council Spokesperson Adrienne Watson said in a statement.
Israeli Prime Minister Benjamin Netanyahu said Saturday night that an extremely limited amount of fuel would be allowed into Gaza for the purpose of averting the spread of communicable diseases.
"This is not a change of policy but a limited, localized response in order to prevent the outbreak of epidemics," he explained.
Netanyahu also vehemently rejected international calls for a cease-fire, vowing that "we will continue to fight until victory."
Former Human Rights Watch executive director Kenneth Roth said on social media that Saturday's strikes show "there is nowhere safe for Gaza's civilians."

"First the Israeli military told Palestinian civilians in northern Gaza to move south to avoid being bombed. Now, as Israel bombs in the south, it tells them to move west," Roth noted. "But Hamas is throughout Gaza."

"What's next? Expulsion to Egypt and Nakba II?" he added, referring to a modern-day version of the ethnic cleansing campaign that forcibly expelled more than 750,000 Arabs from Palestine during the establishment of the modern state of Israel 75 years ago.
News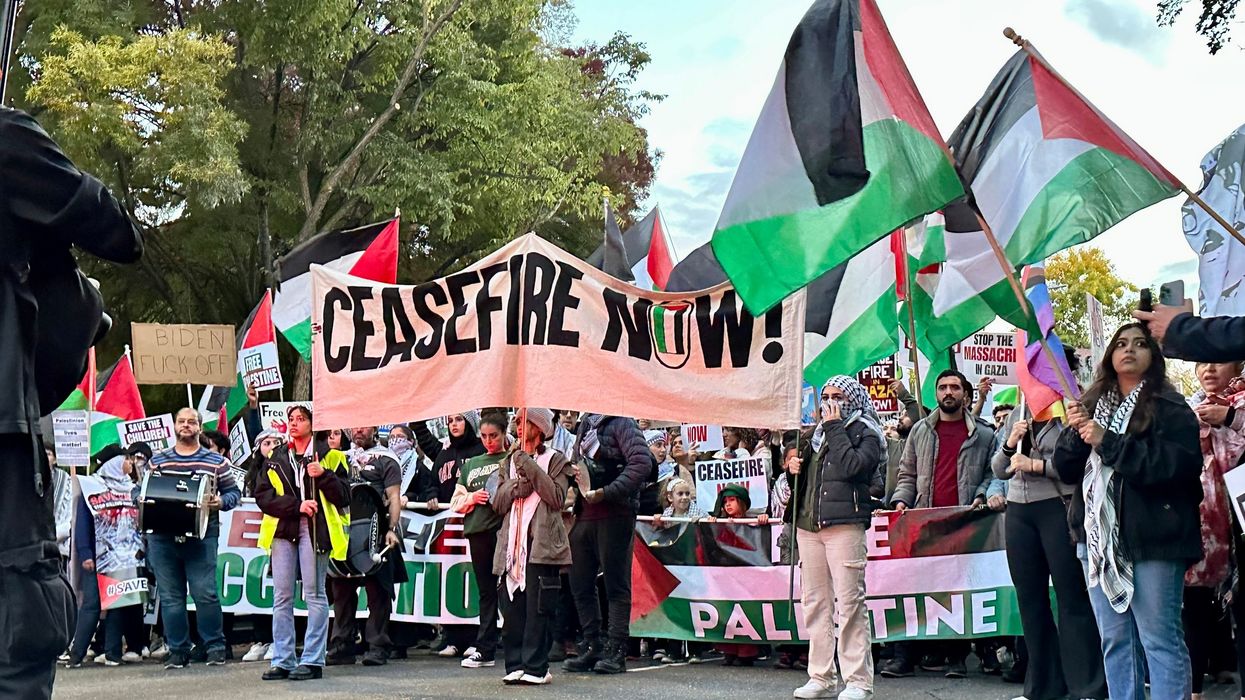 "We need to stand up and say we're not going to stand for this, and we have to have a cease-fire," said the chair of the state's progressive caucus.

Thousands of protesters demanding an immediate Gaza cease-fire forced an early shutdown Saturday of California's Democratic Convention in Sacramento in a resounding rebuke of national party leaders' support for what the demonstrators called Israel's "genocidal" war on the Palestinian people.
Protesters chanted "cease-fire now" and waved Palestinian flags as they marched through the SAFE Credit Union Convention Center, where California Democrats were set to vote on their state party platform. The flood of demonstrators prompted security guards to lock down entrances to the building, ending the day's official events well ahead of schedule.
Outside the convention center, activists from Jewish Voice for Peace laid out 500 pairs of shoes representing the more than 5,000 children killed by Israeli forces in Gaza since the October 7 Hamas-led attacks on Israel that left around 1,200 people dead and about 240 others kidnapped.

Fatima Iqbal-Zubair, chair of the California Democratic Progressive Caucus, said that "disruption has to happen in a democracy for something drastic to change."
Delegate Sameena Husman toldCBS News that "a lot of people who are Democrats have lost faith in the party" due to its leadership's staunch support for Israel.
"We need to stand up and say we're not going to stand for this, and we have to have a cease-fire," she added.
Earlier on Saturday, activists interrupted a Democratic U.S. Senate candidates' forum, disrupting speeches by U.S. Reps. Adam Schiff and Katie Porter. Rep. Barbara Lee—the sole California Democratic Senate candidate supporting a Gaza cease-fire—was cheered as she called for an end to the 44-day war in which Israeli forces have killed or maimed more than 40,000 Palestinians and forcibly displaced over 70% of the besieged strip's population.
In preliminary results released Saturday night, none of the Senate candidates mustered the 60% majority required for the party's endorsement. Lee led the pack with over 41% of delegate votes, closely trailed by Schiff with 40% and Porter garnering just 16%.
"I was the only one who voted against the authorization to use force right after the 9/11 horrific events," Lee told convention attendees. "And yes, I am calling for a cease-fire now."
While U.S. President Joe Biden has resisted demands for a cease-fire in favor of a so-called humanitarian pause, progressive Democrats led by Rep. Cori Bush (D-Mo.) have signed on to a resolution urging the president to push Israeli leaders to agree to a cessation of the relentless assault on Gaza.

"We want to stop the genocide against my people in Gaza," said Adeeb Alzanoon with the Sacramento Coalition for Palestinian Rights.
"I've lost 42 of my extended family," Alzanoon—who is Palestinian American—added. "We all come here to stand up for justice and for peace."
Many of the demonstrators at the convention had a simple message for Democratic leadership: "In November, we'll remember."
Farah Ard'Lana, a 22-year-old organizer with Palestine Youth Movement and Students for Justice in Palestine at Sacramento State University, toldThe San Francisco Chronicle that the Democratic Party must "reckon with the fact that their complicity and silence will lose them a generation of voters."
"These politicians say that they support us, but they're empty words," Ard'Lana added. "They're not following their morals."
News