For Immediate Release
Contact:
Adam Miles, GAP Legislative Representative
202.276.2007
adamm@whistleblower.org
Charity Wilson, American Federation of Government Employees
202.639.6440
Lindsey M. Williams, National Whistleblower Center
202.342.1903
Donna Lenhoff, National Employment Lawyers Association
202.898.2880
Contact: Marthena Cowart, Project on Government Oversight
202.347.3958
Angela Canterbury, Public Citizen
202.454.5188
Celia Wexler, Union of Concerned Scientists
202.390.5481
Michael Ostrolenk, Liberty Coalition
301.717.0599
Dina Long, National Treasury Employees Union
202.572.5500 ext. 7058
Patrice McDermott, OpenTheGovernment.org
202.332.6736
Dane vonBreichenruchard, US Bill of Rights Foundation
202.546.7079
Sean Moulton, OMB Watch
202.234.8494
Post Editorial Misses Mark on Whistleblowers; Protections in Stimulus Bill Help Workers Hold Government Accountable
A Joint Statement from GAP, American Federation of Government Employees, National Whistleblower Center, National Employment Lawyers Association, Project on Government Oversight, Public Citizen, Union of Concerned Scientists, Liberty Coalition, National Treasury Employees Union, OpenTheGoverment.org, U.S. Bill of Rights Foundation, and OMB Watch
WASHINGTON
Monday's Washington
Post editorial, "Wrong Way to Protect," did a disservice
to its readers and the taxpayers when it opposed provisions in the economic
stimulus bill that are designed to empower federal whistleblowers.
The editorial argues that the reform should be pursued
through ordinary legislative channels rather than included in the stimulus,
stating "This is not the way it's supposed to work." This
is exactly how it is supposed to work: Federal whistleblower protection
legislation has had the benefit of hearings, and has been vetted in both
chambers for several years. This is not an extraneous measure, as the editorial
suggests. In both chambers, the original stimulus bills included whistleblower
protections for state and local employees. Members of the House had the good
sense to recognize that the massive stimulus package creates an urgent need for
federal employees, who are the taxpayers' first line of defense against
waste and fraud, to be given the same protections afforded state and local
employees.
Congress has diligently built a record to strengthen
federal whistleblower protections through a robust legislative history (click here to see the
fact sheet). Identical whistleblower protections overwhelmingly passed the
House as a stand-alone measure, 331-94, in 2007. Despite eight years of
hearings, committee meetings, mark-ups, and four House and Senate votes,
federal employees who expose waste, fraud and abuse remain vulnerable to
intimidation, reassignment and termination, with no effective means to fight
retaliation. Even so, whistleblowers each day risk their careers and come
forward with evidence of misconduct, much to the benefit of The Washington Post and other newspapers
that have earned prizes for their reporting on information whistleblowers
provided.
In addition, the editorial cites curious concerns
about disclosures of classified information (which could have been cleared
up with a careful reading of the text). There is nothing in the bill to
condone any "breach" - "unilateral" or otherwise.
However, after some members of Congress raised legitimate concerns about the
procedure for disclosure of classified information, the House managers
agreed on the floor to work together with the Intelligence Committee to
address those concerns. The members who raised the concerns were satisfied, and
voted for the whistleblower amendment. We too are confident that those issues
will be resolved. In fact, because the law will allow for only lawful
disclosures to those with the appropriate security clearances, it actually will
prevent leaks and so-called "breaches."
But it is important to recognize the central purpose
behind protecting federal employees in the stimulus: Taxpayers need their
help in detecting fraud and waste. The stimulus bill authorizes the expenditure
of billions of taxpayer dollars; as taxpayers, we need the best oversight
possible. Countless studies have verified that whistleblowers are the most
effective weapon against fraud. This includes recent statistics by the U.S.
Department of Justice, which announced that whistleblowers were responsible for
returning over $1 billion to the U.S. Treasury in 2008 alone. In addition,
PriceWaterhouseCoopers recently surveyed more than 5,000 corporations worldwide
and found that whistleblowers, by far, were the most effective means for the
initial detection of corporate fraud, besting internal auditors and law
enforcement. The editorial asserts that it is somehow
"disingenuous" to claim that whistleblowers will "enhance
accountability." But the evidence shows that there is no better means of
enhancing accountability. We believe there is no excuse to spend another $888
billion without first locking in this proven accountability safeguard. Lastly,
whistleblower protections, unlike every other provision in the stimulus, will
save money, not spend it.
If lawmakers reject these provisions, they will be
sending federal employees a very strong signal: Keep your head down and
don't rock the boat. Employees know what happens to colleagues who step
forward and expose waste, fraud and abuse in government. Federal workers who
have reported wrongdoing have lost more than 98.5 percent of cases at the
Federal Circuit Court of Appeals since 1994, when Congress last unanimously
strengthened the law. During the entire Bush administration, the U.S. Merit
Systems Protection Board ruled only twice that the whistleblower law was
violated.
It's time to end the culture of secrecy and
guarantee that the federal workforce has our support in making sure our
stimulus dollars are spent honestly and effectively.
LATEST NEWS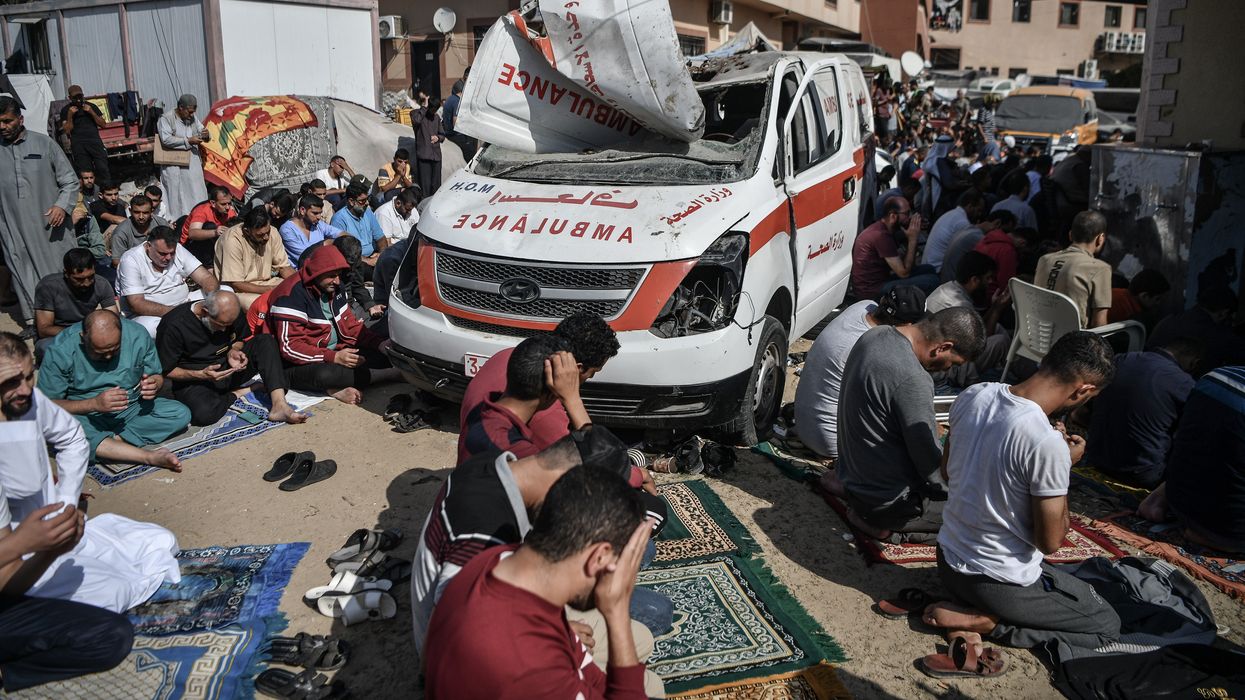 "Children in Gaza are hanging by a thread," said a UNICEF director, calling for attacks on healthcare facilities to stop immediately and the urgent delivery of supplies to hospitals.
As Israeli forces waged what al-Shifa's director described as a "war against hospitals" in Gaza on Friday, United Nations officials, human rights groups, and doctors demanded the protection of medical facilities and renewed calls for a cease-fire.
"Half of the Gaza Strip's 36 hospitals and two-thirds of its primary healthcare centers are not functioning at all," World Health Organization (WHO) Director-General Tedros Adhanom Ghebreyesus told the U.N. Security Council. "Those that are functioning are operating way beyond their capacities. The health system is on its knees, and yet somehow is continuing to deliver some lifesaving care."
Since the Hamas-led attack on October 7 that killed around 1,200 Israelis, the Israel Defense Forces' (IDF) assault of Gaza has devastated civilian infrastructure, displaced about 70% of the strip's 2.3 million residents—about half of whom are children—and killed over 11,000 Palestinians, including more than 4,500 children. Tens of thousands more are injured or missing.
"The only way to prevent further loss of civilian lives and allow lifesaving aid to reach those in desperate need in Gaza is for states to act now to demand an immediate cease-fire."
"The situation on the ground is impossible to describe: hospital corridors crammed with the injured, the sick, the dying; morgues overflowing; surgery without anesthesia; tens of thousands of displaced people sheltering at hospitals; families crammed into overcrowded schools, desperate for food and water," Tedros explained Friday. "Nowhere and no one is safe."
"WHO continues to call for unfettered access to deliver humanitarian aid to the civilians of Gaza, who are not responsible for this violence, but are suffering in ways that we in this room cannot imagine," he added, also calling on Hamas to release hostages; Israel to restore supplies of electricity, water, and fuel; and both sides meet their obligations under international humanitarian law.

"We continue to call for a cease-fire, to prevent further deaths of civilians and further damage to Gaza's hospitals and health facilities," he said. Tedros also argued the Security Council must be reformed and recalled his memories of war in Ethiopia, saying, "I understand what the children of Gaza must be going through, because as a child, I went through the same thing."
United Nations Children's Fund (UNICEF) Middle East and North Africa Regional Director Adele Khodr declared Friday that "children's right to life and health is being denied," especially in northern Gaza, where the IDF has pressured civilians to evacuate amid its ongoing bombardment.
"Children in Gaza are hanging by a thread, particularly in the north," Khodr warned. "Thousands and thousands of children remain in northern Gaza as hostilities intensify. These children have nowhere to go and are at extreme risk. We call for the attacks on healthcare facilities to stop immediately and for the urgent delivery of fuel and medical supplies to hospitals across all Gaza, including the northern parts of the strip."
According toThe Washington Post, "At least seven hospitals reported being under siege or in proximity to the fighting in Gaza City."
Baqr Qaoud, director of al-Nasr Hospital, told the newspaper that thousands of people left his facility, along with al-Rantisi Cihldren's Hospital and the Gaza Eye Hospital. Noting the IDF forces in the area on Friday, Qaoud said, "We were carrying white flags, and when we walked out, we passed by the tanks; I was meters away from one."
Steve Sosebee of the Palestinian Children's Relief Fund, which runs al-Rantisi's pediatric cancer unit, said Friday that the hospital had been "overrun with thousands of internally displaced people while continuing cancer treatments for patients."
"These are kids with cancer. They're starting to relapse and fall out of remission," he continued. "According to the Israeli army, hospitals are legitimate military targets. The [Gazan] health sector has completely collapsed. Thousands of innocent children—on ventilators, on dialysis, with cancer, with heart conditions, amputees with trauma injuries, and hundreds [of kids] in the burn department—are not getting care anymore. That should be on the conscience of the entire world."
Sosebee added that "we have transferred 13 children out. They are mostly in Egypt now." The WHO also confirmed Friday that some children with cancer or other blood disorders have been evacuated to Egypt or Jordan to continue treatment.
Gaza's largest hospital is al-Shifa, and thousands of the estimated 50,000 to 60,000 people who had sought shelter in and around it fled for the south on Friday, as the IDF closed in, according toThe Associated Press.
The Israeli military has claimed Hamas' main operation is under al-Shifa, which the hospital's director called "utter lies." The IDF and Hamas on Friday traded accusations of blame for a blast at the hospital that health officials said killed 13 people.
As Amnesty International announced Friday that its petition demanding an immediate cease-fire in Gaza now has over a million signatures, Erika Guevara-Rosas, the group's senior director of research, advocacy, policy, and campaigns, asserted that "Israeli authorities continue to dehumanize Palestinians in their rhetoric as Israeli forces bomb densely populated refugee camps, hospitals, U.N.-run schools, bakeries, mosques and churches, roads, and civilian homes, wiping out entire families."
"The only way to prevent further loss of civilian lives and allow lifesaving aid to reach those in desperate need in Gaza is for states to act now to demand an immediate cease-fire," she said. "A cease-fire will also provide opportunities to secure the release of hostages and for independent international investigations to take place into the war crimes committed by all parties to address long-standing impunity. Ultimately, justice and reparation for all victims and dismantling Israel's entrenched system of apartheid against Palestinians are essential to ending the cycle of recurrent horrors."
Some advocates of a cease-fire have focused pressure on U.S. President Joe Biden, who is pushing to put $14.3 billion toward the Israeli war effort, on top of the nearly $4 billion that Israel already gets annually.
"We urge President Biden to wield all the influence and power of the U.S. government to help secure a cease-fire and stop this devastating spiral of violence in Gaza, which threatens to engulf people living across the region," Avril Benoît, the U.S. executive director of Doctors Without Borders, known globally as Médecins Sans Frontières, wrote Friday.
"The U.S. government has been staunchly supportive of Israel's military operation. It has also expressed concerns about mitigating the impact of the conflict on civilians, calling on the Israeli government to conduct its military operations within the bounds of the laws of war," Benoît noted. "The horrors unfolding before our eyes in Gaza show that these calls are going unheeded. Working purposefully to reach a cease-fire is the most effective way to ensure the protection of civilians."
News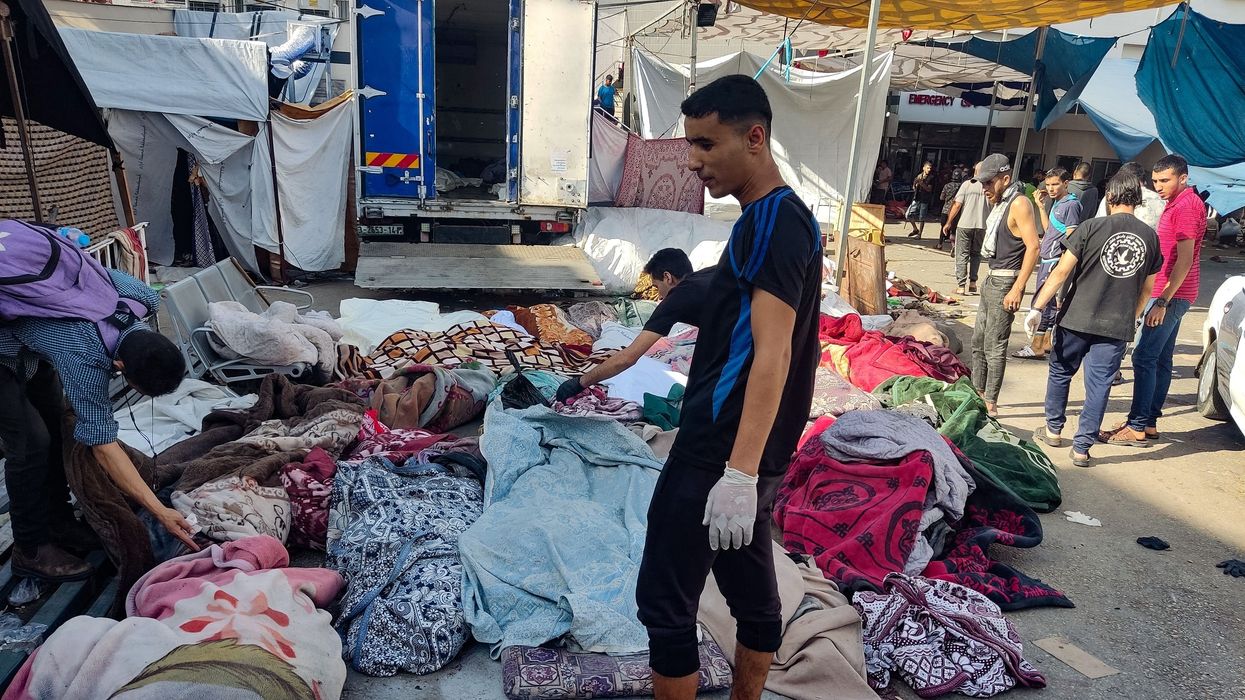 As the death toll from Israel's obliteration of Gaza topped 11,000, U.S. Secretary of State Antony Blinken said "far too many Palestinians have been killed"—while the United States' armed aid to Israel continues.
Palestinian civil defense officials said Friday that more than 50 bodies were recovered from the rubble of a school in northern Gaza where civilians were sheltering when it was destroyed during overnight Israeli bombardment.
Palestine's WAFA News Agencyreported civil defense and ambulance rescue teams removed the blasted and crushed remains of victims of Thursday night's missile and artillery strikes on the al-Buraq School in the al-Nasr neighborhood of Gaza City. The outlet said that most of those killed were women, children, and elders.
The Times of Israelreports that Israel Defense Forces (IDF) officials have not yet commented on the attack
Injured survivors of the attack were rushed to al-Shifa Hospital, which was hit by Israeli airstrikes at least four times over the past 24 hours.
As Common Dreamsreported earlier Friday, Israeli strikes targeted the courtyard and obstetrics department of the hospital, where doctors have been forced to operate on patients without anesthesia after running out of critical supplies to treat an overwhelming number of wounded victims. Gaza officials said 13 people died in the attacks on al-Shifa.
In an interview with Al Jazeera, al-Shifa general director Muhammad Abu Salmiya called Friday "a day of war against hospitals."
Israeli officials have made unsubstantiated claims of Hamas fighters operating from inside or under al-Shifa and other Gaza hospitals.
On Friday Israeli warplanes bombed in the vicinity of the Indonesian Hospital in Bait Lahia—where doctors announced a cessation of surgeries—while Mustafa al-Kahlout, director of the al-Nasr hospital and al-Rantisi Children's Hospital in northern Gaza, toldCNN that Israeli tanks had "surrounded" the complex.

Jens Laerke, spokesperson for the U.N. Office for the Coordination of Humanitarian Affairs, said Friday that northern Gaza resembles "hell on Earth" due to Israel's bombardment and a lack of aid.
Nearly 200 health workers, over 100 United Nations personnel, and dozens of journalists have been killed by Israeli forces during the war.
The Gaza Health Ministry said Friday that at least 11,078 Palestinians—including more than 3,000 women and over 4,500 children—have been killed and upward of 27,000 injured by Israeli bombs and bullets since October 7, when Hamas-led attacks on Israel killed around 1,200 civilians and soldiers, with another 240 or so people taken hostage. Israeli officials on Friday revised down their death toll, which they previously said was higher than 1,400.
According to Gaza officials, around 70% of Gaza's 2.3 million people have been forcibly displaced, while half the homes in the besieged strip have been destroyed. Officials also said 238 schools, 67 mosques, and 88 government buildings have been wiped out by Israeli attacks.
In the illegally occupied West Bank and East Jerusalem—whose residents were already suffering the deadliest year since the second intifada, or uprising, a generation ago—Israeli soldiers and settlers have killed at least 182 Palestinians while wounding thousands more since October 7.

A growing number of legal experts, activists, and other observers are calling Israel's war on Gaza "genocidal"—a characterization rejected by Israeli and U.S. leaders, with a handful of exceptions.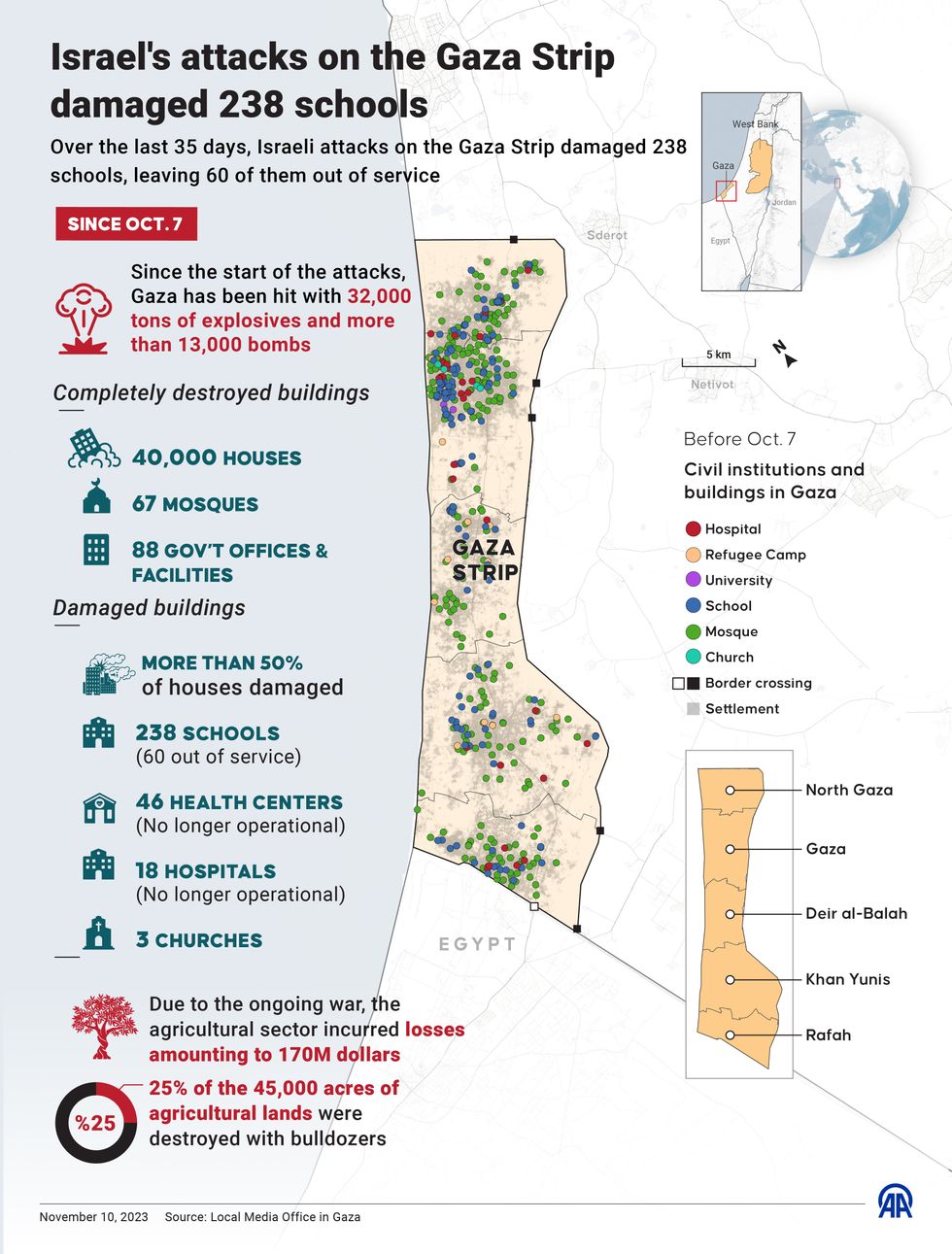 (Image: Andalou via Getty Images)
After 35 days of relentless and indiscriminate bombing—an IDF spokesperson acknowledged early in the war that "the emphasis is on damage and not on accuracy"—U.S. Secretary of State Antony Blinken said Friday during a visit to India that "far too many Palestinians have been killed."
However, the U.S. continues to stand staunchly behind its number one Middle Eastern ally, with the Biden administration and Congress working on a $14.3 billion military aid package to Israel, atop the nearly $4 billion the country already receives from Washington annually. The U.S. also provides diplomatic cover for Israel, including a recent veto of a Brazil-led United Nations Security Council cease-fire resolution.
While Israel on Thursday agreed to daily four-hour humanitarian pauses for at least three days so that civilians have a chance to flee the constant bombardment and advancing IDF ground forces, Israeli officials—and U.S. President Joe Biden—stress that no cease-fire is imminent.
Israeli leaders have said a cease-fire is off the table until all hostages held by Gaza-based militants are freed. Abu Hamza, the military spokesperson of the al-Quds Brigades, the armed wing of Palestinian Islamic Jihad, said Thursday that the group was preparing to release an elderly woman and teenage boy in its custody.

United Nations Relief and Works Agency for Palestine Refugees in the Near East Commissioner-General Philippe Lazzarini wrote in an opinion piece published Thursday by The Washington Post that "the present course chosen by the Israeli authorities will not bring the peace and stability that both Israelis and Palestinians want and deserve."
"Razing entire neighborhoods to the ground is not an answer for the egregious crimes committed by Hamas," Lazzarini asserted. "To the contrary, it is creating a new generation of aggrieved Palestinians who are likely to continue the cycle of violence. The carnage simply must stop."
News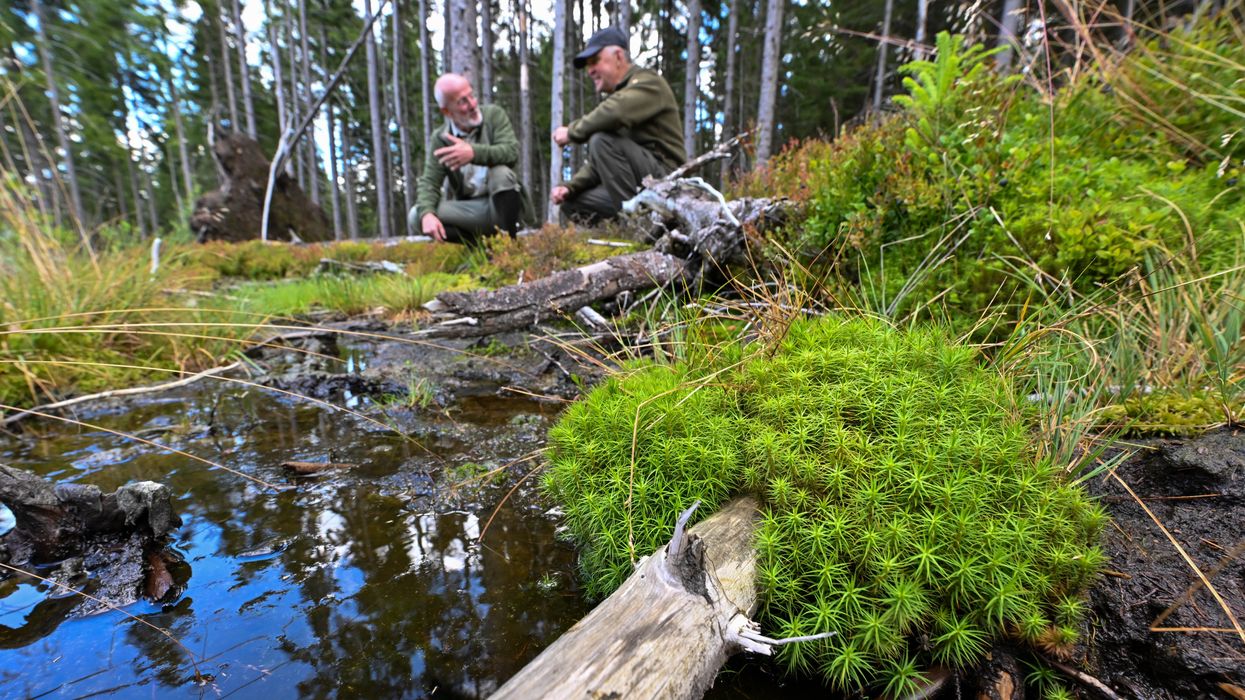 "Despite significant concessions made to the opponents of the impactful Nature Restoration Law, the provisional agreement includes several positive elements," said one advocate.
Biodiversity advocacy groups in Europe on Friday applauded policymakers' reaching of a landmark deal to restore nature, finalized after painstaking negotiations between the European Parliament, Commission, and Council—but warned that the bloc's largest party, the right-wing European People's Party, had succeeded in securing numerous concessions that watered down the agreement.

The Nature Restoration Law, part of the European Union's Green Deal to protect the environment and reduce planetary heating, will establish measures to restore at least 20% of the bloc's land and 20% of its marine environments by 2030.
Currently, about 80% of natural habitats in Europe are in need of restoration. At least 30% of degraded habitats must be restored by the end of the decade under the law, rising to 60% by 2040 and 90% by 2050.
The agreement still needs to be passed by the European Parliament's Environment, Public Health, and Food Safety (ENVI) Committee in a vote that's scheduled for November 29, and then proceed to a "rubber-stamp vote" in parliament's plenary session in December.
"The true litmus test lies in whether this law will really address the staggering repercussions of the climate and nature crisis. And that will only be seen if and when member states properly implement the law."
Lead negotiator César Luena, a Spanish member representing the center-left Socialists & Democrats Party, said he was confident the measure would pass but admitted the agreement reached late Thursday night was only "the first brick" to ensuring biodiversity is restored in Europe.

"I wanted more, of course, but this is a deal," Luena toldPolitico.
Advocates including the environmental law group ClientEarth celebrated key victories, including strict requirements to restore and increase nature on farmlands and peatlands.

"But the reintroduction of the article came at a high cost, with significant concessions being made," said ClientEarth.
The deal requires E.U. countries to prioritize the restoration of sites that are protected by the bloc's Natura 2000 program, which includes Europe's most threatened species and habitats.
But after lobbying by the European People's Party (EPP), countries will be under no legal obligation to implement the protection measures in other areas until 2030.
The peatland protection clause is also "voluntary" for farmers and private landowners, and the EPP removed a requirement for 10% of farmland to have landscape features including hedgerows and flower strips.
Advocates also lamented an "emergency brake" provision included in the deal, which allows E.U. countries to pause implementation for agricultural land if there is a food security crisis.
Sofie Ruysschaert, nature restoration policy officer for BirdLife Europe, said the remaining restoration targets for farmlands and peatlands mean "the negotiators have not completely failed European citizens."
"But the true litmus test lies in whether this law will really address the staggering repercussions of the climate and nature crisis," said Ruysschaert. "And that will only be seen if and when member states properly implement the law."
Sergiy Moroz, policy manager for water and biodiversity at the European Environmental Bureau, credited negotiators with ensuring targets to reverse pollinator decline and restoring free-flowing rivers were retained in the agreement.

"Despite significant concessions made to the opponents of the impactful Nature Restoration Law, the provisional agreement includes several positive elements," said Moroz. "It is imperative that the law is now formally adopted by the co-legislators before the E.U. elections in 2024, and its implementation starts without delay to also enable E.U. to fulfill its global commitments on climate and biodiversity."
Progressive lawmakers in the Left group in European Parliament said the negotiators' ability to reach an agreement, considering fierce opposition from right-wing policymakers, was "a relief" and that the deal "remains a very important and necessary legal framework for national nature restoration plans."
The Left warned that conservatives and liberals on the ENVI Committee "may try to undermine the law once more" before the agreement is passed.

"The Left will not cease to expose the misinformation and fearmongering of these groups," said the coalition. "We will continue our efforts for a Nature Restoration Law that enhances environmental resilience against droughts, floods, and heat, making our cities more habitable and supporting farmers."
News