For Immediate Release
December, 08 2008, 03:39am EDT
Contact:
Right Livelihood Award Foundation / 
PO Box 15072, 104 65 / 
Stockholm, Sweden / 
Phone: +46-8-702 03 40 Fax: +46-8-702 03 38 / 
press @ rightlivelihood.org, info @ rightlivelihood.org
'Alternative Nobel' Laureates Stress the Role of Independent Media and Women as Driving Forces for Peace
STOCKHOLM
The
Recipients of the 2008 Right Livelihood Awards (often referred to as
the 'Alternative Nobel Prizes') spoke at a press conference in
Stockholm on Monday, December 8th, 9:30 CET.
The speeches they will give during the Ceremony in the evening the
same day stress the role of media as a sanctuary of dissent and the
need for protection of women in conflict regions, and the forces for
peace they can become when empowered.
Krishnammal Jagannathan (India): "I have been
blessed to be in the company of Mahathma Gandhi, Acharya Vinoba Bhave,
Shri Jeyaprakash Narayan and Shri. Shankar Rao Dev, to name some of the
people who molded my thinking in the right path, inspiring me to lead a
life dedicated toward the uplift of the landless poor, particularly
women. They were the role models, living a life of renunciation and
voluntary poverty, consuming less and less from the Mother Earth, much
before the climate change and the perils of consumption were ever
discussed or known to humanity."
Amy Goodman (USA): "As we confront critical issues
of the day, from global warming, global warring, and a global economic
meltdown, we need a media that holds those in power accountable. Our
job as journalists is to carry our pens, microphones and cameras,
giving a voice to those who have been forgotten, forsaken, and beaten
down by the powerful. The media can be a major force for peace, by
providing a forum for people to speak for themselves. Media can build
bridges between communities, rather than advocate the bombing of
bridges. The media should be a sanctuary of dissent."
Asha Hagi (Somalia): "This award comes at a very
precarious time for this nation, as each day for the past two years the
situation has continued to deteriorate. (...) This award demonstrates
the positive side of Somalia: that humanity still exists in the
desperation that Somalis face. There is courage within the fear. (...)
This award leaves a legacy that offers a different direction for my
nation, and for the children of Somalia."
Monika Hauser (Germany):
"Sexualized violence, everywhere and always, is the exertion of power
over the immediate victim. In war, the destructive potential of
sexualized violence is multiplied and can culminate at any moment in
triumphant displays of power over the other side. (...) The
non-recognition of rape as a form of torture and grave human rights
violation constitutes a continuation of the violent act."
For the full speeches, please go to www.rightlivelihood.org/press_room.html
The four Laureates share a prize money of SEK 2 million.
91 candidates from 44 countries were proposed for the Right
Livelihood Awards this year, whereof 44 from developed and 47 from
"developing" countries.
More information on the 2008 Laureates can be found at: www.rightlivelihood.org
The Right Livelihood Award was established in 1980 to "honour and support courageous people solving global problems". It has become widely known as the 'Alternative Nobel Prize' and there are now 182 Laureates from 72 countries.
LATEST NEWS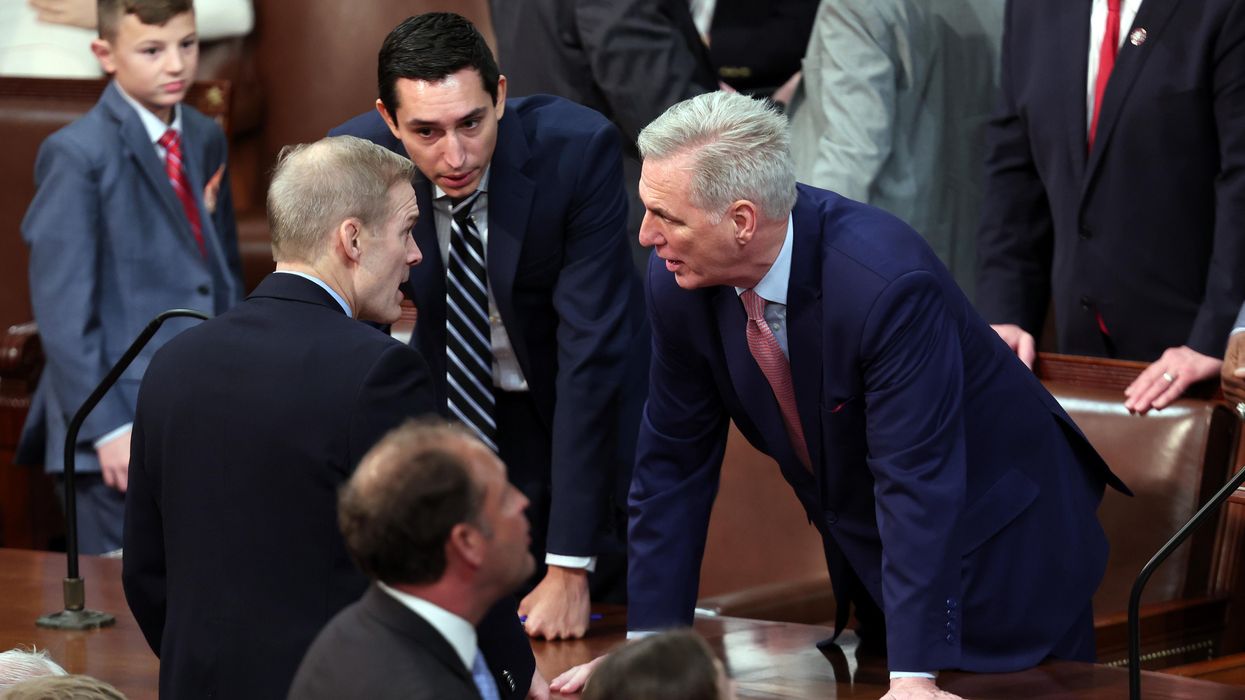 "Still not sworn in because the Republicans are having a hard time picking their leader," said Democratic Rep.-elect Maxwell Alejandro Frost. "This is a snapshot of how they'll operate for the next two years."
This is a developing story… Please check back for possible updates...
Update (5:35 pm ET):

In a signal of what the U.S. House of Representatives could look for like the next two years, the chamber adjourned Tuesday evening after GOP Congressman Kevin McCarthy repeatedly failed to secure the 218 votes needed to become the next speaker due to a revolt by several far-right Republicans.
During the third round of voting, the California Republican received only 202 votes. Rep. Byron Donalds (R-Fla). joined with the 19 other Republicans who had backed Rep. Jim Jordan (R-Ohio) in the second round, while Democrats maintained their support for Rep. Hakeem Jeffries (D-N.Y.).
"Unfortunately, it's the American people who will pay the price for House Republicans' inability to govern."
"If Americans had any doubt that the GOP is irretrievably broken, today's House speaker debacle confirms it," Stand Up America founder and president Sean Eldridge said in a statement after the chamber adjourned until noon Wednesday.

"Political arsonists control the House majority," Eldridge added. "Whether they ultimately choose Kevin McCarthy or another extremist speaker of the House, the MAGA agenda will be the same: sow chaos, waste taxpayer dollars on sham investigations into President [Joe] Biden, and block progress on the pressing issues facing our nation. Unfortunately, it's the American people who will pay the price for House Republicans' inability to govern."

Recalling her warning from just after the November midterms about "Republicans in ruin," Congressional Progressive Caucus Chair Pramila Jayapal (D-Wash.) took the opportunity to contrast Democratic and GOP House leadership.
\u201cUnder Democrat leadership, the House passed landmark legislation in the 117th Congress to help families and working people.\n\nOne day into the 118th Congress and GOP control, Republicans can't even elect a Speaker. We're now on the third vote with no end in sight.\u201d

— Rep. Pramila Jayapal (@Rep. Pramila Jayapal) 1672780884
Several other progressives in the chamber also piled on, such as Rep. Jamaal Bowman (D-N.Y.), who said that "this is embarrassing for McCarthy, and yet another display of Republican dysfunction."
Rep. Barbara Lee (D-Calif.) quipped that "Republicans want to run the country. They can't even figure out who they want to run their party."
Many of the Republicans who voted for Jordan tend to align themselves with former President Donald Trump—who in November announced his 2024 campaign, despite various legal issues. However, both Jordan and Trump urging them to back McCarthy was not effective.
\u201cChaos on day one because MAGA Republicans have decided that Trumper Kevin McCarthy is not even extreme enough to be their speaker.\u201d

— Congresswoman Rashida Tlaib (@Congresswoman Rashida Tlaib) 1672781125
"Still not sworn in because the Republicans are having a hard time picking their leader," Congressman-elect Maxwell Alejandro Frost (D-Fla.) tweeted Tuesday. "This is a snapshot of how they'll operate for the next two years."

Earlier:

With several far-right allies of former President Donald Trump leading a charge to block U.S. House GOP Leader Kevin McCarthy's bid to become speaker of the chamber, the California Republican repeatedly fell short of the votes he needed to prevail on Tuesday.
During both rounds of voting, McCarthy got only 203 votes from his fellow Republicans, several short of the 218 votes needed to win the leadership position. In the second round of voting, GOP Rep. Jim Jordan (Ohio) received 19 votes.
That came after Jordan secured just six votes in the first round, when 10 Republicans supported Rep. Andy Biggs (Ariz.) while Reps. Byron Donalds (Fla.) and Jim Banks (Ind.) as well as former Rep. Lee Zeldin (N.Y.) each received one vote.
Defectors included outspoken backers of Trump—who urged members to support McCarthy—including GOP Reps. Lauren Boebert (Colo.) and Matt Gaetz (Fla.), who nominated Jordan for the second round even though the Ohio Republican had already spoken in support of McCarthy.
For both rounds, every Democrat backed Rep. Hakeem Jeffries (D-N.Y.), who ended up with more votes than McCarthy but did not win the majority needed for the speakership. Jeffries is expected to become the House minority leader.
Leading up to the first vote, McCarthy agreed to some demands by his detractors, who include members of the House Freedom Caucus. He agreed to include in the House rules a stipulation that members can vote to unseat the speaker at any time, but refused to pledge to hold votes on some bills proposed by ultra-conservative members. He also did not pledge that the party's political action committee would decline to fund primary challengers.
No other members can be sworn in until the speaker is elected, and the House will not be able to proceed with any official business until the matter is resolved.
The second round of voting began shortly after McCarthy lost the first round, with Jordan once again giving a nominating speech in support of the California lawmaker.
Rep. Ted Lieu (D-Calif.) tweeted that McCarthy's failure to win the leadership post shows "the rise of the extreme MAGA caucus [has] already had ramifications."

"House Republicans are showing the American people that they can't govern," said Lieu.
Anticipating the revolt by some House Republicans, The Washington Postnoted last week that "the last time a speaker election took more than one ballot was in 1923, when Speaker Frederick Gillett (R-Mass.) was reelected on the ninth ballot."
News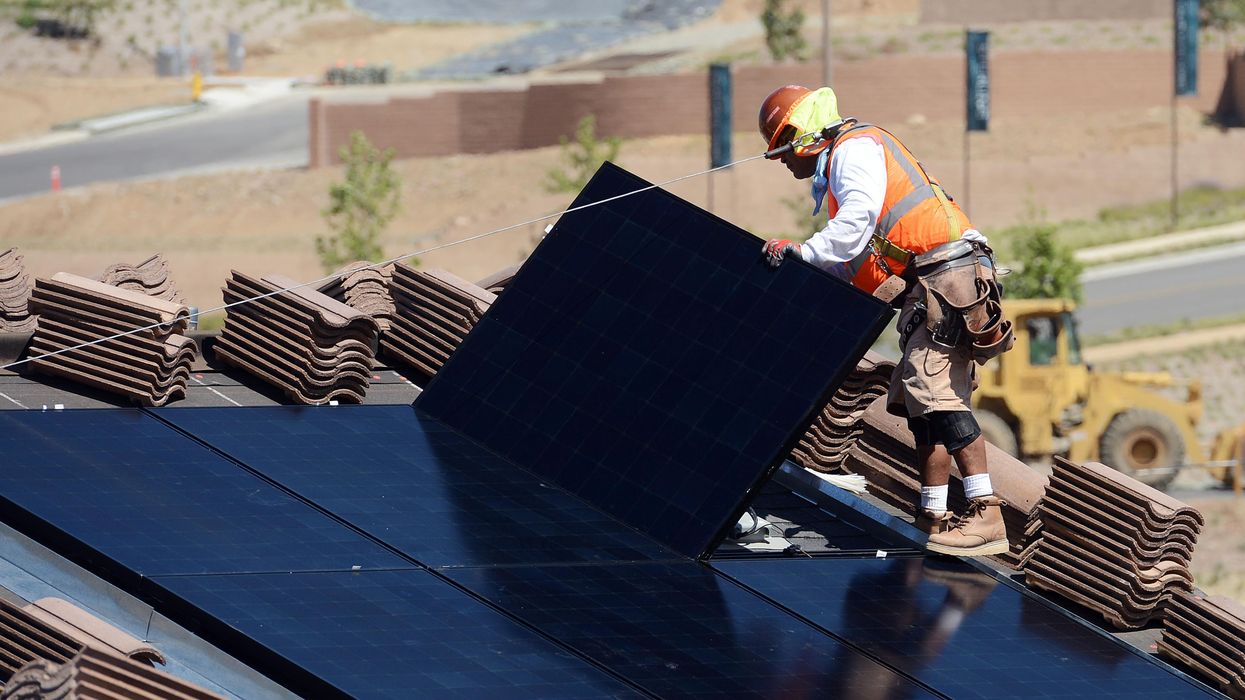 New analysis shows how California "can achieve a just and equitable transition away from fossil fuels for oil and gas workers."
A new analysis out Tuesday shows how a just transition towards a green economy in California—one in which workers in the state's fossil fuel industry would be able to find new employment and receive assistance if they're displaced from their jobs—will be "both affordable and achievable," contrary to claims from oil and gas giants and anti-climate lawmakers.
The study published by the Gender Equity Policy Institute (GEPI) notes that a majority of workers in the oil and gas sectors will have numerous new job opportunities as California pushes to become carbon neutral by 2045 with a vow to construct a 100% clean electricity grid and massively reduce oil consumption and production.
"The state will need to modernize its electrical grid and build storage capacity to meet increased demand for electricity," reads the report. "Carbon management techniques, plugging orphan wells, and the development of new energy sources such as geothermal will all come into play, providing economic opportunities to workers and businesses alike."
GEPI analyzed the most recent public labor data, showing that the oil and gas industries in California employed approximately 59,200 people as of 2021 across jobs in production, sales, transportation, legal, and executive departments, among others.
The group examined potential job opportunities for fossil fuel workers "in all growing occupations, not solely in clean energy or green jobs," and found that about two-thirds of employees are likely to find promising opportunities outside of fossil fuel-related work.
"Our findings show that a sizable majority (56%) of current oil and gas workers are highly likely to find jobs in California in another industry in their current occupation, given demand in the broader California economy for workers with their existing skills," the report says.
Roughly a quarter of oil and gas workers are employed in jobs that are projected to decline over the next decade, while 18% work in production and extraction, sectors which will contract as the state begins to move away from fossil fuel extraction.
"For all declining occupations in oil and gas industries, there are available jobs in similar occupations in California that would allow workers to transition without the need for retraining," GEPI reported.

About 16,100 people who will be at risk of displacement into lower-paying jobs over the next two decades will be able to benefit from income subsidies and relocation assistance, which GEPI estimated would cost the state $68.9 million or less annually—far less than a 2021 estimate by the Department of Economics and Political Economy Research Institute (PERI) at the University of Massachusetts-Amherst, which said aid for displaced oil and gas workers would cost up to $830 million per year. Importantly, PERI's estimate included pension guarantees and income-level guarantees while GEPI's factored in only financial aid for people who face pay cuts.
GEPI's study showed that "California can achieve a just and equitable transition away from fossil fuels for oil and gas workers," said the Los Angeles-based advocacy group Climate Resolve.
\u201cIn this new, groundbreaking report, @TheGepi's findings illustrate that California can achieve a just and equitable transition away from fossil fuels for oil and gas workers. https://t.co/uZnAnpDhTp\u201d

— Climate Resolve (@Climate Resolve) 1672766518
"As the carbon neutral economy advances, supporting workers at risk of displacement from jobs in oil and gas industries is one important component of creating an equitable and sustainable future for all the people of California," reads GEPI's report. "These men and women are expected to be able to transition with ease to other industries without retraining or a period of unemployment."
News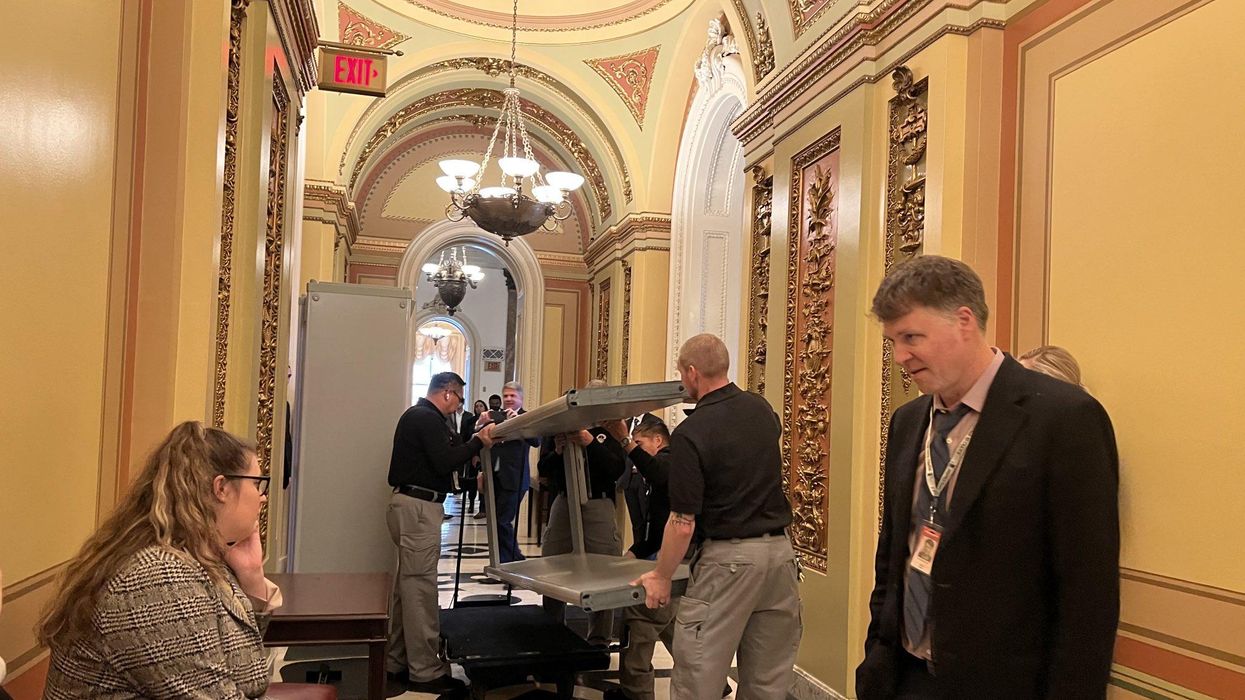 One reporter called the step "the first sign of the new GOP majority."
As Republicans on Tuesday prepared to formally assume the majority in the U.S. House of Representatives and vote on the next speaker amid growing party turmoil, video footage posted to social media showed officials removing metal detectors that were put in place following the January 6, 2021 insurrection.
Just after noon, Rep. Ayanna Pressley's (D-Mass.) chief of staff posted a short clip showing workers carrying a metal detector into a Capitol elevator.
\u201c12 noon sharp and Republicans just had the metal detectors removed from the House floor #118thCongress\u201d

— Sarah Groh (@Sarah Groh) 1672766123
CNN congressional reporter Manu Raju called the move "the first sign of the new GOP majority."

The metal detectors, put in place just outside of the House chamber as an extra security measure amid concerns about Republicans' ties to the January 6 attackers, were vocally opposed by GOP lawmakers, some of whom made a show of dodging them.
"Guns and other weapons were already banned from the chamber," The Washington Post noted Tuesday. "Some Democrats were already anxious about the potential for guns on the House floor after Rep. Lauren Boebert (R-Colo.) campaigned promising to remain armed as she worked on Capitol Hill. And former congressman Madison Cawthorn (R-N.C.) told a local paper after the attack that he had been armed when protesters stormed the Capitol."
In a video posted to Twitter, Boebert celebrated the removal of the magnetometers:
\u201cWe\u2019re turning Pelosi\u2019s House back into the People\u2019s House.\u201d

— Rep. Lauren Boebert (@Rep. Lauren Boebert) 1672766318
The removal of the metal detectors came shortly before Rep. Kevin McCarthy (R-Calif.) failed to win a majority of House votes on the first ballot for speaker as 19 GOP members opposed him, sending the voting to a second round.
In a rules package unveiled earlier this week, House Republicans propose eliminating "fines for failure of members to comply" with security screenings before reaching the chamber floor.
House members have yet to vote on the proposed rules.

News
SUPPORT OUR WORK.
We are independent, non-profit, advertising-free and 100%
reader supported.