For Immediate Release
December, 05 2008, 01:02pm EDT
Contact:
Tel: +1-212-216-1832,Email:,hrwpress@hrw.org
EU: Stand Firm on Mladic
Serbia's Full Cooperation With Yugoslav Tribunal Essential for EU Membership
WASHINGTON
The European Union should send a strong
message to Serbia that full cooperation with the Yugoslav tribunal,
including the arrest and surrender of Bosnian war fugitive Ratko
Mladic, remains necessary for EU membership, Human Rights Watch said in
a letter issued today. On December 8 and 9, 2008, foreign ministers of
EU member states will meet in Brussels as part of the General Affairs
and External Relations Council (GAERC) and are expected to adopt
conclusions relating to the EU's enlargement strategy.
The International Criminal Tribunal for the former Yugoslavia (ICTY)
indicted Mladic, the Bosnian Serb military commander during the war in
Bosnia, on charges of genocide and crimes against humanity for his role
in the massacre of more than 7,000 men and boys after the fall of
Srebrenica in 1995, the worst atrocity on European soil since the
Second World War.
"Belgrade's undeniable progress in arresting fugitives and
surrendering them to The Hague should not be confused with full
cooperation," said Lotte Leicht, EU advocacy director at Human Rights
Watch. "It just proves that maintaining the EU's leverage over Serbia
is the only way to ensure that the remaining fugitives, including
Mladic, will face justice in The Hague."
Earlier this year, Serbian authorities arrested and surrendered to
the tribunal the indicted former Bosnian Serb police commander, Stojan
Zupljanin, and the top former Bosnian Serb leader, Radovan Karadzic,
the alleged architect of the Srebrenica massacre. While these are
important developments, Human Rights Watch said that these arrests do
not constitute full cooperation.
In April 2008, the EU signed the Stabilization Association Agreement
(SAA) with Serbia, the first step toward EU membership. The next step
is for the agreement to undergo the ratification process in all 27 EU
states. The EU has repeatedly indicated that full cooperation with the
tribunal, including the surrender of Mladic to The Hague, is necessary
for Serbia's progress toward accession. Serbia's previous failure to
cooperate with the tribunal, including the failure to arrest Mladic,
led to the suspension of SAA negotiations in May 2006.
The determination regarding the extent of Serbia's cooperation with
the ICTY rests with the tribunal's prosecutor. The current prosecutor,
Serge Brammertz, will make public his assessment of Serbia's
cooperation next week in his briefing before the United Nations
Security Council.
Background
Mladic has been at liberty since his indictment in 1995. On February
26, 2007, the International Court of Justice ruled that Serbia breached
its obligations under the Convention on the Prevention and Punishment
of Genocide by failing to prevent or punish the genocide at Srebrenica.
In particular, the court found that Serbia's failure to transfer Mladic
to the tribunal amounts to an ongoing violation of its obligations
under the Genocide Convention. It was the first time that the court had
found a country in violation of the Genocide Convention.
Goran Hadzic, a Croatian Serb charged with war crimes and crimes
against humanity by the tribunal for his role in the persecution of
Croat and other non-Serb civilians in parts of Serb-controlled Croatia,
also remains at large and is believed to be within the reach of Serbian
authorities.
Human Rights Watch is one of the world's leading independent organizations dedicated to defending and protecting human rights. By focusing international attention where human rights are violated, we give voice to the oppressed and hold oppressors accountable for their crimes. Our rigorous, objective investigations and strategic, targeted advocacy build intense pressure for action and raise the cost of human rights abuse. For 30 years, Human Rights Watch has worked tenaciously to lay the legal and moral groundwork for deep-rooted change and has fought to bring greater justice and security to people around the world.
LATEST NEWS
Brazil's far-right ex-president has applied for a visa to remain in the U.S. amid worsening legal troubles in his home country, where he is facing multiple investigations.
Brazil's far-right ex-president Jair Bolsonaro has applied for a six-month visitor visa to remain in the United States amid worsening legal troubles in his home country.
U.S. authorities received Bolsonaro's application on Friday, The Financial Timesreported Monday, citing "his lawyer, Felipe Alexandre, who has advised the former president not to leave the country while it is being processed—a period that could last several months."
Bolsonaro is facing multiple investigations in Brazil. That includes longstanding probes into alleged wrongdoing committed during his four-year presidential term as well as the Brazilian Supreme Court's recently launched inquiry aimed at determining whether his incessant lies about electoral fraud are to blame for the coup attempt that his supporters launched in Brasília on January 8.
The close ally of former U.S. President Donald Trump—whose unceasing lies about his loss in the 2020 presidential election sparked a deadly right-wing insurrection in Washington two years ago—retreated to Florida on December 30, two days before the January 1 inauguration of his leftist successor, Luiz Inácio Lula da Silva, commonly known as Lula.
"He has been staying at the Kissimmee home of a former mixed martial arts fighter, José Aldo, where he is often thronged by adoring members of Florida's right-leaning Brazilian expat community," the Times noted. "Bolsonaro had been traveling on an A-1 visa reserved for diplomats and heads of state. It expired the day he left office, with a 30-day grace period."
Earlier this month, several members of U.S. Congress urged the Biden administration to rescind Bolsonaro's visa.
"We must not allow Mr. Bolsonaro or any other former Brazilian officials to take refuge in the United States to escape justice for any crimes they may have committed when in office," stated a letter to the White House signed by 41 Democratic lawmakers.
Alexandre claimed that there is no evidence that Bolsonaro committed any crimes related to the anti-democratic assault in Brasília, when his election-denying supporters ransacked Brazil's presidential palace, Congress, and Supreme Court.
Bolsonaro has tried to distance himself from the rioters, saying that they "crossed the line." In December, however, Bolsonaro broke his post-election silence to tell his backers—many of whom spent weeks after the October 30 runoff calling for a military coup to prevent Lula from taking office—that his political fate rested in their hands.
"Who decides where I go are you," Bolsonaro told a crowd outside the gates of the presidential residence on December 9. "Who decides which way the armed forces go are you."
Days later, hundreds of Bolsonaristas set fire to cars and buses and tried to breach federal police headquarters in Brasília in a preview of the larger January 8 insurrection.
A bigger right-wing mob invaded Brazil's main government buildings earlier this month under the false pretense that Lula's victory in October's election was the result of widespread fraud—a mistaken belief fueled by years of Bolsonaro and his allies' baseless attacks on the integrity of the country's election infrastructure, disinformation that spread rapidly on social media.
The day after the attack, thousands of democracy defenders took to the streets of Rio de Janeiro and São Paulo to demand jail time for those who carried out the violence as well as those who aided and abetted it.
Sen. Tim Kaine (D-Va.), head of the Senate Foreign Relations Committee's Western Hemisphere panel, said earlier this month that the U.S. should comply if Lula's administration requests Bolsonaro's extradition.
Alexandre, meanwhile, told the Times that Bolsonaro "might eventually decide to petition for a more permanent U.S. visa than the six-month extension he is seeking."
News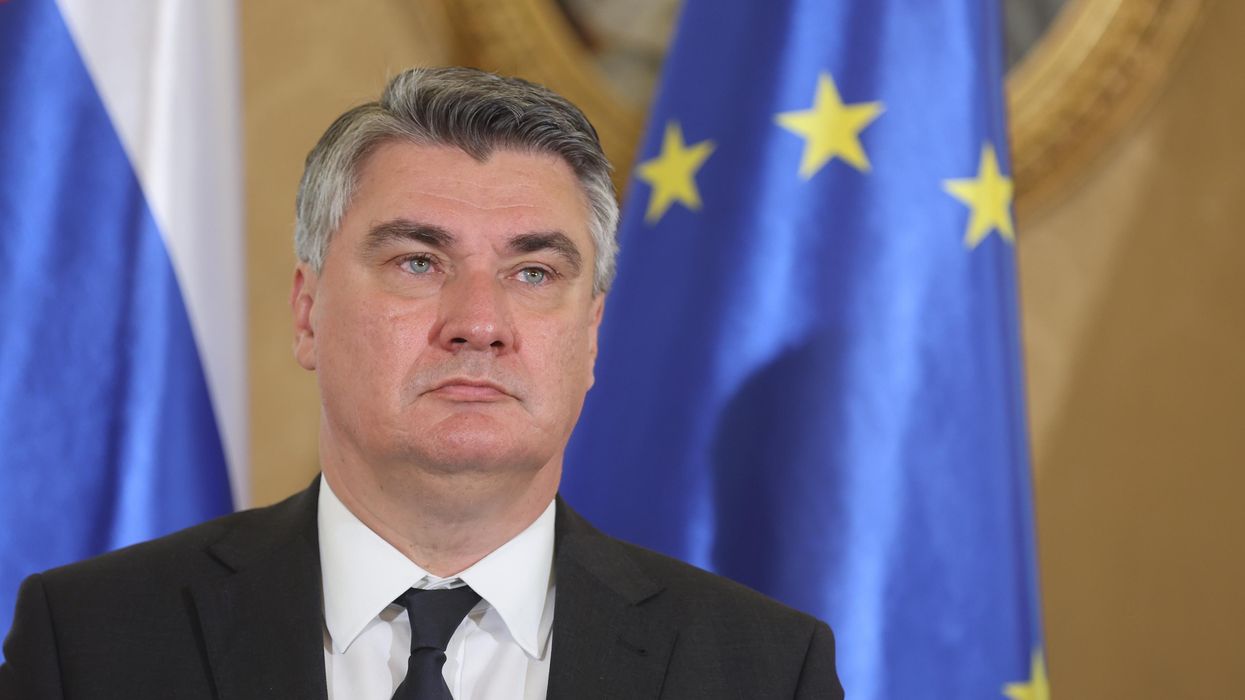 "I hope that some talks are going on, otherwise we are inching toward the Third World War," said President Zoran Milanovic.
Croatian President Zoran Milanovic became the latest critic to condemn the decision of Western countries, including the United States, to send dozens of tanks to Ukraine to help fight the war against Russia, warning that continued military escalation will not help bring the conflict to an end.
"I am against sending any lethal arms there," Milanovic said at a press conference. "It prolongs the war."
The Biden administration last week announced that it will send more than 30 Abrams battle tanks to Ukraine, while German officials confirmed they will supply Ukrainian soldiers with 14 Leopard 2 tanks. Poland, Spain, the Netherlands, Finland, Denmark, and the United Kingdom have already dispatched tanks to the country, which was invaded nearly a year ago by Russian forces.
Conservative British Prime Minister Rishi Sunak said last week that the continued military support for Ukraine will "ensure Ukraine wins this war and secures a lasting peace," but peace advocates have long said that countries including the U.S. must prioritize promoting diplomacy between Ukraine and Russia.
"What is the goal of this war? A war against a nuclear power that is at war in another country? Is there a conventional way to defeat such a country?"
The Stop the War Coalition in the U.K. announced an upcoming demonstration last week following the announcement by the U.S. and Germany, saying, "Arming Ukraine and sending tanks is a step further away from negotiation."
In October, progressives in the U.S. House said in a letter to Biden that "the alternative to diplomacy is protracted war" before distancing themselves from the statement under pressure. The White House has resisted calls to aggressively push for peaceful negotiations even from Joint Chiefs of Staff chairman Gen. Mark Milley.

Milanovic's most recent comments follow his accusation earlier this month that the U.S. and the North Atlantic Treaty Organization NATO) are fighting a "proxy war against Russia through Ukraine."

"What is the goal of this war?" Milanovic asked on Monday. "A war against a nuclear power that is at war in another country? Is there a conventional way to defeat such a country?"
He also predicted that European countries will "pay the price" for becoming militarily involved in the way and that Europe will ultimately pour more resources into the effort to end the war through military might.
"America pays the least," he said. "Not a single American tank will go to Ukraine in a year. Only German tanks will be sent there."
Last week, he expressed hope in a television interview that negotiations between Ukraine and Russia are ongoing.
"Supplies of Western tanks to Ukraine will extend the war. If America and Russia don't agree, and that's not in sight so far, the war won't be over," he toldN1. "I hope that some talks are going on, otherwise we are inching toward the Third World War."
News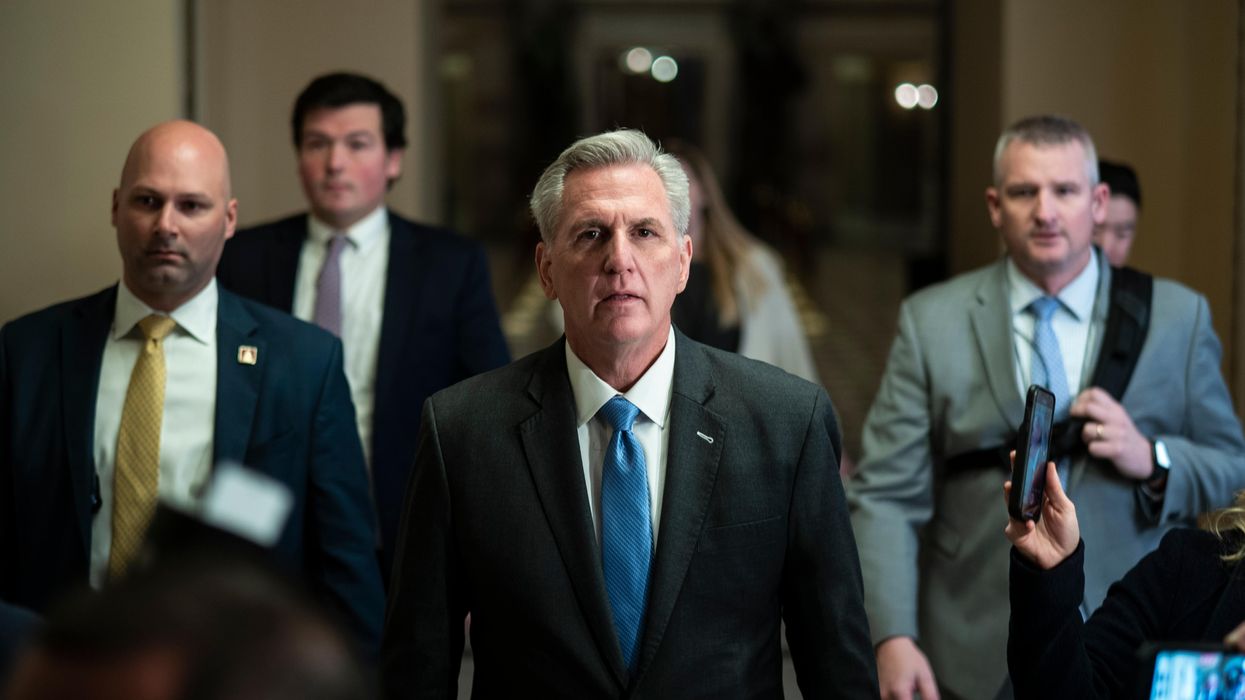 "Democrats were elected on the promise that they would defend Social Security against Republican attacks. Now is the moment of the truth."
A coalition of progressive advocacy groups on Monday launched a campaign urging every member of Congress to pledge to "never vote to cut Social Security or Medicare under any circumstances," an effort that comes as House Republicans are weighing attacks on the two programs as part of their sweeping austerity spree.

Led by Social Security Works and More Perfect Union, the new campaign highlights the massive stakes of the ongoing showdown over the U.S. debt ceiling, which House Republicans have said they will refuse to raise unless congressional Democrats and the Biden White House agree to major federal spending cuts—including damaging changes to Social Security and Medicare.
"To be clear, the debt ceiling legislation is not about new spending; it's about paying our bills," the progressive groups said Monday. "Failure to raise the debt limit will not only wreck the nation's economy; it will wreck the economy of the whole world."
In a launch video for their campaign, the progressive coalition includes footage of Republican lawmakers expressing support for raising the retirement age—a move that would cut Social Security spending across the board—and falsely blaming "entitlements" for the ballooning national debt as Congress hurtles toward another round of debt ceiling brinkmanship.

"Democrats were elected on the promise that they would defend Social Security against Republican attacks," said Alex Lawson, the executive director of Social Security Works. "Now is the moment of the truth. Democrats must refuse to cut Social Security. And they must refuse to create a mechanism—such as a closed-door commission—to cut Social Security down the road."
The campaign was launched ahead of President Joe Biden's planned Wednesday meeting with House Speaker Kevin McCarthy (R-Calif.), who has joined the far-right flank of his caucus in pushing for federal spending cuts as a condition for raising the borrowing limit.
In a Sunday appearance on "Face the Nation," McCarthy suggested that he won't insist on cuts to Social Security or Medicare in talks with the president, saying, "Let's take those off the table."
But the Republican leader went on to say that while Biden has expressed opposition to including Social Security or Medicare changes in any debt ceiling legislation, "we've got to make sure we strengthen those." When pressed, McCarthy declined to elaborate on what he meant by "strengthen."
In response to McCarthy's comments, White House spokesperson Andrew Bates said that McCarthy's "slip—and his evasiveness after—is the latest giveaway that House Republicans have been telling the truth over the last year as they reiterate time and again that they want to cut Medicare and Social Security."
"For years, congressional Republicans have advocated for slashing earned benefits using Washington code words like 'strengthen,' when their policies would privatize Medicare and Social Security, raise the retirement age, or cut benefits," Bates added. "It's like saying, 'You're not being laid off—we just want to make a change.' House Republicans refuse to raise revenue from the wealthy, but insist they will 'strengthen' earned benefits programs. You do the math. They have—they just won't show you."
While many congressional Democrats have publicly said they would join the White House in opposing any proposed cuts to Social Security and Medicare, at least one lawmaker—Sen. Joe Manchin (D-W.Va.)—has floated the possibility of cutting a deal with the GOP on the programs, an idea adamantly rejected by the progressive groups behind the new pressure campaign.
"It is critical for the Democrats to stay united and stand their ground against this latest effort to gut Social Security and Medicare," said Faiz Shakir, executive editor at More Perfect Union.
On their new website, the progressive groups will keep a running tally of the lawmakers who have taken the pledge to oppose Social Security and Medicare cuts, as well as those who are "equivocating" or outright "refusing" to make the promise.
"The only way that Democrats can win this game of chicken is if they stay united and do not blink," the groups said. "Standing with the overwhelming majority of the American people against all cuts to Social Security and Medicare should be the easiest promise any politician can make, so let's make them promise."
News
SUPPORT OUR WORK.
We are independent, non-profit, advertising-free and 100%
reader supported.