For Immediate Release
Contact:
Naomi Seligman 202.408.5565
CREW to Depose Cheney Chief of Staff David Addington
WASHINGTON
Yesterday, in Citizens for Responsibility and Ethics in Washington
(CREW), et al. v. Cheney, et al., the court granted CREW's request to
take the depositions of David Addington, Vice President Cheney's chief
of staff, and Nancy Smith, the National Archives and Records
Administration official responsible for presidential papers under the
Presidential Records Act.
The court rejected the government's arguments that no discovery is
warranted because they have demonstrated full compliance with the
Presidential Records Act. Based on three White house declarations, U.S.
District Judge Colleen Kollar-Kotelly questioned whether the vice
president is preserving all vice presidential records, or only two
subsets of records. The depositions must take place by October 6, 2008.
Anne Weismann, CREW's chief counsel said today, "With this decision,
there is now nowhere for the White House to duck and hide. We are
hopeful that these depositions will allow us to finally uncover whether
these important records are being preserved or deliberately lost to
future generations."
Citizens for Responsibility and Ethics in Washington (CREW) is a nonprofit 501(c)(3) organization dedicated to promoting ethics and accountability in government and public life by targeting government officials -- regardless of party affiliation -- who sacrifice the common good to special interests. CREW advances its mission using a combination of research, litigation and media outreach.
LATEST NEWS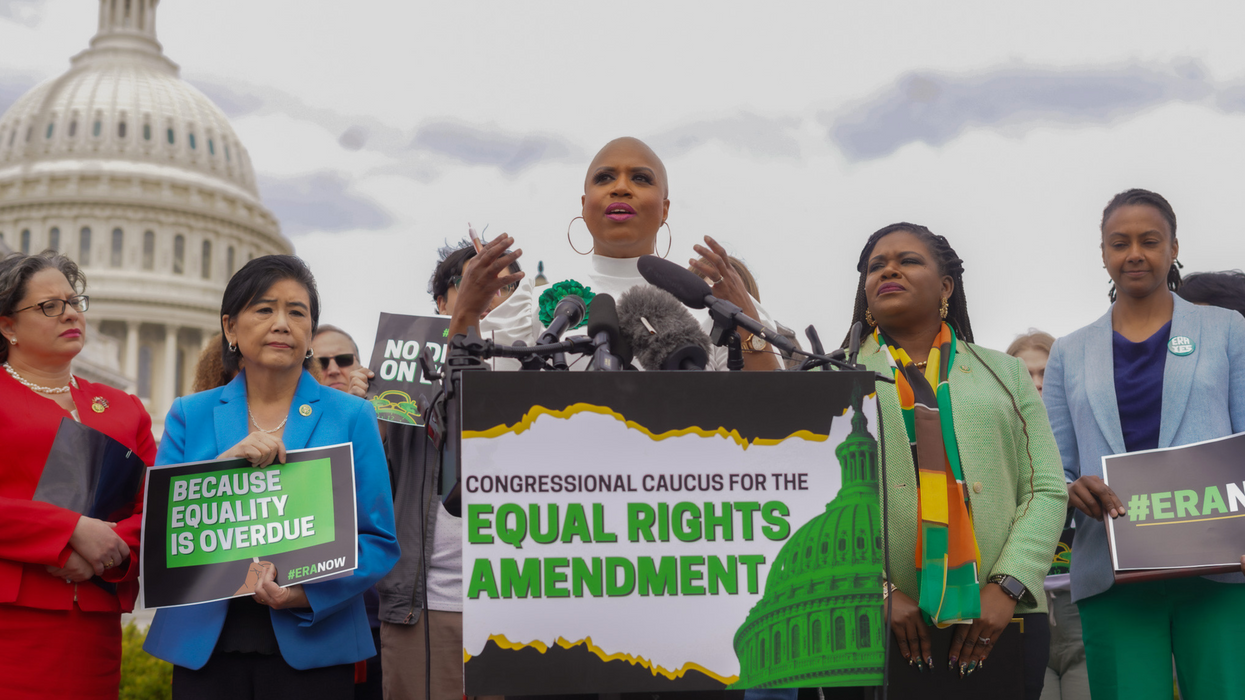 "It has been 100 years since the Equal Rights Amendment was first drafted and introduced in Congress," noted Rep. Cori Bush. "That is far too long... and we refuse to wait any longer."
A coalition of Democratic U.S. lawmakers led by Reps. Cori Bush and Ayanna Pressley on Tuesday announced the launch of a new caucus aimed at realizing the centurylong goal of adding an Equal Rights Amendment to the Constitution.
"It has been 100 years since the Equal Rights Amendment was first drafted and introduced in Congress, and more than a half century since both chambers passed it," Bush (D-Mo.) said in a statement announcing the founding of the Congressional Equal Rights Amendment Caucus. "That is far too long for women, Black and Brown folks, LGBTQ+ people, and other marginalized groups to wait for constitutional gender equality—and we refuse to wait any longer."
Pressley (D-Mass.) said: "I am proud to launch the ERA Caucus with my sister-in-service Congresswoman Bush to affirm the Equal Rights Amendment as the 28th Amendment to the Constitution, establish gender equality as a national priority, and center our most vulnerable and marginalized communities, who stand to benefit the most."
\u201cToday, @AyannaPressley and I are launching the ERA Caucus \u2014 100 years after the Equal Rights Amendment was first introduced in Congress.\n\nWe are joining forces to make sure that equality becomes enshrined in the supreme law of our land.\n\nEquality is overdue.\u201d

— Cori Bush (@Cori Bush) 1680030712
Caucus member Rep. Summer Lee (D-Penn.) said that "it's not shocking that when the Constitution was first drafted, women, Black, Brown, queer, and marginalized folks were intentionally written out. What is shocking is that in 2023, our Constitution still does not include equal rights regardless of sex—meaning our Constitution still does not reflect or protect all people."
"To the right-wing politicians and judges waging a full-on assault on the rights of women and queer youth, we're not afraid and we won't be silenced," Lee added. "We're organized and mobilized to make equal rights the law of the land."

After passing the House in 1971 and the Senate the following year, the ERA was submitted to the states for ratification. Congress set a March 1979 deadline for ratification; only 35 of the requisite 38 states approved the proposal by that time. Although the deadline was extended until 1982, no more states ratified the amendment and several state legislatures voted to rescind their ratifications.
\u201cThrilled to join @RepCori and @RepPressley today to found @ERACaucus and fight for gender equality. Women were deliberately left out of the Constitution, but with the #EqualRightsAmendment, we can guarantee equal rights for all people under the law.\u201d

— Judy Chu (@Judy Chu) 1680029701
A 21st-century effort to revive the ERA saw Nevada, Illinois, and Virginia approve the measure in recent years. Supporters say 38 states have now backed the ERA, although there is uncertainty over the expired deadlines and rescinded ratifications.

Pressley's office said that in addition to affirming the ERA, the new congressional caucus will "raise awareness in Congress to establish constitutional gender equality as a national priority; partner with an inclusive intergenerational, multiracial coalition of advocates, activists, scholars, organizers, and public figures; and center the people who stand to benefit the most from gender equality, including Black and Brown women, LGBTQ+ people, people seeking abortion care, and other marginalized groups."
\u201cA century after the #EqualRightsAmendment was introduced, we\u2019re still waiting. \n\nAs a Vice Chair on the @DemWomenCaucus, I applaud @RepCori and @RepPressley for launching the @ERACaucus. \n\nLet\u2019s get it done. #ERANow\u201d

— Rep. Teresa Leger Fern\u00e1ndez (@Rep. Teresa Leger Fern\u00e1ndez) 1680041462
In a Tuesday interview with The Hill, Pressley said she was "thinking a lot about my 14-year-old daughter, Cora, and how I do not want her to continue to live in a country in a world where we have so conflated and normalized the disparate treatment and outcomes and disparate access and the second-class status it is to be a woman in this society."
"I look forward to the day when calendars will say and on this day in history, the ERA caucus was established," she added, "but I really look forward to the day when our calendars will say on this day in history, the ERA was passed."
News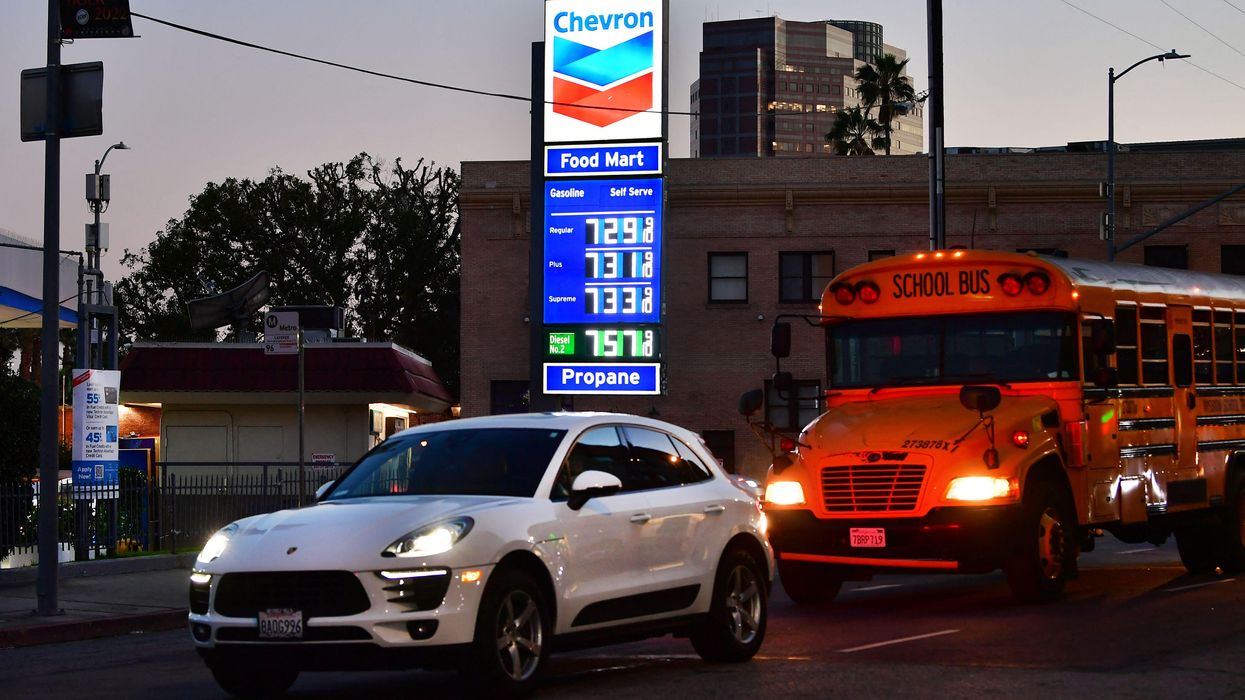 "Whether it's price gouging at the pump or drilling in people's backyards, Big Oil's days of harming our health and our pocketbooks must end," said one advocate.
Climate and consumer advocates on Tuesday hailed California lawmakers' passage of legislation aimed at tackling Big Oil price gouging as the proposal headed to the desk of Democratic Gov. Gavin Newsom, who said he will sign the measure into law.
The California Assembly voted 52-19 on Monday in favor of S.B. X1-2—authored by state Sen. Nancy Skinner (D-9)—which will empower the California Energy Commission (CEC) to impose profit caps and penalties on refiners and create an intra-agency watchdog tasked with conducting greater oversight of fossil fuel companies to minimize profiteering.
The new law will allow the CEC to levy daily fines of $5,000-$20,000—up to a maximum of $500,000—if a company does not provide the agency with data to determine if it is complying with the legislation. CEC fines are currently capped at $2,000.
Newsom—who is slated to sign the bill into law at 4:30 pm PT on Tuesday—called Monday "a big day for consumers, a big day for Mother Nature, and a big day in this country."
"I'm very, very pleased as a taxpayer, as a Californian, and as an American," he added. "I hope this is a signal to other states."
The law will take effect 90 days after it's signed by Newsom—who has also called for a windfall profits tax on fossil fuel companies.
"This is a landmark victory for California consumers who will soon have the force of a state watchdog with teeth protecting them from gouging at the gas pump," Consumer Watchdog president Jamie Court said Tuesday.
Kassie Siegel, director of the Center for Biological Diversity's Climate Law Institute, asserted that Monday's vote "shows the tide is turning against Big Oil in California."
"Despite the industry spending millions on lobbying, California is now one step closer to protecting working Californians from the oil industry's greed," Siegel continued. "Whether it's price gouging at the pump or drilling in people's backyards, Big Oil's days of harming our health and our pocketbooks must end."
In a statement, Stop the Oil Profiteering (STOP) spokesperson Jamie Henn said that "California wasn't afraid to stand up to Big Oil. It's time for Washington to follow their lead."
"This landmark legislation will give regulators the tools they need to investigate Big Oil's shady business practices and crack down on the price gouging that fueled last year's obscene profits," Henn added. "The public is clamoring for politicians to take on this reckless industry—it's inspiring to see Gov. Newsom answering the call."
Earlier this month, the watchdog Accountable.US published a report revealing that the biggest oil companies operating in the United States raked in a collective $290 billion in profits last year while they "consistently prioritized shareholder returns over alleviating the pressure of high energy prices."
According to the American Automobile Association, California has the nation's highest gasoline prices, with a gallon of regular unleaded averaging $4.82.
"Five California oil refiners made obscene profits last year from astronomical gasoline prices at the pump, hurting working families up and down the state," Shoshana Wexler of the climate group 350 Bay Area Action said in a statement. "The Legislature has passed a bill that would expose the ways this grand heist was carried out and hopefully ensure it never happens again."
News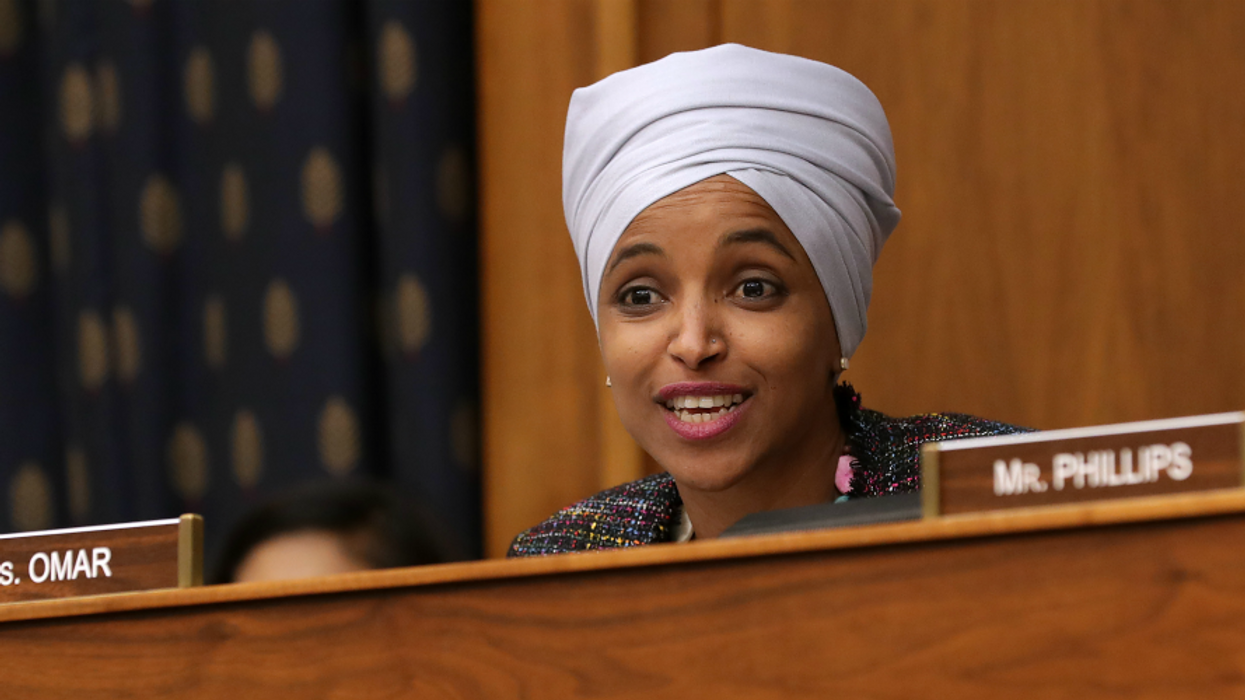 "The U.S. must walk the walk on human rights—not just talk the talk," said one Democrat.
Progressive U.S. lawmakers including Reps. Rashida Tlaib, Ilhan Omar, and Katie Porter on Tuesday joined a call for the Biden administration to take steps to form a national institution that would monitor and promote human rights within the United States, noting that the U.S. considers itself an arbiter of human rights standards across the globe.
The lawmakers sent the letter ahead of second Summit for Democracy, which the U.S. it set to host this week and at which representatives from countries around the world will be asked to "highlight specific initiatives that reflect their commitment to strengthening human rights and democracy domestically and through multilateral cooperation."
A National Human Rights Institution (NHRI) in the U.S., said the lawmakers, would allow the government to promote and monitor the implementation of human rights obligations, provide a public forum for the investigation of violations, establish mechanisms to advise and inform all branches of government on meeting human rights standards, and provide guidance to state and local human rights commissions.
"The United States should be a role model for protecting human rights, and that work starts here at home," said Porter (D-Calif.). "A National Human Rights Institution will help us lead the world in promoting civil liberties and championing government accountability. I hope President [Joe] Biden will use this opportunity to reaffirm our global commitments and rebuild our country's reputation as a strong voice for universal human rights."
Other signatories of the letter include Democratic Reps. James McGovern of Massachusetts, Cori Bush of Missouri, Jill Tokuda of Hawaii, Jamie Raskin of Maryland, Ayanna Pressley of Massachusetts, and Eleanor Holmes Norton of Washington, D.C.
The letter called on the Biden administration to form a commission that would study the creation of an NHRI.

The lawmakers joined a coalition of 85 civil society groups, led by the ACLU, which in December called for the creation of an NHRI that would "offer a meaningful path to encourage U.S. institutions... to adhere to human rights commitments that our government has made and to which we routinely call on other countries to adhere."
They sent the letter a day after six people, including three nine-year-old children, were shot to death at a school in Nashville—the most recent of 130 mass shootings in 2023 so far. The country is also awaiting a ruling by a right-wing judge in a case regarding the legality of the Food and Drug Administration's approval of mifepristone—a drug commonly used in medication abortions—which could further strip Americans of the right to access abortion care.
Right-wing politicians are also moving swiftly to block adolescents and adults from accessing gender-affirming healthcare across the country, and the United Nations Refugee Agency on Monday warned that the Biden administration's plan to block asylum-seekers from entering the U.S. if they travel to the southern border through a third country is "incompatible with principles of international refugee law."
"The best way for the United States to lead on human rights is by the power of example," said McGovern. "By establishing a presidential commission to explore creating a National Human Rights Institution for the U.S., the president will be taking an important, concrete step toward ensuring that we live up to the standards we expect of other countries. The U.S. must walk the walk on human rights—not just talk the talk."
The lawmakers noted that democracies around the world, including many U.S. allies, have established NHRIs to hold their own governments accountable for adhering to human rights standards domestically and abroad.

"While the U.S. has a long tradition of supporting human rights and democracy abroad, we have often failed to practice at home what we preach overseas and neglected to translate our own international commitments into domestic policy," said Jamil Dakwar, director of the ACLU's Human Rights Program. "For too long, we've been a shameful outlier. A National Human Rights Institution would bring some much-needed structure and help bring the U.S. in line with international human rights norms and full compliance with ratified treaties."
"The time for action is now," Dakwar added.
News
SUPPORT OUR WORK.
We are independent, non-profit, advertising-free and 100%
reader supported.