Our work is licensed under Creative Commons (CC BY-NC-ND 3.0). Feel free to republish and share widely.
Ralph Nader
Ralph Nader is a consumer advocate and the author of "The Seventeen Solutions: Bold Ideas for Our American Future" (2012). His new book is, "Wrecking America: How Trump's Lies and Lawbreaking Betray All" (2020, co-authored with Mark Green).
President Barack Obama
The White House
1600 Pennsylvania Avenue, NW
Washington, DC 20500
Dear President Obama:
You have taken a strong across-the-board position favoring the Trans-Pacific Partnership (TPP) nearing completion and scheduled for a fast track clearance vote in the Congress. Indeed, you have descended admirably from your presidential perch to take on the most informed critics of this agreement with Australia, Brunei, Canada, Chile, Japan, Malaysia, Mexico, New Zealand, Peru, Singapore and Vietnam.
You have accused critics of spreading misinformation, including Senator Elizabeth Warren and Lori Wallach, the director of Public Citizen's Global Trade Watch, who is known for her meticulous research and who was at Harvard Law School during your time there.
With the barrage of commentary on an agreement, labelled singularly as trade promotion by unknowing newspaper columnists and reporters, and the less reported rebuttals that the TPP is far more than a trade agreement (aka treaty) and places serious environmental, health, consumer and labor conditions within its grip, isn't it time for you to engage with concerned citizens and their representatives rather than assert unilaterally that "Elizabeth Warren is wrong on the facts"? It is time to clarify the issues before a skeptical public and others who are downright confused. Why not debate Senator Elizabeth Warren before a national TV audience?
There are many reasons for you to use this format to engage the American people. They will be the ones paying the price in many dire ways if the mega-corporate promoters of TPP turn out to be as wrong as they have been with prior trade deals, most recently the Korean Trade Agreement (2012) which you espoused and which has worsened the trade deficit with South Korea and caused job loss in the United States.
Vice President Albert Gore debated NAFTA on nationwide television with Ross Perot.
You and Senator Warren have been teachers of the law and share a common law school background--Harvard. A debate would be deliberative and, assuming you and she have read the 29 chapters of the TPP (only a handful of chapters dealing with trade), would be revelatory far beyond the narrow prisms reflected in the mass media.
Like NAFTA and the World Trade Organization, the TPP is a transnational system of autocratic governance that subordinates and bypasses our access to our own judiciary in favor of secret tribunals whose procedures contravene our country's system of due process, openness and independent appeals. These agreements, as you know, have enforceable provisions regarding the rights and privileges of corporations. The rhetorical assurances regarding labor, environment and consumer rights have no such enforcement mechanisms.
Notwithstanding all the win-win claims of promoters of past trade agreements, our country's trade deficit has continued to grow over the past 35 years. Enormous trade deficits mean job exports. Given this evidence, the public would be interested in listening to your explanation of this adverse experience to U.S. workers and our economy.
You believe Elizabeth Warren is wrong on the facts relating to the "Investor-State Dispute Settlement" provision of the TPP, which allows foreign companies to challenge our health, safety and other regulations, not in our courts but before an international panel of arbitrators. A perfect point/counterpoint for a debate process, no?
Over the years, it has been abundantly clear that very few lawmakers or presidents have actually read the text of these trade agreements involving excessive surrender of local, state and federal sovereignties. They have relied on memoranda prepared by the U.S. Trade Representative (USTR) and corporate lobbies. Given the mass of fine print with portentous consequences for every American, a worthy debate topic is whether to put off submitting this trade pact so that copies can be made accessible to the American people to discuss and consider before going to Congress under very limited debate for an up or down vote without any amendments being permitted. Why the rush when the ink isn't even dry on the page?
Some may wonder why you don't call this agreement a "treaty", like other countries. Could it be that an agreement only requires a 51 percent vote, rather than a two-thirds vote in the Congress for treaty ratification?
You are quoted in the Washington Post decrying "misinformation" circulating on the TPP and pledging that you are "going to be pushing back very hard if I keep on hearing that." Fine. Push back before tens of millions of people with Senator Elizabeth Warren as your debating counterpart. If you agree, be sure that interested Americans have a copy of the TPP deal first so that they can be an informed audience.
I look forward to your response.
Sincerely yours,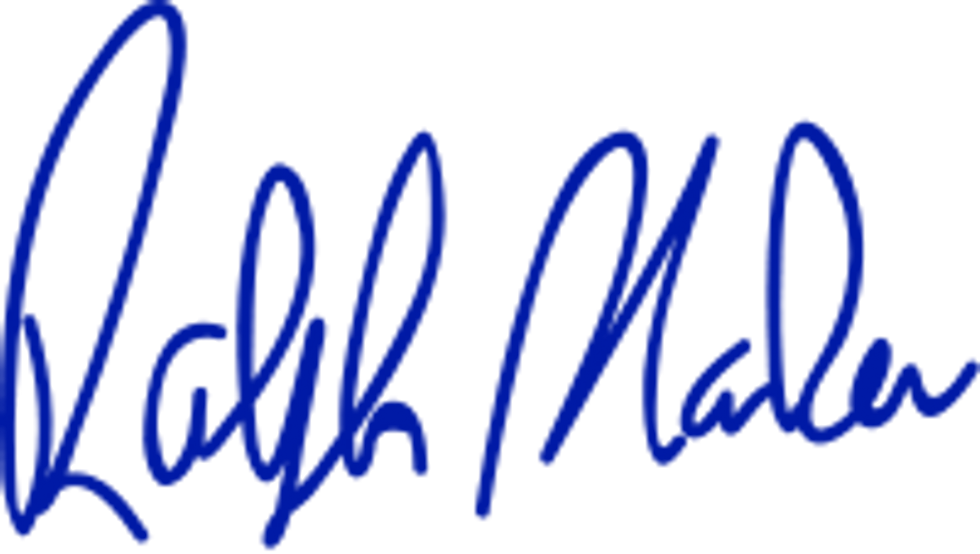 We've had enough. The 1% own and operate the corporate media. They are doing everything they can to defend the status quo, squash dissent and protect the wealthy and the powerful. The Common Dreams media model is different. We cover the news that matters to the 99%. Our mission? To inform. To inspire. To ignite change for the common good. How? Nonprofit. Independent. Reader-supported. Free to read. Free to republish. Free to share. With no advertising. No paywalls. No selling of your data. Thousands of small donations fund our newsroom and allow us to continue publishing. Can you chip in? We can't do it without you. Thank you.