Pratap Chatterjee
Pratap Chatterjee is an Indian/Sri Lankan investigative journalist and progressive author of two books about the war on terror: "Halliburton's Army: How a Well-Connected Texas Oil Company Revolutionized the Way America Makes War" (2009) and "Iraq, Inc." (2004). He is the executive director of CorpWatch and serves on the board of both Amnesty USA and the Corporate Europe Observatory.
War has been declared on Enbridge, a Canadian oil company, by a chief from the Nadleh Whut'en in British Columbia. Chief Martin Louie was attending the company annual general meeting in Toronto where he spoke out Wednesday against the environmental impact of the company's tar sands operations.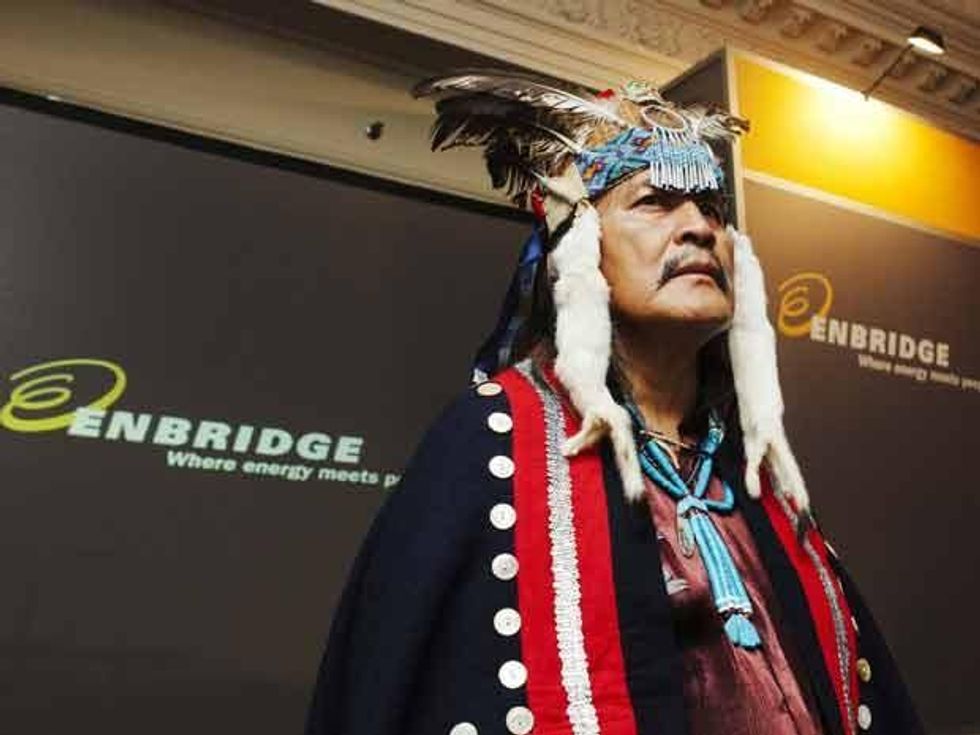 "How far are they willing to go to kill off the human beings of this country? Enbridge and the government are going to go on fighting us," said Louie. "The war is on."
Some 700 miles directly south of the Enbridge meeting, on the very same day, Bob Kincaid of Coal River Mountain Watch leveled similar charges against Brian Moynihan, the CEO of Bank of America at their annual general meeting in Charlotte North Carolina, for the impact of mountaintop removal mining.
"You are part of the poisoning of Appalachia and so is every one of your directors and so is every one of your shareholders," Kincaid said. "You are part of the destruction of an entire region of the country."
These two new and unconventional fossil fuel sources -tar sands and mountain top coal together with shale rock - have been dubbed "extreme energy" sources by Professor Michael Klare of Hampshire College, to signify the extraordinary and expensive technology needed to extract energy from them. The rush to exploit these source - from rural North Dakota (see "North Dakota Shale Boom Displaces Tribal Residents") to the deserts of South Africa (see "Fracking South Africa") that has sparked angry protests because of the devastating environmental consequences.
This week the battle against extreme energy was taken to the company annual meetings by environmental and social justice groups. The Nadleh Whut'en were part of the Yinka-Dene Alliance which is protesting Enbridge's $5.5-billion project that would pipe crude from tarsands in Alberta over 1,100 kilometres to the West coast where the fuel is to be loaded on supertankers to take to Asia.
The protestors brought with them a declaration that read in part:
"We are the Indigenous nations of the Fraser River Watershed. We are many nations, bound together by these waters. Enbridge wants to build pipelines to pump massive amounts of tar sands crude oil through the Fraser's headwaters. An oil spill in our lands and rivers would destroy our fish, poison our water, and devastate our peoples, our livelihoods, and our futures. Enbridge has many pipeline oil spills every year, including this year's large spill into Michigan's Kalamazoo river. We refuse to be next."
The company claims it is doing a good job. "We wouldn't be proposing this project if we didn't have utmost confidence that we could both construct and operate the project with utmost safety and environmental protection," Enbridge spokesman Todd Nogier told CBC TV.
Brian Moynihan responded the same way to the activists in North Carolina who told him that Bank of America was poisoning Appalachia. "Sir, our environmental team will take a look at it. We look at it all the time," he told the shareholders who booed him.
Coal River Mountain Watch activists disagreed. "Ahuman health crisis is exploding in Appalachia and Bank of America lights the fuse every day," said Bob Kincaid, noting that as much as five million pounds of explosives are used every day in Appalachia to extract coal. Kincaid estimated that the practice caused 4,000 deaths a year in West Virginia: "That's a newborn who never knows a clear breath, a 4-year-old who never gets to be a 5-year-old, a mother who never gets to be a grandmother."
At the same annual general meeting on Wednesday, Bank of America also saw a number of protestors speak out against the company's mortgage practices. For example Sister Barbara Busch, a Catholic social justice worker who runs a Cincinnati-based homeowner advocacy group called Working In Neighborhoods, told Moynihan that his bank was the hardest to deal with (41 percent of her customers have their loans managed by Bank of America) "(W)we have no one to talk to. They do not call us back,' she said of the loan officers. "I understand, Mr. Moynihan, that you really believe that you've done something, but ... you've got to do something about your mortgage servicing."
The North Carolina protests were coordinated by the Unity Alliance which brought together groups like Grassroots Global Justice Alliance, Jobs with Justice, the National Day Laborers Organizing Network, the National Domestic Workers Alliance, the Pushback Network, and the Right to the City Alliance.
Although the Bank of America protests are now over, the activists plans to be back - for the Democratic National Convention slated to take place in the city this coming September.
We've had enough. The 1% own and operate the corporate media. They are doing everything they can to defend the status quo, squash dissent and protect the wealthy and the powerful. The Common Dreams media model is different. We cover the news that matters to the 99%. Our mission? To inform. To inspire. To ignite change for the common good. How? Nonprofit. Independent. Reader-supported. Free to read. Free to republish. Free to share. With no advertising. No paywalls. No selling of your data. Thousands of small donations fund our newsroom and allow us to continue publishing. Can you chip in? We can't do it without you. Thank you.