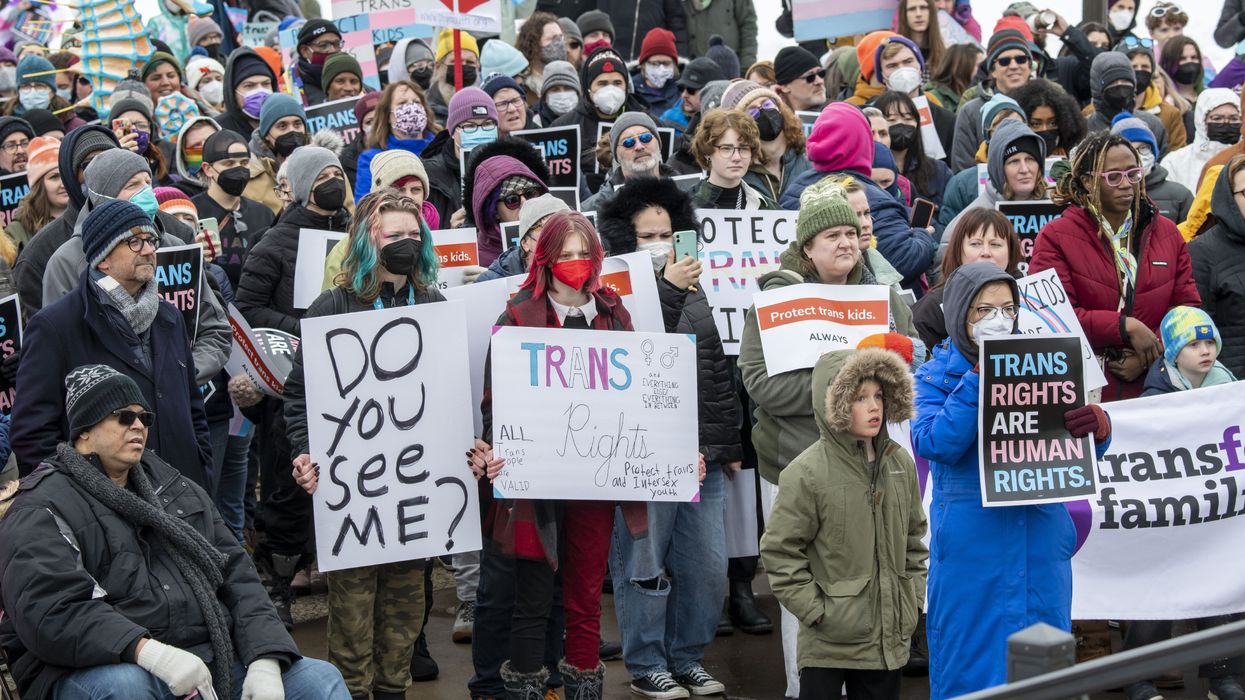 "Extremist legislators are trying to gain political power by harming vulnerable young people and their families."
North Carolina's Republican-dominated Legislature voted Wednesday to override Democratic Gov. Roy Cooper's vetoes of several GOP bills attacking trans youth, a move that rights advocates called a "devastating" assault on the rights of vulnerable young people.
One of the measures enacted Wednesday over the governor's opposition outlaws gender-affirming care—including puberty blockers and hormone therapy—for trans minors, making North Carolina the latest state to attack healthcare access for trans youth.
The gender-affirming care ban, H.B. 808, takes effect immediately.

Another bill, S.B. 49, bars any instruction about gender identity and sexuality in K-4 classrooms and "requires that public school teachers in most circumstances alert parents before they call a student by a different name or pronoun," the Associated Pressreported.
A third measure, H.B. 574, prohibits trans girls from playing on sports teams that correspond with their gender identity from middle school through college.
"We need to call this what it is: An all-out attack on queer and transgender youth in North Carolina," Allison Scott, director of impact and innovation at the Campaign for Southern Equality, said in a statement Wednesday.
The North Carolina Legislature is "going out of its way to blatantly enact the far-right's anti-LGBTQ wish list, causing harm and discrimination to young people in every area of life, from school to the doctor's office to the athletic fields," Scott added.
The growing wave of Republican attacks on trans youth across the U.S. prompted the Human Rights Campaign (HRC) to declare a national state of emergency for LGBTQ+ people in June, with the advocacy group warning that "the multiplying threats facing millions in our community are not just perceived—they are real, tangible, and dangerous."
More than 550 bills targeting LGBTQ+ rights have been introduced in state legislatures nationwide this year, and more than 80 have been signed into law, according to HRC.
Cathryn Oakley, HRC's senior director for legal policy, said in a statement Wednesday that "every lawmaker in North Carolina that voted to override the governor's veto should be ashamed of themselves."
"These bills range in impact from curriculum censorship to school sports to banning best practice healthcare," said Oakley, "but they have one important throughline: extremist legislators are trying to gain political power by harming vulnerable young people and their families. Once again, the North Carolina General Assembly has prioritized anti-transgender discrimination over the well-being of North Carolina."

Republicans secured their veto-proof majority in the North Carolina General Assembly after state Rep. Tricia Cotham, formerly a Democrat, switched parties in April. The GOP already had a veto-proof majority in the Senate when Cotham became a Republican.
On Wednesday, Cotham joined Republicans in voting to override Cooper's vetoes.
News