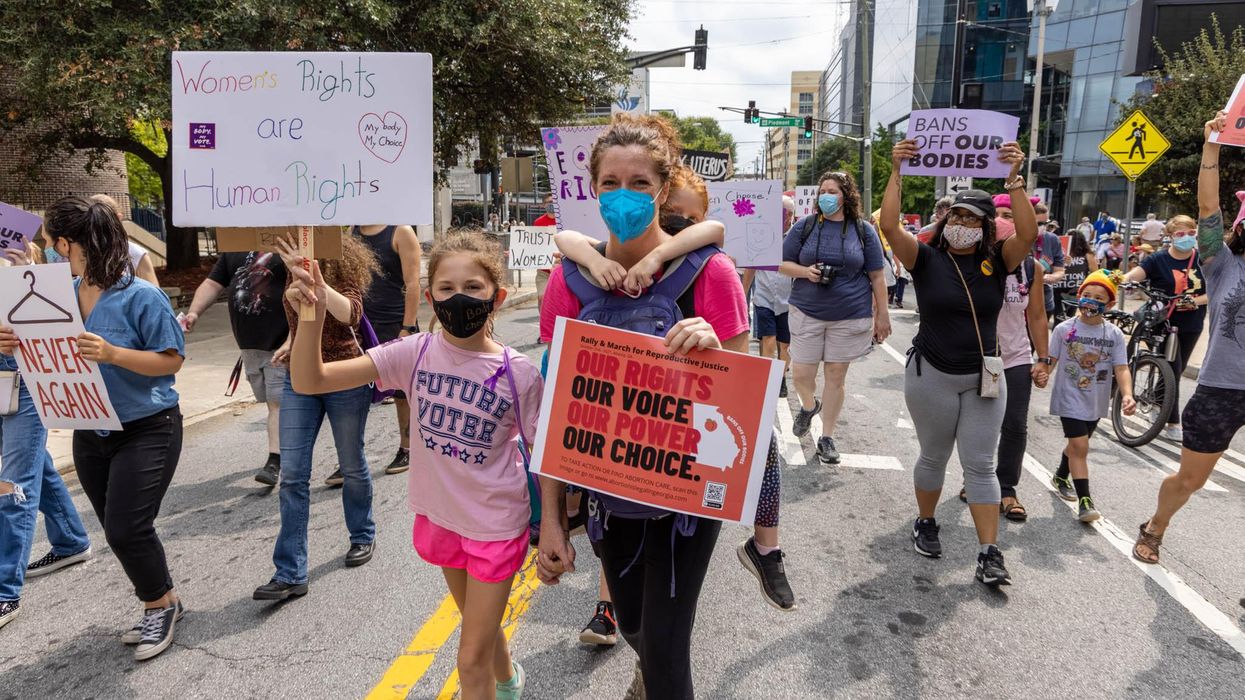 A new analysis shows how "abortion bans, extremist harassment, and the financial realities of operating community-based clinics make it increasingly difficult for independent clinics to stay open."
Scores of independent reproductive health centers have been forced to close or stop offering abortion care, with 14 states now having no abortion clinics, a report published Tuesday revealed.
Abortion Care Network (ACN) released its annual Communities Need Clinics report, which details how "abortion bans, extremist harassment, and the financial realities of operating community-based clinics make it increasingly difficult for independent clinics to stay open" after the right-wing U.S. Supreme Court canceled half a century of federal abortion rights in Dobbs v. Jackson Women's Health Organization a year-and-a-half ago.
As a result, 65 independent reproductive care clinics have shut down or stopped performing abortions since June 2022. The following states now have no clinics providing abortion care: Alabama, Arkansas, Idaho, Indiana, Kentucky, Louisiana, Mississippi, Missouri, North Dakota, Oklahoma, South Dakota, Tennessee, Texas, and West Virginia.
"Even in states where abortion remains legal, medically unnecessary restrictions, financial barriers associated with operating a health center, and the constant work of protecting against anti-abortion extremism make it challenging for many clinics to keep their doors open at all," the report states.
While there are several reasons for these closures, the overturning of Roe v. Wade and subsequent flood of anti-abortion legislation in Republican-controlled states are the most common. The report notes that this year alone, 53 laws restricting abortion access have been passed across the country.
However, the publication highlights how "voters resoundingly reject efforts to ban abortion":
In 2022, Kansas voters rejected a proposed state constitutional amendment that would say there is no right to abortion in the Kansas state Constitution. The vote prevented further restrictions on abortion in a state with only six brick-and-mortar abortion clinics. Winning by nearly 60% of the vote, the decisive election came as a surprise to many. In Kansas, registered Republican voters outnumber Democrats, but support for abortion cuts across party affiliation. States with other severe abortion restrictions surround Kansas, making it an important safeguard for access in the region. The vote in Kansas was the first time voters had the opportunity to vote on abortion access since Roe was overturned and became a bellwether for other states, including Kentucky, Montana, Michigan, Vermont, California, and Ohio—all states in which ballot initiatives confirmed popular support for abortion.
"States that restrict abortion access also have some of the worst reproductive health outcomes—and yet, despite these overlapping conditions and political hostilities, communities have made themselves clear: In every state where abortion was on the ballot, voters showed up to defend access to abortion," ACN co-executive director Erin Grant said in a statement.
Julie Burkhart, the founder and president of Wellspring Health Access and co-owner of Hope Clinic, asserted that "not only do independent abortion clinics provide the majority of abortions in the U.S., we also play a crucial role in protecting and defending reproductive rights by challenging abortion restrictions in the courts."
"In Wyoming, Wellspring Health Access and the patients we serve were nearly written off because of misperceptions of support for abortion in the state," Burkhart continued. "But, along with five co-plaintiffs, we brought a lawsuit challenging the state's recent abortion bans, that has ultimately reinstated abortion access in Wyoming."
Robin Marty, executive director of the West Alabama Women's Center, said that "when abortion was banned in Alabama, we understood that our community needed us more now, not less."
"Just as independent clinics were the vast majority of abortion providers in Alabama prior to Dobbs, we are staying here despite the strictest ban in the nation—providing follow-up care to those who leave the state or self-manage at home, as well as prenatal, contraceptive, and gender-affirming healthcare services, too."
"And when we eventually win back the right to an abortion—and someday we will do just that—we will be here, ready to offer that, too, at the very moment it is legally allowed," Marty added.
News