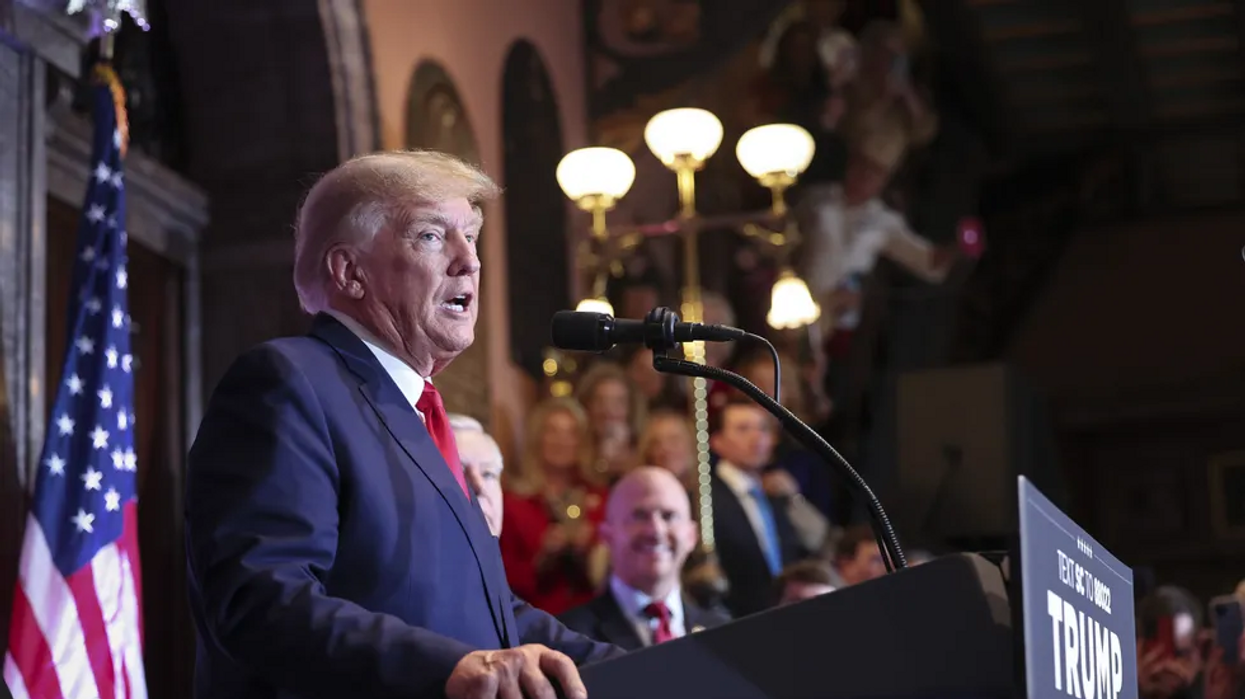 "This is batshit crazy," responded Democratic Rep. Mark Pocan. "This is how dictators handle crime. This man should never, ever be president again."
Former President Donald Trump has reportedly told his close associates that he wants to expand the use of the federal death penalty—and even take steps to turn the United States' internationally condemned use of capital punishment into a public spectacle—if he wins another White House term in 2024.
Citing unnamed sources familiar with the matter, Rolling Stonereported Tuesday that Trump is "still committed to expanding the use of the federal death penalty and bringing back banned methods of execution" such as firing squads, hanging, the guillotine, and group killings.
The Republican former president has even "mused about televising footage of executions, including showing condemned prisoners in the final moments of their lives," according to one of Rolling Stone's sources. "Trump has floated these ideas while discussing planned campaign rhetoric and policy desires, as well as his disdain for President Biden's approach to crime."
Democratic lawmakers and watchdog organizations reacted with alarm and disgust to the reporting, which comes as the Biden administration is facing continued pressure to abolish the death penalty at the federal level, a goal the president pledged to work toward on the campaign trail.
The Biden Justice Department, under the leadership of Attorney General Merrick Garland, is currently pursuing the death penalty for Sayfullo Saipov.
Rep. Bill Pascrell (D-N.J.) wrote in response to the Rolling Stone's reporting that "the leader of the Republican Party wants to televise live executions on tv and to start using the guillotine in America."
"This is what the Republican Party stands for," he added.
Rep. Mark Pocan (D-Wis.) tweeted that "this is batshit crazy."
"This is how dictators handle crime," the Wisconsin Democrat wrote. "This man should never, ever be president again."
\u201cThere were more executions of federal prisoners carried out in Trump's last month in office than in decades before him total.\n\nNow he wants to bring back firing squads, group executions and to broadcast the moments leading up to them.\nhttps://t.co/whsw4BokUG\u201d

— Citizens for Ethics (@Citizens for Ethics) 1676462438
In the six months before Trump left office in January 2021, his administration carried out the first federal executions in 17 years, putting 13 people to death in a widely denounced killing spree that defied court orders and steamrolled pandemic-related safety measures.
ACLU executive director Anthony Romero noted earlier this month that "among those executed in our name were two Black men who were not the triggermen in murders committed by others; two Black men with significant claims of intellectual disability; one member of the Navajo Nation; two men who were teenagers when they committed their crimes; and a mentally ill woman who had been repeatedly abused and tortured as a child, teen, and young woman."
While lethal injection was used in each of the above cases, Rolling Stone's Asawin Suebsaeng and Patrick Reis noted Tuesday that "rules made during Trump's presidency made federal firing squads more feasible."
"Previously, lethal injection was the only permissible federal method of execution," Suebsaeng and Reis observed. "But under the administration's new rules, if lethal injections are made legally or logistically unavailable, the federal government can use any method that is legal in the state where the execution is located."
"Former Attorney General Bill Barr, the ideological architect of Trump's execution binge, told Rolling Stone in December that Trump and his administration would have had more people put to death soon, had he won a second term in 2020," the outlet continued. "'Yes—that was the expectation,' Barr succinctly summarized in a phone interview."
News