The Gwich'in Steering Committee and 240 Allied Organizations Urge U.S. Insurance Companies to Meet the Moment with Policy to Protect the Arctic Refuge
WASHINGTON
Once again calling upon U.S. insurance companies to commit to protection of the Coastal Plain of the Arctic Refuge from oil and gas development, the Gwich'in Steering Committee (GSC) delivered a letter of support signed by 240 allied organizations from nearly every state in the U.S.
The letter was delivered in-person on September 7 to the CEOs of Hartford-based insurance companies Travelers and The Hartford. Supported by allies including the Connecticut Citizens Action Group, Sierra Club CT, Insure Our Future, Green Corps and others, the deliveries were followed by a public event with concerned Hartford citizens.
The letter was subsequently delivered September 8 via email to all major U.S. insurance companies with potential resource development business in Alaska, including American Financial Group (Great American Insurance Company), Argo Group, Chubb, CNA, Liberty Mutual, Markel, RLI, The Hartford, Travelers, and WR Berkley.
Building upon the GSC's insurance engagements that have been ongoing since 2020 and its insurance industry scorecard, the letter urges Travelers, The Hartford and others to:
Issue clear, public statements refusing to provide insurance and investments to any energy exploration, development, production, and transportation in the Arctic Refuge and across the Arctic Region;

Adopt a formal policy to prohibit new insurance products or the extension of existing insurance contracts to cover the exploration, production, and transportation of oil and gas in the Arctic Refuge;

Avoid financing oil and gas development in the Arctic Refuge by ruling out investments in companies involved in the Arctic Refuge development and those that do not have policies prohibiting their own involvement in the Arctic Refuge; and

Enact a comprehensive policy that includes a commitment to operationalizing Indigenous peoples' right to free, prior and informed consent.
To date, 14 international insurers and 29 global banks - including all major U.S. banks - have restricted underwriting, insuring or re-insuring oil and gas drilling in the Arctic Refuge. The letter calls upon all U.S. insurers to join other financial institutions that have taken a stand in protecting the Arctic Refuge. These institutions must recognize the risks and reputational consequences they will face should they support the violations of Indigenous People's human rights, harm wildlife, and exacerbate the devastating climate impacts that the Gwich'in and many Indigenous Peoples in the region are already facing.
"Silence and inaction from U.S. insurance companies cannot stand. Like their international competitors and banks across the world, policies must be put in place immediately to protect the Coastal Plain so that our people will continue to have a cultural and spiritual connection to our lands, waters, and animals for generations to come," said Bernadette Demientieff, Executive Director of the Gwich'in Steering Committee. "The Gwich'in will not allow the destruction of Iizhik Gwats'an Gwandaii Goodlit - the Sacred Place Where Life Begins - which has sustained us since time immemorial."
The Gwich'in people are the northernmost Native Nation living in 15 small villages across Alaska and Canada. Since time immemorial, the Gwich'in have been stewards of these lands, which include the Coastal Plain in the Arctic National Wildlife Refuge. The 1.5 million-acre Coastal Plain is the calving ground of the Porcupine Caribou Herd. The Gwich'in people and other Indigenous communities depend on the herd to sustain their way of life, people, and culture and have for generations.
Among broad strategies of frontline and international advocacy, the Gwich'in have been seeking permanent protections for the Coastal Plain. After decades of bipartisan protection, the Trump administration opened the area to oil and gas leasing in 2017. Although leases were sold in 2021, all energy companies and legacy lease holders walked away from their leases in 2022. However, the Coastal Plain remains under threat until there are permanent protections reinstated. The Alaska state agency AIDEA still holds leases, and the 2017 Tax and Jobs Act mandates a second lease sale to be held by 2024.
To learn more about the advocacy work and campaigns targeting financial institutions that the Gwich'in Steering Committee and allies have engaged in, please visit ourarcticrefuge.org.
The Gwich'in Steering Committee was formed in 1988 in response to proposals to drill for oil in the Sacred Place Where Life Begins, the coastal plain of the Arctic National Wildlife Refuge.
LATEST NEWS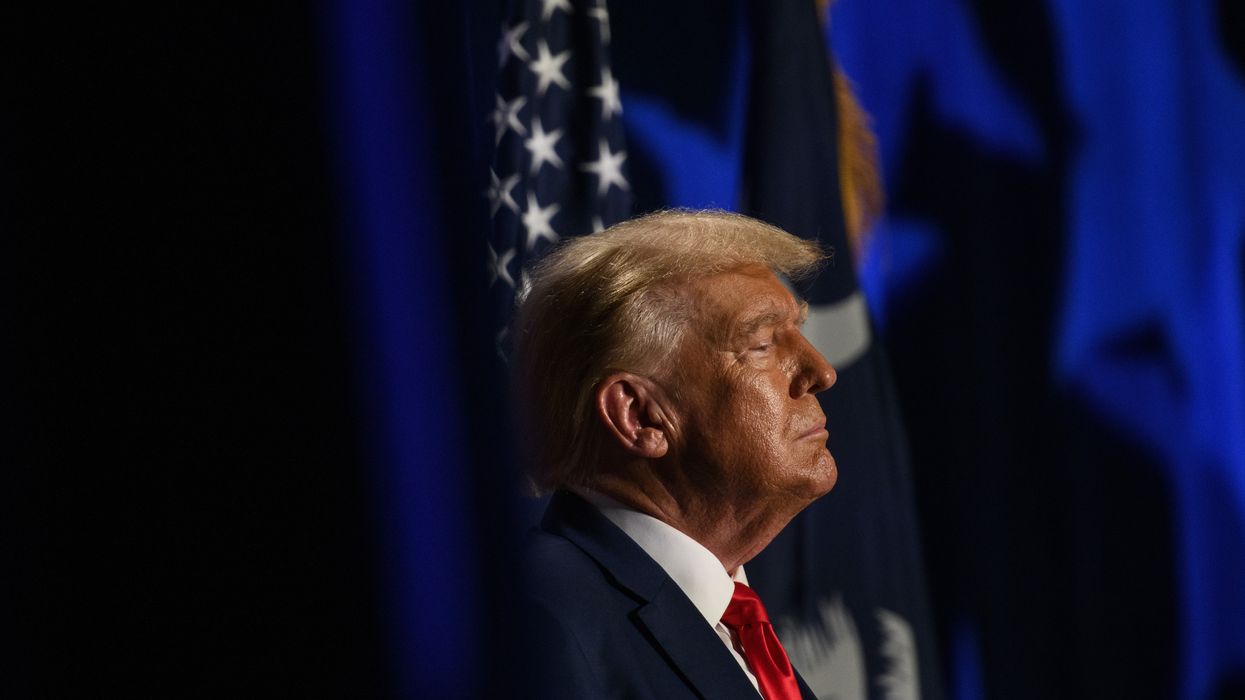 The judge in the case wrote that the Trump Organization's deceptive business practices were something out of "a fantasy world, not the real world."
This is a breaking story... Please check back for possible updates.

A U.S. federal judge on Tuesday ruled that former President Donald Trump—the twice-impeached GOP presidential front-runner facing 91 federal and state criminal charges in four separate cases—committed fraud over years while building his real estate businesses.
The Associated Pressreports Judge Arthur Engoron of the New York Supreme Court's 1st Judicial District ruled in a civil suit that Trump, his company—the Trump Organization—and other defendants including his two adult sons lied to banks, insurers, and others by massively exaggerating the value of his assets and net worth in documents used to secure deals and financing.
In his ruling, Engoron ordered the revocation of some of Trump's business licenses, a move that will make it difficult or impossible for the Trump Organization to do business in New York. Engoron also said he would mandate an independent monitor to oversee the business' operations.
"In defendants' world: Rent-regulated apartments are worth the same as unregulated apartments; restricted land is worth the same as unrestricted land; restrictions can evaporate into thin air; a disclaimer by one party casting responsibility on another party exonerates the other party's lies," wrote Engoron. "That is a fantasy world, not the real world."
Democratic New York Attorney General Letitia James, who brought the civil suit, says the former president at times overvalued his assets by up to $2.2 billion.
According to The New York Times:
Ms. James started investigating Mr. Trump in March 2019 and filed a lawsuit against him last September, accusing him of "staggering" fraud in representing the value of his apartment buildings, hotels, and golf clubs, among other assets. Her filings have accused Mr. Trump of using simple, duplicitous tricks to multiply the value of his signature properties, from Trump Tower to Mar-a-Lago.
James' lawsuit is seeking a fine of around $250 million and a ban on Trump family members leading the Trump Organization.
News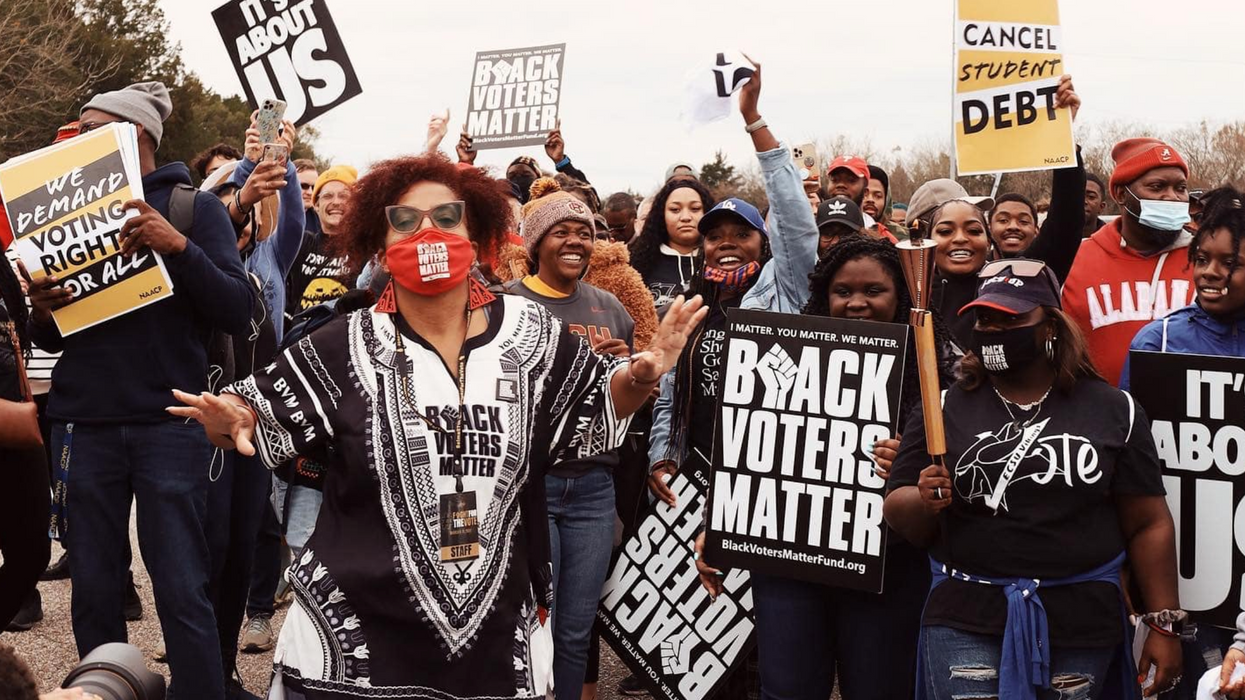 As the Alabama ACLU noted, the state must now create a second district "where Black voters have an opportunity to elect a candidate of their choice by the 2024 elections."
In a ruling hailed by civil rights defenders as a "win for Black voters," the U.S. Supreme Court on Tuesday declined to intervene in a case in which Alabama Republicans are openly defying a federal court's order to redraw the state's racially gerrymandered congressional map.

Evan Milligan, the lead plaintiff in the case, applauded Tuesday's ruling—in which no justices publicly dissented—as a "victory for all Alabamians" and "definitely a really positive step."
The state's Republican policymakers "basically said if you were Black in Alabama, your vote would count for less," Milligan told The Associated Press. "It was our duty and honor to challenge that."

U.S. Rep. Terri Sewell (D-Ala.) described the decision as "another big win for Alabama's Black voters."
Sherrilyn Ifill, the former head of the NAACP Legal Defense Fund (LDF), called the ruling "huge."
"I am darned near tearful with pride," she wrote on social media. "It takes so much to litigate these cases—often before hostile courts, with opposition that is unprincipled, and with naysayers all around."
The Brennan Center for Justice's Michael Li said in a statement that "after a string of remarkable victories, Black voters in Alabama are closer than ever to winning relief from discriminatory maps."
A 2022 order by a federal district court ruled that a new congressional map approved by Alabama's GOP-controlled Legislature and Republican Gov. Kay Ivey after the 2020 census diluted Black voting power because it contained just one majority African-American district. The court—which found that the maps violated Section 2 of the Voting Rights Act and the 14th Amendment—ordered the state to create a new plan with two Black "opportunity districts."
Alabama appealed to the U.S. Supreme Court, which in June ruled 5-4 in Allen v. Milligan—with right-wing Justices John Roberts and Brett Kavanaugh surprising many observers by joining their three liberal colleagues in the majority—to affirm the lower court's decision.
In response to Allen v. Milligan, Ivey convened a special legislative session to make a new map, which she approved in July, declaring that state lawmakers know "our people and our districts better than the federal courts or activist groups."
Despite court orders, Alabama Republicans' new congressional map—the Livingston Congressional Plan 3—lacked a second majority Black district. The map's sponsor, state Sen. Steve Livingston (R-8), said U.S. House Speaker Kevin McCarthy (R-Calif.) told him that he was "interested in keeping my majority."
A federal three-judge panel consisting of two appointees of former President Donald Trump and one appointee of former President Ronald Reagan subsequently blocked the new map, writing that "we are deeply troubled that the state enacted a map that the state readily admits does not provide the remedy we said federal law requires."

On Monday, a special master appointed by the district court submitted three proposals for a new congressional map in Alabama. One of them will be chosen as the state's map for the 2024 elections. A three-judge panel has tentatively scheduled an October 3 hearing to consider the maps.
LDF president and director-counsel Janai Nelson said on social media that "all maps proposed by the special master would allow Black Alabamians the opportunity to elect a candidate of their choice in two congressional districts in the state."
Tuesday's ruling follows the Supreme Court's June decision to allow the redrawing of Louisiana's racially gerrymandered congressional map—a move that will add a second majority-Black district in the Southern state where 1 in 3 residents are African-American.
The ruling also comes amid a battle over Florida's congressional map, drawn by the office of Republican Gov. Ron DeSantis—a 2024 presidential candidate—and approved last year by the state's GOP-controlled Legislature. Earlier this month, a state judge ruled that the redistricting plan is an unconstitutional dilution of Black voters' ability to vote for the legislator of their choice and ordered the map redrawn.
The case will now head to the Florida Supreme Court, where a majority of justices are DeSantis appointees.
News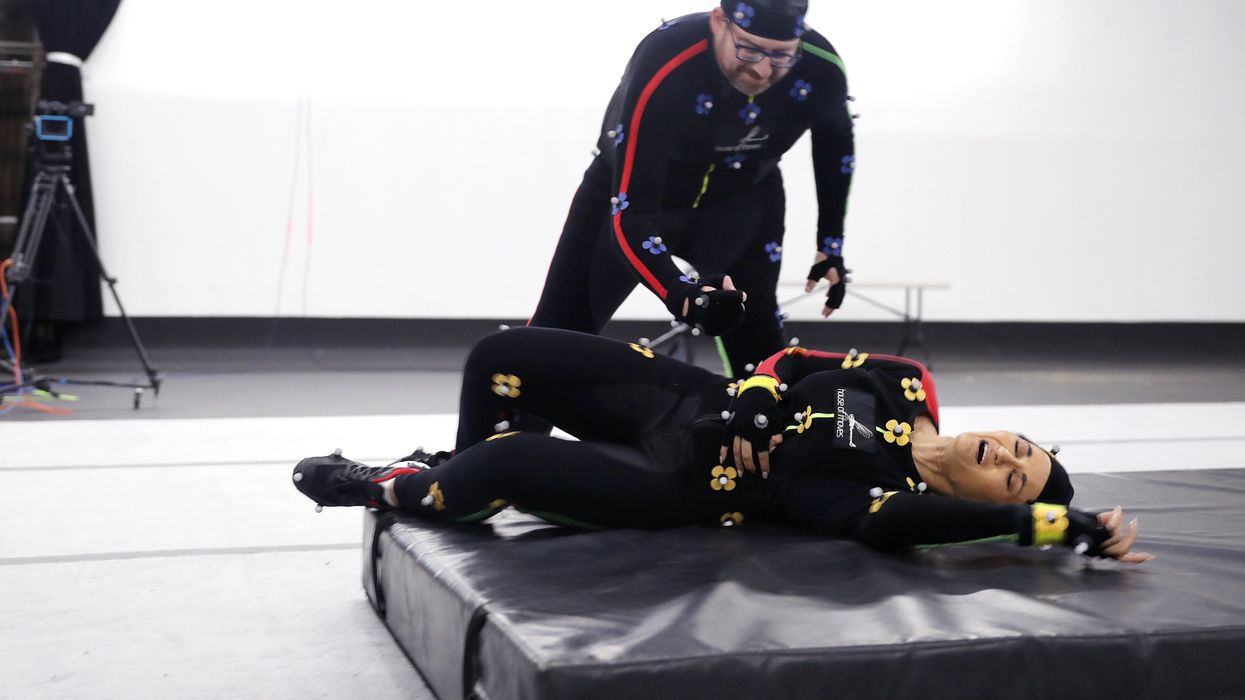 "The result of this vote shows our membership understands the existential nature of these negotiations," union president Fran Drescher said.
Screen Actors Guild-American Federation of Television and Radio Artists video game performers voted 98.32% in favor of authorizing a strike Monday, a day before negotiations were set to resume with industry representatives.
The voice and motion-capture performers want inflation-adjusted wages, improved workplace safety, and protection against the exploitative use of artificial intelligence. Similar concerns about AI drove the Writers Guild of America and the film and television actors represented by SAG-AFTRA out on strike earlier this year.
"It's time for the video game companies to stop playing games and get serious about reaching an agreement on this contract," SAG-AFTRA President Fran Drescher said in a statement. "The result of this vote shows our membership understands the existential nature of these negotiations, and that the time is now for these companies—which are making billions of dollars and paying their CEOs lavishly—to give our performers an agreement that keeps performing in video games as a viable career."
The strike authorization vote was cast by 27.47% of eligible union members. It does not mean the video game actors will strike, but the union hopes it will give them bargaining power in negotiations that have dragged on since they began in October 2022. In November of that year, the Interactive Media Agreement between video game performers and major companies expired, Reuters reported. It has been extended on a month-to-month basis ever since.
"After five rounds of bargaining, it has become abundantly clear that the video game companies aren't willing to meaningfully engage on the critical issues: compensation undercut by inflation, unregulated use of AI, and safety," SAG-AFTRA National Executive Director and Chief Negotiator Duncan Crabtree-Ireland said in a statement.
AI is an emerging concern across the creative industries, as performers and writers want to make sure they retain the rights to their images and work.
"It's not being dramatic to say we are at a crossroads where the very sustainability of a career performing in video games is at stake."
"This is at an inflection point for our industry. In particular with AI, because right now there aren't any protections," Ashly Burch, a voice actor for the video game Horizon Zero Dawn, told Reuters. "So, there's every possibility that someone could sign a contract and be signing away the right to their voice or their movement."
The union also wants to make sure on-camera performers are entitled to the same breaks as off-camera performers, to improve physical safety for motion-capture actors, and to increase voice-stress protections for voice actors.
On the other side of the negotiating table sit 10 of the largest video game companies in the business, according to More Perfect Union. They are Activision Productions Inc., Blindlight LLC, Disney Character Voices Inc., Electronic Arts Productions Inc., Formosa Interactive LLC, Insomniac Games Inc., Epic Games, Take 2 Productions Inc., VoiceWorks Productions Inc., and WB Games Inc., the union said.
"We will continue to negotiate in good faith to reach an agreement that reflects the important contributions of SAG-AFTRA-represented performers in video games," a spokesperson for the IMA toldThe Hollywood Reporter. "We have reached tentative agreements on over half of the proposals and are optimistic we can find a resolution at the bargaining table."
If they don't, members may join their film and television colleagues on the picket line.
"It's not being dramatic to say we are at a crossroads where the very sustainability of a career performing in video games is at stake," SAG-AFTRA executive vice president Ben Whitehair said in a video recorded for members, according to The Hollywood Reporter.
News
Independent, nonprofit journalism needs your help.
Please Pitch In
Today!