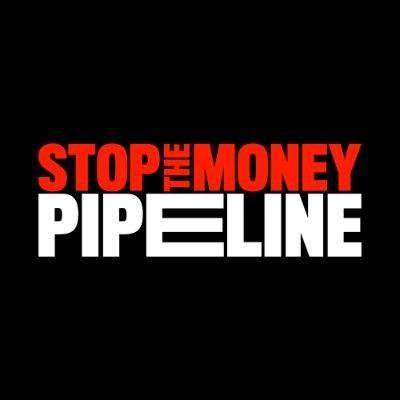 Stop the Money Pipeline Coalition Members Respond to Citigroup's New Climate Targets
WASHINGTON
Today Citigroup launched its initial roadmap to achieve net-zero in its energy and power portfolios. With these targets, Citigroup becomes the first major US bank to set an absolute emissions target for its energy portfolio.
Climate advocates have repeatedly criticized other banks' intensity-only targets, which are compatible with increases in absolute emissions.
However, the policy still allows their biggest fossil fuel clients such as Exxon, Saudi Aramco, and Chevron to lag in 2022 and 2023-leaving just six years for the company to slash its financed emissions by 2030.
"Citi's new climate plan is a small step forward, but there is much more to be done," said Jackie Fielder, Stop the Money Pipeline Coalition Co-Director. "Failure to immediately end the bank's support for fossil fuel companies that are ignoring climate science and expanding their operations is the most glaring gap. As the second-largest funder of the fossil fuel industry since the Paris Agreement was signed in 2015, it is a gap that Citi should fill without delay."
The unprecedented: Citigroup's climate plan uses absolute emissions rather than carbon intensity metrics to judge progress in the energy sector. By measuring financed (absolute) emissions to measure its progress in its energy portfolio, Citi breaks rank with three other major US banks (JP Morgan Chase, Goldman Sachs, and Morgan Stanley) that have used carbon intensity metrics in their 2030 net zero plans. The carbon intensity metric is a cheap accounting trick that enables banks to appear as if they are decarbonizing, even as they continue to expand their support of the fossil fuel industry and corporations driving deforestation around the globe. Additionally, Citi is the first US bank to publish its baseline energy sector financed emissions in absolute terms, broken down by scope.
However, the plan still allows for fossil fuel expansion, in direct contrast to the International Energy Agency's assessment. Last year, the International Energy Agency's special report, Net Zero by 2050, concluded that there must be "no investment in new fossil fuel supply projects" starting from 2021 if the world is to avert catastrophic climate change. Instead, Citi's 2030 climate goals include a two year grace period of engaging with their biggest fossil fuel clients to assess their alignment with net zero. Citigroup says:
We will also encourage the responsible retirement of carbon-intensive assets rather than divestment as part of these transition plans. We will continue to assess our client relationships -- a regular part of how we manage our business -- and prioritize partnering on transition strategies before turning to client exits as a last resort.
Stop the Money Pipeline coalition maintains its demand of an immediate start to a fossil fuel financing phaseout, including our demand of Citigroup to stop financing fossil fuel companies that have plans to expand their operations.
SEE THE DATA: Check out the Global Oil & Gas Exit List (GOGEL), an extensive public database that enables users to readily identify the largest oil and gas expansion companies, as well as those which are responsible for the dirtiest and most controversial forms of oil and gas production.
Member organizations of the Stop the Money Pipeline coalition released the following statements in reaction to the news:
"With these new commitments, Citigroup has surpassed the low bar set so far by its peers and taken an important first step toward aligning its lending practices with a climate-stable future," said Sierra Club Fossil-Free Finance Campaign Manager Ben Cushing. "The targets Citi has laid out aren't achievable if it continues to fund the expansion of fossil fuel development, and we are hopeful that this assessment period over the next two years will lead to cutting ties with polluters that are failing to change their practices accordingly."
"While an absolute target for energy represents a step forward, Citi has not ruled out expansion of fossil fuels -- sidestepping the headline requirement of the IEA net-zero scenario that Citi's energy target is based on," said Rainforest Action Network Climate and Energy Senior Campaigner Jason Opena Disterhoft. "The bank should require companies to end fossil fuel expansion and deforestation as explicit criteria in its client assessment, in line with climate science. This should also apply to power, where an intensity-only target leaves the door open for new fossil gas -- when the IEA has underlined the need for decarbonized power by 2035 in the rich world and 2040 worldwide."
"While it's great that Citi is breaking rank with other fossil fuel funding giants by setting absolute emissions targets for its portfolio, they simply cannot continue to allow fossil fuel expansion," said Amy Gray, Senior Climate Finance Strategist at Stand.earth. "Our planet just cannot afford anymore stalling tactics, frontline communities just can't wait for these banks to appease the fossil fuel industry while our homes burn and flood, while our bodies are polluted and our children's futures are destroyed for profit. It's time to set the standard for the banking industry and Citi should step up to the plate and lead the way."
"Citi cannot call itself a climate leader as it continues to pour financing into oil and gas expansion projects in critical biomes like the Amazon," said Pendle Marshall-Hallmark, Climate and Finance Campaigner at Amazon Watch, "Without a clear commitment to end financing for fossil fuels, Citi's new targets fall short. If Citi is serious about aligning its portfolio with its stated values, it must commit to end fossil fuel expansion immediately, in line with IPCC and IEA science."
"With these new 'targets,' Citi is likely expecting praise from the environmental community, but we can't praise any plan that still allows for funding fossil fuel expansion," said Erika Thi Patterson, Campaign Director for Climate and Environmental Justice with the Action Center on Race and the Economy. "Citi is straight up ignoring the demands of frontline Black, Brown and Indigenous communities that have been targeted by fossil fuel corporations for generations to end the fossil fuel era. We need to see Citi align its commitments with the demands of frontline communities by ending fossil fuel expansion immediately."
The Stop the Money Pipeline coalition is over 160 organizations strong holding the financial backers of climate chaos accountable.
LATEST NEWS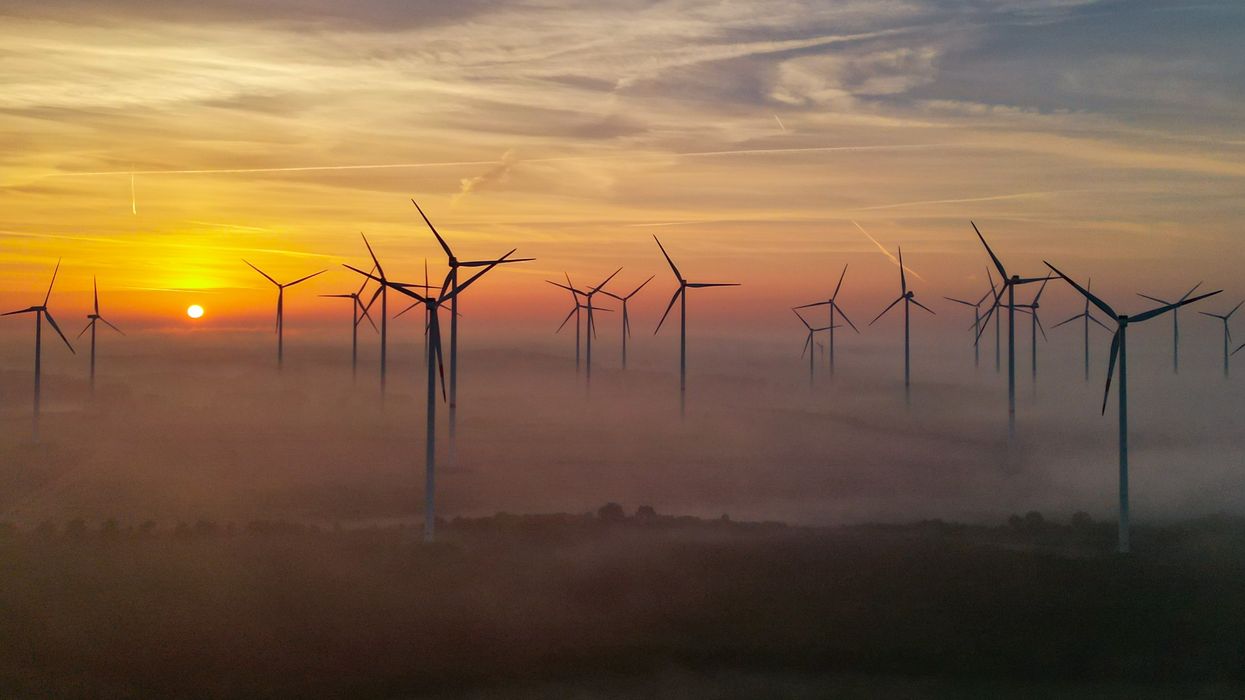 "The pathway to 1.5 °C has narrowed in the past two years, but clean energy technologies are keeping it open," said International Energy Agency executive director Fatih Birol.
The International Energy Agency said Tuesday that the rapid acceleration of clean energy growth worldwide has kept the Paris climate accord's critical 1.5°C warming target alive for now—but warned the continued burning of fossil fuels poses a dire threat to efforts to stave off the worst of the planetary crisis.

In a new report, the IEA noted that the adoption of clean energy technology has "surged at an unprecedented pace over the last two years," with solar photovoltaic (PV) capacity additions growing by close to 50% and electric car sales rising by 240%.
"This progress reflects cost reductions for key clean energy technologies—solar PV, wind, heat pumps, and batteries—which fell by close to 80% on a deployment-weighted average basis between 2010 and 2022," according to the IEA's report.
Fatih Birol, executive director of the IEA, said in a statement that "the pathway to 1.5°C has narrowed in the past two years, but clean energy technologies are keeping it open."
"With international momentum building behind key global targets such as tripling renewable capacity and doubling energy efficiency by 2030, which would together lead to a stronger decline in fossil fuel demand this decade, the COP28 climate summit in Dubai is a vital opportunity to commit to stronger ambition and implementation in the remaining years of this critical decade," Birol added.
The IEA's report comes on the heels of a record-hot summer that saw catastrophic extreme weather events across the globe—disasters that scientists say will increase in frequency and intensity if world leaders don't take immediate action to phase out planet-warming fossil fuels.
The World Meteorological Organization warned in May that there's a 66% chance that, over the next five years, global temperatures will rise beyond 1.5°C of warming above pre-industrial levels for at least a year.
"The time for a swift, equitable, and fully funded phase-out of fossil fuels is now, with rich countries moving first and fastest."
In its new report, the IEA makes clear that despite some encouraging progress, nations—particularly the wealthy countries most responsible for fossil fuel emissions—aren't doing nearly enough to curb their polluting activities and transition to renewable energy.
The report finds that global carbon dioxide emissions from the energy sector "remain worryingly high," hitting a new record last year. Additionally, the report observes that fossil fuel demand and investments in supply have increased, "spurred by the energy crisis of 2022 after Russia's invasion of Ukraine."
"The energy sector is changing faster than many people think, but much more needs to be done and time is short," the IEA said Tuesday. "Momentum is coming not just from the push to meet climate targets but also from the increasingly strong economic case for clean energy, energy security imperatives, and the jobs and industrial opportunities that accompany the new energy economy. Yet, momentum must be accelerated to be in line with the 1.5°C goal and to ensure that the process of change works for everyone."
If nations don't rapidly scale up their climate ambitions, the IEA warned, keeping warming below 1.5°C by the end of the century would require "massive deployment" of unproven carbon removal technologies.
"This report reaffirms a stark truth: To limit global temperature rise as agreed upon internationally, there's no room for new oil, gas, or coal fields," Kelly Trout, research director of Oil Change International, said in a statement Tuesday. "The time for a swift, equitable, and fully funded phase-out of fossil fuels is now, with rich countries moving first and fastest and paying their fair share to finance a global just transition."
"As countries prepare to make serious climate commitments at COP28," Trout added, "they must take into account the unequivocal evidence that the shift away from fossil fuels must happen, and it must happen fast."
News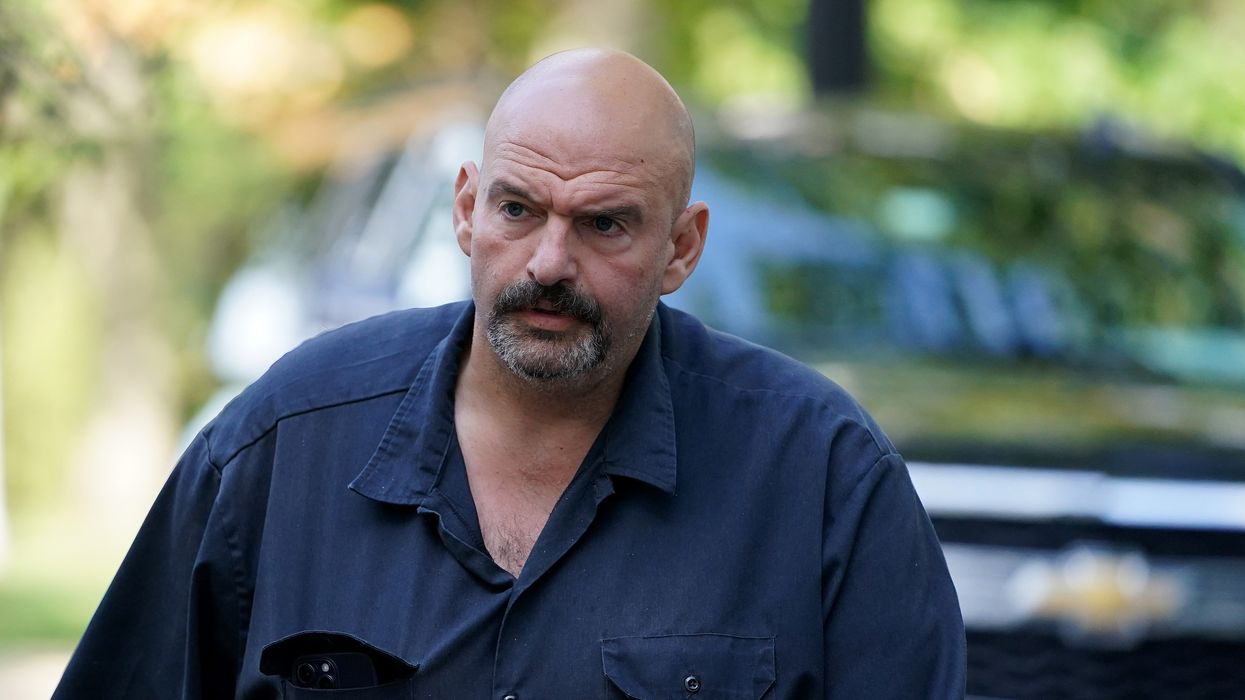 "The jorts-and-hoodie senator has the only rational anti-corruption position here, while all the fancy-suit senators complaining about dress codes but saying nothing about Menendez now look ridiculous," said one journalist.

In addition to calling for U.S. Sen. Bob Menendez's resignation over federal bribery charges, Sen. John Fetterman is planning to return $5,000 that the New Jersey Democrat gave to Pennsylvania Democrat's 2022 campaign.
"We are in process of returning the money," Fetterman spokesperson Joe Calvello toldThe Messenger on Monday, "in envelopes stuffed with $100 bills."
While a Menendez spokesperson did not respond to the outlet's request for comment, the embattled senator—who on Friday temporarily stepped down as chair of the Senate Foreign Relations Committee—was defiant on Monday in response to demands for him to resign from the chamber, publicly saying that "not only will I be exonerated, I will still be New Jersey's senior senator."
"Think of the ink spilled and beds wet about how John wearing a Dickies shirt and shorts will destroy the decorum of the Senate, but yet no one can muster calling for Menendez to resign."
Menendez and his wife are accused accepting bribes in the form of "cash, gold, payments toward a home mortgage, compensation for a low-or-no-show job, a luxury vehicle, and other things of value" in exchange for helping three businessmen and the Egyptian government.
According to the indictment unsealed Friday, federal agents who raided the Menendez home found various pieces of possible evidence, including "over $480,000 in cash—much of it stuffed into envelopes and hidden in clothing, closets, and a safe."
Fetterman on Saturday was the first senator to join a growing number of House Democrats and Democratic New Jersey Gov. Phil Murphy in calling for Menendez—who is up for reelection next year—to resign now.
Menendez is "entitled to the presumption of innocence under our system," Fetterman said, "but he is not entitled to continue to wield influence over national policy, especially given the serious and specific nature of the allegations."
In a series of posts on social media Monday, Calvello noted that "more senators, both Republicans and Democrats, have forcefully denounced how John Fetterman dresses than have called for Menendez to resign for being corrupt."
As House Republicans have continued to risk a government shutdown in recent days, GOP lawmakers and right-wing pundits have been melting down on social media and cable news over a relaxation of the Senate dress code that they have blamed on Fetterman, known for sporting more casual attire on Capitol Hill.
"This is a perfect snapshot of what is wrong with Washington and why people outside the beltway have no faith in D.C.," Calvello added. "Think of the ink spilled and beds wet about how John wearing a Dickies shirt and shorts will destroy the decorum of the Senate, but yet no one can muster calling for Menendez to resign."
The Lever's David Sirota declared Monday that "the jorts-and-hoodie senator has the only rational anti-corruption position here, while all the fancy-suit senators complaining about dress codes but saying nothing about Menendez now look ridiculous."

Sen. Sherrod Brown (D-Ohio) on Monday afternoon became just the second senator to urge his indicted colleague to willingly exit the chamber. He simply said that "Sen. Menendez has broken the public trust and should resign from the U.S. Senate."
Monday night, Sen. Peter Welch (D-Vt.) became the third, saying: "Sen. Menendez is entitled to the presumption of innocence. But the people of New Jersey and the United States Senate are entitled to an effective senator. The shocking and specific allegations against Sen. Menendez have wholly compromised his capacity to be that effective senator. I encourage Sen. Menendez to resign."
This post has been updated with comment from Sen. Peter Welch.

News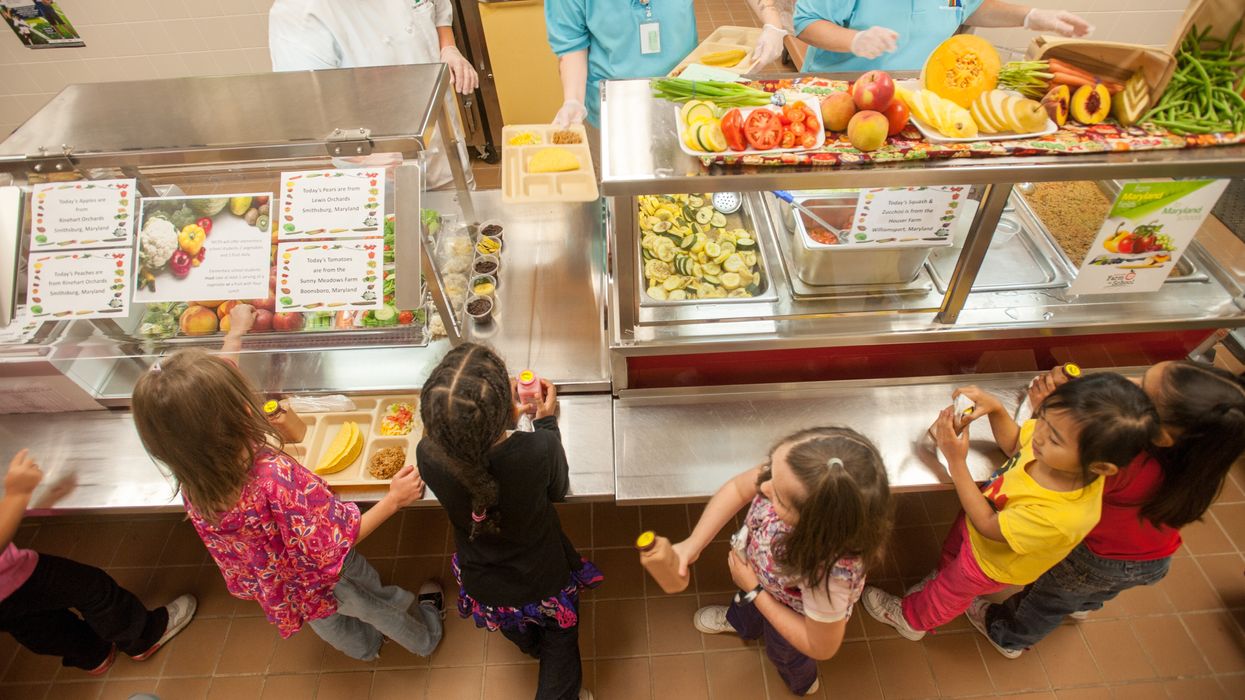 U.S. Sen. John Fetterman said the aim of the bill is to "stop humiliating kids and penalizing hunger."
As children across the United States have started a new academic year over the past month, many families have had to contend with federal lawmakers' refusal to guarantee universal free meals and the resulting "lunch shaming"—which three U.S. Senate Democrats hope to partially combat with new legislation to cancel student lunch debt nationwide.
"'School lunch debt' is a term so absurd that it shouldn't even exist," Sen. John Fetterman (D-Pa.) declared in a statement Monday. "That's why I'm proud to introduce this bill to cancel the nation's student meal debt and stop humiliating kids and penalizing hunger."
"It's time to come together and stop playing political games with Americans' access to food," he added. "September is Hunger Action Month and I'm proud to be introducing this bill to help working families now, while we work to move our other priorities to combat food insecurity in our nation."
Fetterman—who chairs the Senate Committee on Agriculture, Nutrition, and Forestry's Subcommittee on Food and Nutrition, Specialty Crops, Organics, and Research—is leading the fight for the School Lunch Debt Cancellation Act with Sens. Sheldon Whitehouse (D-R.I.) and Peter Welch (D-Vt.).
"No child in Rhode Island—or anywhere in America—should be penalized for not being able to afford school lunch. It's that simple," asserted Whitehouse. "Our legislation will eliminate lunch debt in schools, supporting every child's access to a healthy meal and positioning them for long-term success."
Welch agreed, saying: "Our students shouldn't have to worry about how they're paying for lunch—full stop. I'm proud to partner with my colleagues Sen. Fetterman and Whitehouse on this commonsense bill, and urge my colleagues to stand with us."
Congress initially responded to the Covid-19 pandemic by enabling public schools to provide free breakfast and lunch to all 50 million children nationwide, but Republicans blocked the continuation that policy last year. Instead, lawmakers passed the Keep Kids Fed Act, a bipartisan compromise that increased federal reimbursement rates for programs serving low-income students. However, as Common Dreamsreported in January, only around a quarter of districts that responded to a survey from the School Nutrition Association said those levels are sufficient, and 99.2% had concerns about raised rates expiring.
Further burdening American families trying to feed children amid food companies' price gouging, congressional Republicans and right-wing Sen. Joe Manchin (D-W.Va.) also killed the pandemic-era expansion of the child tax credit—a move that contributed to the U.S. child poverty rate more than doubling in 2022 compared with the previous year, according to data released this month.
"Prior to the pandemic, some schools had resorted to tactics that embarrassed kids, such as stamping their hands to remind parents of unpaid bills and substituting cold cheese sandwiches for hot meals," Civil Eatsreported Monday. "Sometimes meals were thrown out in front of the children. And while experts say that fewer districts have resumed these practices—often dubbed 'lunch shaming'—they haven't gone away entirely either."
Crystal FitzSimons, director of school and out-of-school time programs at the Research and Action Center (FRAC), told the outlet, "Schools, families, and states really did not want to go back to having the complicated school nutrition operations where some kids have access to free meals and other kids do not, and they have to struggle with unpaid debt."

The families of almost half a million food insecure children in Pennsylvania collectively owe nearly $80 million in public school lunch debt, according to Fetterman's office. Nationally, more than 30 million kids can't afford their school meals and the total debt is $262 million annually.
California, Colorado, Maine, Massachusetts, Michigan, Minnesota, New Mexico, and Vermont have all guaranteed universal free school meals, and Nevada has a policy in place for the 2022-23 school year only. While lawmakers in other states are working to pass similar bills, advocates have called for federal legislation to ensure all schoolchildren are fed.
In addition to the new debt cancellation bill, Fetterman is among the co-sponsors of the Universal School Meals Program Act, reintroduced in May by Sen. Bernie Sanders (I-Vt.) and Rep. Ilhan Omar (D-Minn.).
"It is downright cruel that we are letting our children in America go hungry," Fetterman said at the time. "No child in America should be worried about if they are going to be able to get breakfast, lunch, or dinner. I am proud and honored to co-sponsor this bill that will finally make sure that our children are fed."

News
Independent, nonprofit journalism needs your help.
Please Pitch In
Today!