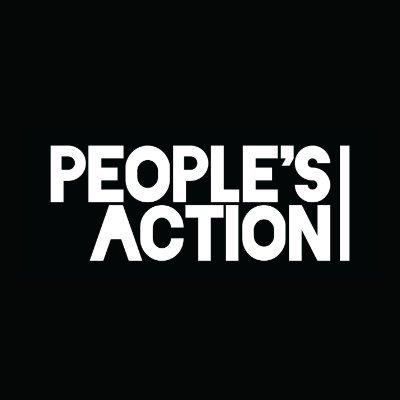 As Congress Holds the Line on Build Back Better, People's Action Celebrates Corporate Pushback Week of Action
Member Organizations Held Congress to Account; Hosted Direct Actions Targeting Corporations; Pushed to Pass Build Back Better Before Infrastructure
WASHINGTON
People's Action celebrated its National Week of Action where member organizations around the country held rallies targeting corporate entities and the organizations that represent them who are sabotaging President Biden's Build Back Better agenda. The Week of Action coincided with the release of a report written jointly with Demos, Behind the Curtain: The Corporate Plot to Upend Democracy, that revealed the depths of corporate interference. Progressives are sticking to the deal previously made in which Congress agreed to pass the Build Back Better agenda before the bipartisan infrastructure bill, despite greedy corporations spending millions to tank major investments in care, climate, housing, health, and jobs.
Some of People's Action's grassroots member leaders took action on the following issues:
TAX FAIRNESS:
VOCAL-NY hosted a rally at JPMorgan Chase Headquarters in Manhattan targeting CEO Jamie Diamond to demand an end to corporate greed and the company's attempt to sabotage democracy.

The People's Lobby, One Northside, and Jane Addams Senior Caucus in Chicago worked together to rally with 11 movement-aligned elected officials at the local, county, and state levels in front of Blue Cross Blue Shield's Chicago headquarters.

Colorado People's Alliance (COPA) brought together community organizers, leaders, and advocates, including SEIU, for a public demonstration outside an Amazon corporate office in downtown Denver.

Over three dozen members of Iowa Citizens For Community Improvement held a direct action and rally in the lobby of the Greater Des Moines Partnership.

West Virginia Citizen Action Group (WVCAG) hosted a rally outside American Electric Power's (AEP) offices in Charleston. Last year AEP paid zero taxes and earned billions.
HEALTH CARE:
Hoosier Action in Indiana targeted Anthem/Blue Cross Blue Shield. Hoosier Action texted over 65,000 people pushing out a petition calling on Anthem to stop lobbying against the healthcare provisions of Build Back Better plan.

United Vision For Idaho went to the state capitol to lift up the challenges of corporate money meddling in our democracy. They staged a "fat cat" laying on a mattress exploding with money being asked "How do you sleep at night?" as people with signs hammered on corporate greed. They also had a lobbyist with a money gun shooting at Uncle Sam. CBS 2: United Vision for Idaho organization plans rally at State Capital

Rights And Democracy in New Hampshire also targeted Anthem/Blue Cross Blue Shield with a live stream event.
HOUSING:
ENVIRONMENT:
MI United held a rally against the construction of a new Ajax asphalt production facility in Flint. Community groups have been keeping a steady drum beat against the site's construction for some time, and this action is the latest in an attempt to demonstrate how communities like Flint are subject to criminal climate injustice.
The full text of the report may be found here. Statements from grassroots voices may be found here. Photos from the direct actions across the country may be found here.
People's Action builds the power of poor and working people, in rural, suburban, and urban areas to win change through issue campaigns and elections.
LATEST NEWS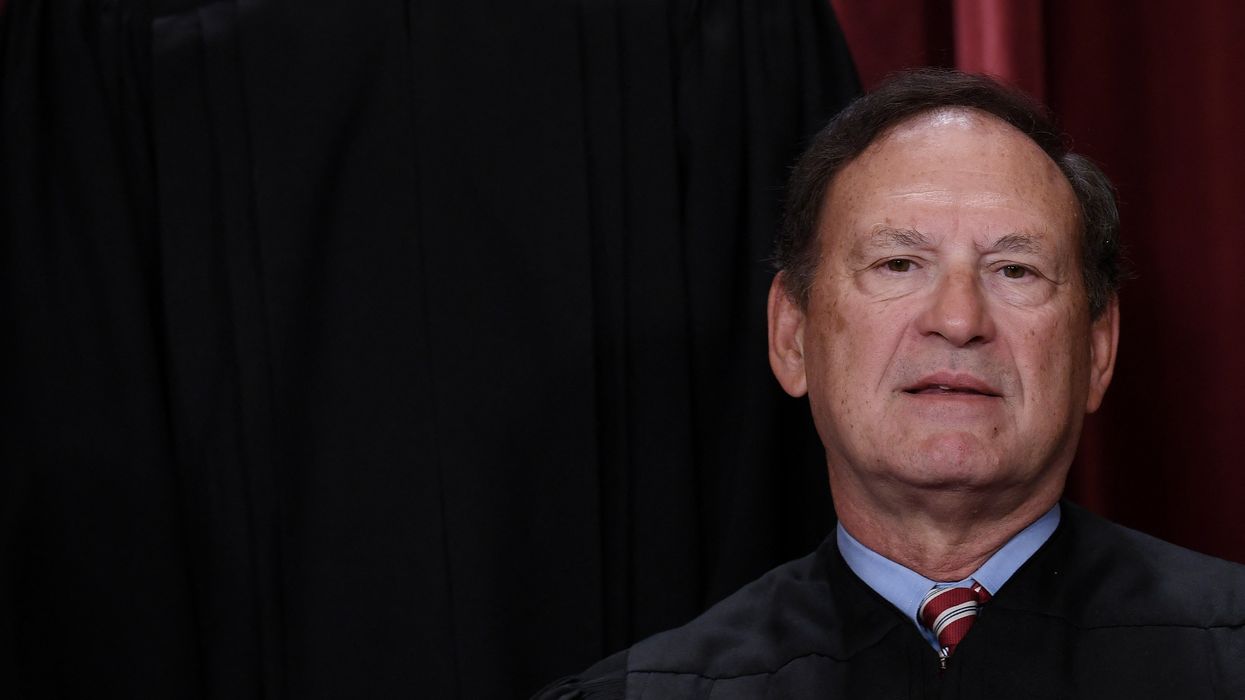 A new report warns that huge tax gifts for corporations and "a $340 billion hole in the federal budget" are among the potential consequences of a case SCOTUS is set to hear in December.

A Washington-based married couple's challenge to an obscure provision of the 2017 Republican tax law has the potential to become "the most important tax case in a century," with far-reaching implications for federal revenues, key social programs, and Congress' constitutional authority to impose levies on income.
That's according to a new report released Wednesday by the Roosevelt Institute and the Institute on Taxation and Economic Policy (ITEP).
The policy groups estimated that if the conservative-dominated U.S. Supreme Court sides with the plaintiffs in Moore v. United States—which the justices are set to take up in December—nearly 400 multinational corporations could collectively receive more than $270 billion in tax relief, further enriching behemoths such as Apple, Microsoft, Pfizer, Johnson & Johnson, and Google.
The Roosevelt Institute and ITEP also found that Chief Justice John Roberts and Associate Justice Samuel Alito own stock in 19 companies that are poised to receive a combined $30 billion in tax breaks if the judges strike down the 2017 law's mandatory repatriation tax, a one-time levy targeting earnings that multinational corporations had piled up overseas.
But the case could have impacts well beyond a repeal of the repatriation tax, which was projected to generate $340 billion in federal revenue over a decade.
Depending on the scope of the justices' decision, the new report argues, the Supreme Court could "suddenly supplant Congress as a major American tax policymaker, putting at legal jeopardy much of the architecture of laws that prevent corporations and individuals from avoiding taxes, and introducing great uncertainty about our democracy's ability to tax large corporations and the most affluent."
"At the best of times, blowing a $340 billion hole in the federal budget would be catastrophic," Matt Gardner, a senior fellow at ITEP and a co-author of the new report, said in a statement. "And if the court invalidates the transition tax in its Moore decision, that's exactly what would happen: possibly the costliest Supreme Court decision of all time. And it would be hard to identify a less deserving set of tax cut beneficiaries than the companies that would reap at least $271 billion from repealing this tax."
"The Roberts Court could decide with the stroke of a pen to simultaneously forgive big business decades of tax dues."
Charles and Kathleen Moore brought their challenge to the repatriation provision after they were hit with a roughly $15,000 tax bill stemming from their stake in an Indian farm equipment company. As the Tax Policy Center recently observed, the Indian firm is a "controlled foreign corporation (CFC), or a foreign corporation whose ownership or voting rights are more than 50% owned by U.S. persons who each own at least 10%."
The Moores' cause has been championed by billionaire-backed organizations and corporate lobbying groups, including the Manhattan Institute–which is chaired by billionaire hedge fund mogul Paul Singer—and the powerful U.S. Chamber of Commerce.
"That such a case involving such modest sums would make it all the way to the high court indicates that there is much more at play than a single family's tax refund," ITEP's Gardner and Spandan Marasini and the Roosevelt Institute's Niko Lusiani note in the new report.
The plaintiffs' legal team argues that because the Moores' shares in the Indian firm were not "realized"—they did not sell or receive a distribution from the company—they should not have been on the hook for the repatriation tax.
"The government, on the other hand, argues that almost a century of tax law precedent has established Congress' broad authority to decide when and how to tax income, even without a specific realization event," the new report explains. "What's more, the income was clearly realized by the corporation, which is sufficient for income taxation of shareholders under various provisions of the existing tax code."
Our latest report with @rooseveltinst identifies 389 multinational corporations that would collectively be allocated $271 billion in tax relief, according to company estimates. The top five would receive a major share of the tax breaks. pic.twitter.com/wk5C5crGt2
— ITEP (@iteptweets) September 27, 2023
While it's possible that the Supreme Court will rule narrowly on the specifics of the Moores' situation, the report authors cautioned that the justices "could also issue a broad decision that taxing income—of an individual or a corporate shareholder—requires realization, and that income taxation on multiple years of accrued income is unconstitutional."
Such a sweeping ruling could preemptively ban a wealth tax—an outcome that right-wing supporters of the Moores have explicitly advocated.
"This case presents the court with an ideal opportunity to clarify that taxes on unrealized gains, such as wealth taxes, are direct taxes that are unconstitutional if not apportioned among the states," the Manhattan Institute declared in a May amicus brief.
A broad ruling by the high court could also imperil key elements of the existing tax code, according to ITEP and the Roosevelt Institute.
"One of the most established of these pillars is known as Subpart F, which was enacted in 1962 to prevent American corporations from avoiding taxation through offshore entities or controlled foreign corporations," the new report says. "Provisions related to Global Intangible Low-Taxed Income (GILTI), the branch profits tax; tax treatment of corporate debt; and others could be uprooted by five justices."
"The Corporate Alternative Minimum Tax—enacted as part of the Inflation Reduction Act to create a basic corporate tax floor—as well as international efforts to curb international tax avoidance could be made constitutionally invalid," the report adds.
The analysis stresses that the consequences of a broad ruling in the upcoming case would be profound, affecting more than just a handful of corporate tax provisions.

"In Moore," the report warns, "the Roberts Court could decide with the stroke of a pen to simultaneously forgive big business decades of tax dues, increase the federal deficit over the long run, jeopardize future public revenue and essential social programs, escalate these multinational companies' already sizeable after-tax profits, and further enrich their shareholders."
News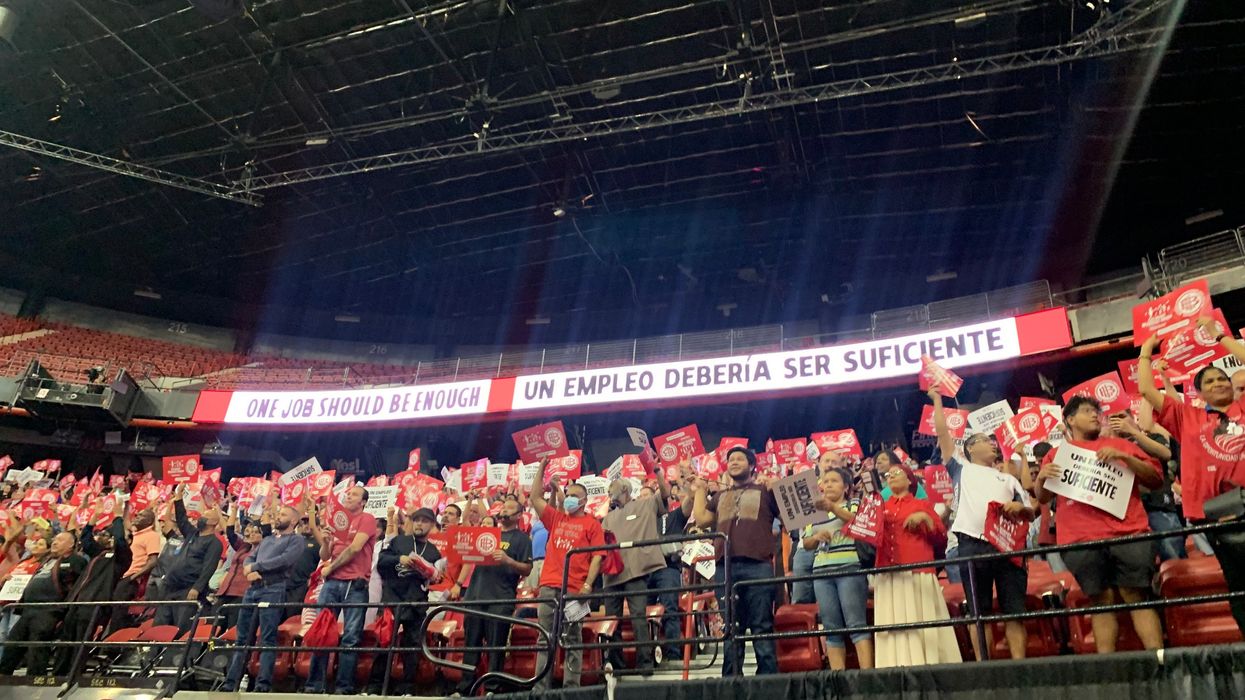 "Companies are generating record profits and we demand that workers aren't left behind and have a fair share of that success," said one Culinary Union leader.
Members of two Nevada labor unions—including the state's largest—on Tuesday overwhelmingly voted to authorize a citywide strike at 22 Las Vegas casinos, while continuing to negotiate a new contract "in good faith" with gaming companies.
Chanting "one job should be enough," tens of thousands of cocktail and food servers, bartenders, cooks, porters, and other non-gaming hotel employees in the Culinary Union Local 226 and Bartenders Union Local 165—affiliates of the Unite Here—packed the Thomas and Mack Center at the University of Nevada, Las Vegas, where they voted by 95% during two sessions to approve a work stoppage at Las Vegas Strip properties owned by MGM Resorts, Caesars Entertainment, and Wynn/Encore Resorts.

The affiliated unions—which represent 60,000 Nevada workers, including 53,000 in Las Vegas—can now call a strike at any time. It would be the first citywide strike in the resort industry in nearly 40 years.
Since September 15, 40,000 union members have been working under an expired contract. The Culinary Union said it remains in "active negotiations" with employers over a new five-year contract.
"Today, Culinary and Bartenders union members have sent the strongest message possible to the casino industry to settle a fair contract as soon as possible," Culinary Union secretary-treasurer Ted Pappageorge said in a statement. "We have negotiations scheduled next week with MGM Resorts, Caesars Entertainment, and Wynn/Encore Resorts and it's up to the three largest employers in Las Vegas to step up and do the right thing."
"If these gaming companies don't come to an agreement, the workers have spoken and we will be ready to do whatever it takes—up to and including a strike," Pappageorge added. "Companies are generating record profits and we demand that workers aren't left behind and have a fair share of that success."
Las Vegas set an all-time record for gaming revenue for the second straight year last year, despite the Covid-19 pandemic. The city's casino resorts reported $14.8 billion in 2022 revenue, a 10.5% increase over the previous year.
The unions' objectives include:
Winning the largest wage increases ever negotiated in Culinary Union history;
Reducing workload and steep housekeeping room quotas, mandating daily room cleaning, and establishing the right for guest room attendants to securely work in set areas;
Providing the best on-the-job safety protections;
Tracking sexual harassment, assault, and criminal behavior by customers;
Ensuring advanced notification when new technology is introduced which would impact jobs and requiring training for new jobs created by technology;
Guaranteeing healthcare and severance pay for workers who are laid off because of new technology; and
Extending recall rights so that workers have more job security and have the right to return to their jobs in the event of another pandemic or economic crisis.
"I voted yes to authorize a strike because I'm fighting for my family and for our future," said Maria Sanchez, a Culinary Union member who works as a guest room attendant at the Bellagio. "The workload since the pandemic has been intense and when I get home I'm so tired and I don't have energy to take my two kids to the park or play with them. I feel sad like I'm just living to work and it's not right."
"I feel sad like I'm just living to work and it's not right."
"I was thinking about getting a second job, but I'm already doing more than one job at work right now and I believe that one job should be enough," she added. "I voted yes to win the best contract ever so that I can work one job and come home to spend time with my children."
In 2018, members of the Culinary and Bartenders unions voted to authorize a strike. A new contract was negotiated shortly after the vote, averting a work stoppage.

Last year, members of the Local 54 chapter of the Unite Here union—which represents hospitality industry employees in Atlantic City, New Jersey—negotiated new contracts that included the workers' largest-ever raise.
News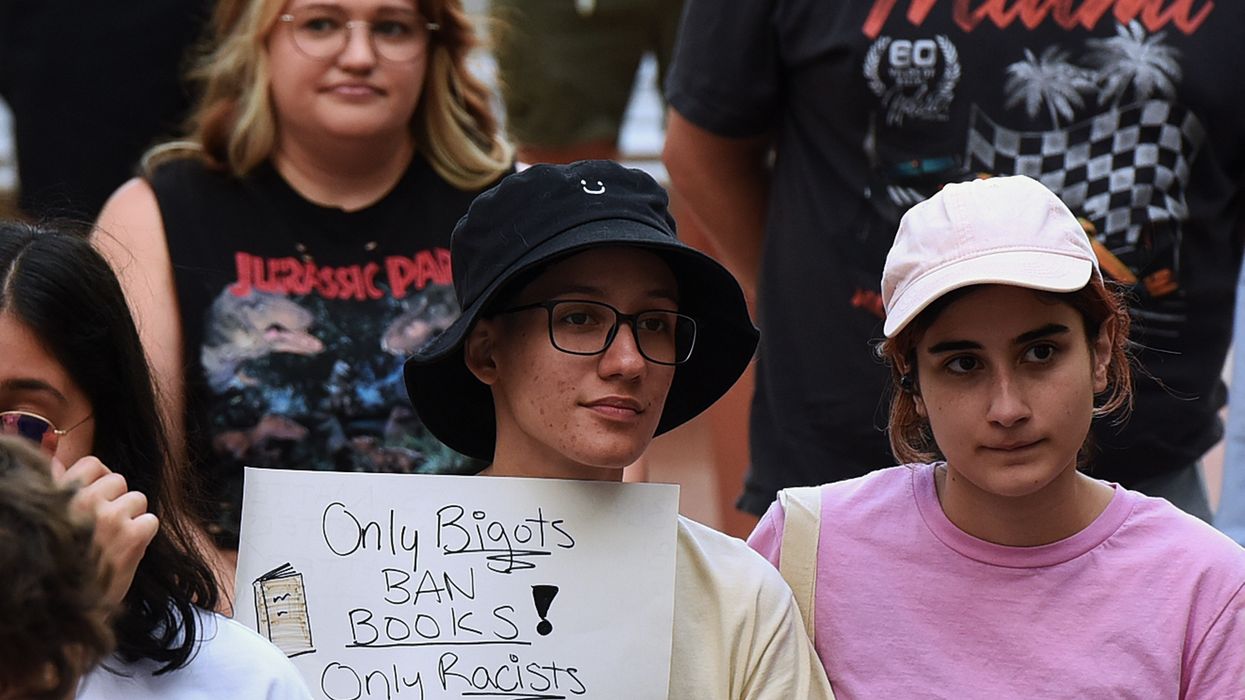 "This report sheds light on the perceptions of parents regarding public libraries and the current issues they face," said John Chrastka, EveryLibrary Institute executive director.
As the right-wing book-banning movement justifies its crusade against U.S. libraries and classrooms with claims of "parental rights," survey data released Wednesday shows that 74% of parents agree or somewhat agree that book bans for public libraries infringe on their right to make decisions for their children.
"This report sheds light on the perceptions of parents regarding public libraries and the current issues they face," said EveryLibrary Institute executive director John Chrastka, whose think tank and professional network partnered with the website Book Riot for a survey conducted this month, as the 2023-24 academic year got underway.
"Together with Book Riot, we are dedicated to empowering libraries to provide exceptional services that meet the unique needs of parents," Chrastka continued. "The results of this survey can be used to improve library services and address parents' concerns, ultimately leading to better experiences at the library for parents and their children."
"Our ultimate goal is to foster an open dialogue around these issues and to support libraries and their users in navigating this challenging landscape."
EveryLibrary Institute and Book Riot aimed to "gather insights from parents and guardians about their opinions on book bans; their trust in libraries and their understanding of librarians' book selection process; and their opinions on sensitive subjects in children's books, such as sex, LGBTQ+ characters and themes, race, and social justice issues."
The organizations found that 92% of respondents feel their children are safe at the library, 67% believe that "banning books is a waste of time," and 58% think librarians should be primarily responsible for what is available at a public library—even though 53% do not know how librarians decide what works should be in a collection.
Additionally, 87% of respondents agree or somewhat agree that "characters in books should be diverse and reflect multiple communities," 82% support teens having access to content on "controversial subjects and themes," 67% believe libraries should carry children's books that discuss topics such as racism and sex, and nearly 61% think collections should include kids' titles with LGBTQ+ characters and stories.
Respondents also want a role in decision-making: 95% believe parents should be involved in helping their children decide what to read; 90% agree or somewhat agree that they should make decisions about what their child reads; and 53% think parent groups should be involved in collection development choices.
Two-thirds of respondents said "no" when asked if their child has ever been uncomfortable with a book they checked out, and about the same share said "no" when asked if a book their child checked out made them, the parent, uncomfortable.
"By gathering insights from parents, we hope to generate a body of informative and thought-provoking material that sheds light on the complex issues surrounding book bans and censorship," said Book Riot's Kelly Jensen. "Our ultimate goal is to foster an open dialogue around these issues and to support libraries and their users in navigating this challenging landscape."

The findings follow a pair of reports from last week that highlighted right-wing efforts to ban books in libraries and schools.
As of August 31, the American Library Association's Office for Intellectual Freedom documented 695 attempts this year to remove a total of 1,915 titles from public and school libraries—an increase from last year, which broke the overall record for book challenges since data collecting began over two decades ago.
During the 2022-23 academic year, PEN America recorded a 33% increase in book bans at K-12 public schools from 2021-22. The group tracked 3,362 instances, which cut off student access to 1,557 unique titles. Over 40% of bans occurred in Florida, where public education is under attack from Republican Gov. Ron DeSantis, a 2024 presidential candidate.
"Those who are bent on the suppression of stories and ideas are turning our schools into battlegrounds, compounding post-pandemic learning loss, driving teachers out of the classroom, and denying the joy of reading to our kids," said PEN America CEO Suzanne Nossel. "By depriving a rising generation of the freedom to read, these bans are eating away at the foundations of our democracy."
News
Independent, nonprofit journalism needs your help.
Please Pitch In
Today!