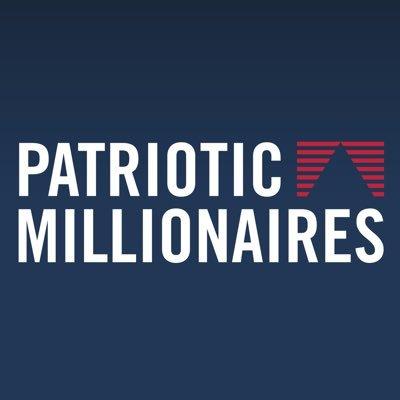 Patriotic Millionaires on Bipartisan Infrastructure Bill: Nowhere Near the Scope and Scale Necessary for the Moment
Democrats Must Pass a Much More Ambitious Reconciliation Package

"We need 'good' legislation, not just 'as good as we can get from Republicans' legislation."
WASHINGTON
This morning, the US Senate voted to pass a bipartisan infrastructure bill with $550 billion in new funding after months of negotiations between Democrats and Republicans. In response, Morris Pearl, Chair of the Patriotic Millionaires and former managing director at BlackRock, Inc., issued the following statement:
"It's great that a bipartisan group in the US Senate was able to agree on something, but the fact is that this bill has nowhere near the scope or the scale necessary to rise to the needs of the present moment. The bipartisan infrastructure bill the Senate just passed addresses almost none of the most pressing needs in this country.
We need "good" legislation, not just "as good as we can get from Republicans" legislation. Democrats in the House and Senate must move immediately and decisively to pass a much more ambitious reconciliation package that would invest in our country's future and begin to address the gross inequality in our nation by raising taxes on millionaires, billionaires, and corporations. They have the majority, they just need the will to fulfill their promises to the American people."
The Patriotic Millionaires is a group of high-net worth Americans who share a profound concern about the destabilizing level of inequality in America. Our work centers on the two things that matter most in a capitalist democracy: power and money. Our goal is to ensure that the country's political economy is structured to meet the needs of regular Americans, rather than just millionaires. We focus on three "first" principles: a highly progressive tax system, a livable minimum wage, and equal political representation for all citizens.
(202) 446-0489
LATEST NEWS
"We cannot allow a handful of extremists in the House to force a government shutdown over cruel and unnecessary cuts to essential programs that workers and families rely on."
A coalition of nearly 90 progressive groups and labor organizations condemned U.S. House Republicans on Friday for threatening a destructive government shutdown as they push for steep and unpopular cuts to education, healthcare, food aid, and environmental protection programs.
"We urge Congress to quickly pass appropriations bills—at least at the spending levels agreed upon in the bipartisan Fiscal Responsibility Act of 2023—and to refuse to entertain legislation that guts critical programs so many Americans rely on," the ProsperUS coalition wrote in a letter to Republican and Democratic congressional leaders.
The Fiscal Responsibility Act was the product of weeks of negotiations between the Biden White House and House Republicans, who threatened to force the U.S. government to default on its debt and send the economy into a tailspin if the administration and congressional Democrats didn't agree to massive spending cuts.
The two sides ultimately reached a deal that included two years of caps on nonmilitary federal spending—which are effectively cuts, as spending won't keep up with inflation—as well as new work requirements for older food aid recipients.
But Republicans quickly reneged on the deal by putting forth appropriations bills that would set federal spending well below the agreed-upon levels—heightening the risk of a government shutdown come September 30, the end of the current fiscal year.
The Center for American Progress—a member of the ProsperUS coalition—estimated in an analysis released last week that the House GOP's 12 appropriations bills would "provide $58 billion less for ongoing nondefense programs than the levels agreed to in the debt limit deal," leaving the programs with their lowest funding levels since at least 1962. The House has only passed one of the dozen appropriations bills.
"There is absolutely no reason for deal-breaking and hostage-taking to be rewarded and encouraged by caving to the demands of a small, reckless group of radical members in the House."
In its letter on Friday, ProsperUS warned that House Republicans' proposals "would hurt workers, families, and communities, particularly low-income people of color, by slashing investments in K-12 education, healthcare, lead poisoning prevention, safe drinking water, cancer research, and more."
"They would also empower the wealthiest Americans and biggest corporations by slashing the resources that the Internal Revenue Service needs to go after wealthy tax cheats and recoup billions of dollars in unpaid taxes," the letter continues. "These cuts fly in the face of what the vast majority of people across the country want."
The coalition cites new survey data from Navigator Research showing that U.S. voters overwhelmingly oppose cuts to clean water programs, education, the Social Security Administration, and other areas that Republicans have targeted in recent weeks.
"We urge the House to abandon the dangerous, partisan path it has chosen so far and instead follow the example set by the Senate and pass appropriations bills that, at minimum, adhere to the contours of the recent bipartisan budget deal, invest appropriately in critical national priorities, and can earn bipartisan support," the coalition wrote. "Simply put, there is absolutely no reason for deal-breaking and hostage-taking to be rewarded and encouraged by caving to the demands of a small, reckless group of radical members in the House."
The letter comes a day after House GOP leaders were forced to postpone a procedural vote on the chamber's military appropriations bill. As Reutersreported, the move "may be a sign that Republicans, who hold a narrow 222-212 majority, are not confident they have the votes to pass the measure, as party hardliners push back against Speaker Kevin McCarthy."
A day earlier, McCarthy (R-Calif.) was accused of caving to the most far-right members of his caucus by announcing an impeachment inquiry into President Joe Biden.
McCarthy is also facing pressure from members of the far-right House Freedom Caucus to pursue even larger cuts to federal spending than what's already been proposed, further increasing the likelihood of a shutdown that would risk damage to critical nutrition assistance programs and other services.
"We're gonna have a shutdown," Rep. Ralph Norman (R-S.C.), a Freedom Caucus member, said earlier this week. "It's just a matter of how long."
Bilal Baydoun, director of policy and research at the Groundwork Collaborative—which is part of the ProsperUS coalition—said Friday that "the choice by House Republicans to deprive the American public of food aid, clean water funding, or lifesaving cancer research is not about red ink or 'funding levels.'"
"It's a moral verdict that the majority of communities and vulnerable Americans do not deserve public support," said Baydoun. "We cannot allow a handful of extremists in the House to force a government shutdown over cruel and unnecessary cuts to essential programs that workers and families rely on."
News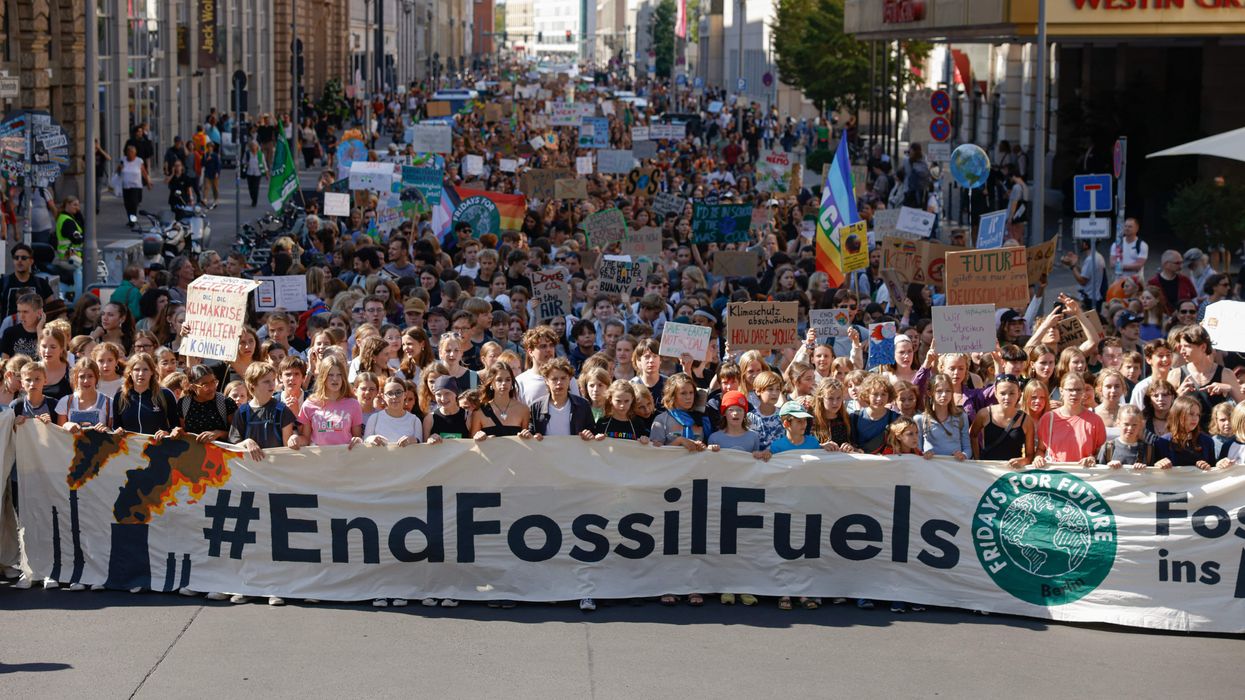 "Climate catastrophe is already devastating the lives and livelihoods of people across the world and primarily those in the Global South, who are least responsible for causing it," said one campaigner.
Hundreds of demonstrations around the world demanding "a rapid, just, and equitable phaseout from fossil fuels in favor of sustainable renewables" began Friday ahead of United Nations Secretary-General António Guterres' Climate Ambition Summit in New York City next week.
"From Pacific nations, heavily affected by sea-level rise and storms, through Mumbai to Manila, London to Nairobi, over 650 actions are planned in 60 countries, culminating in a march in New York City on September 17," according to protest organizers.
The Global Fight to End Fossil Fuels "opposes the fossil fuel industry, which has made obscene profits at the expense of the world's people, biodiversity, and a safe and livable climate," added organizers, who expect millions to join the protests over the coming days. "It calls on governments and companies to immediately end fossil fuel expansion and subsidies."
Demonstrators, journalists, and supporters shared footage from Friday's actions on social media with the hashtag #EndFossilFuels.
The actions come amid the hottest summer on record and as experts continue to sound the alarm over unwavering environmental destruction, especially by the fossil fuel industry and its political and financial backers.
International scientists revealed this week that six of nine barriers that ensure Earth is a "safe operating space for humanity" have been breached, which followed recent findings that greenhouse gas concentrations, global sea level, and ocean heat content hit record highs last year.
Climate chaos—fueled by oil and gas giants that have spend decades lying about their planet-heating pollution along with rich governments and institutions that continue to break their promises and pump billions of dollars into the fossil fuel industry—is already killing people. The death toll from flooding in Libya this week has climbed to 11,300.
"The world is at a tipping point," said Tyrone Scott of the War on Want and the Climate Justice Coalition in the United Kingdom ahead of protests this weekend. "Climate catastrophe is already devastating the lives and livelihoods of people across the world and primarily those in the Global South, who are least responsible for causing it."
"We must uproot the systems of exploitation and oppression which keep the majority of the world's population in poverty while lining the pockets of corporates and rich shareholders. This is a watershed moment. How we respond will determine how the world is shaped for generations," Scott stressed. "We demand an end to fossil fuels. We demand a fast and fair transition. We demand climate justice."
Tens of thousands of activists from across the United States are expected to join the March to End Fossil Fuels in New York City on Sunday. Marchers—backed by hundreds of organizations and scientists—have four key demands for President Joe Biden:
Stop federal approval for new fossil fuel projects and repeal permits for climate bombs like the Willow project and the Mountain Valley Pipeline;
Phase out fossil drilling on our public lands and waters;
Declare a climate emergency to halt fossil fuel exports and investments abroad, and turbocharge the buildout of more just, resilient distributed energy (like rooftop and community solar); and
Provide a just transition to a renewable energy future that generates millions of jobs while supporting workers' and community rights, job security, and employment equity.
"Despite his numerous and explicit pledges to the contrary, President Biden has turned out to be a strong supporter of fossil fuels," Food & Water Watch Northeast region director Alex Beauchamp, an organizer of the NYC march, said in a statement Friday.
"With each passing day, Biden's failure to lead on clean energy drives the planet deeper into the abyss of irrevocable climate chaos," he added. "We're marching to send a message that true climate leadership means halting new oil and gas drilling and fracking, and rejecting new fossil fuel infrastructure like pipelines and export terminals—beginning now."
Betamia Coronel, senior national organizer for climate justice at the Center for Popular Democracy, highlighted in a Friday opinion piece for Common Dreams that "BIPOC communities have always lived at the intersection of wealth disparity and the climate crisis," and "it is Black, Indigenous, immigrant, working-class people of color who have been leading the efforts in the lead up to this historic march in NYC."
Dozens of actors, activists, and climate leaders—including Bill McKibben, Blair Imani, Cornel West, Jameela Jamil, Jane Fonda, Rev. Lennox Yearwood Jr., Mark Ruffalo, Naomi Klein, Rosario Dawson, Rep. Rashida Tlaib (D-Mich.), Rebecca Solnit, and Vanessa Nakate—joined more than 700 groups on Friday in sending a pre-march letter to the U.S. president.
"The U.S. is the top global oil and gas producer and the largest historic greenhouse gas emitter. It is imperative that the U.S. change course and become a true global climate leader by ending the extraction and use of fossil fuels," they wrote, urging Biden to commit to phasing out fossil fuels at the U.N. summit on September 20. "The world is watching."
Biden has also faced mounting pressure to declare a climate emergency this year, as the United States has endured a record-setting number of billion-dollar disasters, from a deadly fire in Hawaii to Hurricane Idalia. Since last week, eight campaigners have been arrested outside the White House for a series of protests demanding a climate emergency declaration and other executive action to end the era of fossil fuels.
Organizers planned to continue the nonviolent civil disobedience campaign in Washington, D.C. on Friday, and warned that "each day Biden delays in taking this step is precious time lost to save lives and secure a livable future for humankind and countless other species."
News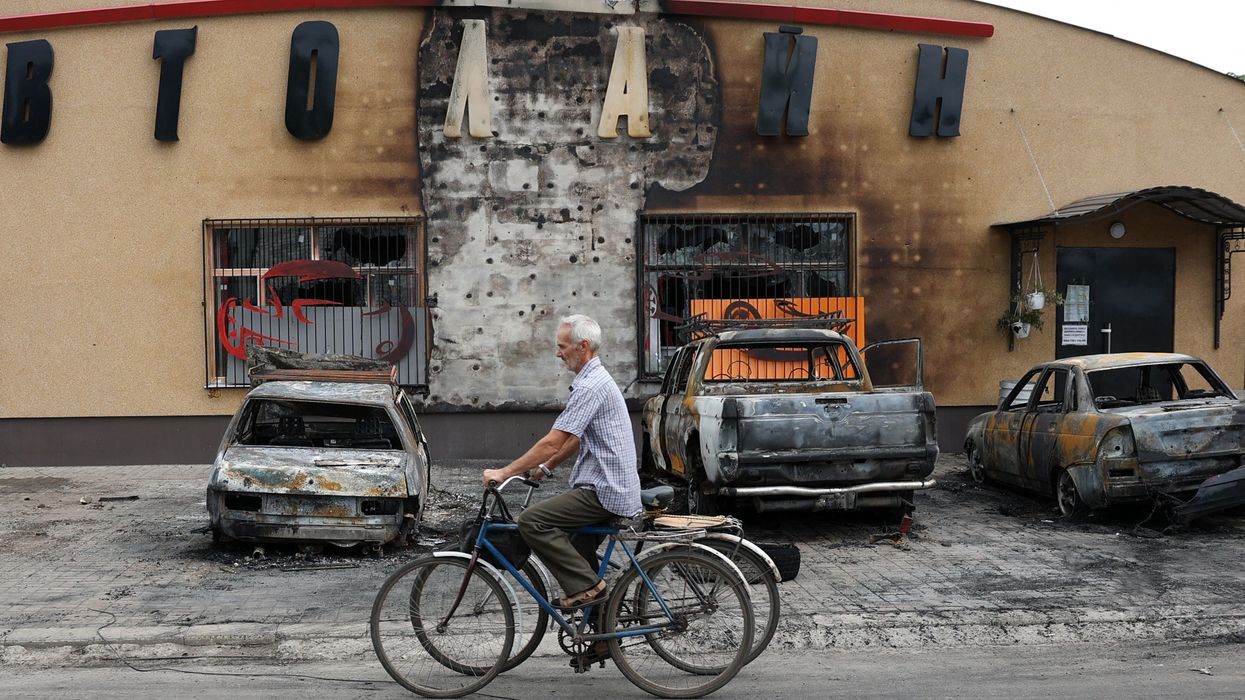 Nobel laureate Mary Wareham admonished nonsignatories to the Convention on Cluster Munitions to join "without delay" as Bulgaria, Slovakia, and South Africa said they have dismantled their arsenals.
As the U.S. gives cluster bombs to Ukraine—and as the Biden administration reportedly moves to send longer-range missiles armed with them to Kyiv—three nations this week said they've finished destroying their stockpiles of the internationally banned weapons amid renewed calls for more countries to join the Convention on Cluster Munitions.
The 11th meeting of parties to the 2008 Convention on Cluster Munitions (CCM), to which 112 nations are party, wrapped up Thursday in Geneva on a high note as Bulgaria, Slovakia, and South Africa announced that they have completed the destruction of a combined 9,582 bombs and 585,422 bomblets. South Africa is the only country that once possessed but gave up both nuclear weapons and cluster bombs.
"Countries that have joined the Convention on Cluster Munitions have repeatedly demonstrated their commitment to destroy their stockpiles, clear remnants, and oppose the weapon's use," said Human Rights Watch acting arms director Mary Wareham, who played a key role in the CCM's success.
"The main concern remains with countries unwilling to ban the weapon that may continue to use them now or start using them in the future," added Wareham, who was also jointly awarded the 1997 Nobel Peace Prize for her work with the International Campaign to Ban Landmines.
As Common Dreamsreported earlier this month, the refusal of countries including Russia, Ukraine, and the United States to end the use and transfer of cluster munitions caused nearly 1,000 civilian casualties last year.
"Countries that have not banned cluster munitions should heed the call of the United Nations secretary-general and join the convention without delay," Wareham asserted.
A youth contingent of the advocacy group Mine Action Fellows, members of which attended the Geneva meeting, said in a statement that "while we have much to celebrate, we cannot ignore the harm done by states not party and the escalation in deaths from cluster munitions."
"Producing, using, and transferring cluster munitions by any actor, under any circumstance is unacceptable," the group added. "We call for an immediate stop to the transfer and use of this indiscriminate weapon."
The remarks from Wareham and Mine Action Fellows came as the Biden administration is reportedly close to approving the shipment of longer-range ballistic missiles armed with cluster munitions to Ukrainian forces defending their country from a 19-month Russian invasion. This, after the U.S. began sending 155mm artillery shells to Kyiv earlier this summer. Russian and Ukrainian forces have both killed and wounded soldiers and civilians with cluster bombs during the war.

Earlier this month, the U.S. also started sending Ukraine depleted uranium munitions, which have been linked to birth defects, miscarriages, and cancers after their use by U.S. forces in Iraq and Yugoslavia.
Multiple congressional efforts to prohibit the export of U.S. cluster munitions to any country have failed to advance. Earlier this summer, the Republican-controlled House Rules Committee voted down a resolution proposed by Reps. Ilhan Omar (D-Minn.) and Sara Jacobs (D-Calif.), while backing a new one led by Rep. Marjorie Taylor Greene (R-Ga.)—whose controversial sponsorship doomed the measure.
The latest effort to thwart the transfer of cluster bombs is an amendment spearheaded by Jacobs and Rep. Matt Gaetz (R-Fla.), with Reps. Jesús "Chuy" García (D-Ill.), Barbara Lee (D-Calif.), Thomas Massie (R-Ky.), Jim McGovern (D-Mass.), Andrea Salinas (D-Ore.), Rashida Tlaib (D-Mich.), and Jill Tokuda (D-Hawaii) as co-sponsors.
"Sending cluster munitions anywhere in the world makes the United States complicit in the unavoidable and inevitable civilian harm that follows," Jacobs toldThe Intercept on Thursday. "No amount of guardrails or promised precautions are enough because these weapons are unpredictable and maim and kill indiscriminately—potentially years after their intended use."
Claiming that the U.S. "has a strong reputation for upholding human rights around the world," Jacobs added that "that message is muddied when we're willing to send these weapons that are infamous for the carnage they cause."
Since the end of the Vietnam War, unexploded cluster munitions—which can look like inviting toys to children who find them—have killed approximately 20,000 civilians in Laos, where the U.S. dropped more bombs than all sides in World War II combined. The U.S. dropped as many as 270 million cluster bombs on Laos, and less than 1% of the unexploded bomblets have been cleared since. They are still killing civilians to this day.
News
Independent, nonprofit journalism needs your help.
Please Pitch In
Today!