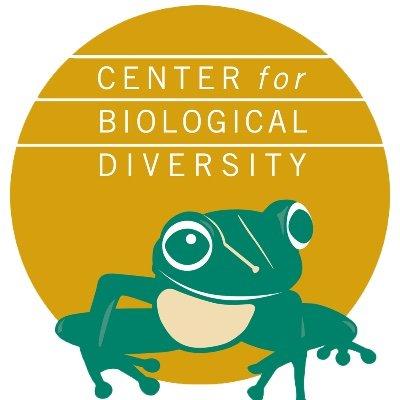 For Immediate Release
Contact:
Liz Trotter, Earthjustice, (305) 332-5395, etrotter@earthjustice.org
Kristen Monsell, Center for Biological Diversity, (510) 844-7135, kmonsell@biologicaldiversity.org
Anne Hawke, NRDC, (202) 329-1463, ahawke@nrdc.org
Jake Bleich, Defenders of Wildlife, (202) 772-3208, jbleich@defenders.org
Dustin Cranor, Oceana, (954) 348-1314, dcranor@oceana.org
Groups File Third Intervention Defending Pause on Federal Oil, Gas Leasing
Motion responds to 13 states challenging leasing pause.
WASHINGTON
Conservation groups moved today to intervene in a lawsuit defending the Biden administration's decision to pause new federal oil and gas leasing while it reviews the government leasing program.
Earthjustice, Healthy Gulf, Center for Biological Diversity, Cook Inletkeeper, Defenders of Wildlife, Friends of the Earth, Oceana, Sierra Club, The Wilderness Society and the Natural Resources Defense Council filed the motion in response to a lawsuit in Louisiana by 13 states that seeks to end the pause and force the government to immediately offer federal lands and waters for lease.
"It's time to end the federal fossil fuel leasing program. We can't let Big Oil continue to exploit our federal lands and oceans as it pollutes communities and drives climate change," said Kristen Monsell, oceans legal director at the Center for Biological Diversity. "We support the Biden administration's current review, which should show that we need to stop leasing and start phasing out offshore drilling and fracking."
This motion marks the third intervention in defense of the administration's leasing pause after a diverse coalition of stakeholders and a coalition of businesses each filed separate motions last week.
"Big Oil and their politician friends are once again screaming the sky is falling over this leasing pause," said Chris Eaton, oceans attorney at Earthjustice. "But industry is using less than 20% of the 12 million acres they already have locked up in the Gulf of Mexico for offshore drilling. This isn't a jobs issue, it's about handing over our public lands and waters to industry. The Biden administration is one hundred percent within their legal authority to pause leasing while they undertake an overdue and necessary review of the current leasing program."
"There has never been a truly comprehensive review of the offshore leasing program in the Gulf of Mexico from point of lease to point of refining -- a true accounting for all of the negative environmental and human health impacts of the industry cradle to grave," said Cynthia Sarthou, executive director at Healthy Gulf. "We believe that the current pause in leasing is needed to allow such a review. This pause will not stop oil and gas development in the near future because the industry still has an extraordinary amount of existing leases it has yet to develop."
"The oil and gas leasing program on public lands and offshore has been deeply broken since its inception; we fully support the Biden administration's pause on new leasing until a full analysis is complete," said Eric Huber, managing attorney at Sierra Club. "Excessive fossil fuel leasing on lands and waters is damaging millions of acres of nature, creates a quarter of our domestic greenhouse gas emissions, and contributes deeply to the climate crisis. It is time to truly understand the weight of these impacts on communities and the environment, and ultimately phase out this program once and for all."
"Fossil fuel-driven climate change is wreaking havoc on the lives and livelihoods of all Americans, and the leasing pause represents a critical and overdue reckoning," said Diane Hoskins, campaign director at Oceana. "The impacts of dirty and dangerous offshore drilling are clear from disasters like BP's Deepwater Horizon blowout. To avert even worse impacts from climate change, we must accelerate the transition from fossil fuels to clean, renewable energy like offshore wind. The industry has stockpiled offshore oil and gas leases, which continue unchecked. It is no longer in the public interest to continue down this path. The leasing pause is prudent and timely, and we owe this serious evaluation to our kids, grandchildren and all future generations."
"In the singular drive for profits, oil corporations want to expand toxic drilling and dumping in the frontier waters of Alaska's Cook Inlet," said Bob Shavelson, advocacy director for Cook Inletkeeper. "Last year federal managers closed the venerable Pacific cod fishery in these very same waters, and they cited climate change as the culprit for low population numbers. Cook Inlet boasts world-class renewable energy assets -- including tidal, geothermal and wind -- and we need to protect Alaska fisheries and the countless families they support with a modern approach to energy development."
"Offshore drilling lines the pockets of few at the expense of many," said Jane Davenport, senior attorney at Defenders of Wildlife. "Offshore oil development in the Gulf of Mexico has already decimated over a dozen whale and dolphin species and countless imperiled marine species, including sea turtles, polar bears and sea otters. We fully support the Biden administration's decision to pause and study the leasing program before allowing more corporations to endanger marine species, fisheries and coastal communities in pursuit of extreme oil."
"Instead of working with Interior on this review to help ensure a just and equitable transition for their communities away from dependence on climate-destroying fossil fuels, these states have run straight to the courtroom," said Ben Tettlebaum, senior staff attorney at The Wilderness Society. "We will defend this lawful pause on leasing and ensure public lands and offshore waters benefit all of us."
"The Biden administration's pause on new leasing is a sensible approach that recognizes the urgency of transitioning to a clean energy economy and protecting vulnerable communities," said Irene Guttierez, senior attorney for the Nature program at the Natural Resources Defense Council. "The Department of the Interior -- not the fossil fuel industry -- has the right to determine when and whether to issue offshore oil and gas leases. We are in a climate and biodiversity crisis, and those decisions are more critical now than ever."
"Big Oil has spent decades harming the Gulf of Mexico and surrounding communities, extracting corporate profit at the expense of people and our climate," said Hallie Templeton, deputy legal director for Friends of the Earth. "We fully support President Biden's pause on oil and gas leasing, a commendable first step by the administration. For too long fossil fuel companies have controlled the fate of the Gulf in reckless pursuit of money. This leasing pause wrestles that control away from Big Oil and says to the world that people and the planet come before corporate profits."
Background
On January 27, 2021, President Biden issued an executive order on tackling the climate crisis at home and abroad, to help align the management of America's public lands and waters with the nation's climate, conservation, and clean energy goals. The executive order directs the Secretary of the Interior, "[t]o the extent consistent with applicable law," to pause new oil and gas leasing on federal lands and waters "pending completion of a comprehensive review and reconsideration of Federal oil and gas permitting and leasing practices in light of the Secretary of the Interior's broad stewardship responsibilities over the public lands and in offshore waters, including potential climate and other impacts."
The pause provides a chance for the Department of the Interior to ensure the federal oil and gas program serves the public interest and restores balance on America's public lands to benefit current and future generations.
At the Center for Biological Diversity, we believe that the welfare of human beings is deeply linked to nature — to the existence in our world of a vast diversity of wild animals and plants. Because diversity has intrinsic value, and because its loss impoverishes society, we work to secure a future for all species, great and small, hovering on the brink of extinction. We do so through science, law and creative media, with a focus on protecting the lands, waters and climate that species need to survive.
(520) 623-5252
LATEST NEWS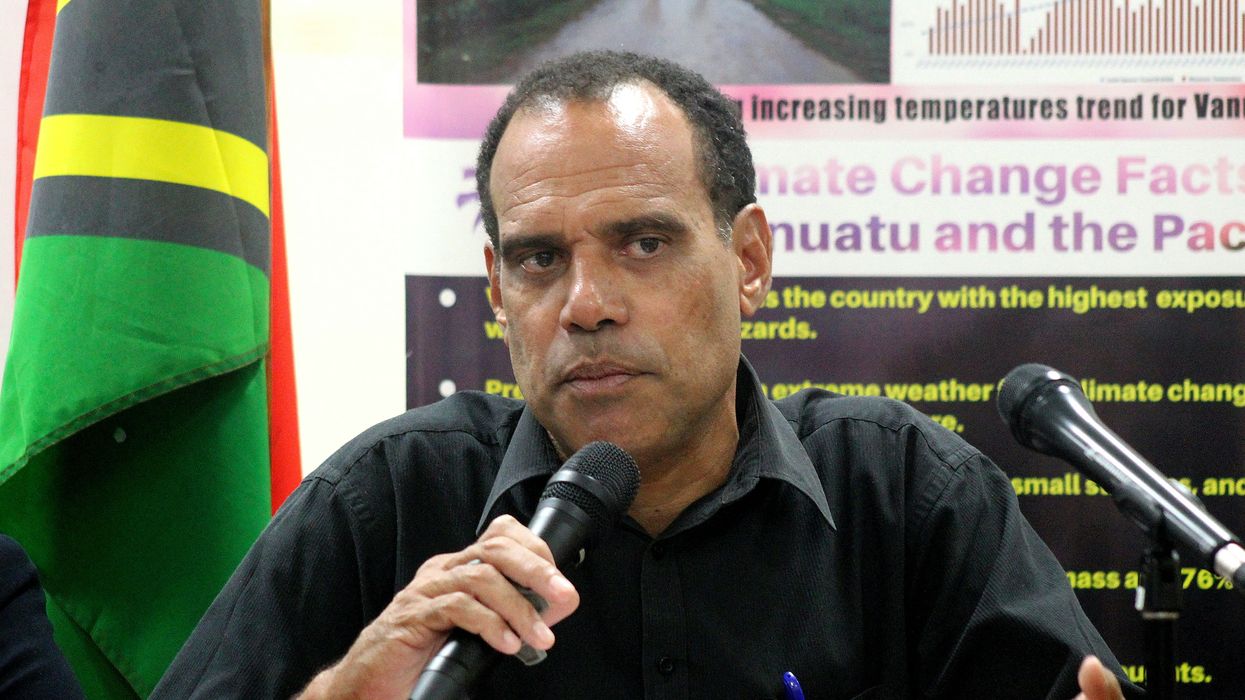 "As Pacific leaders shoulder the burden of climate leadership," this call "is a reminder that despite the doom and gloom, another world is possible, a fossil fuel-free world that is just, equitable, and sustainable."
Climate justice advocates celebrated Friday after a half-dozen island nations committed to building a "fossil fuel-free Pacific" and urged all governments to join them in bringing about an equitable phaseout of coal, oil, and gas.
From Wednesday to Friday, Vanuatu and Tuvalu co-hosted the 2nd Pacific Ministerial Dialogue on Pathways for the Global Just Transition from Fossil Fuels in Port Vila, Vanuatu. The summit came amid an ongoing state of emergency in Vanuatu, which was hammered earlier this month by a pair of Category 4 cyclones. Participants described the current devastation as "just the most recent example of the extensive and ongoing fossil fuel-induced loss and damage suffered by" Pacific Islanders.
At the conclusion of the three-day meeting, ministers and officials from six countries—Vanuatu, Tuvalu, Tonga, Fiji, Niue, and the Solomon Islands—agreed on the Port Vila Call for a Just Transition to a Fossil Fuel-Free Pacific.
The resolution—issued "on behalf of present and future generations, communities on the frontlines, and all of humanity"—calls for immediate international action to accelerate a just transition from dirty to clean energy in accordance with what experts have shown is necessary to avert the worst consequences of the climate crisis.
"The science is clear that fossil fuels are to blame for the climate emergency," says the document. "This is a crisis driven by the greed of an exploitative industry and its enablers. It is not acceptable that countries and companies are still planning on producing more than double the amount of fossil fuels by 2030 than the world can burn to limit warming to 1.5°C."
"Every second wasted on climate inaction and clinging to fossil fuels puts lives, homes, livelihoods, cultures, and ecosystems in jeopardy."
Among other things, the resolution implores policymakers in the Pacific and around the world to join the Beyond Oil and Gas Alliance (BOGA) and negotiate a fossil fuel nonproliferation treaty (FFNPT) to end the expansion of coal, oil, and gas extraction and to expedite a fair global shift to renewables. It also cautions lawmakers to avoid phrases like "unabated" or "inefficient," warning that such terminology "creates loopholes for fossil fuel producers."
In a statement, Oil Change International global policy lead Romain Ioualalen said, "Faced with devastating climate impacts resulting from the world's continued addiction to fossil fuels, Pacific governments have once again demonstrated what true leadership looks like."
"The contrast between the U.S. and other rich countries approving new oil and gas fields in clear defiance of science, and the commitment to build a prosperous and resilient fossil fuel-free Pacific could not be more obvious and highlights the complete disregard the fossil fuel industry and its enablers have for people and communities most affected by the climate crisis," said Ioualalen. "Countries must urgently heed the call for an immediate end to fossil fuel expansion that is emanating from the Pacific. We look forward to Pacific countries continuing to be vocal champions for a just and equitable phaseout of fossil fuels on the global stage, including at COP28 later this year."
Samoan climate justice activist Brianna Fruean said that "this dialogue of Pacific ministers is stepping outside of the box and acknowledging that we must try new ways to save ourselves—and that is going to require a fossil fuel nonproliferation treaty."
"While the guilty continue to reap profit off the expansion of fossil fuels behind our backs," said Fruean, "the meeting is bringing renewed energy to Pacific leadership that will not just echo across our islands but drive action with our allies globally."
Despite bearing almost no historical responsibility for the climate crisis, Pacific Islanders are acutely vulnerable to rising sea levels and increasingly frequent and severe extreme weather. Policymakers from the region have long been leaders in demanding ambitious efforts to slash greenhouse gas pollution at speed and scale, including by putting the idea of a FFNPT on the table in 2016. Just last year, Vanuatu and Tuvalu became the first national governments to endorse such a measure, while Tuvalu also recently joined the BOGA as a core member.
"Every second wasted on climate inaction and clinging to fossil fuels puts lives, homes, livelihoods, cultures, and ecosystems in jeopardy," said Lavetanalagi Seru, regional policy coordinator at Pacific Islands Climate Action Network. "As Pacific leaders shoulder the burden of climate leadership, the Port Vila Call for a Just Transition to a Fossil Fuel-Free Pacific is a reminder that despite the doom and gloom, another world is possible, a fossil fuel-free world that is just, equitable, and sustainable."
The region's new resolution states that "we have the power and responsibility to lead, and we will. Pacific leaders called for the Paris agreement to limit warming to 1.5°C, and have demanded an end to the development and expansion of fossil fuel-extracting industries, starting with new coal mines. Pacific civil society has challenged the world to step up the fight for urgent fossil fuel phaseout and effective climate action."
In recent weeks, Vanuatu has been leading an ongoing push for an advisory opinion from the International Court of Justice (ICJ) on "how existing international laws can be applied to strengthen action on climate change, protect people and the environment, and save the Paris agreement."
The document unveiled Friday calls for "redoubled efforts to reaffirm, strengthen, and codify legal obligations with respect to the global phaseout of fossil fuels," including by supporting the adoption of the Vanuatu-led ICJ resolution at the meeting of the U.N. General Assembly at the end of this month.
According to Seru, "The phaseout of fossil fuels is not only a challenge, but an opportunity to promote economic development and innovation in the Pacific region."
To that end, the Port Vila document calls for "new Pacific-tailored development pathways based on 100% renewable energy."
"The contrast between the U.S. and other rich countries approving new oil and gas fields in clear defiance of science, and the commitment to build a prosperous and resilient fossil fuel-free Pacific could not be more obvious."
350.org Pacific managing director Joseph Sikulu welcomed this week's developments, saying in a statement that "our people need global leaders to follow the innovation of Pacific representatives at the Pacific Ministerial Dialogue, it is a matter of survival."
"Our people also need energy to power their homes, their fishing boats, and their schools, which is where we are ready to work with governments in their commitment to progress the development and implementation of fossil-free development pathways at the grassroots level," he added.
In order to make that a reality, the document calls for increasing "public and private finance for the just transition from fossil fuels to renewable energy at the scale required, with innovative, simplified mechanisms and reforms of existing financial institutions."
Cansin Leylim, 350.org associate director of global campaigns, applauded Pacific Island nations for "once again showing immense leadership in the fight against the climate crisis, a crisis they had no part in creating."
"Pacific leaders have told us time and again—in order to stay below 1.5°C, the historically responsible countries need to immediately commit to a fossil fuel-free future without loopholes," said Leylim. "This means ensuring adequate and grant-based climate finance is swiftly mobilized to both adapt to the crisis and limit the heating to survival limits, ensuring energy independence and resource resilience with renewable energy."
Tzeporah Berman, chair of the Fossil Fuel Non-Proliferation Treaty Initiative, predicted that this week's "historic meeting" will "have far-reaching consequences."
News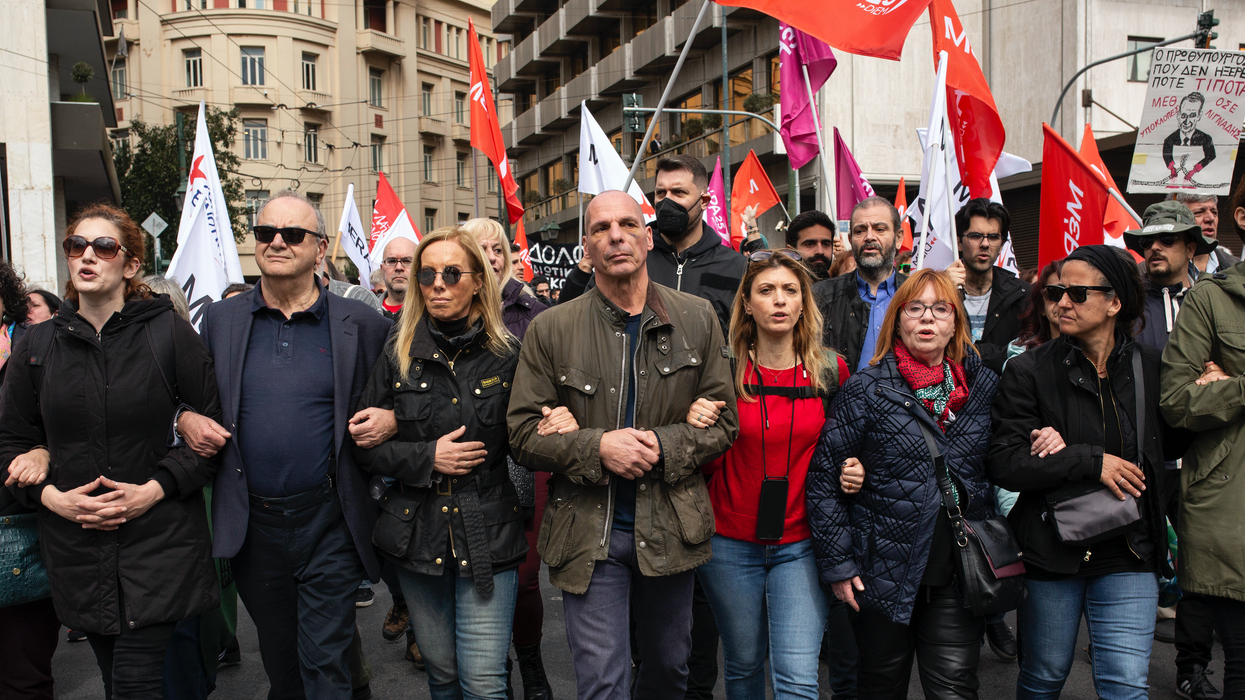 "It is the debt of every worker, every youth, to continue to demand the obvious: This crime must not be covered up!"
At least tens of thousands of demonstrators took to the streets of cities and towns across Greece Thursday to protest the government's handling of last month's Tempi railway disaster and the capitalist system that puts profits before people.
The general strike—which was called by the General Confederation of Greek Workers and public sector workers umbrella organization ADEDY—crippled transportation on land, in the air, and at sea. In the capital Athens, metro services and the tram network were shut down. Many flights were canceled due to a work stoppage by air traffic controllers, and many ferries remained docked.
In addition to Athens, demonstrations took place in Thessaloniki, Patras, and elsewhere—including in Tempi, site of the February 28 head-on collision between a freight train and a high-speed inter-city passenger train carrying 350 people. Fifty-seven people died and 85 others were injured in the crash.
"Had this been a serious country, everybody at the transport ministry would be in handcuffs."
Much of the Greek left blames the disaster on railway staffing cuts, outdated technology, and infrastructure neglect and degradation caused by years of severe fiscal austerity measures.
Rallying under the slogan "this crime will not be forgotten; we will be the voice of all the dead," demonstrators shouted "murderers" and "the tears have dried up and turned into rage" as they marched in central Athens.
"This was mass murder," Pavlos Aslanidis, the father of one of the passengers killed in the crash, toldAlphaTV. "Had this been a serious country, everybody at the transport ministry would be in handcuffs."
According toWorld Socialist Web Site:
Demonstrations were replete with anti-government slogans and chants rejecting the initial claims of New Democracy Prime Minister Kyriakos Mitsotakis that the disaster was the result of the errors of a single station master in Larissa—the passenger train's last stop before the crash. Some banners in Syntagma Square outside Parliament read, "It was no human error, it was a crime" and "Our dead, your profits."
"Two weeks have passed since the crime in Tempi, Larissa and the country is shaking with anger and daily struggle," the All-Workers Militant Front (PAME), which backed the strike, said in a statement. "It is the debt of every worker, every youth, to continue to demand the obvious: This crime must not be covered up!"

PAME accused the government of trying "to block people's participation to the strike by... spreading fake news about the legality of the strike in the public sector and on the day of the strike, ordering the closing of Athens central Metro stations, so as to block people from reaching Athens center and participating in the rallies."
"At the same time, a series of photos and videos on social media and news sites show unprovoked police violence and also persons with civilian clothes, black hoods, and covered faces sitting side by side with the riot police forces," the leftist confederation added.
Video footage posted on social media showed what appeared to be unprovoked attacks by police on demonstrators. Other footage showed people throwing Molotov cocktails and projectiles at police.
Among those participating in Thursday's demonstrations was Yanis Varoufakis, the leftist lawmaker and former finance minister who is recovering from a brutal assault last Friday.
"The masterminds of the austerity and dogmatic privatization that led us to disaster were international institutions: the IMF, the European Central Bank, and the European Commission—the so-called Troika," the Varoufakis-led MeRA25 party said in a statement before Thursday's strike, referring to the International Monetary Fund.
"Their reach is global, and the victims of their inane policies are spread from Argentina to Greece and beyond," the leftist party added. "The fight against them is something that must unite all progressive forces."
News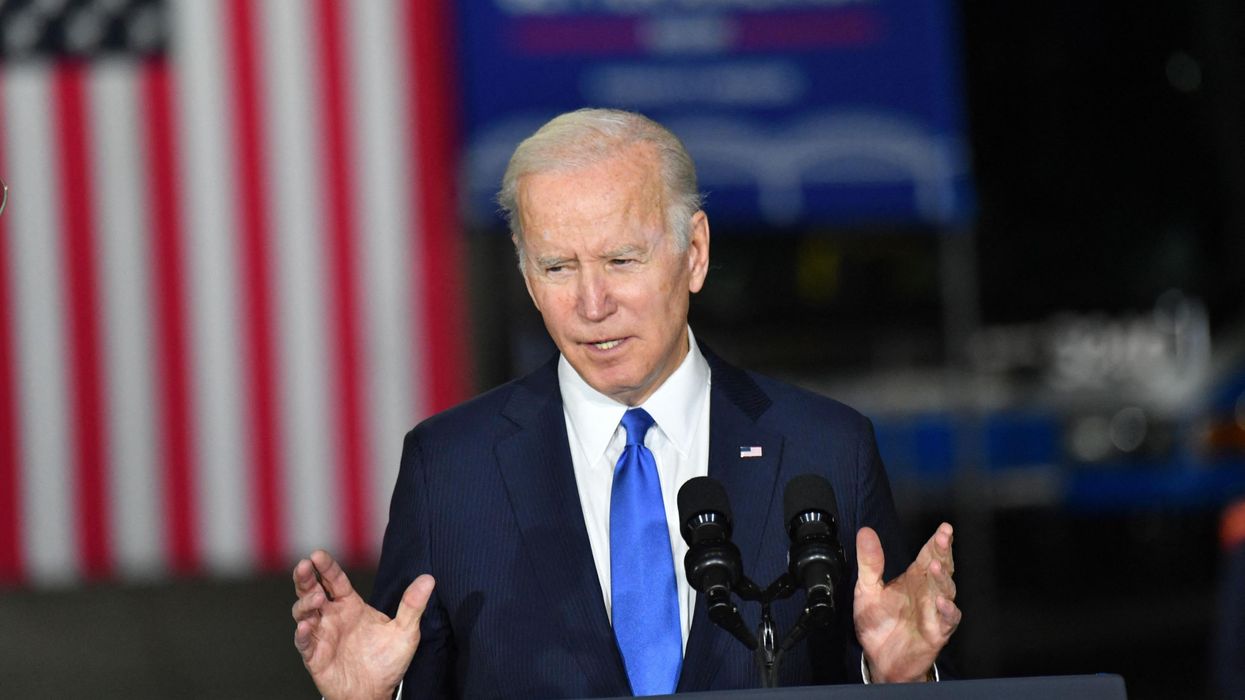 The president is "rightfully fighting to hold bank executives accountable for their failures," said Sen. Elizabeth Warren.
Days after U.S. Sen. Elizabeth Warren expressed outrage over the bonuses that Silicon Valley Bank executives were handing out hours before the bank failed, President Joe Biden on Friday called on Congress to strengthen regulatory powers to hold officials at failed banks accountable.
The president said in a statement that the White House's authority to hold SVB executives directly responsible for the failure is limited, but said Congress can and should pass legislation granting the Federal Deposit Insurance Corporation (FDIC) broader powers to take action against former SVB CEO Greg Becker and other executives.
He called on lawmakers to allow the FDIC to claw back compensation from executives, impose civil penalties, and bar executives from working in the financial services industry if their banks failed "due to mismanagement and excessive risk taking."
"I'm firmly committed to accountability for those responsible for this mess," said Biden. "No one is above the law—and strengthening accountability is an important deterrent to prevent mismanagement in the future. Congress must act to impose tougher penalties for senior bank executives whose mismanagement contributed to their institutions failing."
SVB and Becker himself raked in significant profits by largely serving wealthy tech companies, and took a risk by holding an "abnormally large ratio of uninsured deposits," as Warren said earlier this week. They also invested a large share of the funds into long-term Treasury bonds whose value plummeted as interest rates rose, causing the bank's clients to withdraw their money only to find SVB did not have sufficient funds on hand.
In addition to giving out bonuses hours before SVB collapsed, Becker sold roughly $3 million worth of shares of the bank in the weeks before the failure.

Currently
the FDIC can claw back compensation of executives of the nation's largest banks if they fail and can only impose other penalties if executives act with "recklessness" or "willful or continuing disregard."
Biden called for Congress to allow the regulatory agency to penalize executives for "negligent" conduct as well.
Warren applauded Biden's call, saying the president is "rightfully fighting to hold bank executives accountable for their failures."
"We need to claw back every penny of their unjust pay and bonuses, impose real penalties, and ensure these executives never work in the banking industry again," said the Massachusetts Democrat. "Congress must step up."

News
SUPPORT OUR WORK.
We are independent, non-profit, advertising-free and 100%
reader supported.