WASHINGTON
Today, 145 groups sent a joint letter urging Joe Biden to ban all fossil fuel executives, lobbyists, and representatives from any advisory or official position on his campaign, transition team, cabinet, and administration. The groups ranged from progressive to youth to faith to environmental justice to climate groups and beyond, and cited new polling from Data for Progress and Fossil Free Media showing strong opposition to fossil fuel representatives serving in a Biden administration.
Click here to read the joint letter from 145 groups to the Biden campaign.
"My generation is on the line and Biden will lose significant support from young people, as well as everyone else concerned about climate change, were he to allow any fossil fuel executives, lobbyists, or other representatives onto his campaign or administration in any form. Joe Biden has made a commitment to an aggressive climate plan but no climate action commitment can stand in the face of fossil fuel influence. If Biden truly cares about young people like me, he will ban any fossil fuel representatives from taking part in his team," said Lana Weidgenant, Deputy Director of Partnerships at Zero Hour.
"Joe Biden can't address the climate crisis while listening to people taking checks from the fossil fuel industry like Ernest Moniz, Jason Bordoff, Ken Salazar, and Heather Zichal. Biden must act boldly in collaboration with grassroots leaders fighting for environmental and climate justice--which means ruling out positions for dangerous 'all-of-the-above' boosters whose time has passed," said Collin Rees, Senior Campaigner at Oil Change U.S.
"In a time of cascading crises that will require a just and thoughtful recovery, fossil fuel CEOs have shown they care only about their bottom line. Joe Biden put forward an ambitious plan to advance environmental justice, tackle the climate emergency, and build back better from the crises we face. But personnel is policy. Stacking the White House with fossil fuel industry executives and lobbyists is a Trump move, and Biden should know better. Our movements--and millions of voters--demand a president ready to look fossil fuel CEOs in the eye and tell them their reign is over," said Charlie Jiang, climate campaigner with Greenpeace USA.
"Joe Biden is championing the most aggressive climate and environmental justice plan of any presidential candidate ever. But if he hires fossil fuel representatives, he'll lose any credibility he has built among youth activists, frontline communities, and all of us impacted by the climate crisis. We are under no illusion that the same people who extracted massive wealth by creating this existential problem will have any real interest or ability to solve it," said Kaniela Ing, Climate Justice Director with People's Action.
"A leader cannot stand for the people and not protect the people. This current administration has provided us with the results of said behavior and it has not gone well. The people deserve to be protected over profit. Joe Biden's recent commitment to an aggressive climate plan that includes environmental justice protects the people. After making such a commitment it is expected that it would be fulfilled. The fossil fuel industry has not only done extreme damage to the environment it has also done extreme damage to black, brown, indigenous, and poor communities. We call on the Biden Administration and the DNC to partner with the desires of the suffering by saying no to having fossil fuel representatives in the Biden Administration," said Rev. Michael Malcom of the People's Justice Council.
"Look no farther than Pennsylvania--its citizens who have suffered the health, safety, and economic harms inflicted by shale gas development and its forests and farmlands that have been irreversibly scarred as shale gas infrastructure has metastasized to every part of the state--to see what happens when government and industry become almost indistinguishable from one another. We know all too well that we will not be free of fossil fuels until our government is. Joe Biden can and must be the first fossil fuel-free president," said Karen Feridun, co-founder of the Better Path Coalition in Pennsylvania.
"Biden's pledge to eliminate fossil fuel subsidies is sure to become an empty promise with fossil fuel emissaries whispering in his ear. We do not need a repeat of Obama's all-of-the-above strategy which gave us the largest expansion of oil and gas production in U.S. history," said Karen Grainey, co-director of Center for a Sustainable Coast.
"For forty years the fossil fuel industry has deceived the American public about the consequences of our dependence on oil and gas. They've continued their rapacious march toward disaster while people watch their health and that of their land and water deteriorate. As the earth's ecosystems begin to unravel due to carbon fueled climate change, this industry's only concern is to drain the last drop of profit from a dying planet. Allowing fossil fuel representatives to have a seat at the energy policy table will destroy any credibility the Biden administration might claim on energy and environment leadership. We ask that you stand with integrity and embrace the energy of the future," said Kevin Ionno, chair of the Climate Reality Project of Coastal Georgia.
"As Elizabeth Warren says, personnel is policy. When Bush and Trump were in charge, putting Big Oil executives at the decision-making table was an active policy choice that cost us dearly. We are now out of time with the climate crisis and need people at the table who will support--not slow walk--Biden's ambitious climate proposals in his Build Back Better plan," said Caitlin Lang, spokesperson for the Progressive Change Campaign Committee.
"We've all seen the disastrous policy produced by personnel in the Trump Administration. But it's important for Joe Biden to remember that the same was true for him and President Obama: If you personnel in charge who have been paid millions by the fossil fuel, nuclear and other polluting industries, you will get bad policy too. Real change takes courage, it takes effort, and it takes a change in staffing--anything else is the definition of madness," said Liz Butler, Vice President of Organizing and Strategic Alliances at Friends of the Earth Action.
"We are in a climate emergency. Even as Covid-19 rages on, fossil fuel interests continue to prioritize profits over people, lobbying for financial secrecy, bailouts, and environmental rollbacks. For the sake of our children, and the future of this country and our world, the Biden Administration cannot risk depending on fossil fuel interests to guide decision-making on climate policy," said Fatema Sumar, Vice President of Global Programs, Oxfam America.
"There is an inherent conflict between the interests of our people and the interests of corporate CEOs, and hiring fossil fuel executives to institute an environmental justice plan would be the equivalent of hiring a fox to run the hen house. Communities most hurt most by the climate injustice that fossil fuels have brought down on our world are those same marginalized people who are hurt most by every aspect of our current systems where corporate profits are prioritized over people," said Mohammed Missouri, Executive Director of Jetpac.
"This election is a matter of life or death for our generation, and Joe Biden and Kamala Harris can only win if young people show up to vote for them in historic numbers. It's time for Biden to show young people he will fight for our generation by publicly committing to keep fossil fuel executives, lobbyists, and consultants off his team. We cannot afford this polluting influence in a Biden campaign or administration," said Lauren Maunus, Legislative Manager, Sunrise Movement.
"As fossil-fueled fires burn and super-storms rage, the stakes could not be higher for Vice President Biden to listen to the people--not a handful of fossil fuel executives and frack-happy allies like Ernest Moniz. There's simply no way to fend off climate catastrophe and end environmental racism without tackling fossil fuels, and there's no path to phase out fossil fuel extraction so long as Big Oil has the White House on speed dial," said Brett Hartl, Chief Political Strategist at Center for Biological Diversity Action Fund.
"Thanks to the environment and climate movement's decades of tireless work to make decision-makers act boldly, the Biden-Harris campaign has adopted the strongest climate platform of any presidential ticket in history. However, real progress will be measured by relationship to communities most impacted and investments in the same. Fossil fuel representatives have no place at the table except to hand over their dirty profits to rebuild what they have broken. Any accomodation to fossil fuel executives will undermine the promise of our shared work and throw away our chances of a livable future in the climate decade," said Tamara Toles O'Laughlin of 350 Action.
Oil Change U.S. is dedicated to supporting real climate leadership, exposing the true costs of fossil fuels, and building a just, equitable, and renewable energy future in the United States.
LATEST NEWS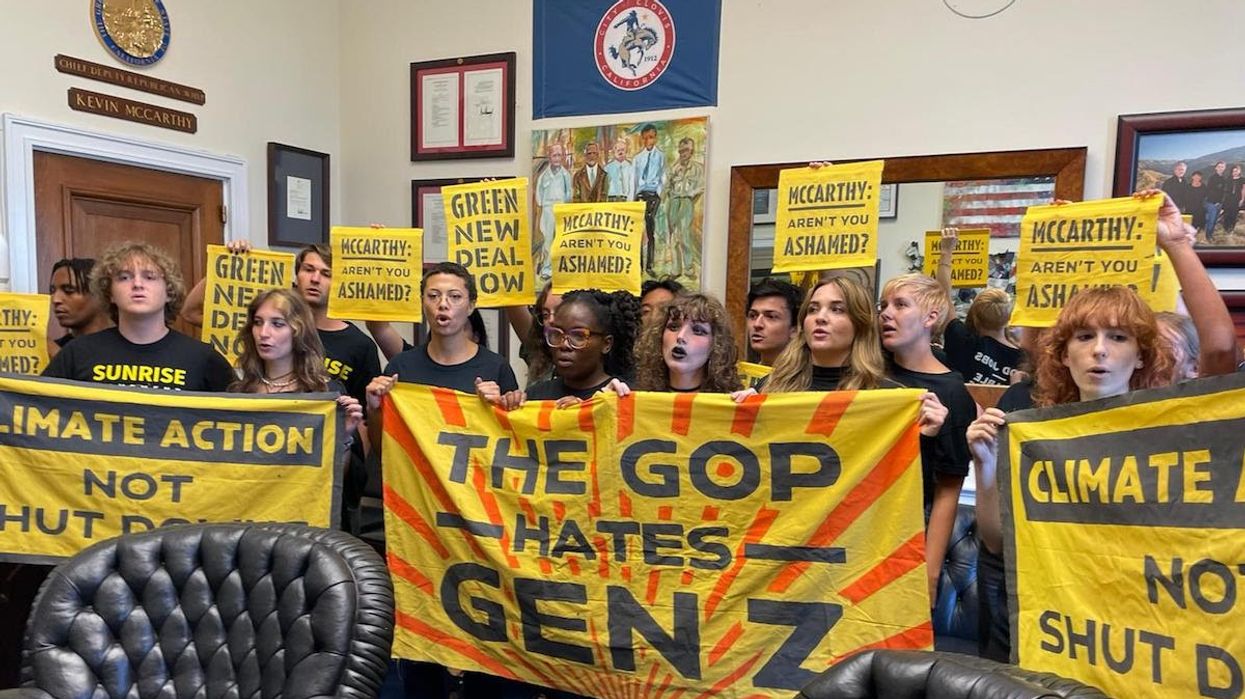 "Young people are here because Kevin McCarthy and other Republicans are playing political games with our lives. We're over this bullshit."
A group of youth climate activists occupied House Speaker Kevin McCarthy's office in Washington, D.C. on Thursday to condemn the Republican leader and his caucus for pushing the U.S. government to the brink of a destructive shutdown as they demand draconian cuts to food aid, housing assistance, and environmental programs.
"We are fed up and we won't take it anymore," said Adah Crandall a 17-year-old Sunrise Movement organizer who joined a number of other climate activists inside McCarthy's (R-Calif.) office. "As storms rage stronger, fires grow hotter, and heatwaves grow more deadly, Kevin McCarthy is playing political games with our futures. We're facing a climate emergency and McCarthy can't even do his job."
The Sunrise Movement said around 150 students from across the nation traveled to Capitol Hill Thursday to take part in the protest, which comes just two days before the federal government is set to shut down.
Eighteen youth activists were arrested outside of McCarthy's office during the demonstration, according to the climate group.
Earlier Thursday, the Biden administration began notifying government employees that they could soon be temporarily furloughed after McCarthy rejected a bipartisan short-term funding proposal put forth in the U.S. Senate this week.
"Speaker McCarthy is a coward," Shiva Rajbhandari, a 19-year-old Sunrise Movement organizer. "McCarthy and Republicans can either do their jobs, act on the climate crisis, and fund our schools, or they can risk our economy to appease a few extremists. Our generation is watching and we will hold them accountable for their actions."
The impacts of a shutdown on critical government functions and programs—and the overall U.S. economy—could be massive.
"With each passing day, Washington would further deplete federal safety net programs that carry over their unused money from past years," The Washington Post's Tony Romm reported earlier this week. "Eventually, the government might not be able to provide some poor families with childcare, nutrition assistance, housing vouchers, or college financial aid. The longer a shutdown persists, the greater the blow it could ultimately deliver to an economy that has teetered for more than a year on the precipice of recession."
Food & Water Action warned Thursday that "in the event of a shutdown, serious and specific threats to food and water safety could immediately arise," noting that Environmental Protection Agency (EPA) regulators "could be forced to suspend critical safety inspections at drinking water sources, hazardous Superfund waste sites, and chemical facilities."
Additionally, the group noted, the EPA "would be forced to shut down the $15 billion project to replace dangerous lead water pipes throughout the country, putting impacted families at continued risk."
"By driving this country to the brink of a shutdown, congressional Republicans are proving once again, in stark relief, that they simply don't care about the health and well-being of the American people," said Mitch Jones, deputy director of Food & Water Action. "Nowhere is this more obvious than in their willingness to shut down critical food and water safety inspections that occur every day across the country."
"Rather than working with Democrats to responsibly fund the government, Speaker McCarthy and his slim majority are catering to the most extreme right-wing members in an already extreme caucus," Jones added. "House Republicans should be thoroughly ashamed of themselves, and they must be shown the door in 2024."
News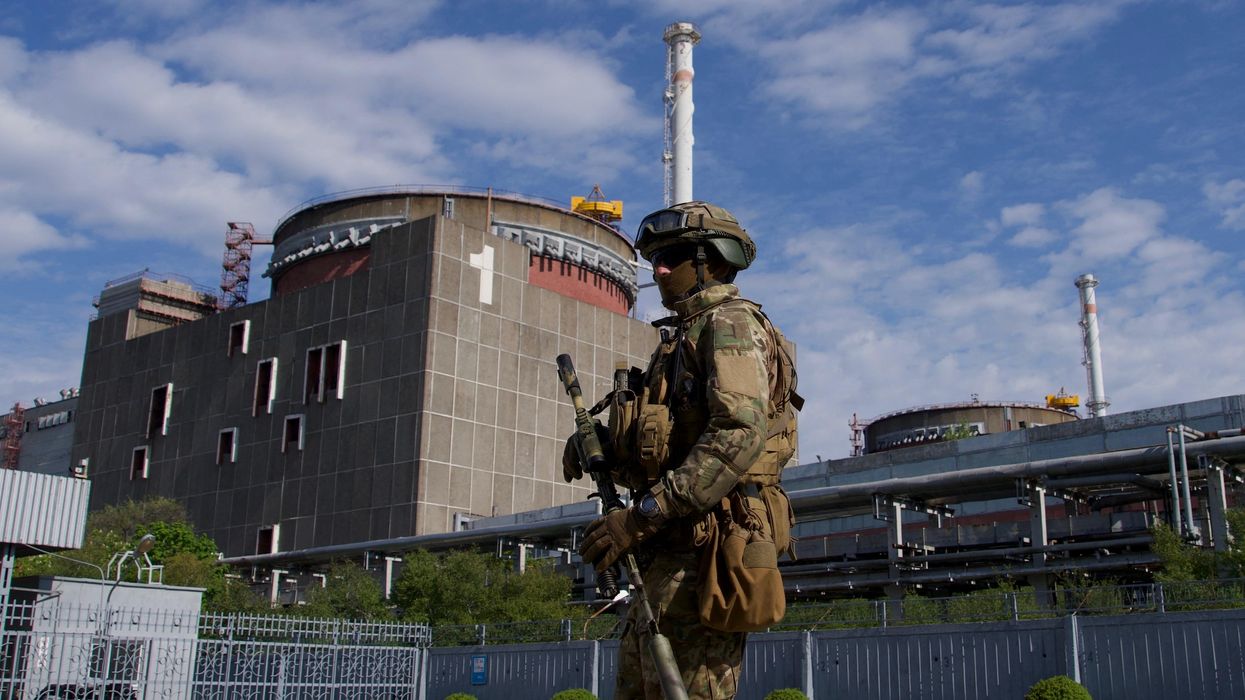 A new report found that Russian troops were likely "using the plant as a shield" in violation of the safety principles laid out by the International Atomic Energy Agency.
The Russian forces occupying Ukraine's Zaporizhzhia nuclear plant have been violating the safety principles established by the International Atomic Energy Agency, and the watchdog body has not been able to effectively monitor the situation.
That's the warning from a new Greenpeace report sent to Western leaders on Thursday, which argues that the IAEA needs to be more upfront about the reality of the situation.
"The IAEA reporting risks normalizing what remains a dangerous nuclear crisis, unprecedented in the history of nuclear power, while exaggerating its actual influence on events on the ground," wrote report authors Shaun Burnie, a senior nuclear specialist from Greenpeace East Asia, and Jan Vande Putte, a Greenpeace Belgium radiation and nuclear expert.
Russian forces seized the Zaporizhzhia plant on March 4, 2022, less than a month into the invasion.
"Since 2022 we have been deeply concerned by the multiple hazards and risks to the Zaporozhzhia nuclear plant posed by the Russian armed forces and the Russian state nuclear corporation, Rosatom," Burnie and Putte wrote.
To address these concerns, Greenpeace Germany commissioned former U.K. military specialists at McKenzie Intelligence Services to report on conditions at the plant.
"The Russian armed forces and Rosatom occupation pose a constant nuclear threat to Zaporozhzhia and must be condemned."
The result, Greenpeace said, "provides detailed evidence that the Zaporizhizhia nuclear plant is being used strategically and tactically by Russian armed forces in its illegal war against Ukraine."
For example, the report found that Russian troops were firing from positions between one and 18 kilometers (approximately 0.6 to 11 miles) from the plant, had constructed small defensive positions with sandbags on the roofs of some of the reactor halls, and are using a type of truck near the plant that is commonly used to transport weapons and combustible material.
It also concluded that both Russian forces and Rosatom are acting in violation of the five principles that IAEA Director General Rafael Mariano Grossi laid out in June to prevent a nuclear accident at the plant.
These principles are:
No launching attacks from or at the plant;
No storing weapons at the plant;
No threatening outside power sources;
Making sure all important structures are protected; and
No taking actions that go against these principles.
McKenzie found evidence that Russian forces have a firing pattern of settling in one location, attacking from another, and then moving again to avoid counterattacks. In this process, they appear to be "using the plant as a shield."
"All activity observed over the reporting period does suggest a precarious environment continues to exist at the plant," Burnie and Putte concluded.
The Greenpeace experts also reviewed the IAEA's monitoring in the context of McKenzie's findings, and argued that the agency could be more upfront about its limitations and Russia's violations.
IAEA only has four monitors for the largest nuclear plant on the continent, and they must conduct their investigation with restrictions placed on their movements and access, as well as the requirement that they make access requests a week in advance.
Despite all this, Burnie said in a statement, "the director general's reporting is incomplete and misleading, including the assessment of Russian noncompliance with safety and security principles."
"The Russian armed forces and Rosatom occupation pose a constant nuclear threat to Zaporozhzhia and must be condemned—but currently the IAEA is unable to fully report on the security and safety hazards they pose," Burnie continued. "That has to change."
The advocacy group prepared the report ahead of an IAEA discussion of the situation in Ukraine in Vienna Thursday, as well as the IAEA Board of Governors meeting October 2. On Wednesday night, Greenpeace sent copies to the board's member governments, The Guardian reported.
IAEA did not comment on the report directly. However, it told The Guardian that, without its inspectors stationed there since September 2022, "the world would have no independent source of information about Europe's largest nuclear power plant."
However, Greenpeace argued the agency could take steps to improve that information.
"Greenpeace is calling on the IAEA board member governments to review the scale and scope of the IAEA mission, and to work with member states, and in particular the government of Ukraine, to institute whatever measures that will bring maximum pressure to bear on the Russian armed forces and Rosatom at the plant and to bring about an early end to the current military occupation of the Zaporizhzhia nuclear plant," Burnie and Putte wrote.
These measures could include an improved analysis by the IAEA and sanctions against Rosatom, Greenpeace said.
News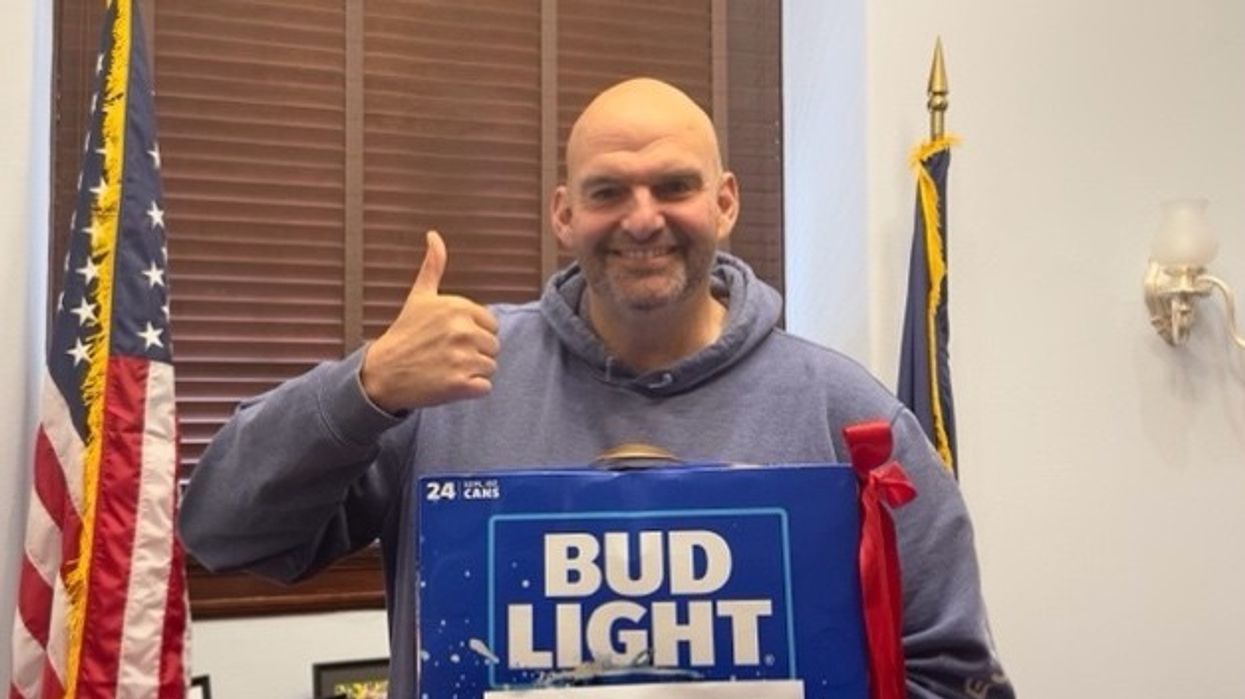 The Democrat "directed his staff to deliver a gift to the House Oversight Committee to congratulate and salute Rep. Comer and his Team America™ squad as they embark on their historic impeachment journey."
Democratic U.S. Sen. John Fetterman of Pennsylvania continued his trend of calling Republican lawmakers on "their bullshit" by delivering a case of Bud Light beer to the House Committee on Oversight and Accountability on Thursday, as the panel held its first hearing for the GOP's widely condemned impeachment inquiry into President Joe Biden.
Instead of trying to avert the looming government shutdown, House Speaker Kevin McCarthy (R-Calif.) caved to the far-right wing of his party earlier this month by announcing the impeachment probe—led by Oversight Chair James Comer (R-Ky.)—despite the lack of any evidence of wrongdoing by the Democratic president.

Fetterman's office said that the first-term senator "directed his staff to deliver a gift to the House Oversight Committee to congratulate and salute Rep. Comer and his Team America™ squad as they embark on their historic impeachment journey."
His stunt was lauded online as "top tier trolling," given that some right-wing political leaders and other transphobic figures behind attacks on LGBTQ+ people and rights have boycotted Bud Light this year because of its paid partnership with trans social media influencer Dylan Mulvaney.
Thursday was not the first time Fetterman has garnered attention for mocking the GOP's impeachment inquiry.
Asked by a journalist to comment on the probe just after McCarthy announced it, Fetterman sarcastically said in a video that quickly spread online, "Oh my gosh, you know, oh—it's devastating!"
After chuckling, he added: "OooOooo. Don't do it! Please, don't do it!"
News
Independent, nonprofit journalism needs your help.
Please Pitch In
Today!