350 Action Endorses Bernie Sanders and Elizabeth Warren for 2020 Presidential Election
WASHINGTON
350 Action is announcing today our formal endorsement of Senator Bernie Sanders and Elizabeth Warren for President. Both have passed the 350 Action Climate Test and represent the significant political change that our country needs.
The following is a statement from 350 Action's Executive Director, May Boeve:
"We cannot afford to wait till 2030 or even 2024. We must demand bold action from political candidates now. Senators Sanders and Warren have in their careers and this contest raised the level of debate in favor of climate justice. This election takes place during a crucial inflection point for climate action. We need a President who will fight against the fossil fuel industry that is standing in the way of progress. From communities of color facing the deadly impacts of fracking in too many neighborhoods; First Nations communities standing strong in defending their water; and youth striking for a better future, we all deserve a President that understands the scale of this climate crisis.
"We endorse both Bernie Sanders and Elizabeth Warren as they are historically significant and inspiring candidates in their own right and together have raised the bar for climate leadership.
"Bernie is a fighter for economic justice and has made it a cornerstone of his campaign, and has consistently stood side by side with the climate movement. Elizabeth Warren's model of strong feminist leadership deepens the political shift for the next generation - as someone who relentlessly speaks truth to power and wields her intellect against vested interests in our democracy. From holding the fossil fuel industry accountable, to challenging those making dirty money from the climate crisis, to making sure we keep all fossil fuels in the ground, we believe both Senators speak to the types of leadership we need in the climate decade."
The following is a statement from 350 Action's North America Director, Tamara Toles O' Laughlin:
"A livable future requires a total transformation of our economy and culture. The demand for the end of fossil fuels must ring out in the streets and in the contest for the highest office in order for us to have a meaningful impact in the climate decade. Our endorsement of both Senators recognizes that accountability is less about affiliation than about real solutions to the climate crisis.
"We demand Presidential leadership that plans to drastically reduce carbon emissions by more than half to meet critical climate goals. We support the vision to rapidly transition our energy sources by 2030, and in the process create millions of new jobs for workers in a renewable energy economy. Our vision calls for a political power shift that uplifts people power and puts us on the most ambitious path to climate justice for all.
"350 Action endorses both Elizabeth Warren and Bernie Sanders, who each passed our climate test and who we expect to stay accountable to these commitments. We will continue to look closely at their financial ties and adherence to the No Fossil Fuel Money Pledge as we forge ahead to create a political atmosphere that supports the climate movement.
"The work to stop the climate crisis cannot be stripped from the conversation about racial justice. This systemic analysis must inform all of our work. Neither candidate is perfect, but they both stand head and shoulders above the rest of the present field. In our decision, we are lifting up people power, feminist leadership, and a broad and nuanced movement for justice that has influenced both candidates' platforms and adherence to the needs of those most impacted by systemic oppression and injustice.
"We expect that as the primaries continue we will stand firm to ensure a progressive climate champion is in the White House next year."
350 Action is the independent political action arm of the non-profit, non-partisan climate justice group 350.org.
LATEST NEWS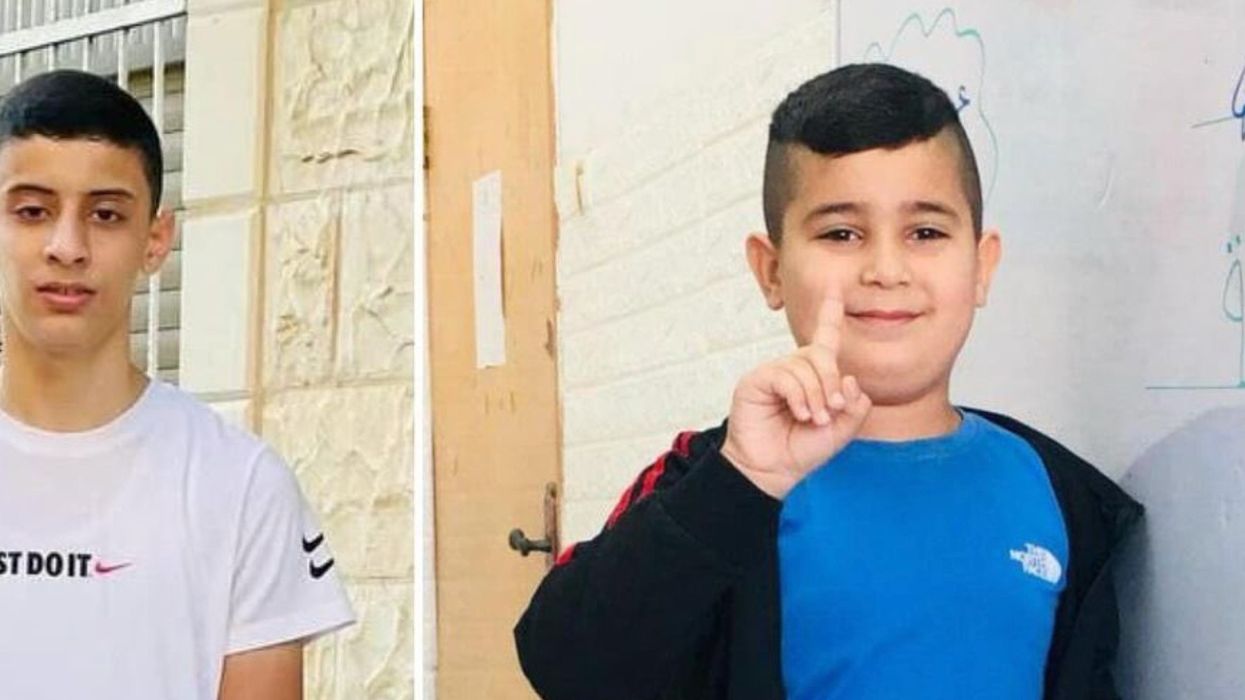 "Unarmed and running away," said Palestine's envoy to the U.K. "But Israeli soldiers still killed this child in Jenin today in the same indiscriminate manner that they have been killing thousands of children in Gaza."

Israeli troops shot and killed two Palestinian children during a Wednesday morning raid on the Jenin refugee camp in the illegally occupied West Bank, where more than 240 people have been killed by occupation soldiers and Jewish settler-colonists since early October.
Fifteen-year-old Basil Suleiman Abu al-Wafa and Adam Samer al-Ghoul, who was either 8 or 9, were shot dead by Israel Defense Force (IDF) troops during the raid, the Palestinian Health Ministry said.
According toAl Jazeera, al-Wafa was shot in the chest and died in a hospital, while al-Ghoul was shot in the head. Graphic CCTV footage posted on social media shows al-Ghoul trying to run away as he is gunned down. Another boy is seen dragging him away, with blood trailing behind the victim's body.
"Palestinian children in Jenin have been a routine target for the Israeli military."
The children were shot as IDF troops forced residents of the ad-Damj neighborhood from their homes at gunpoint before destroying streets there and bombing at least one home with an armed drone.
The Palestine Red Crescent Society said Israeli forces subsequently prevented paramedics from reaching Palestinians wounded during the raid.

"Unarmed and running away," Husam Zumlot, Palestine's ambassador to the United Kingdom, wrote on social media. "But Israeli soldiers still killed this child in Jenin today in the same indiscriminate manner that they have been killing thousands of children in Gaza."

Ayed Abu Eqtaish, accountability program director at the advocacy group Defense of Children International-Palestine (DCIP), noted in a statement that "Palestinian children in Jenin have been a routine target for the Israeli military."

"It is shocking that Israeli forces, sitting in an armored vehicle, can fatally shoot two children in broad daylight and the international community will refuse to hold them accountable," Abu Eqtaish added.
An IDF spokesperson said Israeli troops opened fire with live rounds after "explosives" were thrown at them. Al-Ghoul can be seen in CCTV footage holding a very small object, which he drops after being shot.
Two Palestinian men—Muhammad Jamal Zubaidi and Wissam Ziad Hanoun—were also killed during the Jenin raid. Palestine's WAFA News Agencyreported that occupation forces took their bodies.

The Palestinian Health Ministry said at least 242 Palestinians, including more than 50 children, have been killed by Israeli soldiers and settlers in the West Bank and East Jerusalem since October 7, when Hamas-led attacks on southern Israel left approximately 1,200 Israeli civilians and soldiers dead and around 240 others kidnapped. Over 2,750 other Palestinians have been injured.
Israeli forces have killed more than 100 Palestinian children in the West Bank and East Jerusalem so far this year, according to DCIP, making 2023 the deadliest year ever recorded.

Occupation forces have also arrested more than 3,300 Palestinians in the West Bank and East Jerusalem, including 35 people—one of them a 12-year-old child—since Tuesday. Israeli authorities have arrested nearly as many Palestinians during the six-day cease-fire with Hamas as they have freed during the concurrent prisoner exchanges.
Meanwhile in Gaza, officials reported that 160 Palestinian bodies were recovered from the rubble on Tuesday and Wednesday during the relative calm of the cease-fire. Gaza civil defense officials said at least 7,000 bodies remain buried under the bombed-out buildings.

More than 15,000 Palestinians—including over 4,000 women and 6,100 children—have been killed by Israeli bombs and bullets since October 7.

Gaza and United Nations officials also said Wednesday that more than 80% of Gazans—or around 1.8 million people—have been forcibly displaced by the Israeli onslaught, which has destroyed or damaged more than 300,000 homes.
News
"We've shown the world that this industry is harming workers and consumers to the benefit of company executives and the rich—and it's time that the working class did something about it," said the UAW president.
Days after unionized workers at the Big Three automakers voted to ratify their new contracts—secured after the United Auto Workers staged an innovative "stand up strike" that lasted six weeks—the union made clear on Wednesday it has no plans to stop its fight for economic justice for thousands of workers at car manufacturing plants across the United States.
Urging all autoworkers in the U.S. to "stand up," the UAW launched what pro-labor media organization More Perfect Unioncalled "the largest organizing drive in modern American history," aiming to bring 150,000 employees at 13 nonunion auto companies into the union.
The UAW announced its campaign with the launch of a new website detailing the skyrocketing profits and CEO pay at firms including Germany's Volkswagen and Mercedes; Japanese and Korean manufacturers Toyota, Hyundai, and Mazda; and U.S. electric car companies Tesla and Lucid.
At Toyota, for example, top executives have enjoyed a 125% increase in pay as profits have soared 30% in the last decade—but the company is firmly against unionization, offering a 9% raise to nonunion workers shortly after the UAW secured its new contracts, which include a 25% raise over the four-and-a-half year agreement.

Tesla, headed by the world's richest man, Elon Musk, has doubled its U.S. production since 2020, but the company also remains staunchly anti-union—and Mercedes' profits have grown by 200% in recent years, but this year the company "spent $1.9 billion on stock buybacks instead of sharing those record profits with their workforce," said the UAW.

In a video posted on the union's website, UAW president Shawn Fain urged workers at the 13 nonunion manufacturers to "stand up and win [their] fair share."
"We've shown the world that this industry is harming workers and consumers to the benefit of company executives and the rich—and it's time that the working class did something about it," said Fain. "To all the autoworkers out there working without the benefit of a union, now it's your turn."

Fain said autoworkers from across the country have been reaching out to the union since it began its stand up strike, in which workers at a few auto plants at a time were called to join the work stoppage in order to preserve the union's strike fund and gradually show the Big Three the impact of the growing strike.
"We've lost so much since I started here, and the raise won't make up for that," said Jeff Allen, a worker at Toyota's Georgetown plant in Kentucky—one of several states where Republicans have passed union-weakening "right-to-work" laws. "A union contract is the only way to win what's fair."
Autoworkers across the U.S. "don't have to like paycheck to paycheck," Fain said in the video, emphasizing that "the money is there."
"You don't have to worry about how you're gonna pay your rent or feed your family while the company makes billions," he added. "A better life is out there. It starts with you—UAW."

News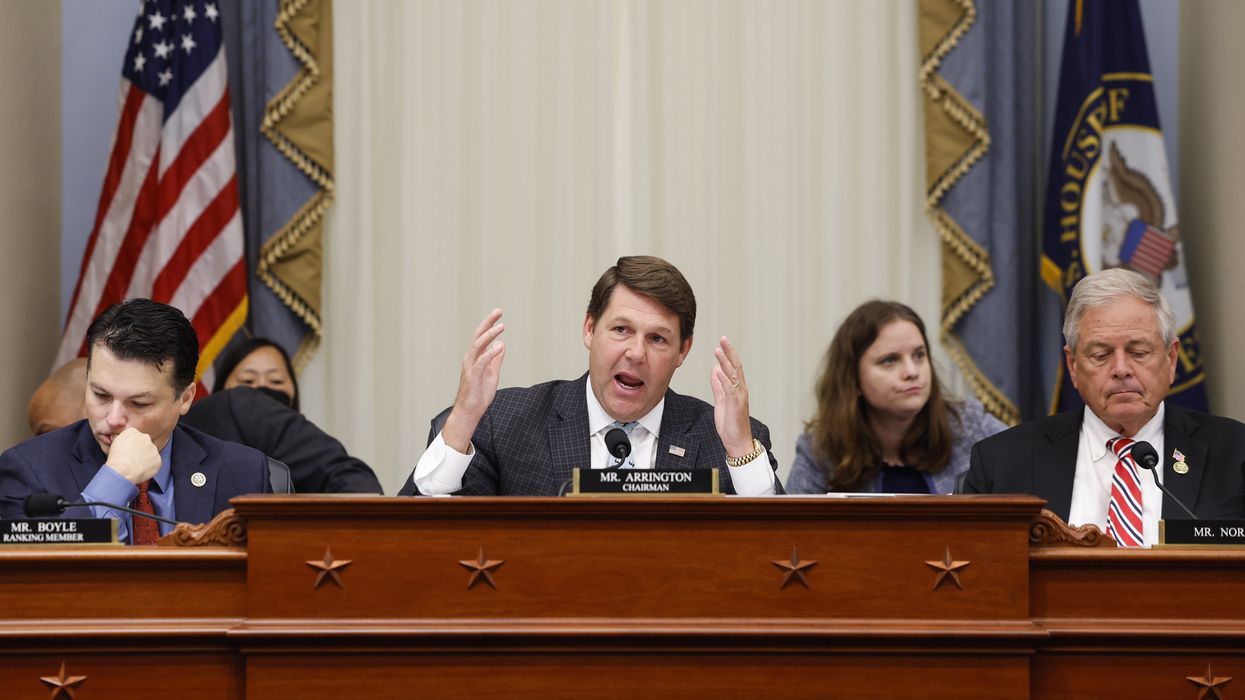 "At today's hearing, Republicans made the true purpose of their 'fiscal commission' crystal clear: demolish Social Security and Medicare behind closed doors," said one campaigner.
The Republican-led push to establish a fiscal commission for the U.S. debt was met with vocal opposition during a House Budget Committee hearing on Wednesday, with progressive advocates and Democratic lawmakers calling the proposal a thinly veiled ploy to further undermine and cut Social Security and Medicare.

Rep. Jim McGovern (D-Mass.), one of eight witnesses who testified at Wednesday's hearing, said he was "a little skeptical" that Republican lawmakers are now concerned about the national debt given that they have driven it up with tax cuts for the rich and large corporations in recent years—and are still trying to increase it.
According to one analysis, the series of tax cuts approved under former Presidents George W. Bush and Donald Trump have added $10 trillion to the debt since their enactment and are responsible for the bulk of the increase in the debt ratio since 2001.
Social Security, by contrast, is not a driver of federal deficits.

"If we want to ensure long-term solvency [for Social Security], there are two choices: Some on the other side think we should cut benefits, I think we should ask the ultra-rich to pay their fair share. We don't need a commission to tell us that," McGovern said during his testimony. "And my fear is that a commission would be used by some as an excuse to slash Social Security, Medicare, Medicaid, and other federal anti-poverty programs."
Rep. Jan Schakowsky (D-Ill.), a member of the House Budget Committee who served on the infamous Bowles-Simpson commission that proposed deep cuts to Social Security, expressed similar concerns during Wednesday's hearing.
Schakowsky said she was "happy" the Bowles-Simpson proposals—which she vocally opposed at the time—weren't adopted and warned that a fiscal commission of the kind backed by Republicans and right-wing Democrats is "a way for members of Congress to get out from under having to take the blame for the kinds of cuts that may be presented."
In an op-ed for Common Dreams on Wednesday, Schakowsky wrote that "if Republicans cared about improving our fiscal position, they would demand the rich pay their fair share."
"If Republicans wanted to actually solve our budget challenges, they would robustly fund tax enforcement to ensure corporations are complying with laws already on the books," she added. "But Republicans aren't serious about the deficit. They aren't even serious about governing. They are serious about only one thing, and that's ripping away Social Security from seniors behind closed doors."
Wednesday's hearing examined three pieces of legislation put forth by bipartisan groups of lawmakers in the House and Senate.
A bill introduced earlier this month by Sens. Mitt Romney (R-Utah) and Joe Manchin (D-W.Va.)—both of whom testified at Wednesday's hearing—would form a 16-member bipartisan, bicameral fiscal commission comprised of 12 elected officials and four outside experts tasked with crafting legislation to "improve solvency of federal trust funds over a 75-year period."
If approved by the commission, the legislation would be put on a fast track in the House and Senate.
Romney insisted during his testimony Wednesday that he doesn't know of a single Republican or Democrat who wants to cut Social Security and said benefit reductions should be off the table.
But Social Security Works, a progressive advocacy group, pointed out that a proposal released earlier this year by the Republican Study Committee (RSC)—a panel comprised of 175 House Republicans—called for raising the Social Security retirement age, which would de facto cut benefits across the board.
Rep. Jodey Arrington (R-Texas), who presided over Wednesday's hearing, is a member of the RSC. During his opening remarks, Arrington described efforts to prevent what he called a "sovereign debt crisis" as "our generation's World War."
Alex Lawson, executive director of Social Security Works, told Common Dreams that "at today's hearing, Republicans made the true purpose of their 'fiscal commission' crystal clear: demolish Social Security and Medicare behind closed doors, while avoiding accountability from voters."
"Chairman Jodey Arrington referred to the commission's supporters as 'partners in crime,'" Lawson added. "That's exactly what they are: criminals who are plotting to reach into our pockets and steal our earned benefits."
"It should be a national scandal that middle- and working-class families have to pay Social Security taxes on all of their income but millionaires and billionaires do not."
Instead of taking the deeply unpopular step of slashing benefits, Democrats who spoke at the budget committee hearing argued that Congress should pass legislation requiring the rich to contribute more to Social Security. This year, because of the payroll tax cap, millionaires stopped paying into the program in late February.
"It should be a national scandal that middle- and working-class families have to pay Social Security taxes on all of their income but millionaires and billionaires do not," said McGovern.
Rep. Brendan Boyle (D-Pa.), the top Democrat on the House Budget Committee, said at Wednesday's hearing that Congress could extend Social Security's solvency through the end of the century by requiring the rich to pay more in taxes.
"I think that is fair. I think that is appropriate," said Boyle. "And for those who disagree, I would be very interested in seeing what their plan is and their alternative."
Following the hearing, Rep. Summer Lee (D-Pa.) delivered a speech on the House floor condemning Republicans for working to "establish a death panel commission to gut earned benefits" and described the effort as part of a "cycle" that must be opposed.
"First, Republicans pass tax handouts for their filthy rich donors, promising a trickle-down miracle that never has and will never happen—from Reaganomics to Trump's tax scam," said Lee. "Then, when their tax scam causes the economy to slow and deficits to grow, they refuse to correct their mistake. Instead they blame immigrants, poor folks, Black folks, and brown folks."
"Then they repeat the cycle," she continued, "hoping enough of us will forgive or forget their scheme to tear away Medicare and Social Security and believe their lie that they were 'only after' food assistance, healthcare, and housing for poor folks—not your earned benefits—when the truth is that they always were and always will be after it all."
News