#MeToo, McDonald's
Fight For $15, TIME'S UP Legal Defense Fund Confront Sexual Harassment at McDonald's
CHICAGO
The Fight for $15, with support from the TIME'S UP Legal Defense Fund, announced Tuesday an effort to challenge widespread sexual harassment faced by McDonald's workers on the job across the country--including groping, propositions for sex and lewd comments by supervisors-- that is all too often ignored by management.
Press Conference Details:
WHEN: Tuesday, May 22, 2018 at 11am CT
WHERE: McDonald's Headquarters
WHO: Adriana Alvarez, Chicago McDonald's worker (MC)
Sharyn Tejani, Executive Director of TIME's Up Legal Defense Fund
Meredith Johnson, attorney at Altshuler Berzon
Amy Biegelsen, attorney at Outten Golden
Tanya Harrel, New Orleans McDonald's worker
Breauna Morrow, St. Louis McDonald's worker
Kimberley Lawson, Kansas City McDonald's worker
In the last several days, cooks and cashiers have filed 10 charges with the Equal Employment Opportunity Commission, alleging an array of illegal conduct in McDonald's restaurants across nine cities, workers said Tuesday. The TIME'S UP Legal Defense Fund provided financial support to investigate and file the charges, which will be officially announced Tuesday morning at a press conference outside McDonald's new downtown Chicago headquarters days ahead of the company's annual shareholder meeting. The workers who filed sexual harassment charges allege:
Supervisors did nothing when a 15-year-old cashier in St. Louis complained of a co-worker who repeatedly harassed her using graphic, sexual language;
Managers mocked a New Orleans woman who complained about a coworker groping her, telling her she was probably giving the worker "sex appeal" and that she should take it to the "next level" with him. When a second co-worker attempted to sexually assault her in the restaurant's bathroom, she did not report it because her first complaint was not taken seriously;
Managers told a Durham worker they wanted to have sex with her, including one who suggested a threesome with her and a coworker and another who asked to have sex in his car. They made fun of her when she complained about a coworker who regularly propositioned her for sex; and
A manager asked a Chicago worker if she wanted to see his penis and asked "how many dicks" she could take. He narrated lurid fantasies about what he would do if he got the worker or another crew member in the bathroom alone. She hesitated to complain because the general manager encouraged workers to flirt with customers, but when she did report the harassment, she was fired.
"McDonald's advertises all over television saying it's 'America's best first job,' but my experience has been a nightmare," said Breauna Morrow, the 15-year old who works at a St. Louis McDonald's. "I know I'm not the only one and that's why I'm speaking out, so others don't have to face the harassment I've gone through."
The charges were filed by workers in Chicago, Detroit, Durham, Kansas City (Missouri), Los Angeles, Miami, New Orleans, Orlando and St. Louis. They reveal instances when workers alerted management after experiencing sexual harassment on the job, yet their complaints were brushed off, went unaddressed, or, in some cases, they were mocked or met with retaliation, including termination.
"McDonald's has zero tolerance for any form of sexual harassment of any employee," the company's Operations and Training Manual reads. "Sexual harassment is prohibited because it may be intimidating, an abuse of power, and is inconsistent with McDonald's policies, practices and management philosophy."
The workers are demanding McDonald's effectively implement and enforce the zero-tolerance policy against sexual harassment outlined in its manual and in its franchisees' policies. They're also calling on the company to hold mandatory trainings for managers and employees and to create a safe and effective system for receiving and responding to complaints.
"The workers filing charges today want McDonald's to take sexual harassment seriously," said Eve Cervantez, an attorney with Altshuler Berzon who is working on the cases with financial support from the TIME'S UP Legal Defense Fund. "McDonald's is one of the largest restaurant chains on earth and should use its power and influence to guarantee a safe workplace."
The TIME'S UP Legal Defense Fund--housed and administered by the National Women's Law Center Fund LLC--connects those who experience workplace sexual harassment with legal and communications assistance and provides funding for legal representation in select cases, including the charges filed today.
"By funding the legal representation in these cases, we hope to help ensure that these charges will be a catalyst for significant change," said Sharyn Tejani, Director of the TIME'S UP Legal Defense Fund. "Few women working in low-wage jobs have the means or the financial security to challenge sexual harassment. As shown by these charges and thousands of intakes we have received at the Fund from women in every industry, those who report their abuse are often fired, demoted, or mocked--and since nothing is done to stop the harassment, nothing changes. McDonald's is perfectly positioned--if it chooses--to take the lead in an industry that's rampant with abuse."
In addition to the sexual harassment charges, the Durham worker alleged in her charge that she was discriminated against because she is Black. The worker said her shift manager is rude to Black workers and refers to them as "ghetto." When she reported a customer called her "burnt" and made a comment referring to lynching, the supervisor laughed, according to the charge.
Also Tuesday, a former Detroit McDonald's worker who was regularly sexually harassed by her shift manager said she was consulting with an attorney and was likely to file a suit.
The supervisor repeatedly asked her out, commented on her appearance and demanded she talk with him, she said at the press conference. On at least one occasion, he threatened to hit her with a frying pan for rebuffing his advances. He also drove to and parked in front of her house on one occasion. When she reported the behavior to the restaurant's manager, she was told she was "blowing it out of proportion." The harassment ended only when she quit.
"Even with this network of attorneys working together to give voice to women's stories, we expect that employees still face barriers to speaking out," said Amy Biegelsen, an attorney with Outten & Golden LLP who is also working on the cases with financial support from the TIME'S UP Legal Defense Fund. "Some employees may feel that they have to choose between standing up for their rights and bringing home a paycheck. Any undocumented workers may fear deportation if they speak out. Other employees might be afraid that they will not be believed, or will be ridiculed. All workers are entitled to their dignity as people, and to their rights under the law."
The charges announced Tuesday come two years after McDonald's workers in the Fight for $15 filed a series of sexual harassment charges against the company and show that despite the spotlight on the issue in Hollywood and the media, little has changed for the burger giant's frontline workers. Attorneys for the workers said they planned to ask the EEOC to consolidate or coordinate for investigation the newly filed charges, as well as some of the previously filed charges.
"The #MeToo movement may have changed things for actresses in Hollywood, but these new charges show that sexual harassment is still on the menu at McDonald's," said Adriana Alvarez, a McDonald's worker from Chicago and member of the Fight for 15 National Organizing Committee. "With support from the TIME'S UP Legal Defense Fund, workers in the Fight for $15 now have a powerful ally in our ongoing effort to make McDonald's restaurants safe places for all workers."
To help McDonald's and other fast-food workers who are harassed get the legal help they need, the Fight for $15 announced a hotline--844.384.4495-- for workers to have their charges reviewed by attorneys. The Fight for $15 and TIME'S UP Legal Defense Fund also encouraged workers to fill out the intake form on the TIME'S UP Legal Defense Fund website in order to be connected with legal information and attorneys.
Sexual harassment is rampant in the fast-food industry, according to a 2016 survey by Hart Research Associates conducted for the National Partnership for Women and Families, the Ms. Foundation and Futures without Violence. Forty percent of female fast-food workers experience unwanted sexual behavior on the job. The 2016 Hart Research survey also showed that 42 percent of women in the industry who experience unwanted sexual behavior feel forced to accept it because they can't afford to lose their jobs. It also reported that more than one in five women who face sexual harassment (21%) report that, after raising the issue, their employer took some negative action, including cutting their hours, changing them to a less desirable schedule, giving them additional duties, and being denied a raise.
"As the country's second-largest employer, McDonald's has a responsibility to set workplace standards in both the fast-food industry and the economy overall, said U.S. Rep. Jan Schakowsky (D-Ill). "The sexual harassment alleged by McDonald's cooks and cashiers in these charges is unacceptable. I applaud them for their courage in speaking out and urge corporate management to take immediate action so the women and men who are key to McDonald's billions in profits can come to work without worrying about being sexually harassed. And I thank the Fight for $15 and all those organizing to make sure that all workers receive good wages, good benefits, and the respect they deserve."
Fast food workers are coming together all over the country to fight for $15 an hour and the right to form a union without retaliation. We work for corporations that are making tremendous profits, but do not pay employees enough to support our families and to cover basic needs like food, health care, rent and transportation.
LATEST NEWS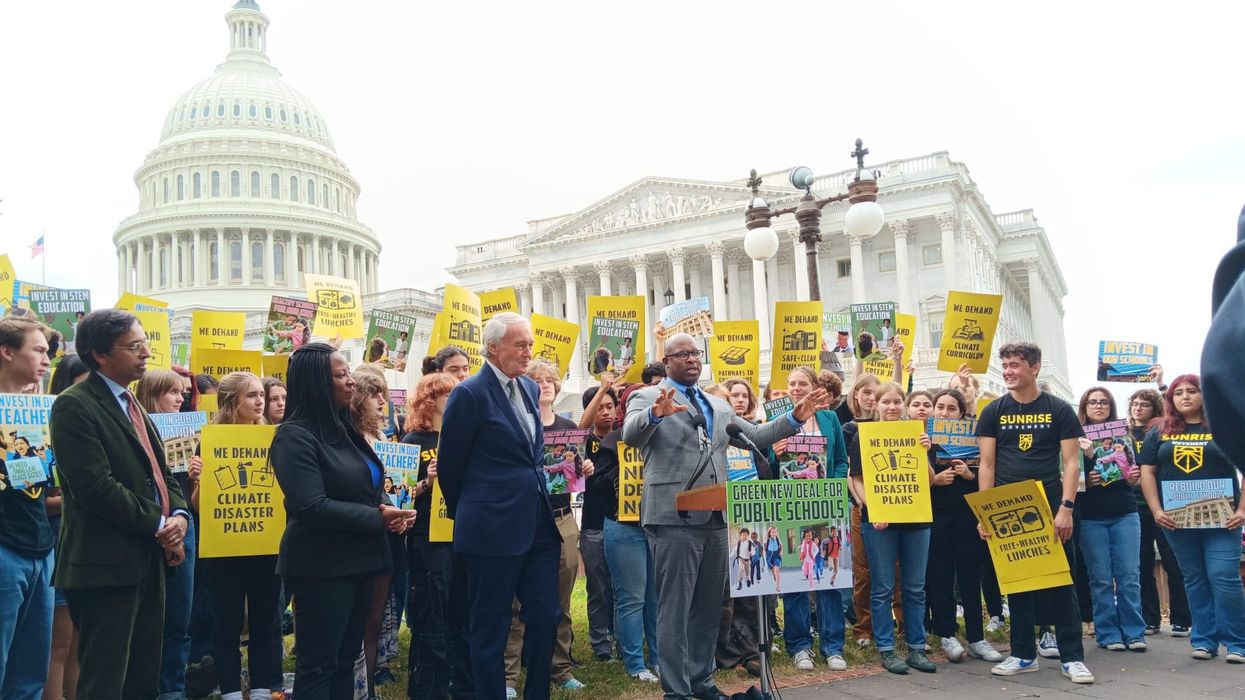 "Let's build a green future where every student can learn and thrive," said Sen. Ed Markey while introducing the proposed legislation.
Climate and education advocates on Thursday cheered the introduction in the U.S. Congress by Sen. Ed Markey and Rep. Jamaal Bowman of the Green New Deal for Public Schools Act, which the lawmakers said would invest $1.6 trillion to transform the nation's education system while "creating 1.3 million jobs and eliminating 78 million metric tons of carbon emissions over 10 years."
A statement promoting the proposed legislation says it would "fund green upgrades that remove all health harms and carbon pollution fromevery public school in the nation while taking on environmental and racial inequities."
"It will unleash the potential of safe and inspiring public education for 50 million K-12 students in every neighborhood across the country," the statement added. "And, it willadd essential staff to vulnerable schools, create 1.3 million good-paying jobs annually, and reduce carbon emissions by 78 millionmetric tons each year—that's the same as taking 17 million gas-powered cars off the road!"
The measure is currently co-sponsored by 74 House lawmakers and is endorsed by advocacy groups including the Sunrise Movement; American Federation of Teachers; Gen Z for Change; Working Families Party; Sierra Club; Institute for Policy Studies; GreenLatinos; March for Our Lives; Progressive Democrats of America; and the American Federation of State, County, and Municipal Employees.
"The United States of America should have the best public education system in the world—our students, parents, teachers, staff, and administrators are doing their part, but Congress is failing them at every turn," Markey (D-Mass.) said in a statement. "School buildings are falling apart, educators and staff are creating makeshift air conditioners from window units, aging infrastructure is making our kids and our planet sick—it's a disgrace."

"The Green New Deal for Public Schools Act delivers climate justice, health justice, social justice, economic justice, and racial justice so that students—no matter their zip code—can learn in a safe and healthy environment, and one that is contributing to a healthier planet for the next generation," Markey added. "It is long past due for the United States to invest in schools what schools invest in us."
Bowman (D-N.Y.)—the founder and former principal of the Cornerstone Academy for Social Action, a public middle school in the Bronx—said that "it's time to revolutionize our public schools."
"As we face the devastating impacts of the climate crisis and confront the harms of underinvestment in redlined communities and inequities in our education system, we must center our kids and their futures," he asserted. "Education can change the world."
Bowman continued:

Schools should be the centers of our communities, places of joy and self-discovery where students feel safe to grow, thrive, and explore their passions and curiosity. Right now, they're crumbling, leaving our students, educators, and communities behind. We must take advantage of this moment by putting them first and facing the climate crisis head-on with bold investments in our schools focused on environmental, educational, economic, and racial equity.
"It's time for us to provide our kids with the resources they need to unlock their brilliance and have a livable planet by passing the Green New Deal for Public Schools Act and making urgent and necessary investments to revitalize our public education system," Bowman added.
The proposed legislation comes three days after students at more than 50 high schools across the U.S.—led by the Sunrise Movement—launched the Green New Deals for Schools campaign. The campaign is demanding that education officials provide school buildings powered by renewable energy; free, healthy, local, and sustainable meals; support for finding well-paying, unionized green careers; plans for extreme weather events; and instruction about the climate crisis.
News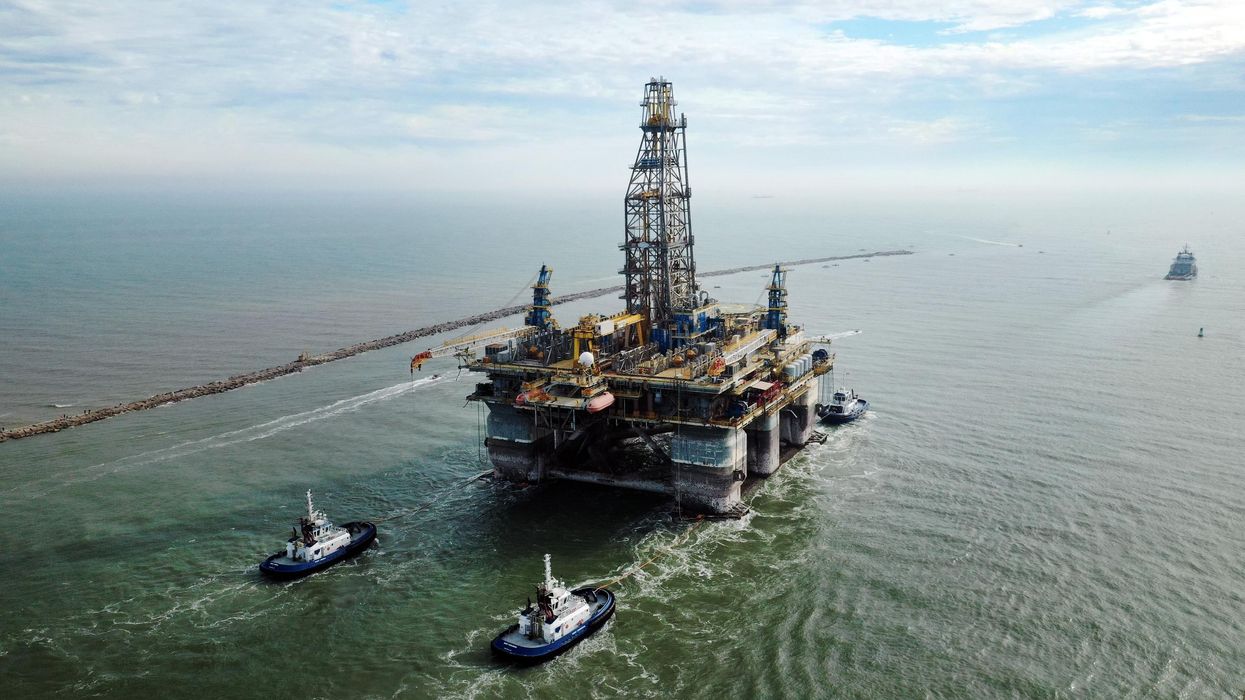 "President Biden says that climate change is an existential threat," said one campaigner. "Unfortunately, this decision is yet another sign that his administration is not willing to take actions that would match that rhetoric."
Climate and environmental defenders on Thursday condemned the Biden administration's imminent plan to sell offshore oil and gas drilling rights in the Gulf of Mexico over the next five years.
Bloombergreported Deputy Interior Secretary Tommy Beaudreau told a Senate panel on Thursday that the Biden administration's five-year offshore drilling rights plan will be released on Friday. Beaudreau said the plan was "definitely informed" by the Inflation Reduction Actction Act, which–while allocating hundreds of billions of dollars in clean energy investments—mandates fossil fuel drilling, a move made to gain the support of corporate Democrats including Sen. Joe Manchin of West Virginia.
"The only way to avert the worst impacts of the climate crisis is by stopping new fossil fuel projects."
The previous drilling plan expired last year. The new one will include details regarding drilling rights in Alaska and the Gulf of Mexico. Congress will have 60 days to review the proposal.
"The only way to avert the worst impacts of the climate crisis is by stopping new fossil fuel projects. The Biden administration knows this, and yet is making the outlandish and irresponsible decision to increase oil production for decades to come," Wenonah Hauter, executive director of the advocacy group Food & Water Watch—which warned the drilling plan would be a "climate nightmare"—said in a statement.
"This decision is yet another reminder that thanks to Sen. Joe Manchin, the Inflation Reduction Act requires oil and gas drilling on public lands in order to develop clean energy sources like wind and solar," she added. "This short-sighted political dealmaking will continue to have grave consequences."
Biden was praised by green campaigners earlier this month for canceling existing oil and gas drilling leases in the Arctic National Wildlife Refuge in Alaska and for banning drilling on 13 million acres of the National Petroleum Reserve.
However, the president—who campaigned on a pledge to phase out fossil fuel extraction on public lands and waters—has been criticized for approving new drilling permits ata faster rate than his predecessor, former President Donald Trump, and for approving major fossil fuel infrastructure including the Willow Project in Alaska, the Mountain Valley Pipeline in West Virginia, and for green-lighting liquefied natural gas export terminals in Alaska and along the Gulf of Mexico.
Numerous green groups also sued the U.S. Interior Department earlier this year over its plan to offer more than 73 million acres in the Gulf of Mexico in a lease sale.
"Approving new offshore drilling is an unconscionable betrayal of future generations who will be forced to live through an intensifying planetary emergency, and will pose direct and severe threats to healthy oceans and marine life," said Hauter.
"President Biden says that climate change is an existential threat," she added. "Unfortunately, this decision is yet another sign that his administration is not willing to take actions that would match that rhetoric."
Last week, the Biden administration and green groups said they would appeal a Louisiana federal judge's ruling blocking the administration from exempting 6 million acres in the Gulf of Mexico from a drilling lease sale initially scheduled for Wednesday but postponed by the Interior Department's Bureau of Ocean Energy Management after the judge's decision.
News
"We commend the Ojai City Council for standing up for what is necessary and just," said an advocate.
Animal rights advocates are applauding this week following a historic vote in the city of Ojai, California, where local lawmakers on Tuesday night adopted an ordinance to recognize the bodily rights of elephants, making it the first U.S. city to recognize the legal rights of nonhuman animal.
The Nonhuman Rights Project (NhRP) helped develop and lobbied for the new ordinance, which was introduced by Councilmember Leslie Rule and passed in a 4-1 vote.
Under the ordinance, it is now illegal in Ojai to subject an elephant to the lack of freedom endured by an elephant named Tarra, who was held in captivity in Ojai Valley and exploited for entertainment—including a rollerskating act—in the early 1980s before becoming the first resident of the nation's largest elephant sanctuary in 1995.
"This legislation is historic," said Courtney Fern, director of government relations and campaigns for NhRP. "It's indisputable that elephants suffer when deprived of their freedom and that animal welfare laws can't end their suffering. For elephants and the nonhuman animal rights movement, we are proud to support this first-of-its-kind ordinance, and we commend the Ojai City Council for standing up for what is necessary and just."
"We have known for some time that elephants have strong empathetic responses to one another's condition."
The new law stems from researchers' findings that "elephants are similarly situated to humans, as they have long-term memories, learning abilities, empathy, and self-awareness," according to the city council.
"We have known for some time that elephants have strong empathetic responses to one another's condition," Mark Scott, interim Ojai city manager, toldKTLA. "I am glad that we are able to make this statement supporting the place of these noble creatures in our world."

NhRP expressed hope that the ordinance "will be the first of many such laws: introduced by elected officials who understand that a sustainable and just future for all life on Earth means extending compassion to and establishing legal rights for nonhuman animals."
"In legislatures, in courtrooms, and beyond, that's what this movement is about," said the group.
Josh Jowitt, senior lecturer on natural and animal rights at Newcastle Law School in the United Kingdom, said the ordinance should not be dismissed as pertaining to "just one city."
"It may not seem much," said Jowitt, "but this decision means that U.S. courts can no longer claim there is no precedent in the country for explicitly recognizing an elephant's right to bodily liberty."
News
Independent, nonprofit journalism needs your help.
Please Pitch In
Today!