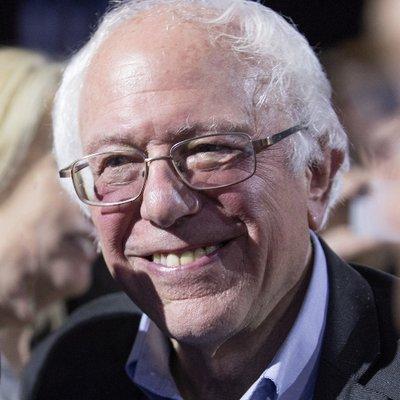 For Immediate Release
Contact:
press@sanders.senate.gov
Sanders to Host Town Hall on Inequality with Elizabeth Warren, Michael Moore
WASHINGTON
Following the success of the Medicare for All Town Hall in January which drew 1.6 million live viewers, Sen. Bernie Sanders (I-Vt.) announced Thursday that he will be hosting a town hall focused on inequality in the United States on March 19 in partnership with The Guardian, NowThis, The Young Turks and Act.tv.
Sanders, along with filmmaker Michel Moore, Sen. Elizabeth Warren, economist Darrick Hamilton and other experts, will discuss poverty in America, the 40-year decline of the middle class, the growing power of corporate interests and how we an economy that works for all Americans.
"The issue of oligarchy and wealth and income inequality is the great moral issue of our time, it is the great economic issue of our time and it is the great political issue of our time, yet it gets very little coverage from the corporate media," Sanders said. "I am excited to build on the success of our Medicare for All town hall and go outside the traditional media to talk about who owns America, why the middle class is declining, extreme poverty and how we create an economy that works for everybody, not just the 1 percent."
The event, titled "Inequality in America: The Rise of Oligarchy and Collapse of the Middle Class," will be held in front of a live audience at the Capitol Visitor Center's Congressional Auditorium in Washington from 7:00 to 8:20 p.m. and live streamed across the partners' social media channels.
"The political establishment has completely turned away from the middle class and abandoned the American blue collar workers in favor of the wealthy elite," said TYT host Ana Kasparian. "Tax cuts are only helping the top one percent and have become corporations' best and most loyal friend . Our government needs to create opportunity for all people and it's imperative that our elected officials make sure wages increase with the productivity of this country. I applaud Sen. Sanders' work in making this the issue of our time. I look forward to working with Michael Moore, Sen. Elizabeth Warren, Darrick Hamilton and the many other esteemed guests to advance the conversation and create change."
"We need a government that works for all of us, not only the 1 percent. Likewise we are proud to partner in this town hall and amplify such a vital issue. Another world is possible, but we need a better media to make it," said Harry Waisbren, co-founder of Act.tv.
Guests interested in attending in person can find more information here.
PANELIST BIOS
Elizabeth Warren, Senator from Massachusetts
Elizabeth Warren has made her life's work the fight for middle class families. She is recognized as one of the nation's top experts on bankruptcy and the financial pressures facing middle class families, and the Boston Globe has called her "the plainspoken voice of people getting crushed by so many predatory lenders and under regulated banks."
Michael Moore, filmmaker and author
Michael Moore is an Academy-Award winning documentary filmmaker, activist, and author. Among many issues his work has examined globalization, gun ownership, health care, and domestic and foreign policy.
Darrick Hamilton, Professor of Economics and Urban Policy, The New School, New York City
Professor Darrick Hamilton teaches economic and urban policy at the New School in New York. Both his academic work and activism is aimed at promoting greater economic, political, and social inclusion. His work examines inequality and identity, racism, and socioeconomic outcomes.
Catherine Coleman Flowers, founder, Alabama Center for Rural Enterprise
Ms. Catherine Coleman Flowers is the founder of the Alabama Center for Rural Enterprise Community Development Corporation. Ms. Flowers has called attention to the lack of environmental and climate justice in poor rural communities, including exposing how some communities live surrounded by raw open sewage. Last year she invited the UN's Special Rapporteur on Extreme Poverty to Alabama, and he characterized what he saw as "uncommon in the first world."
Cindy Estrada, Vice President of the United Auto Workers Union
Cindy Estrada is a longtime union organizer and social activist. She was first elected as vice president in 2010 and is the first Latina elected to serve as an International officer. Cindy developed a passion for the labor movement while listening to her grandparents and other family members talk about their experiences working on farms and inside the factories of Detroit. Their stories were the first of many that have guided Estrada in her dedication to empower workers and show them they deserve a seat at the table to raise and resolve workplace problems and improve their working conditions.
Professor Gordon Lafer, Political Scientist, University of Oregon
Dr. Gordon Lafer, a political economist, is a Professor at the University of Oregon's Labor Education and Research Center and a Research Associate with the Economic Policy Institute. He has spent many years working as a union organizer and has seen how people have been mistreated or ripped off by their employers. His most recent book is The One Percent Solution: How Corporations Are Remaking America One State at a Time (Cornell University Press, 2017).
LATEST NEWS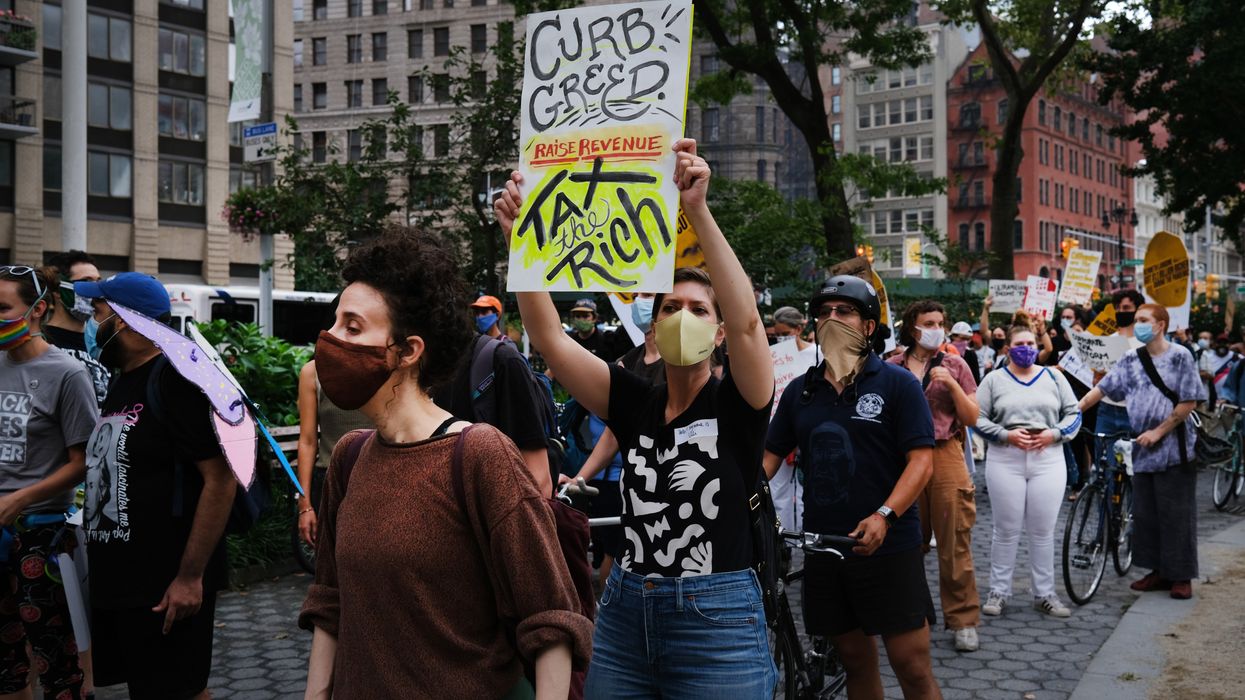 U.S. Sen. Ron Wyden called on the IRS to further strengthen tax dodging enforcement, including criminal prosecution referrals.
Citing "alarming" data provided by the federal government about the prevalence of tax evasion among the richest Americans, U.S. Sen. Ron Wyden on Thursday called on the Internal Revenue Service to crack down on "particularly brazen" high-income tax cheats and noted that Democratic initiatives have already helped to begin addressing the problem.
Writing to IRS Commissioner Danny Werfel, the Oregon Democrat and chair of the Senate Finance Committee cited data provided by the agency regarding taxes filed from 2017-20.
More than 1.4 million wealthy Americans have still not filed their taxes for those years, Wyden said, with the total amount owed to the federal government reaching "a whopping $65.7 billion"—almost enough to fund a universal childcare program for one year or a universal school lunch program for more than two years.
Nearly 1,000 people who earn $1 million per year or more have yet to file their tax returns, but Wyden wrote that the "most alarming" revelation in the data provided to his committee by the IRS "was the extraordinary amount of unpaid taxes owed by a small subset of ultra-wealthy non-filers," with the 2,000 highest-earning tax dodgers currently owing $923 million.
These high earners, said Wyden have "access to professional advisors and are well aware of their filing obligations with the IRS," but continue to withhold hundreds of millions of dollars that could support food aid, housing assistance, public health efforts, and other federal programs.
"These are people who essentially blow raspberries at the IRS," Wyden toldWashington Post columnist Greg Sargent on Thursday. "They're sophisticated people. They know this is wrong, wrong, wrong. And they do it anyway."
On social media, the senator noted that Republicans in Congress—and those running for president in 2024—aim to drain the IRS of its resources and "[make] it easier for the rich to cheat on their taxes," while Democrats included $80 billion in the Inflation Reduction Act to strengthen enforcement against tax evasion.
With the data provided to the Senate Finance Committee pertaining to 2017-20, wrote Sargent, it "underscores that when the IRS is underfunded, wealthy tax cheats benefit in a big way. An underfunded IRS is what Republicans are advocating for."
After being elected U.S. House Speaker in January, Rep. Kevin McCarthy's (R-Calif.) first action was to propose a repeal of the IRS enforcement funding. Republican presidential candidates including Florida Gov. Ron DeSantis and Sen. Tim Scott of South Carolina have also called for a repeal of the IRA provision, claiming it's an attack on working-class Americans.
But the GOP narrative about IRS enforcement contrasts with the reality, wrote Sargent.
"Unfortunately for Republicans, enforcement funded by [the IRA] has paid off—bringing in more than $38 million from 175 rich tax delinquents, the IRS announced in July," he wrote. "And this month, the agency announced plans to use the funding for still more efforts targeting wealthy tax avoiders."
With tax evasion from previous years still affecting federal coffers, Wyden told Werfel in his letter that the IRS should "initiate enforcement actions against every single millionaire non-filer as part of its ongoing effort to use Inflation Reduction Act funding to restore fairness in tax compliance."
"I also urge IRS to utilize the enforcement tools available to it for instances of willful millionaire non-filers," he added, "including referrals to DOJ for civil or criminal prosecution, liens, and levies."
News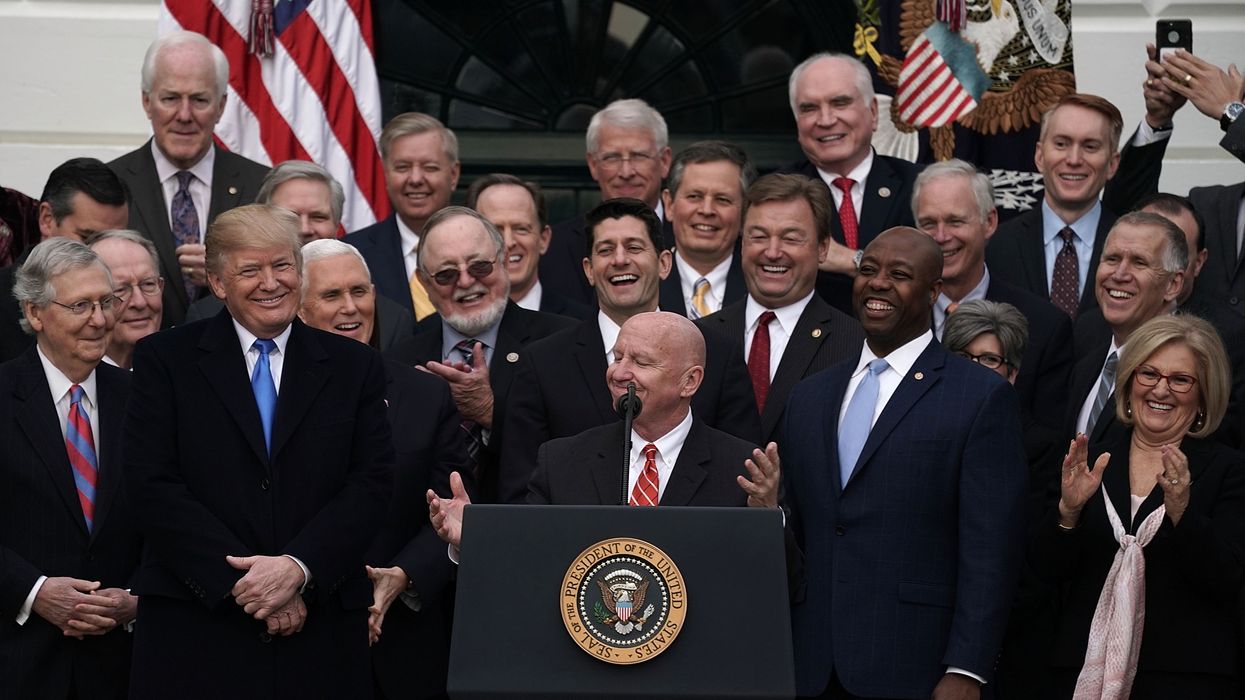 "The staggering runup of billionaire wealth since the passage of the Trump-GOP tax law is a sure indicator of who that law was meant to serve."
U.S. billionaires have seen their collective fortunes surge by more than $2 trillion since the enactment of the 2017 Trump-GOP tax cuts, according to a new analysis released Thursday as Republicans work to extend the law's expiring provisions.
Using Forbes wealth data, the progressive advocacy group Americans for Tax Fairness (ATF) calculated that the combined wealth of the nation's 748 billionaires exceeded $5 trillion this month—up 77%, or $2.2 trillion, since the Tax Cuts and Jobs Act took effect in 2017.
Tesla CEO Elon Musk saw the biggest wealth increase of all U.S. billionaires, surging from $20.4 billion in December 2017 to nearly $270 billion in September 2023—a 1,222.8% boost.
Amazon executive chairman Jeff Bezos, Oracle CEO Larry Ellison, Microsoft co-founder Bill Gates, and Meta CEO Mark Zuckerberg also enjoyed massive net worth spikes.
"The staggering runup of billionaire wealth since the passage of the Trump-GOP tax law is a sure indicator of who that law was meant to serve—and who it would go on serving if Republicans succeed in their plan to make its expiring provisions permanent," said David Kass, ATF's executive director. "Instead of extending tax breaks for billionaires, Congress should be working to better tax them through President Biden's Billionaire Minimum Income Tax and other reforms in how we tax the super-wealthy."
ATF notes that under current U.S. law, much of the boon billionaires have seen over the past six years won't be taxed, given that much of their wealth is held in stocks.
"Investment gains are only taxed when the underlying asset is sold," ATF noted, "but billionaires and other hyper-wealthy people don't need to sell in order to benefit: they can obtain low-interest loans against their rising fortunes and live luxuriously tax-free. And when the gains are handed down to the next generation, they completely disappear for tax purposes."
Far from distancing themselves from the unpopular 2017 law—which slashed individual and corporate tax rates—congressional Republicans have doubled down in recent months, making clear that they want to permanently extend provisions of the law that disproportionately benefited the wealthiest Americans.
In June, House Republicans unveiled a trio of bills that would deliver $28.4 billion in tax cuts to the top 1% next year alone.
The Congressional Budget Office estimated earlier this year that extending the 2017 tax cuts would add $3.5 trillion to the deficit over the next decade.

"Worse than the Republicans' desire to give their political donors huge tax cuts is that they want hard-working Americans to pay for them through reduced public services," ATF said Thursday, noting that U.S. billionaires' $2.2 trillion wealth surge would be "more than enough" to fund a 10-year expansion of the boosted child tax credit.
That program expired at the end of 2021 after Sen. Joe Manchin (D-W.Va.) and congressional Republicans opposed an extension. As a result, child poverty more than doubled last year.

News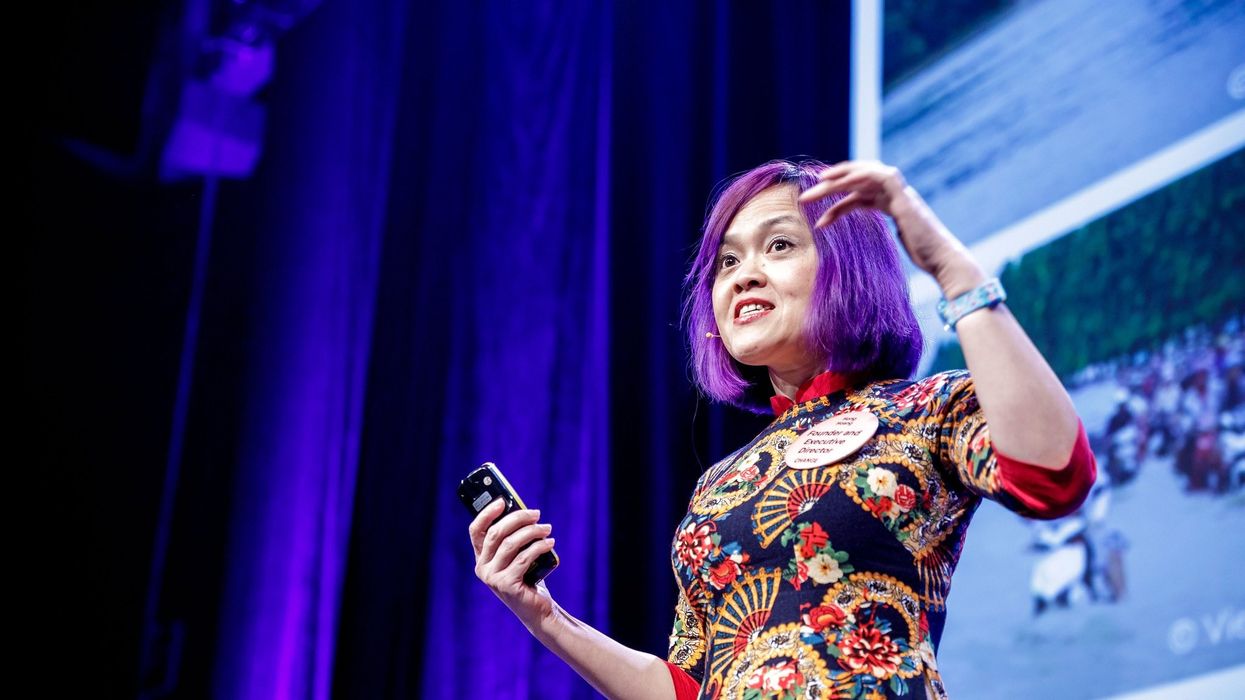 One campaigner called Hoàng Thị Minh Hồng's conviction "a total fraud" and "yet another example of the law being weaponized to persecute climate activists who are fighting to save the planet."
Environmental and human rights campaigners the world over are blasting the Vietnamese government after a court in Ho Chi Minh City on Thursday sentenced high-profile climate activist Hoàng Thị Minh Hồng to three years in prison for tax evasion.
Hoàng, a former journalist who launched the 350.org-affiliated Center of Hands-on Actions and Networking for Growth and Environment (CHANGE) VN in 2013, is the fifth climate campaigner recently imprisoned in Vietnam on what critics—including the United Nations Environment Program and U.N. Office of the High Commissioner for Human Rights—have framed as politically motivated charges enabled by unclear tax law and intended to silence activists.
"This verdict is a self-inflicted wound on Vietnam's ability to tackle one of the most seismic issues of our time."
"The Vietnamese authorities are using the vaguely worded tax code as a weapon to punish environmental leaders whom the ruling Communist Party deems a threat to their power," Human Rights Watch (HRW) deputy Asia director Phil Robertson asserted earlier this week. "The government should stop punishing activists for peacefully advocating action on climate change and for green policies, and drop the case against Hoàng Thị Minh Hồng."
After the 51-year-old was sentenced on Thursday and fined $4,100, 350.org executive director May Boeve said in a statement that "we are deeply dismayed by Hồng's wrongful imprisonment, and in light of her formal sentencing today we reiterate our call for her prompt release and that of fellow climate advocates throughout Vietnam."
350.org Asia regional director Norly Mercado declared that "Hồng is a dedicated and fearless climate defender, and as a treasured colleague, we will continue to offer her our utmost support. Her contributions to climate justice globally, and in her home country of Vietnam, are vital."
Hoàng was accused of dodging $274,488 in tax payments during the 2012-22 period, Reutersreported, citing a local newspaper's review of the indictment. Her attorney, Nguyen Van Tu, explained that "Hồng pleaded guilty, and therefore the trial ended quickly," and now she has 15 days to decide whether to appeal.
"This conviction is a total fraud, nobody should be fooled by it," said Ben Swanton, co-director of the Vietnam-based 88 Project. "This is yet another example of the law being weaponized to persecute climate activists who are fighting to save the planet."
As HRW detailed Wednesday:
Police arrested the prominent environmental campaigners Dang Dinh Bach, Mai Phan Loi, and Bach Hung Duong in 2021, and Nguy Thi Khanh and Hoang Ngoc Giao in 2022, all on tax evasion charges under article 200 of the criminal code.

International pressure purportedly pushed the Vietnamese authorities to release Mai Phan Loi and Nguy Thi Khanh a few months before the end of their prison sentences. Bach Hung Duong, who was sentenced to 27 months in prison, should have completed his prison sentence as of September 25. Dang Dinh Bach, who remains behind bars, was reportedly assaulted in prison for demanding that the prison guards respect his basic rights.
"Vietnamese authorities must end their crackdown on environmental campaigners now," Amnesty International deputy regional director for campaigns Ming Yu Hah argued Thursday. "This verdict is a self-inflicted wound on Vietnam's ability to tackle one of the most seismic issues of our time."
"The international community must condemn this verdict and urge Vietnam to drop all criminal charges against environmental activists," the campaigner continued. "Authorities in Vietnam must also wake up to the fact that they can only fulfill their climate goals and responsibilities by working with, rather than against, those most dedicated to this cause in their own country."
Hoàng's sentencing comes as Vietnam—which is incredibly vulnerable to the climate emergency—is working to implement the Just Energy Transition Partnership (JETP), a $15.5 billion initiative to cut planet-heating emissions whose funders include Canada, Japan, the European Union, the United Kingdom, and the United States.
"Having imprisoned the country's human rights defenders and democracy activists, the Vietnamese government is now targeting those working for a cleaner, more sustainable environment," said Robertson. "International donors need to be clear with Vietnam's leaders that the Just Energy Transition Partnership cannot move forward so long as environmental activists are under attack."
Mercado also noted the initiative, saying that "Vietnam's ambitious climate goals—made more potent by the country's position on the frontlines of climate impacts—have been achieved in no small part through the dedicated efforts of climate champions like Hồng. The unjust imprisonment of fearless changemakers like Hồng not only imperils initiatives within Vietnam such as its JETP deal, but also undermines the country's vital role in shaping a fair and equitable response to the urgent climate crisis."
U.S. President Joe Biden visited Vietnam earlier this month to elevate relations to a "comprehensive strategic partnership." In a joint statement, he and General Secretary of the Communist Party of Vietnam Central Committee Nguyen Phu Trong "affirmed the importance of promoting and protecting human rights in accordance with each country's constitution and international obligations," and said that "the United States committed to assisting Vietnam with both finance and advanced climate technology to fulfill its international climate commitments."
HRW highlighted that "just four days after Biden departed Hanoi, Vietnam arrested another prominent environmental researcher, Ngo Thi To Nhien, the executive director of the Vietnam Initiative for Energy Transition," which "works alongside the United Nations and donors to help provide research and planning advice for the JETP."

Biden served as vice president under former U.S. President Barack Obama. In 2018, the Obama Foundation recognized Hoàng's two decades of "tackling Vietnam's most urgent issues, including climate change, pollution, and illegal wildlife trade," with a grant to join its one-year scholars program at Columbia University in New York City.
On social media this week, Robertson urged the Obama Foundation and the former U.S. president "to demand that Vietnam immediately and unconditionally release" Hoàng, stressing that "this is when international solidarity is really needed!"
News
Independent, nonprofit journalism needs your help.
Please Pitch In
Today!