For Immediate Release
Contact:
Olivia Alperstein, Media Manager, Institute for Policy Studies,olivia@ips-dc.org
President Trump's $54 Billion Pentagon Grab
In its opening volley in the federal budget process, the Trump administration has called for a nearly 10 percent boost in military spending, to be funded by cuts to domestic spending and foreign aid. Domestic and foreign aid spending already account for less than half of the federal discretionary budget.

"If this is an effort to put America first, it's a complete misfire," said National Priorities Project's Research Director Lindsay Koshgarian. "America has long been first when it comes to military spending and military strength. But we're not first when it comes to education, health outcomes, or economic mobility. Those are the areas where we need to invest more. This budget does exactly the opposite."

The proposal involves cutting domestic spending for programs like the National Endowment for the Arts, National Endowment for the Humanities, Corporation for Public Broadcasting and others. The identified cuts amount to approximately $3 billion - far less than the $54 billion proposed.

"The proposed cuts are not just inadequate to fund the proposed military increase, they're also ill-advised," Koshgarian said. "Foreign aid and diplomacy are often understood as simply a humanitarian or charitable endeavor, but it's far more strategic than that. U.S. diplomacy and foreign aid are carefully targeted to support stability in parts of the world where the U.S. has important safety or national interests. They're recognized by military leaders as a necessary tool in their toolbox. You can't solve every problem with a gun."

Recent U.S. military budgets have been upward of $600 billion per year - more than half of the annual discretionary budget, and higher than at any time during the high-rolling Reagan administration. The Pentagon itself identified $25 billion per year in wasteful bureaucratic spending - nearly half the proposed annual increase - but has failed to curtail the waste. And the Pentagon is the only major federal agency that has never completed an audit.

Cutting $54 billion from the federal discretionary budget won't be easy or painless. For comparison, $54 billion is more than the discretionary budgets of the following agencies:
Department of Homeland Security ($48 billion)
Housing and Urban Development ($38 billion)
Department of Energy ($30 billion)
Department of Justice ($29 billion)
Department of State ($29 billion)
Environmental Protection Agency ($8 billion)
National Science Foundation ($7 billion)
Corporation for Public Broadcasting ($485 million)
National Endowment for the Arts ($148 million)
"Any new spending for the Pentagon should come first from ending wasteful spending within the Pentagon itself. We shouldn't raid programs that make our lives better when the Pentagon isn't doing its fair share to combat waste," Koshgarian said.
The National Priorities Project (NPP) is a 501(c)(3) research organization that analyzes and clarifies federal data so that people can understand and influence how their tax dollars are spent. Located in Northampton, MA, since 1983, NPP focuses on the impact of federal spending and other policies at the national, state, congressional district and local levels. For more information, go to https://nationalpriorities.org.
LATEST NEWS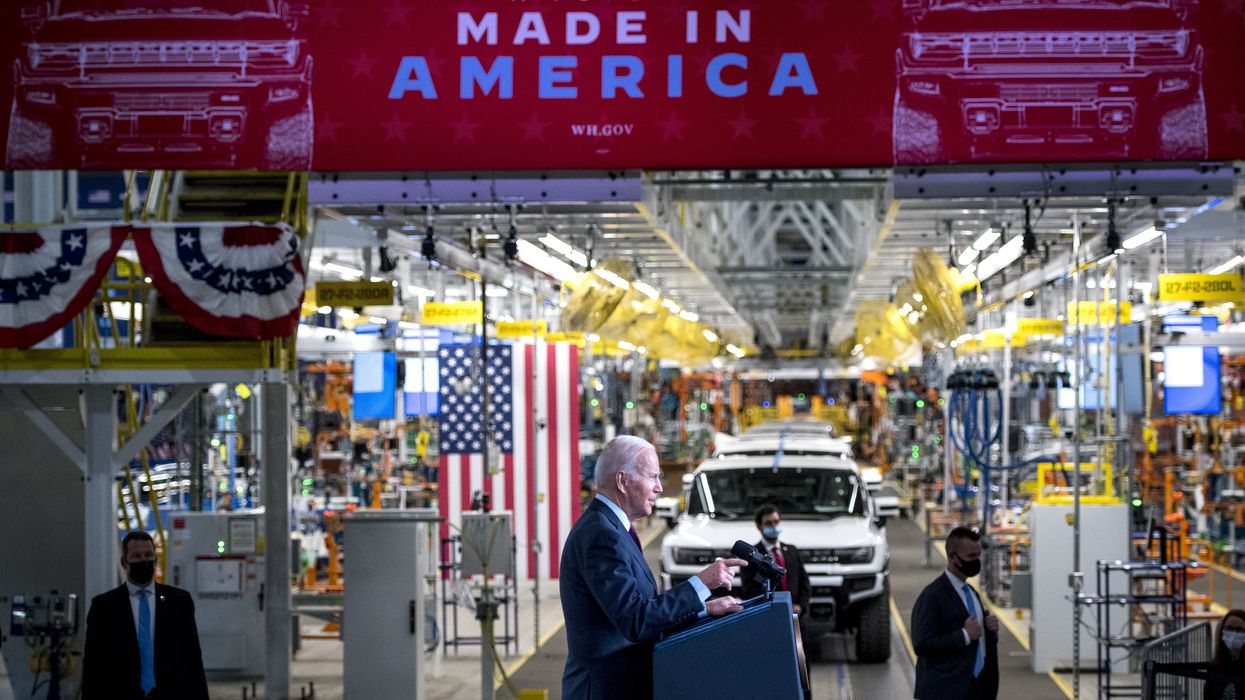 "House GOP leaders should be ashamed for trying to thwart the EPA, and its authority under the Clean Air Act, to limit dangerous and deadly pollution," said one campaigner.
Climate and environmental campaigners on Wednesday bristled as the Republican-controlled U.S. House of Representatives voted to block a proposed Biden administration rule meant to accelerate the transition from gasoline-powered to electric automobiles.
House lawmakers voted 221-197, almost entirely along party lines, in favor of H.R. 4468, the so-called Choice in Automobile Retail Sales Act of 2023. The office of House Energy and Commerce Committee Chair Cathy McMorris Rodgers (R-Wash.) claimed the bill "stops President [Joe] Biden's agenda to force Americans to drive electric vehicles, which will cede our auto future to China."
However, Democratic Congressman Paul Tonko of New York condemned the measure during a House floor speech Wednesday, asserting that "we should be putting our clean energy standards in overdrive to protect consumers and our planet, not reversing course on vital electric vehicle policies."
"We should be putting our clean energy standards in overdrive to protect consumers and our planet, not reversing course on vital electric vehicle policies."

When the Biden administration unveiled its proposed clean transportation standard in April, progressive critics argued that it did not go far enough. The Environmental Protection Agency (EPA) projects that under the most robust version of its proposal—which, if implemented, would take effect in 2027—electric vehicles could account for two-thirds of all new U.S. light-duty automobile sales by the 2032 model year. Last year, just 6% of new vehicles sold in the U.S. were electric.

A coalition of green groups slammed H.R. 4468 this week, writing to congressional leaders that "rather than recognize the twin crises of unmitigated climate change and public health impacts from transportation pollution and the transition to zero-emission vehicles underway, this bill aims to stem the tide of progress towards clean air and a healthy future."
"We need to move forward," the groups added, "not backward."
Margie Alt, director of the San Diego-based Climate Action Campaign, said in a statement that "today's vote on H.R. 4468 is a cynical and tremendously harmful attempt by some in Congress to placate their deep-pocketed fossil fuel executive and lobbyist allies."

"House GOP leaders should be ashamed for trying to thwart the EPA, and its authority under the Clean Air Act, to limit dangerous and deadly pollution from light duty and medium duty vehicles and trucks," she continued. "Cleaner cars standards protect all Americans from the significant respiratory and other health impacts of tailpipe pollution, not to mention limit the impacts of the climate crisis from a key source of climate pollution."
"Vehicle pollution endangers millions of Americans," Alt added, "particularly vulnerable Americans living near highways and high-traffic corridors."
H.R. 4468 has little chance of passing the Senate and even if it did, the White House has signaled that Biden will veto the measure. The White House Office of Management and Budget said Monday that the GOP proposal "would catastrophically impair EPA's ability to issue automotive regulations that protect public health, save consumers money, strengthen American energy security, and protect American investments in the vehicle technologies of the future."
Republican lawmakers on Wednesday also advanced a raft of what GOP leaders called "American energy solutions" that critics slammed as damaging to the climate, environment, Indigenous rights, and frontline communities. These bills include H.R. 6009, a measure introduced by Rep. Lauren Boebert (R-Colo.) that would force taxpayers to foot the bill for cleaning up oil and gas wells on federal lands.
News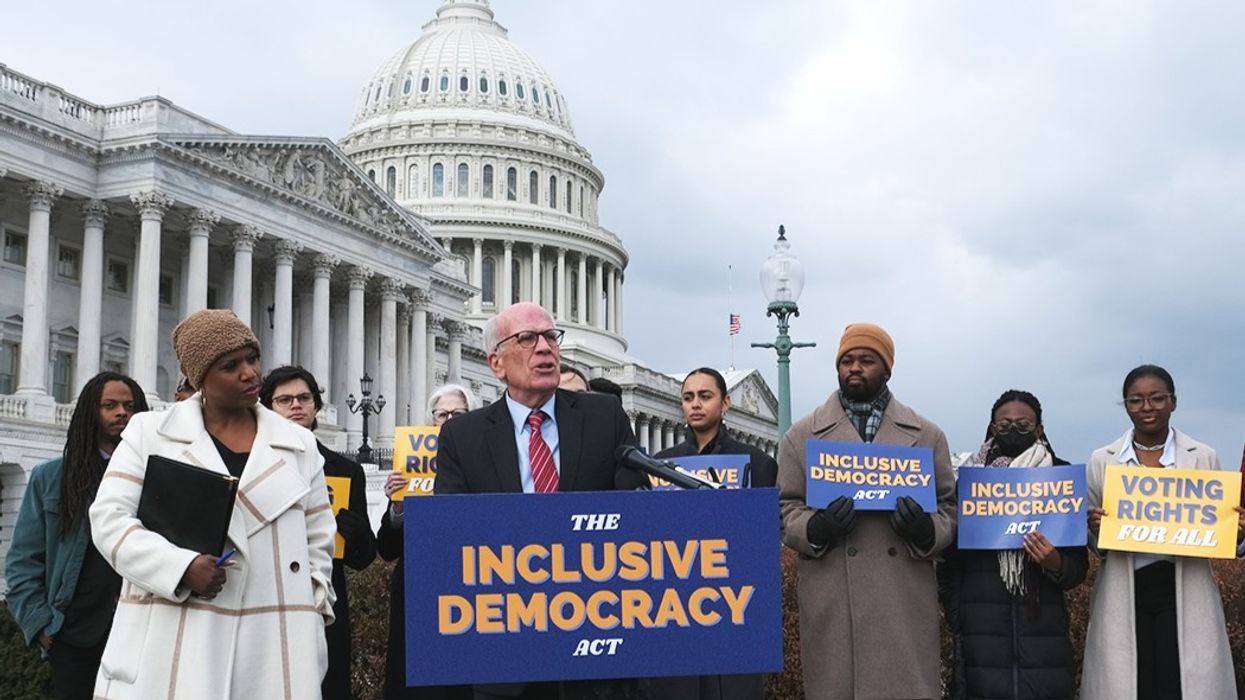 "This bill champions inclusion and representation, which are vital for community reintegration and public safety," said one supporter.
Members of the National Voting in Prison Coalition and other advocacy groups on Wednesday welcomed the introduction of Democratic legislation that would end felony disenfranchisement in federal elections and guarantee incarcerated U.S. citizens the right to vote.
"Too often, citizens behind the wall and those with a record are wrongfully stripped of their sacred right to vote and denied the opportunity to participate in our democracy," said U.S. Rep. Ayanna Pressley (D-Mass.), who is leading the bill with Sen. Peter Welch (D-Vt.).
Pressley stressed that "with Republicans and the Supreme Court stopping at nothing to undermine voting rights and exclude Black and brown folks from participating in our democracy, we must protect and expand access to the ballot box—including for incarcerated citizens."
"As someone whose family has been personally impacted by mass incarceration, I'm proud to partner with Sen. Welch on the Inclusive Democracy Act to ensure everyone can make their voice heard in our democracy," she added. "Momentum is growing in states across the country and Congress must follow suit by swiftly passing this crucial legislation."
The National Voting in Prison Coalition—made up of over two dozen groups including the Campaign Legal Center, Center for Popular Democracy, Common Cause, Dēmos, Stand Up America, and the Sentencing Project—said that "the Inclusive Democracy Act stands as a beacon of hope for the more than 4.6 million Americans currently disenfranchised due to criminal convictions."

"The Inclusive Democracy Act of 2023 is a long-overdue step towards fulfilling the promise of our democracy, where every American has a voice and a stake in shaping our nation's future," the coalition continued.
Some coalition members also put out their own statements of support. Common Cause's Keshia Morris Desir said that "the Inclusive Democracy Act takes significant steps to help end the racist and discriminatory practice of felony disenfranchisement that grips communities of color."

Stand Up America's Sunwoo Oh called felony disenfranchisement "a stain on American democracy" and pledged that the group's nearly 2 million members "are ready to do whatever we can to push this legislation forward at the federal level."
Nicole D. Porter of the Sentencing Project noted that "not only is expanding voting rights the morally correct thing to do—it is also effective policy: For people who have been impacted by the criminal legal system, restoring voting rights has been linked to reduced recidivism, as it helps them rehabilitate and reintegrate into civic life."
According to its sponsors, the bill would:
Guarantee the right to vote in federal elections for citizens who have criminal convictions;
Require state and federal entities to notify individuals who are convicted, incarcerated, on probation, or on parole of their right to vote in federal elections;
Outline the process for citizens in carceral settings to register to vote by mail, if registration is required by their state;
Outline the process for citizens in carceral settings to vote by mail, including protecting and prioritizing election mail, curing ballots with mistakes, and casting a provision ballot;
Ensure citizens in carceral settings have access to information about elections through mechanisms available to them such as the internet, campaigns, and third-party groups;
Provide guidance to state officials to not prosecute citizens in carceral settings who complete an election ballot that includes an election they are not eligible to vote in; and
Provide a private right of action to enforce this legislation.
"This bill champions inclusion and representation, which are vital for community reintegration and public safety," said David Ayala of the Formerly Incarcerated Convicted People & Families Movement. "It ensures that the voices of those directly impacted by the criminal legal system shape federal policies, addressing reentry challenges effectively."
Jeremiah Mungo of More Than Our Crimes declared that "every American deserves a voice in their homeland."
The new bill is backed by 17 other House Democrats as well as Sens. Ed Markey (D-Mass.) and Bernie Sanders (I-Vt.) but is unlikely to pass the GOP-controlled lower chamber or split Senate. Despite the odds, lawmakers have also unveiled other voting rights measures throughout the year, including the Freedom to Vote Act and the John R. Lewis Voting Rights Advancement Act.
News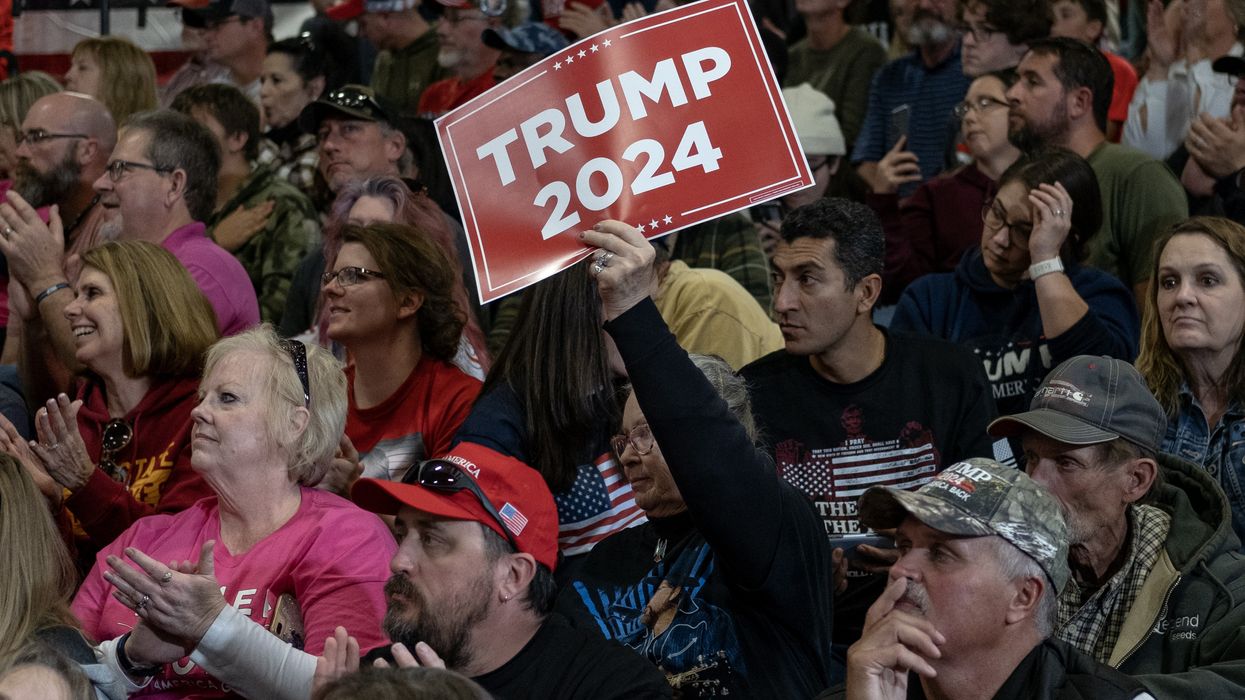 "Since Secretary of State Griffin-Valade has announced that Trump will be on the primary ballot unless a court orders otherwise, we are seeking a court order."
In response to Oregon Secretary of State LaVonne Griffin-Valade's announcement that she won't remove former U.S. President Donald Trump from the ballot for the Republican Party primary without a court order, voters on Wednesday filed a lawsuit seeking one.
This case and others like it across the country are based on Section 3 of the 14th Amendment, which bars anyone who has taken an oath to the U.S. Constitution and then "engaged in insurrection or rebellion" from holding any civil or military office.
"Donald Trump violated his oath of office and incited a violent insurrection that attacked the U.S. Capitol, threatened the assassination of the vice president and congressional leaders, and disrupted the peaceful transfer of power for the first time in our nation's history," Free Speech for People (FSFP) legal director Ron Fein said in a statement.
"Our predecessors understood that oath-breaking insurrectionists will do it again, and worse, if allowed back into power, so they enacted the insurrectionist disqualification clause to protect the republic from people like Trump," he continued. "Trump is legally barred from the ballot and election officials must follow this constitutional mandate."
"All Oregon voters, including the plaintiffs, have a well-established right to have only eligible candidates on the ballot."
FSFP—which represents the Oregon voters and has filed similar legal challenges in Michigan and Minnesota—had sent a letter last month requesting that Griffin-Valade "issue a temporary rule (and subsequent declaratory ruling) that Mr. Trump is constitutionally ineligible to appear on any Oregon future ballot for nomination of election to federal office."
In a statement about denying that request last week, the secretary's office noted that her decision relies on legal advice from the Oregon Department of Justice (DOJ), it only applies to the primary, and she "received significant voter contact" on the topic.
"Oregon law does not give me the authority to determine the qualifications of candidates in a presidential primary," Griffin-Valade said. "I will follow our usual process and expect to put Donald Trump on the primary ballot unless a court directs me otherwise."
"I understand that people want to skip to the end of this story. But right now, we don't even know who the nominee will be," she added. "When the general election comes, we'll follow the law and be completely transparent with our reasoning."
Along with FSFP, the Oregon voters behind the new filing are represented by local attorneys Jason Kafoury and Daniel Meek.
"The United States Constitution makes Donald Trump ineligible to run for or serve in any public office in the country, let alone president," Kafoury argued Wednesday. "All Oregon voters, including the plaintiffs, have a well-established right to have only eligible candidates on the ballot. Since Secretary of State Griffin-Valade has announced that Trump will be on the primary ballot unless a court orders otherwise, we are seeking a court order preventing Trump from being on the ballot."
Griffin-Valade spokesperson Laura Kerns said in an email to the Oregon Capital Chronicle on Wednesday that "the secretary believes that she made the right decision to rely on the advice of DOJ regarding the presidential primary election."

The lawsuit came on the same day as oral arguments before the Colorado Supreme Court in a Trump disqualification case initially brought by Citizens for Responsibility and Ethics in Washington (CREW) and firms representing state voters in September.
It also came a day after Trump—the GOP's 2024 front-runner, despite his ongoing criminal cases—said during a televised Fox News town hall that he would be a dictator on "day one," adding that "I want to close the border and I want to drill, drill, drill."

News