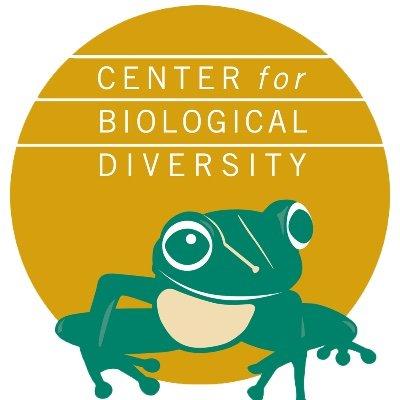 For Immediate Release
November, 23 2016, 12:15pm EDT
Contact:
Tel: (520) 623.5252,Email:,center@biologicaldiversity.org
BLM Urged to Remove 3,100 Acres of Texas Public Lands from Oil and Gas Lease Auction
Fracking Could Trigger Earthquakes, Threaten Water Supplies for Corpus Christi, Brenham
DALLAS
Environmental groups today called on the Bureau of Land Management to remove over 3,100 acres from an oil and gas lease auction set for the spring over concerns that fracking might trigger earthquakes, damage dams and threaten the water source for half a million Texans. The federal lands are beneath dams that store water supplies for Corpus Christi and Brenham. The public comment period for this lease sale closed Tuesday.
In their letter to BLM, the Center for Biological Diversity, Clean Water Action and Sierra Club raised concerns that oil and gas drilling and hydraulic fracturing or "fracking" on the lands would put dam infrastructure and drinking water supplies at risk from wastewater injection underneath or near water supply lakes. Fracking also poses risks to sensitive fish and wildlife and recreational areas, including important state park resources.
The BLM has jurisdiction over the leasing of all onshore federal mineral rights. All nine of the Texas parcels for sale are below or near drinking water supply lakes. Specifically, Choke Canyon and Lake Texana are two of Corpus Christi's three main water supply lakes, providing more than half a million people with drinking water. Somerville Lake is a major water supply for the city of Brenham.
Using earthquake data and proven petroleum industry techniques to characterize subsurface characteristics, former senior oil and gas geologist and GIS expert Gerald Bartz developed earthquake tremor risk maps for these parcels. These maps revealed multiple lineaments, or fractures, along the earth's surface -- indicative of possible faults -- underlying the water supply lakes and parcels up for auction.
"Fracking, which involves injecting water and chemicals at high pressure below ground, could increase pressure along these fractures and cause underground rocks to shift, resulting in infrastructure damage and earthquakes. There are multiple fractures located directly in the line of the proposed lease parcels," Bartz said.
Increased fracking and wastewater disposal around the dams could worsen seismic activity around Choke Canyon Reservoir. According to a map prepared by Bartz, earthquakes of magnitudes 2.5 to 4.8 occurred near the footprint of Choke Canyon and in the neighboring counties of the Eagle Ford Shale, a major center for fracking. A 4.8 magnitude earthquake occurred in 2011 less than 30 miles away and a 3.8 magnitude earthquake occurred in 2012 less than 12 miles away from the center of the lake.
"In other words, though drilling has occurred near Choke Canyon to date without damage to this reservoir, there is a tipping point by which added induced seismicity can cause a breach or major infrastructure damage," said Rita Beving of Clean Water Action. "These water supply lakes are from 30 to almost 50 years old. They were never designed to withstand the kind of induced seismicity that additional fracking and wastewater injection could impose."
A 2013 presentation by an Army Corp of Engineers senior geotechnical engineer noted potential risks that drilling, injection, extraction and fracking may pose for reservoir structures and their water supplies, including a dam breach.
"The BLM has never looked at whether fracking or fracking-induced earthquakes could worsen the risk of a breach on any of these lakes, or the possible contamination of these drinking water supplies," said Wendy Park, an attorney with the Center for Biological Diversity. "The BLM needs to remove these parcels from this sale and put the health and safety of Texas communities first, before the financial interests of the oil and gas industry."
"These lakes are some of the state's most valuable assets," said Cyrus Reed, conservation director of the Lone Star Chapter of Sierra Club. "In addition, they provide recreational opportunities for thousands of Texans, including families, and Boy Scouts and Girl Scouts, who come to hike, camp, fish, boat and bird watch. Though some drilling has already gone on around these lakes, concern is mounting over the cumulative impacts that additional fracking may have on reservoir impoundments, and over the potential links between fracking and fault slippage due to deep injection and drilling activities."
At the Center for Biological Diversity, we believe that the welfare of human beings is deeply linked to nature — to the existence in our world of a vast diversity of wild animals and plants. Because diversity has intrinsic value, and because its loss impoverishes society, we work to secure a future for all species, great and small, hovering on the brink of extinction. We do so through science, law and creative media, with a focus on protecting the lands, waters and climate that species need to survive.
(520) 623-5252
LATEST NEWS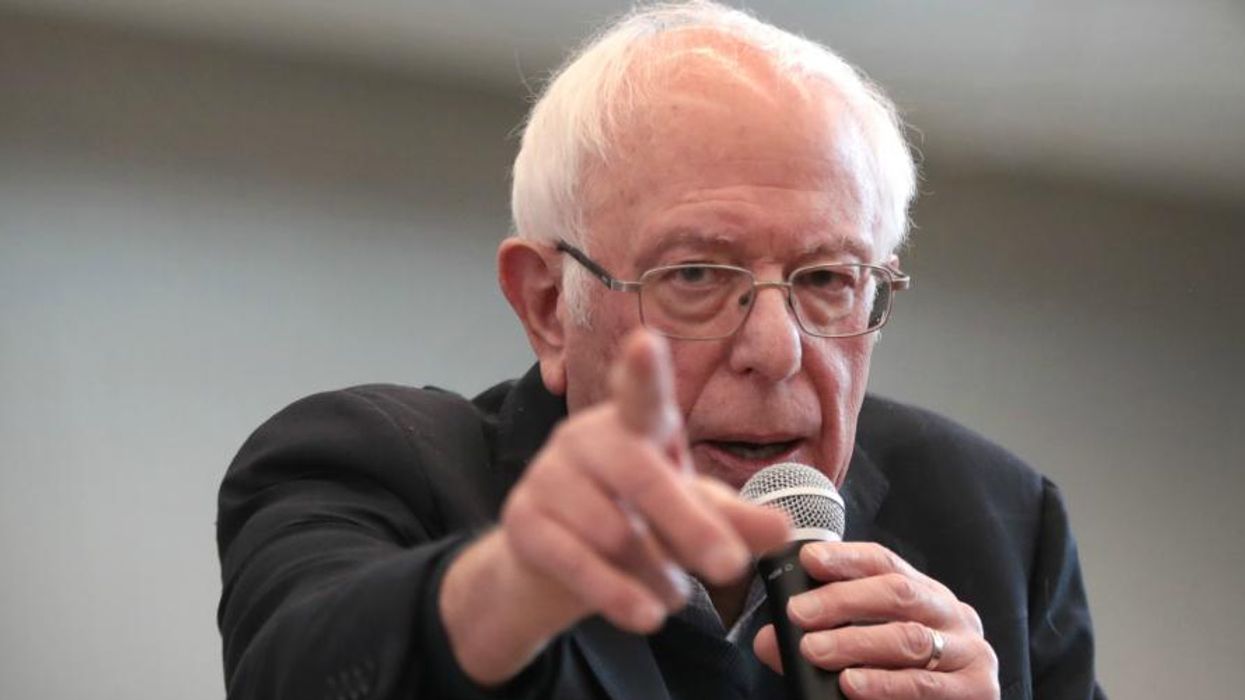 "Virtually all Democrats talk about the need for campaign finance reform," wrote Sanders. "Talk is easy. Now it's time to walk the walk."
Ahead of the Democratic National Committee's annual Winter Meeting in Philadelphia, Sen. Bernie Sanders on Tuesday called on the party to end super PAC spending in primary races, saying the Democrats should take the event as an opportunity to show their commitment to protecting democracy.
Twelve years after the U.S. Supreme Court ruled on Citizens United v. Federal Election Commission, the Vermont Independent senator wrote, the last election cycle illustrated how the "disastrous" decision is "undermining American democracy," as super PACs spent roughly $1.3 billion on campaigning—including more than $460 million spent by Democratic groups.
Millions of dollars were spent by billionaires "against progressive candidates in competitive primaries," Sanders wrote, with super PACs funding "outrageous and dishonest attack ads."
"When we talk about billionaires buying elections, this is exactly what we are talking about."
Notably, a super PAC created by the American Israel Public Affairs Committee (AIPAC) spent millions of dollars in competitive races in North Carolina, Texas, and Pennsylvania last year, running attack ads against progressives who are critical of the United States' support for Israel's violent anti-Palestinian policies. One ad accused Rep. Summer Lee (D-Pa.) of being disloyal to the Democratic Party.

"When we talk about billionaires buying elections, this is exactly what we are talking about," wrote Sanders, who caucuses with Senate Democrats.

The 2010 Citizens United ruling allowed corporations and special interest groups to create super PACs, which can accept unlimited donations and spend unlimited money on campaigns. The ruling has been condemned for years by Democratic lawmakers including Rep. Adam Schiff (D-Calif.), who earlier this month introduced legislation to overturn Citizens United.
The party could make clear that it opposes the corporate takeover of campaigning by banning super PAC spending in its primaries, said Sanders, noting that the issue was not permitted to come up for a vote at last year's DNC meeting when he proposed it there.
\u201cVirtually all Democrats talk about the need for campaign finance reform. Talk is easy. Now it\u2019s time to walk the walk. I wrote a letter to the @DNC today on why we must stand up for democracy and end super PAC spending in primaries.\u201d

— Bernie Sanders (@Bernie Sanders) 1675194781
"Virtually all Democrats talk about the need for campaign finance reform," wrote Sanders. "Talk is easy. Now it's time to walk the walk. Let's stand up for democracy."

News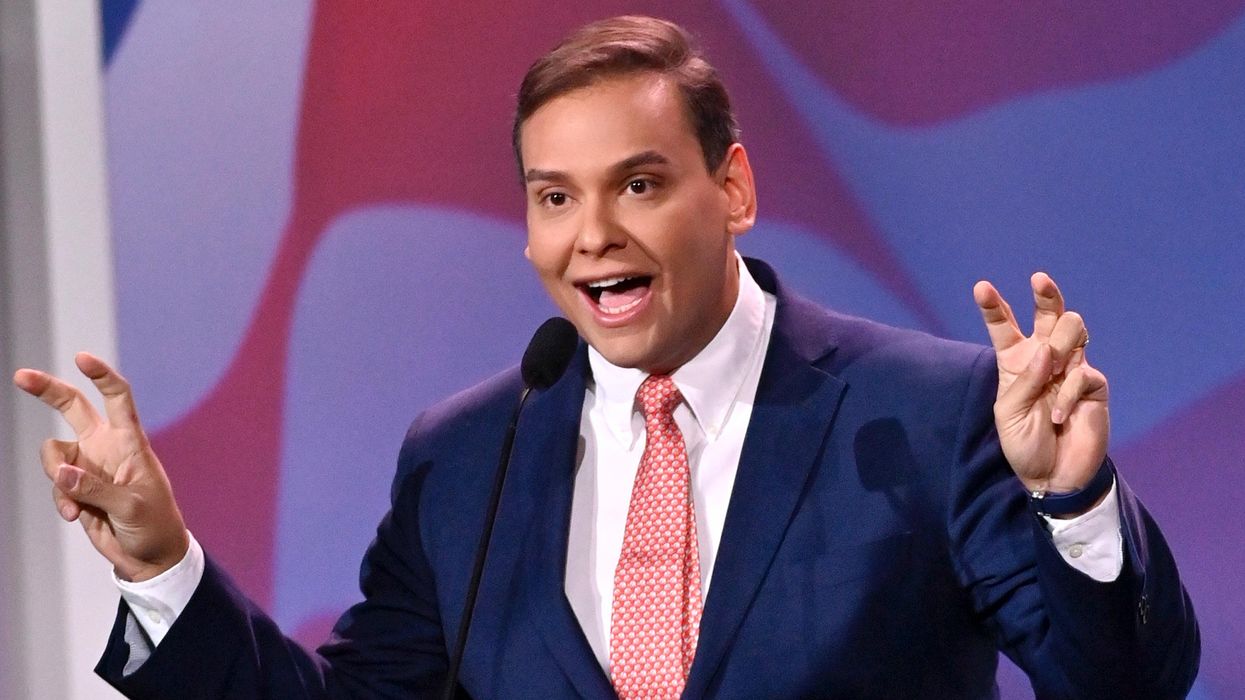 "Talk about buyers' remorse," cracked the director of Siena College Research Institute, which conducted the poll.
Close to 80% of voters in GOP Rep. George Santos' New York congressional district want him to resign—including 71% of Republicans—according to a poll published Tuesday, the same day the serial liar temporarily stepped down from his House committee assignments.
According to the Newsday/Siena College poll, Santos' overall approval rating is an abysmal 7%, with 83% disapproval. Seventy-eight percent of survey respondents said Santos should resign, including 89% of Democrats, 71% of Republicans, and 72% of Independents.
"Talk about buyers' remorse," Siena College Research Institute director Don Levy said in a statement. "Voters elected George Santos by a comfortable margin not even three months ago. But today, the vast majority of his new constituents—including the vast majority of those who voted for him—want him gone."
"Discouragingly, three-quarters or more of voters of every party say that Santos' behavior and now his refusing to resign show that our political system is broken, not that his behavior says little about the state of our politics," Levy added.
The survey of registered voters in New York's 3rd Congressional District was conducted last week.
\u201cSpecial Newsday / Siena College NY 3 Congressional District Poll:\nNY 3 Voters Say Santos Should Resign 78-13%, Including 71% of Reps\n\nhttps://t.co/29pwfP7Tx4\u201d

— SienaResearch (@SienaResearch) 1675161006
From intrigue surrounding how his net worth skyrocketed from almost nothing to $11 million in less than two years; to demonstrable lies about his education, employment history, residence, and purported Jewish heritage; to allegations of fraud perpetrated in Brazil and against a U.S. combat veteran and his dying dog, Santos' lies have dominated his short congressional career.
On Tuesday, Santos said he would temporarily step down from the House Small Business Committee and the Science, Space, and Technology Committee amid investigations into his campaign finances. The embattled congressman thanked House Speaker Kevin McCarthy (R-Calif.) for "allowing me to take time to properly clear my name before returning to my committees."
Responding to this, the political action group MoveOn tweeted: "Stepping down from committees is just the start. Santos needs to resign."

News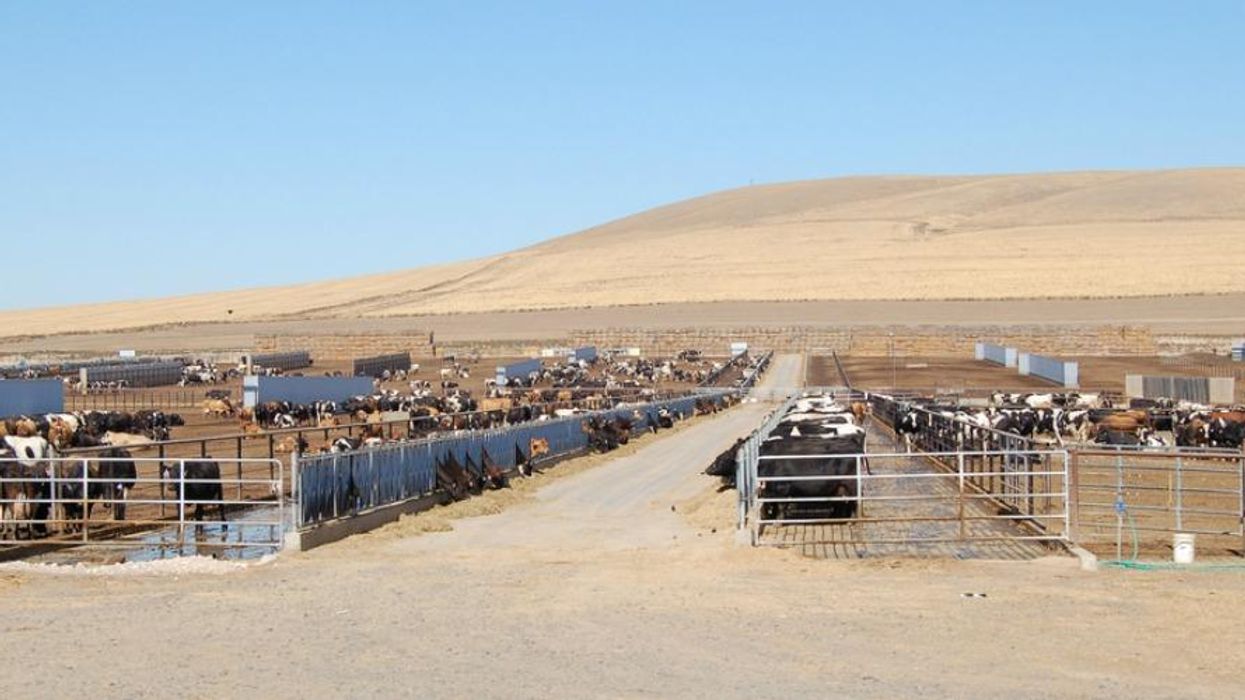 "Corporate consolidation is at the heart of our food system's dysfunction," said one policy analyst.
Food & Water Watch on Tuesday released an analysis of the U.S. dairy farming industry—the climate and food justice group's third in-depth report on the economic costs of food monopolies—revealing how corporate consolidation has helped push small family farms out of business over the past two decades, while worsening the climate emergency.
In The Economic Cost of Food Monopolies: Dirty Dairy Racket, Food & Water Watch (FWW) explains how factors including the gutting of farm supply management policies and higher production costs have helped cause rapid consolidation in the dairy sector, with 70% of family-scale dairy farms shutting down between 1997 and 2007.
"Corporate consolidation is at the heart of our food system's dysfunction," said Rebecca Wolf, food policy analyst for FWW. "Corporate-directed policymaking is throwing America's dairy industry into crisis. Family-scale dairies are collapsing at an alarming rate, and those that manage to hang on face rising costs, negative returns, and mounting debt, while consumers are sold an illusion of pastoral, sustainable milk products."
Just 30% of U.S. milk is now produced at family farms, while 83% of milk sales are controlled by just three dairy cooperatives: Land O' Lakes, DFA, and California Dairies, Inc.
In addition to forcing small farms to shut down, the consolidation of the dairy production industry has "serious climate implications," said FWW, with the shift to factory farms resulting in the doubling of annual methane emissions from the sector between 1990 and 2020.
"We can and must build better, more sustainable systems that support people, communities, and the environment," the group tweeted.
\u201cIn addition to polluting air and water, our research shows that the growth of megadairies is bad for small farmers. We can and must build better, more sustainable systems that support people, communities, and the environment. https://t.co/BIzjauXfUI\u201d

— Food & Water Watch (@Food & Water Watch) 1675191692
FWW traced the loss of family-scale farms back to factors including the loss of dairy price supports in the early 2000s, which caused production prices to rise even more sharply than they previously had for two decades, while sale prices rose far less quickly. This left the average family farm almost entirely unable to turn a profit—doing so just twice between 2000 and 2021—and in many cases, forced them to eventually close.
The "disastrous 1996 Farm Bill" also ended commodity grain supply management policies, allowing oversupplies to flood the market and "ushering in the era of factory farms," with family farms unable to compete with large facilities. Milk production rapidly increased since 1997, further driving down sale prices.
"We need prices that are fair, covering our cost of production and giving us a return to maintain our businesses and make a living. Overproduction and consolidation in the industry are making this increasingly difficult if not impossible."
Wisconsin dairy farmer Sarah Lloyd told FWW that dairy farm families "have our backs against the wall."
"We need prices that are fair, covering our cost of production and giving us a return to maintain our businesses and make a living. Overproduction and consolidation in the industry are making this increasingly difficult if not impossible," said Lloyd. "We need to manage the growth of dairy supply and we can do this with solid dairy policy that looks out for farm families and rural communities and not corporate profits."
The report argues that "there is a clear way forward," making recommendations including "a comprehensive federal supply management program that actively works to match supply with demand and does not use the export market as a dumping ground for oversupply."
"Curbing overproduction can bring a higher price to farmers through the market instead of through taxpayer-funded government payments and bailouts," reads the report. "It will also reduce the pressure to expand herd sizes and thereby avoid more factory farms and the entailing climate emissions."
FWW also called Congress to "stop the megamerger frenzy among agribusiness" by passing legislation to halt agribusiness mergers and ultimately ban factory farms, phasing them out and investing in a "just transition" for factory farm workers by 2040.
"The next Farm Bill is a critical opportunity to reverse course, by restoring supply management and reforming the farm safety net," said Wolf. "Passage of the Farm System Reform Act and Food and Agribusiness Merger Moratorium and Antitrust Review Act will help ensure we stop digging a deeper hole by halting consolidation and factory farm proliferation."

News
SUPPORT OUR WORK.
We are independent, non-profit, advertising-free and 100%
reader supported.