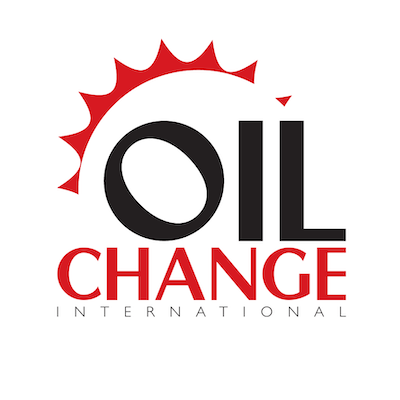 For Immediate Release
Contact:
Email: info [at] priceofoil.org
Oil Change International Response to Keystone XL Rejection
 President Obama sets new precedent by rejecting pipeline on climate grounds
WASHINGTON
In response to President Obama's announced rejection of the Keystone XL tar sands pipeline, Oil Change International released the following statements:
Stephen Kretzmann, Executive Director, Oil Change International:
"Over two years ago, the President spoke at Georgetown University and laid out a simple but powerful criteria for evaluating policies and projects. If it makes climate change worse, it is not in the national interest. Obama's Presidential Climate Test is now the new gold standard for evaluating energy policy and we thank him for designing and applying it.
The rejection of the Keystone XL pipeline on climate grounds is truly a lasting and fitting legacy for President Obama that future generations will rightfully see as a turning point in the struggle against dirty energy, corporate greed and for a safe climate.
The Keystone XL tar sands pipeline is now the first ever fossil fuel project rejected explicitly on climate grounds. It will not be the last."
David Turnbull, Campaigns Director, Oil Change International:
"Today's decision marks the beginning of what should be a new era for energy policy decision-making. No longer can our energy choices be divorced from our climate imperatives. No longer will we allow Big Oil to dictate our futures.
This is a precedent-setting victory for a now-massive movement against Big Oil and for the climate. President Obama deserves credit for heeding the call of climate scientists and an amazing coalition of concerned Americans who have resisted this project like never before. We look forward to further victories against dirty fossil fuel projects as President Obama's climate test is applied moving forward."
Hannah McKinnon, Senior Campaigner, Oil Change International:
"This is a win for the climate, it is a win for people on the front lines of tar sands development, it is a win for a growing movement that is demanding more from our leaders, and it is a win for President Obama, who is proving that he stands behind his rhetoric for a safer climate future. This decision is precedent setting, both when it comes to policy making, but also as a clear signal that people-power works. Big Oil has met its match and we won't back down - this is just the beginning."
Lorne Stockman, Research Director, Oil Change International:
"This momentous decision marks a new era in matching our energy policy with our climate goals. We showed over and over again that Keystone XL was not in the national interest. Whether it was because of its links to the nation's biggest export refineries, or because of the crucial role it would have played in supporting the growth of dirty tar sands production, the pipe would not have served America's interests but only those of its worst polluters. The President has made the right decision and set a new standard for energy infrastructure permitting."
Oil Change International is a research, communications, and advocacy organization focused on exposing the true costs of fossil fuels and facilitating the ongoing transition to clean energy.
(202) 518-9029
LATEST NEWS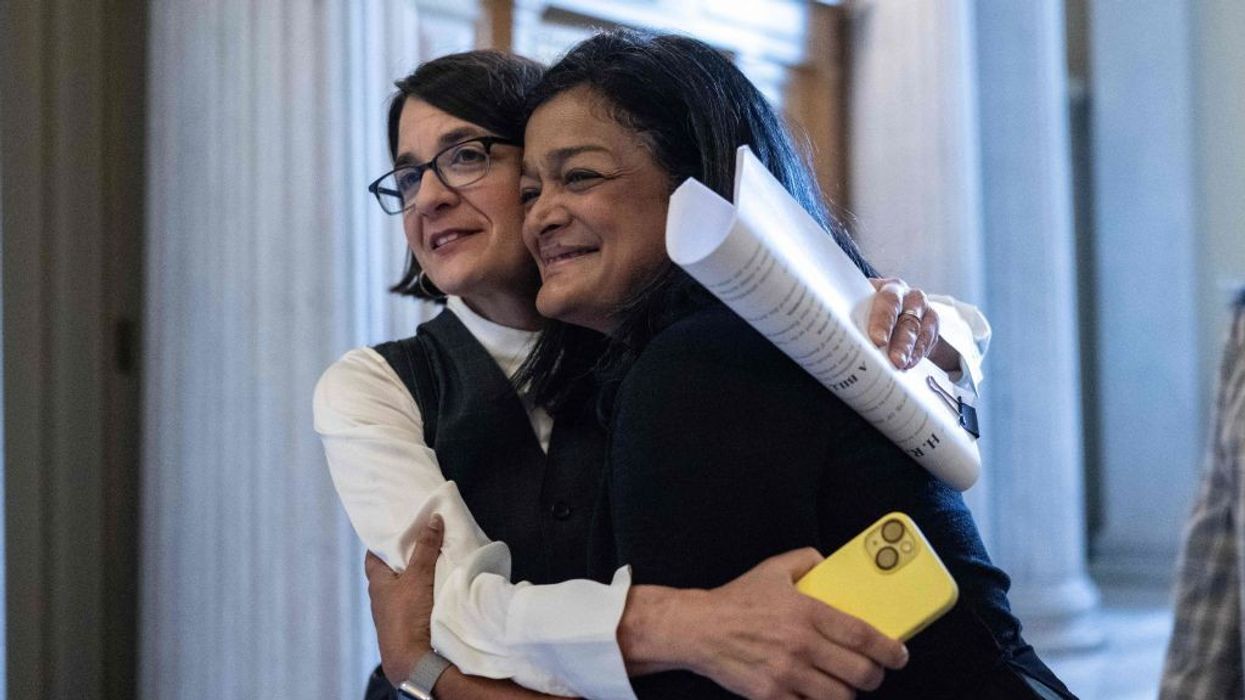 Speaker Kevin McCarthy had previously said that bringing a clean spending bill to the floor would count as surrender.
The House of Representatives voted 335 to 91 to keep the government open Saturday afternoon, as House Majority Leader Kevin McCarthy put forward a bill to fund the government for 45 days without the steep cuts to services or harder border measures demanded by far-right Republicans.
McCarthy had previously said that bringing a clean spending bill to the floor would count as surrender, Politico pointed out. The outlet's Congress reporter Olivia Beavers noted on social media that McCarthy received more votes from Democrats than from his own party, at 209 and 126 respectively.
"It's been interesting watching the MAGA Republicans surrender," Ilhan Omar (D-Minn.) tweeted. "All their must-have poison policies have been removed from the House bill we just passed. We held the line and won for the American people."
On Friday, 21 House Republicans rejected a spending measure that would have cut the budgets of several agencies by almost 30% and included harsher border control measures, The Associated Press reported.While Democrats rejected the measure for being too extreme, the 21 Republicans argued it didn't go far enough.
That refusal prompted McCarthy to change tactics Saturday, despite the fact that his speakership will likely be challenged by the right.
"If somebody wants to remove me because I want to be the adult in the room, go ahead and try," McCarthy said, as AP reported. "But I think this country is too important."
"Democrats held the line against Republicans' cruel, extreme, and unworkable agenda and the Republican resolve crumbled."
The House bill funds the federal government at 2023 levels through November 17 and includes the additional $16 billion in disaster funding requested by President Joe Biden. It does exclude funding for Ukraine, which was a part of the Senate's temporary spending measure. However, Washington Post White House economics reporter Jeff Stein tweeted that it was a "truly striking L for House conservatives demanding massive domestic spending cuts."
"A few days ago, far-right of GOP was insisting ~10% cuts to domestic programs were insufficient," he said. "Now, looks like they're going to get 0% cuts instead."
In an earlier tweet, Stein pointed out that since the stopgap measure relies on spending levels from Fiscal Year 2023, it avoids cuts to WIC, childcare, scientific research, housing support, and other domestic programs.
Progressive lawmakers counted the vote as a win.
"House Democrats have engineered a huge victory for the American people in averting a Republican shutdown," Congressional Progressive Caucus Chair Pramila Jayapal (D-Wash.) said in a statement. "This is a moment of relief for thousands of federal employees and working-class federal contract workers who will not miss a paycheck and the millions of Americans who rely on government services that will continue uninterrupted."
"The reason that the government will remain open tonight is simple," she continued. "Democrats held the line against Republicans' cruel, extreme, and unworkable agenda and the Republican resolve crumbled."
"Here's what went down: We just won a clean 45 day gov extension, stripped GOP's earlier 30% cuts to Social Security admin etc., staved off last minute anti-immigrant hijinks, and averted shutdown (for now)," Alexandria Ocasio-Cortez (D-N.Y.) tweeted. "People will get paychecks and MTG threw a tantrum on the way out. Win-win."
"For months, Speaker McCarthy has been a puppet of the extreme far-right. Democrats held the line on no cuts to the programs that our people depend on and we won," posted Maxwell Alejandro Frost (D-Fla.). "Big fight ahead on the budget, but this is a win. McCarthy folded and we kept the government open."
To avoid a shutdown, a bill must be ready for Biden to sign by 12:01 am Sunday. The Senate is likely to vote on the House meassure this evening, The New York Times reported.
Even if the Senate passes the measure, Jayapal said there would be more work to do and 45 days to pass a permanent funding resolution.
"Republicans are still trying to gut food, housing, and home-heating assistance for low-income families; take teachers out of classrooms; criminalize abortion; cut social security funding; and create a death panel for the earned benefits seniors rely on," she said.
"Republicans have managed to fulfill the absolute bare minimum of their obligations as the governing majority, but Democrats will need to remain vigilant," she added.
News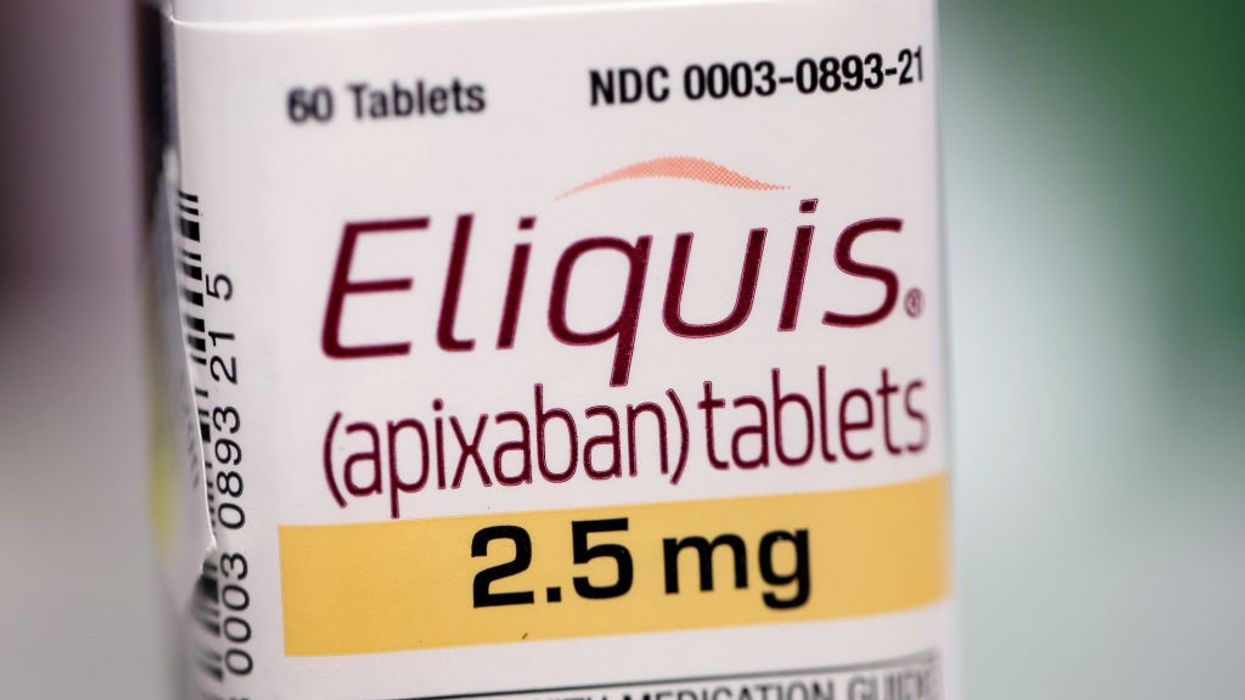 The judge said plaintiff the Chamber of Commerce "demonstrated neither a strong likelihood of success nor irreparable harm."
A federal judge in Ohio on Friday blocked an attempt by corporate interests to stop Medicare's historic negotiation of certain drug prices with pharmaceuticals.
Medicare gained the power to negotiate drug prices as part of the Inflation Reduction Act (IRA), but the several industry groups and drug makers have sued to forestall the program, arguing that it is unconstitutional, CNN explained. One of those groups was the U.S. Chamber of Commerce, which filed its lawsuit in June. The Ohio judge Friday rejected its request for a preliminary injunction to block the program before October 1, the date by which pharmaceuticals must agree to negotiate or not.
"This is the first major blow to Big Pharma in its legal battles to block the drug price negotiation provisions under the Inflation Reduction Act," Peter Maybarduk, director of the Access to Medicines program at Public Citizen, said in a statement.
"The Biden-Harris Administration won't stop fighting for what we know to be true: that nothing in the Constitution prohibits Medicare from negotiating drug prices."
"The Chamber's lawsuit lacks merit," Maybarduk contined. "The court made the right decision not to grant the injunction, which would have caused needless patient suffering and treatment rationing."
Judge Michael Newman of the Southern District of Ohio, a Trump appointee, ruled that the chamber "demonstrated neither a strong likelihood of success nor irreparable harm," as CNBCreported.
"Consequently, their request for immediate preliminary injunctive relief... is denied," Newman concluded.
Newman also rejected the Biden administration's request to dismiss the case. Instead, he gave the Chamber of Commerce until October 13 to answer some questions about its argument and the administration until October 27 to renew its motion to dismiss.
While the chamber had argued the negotiation program was unconstitutional for multiple reasons, Newman pointed out that drug companies are not forced to participate in Medicare.
"As there is no constitutional right (or requirement) to engage in business with the government, the consequences of that participation cannot be considered a constitutional violation," he said.
The Biden administration celebrated the news.
"Today's ruling from the Southern District of Ohio affirms that Medicare will move forward with negotiating lower prices for millions of seniors," Press Secretary Karine Jean-Pierre said in a statement. "And, the Biden-Harris Administration won't stop fighting for what we know to be true: that nothing in the Constitution prohibits Medicare from negotiating drug prices."
The administration announced the first 10 drugs to be subject to negotiations in August. They included the blood-clot treatment Eliquis, Jardiance, Xarelto, Januvia, Farxiga, Entresto, Enbrel, Imbruvica, Stelara, and several Novo Nordisk insulins, according to CNN.
With the injunction blocked, "drug companies should agree to participate in the negotiation program in good faith," Maybarduk said. "The program is an important first step in ending the exorbitant prices charged to Medicare enrollees. It's time for Big Pharma to drop their lawsuits and drop their prices."
News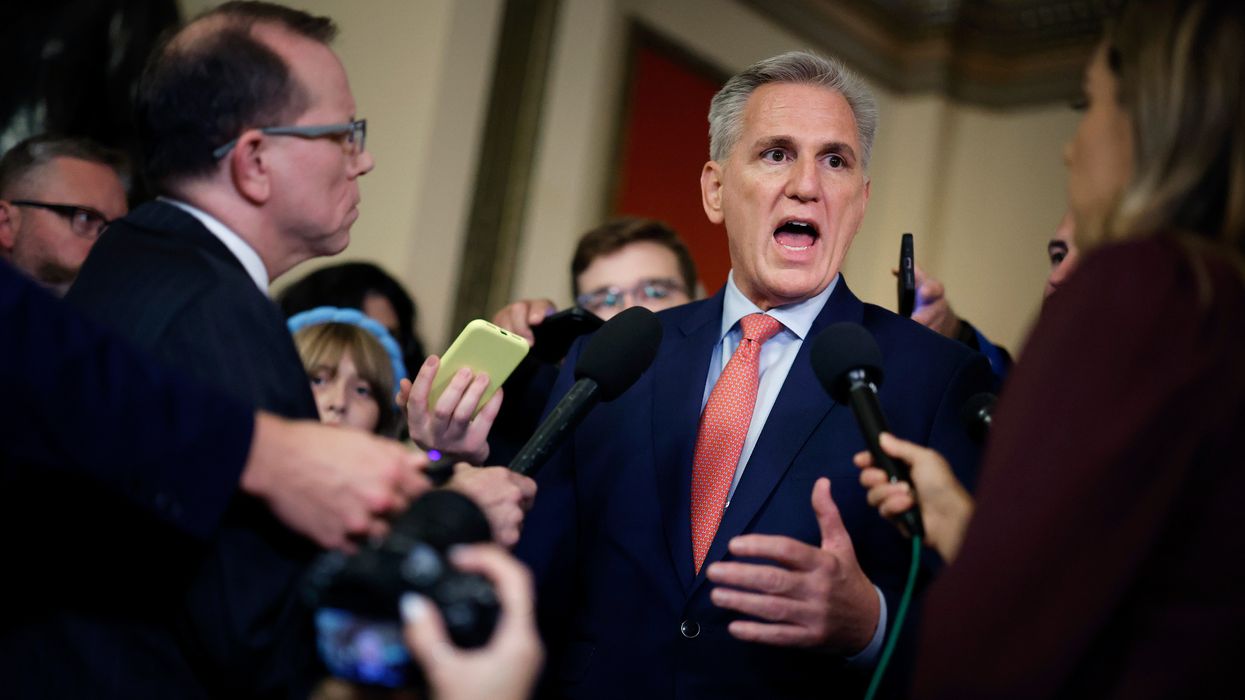 "It's the same thing they did with the debt ceiling: Weaponize the tools of the House majority to force a false choice. Their agenda or a national crisis," said the Congressional Progressive Caucus.
With a "completely avoidable" U.S. government shutdown less than 48 hours away, the Congressional Progressive Caucus and individual House Democrats on Friday took aim at Republicans for holding "the American people hostage to force their agenda through" at the expense of working families and others.

"You wouldn't know it by watching them fail to govern, but House Republicans have a policy agenda. It's extreme, cruel, and unworkable, and they are committed to making that agenda law," the Progressive Caucus said on social media. "Here's the problem: They can't pass it. They can't even get all their members to vote for it."
That's because the Republican continuing resolution (CR) that was voted down 232-198 on Friday—which included big cuts to social safety net spending and anti-migrant measures—was not severe enough for members of the far-right House Freedom Caucus' liking.
"So House Republicans' only option is to hold the government and the American people hostage to force their agenda through," the Progressive Caucus continued. "It's the same thing they did with the debt ceiling: Weaponize the tools of the House majority to force a false choice. Their agenda or a national crisis."
According to the Progressive Caucus, that agenda includes:
An 80% cut in public education funding to take 40,000 teachers from poor students and students with disabilities and kick 100,000 kids out of preschool;
A 70% cut in funding for 5 million low-income families to heat their homes;
Slashing food assistance for millions of low-income women and children;
Cutting support services for nearly 1 million people facing a suicidal or mental health crisis and thousands with opioid use disorder;
Eliminating one-third of all housing choice voucher funding for poor families, increasing the risk of eviction and homelessness;
Increasing the wait time for Social Security disability benefits applicants by two months;
Making fruits and vegetables more expensive for 5 million pregnant mothers; and
Cutting nearly 50% of federal wildfire prevention funds.
"House Republicans are pushing all these cruel cuts AND a death panel for Social Security and Medicare. If they don't get it, they'll shut down the government," the Progressive Caucus added. "This is why progressives are fighting so hard. We will not sacrifice working people to continual Republican threats."
Progressive Caucus Deputy Chair Ilhan Omar (D-Minn.) said Friday that "this shutdown is not only tragic, but completely avoidable."
"An overwhelming bipartisan majority of lawmakers in the House support a clean bill to keep the government open. The Senate is prepared to pass it, the president is prepared to sign it," she continued. "But the most extreme faction of MAGA wing of the party—egged on by [former President] Donald Trump, who craves a distraction from his indictments and criminal charges—are demanding an endless list of cuts that have brought us to a government shutdown."
"We have to remember how we got here. The government has shutdown four times in the past 30 years. Each time it happened, an extreme faction of Republicans was in charge of the House of Representatives," Omar added. "We need a clean bill to keep the government open, before this causes real harm. It's time for Republicans to stop playing with people's lives and do their jobs."
Another Progressive Caucus member, Rep. Delia Ramirez, said Friday that "today's hurtful, extremist Republican CR demonstrates the Republicans' hypocrisy, ineffective leadership, and disregard for working families."
The congresswoman continued:

Day after day, we have been here, voting until the wee hours of the morning, and we have made absolutely no progress. After each vote, conservative extremists change their demands, and [House Speaker Kevin McCarthy (R-Calif)] keeps giving them more and more without making progress.

"To what end? A 30% cut to government services? So that 10,901 women and children in the IL-03 can go hungry? So that 28,187 active and reserved service members will go without payment in Illinois? So that 5,000 residents in IL-03 may lose access to federal help and vouchers?
"These are not the goals of people who care about working families," Ramirez asserted. "On the contrary, it's a vicious attack on working families"
"If the Republicans were serious about averting a shutdown, they would bring a clean CR to the floor," she argued. "That's not what they want. They want to send our economy into crisis, protect Donald Trump, and harm our communities."
"Enough is enough!" Ramirez added. " I call on six courageous, principled Republicans to do their job, serve our constituents, and protect the economy."
News
Independent, nonprofit journalism needs your help.
Please Pitch In
Today!