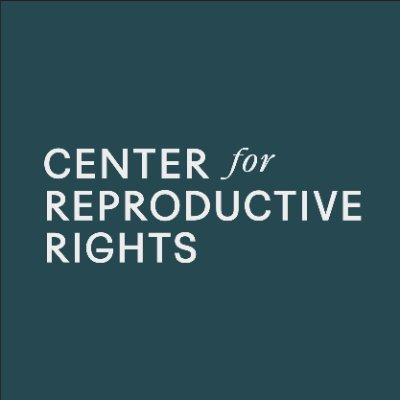 For Immediate Release
Contact:
Email:,center.press@reprorights.org
Fifth Circuit Upholds Texas Clinic Shutdown Law, All But 7 Abortion Clinics At Risk of Closure
Center for Reproductive Rights vows to take case to U.S. Supreme Court
WASHINGTON
The U.S. Court of Appeals for the Fifth Circuit has upheld some of the most harmful provisions of Texas' far-reaching and extreme clinic shutdown law, putting most abortion clinics in the state at risk of closure.
Today's decision allows the state's requirement that every reproductive health care facility offering abortion services meet the same hospital-like building standards as an ambulatory surgical center (ASC) to go into effect in twenty two days for nearly all clinics in the state--a measure that amounts to a multi-million dollar tax on abortion services and would close most abortion providers in the state. While the court partially enjoined the ASC requirement as applied to the last clinic in the Rio Grande Valley, its injunction is so narrow that it may be of little practical benefit to the clinic or the women it serves.
The ruling also reverses the lower court's injunction blocking the state's admitting privileges requirement except as applied to a single doctor. This provision has already forced approximately half the state's abortion clinics to close their doors.
The court said that women in El Paso--who will face a round-trip of over a thousand miles to obtain an abortion in Texas--could travel to New Mexico to access their constitutional right to safe and legal abortion, where there are no ASC or admitting privileges requirements
The Center for Reproductive Rights and the Texas women's health care providers today announced their plans to appeal the case to the U.S. Supreme Court.
Said Nancy Northup,president and CEO of the Center for Reproductive Rights:
"Not since before Roe v. Wade has a law or court decision had the potential to devastate access to reproductive health care on such a sweeping scale.
"Once again, women across the state of Texas face elimination of safe and legal options for ending a pregnancy, and the denial of their constitutional rights.
"The Supreme Court's prior rulings do not allow for this kind of broadside legislative assault on women's rights and health care. We now look to the Justices to stop the sham laws that are shutting clinics down and placing countless women at risk of serious harm."
Said Amy Hagstrom Miller, Founder, President and CEO of Whole Woman's Health:
"With this ruling today, the justice system and our elected politicians put a road full of unnecessary hurdles in front of every woman in Texas who has decided to end her pregnancy. For scores of Texas women, the repercussions of this ruling will be devastating. Ending a pregnancy could mean travelling hundreds of miles and overcoming needless hurdles such as additional costs, childcare, time off, and immigration checkpoints. This is simply unacceptable. Whole Woman's Health will fight this fight and take our case all the way to the Supreme Court in order to get justice for all Texans."
Today's decision comes eight months after the Fifth Circuit allowed the ASC requirement to immediately take effect by staying a lower court's injunction of the law. It had previously allowed the admitting-privileges requirement to take effect. For 12 days, all but seven reproductive health care facilities in the state were prevented from offering safe and legal abortion services--until October 14, 2014, when the United State Supreme Court responded to an emergency application by Texas health care providers and reinstated the injunction, allowing many of the previously closed clinics to reopen their doors.
This is the Center for Reproductive Rights' second challenge to Texas' House Bill 2 (HB2), a sweeping package of anti-choice legislation that was passed in 2013. The first suit--filed in September 2013--challenged the law's unconstitutional admitting privileges requirement statewide and the law's outdated restrictions on medication abortion. These provisions were ultimately upheld by an appellate court panel and refused a rehearing by the entire Fifth Circuit Court of Appeals.
Major medical groups oppose the types of restrictions found in Texas' clinic shutdown law. The American Medical Association (AMA) and the American College of Obstetricians and Gynecologists (ACOG) recently submitted a joint amicus brief opposing the law, stating that "H.B. 2 does not serve the health of women in Texas but instead jeopardizes women's health by restricting access to abortion providers." Medical experts confirm that legal abortion care in the U.S. is extremely safe, with less than 1 percent of patients requiring care in an emergency room.
The clinics and physicians in this challenge are represented by Stephanie Toti and David Brown of the Center for Reproductive Rights, a team of attorneys from the law firm Morrison & Foerster led by J. Alexander Lawrence, and Austin attorneys Jan Soifer and Patrick O'Connell of the law firm O'Connell & Soifer
Harmful and unconstitutional restrictions like these further underscore the need for the federal Women's Health Protection Act (S. 217/HR. 448)--a bill that would prohibit states like Texas from imposing unconstitutional restrictions on reproductive health care providers that apply to no similar medical care, interfere with women's personal decision making, and block access to safe and legal abortion services. Elected officials in Austin and Houston have called for the repeal of HB2 and the passage of the Women's Health Protection Act.
The Center for Reproductive Rights is a global human rights organization of lawyers and advocates who ensure reproductive rights are protected in law as fundamental human rights for the dignity, equality, health, and well-being of every person.
(917) 637-3600
LATEST NEWS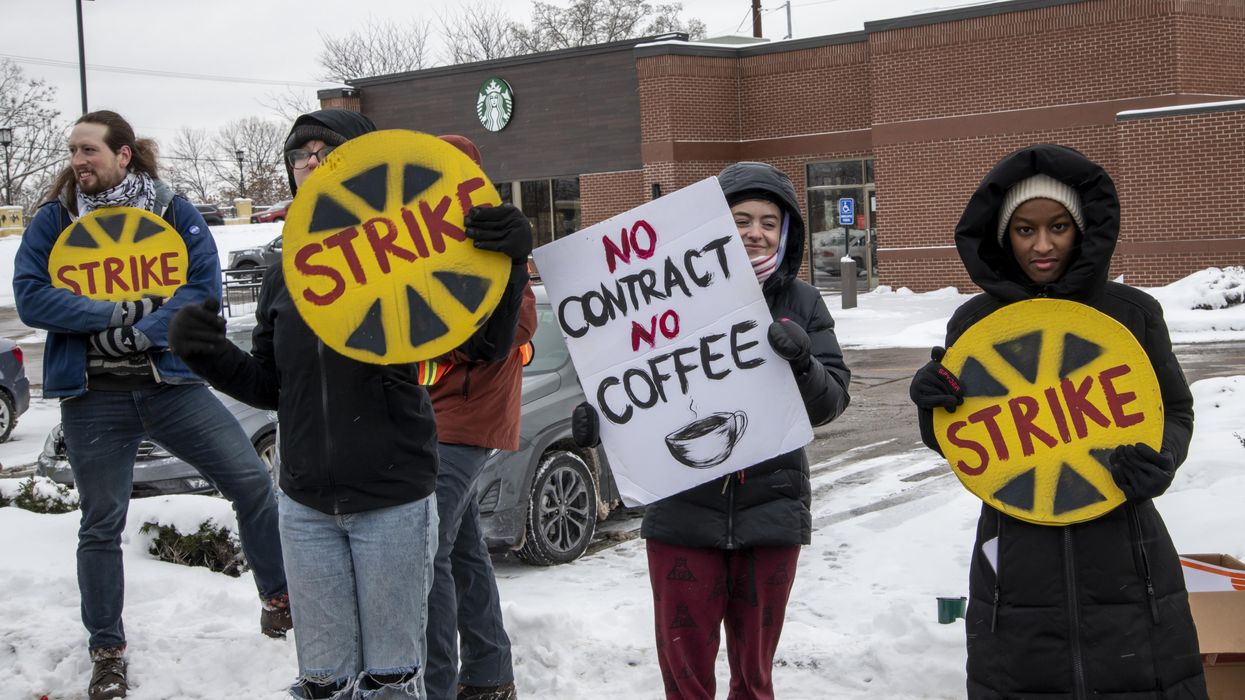 "Instead of celebrating the law-breaking former CEO hell-bent on silencing us, Starbucks should respect our right to organize and meet us at the bargaining table," said one Seattle barista and member of Starbucks Workers United.
Amid an ongoing unionization wave, Starbucks workers across the United States are holding a national day of action on Wednesday to demand a living wage, consistent scheduling, safe working conditions, and the right to organize free from fear and intimidation.
Baristas plan to strike at more than 100 of the coffee giant's shops from coast to coast, including at cafes in Seattle, New York, Los Angeles, Memphis, and other cities. In Seattle, where Starbucks was founded and is headquartered, a major protest is planned—one day before shareholders vote on an assessment of workers' rights at the corporation's annual meeting.
At 12:00 pm PT, workers will march outside Starbucks' headquarters, declaring that the company's illegal union-busting won't stop their fight for higher wages, better benefits, and democratic workplaces.
Since December 2021, when baristas in Buffalo made history by forming the first unionized Starbucks in the U.S., more than 7,500 workers at over 280 of the coffee chain's locations nationwide have voted to unionize. Organizers have won more than 80% of their campaigns despite the company's unlawful intimidation and retaliation tactics.
According to Starbucks Workers United:
In this same time period, the NLRB's [National Labor Relations Board] regional offices have issued more than 80 official complaints against Starbucks, prosecuting the company for over 1,400 specific alleged violations of federal labor law, including accusations that former CEO Howard Schultz personally threatened a worker who expressed support for organizing.

To date, NLRB administrative law judges have issued nine decisions, eight of which collectively found that the company has committed 130 violations, including illegally monitoring and firing organizers, calling the police on workers, and outright closing a store that recently attempted to organize.
Due to Starbucks' refusal to bargain in good faith, none of the locations that voted to unionize have reached a contract agreement.
With his unlawful crackdown on organizing coming under increased scrutiny, Schultz moved up his resignation from April 1 to March 20. Schultz is still scheduled to testify at next Wednesday's hearing convened by Independent Sen. Bernie Sanders of Vermont. He only agreed to do so under threat of subpoena.
Sarah Pappin, a Seattle Starbucks worker and member of Starbucks Workers United, said Wednesday in a statement: "Baristas like me are the ones who keep our stores running. We remember our customers' regular orders, make the lattes, clean up spills, and are often the bright spot of our customers' days. We are the heart and soul of Starbucks."
"Instead of celebrating the law-breaking former CEO hell-bent on silencing us, Starbucks should respect our right to organize and meet us at the bargaining table," said Pappin. "We are Starbucks, and we deserve better."
Starbucks Workers United said that "Wednesday's day of action will also serve to welcome the company's new chief executive, Laxman Narasimhan, and send him a message that the transition in the C-suite provides an opportunity for the company to stop its unprecedented campaign of union-busting and instead partner with its workers and our union to build a company that truly lives up to its stated progressive values."
Earlier this month, Starbucks Workers United sent a letter to shareholders urging them to vote for a third-party evaluation of Starbucks' purported commitment to affirming workers' rights, arguing that the corporation's anti-union actions are inconsistent with its International Labor Organization commitments.
According to the union, "Two proxy advisory firms, International Shareholder Services and Glass Lewis, have already recommended Starbucks shareholders vote in favor of the proposal from Trillium Asset Management, the New York City Pension Funds, and other investors."
News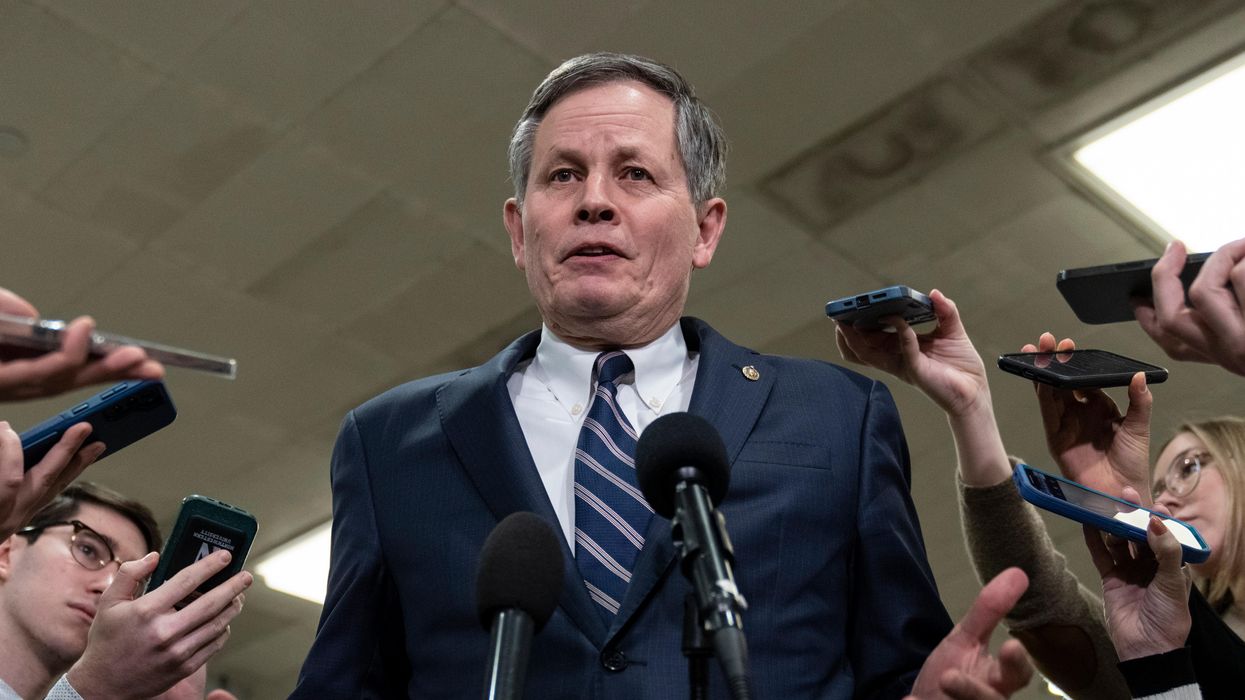 The American Bankers Association, whose PAC has donated to Sen. Steve Daines, welcomed the Republican's defense of a 2018 law that weakened post-financial crisis regulations.
Republican Sen. Steve Daines of Montana garnered applause from a room full of bankers on Tuesday after he dismissed calls for tougher regulations following the collapse of Silicon Valley Bank and Signature Bank.
"There are a lot of talking heads out there who are saying that the solution is more regulation, and I strongly disagree," Daines said in remarks to the American Bankers Association's Washington Summit, an annual gathering of bank CEOs and other top executives.
The Montana Republican went on to defend a 2018 law that progressive lawmakers and experts have said is at least partly responsible for the recent bank failures. That measure, known as S.2155, weakened post-financial crisis regulations for banks with between $50 billion and $250 billion in assets, subjecting firms such as SVB—which lobbied for the changes—to less stringent oversight and paving the way for more risk-taking and industry consolidation.

Daines, a member of the Senate Banking Committee and a major recipient of securities industry donations, called the stricter liquidity requirements and other rules gutted by the 2018 law "overreaching regulations" and claimed that efforts to revive the safeguards are creating "more worry" in the banking sector.
"This was not the cause of this failure," Daines said of S.2155, which former President Donald Trump signed into law after it passed with bipartisan support.
Watch the senator's remarks, which begin at the 1:32:04 mark:
It's unsurprising that Daines' defense of S.2155 was received favorably by a gathering of the American Bankers Association, which was one of many industry groups that lobbied aggressively for the measure.
"The lobbyists were everywhere. You couldn't throw an elbow without running into one," Sen. Elizabeth Warren (D-Mass.), who vocally opposed S.2155, told reporters last week.
Warren and Rep. Katie Porter (D-Calif.) have introduced legislation that would repeal a critical section of the 2018 law.

The Associated Pressreported Tuesday that in the hours before Congress approved the measure, Sen. Jon Tester (D-Mont.)—one of the legislation's top Democratic supporters—"huddled with executives from Bank of America, Citigroup, Discover, and Wells Fargo, who were there on behalf of the American Bankers Association."
"The American Bankers Association, which helped lead the push, later paid $125,000 for an ad campaign thanking Tester for his role in the bill's passage," the Associated Press noted.
The banking group's PAC spent more than $2.6 million on campaign contributions during the 2018 election cycle, with more than 76% of the donations going to Republicans, according to OpenSecrets.
Daines, who won reelection in 2020, received $10,000 from the American Bankers Association PAC during that year's campaign.

News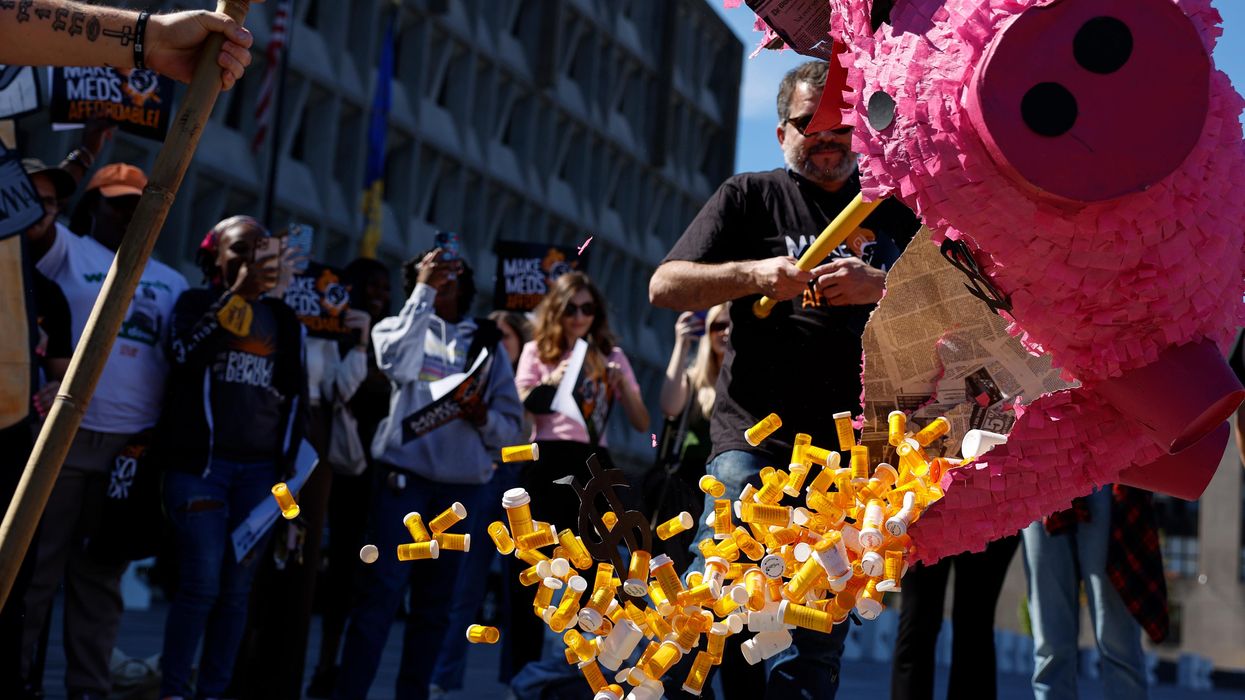 "This decision effectively rubber-stamps continued Big Pharma abuse," said one Democratic lawmaker.
Patient advocates on Tuesday blasted the Biden administration's refusal to compel the manufacturer of a lifesaving prostate cancer drug developed completely with public funds to lower its nearly $190,000 annual price tag.
In 2021, prostate cancer patient Eric Sawyer petitioned U.S. Health and Human Services (HHS) Secretary Xavier Becerra to grant march-in rights—under which the government can grant patent licenses to companies other than a drug's manufacturer—for enzalutamide, which is sold under the brand name Xtandi by Pfizer and Japanese pharmaceutical giant Astellas.
The drug's development was 100% taxpayer-funded. Yet a one-year supply of Xtandi currently costs $189,800 in the United States, or up to five times more than its price in other countries.
HHS' National Institutes of Health (NIH) said Tuesday that it "does not believe that use of the march-in authority would be an effective means of lowering the price of the drug."
"What the Biden administration is saying is that charging U.S. residents three to six times more than any other high-income country is reasonable."
The agency added that it "will pursue a whole-of-government approach informed by public input to ensure the use of march-in authority is consistent with the policy and objective of the Bayh-Dole Act," a reference to legislation meant to promote the commercialization and public availability of government-funded inventions.
James Love, director of the Washington, D.C.-based advocacy group Knowledge Ecology International, called the administration's rejection "appalling."
"What the Biden administration is saying is that charging U.S. residents three to six times more than any other high-income country is reasonable," he wrote.
U.S. Senate Health, Education, Labor, and Pensions Committee Chair Bernie Sanders (I-Vt.) said in a statement that he is "extremely disappointed that the Biden administration denied a petition by prostate cancer patients to substantially reduce the price of Xtandi."
"This is a drug that was invented with taxpayer dollars by scientists at UCLA and can be purchased in Canada for one-fifth the U.S. price," Sanders added. "The Japanese drugmaker Astellas, which made $1 billion in profits in 2021, has raised the price of this drug by more than 75%... How many prostate cancer patients will die because they cannot afford this unacceptable price?"
Rep. Lloyd Doggett (D-Texas), the ranking member of the House Ways and Means Health Subcommittee, said in a statement:
Today's decision is a blow to prostate cancer patients, their families, and taxpayers. Developed with U.S. taxpayer research dollars, Xtandi costs American patients $180,000 a year—as much as six times as much as patients in other countries. This excessive price gouging cost taxpayers $2 billion to cover Medicare beneficiaries' treatment in 2020 alone. The Biden administration has missed yet another opportunity to do something meaningful to lower prescription drug costs and protect taxpayer investments.
The administration's position "protects monopolists over taxpayers and patients, despite clear statutory authority and reasonableness to intervene," Doggett added. "This decision effectively rubber-stamps continued Big Pharma abuse."
In a move that Public Citizen president Robert Weissman called "pathetic," HHS and the Department of Commerce announced Tuesday that they would "pursue a whole-of-government approach to review... march-in authority as laid out in the Bayh-Dole Act" by forming an interagency working group.
The group "will develop a framework for implementation of the march-in provision that clearly articulates guiding criteria and processes for making determinations where different factors, including price, may be a consideration in agencies' assessments."
In a statement, Becerra said that the administration is "committed to increasing access to healthcare and lowering costs."
"March-in authority is a powerful tool designed to ensure that the benefits of the American taxpayers' investment in research and development are reasonably accessible to the public," he added. "We look forward to updates from the Bayh-Dole Interagency Working Group, and at my direction, HHS will review the findings, engage the public, and better define how HHS could effectively utilize our authority moving forward."

News
SUPPORT OUR WORK.
We are independent, non-profit, advertising-free and 100%
reader supported.