For Immediate Release
Contact:
Clemency Wells in Reprieve's press office: +44 207 553 8161 / clemency [dot] wells [at] reprieve [dot] org [dot] uk
Secretive Court Orders GCHQ to Destroy Stolen Documents
The UK's Investigatory Powers Tribunal (IPT) has today ordered intelligence agency GCHQ to destroy illegally collected communications of a Libyan rendition victim.

Today's decision marks the first time in the IPT's fifteen-year history that it has upheld a complaint against the security services. It is also thought to be the first time the secretive tribunal has ordered an intelligence agency to give up surveillance material.

LONDON
The UK's Investigatory Powers Tribunal (IPT) has today ordered intelligence agency GCHQ to destroy illegally collected communications of a Libyan rendition victim.

Today's decision marks the first time in the IPT's fifteen-year history that it has upheld a complaint against the security services. It is also thought to be the first time the secretive tribunal has ordered an intelligence agency to give up surveillance material.

The messages to be destroyed are legally privileged communications belonging to former Gaddafi opponent Sami al-Saadi. Mr al-Saadi was kidnapped in a joint MI6-CIA operation and 'rendered' to Libya in 2004 - with his wife and four children between the ages of six and twelve. The same month his colleague Libyan politician Abdul-Hakim Belhaj was also seized and delivered to Gaddafi, along with his pregnant wife Fatima Boudchar.

Both families have brought civil claims against the then-Foreign Secretary Jack Straw, former MI6 counter-terror head Sir Mark Allen, and the UK Government for their kidnap. The al-Saadi family settled their civil claim in December 2012 for 2.2 million pounds; the Belhaj claim comes before the Supreme Court this year. A Metropolitan Police investigation into both kidnappings, Operation Lydd, is thought to be near conclusion and with the CPS for a charging decision.

In 2013 the Belhaj and al-Saadi families also brought this claim in the IPT, alleging unlawful interference with their right to communicate in private with their lawyers. During the case the security services were forced to concede that for the past seven years they had operated unlawful policies on collecting private lawyer-client communications.

Some questions remain after the IPT's judgment. The IPT made 'no determination' in favor of Mr Belhaj and his wife. The IPT can make 'no determination' either if there was no spying, or if the IPT finds that spying did take place but was lawful. But the couple may never know the precise reasons for the decision.

The IPT has ordered GCHQ to turn over the illegally collected material to the Interception of Communications Commissioner for safekeeping.

Cori Crider, a Director at Reprieve and counsel to the al-Saadi and Belhaj families, said: "GCHQ spied on privileged legal communications, in a case where they were being sued by a rendition and torture victim. We are pleased that one man has finally beaten the security services in this secretive tribunal. But this kind of illegal snooping makes phone hacking look like child's play, because it rigs the whole justice game in the government's favour."

"It's also inconceivable that Mr al-Saadi was spied on while Mr Belhaj was not. I confess I find this part of the IPT's decision very difficult to make sense of."

Sami al-Saadi said: "I am glad to be the first person to win against the spies in this Tribunal. I had always been told I had a right to communicate with my lawyers about this torture case in private, but that clearly wasn't the case. This was illegal behavior and I hope now that the right to take legal advice in private will never be ignored again."

Abdul-Hakim Belhaj said: "My wife and I are perplexed by the decision. My old friend Sami was and is an important man. But we fought Gaddafi together, were both kidnapped by MI6 and the CIA, and brought identical cases in the UK, so what explains the different outcome? Is it because the Tribunal will not tell me I have been under surveillance? If so, they need not worry. Those of us who have been exiled from dictators and spent years in their dungeons assume we are spied on. I still believe I ought to have the right to speak privately to my lawyers, though, and so we will consider our next steps carefully."

Richard Stein at Leigh Day, who represented the families in the Tribunal, said: "Today marks the end of GCHQ's standard boilerplate response that its activities are lawful, necessary and proportionate. GCHQ unlawfully spied on privileged legal communications for years, and the secret oversight mechanisms failed to stop it. The time has come for the spies to respect every person's fundamental right to consult a lawyer in private."

"I am sure that the unlawful behavior we have uncovered in this case is the tip of the iceberg. All lawyers and their clients dealing with cases involving MI5, MI6 and GCHQ should consider whether to lodge a complaint in the Tribunal to protect their privileged communications."
Reprieve is a UK-based human rights organization that uses the law to enforce the human rights of prisoners, from death row to Guantanamo Bay.
LATEST NEWS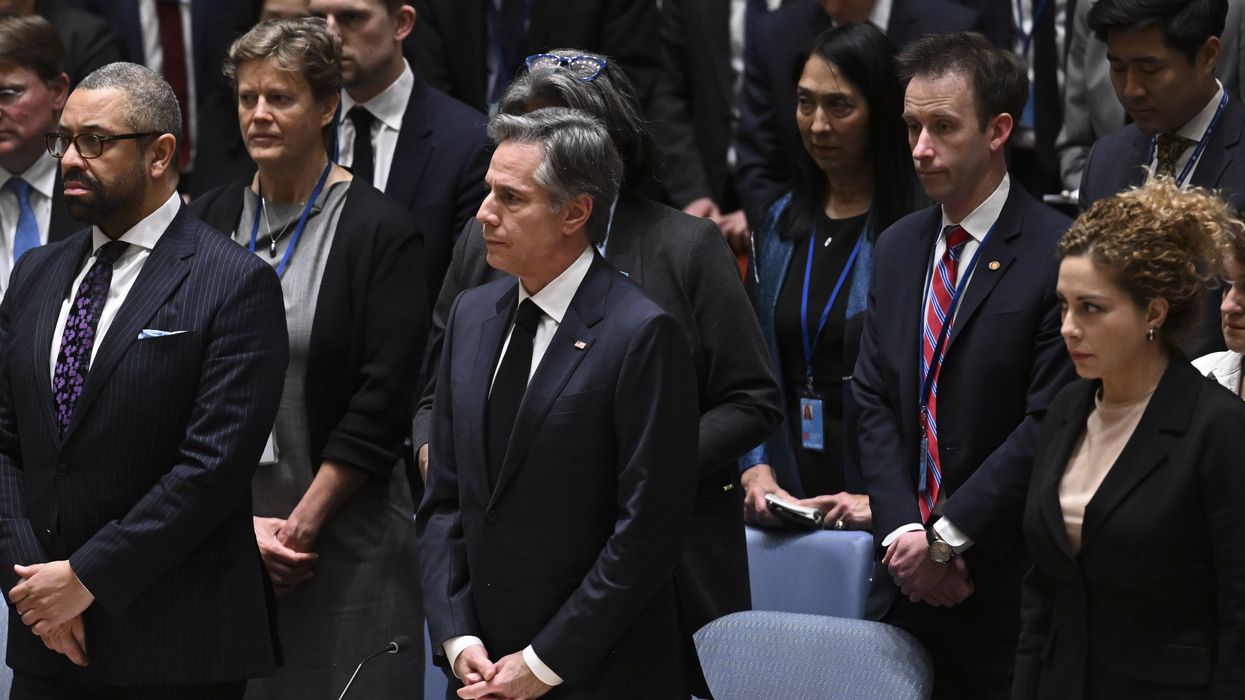 Brazil and China supported Russia's request while the U.S. and other members of the United Nations Security Council abstained.
The United Nations Security Council on Monday rejected a Russia-led effort to launch a fresh international probe into last year's sabotage of the Nord Stream pipelines in the wake of investigative journalist Seymour Hersh's reports accusing the U.S. of carrying out the attack.

Brazil and China supported Russia's resolution while the U.S., France, the United Kingdom, and other Security Council members abstained, leaving the proposal short of the nine votes needed for passage.
The Security Council said in a press release that, if adopted, the resolution would have requested that the secretary-general establish "an international, independent investigation commission to conduct a comprehensive, transparent, and impartial international investigation of all aspects of the act of sabotage on the Nord Stream 1 and 2 gas pipelines—including identification of its perpetrators, sponsors, organizers, and accomplices."
Ahead of Monday's vote, Russia's U.N. Ambassador Vassily Nebenzia said that "without an objective and transparent international investigation, the truth will not be uncovered as to what happened."
Robert Wood, the deputy U.S. ambassador to the U.N., countered that the Biden administration "was not involved in any way" in the Nord Stream explosions and accused Russia of attempting to "discredit the work of ongoing national investigations and prejudice any conclusions they reach that do not comport to Russia's predetermined and political narrative."
Denmark, Sweden, and Germany told the U.N. Security Council last month that their investigations into the Nord Stream blasts—which nations agree was an act of deliberate sabotage rather than an accident—are still ongoing.
A spokesperson for the U.S. State Department told reporters that the Biden administration is "not a party" to those investigations "because there are countries on whose sovereign territory this attack occurred, and we're deferring it to them."
The Intercept's Jeremy Scahill reported over the weekend that Russian officials have complained in letters to the U.S. and European governments that "they have been barred from examining evidence gathered from the sites where the blasts occurred."
Scahill noted that "despite Russia's majority ownership of the pipelines, Russian officials said, Germany, Denmark, and Sweden have rejected Russia's repeated requests for a joint investigation—confirming their 'suspicions that these countries are trying to conceal evidence, or to cover up the sponsors and perpetrators of these acts of sabotage.'"
"Denmark and Sweden have cited procedural matters and national regulations as to why they aren't collaborating with Russia," Scahill added. "But it's pretty obvious that they have also adopted the position that Russia should be viewed as a suspect in the sabotage and wouldn't want to invite it into the probe, particularly given Russia's invasion of Ukraine."
Citing an anonymous source, Hersh reported last month that U.S. President Joe Biden ordered the sabotage of the Nord Stream pipeline system, believing it posed a threat to "western dominance." According to Hersh, the Biden White House was particularly concerned about Nord Stream 2, which would have carried gas from Russia to Germany.
Germany put the pipeline on hold a day before Russia invaded Ukraine in February 2022.
Weeks after Hersh published his initial report, The New York Timesran a story alleging that "intelligence reviewed by U.S. officials" implicates a shadowy "pro-Ukrainian group" in the Nord Stream attack.
Last week, Hersh alleged that U.S. intelligence agencies have been "feeding" the Times and other outlets false information in an attempt to cover up the Biden administration's involvement in the Nord Stream operation. Hersh also blasted the U.S. press corps for failing to ask why the Biden administration has thus far been unwilling to launch its own investigation.
At a congressional hearing a day after Hersh published his follow-up story, Rep. Brad Sherman (D-Calif.) asked U.S. Secretary of State Antony Blinken whether he can "assure the world that no agency of the U.S. government blew up those pipelines or facilitated that action."
"Yes," Blinken responded, "yes I can."
Scahill noted Saturday that he asked the Biden White House Hersh's question about why American intelligence agencies have not formally announced a probe of the Nord Stream attack.
"In a statement, National Security Council spokesperson Adrienne Watson did not directly address any of my questions," Scahill wrote.
Instead, she repeated the White House's dismissal of Hersh's reporting as "totally false concoctions."

News
"The U.S. bears responsibility for pushing these migrants back into Mexico to face unsafe conditions," argued one immigrant rights advocate.
At least 39 migrants were declared dead Tuesday after a fire was started overnight at a detention facility in Ciudad Juárez, close to the U.S.-Mexico border.
Mexico's National Institute of Migration said in a statement that the detention center held 68 men from Central and South America.
"The National Institute of Migration strongly rejects the acts that led to this tragedy," the agency said, without elaborating.
In an address on Tuesday, Mexican President Andrés Manuel López Obrador said the fire was sparked by migrants in protest of their looming deportation.
"They never imagined that this would cause this terrible misfortune," said López Obrador, who noted that most of those killed in the fire were from Central America and some were from Venezuela.
Photos taken at the detention center in the wake of the deadly fire showed emergency workers on the scene and numerous bodies covered by sheets. Dozens who were injured in the fire are reportedly in serious condition.
The disaster is likely to intensify criticism of the immigration policies of the U.S. and Mexico, both of which have been accused of systematically violating the rights of asylum seekers.
The Associated Press noted that "in recent years, as Mexico has stepped up efforts to stem the flow migration to the U.S. border under pressure from the American government, its National Immigration Institute has struggled with overcrowding in its facilities."
Kerri Talbot, deputy director at the Immigration Hub, argued Tuesday that "the U.S. bears responsibility for pushing these migrants back into Mexico to face unsafe conditions"—a reference to the Trump-era "Remain in Mexico" policy.
In December, a Trump-appointed federal judge blocked President Joe Biden's attempt to end the policy, which rights groups say is illegal.
Meanwhile, Biden has been under heavy criticism from advocates for his asylum proposals.
On Monday, the United Nations High Commissioner for Refugees urged the Biden administration to rescind its proposed anti-asylum rule, which critics have compared Trump's "transit ban" that denied asylum to anyone who had traveled to the United States through a third country.
Key portions of the Biden proposal, said the agency, "are incompatible with principles of international refugee law."
This piece has been updated with new information from the Mexican government.

News
"The bailout really did protect billionaires from taking a modest haircut," one observer wrote in response to the FDIC chief.
In prepared testimony for a Senate Banking Committee hearing slated for Tuesday morning, the chair of the Federal Deposit Insurance Corporation reveals that the 10 largest deposit accounts at Silicon Valley Bank held a combined $13.3 billion, a detail that's likely to intensify criticism of federal regulators' intervention in the firm's recent collapse.
When SVB was spiraling earlier this month, the FDIC, Treasury Department, and Federal Reserve rushed in to backstop the financial system and make all depositors at the California bank whole, including those with accounts over $250,000—the total amount typically covered by FDIC insurance.
"At SVB, the depositors protected by the guarantee of uninsured depositors included not only small and mid-size business customers but also customers with very large account balances," FDIC chief Martin Gruenberg writes in his prepared testimony. "The ten largest deposit accounts at SVB held $13.3 billion, in the aggregate."
Gruenberg goes on to estimate that the FDIC's $125 billion Deposit Insurance Fund (DIF)—which is financed primarily by assessments on insured banks and "backed by the full faith and credit of the United States government"—took a $20 billion hit as a result of the SVB intervention.
According to Gruenberg, nearly 90%—$18 billion—of the DIF loss stemming from SVB is "attributable to the cost of covering uninsured deposits." He added that the DIF absorbed a roughly $1.6 billion cost to cover uninsured deposits at Signature Bank, which failed shortly after SVB.
The FDIC chair's testimony comes as federal regulators continue to face scrutiny for glaring oversight failures in the lead-up to the collapse and backlash over the emergency response, which many have characterized as a bailout for the wealthy and well-connected given SVB's role as a major lender to venture capital and tech startups.
Billionaire Peter Thiel, whose firm was accused of helping spark a bank run by advising clients to pull their money from SVB, told the Financial Times that he had $50 million in a personal account at the bank when it failed earlier this month.
"The bailout really did protect billionaires from taking a modest haircut," Matt Stoller of the American Economic Liberties Project tweeted in response to Gruenberg's testimony.
Writing for The American Prospect on Monday, Revolving Door Project researcher Dylan Gyauch-Lewis called the federal government's swift action in the wake of SVB's failure "a good illustration of the enormous class bias in American policymaking."
"As soon as corporations and the wealthy run into trouble, elites trip over themselves, discarding both law and precedent, to rescue them," Gyauch-Lewis wrote, noting that federal regulators had to classify SVB's collapse as a "systemic risk" to the financial system—a disputed characterization—in order to legally guarantee deposits over $250,000.
For contrast, Gyauch-Lewis added, "consider student loan forgiveness. The legal justification is clear as day, and the authority itself is used regularly. According to the Higher Education Relief Opportunities for Students Act of 2003, the Education Department can forgive student loans as it sees fit in a national emergency."
"At bottom, the core reason SVB's depositors got bailed out had little to do with morals or even financial risk," Gyauch-Lewis argued. "It happened because they had rich and powerful friends with the ear of the president's chief of staff. Broke students don't. The students have to organize and campaign for decades to get something far worse than what they wanted, and for that to hang in the balance at the Supreme Court. The SVB depositors just had to whine on Twitter and make a few calls."
News
SUPPORT OUR WORK.
We are independent, non-profit, advertising-free and 100%
reader supported.