For Immediate Release
Contact:
Reprieve's press office: +44 207 553 8160
Cameron Urged to Act On Shaker Aamer After US Defense Secretary Says Case Is 'Not On Desk'
LONDON
Lawyers for a British resident held at Guantanamo Bay for the last 13 years have urged the Prime Minister to press the US for a timeline for his release, after it emerged that the case was 'not on the desk' of the US Defense Secretary.
Shaker Aamer, a father of four from South London, has been detained at the military prison since February 14th 2002. He has twice been cleared for release, and has never faced trial or been charged with a crime.
Following talks at the White House with David Cameron last month, US President Barack Obama had pledged to 'prioritise' Mr Aamer's case. But it has been revealed that US Defense Secretary Chuck Hagel - whose signature acts as the final authorisation to release prisoners from Guantanamo - has said Mr Aamer's name was not 'on his desk.' He is reported to have said: "As far as I know, I have made a decision on everything that is ready to be made a decision on."
In a letter to the Prime Minister, Reprieve attorney Cori Crider asked him: "What assurances were you given regarding Shaker's case by the President during your visit, beyond what the NSC spokesperson said publicly on Mr Obama's behalf? Did the President provide any indication on when Shaker's family can expect to see him returned to London? Did you ask the President to ensure that Shaker's case was sent to Secretary Hagel for his consideration? And finally, in the light of Secretary Hagel's comments, will you now press the Obama administration on providing a concrete timetable for Shaker's return?"
Clive Stafford Smith, Mr Aamer's lawyer and director of human rights organization Reprieve, said: "The US Defense Secretary's admission that Shaker's case isn't even on his desk suggests that Obama's claims to be 'prioritising' it may be little more than weasel words. If the US government wanted to 'prioritise' invading a country they could do it in a week, so sending one man home to his family in London cannot be too much to ask. Coming just days after David Cameron personally requested that Shaker be returned home to Britain, it doesn't say much for the state of the 'Special Relationship.'
"Shaker has been cleared for release twice by the US Government itself. The UK wants him brought home. It is an affront to justice that he continues to be detained, without charge or trial, 13 years after his arrival at Guantanamo. The suspicion must be that the US fears he will reveal yet more about its shameful torture programme if he is ever allowed to speak freely."
Reprieve is a UK-based human rights organization that uses the law to enforce the human rights of prisoners, from death row to Guantanamo Bay.
LATEST NEWS
"We saw last night in Dublin a consequence of politicians spending years demonizing immigrants," said one critic.
Irish authorities on Friday condemned a far-right, anti-immigrant faction that rapidly spread rumors about the perpetrator of a violent knife attack in Dublin and ultimately tore through the streets of Ireland's capital Thursday night, setting cars and buses on fire and smashing storefront windows.
The country was shocked Thursday by a mid-day stabbing attack on three young children—including a five-year-old girl who sustained serious injuries—and a woman who were reportedly on their way to a daycare facility when a man assaulted them.
The Garda Síochána, Ireland's police force, were able to take the suspect into custody after several bystanders—including a Brazilian delivery driver who immigrated to the country—overtook the man, who authorities said acted on his own.
But the "appalling crime," as Minister for Justice Helen McEntee called the stabbing, soon gave way to chaos at the crime scene when far-right protesters arrived and began chanting anti-immigrant slogans.
One protester toldAgence France Presse that "Irish people are being attacked by these scum," even as the press reported that the suspected perpetrator was a naturalized Irish citizen who has lived in Ireland for 20 years.
The cost-of-living crisis in Ireland has fueled recent anti-immigrant protests and acts of violence, with a group of men violently attacking an encampment inhabited by migrants from several countries earlier this year. Such incidents have also led thousands of Irish people to march this year in support of the immigrant community.
The Brazil-born delivery driver, identified by The Irish Times as Ciao Benicio, told the paper that the far-right faction's decision to seize on the knife attack as evidence of a dangerous immigration crisis did not "make sense at all."
"I'm an immigrant myself and I was the one who helped out," said Benicio.
The city's public transit system was badly hit by the ensuing riots, with protesters setting trams and double-decker buses ablaze. They also smashed store windows on O'Connell Street, a major thoroughfare.
"This appalling incident is a matter for the Gardaí and that it would be used or abused by groups with an agenda that attacks the principle of social inclusion is reprehensible and deserves condemnation by all those who believe in the rule of law and democracy," said Irish President Michael Higgins in a statement.
Police commissioner Drew Harris said the riots were driven by misinformation that was spread for "malevolent purposes."

Mary Lou McDonald, president of the left-wing opposition party Sinn Féin, said the city of Dublin was "traumatized twice: by the barbaric attack... and then by marauding racist mobs."
Thirty-four rioters were arrested Thursday evening, and Prime Minister Leo Varadkar addressed the country's immigrant community by saying Ireland would be "vastly inferior" without immigration.
The demonstrators did not wreak havoc across the city "out of any sense of patriotism, however warped," said Varadkar, "they did so because they are filled with hate."

One critic of the riots noted that anti-immigrant sentiment has been egged on in recent years not only by politicians like Hermann Kelly, head of the far-right Irish Freedom Party, but also by liberal policymakers like British Labour Party Leader Keir Starmer.
Starmer said in a Sky News interview Thursday that migration levels in the U.K. are "shockingly high."
"We saw last night in Dublin," said agriculture researcher Alex Heffron, "a consequence of politicians spending years demonizing immigrants."
News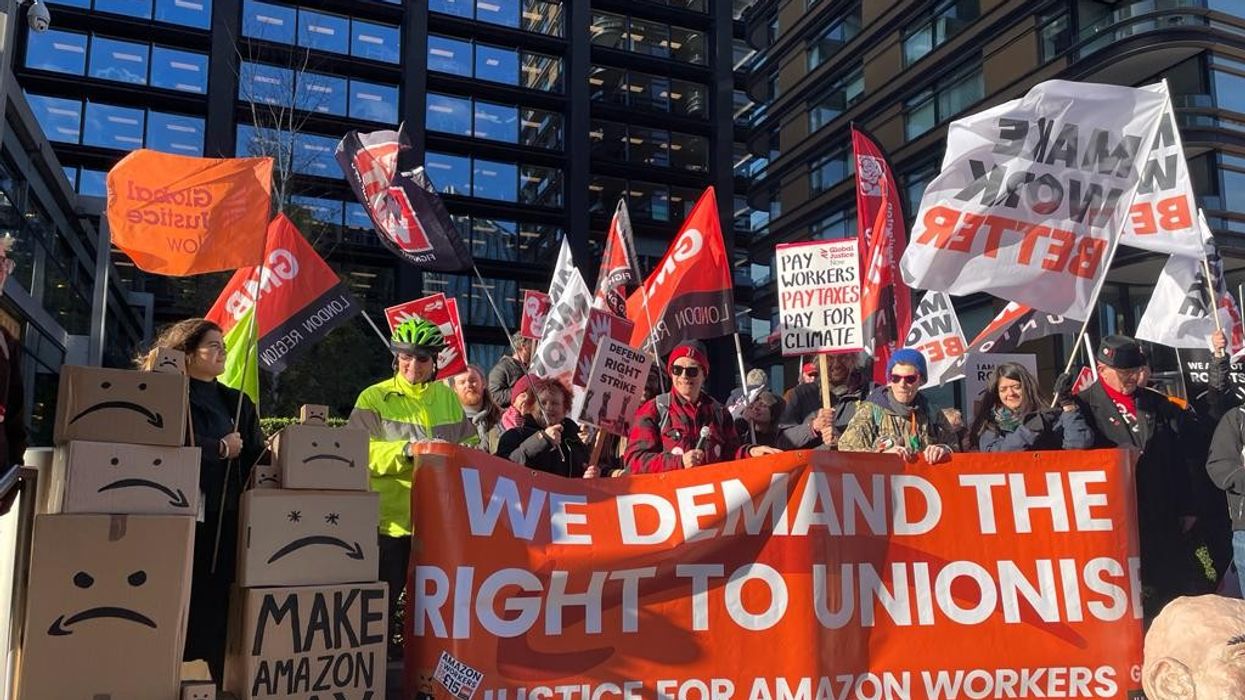 "This day of action grows every year because the movement to hold Amazon accountable keeps getting bigger and stronger," said the head of UNI Global Union.
Amazon workers and allies in dozens of countries around the world took to the streets Friday to protest the e-commerce behemoth's atrocious working conditions, low pay, union busting, tax dodging, and inaction on planet-warming emissions.
The "Make Amazon Pay" strikes and rallies coincided with Black Friday, the busiest shopping day of the year and one of Amazon's most profitable. Amazon workers across the globe—in ever-larger numbers—have been walking off the job on Black Friday for years to demand better treatment from the $1.5 trillion company.
"This day of action grows every year because the movement to hold Amazon accountable keeps getting bigger and stronger," said Christy Hoffman, general-secretary of UNI Global Union. "Workers know that it doesn't matter what country you're in or what your job title is, we are all united in the fight for higher wages, an end to unreasonable quotas, and a voice on the job."
Organizers of the worldwide demonstrations said strikes and protests are set to take place in more than 30 countries, including the United States, the United Kingdom, Germany, Spain, Italy, and Bangladesh.
"From the warehouses in Coventry to the factories of Dhaka, this global day of action is more than a protest," Varsha Gandikota-Nellutla, co-general coordinator of Progressive International, said in a statement. "It is a worldwide declaration that this age of abuse must end."
"Amazon's globe-spanning empire, which exploits workers, our communities, and our planet, now faces a growing globe-spanning movement to Make Amazon Pay," Gandikota-Nellutla added.
The strikes come amid an intensifying fight between Amazon and workers at its warehouse in Coventry, England, where around 1,000 employees have joined GMB, one of the U.K.'s largest trade unions.
Amazon, which is hostile to organized labor, has expressed opposition to the union's push for formal recognition and provided Coventry workers with measly pay raises amid elevated inflation. Increasingly outraged by their treatment at the hands of one of the world's most powerful companies, the Coventry workers have held 28 days of strikes this year.
Amazon also recently beat back union drives at U.S. warehouses in Alabama and upstate New York, efforts that followed the landmark union victory at a facility in Staten Island.
Stuart Appelbaum, president of the Retail, Wholesale, and Department Store Union—which led the Alabama organizing push—said Friday that the global day of action "underscores the urgent need for Amazon to address its egregious labor practices and engage in fair bargaining with its workers."
"Our collective actions are gaining momentum, challenging Amazon's unfair practices and advocating for workers' rights and a sustainable future for all," said Appelbaum. "Together, we can Make Amazon Pay."
A first-of-its-kind international survey of Amazon workers released by UNI Global Union earlier this year found that the company's intrusive productivity monitoring systems are harming many employees' physical and mental health, compounding the stress caused by low pay and other mistreatment.
"I feel like I'm drowning all day, causing me to drive in unsafe ways to meet the unreasonable expectation[s]," a U.S. Amazon driver told the union federation.
Amazon said in a statement that it doesn't expect Friday's strikes to impact customers and insisted it offers "great pay and benefits for our employees," despite recent research showing the company's pay is worse than that of other warehouse employers.

Amanda Gearing, a senior organizer with GMB, told the BBC that "Amazon bosses are desperate to claim it will be business as usual for Amazon and their customers this Black Friday."
"The truth is that today will see the largest day of industrial disruption in Amazon's history," said Gearing.
News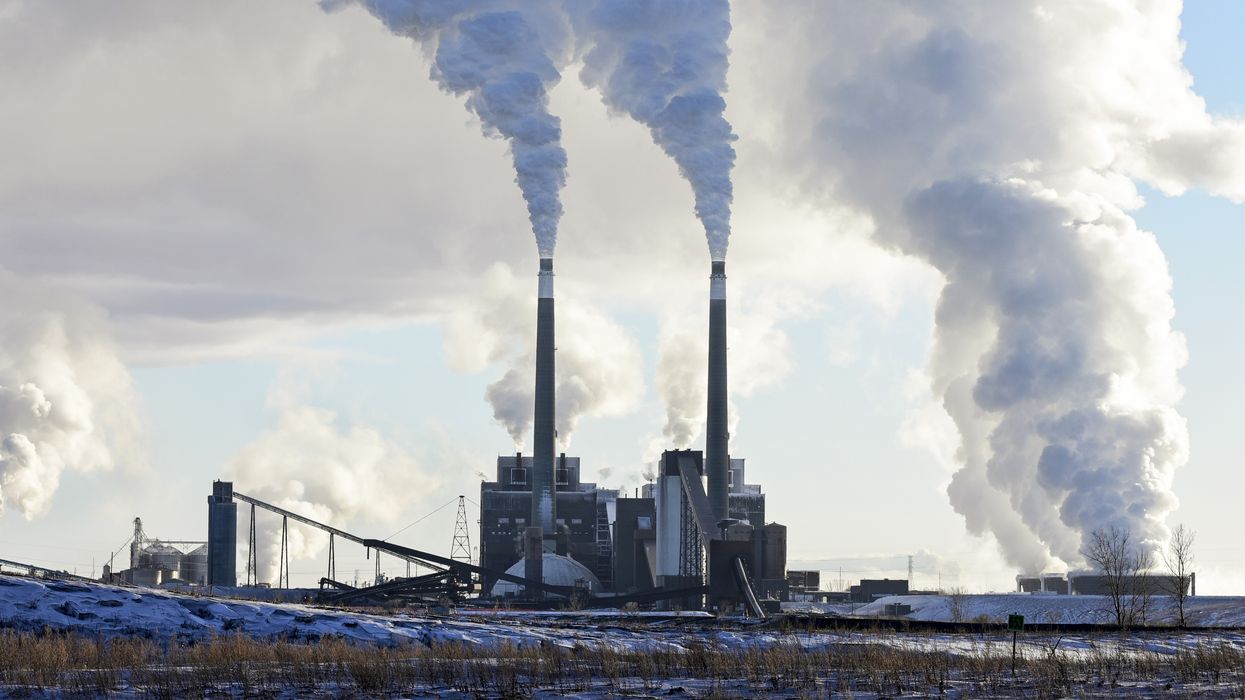 "Air pollution from coal is much more harmful than we thought," said the lead author of a new study published in Science.

Research published Thursday in the journal Science estimates that pollution from coal-fired power plants killed roughly 460,000 people in the United States between 1999 and 2020, making it more than twice as deadly as other kinds of fine particulate emissions.
After calculating annual exposure to fine particulates—known as PM2.5—from 480 coal plants and examining Medicare death records, the researchers found that between 420,000 to 500,000 excess deaths in the U.S. over the past two decades were attributable to coal pollution.
Those deaths, the researchers wrote, "would have been avoided" if all sulfur dioxide emissions from coal-fired electricity plants were eliminated.

Lucas Henneman, an assistant professor in the Sid and Reva Dewberry Department of Civil, Environmental, and Infrastructure Engineering at George Mason University, toldThe Guardian that "air pollution from coal is much more harmful than we thought, and we've been treating it like it's just another air pollutant."
"This type of evidence is important to policymakers like [the Environmental Protection Agency] as they identify cost-effective solutions for cleaning up the country's air, like requiring emissions controls or encouraging renewables," Henneman added.
The new study indicates that regulations have been effective at lowering coal pollution-related fatalities in the U.S., which were highest between 1999 and 2007 at more than 43,000 per year. After 2007, annual excess deaths attributable to coal pollution fell sharply, hitting around 1,600 in 2020.
"Large decreases in annual deaths across the study period highlight the success of emissions reductions brought about by regulations under the 1990 Clean Air Act Amendments," the study authors wrote. "Although coal use in the U.S. has remained low, global use is expected to increase and plateau by 2025, suggesting the potential for high mortality costs from coal for years to come."
In 2021, hundreds of nations agreed for the first time to phase down "unabated" coal power, but "coal power has barely declined since then," the Financial Timesreported earlier this week.
Ahead of the COP28 climate summit that kicks off next week, 15 nations—including the United Kingdom, Canada, and Germany—are pushing for an end to new coal-fired power plants, according to a letter seen by the Financial Times.
"We must significantly accelerate action on coal," the letter states. "It is now critical that we immediately stop approvals and construction of new coal power plants and radically accelerate the coal-to-clean transition."

News