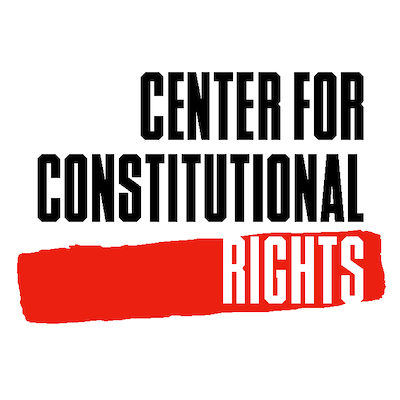 For Immediate Release
Contact:
press@ccrjustice.org
Professor Salaita Speaks for First Time About Losing University of Illinois Tenured Position Over Gaza Tweets
Prof. Steven Salaita spoke today for the first time about his termination from a tenured faculty position at the University of Illinois at Urbana-Champaign (UIUC) over personal tweets regarding the situation in Gaza this summer.
Urbana-Champaign
Prof. Steven Salaita spoke today for the first time about his termination from a tenured faculty position at the University of Illinois at Urbana-Champaign (UIUC) over personal tweets regarding the situation in Gaza this summer.
"As hard as this situation is on me personally, the danger of the University's decision has farther reaching implications. Universities are meant to be cauldrons of critical thinking; they are meant to foster creative inquiry and, when at their best, challenge political, economic, or social orthodoxy," said Prof. Salaita at a press conference today. "Tenure - a concept that is well over a hundred years old - is supposed to be an ironclad guarantee that University officials respect these ideals, and do not succumb to financial pressure or political expediency by silencing controversial or unpopular views."
The press conference was held following a student walkout in protest of Salaita's termination.
Salaita used his Twitter account in July to denounce Israel's latest military onslaught on civilians in Gaza. "My twitter messages are no doubt passionate and unfiltered; they reflect my deep dismay at the deaths of more than 2,000 innocent Palestinians, over 500 of them children," said Salaita, who is Palestinian-American.
Emails recently released under the Illinois Freedom of Information Act revealed pressure by major donors - including one who referred to himself as "a multiple 6 figure donor" - on Chancellor Phyllis Wise to terminate Salaita's appointment after the tweets.
The case has galvanized many in the academic community, including the Modern Language Association, the American Association of University Professors, and the American Studies Association, who have come out strongly against the University's actions. Numerous departments at UIUC have cast votes of "no confidence" in the Chancellor, and many faculty are boycotting the University - several scholars have already cancelled lectures at UIUC, and a national conference to be hosted there was cancelled.
"Having watched this disaster unfold over the course of more than a month from up close, I am overjoyed that people now have the opportunity to hear the human and passionate voice of Steven Salaita, the scholar and man I have admired for many years," said Prof. Robert Warrior, Director of the University's prestigious American Indian Studies Program, which Salaita had been set to join.
"The University has violated the Constitution by terminating Professor Salaita's appointment based on the content of his speech," said Maria LaHood, senior attorney with the Center for Constitutional Rights, which is representing Prof. Salaita. "It has also sent a chilling message to faculty and students everywhere that the First Amendment and basic principles of academic freedom will be ignored when it comes to speech that is controversial or critical of the Israeli government."
"The unhiring of Professor Steven Salaita endangers the University's diverse community because it is producing an environment that is now avoided and boycotted by scholars, artists, and our fellow students worldwide, but also an environment where speech is only permissible when empty of indigenous, ethnic, and racially specific narratives and controversial politics," said two students at the university, Eman Ghanayem and Rico Kleinstein. "We are supporting Professor Salaita not because we want to destroy the University and its administration, but because we want to save it from destroying itself. We encourage our peers, colleagues, and community members to join us in persuading our Chancellor and the Board of Trustees to reinstate Professor Salaita and to defend our University."
Prof. Salaita is represented by Maria LaHood and Baher Azmy of the Center for Constitutional Rights, and Anand Swaminathan, Gretchen Helfrich and Jon Loevy of Loevy & Loevy in Chicago.
For the full text of Prof. Salaita's remarks, click here.
For more information and documents on the case, visit CCR's website here
The Center for Constitutional Rights is dedicated to advancing and protecting the rights guaranteed by the United States Constitution and the Universal Declaration of Human Rights. CCR is committed to the creative use of law as a positive force for social change.
(212) 614-6464
LATEST NEWS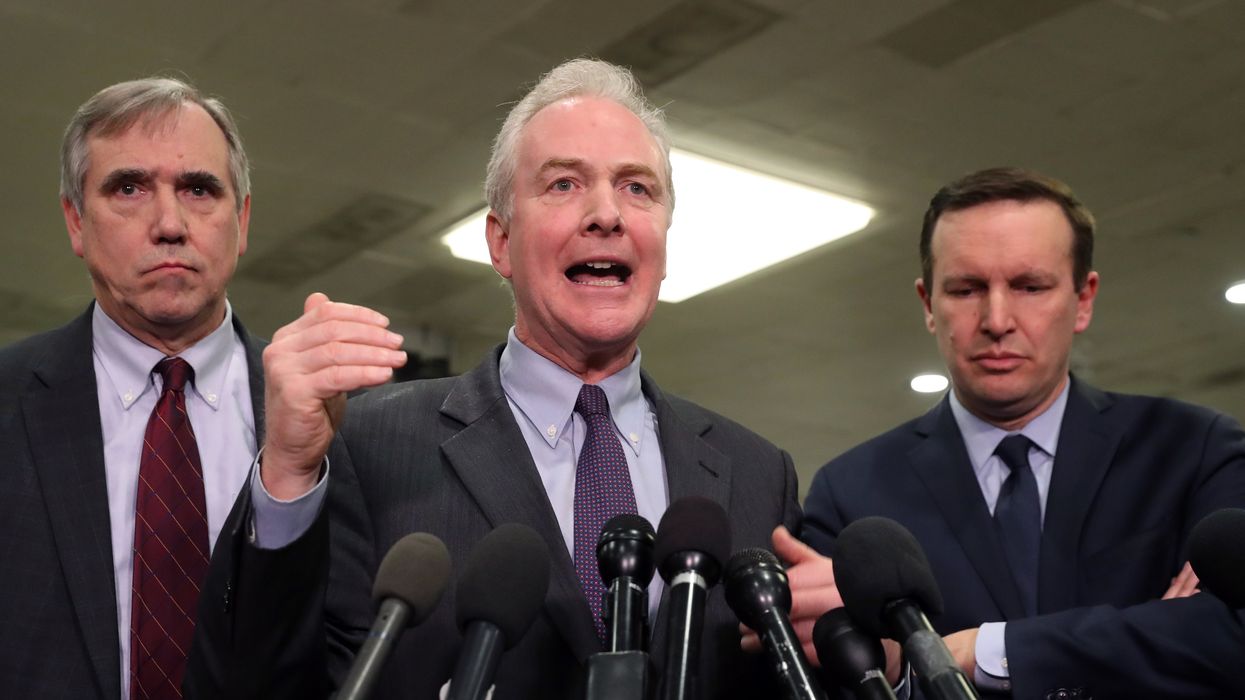 "We should seriously consider whether it is in U.S. interests to help Saudi Arabia develop a domestic nuclear program," 19 Democratic senators and independent Bernie Sanders wrote.
Amid reports that Saudi Arabia is seeking United States support for its nuclear energy program—whose capacities critics fear could be utilized to develop nuclear weapons—a group of 20 U.S. senators on Wednesday urged President Joe Biden to "seriously consider" whether such a move is in the national interest as the administration brokers a possible normalization deal between the kingdom and Israel.
In addition to concerns over the fundamentalist monarchy's desire for a U.S. security guarantee as a condition for normalizing relations with apartheid Israel, as well as the future of a two-state solution in illegally occupied Palestine, the senators note in a letter to Biden that "the Saudi government is also reportedly seeking U.S. support to develop a civilian nuclear program, and to purchase more advanced U.S. weaponry."
"While we should seriously consider whether it is in U.S. interests to help Saudi Arabia develop a domestic nuclear program, we should always maintain the high bar of the 'gold standard' 123 Agreement and insist on adherence to the Additional Protocol," the senators wrote, referring to a provision of the Atomic Energy Act of 1954 requiring a country seeking a nuclear cooperation deal with the United States to commit to a set of nine nonproliferation criteria and expanded International Atomic Energy Agency (IAEA) inspections. The U.S. has entered into such agreements with more than two dozen countries, Taiwan, and the IAEA.
Citing "the devastating war in Yemen" waged by a U.S.-backed Saudi-led coalition for nearly eight years at the cost of more than 375,000 lives, the senators added that "the provision of more advanced weaponry to Saudi Arabia should be done with careful deliberation to ensure that such equipment only be used for truly defensive purposes and does not contribute to a regional arms race."
The lawmakers' letter was led by Democratic Sens. Chris Murphy (Conn.), Chris Van Hollen (Md.), Dick Durbin (Ill.), and Peter Welch (Vt.). Signatories include Sens. Bernie Sanders (I-Vt.), Elizabeth Warren (D-Mass.), John Fetterman (D-Pa.), Jeff Merkley (D-Ore.), Patty Murray (D-Wash.), and Ed Markey (D-Mass.).
As Center for Strategic & International Studies senior fellow Jane Nakano wrote last month:
The Saudi interest in acquiring nuclear power technology became publicly known around 2010, with a royal decree stipulating that "the development of atomic energy is essential to meet the kingdom's growing requirements for energy to generate electricity, produce desalinated water, and reduce reliance on depleting hydrocarbon resources." Also, having pledged to meet carbon neutrality by 2060, Saudi Arabia looks to nuclear as an important source of zero-emissions electricity.

In addition to the United States, China National Nuclear Corporation of China, Électricité de France of France, Rosatom of Russia, and Korea Electric Power Corporation of South Korea have been in discussions to land the contract to build two inaugural nuclear power units in Saudi Arabia.
"Saudi Arabia has been publicly interested in obtaining the capacity to enrich domestic uranium to establish the entire nuclear fuel cycle, including the production of yellowcake, low enriched uranium, and the manufacturing of nuclear fuel both for both domestic use and exporting," Nakano noted. "While economic diversification through the development of domestic uranium industry may be a genuine interest, Saudi leadership has also shown little opposition to turning nuclear power capacity into developing a nuclear weapon if it deemed necessary to acquire such capability."
"The ongoing Saudi resistance to the U.S. nonproliferation conditions has generated controversy, given Saudi Arabia acceded to the Nuclear Nonproliferation Treaty in 1988—i.e., the country is legally bound to not pursue nuclear weapons," she added.
However, Saudi Crown Prince Mohammed bin Salman (MBS) confirmed last month that if Iran develops a nuclear bomb, "we will have to get one."
Some experts are warning that Saudi Arabia could turn to China or even Russia to help fulfill its nuclear ambitions if it grows wary of U.S. conditions. Hassan Alshehri, a Saudi defense analyst and retired brigadier general, toldBreaking Defense that "the West knows that Riyadh has a flexible compass that can guide it to other alternatives to acquire nuclear capabilities if Washington continues with its current negative stance."
Hasan Al Hasan, Middle East research fellow at the International Institute for Strategic Studies, told Breaking Defense that "if MBS and the Biden administration fail to reach an agreement on nuclear limits and security commitments... then Saudi Arabia will likely turn to other partners, notably China and Russia, for help with building the capabilities it needs to restore the balance of power with Iran."
News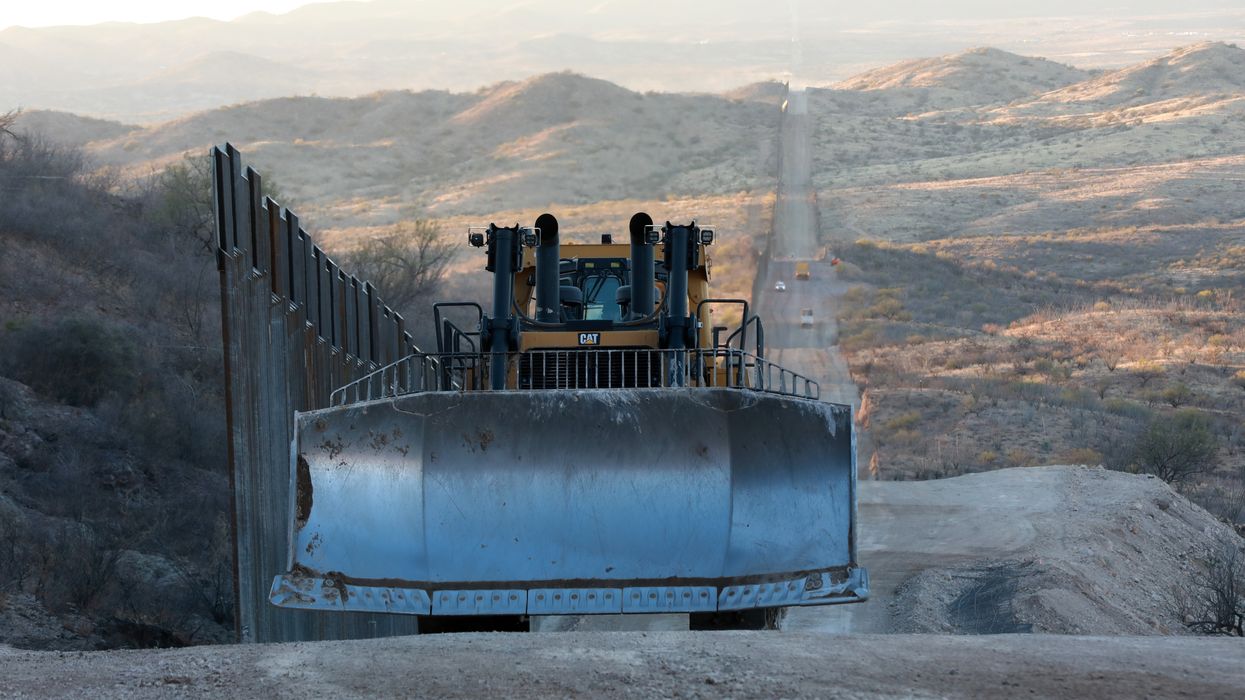 "Every acre of habitat left in the Rio Grande Valley is irreplaceable," said one advocate. "We can't afford to lose more of it to a useless, medieval wall."
Environmental protection advocates and immigrant rights campaigners expressed horrow Wednesday over a Department of Homeland Security plan entered into the Federal Register that will waive more than two dozen laws in order to expedite the construction of the U.S.-Mexico border wall.
The "notice of determination" was entered under Section 102 of the Illegal Immigration Reform and Immigration Responsibility Act, which was signed by former President Bill Clinton in 1996, and said Secretary of Homeland Security Alejandro Mayorkas "has determined, pursuant to law, that it is necessary to waive certain laws, regulations, and other legal requirements."
The 26 laws—which include the National Environmental Policy Act, the Endangered Species Act, the Migratory Bird Conservation Act, and the Native American Graves Protection and Repatriation Act—are being set aside "to ensure the expeditious construction of barriers and roads in the vicinity of the international land border in Starr County, Texas," the Federal Register said.
The waiver will allow construction through the Lower Rio Grande Valley National Wildlife Refuge and could threaten endangered species including ocelots, as well as the plant species Zapata bladderpod and prostrate milkweed, said the Center for Biological Diversity (CBD).
Voces Unidas Rio Grande Valley said it was "disappointed, but not surprised" by DHS's plan and noted that it will further limit the access to green spaces that area residents have.
Mayorkas' determination marks the first time the Biden administration has used its waiver authority under the REAL ID Act of 2005 to override federal laws.
The Trump and George W. Bush administrations used the authority in all four states that border Mexico to build walls and roads that they claimed were "an impediment" to the construction. Environmental groups have long condemned the REAL ID Act and its waiver authority.

Laiken Jordahl, Southwest conservation advocate for CBD, said it was "disheartening to see President Biden stoop to this level" in order to "build ineffective wildlife-killing border walls" that international advocates say also violates human rights.
"Starr County is home to some of the most spectacular and biologically important habitat left in Texas and now bulldozers are preparing to rip right through it," said Jordahl. "This is a horrific step backwards for the borderlands."
The proposal is the Biden administration's latest escalation of its anti-immigration policies and follows an expansion of the Trump-era Title 42 policy and a rule barring entry into the U.S. for asylum seekers who can't prove they applied for asylum in another country.
"Every acre of habitat left in the Rio Grande Valley is irreplaceable," said Jordahl. "We can't afford to lose more of it to a useless, medieval wall that won't do a thing to stop immigration or smuggling. President Biden's cynical decision to destroy a wildlife refuge and seal the beautiful Rio Grande behind a grotesque border wall must be stopped."
The proposal was announced a month after the federal government's own watchdog, the Government Accountability Office, released a report saying that border wall construction under Trump damaged native plants, helped spread invasive species, disrupted migration patterns for endangered species, and destroyed Indigenous burial grounds and sacred sites.
"There's no end to this insanity," said historian Greg Grandin of Biden's plan to fast-track the wall's construction.

News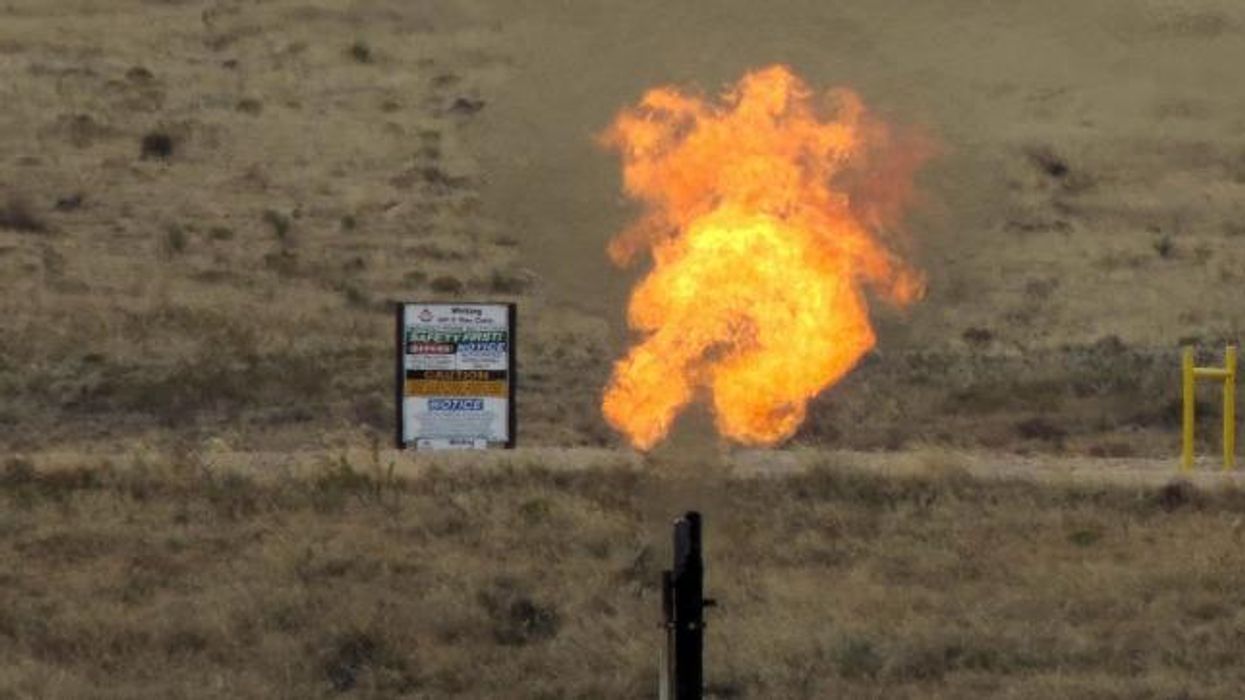 "It is time for the White House to put the public interest and our climate future ahead of fossil fuel industry profits," said one campaigner.

As the U.S. Department of Energy announced that the nation set a new record for fossil gas exports during the first half of 2023, green advocacy groups on Wednesday implored the Biden administration to "put the public interest and our climate future ahead of fossil fuel industry profits" by halting gas projects and exports.
According to the U.S. Energy Information Administration (EIA), "the United States exported more natural gas in the first half of 2023... than it did in the same period of any previous year," with exports averaging 20.4 billion cubic feet per day. The U.S. is the world's leading liquefied natural gas (LNG) exporter.
"Record exports of fossil fuels are a direct result of Biden administration policies that are expanding fracking, pipelines, and LNG export facilities, all of which threaten to lock the world into more climate-warming emissions from fossil fuels," Jim Walsh, policy director at the group Food & Water Watch, said in a statement.
"These policies are bad news for our climate and public health, but will also continue to push up energy prices for U.S. consumers, and will slow the transition to more affordable, clean renewable energy options," Walsh added.
Tyson Slocum, director of the energy program at the consumer advocacy group Public Citizen, accused the Biden administration of largely ignoring an 85-year-old federal mandate in the Natural Gas Act requiring exports to most countries to be "consistent with the public interest."
"As a result, our record gas exports expose American households to higher energy prices and increased price volatility, poison Black and Brown communities who bear the brunt of LNG expansion on the U.S. Gulf Coast, and exacerbate the climate crisis," Slocum said. "The exports also drive increased domestic fracking and promote fossil fuels that compete with renewable energy."
"The Biden administration must halt all export authorizations until it acknowledges the impact record exports have on worsening domestic energy security for vulnerable Americans and commits to respect the public interest mandate," he added.
In addition to approving or backing climate-wrecking fossil fuel expansion including the Willow Project in Alaska, the Mountain Valley Pipeline in West Virginia, and oil drilling on public lands and offshore, the Biden administration has supported and expanded LNG projects at home and abroad with a special focus on export infrastrcture.
Reacting to the EIA figures, Walsh said that "President Biden has a chance to reverse this dangerous trend. He can match his climate rhetoric with real climate action by determining that the proposed Calcasieu Pass 2... project in Louisiana, which would be the country's largest export facility for fossil gas, is not in the public interest."
"It is time for the White House to put the public interest and our climate future ahead of fossil fuel industry profits," he added.
News
Independent, nonprofit journalism needs your help.
Please Pitch In
Today!