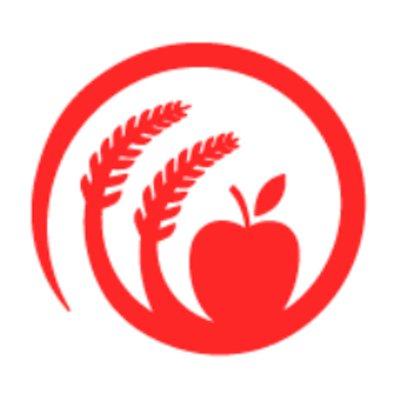 UPDATE: Two Counties in Oregon Ban Planting of GE Crops
Coast to Coast Victories for the Food Movement as Political Power Swells
PORTLAND, Ore.
Voters in both Josephine County and Jackson County, Oregon overwhelmingly approved ballot measures to prohibit the cultivation of genetically engineered (GE) crops in the counties. The Jackson initiative passed 66-34, while the Josephine initiative passed 58-42.
The victories come despite a wave of opposition funding from the chemical industry, topping out at nearly $1 million in out-of-state spending. Center for Food Safety (CFS) has been an ardent supporter of the initiatives and congratulates the people of Jackson and Josephine Counties.
"This is a landmark victory for the families and farmers of Jackson and Josephine Counties," said George Kimbrell, Portland-based senior attorney for Center for Food Safety. "Farmers have the right to sow the crop of their choice, free from the risk of contamination. Where the federal government has failed, local efforts like this are taking action. The tide is turning towards a sustainable food future and GE-free zones are a vital step."
"Tonight family farmers stood up for our basic right to farm ," says Elise Higley, Our Family Farms Coalition campaign director. "The federal government and state government have twiddled their thumbs as Monsanto and the other chemical giants have been allowed to sell a product that spreads onto family farms and can contaminate the seeds we depend on for next year's crop," added Higley, who owns a 100-acre farm in Jackson County.
"These victories represent a turning point in the food movement. Just two weeks ago, the Governor of Vermont signed a historic law mandating that GE foods sold in Vermont be labeled. Across the country, members of the food movement are engaging in the political process and demanding their rights as consumers and as citizens," said Rebecca Spector, who spearheads state labeling initiatives for Center for Food Safety.
Earlier this month, a Citizens' Initiative Review (CIR) of the ban concluded that farms in Jackson County are at "serious" risk of contamination by GE crops. The review also concluded that the initiative would not incur significant enforcement costs.
Center for Food Safety has supported the Jackson County effort extensively throughout the process by providing legal and scientific expertise in the drafting and campaign. CFS attorneys testified in support of the measure earlier this year, and Center for Food Safety Action Fund provided funding to the initiative.
"The people of Jackson and Josephine Counties have given the rest of the country a model - and the inspiration - to protect local communities. This is just the beginning," added Spector.
Other counties with GE crop bans, also supported by CFS, include Santa Cruz County, CA, Trinity County, CA, Marin County, CA, Mendocino County, CA, San Juan County, WA, and numerous cities. Hawaii's Big Island and Oahu have banned GE taro and coffee.
Center for Food Safety's mission is to empower people, support farmers, and protect the earth from the harmful impacts of industrial agriculture. Through groundbreaking legal, scientific, and grassroots action, we protect and promote your right to safe food and the environment. CFS's successful legal cases collectively represent a landmark body of case law on food and agricultural issues.
(202) 547-9359
LATEST NEWS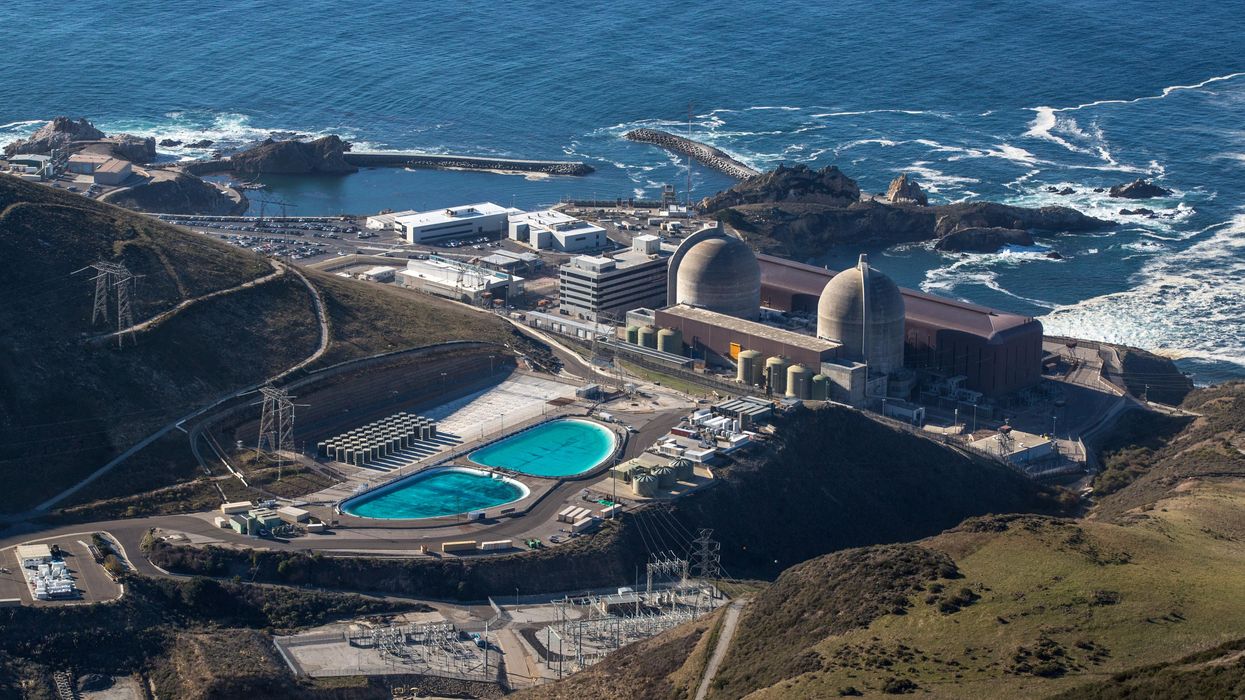 "This is an ominous warning sign for how independent the NRC will be in evaluating the earthquake risk and the overall operational integrity of the Diablo Canyon reactors," said one critic.

In a move blasted by one environmental group as a "cave to PG&E," the U.S. Nuclear Regulatory Commission on Thursday approved the criminal corporation's continued operation of California's last nuclear power plant without a renewed license or safety review while it seeks a 20-year-extension.
The NRC granted an "administrative" exception allowing the Diablo Canyon plant near Avila Beach in San Luis Obispo County—which began operating in 1985—to remain operational under its current license beyond its scheduled 2025 closure date. The commission said in a statement that the exemption "will not present an undue risk to the public health and safety, and is consistent with the common defense and security."
PG&E senior vice president and chief nuclear officer Paula Gerfen welcomed the NRC decision as a way to "improve statewide electric system reliability and reduce greenhouse gas emissions as additional renewable energy and carbon-free resources come online."
\u201cPro-nuclear advocates are scared of not having electricity 24/7.\nI'd rather risk an hour of no electricity than risk a meltdown.\nDiablo Canyon kills fish and heats the ocean.\nMoney should go to renewables.\n#CloseDiabloCanyon\u201d

— Susie Sunshine \u262e\u2615\ud83c\udf34\ud83d\udc15\ud83c\uddfa\ud83c\udde6 (@Susie Sunshine \u262e\u2615\ud83c\udf34\ud83d\udc15\ud83c\uddfa\ud83c\udde6) 1677776332
However, green groups denounced the move.
"The decision is unprecedented," Friends of the Earth said in a statement. "The NRC has never approved an exemption for a license renewal applicant that would allow it to operate a nuclear reactor past its 40-year limit without a comprehensive safety and environmental review."
"The NRC's own rules recognize that continued operation of a reactor past the 40-year statutory limit poses safety risks that are different from operational risks during the facility's first 40 years in operation and require a separate review," the group added. "But the NRC, in its bow to PG&E, completely ignored its own rules, with far-reaching implications for all its safety standards."
\u201cDiablo Canyon, CA's last remaining nuclear plant, just got the greenlight to operate up to 20 years without a safety review or a license renewal. \n\nThe decision completely ignores safety and environmental issues that the aging plant poses.\ud83e\udd26\u200d\u2640\ufe0f\nhttps://t.co/yrJbEIQt2R\u201d

— Friends of the Earth (Action) (@Friends of the Earth (Action)) 1677801021
The NRC's decision came days after the California Energy Commission rubber-stamped a plan backed by Democratic Gov. Gavin Newsom, the state Legislature, and PG&E to keep Diablo Canyon operating.
Visiting the facility on Wednesday, Newsom cited last year's record heatwave and other climate-driven extreme weather events to assert that Diablo Canyon "is important to support energy reliability as we accelerate progress towards achieving our clean energy and climate goals."
As CalMatters' Nadia Lopez reported, PG&E said it will seek permission to keep Diablo Canyon operating for up to 20 additional years, although state officials have not said whether they will allow the plant to run after 2030. A law passed last year by the California Legislature allows the facility to remain operational for the remainder of the decade, while the Biden administration last November announced a billion-dollar bailout for PG&E to keep the plant running.
According to Friends of the Earth:
Major safety and environmental risks will only increase if Diablo Canyon's twin reactors continue running past their expiration dates. First, the reactors are sited on a web of earthquake fault lines. A recent New York Timesarticle detailed how similar the fault lines are beneath Diablo to those that caused the recent 7.8 earthquake that has killed roughly 50,000 people in Turkey and Syria combined.

Furthermore, the NRC is proposing to let Diablo Canyon continue operating without environmental review of the significant adverse effects on the marine environment from the plant's once-through cooling, or OTC, system. PG&E was due to replace the OTC system with cooling towers in 2024 and 2025, but now will be allowed to abandon that effort without an environmental risk evaluation.
"This is an ominous warning sign for how independent the NRC will be in evaluating the earthquake risk and the overall operational integrity of the Diablo Canyon reactors," Friends of the Earth legal director Hallie Templeton said in a statement. "We will consider all available means to ensure that they are held to the letter of the law on this and future decisions and do not put people and the environment at risk."
\u201cNRC caved to PG&E over license exemption for aging Diablo Canyon nuclear plant. The NRC's betrayal of public safety comes days after the California Energy Commission rubberstamped PG&E's plan to keep Diablo operating beyond 2025.\nREAD MORE: https://t.co/TsvMMF5Gih #NoDiablo\u201d

— Mothers for Peace (@Mothers for Peace) 1677831351
Diane Curran, lead attorney for the anti-nuclear group San Luis Obispo Mothers for Peace, said that "this decision is frightening because it casts aside the serious safety and environmental issues raised by operating Diablo Canyon past its expiration dates without a comprehensive safety and environmental review."
"The NRC calls the exemption a mere 'administrative' decision, as if it were choosing paper clip sizes," Curran added. "There is nothing 'administrative' about allowing this aging reactor duo to continue running for days, months, or years when each day of operation poses the risk of an accident that could devastate the entire state and beyond."
Ken Cook, president of the Environmental Working Group, called NRC's behavior mafia-like.
"Public safety concerns were blatantly ignored by the NRC over this politically motivated and reckless decision to bend the law for PG&E," he said.
"A federal agency responsible for protecting public safety is now simply serving as the consigliere for the nuclear industry," he added.
News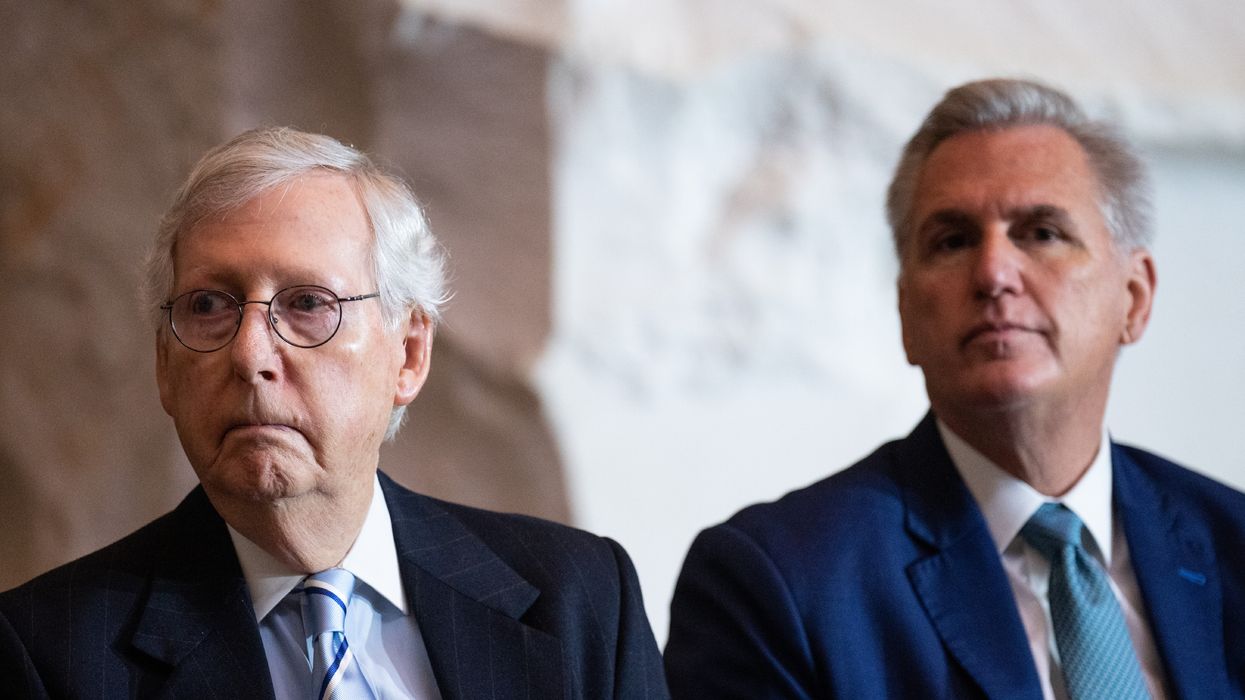 Failure to raise the borrowing limit, the economists warned, could spark "a swift and severe economic downturn" and "unnecessary layoffs across the economy."
More than 200 top U.S. economists warned congressional leaders Thursday that a failure to raise the debt ceiling would likely spark a devastating economic crisis, rattling global financial markets and killing jobs nationwide.
"The economic consequences of a federal default are unpredictable, but frightening," the economists warned in a letter to House Speaker Kevin McCarthy (R-Calif.), House Minority Leader Hakeem Jeffries (D-N.Y.), Senate Majority Leader Chuck Schumer (D-N.Y.), and Senate Minority Leader Mitch McConnell (R-Ky.).
"A swift and severe economic downturn could follow, with unnecessary layoffs across the economy," the experts wrote. "Chaos in world financial markets is highly likely. Higher borrowing costs for the federal government, and indeed for all Americans, could remain with us for a long time—an unwanted legacy of a foolish decision. We should not run the experiment."
The list of letter signatories includes Joseph Stiglitz, a recipient of the Nobel Memorial Prize in Economic Sciences, as well as former Federal Reserve Vice Chair Roger Ferguson, former Labor Secretary Robert Reich, Groundwork Collaborative chief economist Rakeen Mabud, and former Fed Chair Ben Bernanke.
"We have a wide range of views on economic policies, some 'conservative' some 'liberal,'" the economists wrote, "but we all agree that Congress should raise the debt limit promptly and without conditions in order to eliminate the risk of default."
\u201c\ud83d\udea8 More than 200 top economists, including Nobel laureates, former Fed & cabinet officials (and Groundwork's @rakeen_mabud!) urge Congress to raise the debt limit "promptly and without conditions in order to eliminate the risk of default"\n\nhttps://t.co/aE6gjbGFzD\u201d

— Groundwork Collaborative (@Groundwork Collaborative) 1677855690
The letter was sent as congressional debt ceiling talks remain at a standstill, with the House Republican majority refusing to drop its push for deep federal spending cuts in exchange for lifting the borrowing limit. In 2011, congressional Republicans leveraged the debt ceiling to push through an austerity measure that—according to one economist—helps explain "why the recovery from the Great Recession was so agonizingly slow."
The current impasse has forced the Treasury Department to take "extraordinary measures" to prevent the federal government from defaulting on its obligations, which include Social Security and Medicare benefits.
But the department's actions can only buy lawmakers so much time. Last month, the Congressional Budget Office said the U.S. will default this summer unless a deal is reached to raise the debt limit.

One analysis released during the last congressional debt ceiling standoff in 2021 estimated that a U.S. default would wipe out upwards of $15 trillion in household wealth and eliminate nearly 6 million jobs.
"It's clear that defaulting on the national debt would not only imperil the progress we've made over the past three years toward an equitable and long-lasting recovery, but would also risk a completely avoidable and historically severe economic crisis," Shayna Strom, president and CEO of the Washington Center for Equitable Growth, said in a statement Thursday.
"Economic research tells us that austerity measures can have negative long-term effects on workers, their families, and the economy," Strom added. "By raising the federal debt limit, Congress can avoid bringing unnecessary hardship on Americans and the economy and, in doing so, will take another needed step toward ensuring economic growth in the future is stronger, more stable, and more broadly shared."
News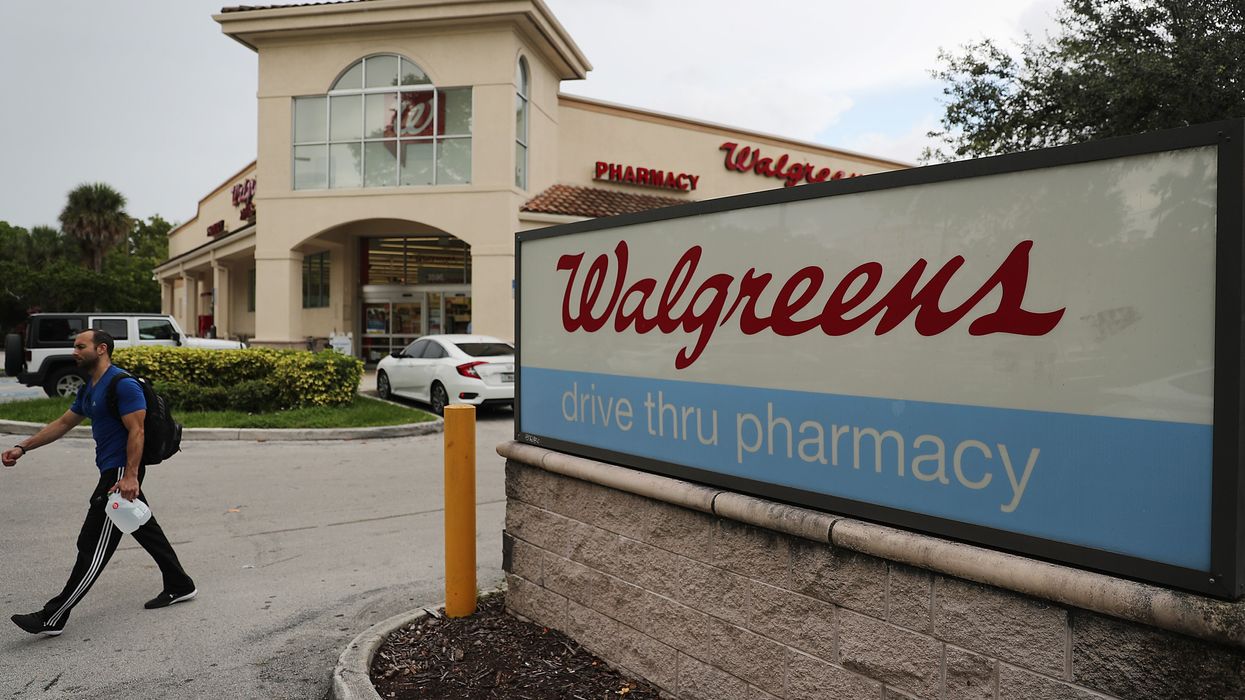 "This willful corporate choice will prevent so many women from choosing the healthcare they need and have a legal right to," said Sen. Tammy Duckworth.
Calls to "boycott Walgreens" grew on social media after the United States' second-largest pharmacy chain confirmed Thursday that it will not sell abortion pills in nearly two dozen GOP-controlled states, including several where such medication remains legal.
Walgreens' decision came after 20 Republican state attorneys generals in February threatened the company with legal action if it began distributing mifepristone by mail.
The AGs wrote that federal law and many state laws prohibit "using the mail to send or receive any drug that will 'be used or applied for producing abortion,'" adding that "the text, not the Biden administration's view, is what governs."
After a yearslong study by the U.S. Food and Drug Administration (FDA) found that mifepristone is safe and effective to use without a doctor's visit, the agency in January updated a rule allowing retail pharmacies to sell the drug—part of the Biden administration's attempt to protect abortion access in the wake of the U.S. Supreme Court's June 2022 decision overturning Roe v. Wade, which unleashed a right-wing assault on reproductive freedom that experts say violates international human rights law.
As Politico first reported Thursday, Walgreens recently informed the AGs that it will not dispense mifepristone either by mail or at its physical stores in the 20 states where those officials are the top law enforcement officers.
Abortion in general, and medication abortion in particular, are still legal in some of the affected states, including Alaska, Iowa, and Montana.
Ashley Fairbanks wrote that "the only way to end corporate compliance with fascism is to impact their profits."
"Looks like it's time to boycott Walgreens," tweeted Corinne Blalock of Yale Law School. "I really can't get over how disgusted I am by... private corporations unilaterally denying millions of women's access to reproductive healthcare."
Calling Walgreens' move "absolutely awful," Sen. Tammy Duckworth (D-Ill.) warned that "this willful corporate choice will prevent so many women from choosing the healthcare they need and have a legal right to," and implored the company to "reverse course—immediately."
The FDA approved the use of mifepristone, taken in conjunction with misoprostol, for abortion within the first 10 weeks of pregnancy in 2000. Medication abortion became the most common method in the U.S. for terminating a pregnancy in 2020.
Walgreens' decision, meanwhile, underscores the extent to which abortion access varies in the post-Roe U.S., including in states where the GOP has not outlawed the healthcare procedure.
According toThe Associated Press:
Nineteen U.S. states have imposed restrictions on abortion pills, but there's a court battle over whether they have the power to do so in defiance of U.S. Food and Drug Administration policy. A physician and a company that makes the pill mifepristone filed separate lawsuits earlier this year seeking to strike down bans in North Carolina and West Virginia.

The FDA for more than 20 years limited dispensing of the drug to a subset of specialty offices and clinics because of safety concerns. But it eased restrictions since the start of the Covid-19 pandemic by eliminating the in-person requirement for the pill and allowing brick-and-mortar pharmacies to dispense it. At least one lawsuit filed by abortion opponents argues that the FDA has overstepped its authority in approving the abortion drugs.
A Walgreens spokesperson said Thursday that the company is not yet selling abortion pills anywhere in the country but is working to become eligible through the FDA's certification process, after which it "will dispense only in those jurisdictions where it is legal to do so."
E. Michael Murphy, the adviser for state government affairs for the American Pharmacists Association, told Politico that members of the group are struggling to navigate "blatant contradictions between state and federal law that make it very challenging to identify what is legal and what is not legal."
"We are very concerned with those reports," he said, "because we as pharmacists want to ensure the patients have access to the best possible care that's informed by evidence."
As Bloombergreported:
The nation's biggest pharmacy chains announced in January that they planned to seek U.S. certification to sell the pills used in medication abortion, after the U.S. Food and Drug Administration loosened restrictions on where the drugs could be dispensed.

The attorney generals' February 1 letter was sent after the companies stated their intention. A rival missive was sent to executives at Walgreens and CVS by 23 Democratic state attorneys general two weeks later, urging them to ignore the legal threats from the GOP states.
According to Politico, "The group of Republican attorneys general, who argue that the Biden administration is misinterpreting the laws around mailing and dispensing abortion pills, also wrote to CVS, Albertsons, Rite Aid, Costco, Walmart, and Kroger demanding they, too, refuse to dispense the medication."
While "some independent and online pharmacies say they will seek certification to provide the drugs in these states, advocates warn that the impact of Walgreens' decision could significantly limit access," Politico noted.
Elizabeth Nash, a state policy expert at the Guttmacher Institute, told the outlet that forced pregnancy advocates and the pharmacy chain are "denying people agency over their lives."
"When we're thinking about states that have a lot of their population in rural areas, it's much more likely that a pharmacy is nearby than a provider's office," said Nash, "so these pharmacies play an outsized role in patient health and access to healthcare."
News
SUPPORT OUR WORK.
We are independent, non-profit, advertising-free and 100%
reader supported.