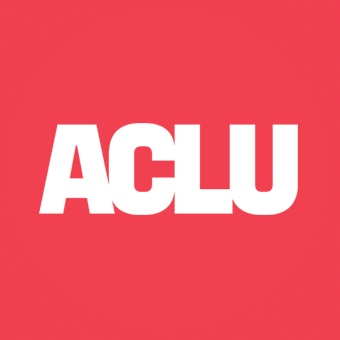 Vermont Resort Illegally Discriminated Against Lesbian Couple, Says ACLU
Inn's Policy of Refusing to Host 'Gay Receptions' Violates State Law
MONTPELIER, VT
The American Civil Liberties Union and the ACLU of Vermont filed a lawsuit today against a Vermont resort that refused to host a lesbian couple's wedding reception due to the owners' personal bias against lesbian and gay people. Vermont law prohibits denying access to public accommodations based on sexual orientation.
Kate Baker and Ming Linsley of New York wished to hold their wedding ceremony at a Buddhist retreat in Vermont and have their reception at a nearby inn. Linsley's mother, Channie Peters, contacted the Vermont Convention Bureau to locate a facility and received information on the Wildflower Inn. The 24-room inn described itself as an award-winning resort and an ideal destination-wedding location. Baker and Ming were excited about holding the reception there, but when the events manager learned that the reception was for a lesbian couple, Peters was told that due to the innkeepers' "personal feelings," the inn does not host "gay receptions."
"I had been so excited to help plan my only daughter's wedding reception, so when the Wildflower Inn told me that my daughter wasn't welcome there, it was like being kicked in the stomach," said Peters. "Someone who didn't even know us was telling me that my daughter wasn't good enough to have her reception at their facility while everyone else who sees the resort's website is welcome."
The Vermont Fair Housing and Public Accommodations Act explicitly prohibits any public accommodations from denying goods and services based on customers' sexual orientation. The law applies to inns, restaurants, schools, stores and any other business that serves the general public. The act contains exceptions for religious organizations and small inns with five or fewer rooms; the Wildflower Inn fits neither category. The inn is a multimillion-dollar public business whose slogan is "Four Seasons for Everyone!"
"I was completely surprised when I was told that the resort had a 'no gay reception' policy," said Baker. "We wanted to celebrate our marriage with our loved ones in a beautiful country setting, and it never crossed my mind that a resort that is open to the public would discriminate against us based on the owners' personal feelings about LGBT people."
Although Peters was able to find an alternate location for her daughter's reception, the experience was jarring to the women and their family.
"The discrimination from the Wildflower Inn cast a shadow on what should have been a purely joyous occasion," said Linsley. "We didn't want to stay quiet and allow this business to continue to discriminate against other couples."
"The law is clear that any business that provides a service to the public can't pick and choose who they want to serve based on the customer's race, gender, sexual orientation, or gender identity" said Joshua Block, staff attorney for the ACLU Lesbian Gay Bisexual and Transgender Project. "If we allow one group of people to be singled out and denied basic rights and service, we are violating the basic American values of justice and fairness for everyone."
More information on this case, including a video of the plaintiffs, can be seen here: www.aclu.org/lgbt-rights/lesbian-couple-sues-vermonts-wildflower-inn-dis...
The American Civil Liberties Union was founded in 1920 and is our nation's guardian of liberty. The ACLU works in the courts, legislatures and communities to defend and preserve the individual rights and liberties guaranteed to all people in this country by the Constitution and laws of the United States.
(212) 549-2666
LATEST NEWS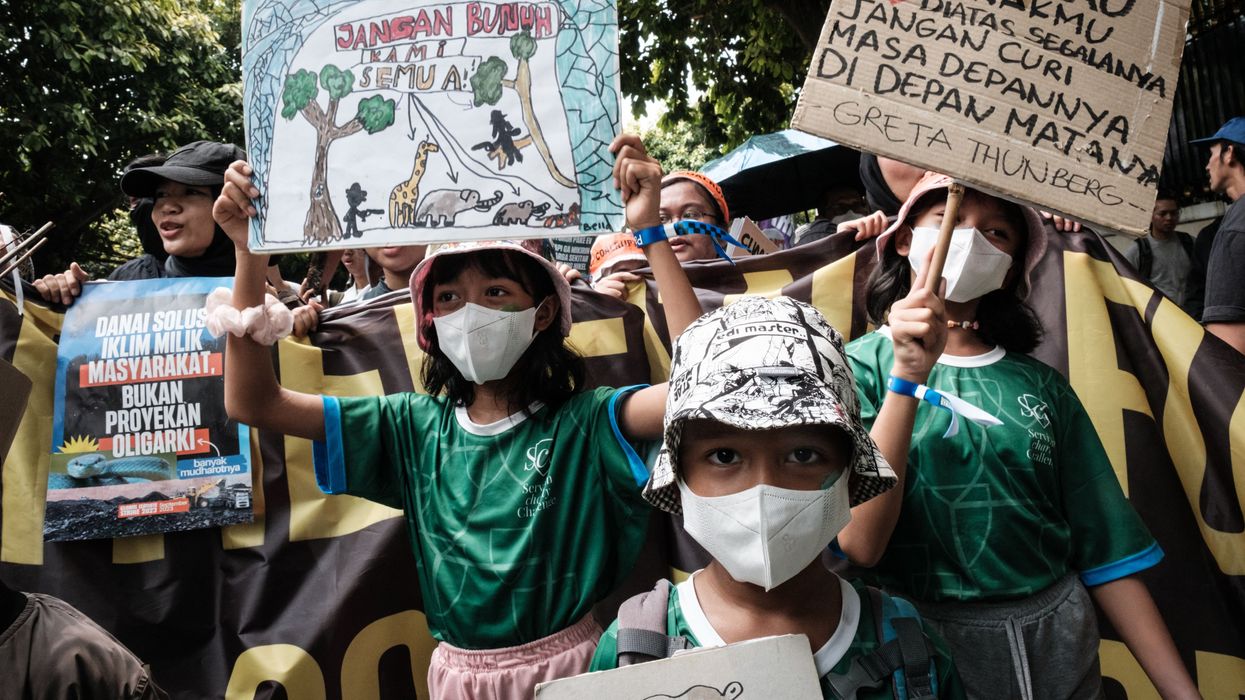 "We deserve a world free from fossil fuels."
Climate activists are closing out the hottest summer on record with hundreds of demonstrations worldwide, all blaring a unified message: "End fossil fuels."
From Indonesia to Uganda to the United Kingdom to the United States, climate campaigners young and elderly, scientists, human rights advocates, and other defenders of the planet have taken to the streets this weekend or are planning to do so on Sunday, a mass mobilization that comes ahead of United Nations Secretary-General António Guterres' Climate Ambition Summit in New York City on Wednesday.
On Sunday afternoon, the city is set to see the largest climate protest in the U.S. in years, with tens of thousands expected to join a march calling on President Joe Biden to declare a climate emergency and do everything in his power to phase out fossil fuel extraction.
"We deserve a world free from fossil fuels," organizers declared before Sunday's march, which is set to kick off at 1:00 pm ET. "This is our chance, and Biden's opportunity, to break free from fossil fuels and build a just and safe future."
The United States is the world's largest historical emitter of planet-warming greenhouse gases, and a recent report identified the country as " planet-wrecker-in-chief" over its continued support for fossil fuel expansion at home and abroad. The nation has been hit by a record 23 billion-dollar extreme weather events so far this year.
Biden, who has come under fire for approving massive drilling projects in Alaska and elsewhere, is expected to skip Wednesday's Climate Ambition Summit.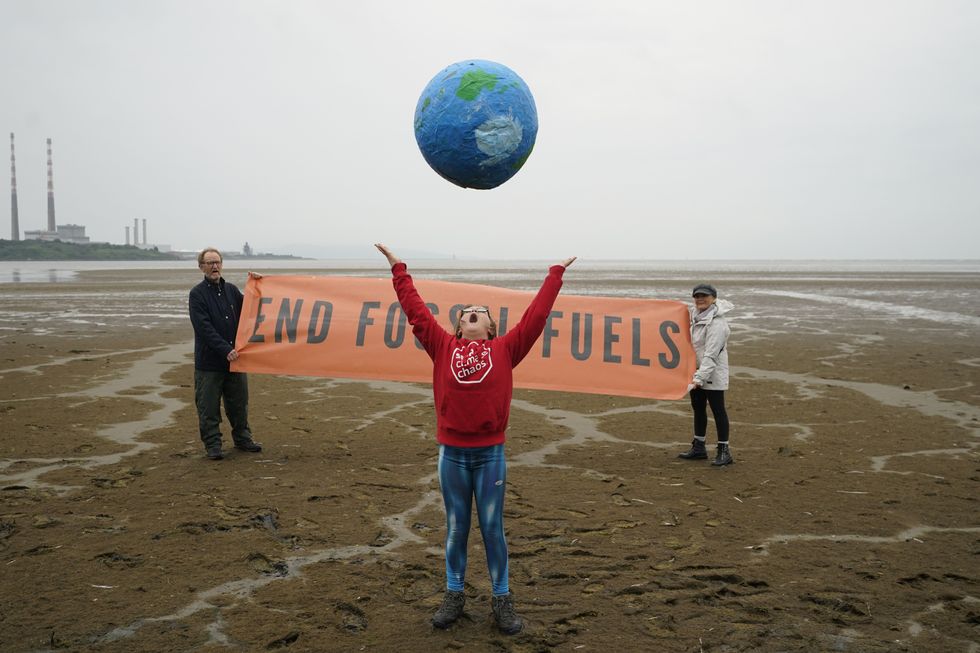 (Photo: Niall Carson/PA Images via Getty Images)
The New York City march will cap off a weekend of global climate action held at the tail-end of a summer marred by catastrophic extreme weather, from devastating wildfires in Hawaii and Greece to massive flooding in Libya and China.
Thousands of people have been killed across the globe by extreme weather this year.
"We've experienced a summer of painful evidence that we are living in the midst of a climate crisis," organizer Eric Weltman told a local New York media outlet on Saturday.
In the face of intensifying climate breakdown and government inaction, activists around the world have ramped up their protests and civil disobedience outside of government buildings and corporate offices in recent days.

"In Quezon City in the Philippines [on Friday], activists lay in front of the Department of Environment and Natural Resources in protest and held signs demanding fossil fuels—from coal to natural gas—be phased out," The Guardianreported. "In Sweden, climate activists gathered in front of Parliament, just next to the Royal Palace where Sweden's King Carl XVI Gustaf was celebrating his 50th anniversary on the throne. Their chants about 'climate justice' could be heard in the palace courtyard as the king watched the changing of the guard during the golden jubilee celebrations."
The Intergovernmental Panel on Climate Change (IPCC) has estimated that more than a third of Earth's population currently lives in areas "highly vulnerable" to climate chaos, a fact that was magnified this year as much of the globe faced weather disasters made far more likely by the continued burning of fossil fuels.
A comprehensive U.N. report published earlier this month found that world governments are nowhere close to holding emissions to levels necessary to keep warming within limits set by the Paris climate accord nearly a decade ago.

Agnès Callamard, secretary-general of Amnesty International, warned that "this generation faces a worsening climate catastrophe, with devastating consequences for human rights, but too many leaders in positions of power today are doing too little to avert this disaster, and even reneging on existing promises."
"We call on governments and corporations to act now to safeguard everyone's right to a healthy environment by bringing a rapid end to the current era of fossil fuel dependency, swiftly and fairly transitioning to renewable energy sources, and ending energy poverty," said Callamard.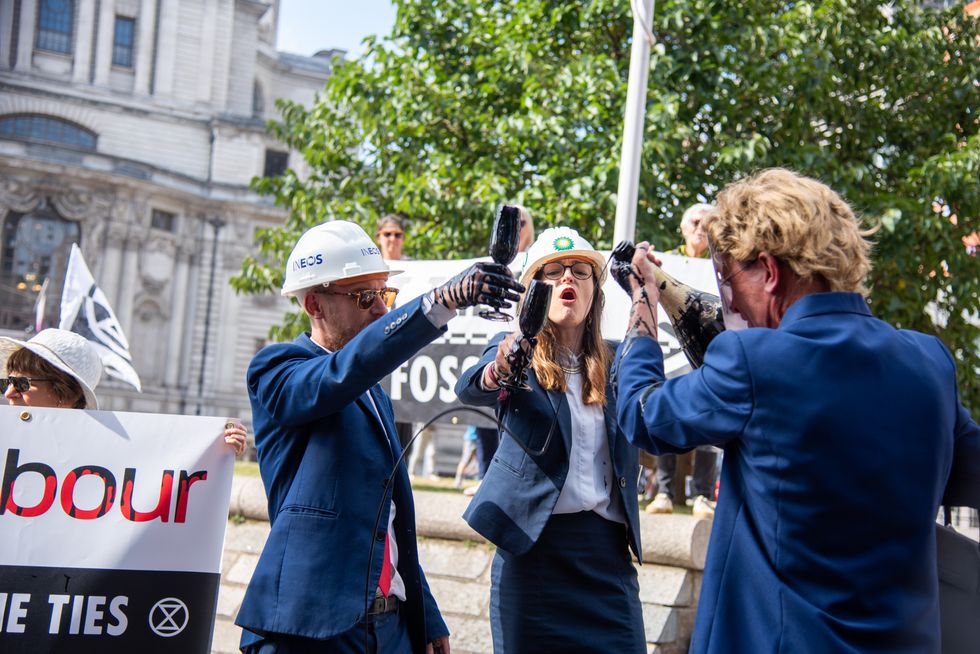 (Photo: Loredana Sangiuliano/SOPA Images/LightRocket via Getty Images)
Fossil fuel giants, meanwhile, are thriving—and ditching their previous vows to curb emissions, barreling ahead with more planet-wrecking oil and gas production.
While profits have dipped this year amid falling global gas prices, the world's leading fossil fuel companies raked in a combined $219 billion last year, spurring growing calls for legal action against the destructive industry.
On Friday, California became the largest economy in the world to file suit against major oil and gas companies.
"Against the backdrop of a harrowing year, with millions of people experiencing devastating climate impacts, the painful reality of the climate crisis is clear," said Rachel Cleetus, policy director of the Climate and Energy Program at the Union of Concerned Scientists. "It's well past time to stop putting the profits of fossil fuel companies ahead of the wellbeing of people and the planet."
News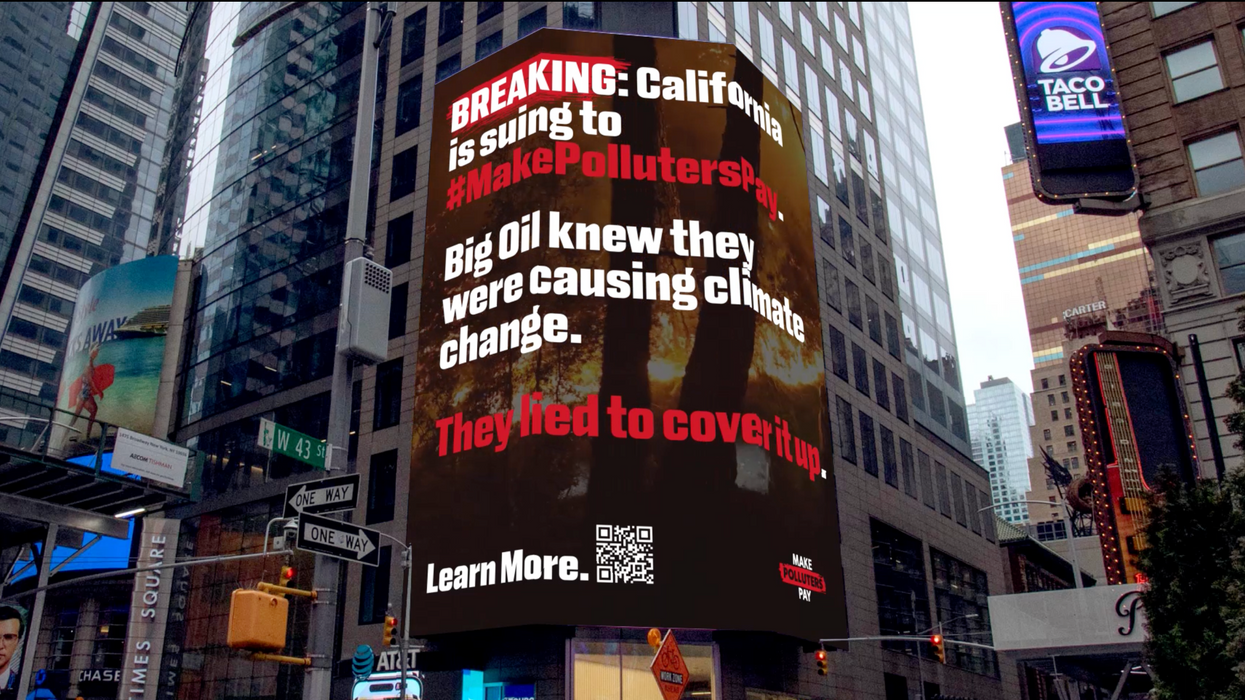 "It's time to come together and finally hold the fossil fuel industry accountable for the damage they've done."
Shortly after California sued five fossil fuel giants over their decades of climate deception and damage, activists on Saturday announced the launch of a new campaign aimed at pressuring the Biden Justice Department and state attorneys general across the U.S. to join the growing legal fight against Big Oil.
The "Make Polluters Pay" campaign is set to formally kick off Monday with a billboard display in Times Square and a six-figure digital ad buy designed to build public support for lawsuits against leading oil and gas firms, which knew about the link between their products and climate change long before they publicly acknowledged it.
"Climate change isn't just a tragedy, it's a crime," said Jamie Henn, founder of Fossil Free Media, one of the groups behind the new campaign. "Fossil fuel companies knew, they lied, and now it's time to make them pay. Right now, billions of us around the world are experiencing the impacts of the climate crisis firsthand. It's time to come together and finally hold the fossil fuel industry accountable for the damage they've done."
Dozens of U.S. counties, cities, and states have sued fossil fuel companies in recent years over the destruction wreaked by oil, gas, and coal projects, which remain a dire threat to global efforts to limit planetary warming and prevent the kinds of catastrophic weather events the world has seen in recent months from becoming even more intense and deadly.
On Friday, California became the largest economy in the world to take legal action against the fossil fuel industry, suing ExxonMobil, Shell, BP, ConocoPhillips, Chevron, and the American Petroleum Institute for engaging in a "multidecade, ongoing campaign to seek endless profits at the expense of our planet."
The new pressure campaign, modeled after the national effort to inform the public about the threat of tobacco, hopes to push other states—and U.S. Attorney General Merrick Garland—to follow in California's footsteps.
"Knowingly wrecking the climate is criminal," Leah Qusba of Action for the Climate Emergency (ACE) said in a statement. "Make no mistake—they will pay for losses and damages."
The campaign is set to launch ahead of United Nations Secretary-General António Guterres' Climate Ambition Summit on Wednesday.
The summit, billed as a "no-nonsense" effort to generate more aggressive action plans to phase out planet-warming energy, will be preceded by hundreds mass demonstrations across the globe imploring U.S. President Joe Biden and other world leaders to "end fossil fuels."
The protests will culminate in the "March to End Fossil Fuels" in New York City on Sunday afternoon.

"Big Oil owes us for the lives and livelihoods lost to climate change-linked extreme weather, illness, and death," said Alex Witt, the senior adviser for oil and gas at Climate Power. "The industry's C-suite has known for decades the horrific impact oil and gas have on the climate, and they kept drilling. That's not just negligent; it's reprehensible."
"The tide has turned against Big Oil," Witt added, "and they know it."
News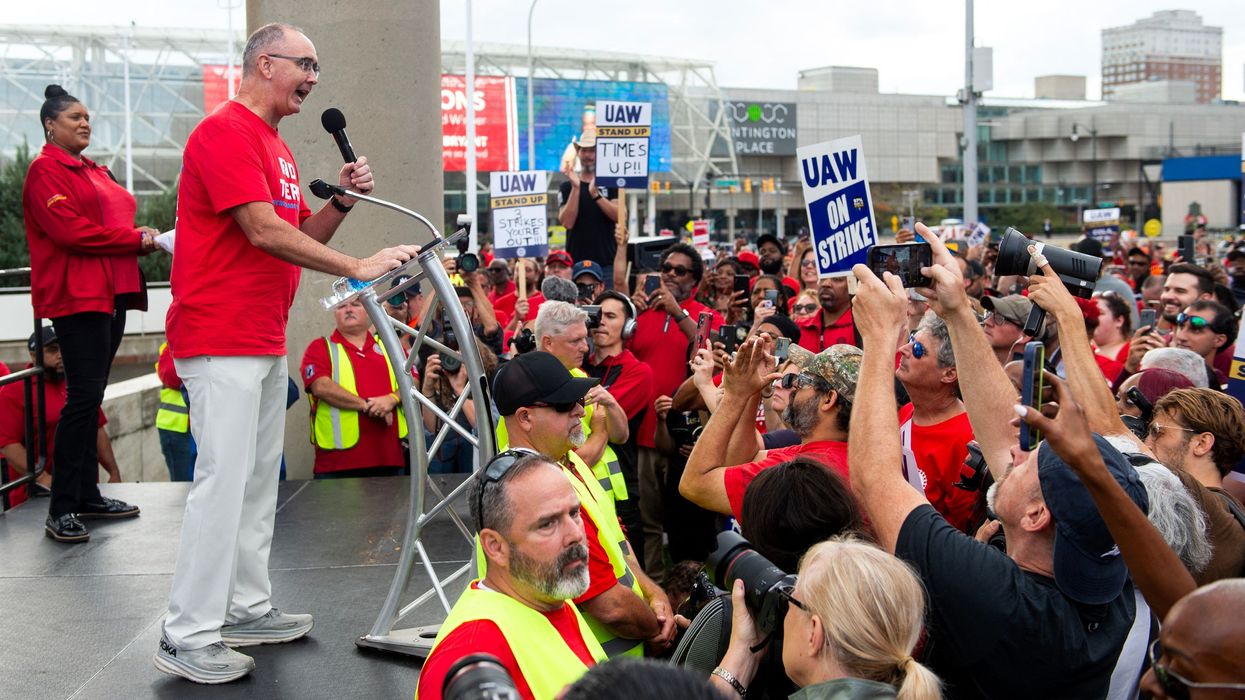 United Auto Workers president Shawn Fain accused the companies of "trying to put the squeeze on our members to settle for less."
The president of the United Auto Workers condemned Ford and General Motors on Saturday after the companies said they plan to temporarily lay off thousands of nonstriking employees, blaming the union's walkouts at two plants in Michigan and Ohio.
Ford said in a statement Friday that it is laying off roughly 600 workers at its Michigan Assembly Plant, pointing to "knock-on effects" from the UAW's walkouts at the facility's final assembly and paint departments.
General Motors, meanwhile, said it expects 2,000 workers at its Fairfax Assembly plant in Kansas "to be idled as soon as next week," a decision the company called "a negative ripple effect" of the UAW's historic strike.
But UAW president Shawn Fain argued the layoffs are completely unnecessary—and an obvious attempt by Ford and General Motors to "put the squeeze on our members to settle for less."
"With their record profits, they don't have to lay off a single employee. In fact, they could double every autoworker's pay, not raise car prices, and still rake in billions of dollars," said Fain. "Their plan won't work. The UAW will make sure any worker laid off in the Big Three's latest attack will not go without an income. We'll organize one day longer than they can, and go the distance to win economic and social justice at the Big Three."
The UAW's response to the layoffs came as union negotiators and the Big Three automakers returned to the bargaining table to continue negotiating over a new contract.
More than 12,000 UAW autoworkers are currently on strike at three plants, and—as part of its "stand-up strike" strategy—the union is expected to call on additional locals to strike in the coming days if the car manufacturers don't make a sufficient contract offer.
The UAW says a gradual wave of strikes at select plants will give its negotiators maximal leverage—and keep the Big Three guessing—as the union attempts to win significant benefit and wage improvements. Fain has said an "all-out" strike is still on the table.

Reutersreported Saturday morning that Stellantis has increased its wage-hike offer to nearly 21% over the life of the contract—the biggest total wage boost proposed by a Big Three automaker thus far, but still well shy of the union's demand for a 36% raise.
Ford and General Motors have proposed raises of 20% and 18%, respectively.
Ford CEO Jim Farley, whose compensation package totaled nearly $21 million last year, faced backlash from the UAW and lawmakers for claiming earlier this week that the union's wage demands would "bankrupt" the company.
"There's no way you can continue wasting hundreds of millions of dollars on stock buybacks to manipulate prices, jack up CEO pay to ludicrous levels, all while starving the workers who actually make the product you sell," Rep. Alexandria Ocasio-Cortez (D-N.Y.) replied on social media. "THAT is what is unsustainable. Pay your workers."
Fain, for his part, called Farley's claim "a lie like everything else that comes out of their mouths."
As Fortunereported on Friday, Morgan Stanley's auto analyst estimated in a recent note that a 40% pay raise for autoworkers would result in $2.6 billion in additional labor costs for Ford, which expects to bring in $168 billion in total revenue this year.
The company spent nearly $500 million on stock buybacks last year.
"They could double our wages and not raise the prices of vehicles, and they would still make billions of dollars," Fain said from the picket line on Friday.
News
Independent, nonprofit journalism needs your help.
Please Pitch In
Today!