For Immediate Release
Contact:
Tel: +1-212-216-1832,Email:,hrwpress@hrw.org
Libya: Contact Group Should Press Rebels to Protect Civilians
Attacks on Government Supporters Raise Concerns
NEW YORK
The international Contact Group on Libya, meeting in Istanbul on July 15, 2011, to discuss the conflict, should press Libya's opposition authority to ensure that civilians are protected in areas where rebels have assumed control, Human Rights Watch said today.
Human Rights Watch has documented abuses in four towns recently captured by rebels in the western mountains, including looting, arson, and beatings of some civilians who remained when government forces withdrew.
"Rebel abuses may pale in comparison with the atrocities by Libyan government forces, but they require immediate attention," said Sarah Leah Whitson, Middle East and North Africa director at Human Rights Watch. "Governments supporting the NATO campaign should push the opposition to protect civilians in areas where rebels have control, especially where some people may support the government."
The Contact Group is meeting for the fourth time to discuss the Libya conflict, with high-level representation from countries that support the NATO intervention and Libya's opposition National Transition Council.
In the four recently captured towns in the Nafusa Mountains - al-Awaniya, Rayayinah, Zawiyat al-Bagul, and al-Qawalish - Human Rights Watch found that rebel forces had burned some homes and shops and looted three medical clinics. In the one town where some civilians remained, al-Awaniya, rebels beat some people they accused of having supported government forces.
Government forces had been based in all four towns, using them to position themselves for attacks, including indiscriminate attacks on civilian-inhabited areas. Al-Awaniya and Zawiyat al-Bagul are home to members of the Mesheshiya tribe, known for its loyalty to the Libyan government and Muammar Gaddafi.
"How the rebels behave in towns that have supported Gaddafi gives an indication of what they may do if they gain control in other areas, especially if they approach Tripoli," Whitson said. "It is critically important for them to carry out their stated commitment to human rights, including holding accountable anyone in their forces who violates those rights."
Human Rights Watch is one of the world's leading independent organizations dedicated to defending and protecting human rights. By focusing international attention where human rights are violated, we give voice to the oppressed and hold oppressors accountable for their crimes. Our rigorous, objective investigations and strategic, targeted advocacy build intense pressure for action and raise the cost of human rights abuse. For 30 years, Human Rights Watch has worked tenaciously to lay the legal and moral groundwork for deep-rooted change and has fought to bring greater justice and security to people around the world.
LATEST NEWS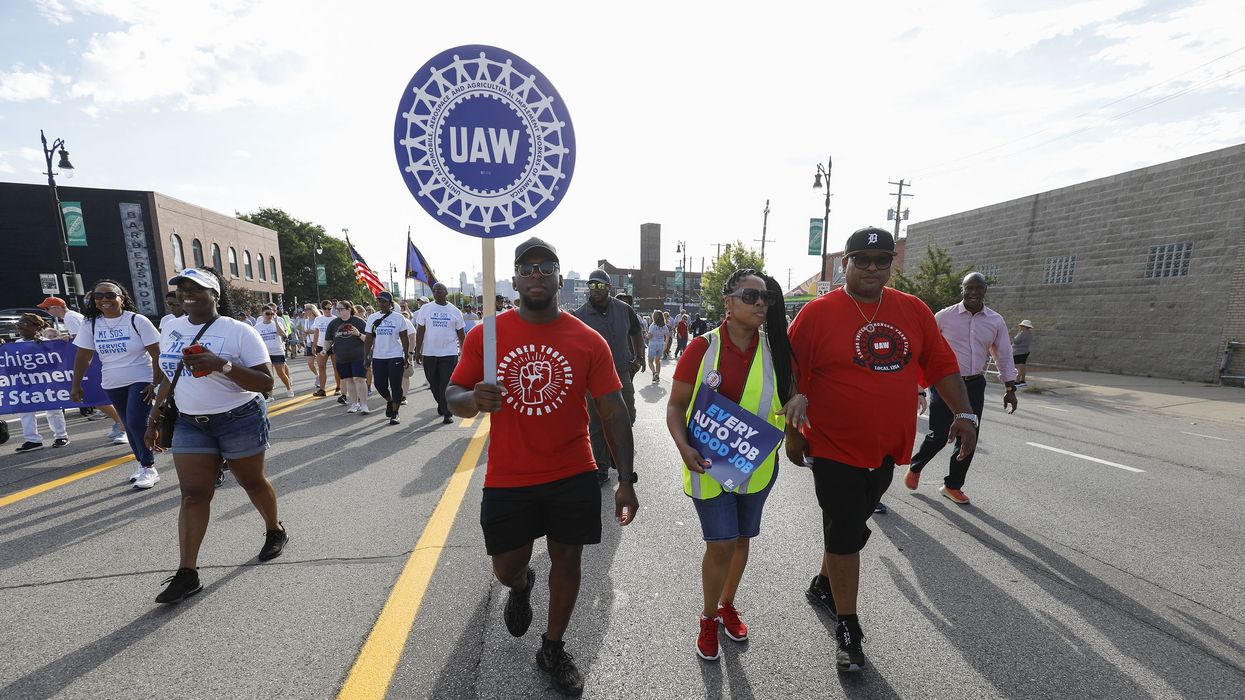 "GM either doesn't care or isn't listening when we say we need economic justice at GM by 11:59 pm on September 14th," said UAW president Shawn Fain. "The clock is ticking."
The leader of the United Auto Workers on Thursday rejected General Motors' contract counteroffer as "insulting" and reminded the company that it is running out of time to avert a strike.
"After refusing to bargain in good faith for the past six weeks, only after having federal labor board charges filed against them, GM has come to the table with an insulting proposal that doesn't come close to an equitable agreement for America's autoworkers," UAW president Shawn Fain said in response to the counterproposal, which the company made public after meeting with union negotiators.

"GM either doesn't care or isn't listening when we say we need economic justice at GM by 11:59 pm on September 14th," Fain added. "The clock is ticking. Stop wasting our members' time. Tick tock."
GM's offer includes a 10% increase in wages for most employees—well short of UAW's call for a 46% wage boost.
If the UAW's proposed raise was implemented across the entire U.S. auto manufacturing sector, Bloomberg's Justin Fox noted Thursday, "it would bring real hourly wages back to... about 5% less than they were in mid-2003."
"The average hourly wage for autoworkers on the production line has dropped 30% since 2003," Fox observed.
General Motors also offered to recognize Juneteenth as a paid holiday, pay out a $5,500 contract ratification bonus, and reduce the amount of time it takes for employees to reach the maximum wage rate. UAW has demanded the complete elimination of tiered compensation systems that leave newer workers with worse pay and benefits, arguing that such arrangements are aimed at dividing the rank-and-file.
Late last month, 97% of participating UAW members voted to authorize a strike if the "Big Three" automakers—General Motors, Ford, and Stellantis—don't agree to a fair contract by September 14, when the union's current contracts with the companies are set to expire.
The union has since filed unfair labor practice charges against GM and Stellantis, accusing the companies of illegally refusing to bargain in good faith.
Ford made its counteroffer to the UAW last week, proposing a 9% wage increase. Fain said the company's offer "insults our very worth."
Stellantis, which is headquartered in the Netherlands, is expected to put forth its counteroffer to the UAW before the end of the week.
As Luis Feliz Leon wrote in The American Prospect on Thursday, Stellantis is using its U.S. plants as "bargaining chips" in high-stakes negotiations with the union.
"Last year, Stellantis indefinitely shuttered its assembly plant in Belvidere, laying off more than 1,300 workers," Leon noted. "It moved production to a plant in Toluca, in central Mexico, upending the lives of generations of families dating back to the company's 1965 roots in Illinois."
One worker told Leon that Stellantis is "dangling that they can reopen the Belvidere plant if we give up this or that."
"And nobody wants to give up anything—we've given up enough!" the worker added.
News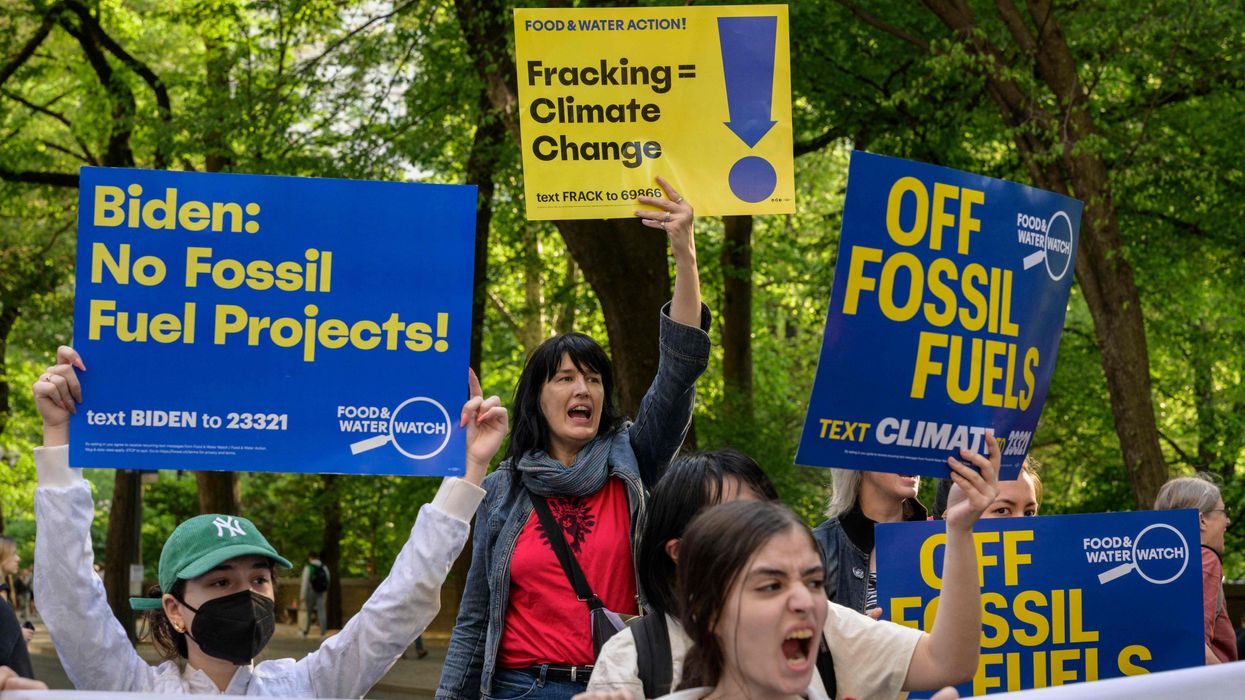 "The U.S., Italy, and Germany are going rogue by backtracking on their commitment to end international public finance for fossil fuels," said one analyst. "There needs to be accountability."
Amid a worsening climate emergency and preparations for a pair of United Nations summits to tackle it, an analysis released Wednesday called out multiple countries including the United States for continuing to dump a collective $4.4 billion into fossil fuel projects abroad after pledging to stop such public financing by the end of last year.
Oil Change International (OCI) found that the United States, Finland, Germany, Italy, Japan, the Netherlands, and Switzerland have more than 20 fossil fuel projects awaiting final approval and 15 approved projects. Four U.S.-financed projects in Indonesia, Poland, Singapore, and South Africa are already approved and getting $1.5 billion.
Six other U.S.-backed projects—located in the Bahamas, Bahrain, Bulgaria, Guyana, Iraq, and Papua New Guinea—are still pending. There are also two approved liquefied natural gas (LNG) projects located in the United States but with a total of $472 million in German financing along with a pending U.S.-based project supported by Japan.
Germany also has an approved project in Bangladesh and pending projects in Brazil, Cuba, the Dominican Republic, Iraq, and Uzbekistan. Japan has approved projects in India, Indonesia, and Uzbekistan, and pending projects in Brazil, Jamaica, and Russia. Italy has approved projects in Indonesia, Peru, and Uzbekistan and pending projects in Brazil, Mozambique, Turkey, and Vietnam.
"Enough is Enough! No more sacrifice zones, no more fossil fuels—we refuse to be sacrificed!"
This financing is occuring despite the Statement on International Public Support for the Clean Energy Transition—often called the Glasgow Statement because it came out of the COP26 summit in Scotland—and a similar Group of Seven commitment. OCI, which has previously blasted "promise breakers" for neglecting these pledges, noted that "while the U.S. has reportedly adopted a policy to follow through on its commitments to end international public finance for fossil fuels, it is refusing to publish it."
OCI public finance analyst Claire O'Manique declared Wednesday that "the U.S., Italy, and Germany are going rogue by backtracking on their commitment to end international public finance for fossil fuels. Public money that should be going to support a just transition to renewable energy is instead being pumped into more climate-wrecking fossil fuel projects, harming communities."
"Other countries have kept their promise to end international public finance for fossil fuels," she stressed. "This is already shifting billions of dollars towards clean energy. There needs to be accountability for signatories who go back on their word."
Frontline community leaders also spoke out. Center for Environmental Law and Community Rights executive director Peter Bosip said: "The people of Papua New Guinea are already facing the full force of climate change. Rising sea levels, extreme weather events, and environmental degradation are already threatening many people's existence and threatening our way of life. Papua LNG will add to and exacerbate this climate crisis—and financiers cannot, and should not, finance it."
Anabela Lemos, director of Justiça Ambiental in Mozambique, charged that "rich countries are addicted to fossil fuels" and emphasized the importance of fighting against oil and gas projects.
"If there isn't a strong backlash, the rest [of the world] will follow soon and then there will be no chance for vulnerable countries like Mozambique to deal with the ravages of the climate crisis," Lemos warned. "Instead of supporting Mozambique to develop clean and just energy sources, these countries are pushing Mozambique down a fossil fuel development pathway."
The campaigner took aim at the Italian export credit finance agency, Servizi Assicurativi del Commercio Estero (SACE), for its involvement in "the gas rush in northern Mozambique, which has led to human rights abuses, devastated lives, increased conflict and militarization, and oppression of communities, journalists, and civil society."
Meanwhile, in the U.S. state of Texas, John Beard of the Port Arthur Community Action Network urged Germany "to stand with us against fossil fuels."

"By investing in Port Arthur LNG, Germany is investing in yet another destructive project in a community that is already overwhelmed by the deadly and toxic pollution of the fossil fuel industry," Beard said. "While the industry and shareholders will get rich, Port Arthur LNG will heap more destruction upon a predominantly black and brown community already facing cancer rates over two times higher average."
"Our relatives and friends are dying daily from heart, lung, and kidney diseases caused by industrial pollution. But the people of the Gulf are fighting back!" he added. "Enough is Enough! No more sacrifice zones, no more fossil fuels—we refuse to be sacrificed! We will keep fighting to accelerate the transition to clean green renewables."
The OCI analysis came as scientists confirmed that this summer has been the hottest on record and last year greenhouse gas concentrations, sea level, and ocean heat content hit historic highs. It was also published amid preparation for U.N. Secretary-General António Guterres' Climate Ambition Summit in New York City beginning September 20.
Ahead of the summit, climate campaigners plan to descend on the U.S. city for the September 17 March to End Fossil Fuels, which is backed by 500 groups including OCI. The mobilization and meeting this month will be followed in November by COP28, the next U.N. conference for parties to the Paris climate agreement, hosted by the United Arab Emirates.

News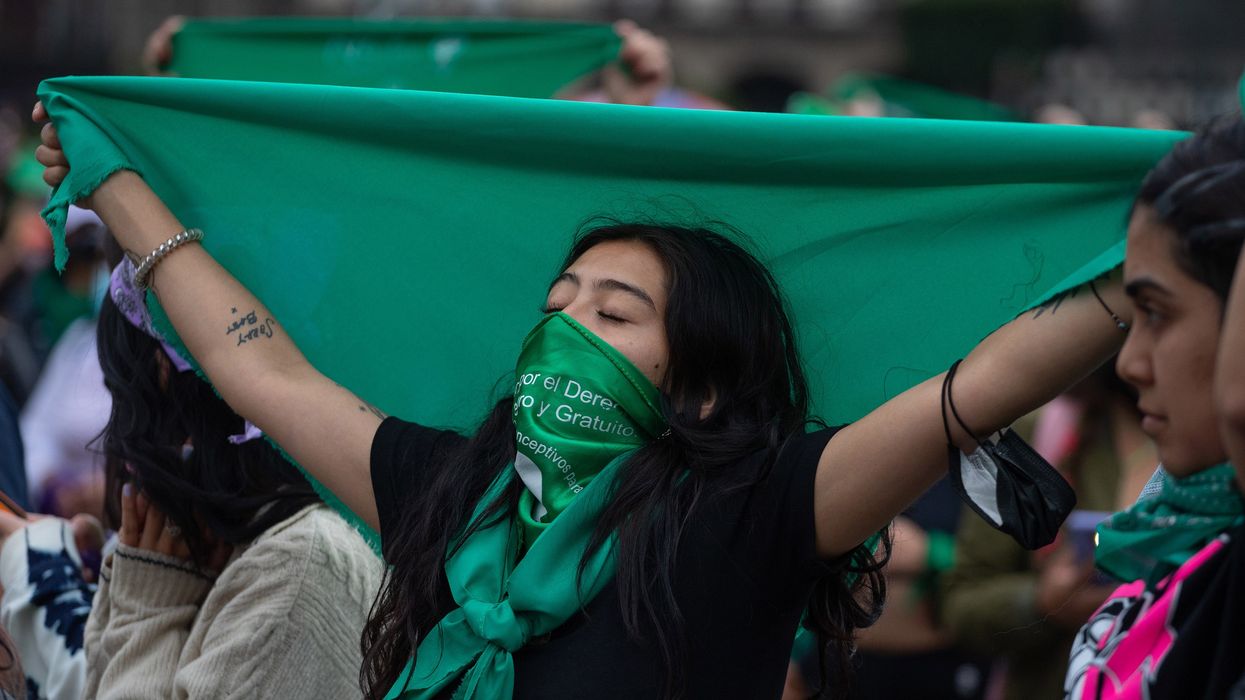 "We live in a world where it's feasible that many American women may soon find that crossing the border into 78% Catholic Mexico may be their best option for obtaining an abortion," said one journalist.

Mexico on Wednesday became the latest Latin American country to leave behind federal criminal penalties for abortion care, marking the latest success of the "Green Wave"—the pro-abortion rights movement that has helped pressure lawmakers to legalize abortion care in conservative, largely Catholic countries including Argentina and Colombia in recent years.
The Supreme Court said that federal laws banning abortion care are unconstitutional and violate "the human rights of women and people with the ability to gestate."

The ruling comes exactly two years after the court unanimously ruled that a law in the northern state of Coahuila, which subjected people who had abortions to up to three years in prison, was unconstitutional.
Federal public health agencies and institutions will now be required to provide abortion care, regardless of state laws, although rights advocates noted that even in states that have decriminalized abortion, law enforcement agencies have continued to investigate people for ending pregnancies.
Although it will take more legal action to decriminalize the procedure in 20 states where abortion still carries penalties at the state level, Nadine Gasman, president of the National Institute for Women, called the ruling a "big step towards gender equality and women's freedom."
The Green Wave—named for the green bandannas worn by advocates who have assembled at huge reproductive rights rallies—saw a major success in Argentina in 2020 when the Senate passed a law legalizing abortion. Colombia's Supreme Court also decriminalized abortion care in 2022, and green wave protests have taken place in countries such as Chile and Peru, where public outcry last month pushed the government to allow an 11-year-old girl to access an abortion after she was raped by her stepfather.
As abortion restrictions have begun falling across the region, which is heavily influenced by the Catholic Church, nearly two dozen states in the U.S. have banned or heavily restricted abortion care since the Supreme Court overturned Roe v. Wade last year.
The New York Times reported Thursday that the bans in states including Texas have pushed people to seek care in neighboring states that have expanded access, with the number of abortions provided in New Mexico, Kansas, and Colorado rising by more than 60% in the first six months of 2023.
As the Texas Tribune has reported, people who live in southern Texas have also increasingly sought care across the border in Mexico, purchasing inexpensive medications that can be taken at home to end a pregnancy at drugstores in border towns.
Wednesday's ruling may have further "ripple effects" in the state, where abortion care is almost entirely prohibited, reported the Tribune.

"We live in a world," saidMississippi Free Press editor Ashton Pittman, "where it's feasible that many American women may soon find that crossing the border into 78% Catholic Mexico may be their best option for obtaining an abortion."
Dr. Anu Kumar, president of the international reproductive rights group Ipas, said pro-forced pregnancy lawmakers in the U.S. "should take note—we are now outliers in the world."
"Mexico is now part of a group of countries leading on reproductive freedom," said Kumar, "whereas the United States is denying it."
News
Independent, nonprofit journalism needs your help.
Please Pitch In
Today!