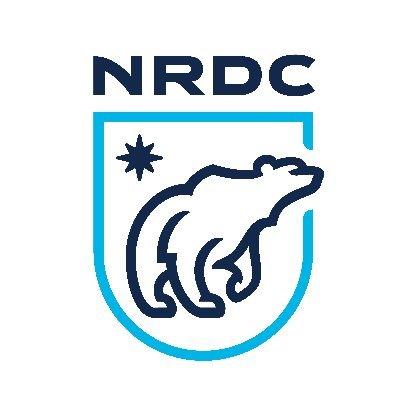 For Immediate Release
May, 10 2011, 01:07pm EDT
Environmental Leaders to AEP: What's Your Number?
National environmental groups the Natural Resources Defense Council, Environmental Defense Fund and Sierra Club are launching a new campaign today that challenges American Electric Power (AEP) to publicly name the number of lives it wants Congress to sacrifice to give AEP and other polluters delays and rollbacks of national limits on toxic air pollution.
WASHINGTON
National environmental groups the Natural Resources Defense Council, Environmental Defense Fund and Sierra Club are launching a new campaign today that challenges American Electric Power (AEP) to publicly name the number of lives it wants Congress to sacrifice to give AEP and other polluters delays and rollbacks of national limits on toxic air pollution.
While other utilities are investing in technology and jobs to clean up toxic air pollution from coal-fired power plants and meet new national pollution standards on time, AEP is promoting on Capitol Hill a sweeping, 56-page bill it drafted to weaken and delay federal clean air standards. AEP lobbyists wrote the bill, dubbed it the Electric Power Regulatory Coordination Act of 2011, and then went looking for lawmakers to sponsor it.
Columbus, Ohio-based AEP is one of the largest emitters of toxic air pollution in the country. In 2008, AEP emitted more mercury, nitrogen oxide, and carbon dioxide pollution than any other American utility.
If the AEP bill were to become law, in the first two years alone it would permit the release of mercury, acid gases, and arsenic that would contribute to as many as 34,000 deaths, 220,000 asthma attacks, and 1.5 million missed work days - severe health impacts that would be avoided by implementation of EPA's recently proposed clean air standards for the nation's most toxic pollutants.
Statements of Environmental Leaders:
"Instead of promoting a big polluters' bill of rights to delay scientists from issuing updates that protect our health, AEP should be cleaning up its deadly pollution and looking for clean energy alternatives," said Frances Beinecke, president of the Natural Resources Defense Council. "Investing in clean energy would not only protect countless American lives but help create jobs and boost the economy."
"Today we are asking AEP a simple question: What's your number? What's the acceptable number of American lives to surrender?" said Environmental Defense Fund President Fred Krupp. "After twenty years of delay, AEP wants America to wait another six years before we limit toxic mercury from some power plants - and they want to delay limits on a host of other dangerous pollutants."
"AEP made $1.2 billion in profits last year -- while America's children suffered asthma hospitalizations and mercury-related developmental delays," said Krupp. "This draft bill represents Washington at its worst: corporate lobbyists writing legislation to block limits on toxic pollution and then shopping around for Members of Congress to sponsor it. We'll see who is willing to put their name on it and put their constituents' health at risk."
"Corporate polluters like AEP have stooped to a new low in their efforts to keep their profits flowing at the expense of millions of Americans' health. AEP wants a license to kill and they need to be stopped, said Michael Brune, executive director of the Sierra Club.
"AEP says that 'strong environmental performance is essential to fulfilling our corporate social responsibilities,'" added Krupp. "If that's true, the company should stop trying to sell this dirty air bill, and get back to work."
Background on Draft AEP Legislation
A HEALTH WRECK FOR AMERICA'S CHILDREN
A 56-page discussion draft circulated on April 29, 2011 (dubbed the "Electric Power Regulatory Coordination Act of 2011") would halt implementation of the nation's clean air laws for the nation's single largest source of air pollution: fossil fueled power plants. The abstruse legal language set out in the 56 page document would rip apart the fabric of our nation's clean air laws. If it became law, the discussion draft would allow harmful air pollution would persist for years longer, imposing a heavy health burden on America's children:
In the first two years alone, the pollution allowed under the discussion draft is associated with as many as 34,000 deaths, 220,000 asthma attacks, and 1.5 million missed work and sick days,* health-harming impacts that would be prevented by timely implementation of EPA's proposed clean air standards for the nation's most toxic pollutants.
For over a decade, the discussion draft categorically bars EPA from taking action to (1) limit power plant emissions of arsenic, chromium, and acid gases, (2) protect human health imperiled by interstate air pollution transport discharged by coal-fired power plants, (3) reduce the haze pollution in America's premier national parks, and (4) finalize proposed emission standards to reduce power sector sulfur dioxide pollution, which transforms into lethal particulates.
The discussion draft would halt the application of clean air protections under two landmark Supreme Court cases, Massachusetts v. EPA and Environmental Defense v. Duke Energy, to power plant pollution by, for example, prohibiting significant reductions in climate-disrupting pollution from the nation's existing coal plants for over a decade; these facilities are the nation's single largest source of climate pollution, discharging 1.8 billion tons of carbon dioxide annually and 4.9 million tons daily.
While AEP and some other power companies are seeking to erode bedrock clean air protections, other major utilities are supporting healthier air for America:
Dick Kelly, Chairman of the Edison Electric Institute, Xcel CEO and Chairman: "Pursuing emission reductions for several years positions us to meet future environmental goals, and we have a variety of tools which we can do that with"; "we do have the foundations for a very, very successful future." [Dec. 1, 2010 Investor Meeting]
William Johnson, President and CEO, Progress Energy on the proposed merger of Duke Power and Progress: "As a result of these combined actions, we believe the new company will be well positioned to meet the new EPA MACT regulations expected later this year and in to 2012. We still have much work to do to comply with these rules, which could require significant additional capital investment and additional announced plant closures. However, we are further down the road on compliance than many other companies with large coal fleets. We should also benefit by combining best practices in our fleet modernization efforts." [Jan. 10, 2011 Investor Meeting]
Peter Darbee, Chairman, President and CEO, PG&E Corp.; Jack Fusco, President and CEO, Calpine Corp.; Lewis Hay, Chairman and CEO, NextEra Energy, Inc.; Ralph Izzo, Chairman, President and CEO, Public Service Enterprise Group, Inc.; Thomas King, President, National Grid USA; John Rowe, Chairman and CEO, Exelon Corp.; Mayo Shattuck, Chairman, President and CEO, Constellation Energy Group: "The electric sector has known that these rules were coming. Many companies, including ours, have already invested in modern air-pollution control technologies and cleaner and more efficient power plants. For over a decade, companies have recognized that the industry would need to install controls to comply with the act's air toxicity requirements, and the technology exists to cost effectively control such emissions, including mercury and acid gases." [Dec. 8, 2010 Wall Street Journal letter to the editor]
The nation's largest power companies are financially well positioned to comply with these important health protections. In 2010, the top ten power companies by generating capacity [MWh] had a combined $28.4 billion in profits and $7.5 billion in cash balances.
*The proposed AEP legislation would delay and weaken new EPA standards to address the most toxic contaminants at power generation facilities nationwide. EPA has estimated that in 2016 the annual particulate matter-related benefits of the proposed rule for adults will "include approximately 6600 to 17,000 fewer premature mortalities, 4,300 fewer cases of chronic bronchitis, 10,000 fewer non-fatal heart attacks, 12,000 fewer hospitalizations (for respiratory and cardiovascular disease combined), 4.9 million fewer days of restricted activity due to respiratory illness and approximately 830,000 fewer lost work days. We also estimate substantial health improvements for children in the form of 110,000 fewer asthma attacks, 6,700 fewer hospital admissions due to asthma, 10,000 fewer cases of acute bronchitis, and approximately 210,000 fewer cases of upper and lower respiratory illness." 76 Fed. Reg. 24,976, 26,090 (May 3, 2011) If AEP has its way and the rules are blocked, all of those projected annual benefits would be lost for at least two years, with ongoing harm in subsequent years as well.
NRDC works to safeguard the earth--its people, its plants and animals, and the natural systems on which all life depends. We combine the power of more than three million members and online activists with the expertise of some 700 scientists, lawyers, and policy advocates across the globe to ensure the rights of all people to the air, the water, and the wild.
(212) 727-2700
LATEST NEWS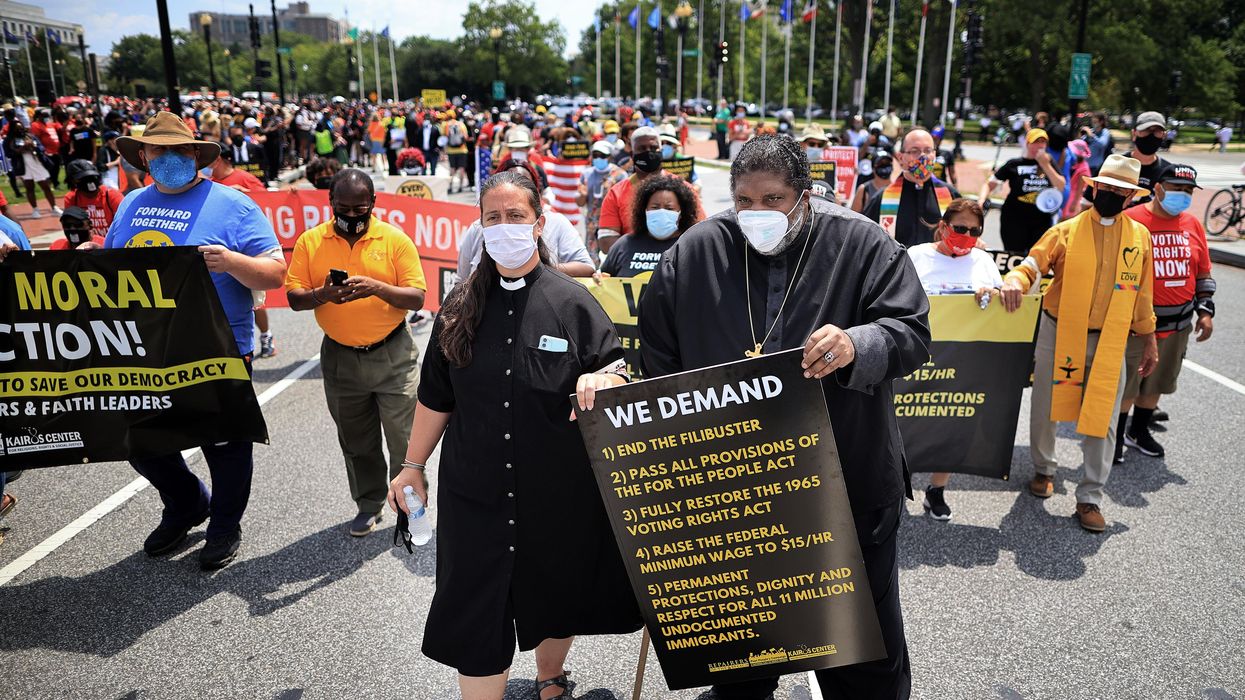 "Today and every day let's honor King as we end racism, poverty, ecological devastation, the denial of healthcare, militarism, and this false narrative of Christian nationalism," said Rev. Dr. Liz Theoharis.
To mark Dr. Martin Luther King Jr. Day on Monday, leaders of a modern iteration of the slain civil rights champion's final campaign called on U.S. politicians from both sides of the aisle—many of whose policies and actions are like those King condemned as the "evil triplets of racism, materialism, and militarism"—to step up and meet the needs of the country's poor and low-income people.
Poor People's Campaign: A National Call for Moral Revival released a video demanding the Biden administration and every member of Congress "meet with poor and low-wealth people, religious leaders, economists, lawyers, and public health specialists to address the systemic policy violence that threatens the soul of our nation."
"When prophets are killed or assassinated, our job is to pick up the baton and continue the work," campaign co-chair Rev. Dr. William J. Barber II said in the video. "Sadly, many will go to King events today and claim to honor the prophet. Elected officials on both sides of the aisle will go while even today, they are standing diametrically opposed to the things he fought for: addressing systemic poverty, addressing racism, ensuring voter protection, just immigration policy, just treatment of Indigenous people, healthcare for all, and dealing with the war economy and militarism."
As they do each year, officials—including Republican lawmakers who voted against an MLK Day holiday, the U.S. government King called "the greatest purveyor of violence in the world today," and its agencies like the FBI that tried to destroy King—all took to Twitter to sing his praises.
Poor People's Campaign Petition Congress to Truly Honor MLK Legacy | Press Conferencewww.youtube.com
Rev. Liz Theoharis, also a co-chair of the Poor People's Campaign, said in the video that "this Martin Luther King Day, we must continue a campaign for social, political, and economic rights, not simply commemorate a man. Today and every day let's honor King as we end racism, poverty, ecological devastation, the denial of healthcare, militarism, and this false narrative of Christian nationalism. Let us fight poverty, not people."
The video also includes messages from low-income Americans and advocates calling for healthcare, living wages, "and more so everyone can thrive."
"I live in North Carolina. I work 60 hours a week and more and I still don't make enough money to live comfortably," Matthew Byars said in the video. "I'm chasing the American Dream, but I'm living the American nightmare. Raise the minimum wage. Impacted people matter too."
King, along with the Southern Christian Leadership Conference, launched the original Poor People's Campaign in December 1967, months before he was assassinated in Memphis while supporting a strike by Black sanitation workers. King said the movement's demands were $30 billion for anti-poverty programs, full employment for all, a guaranteed universal income, and the annual construction of 500,000 affordable homes.
SCLC president Ralph Abernathy led the campaign after King's murder, and in May 1968—just weeks after King's murder—his widow, Coretta Scott King, led demonstrators in a two-week protest in Washington, D.C., where participants demanded an Economic Bill of Rights.
Camp life in Resurrection City 1968www.youtube.com
Thousands of poor people camped on the National Mall in a community called Resurrection City, which stood for six weeks—including on the day when Sen. Robert F. Kennedy (D-N.Y.) was assassinated on June 5—until police violently destroyed it and evicted the protesters.
News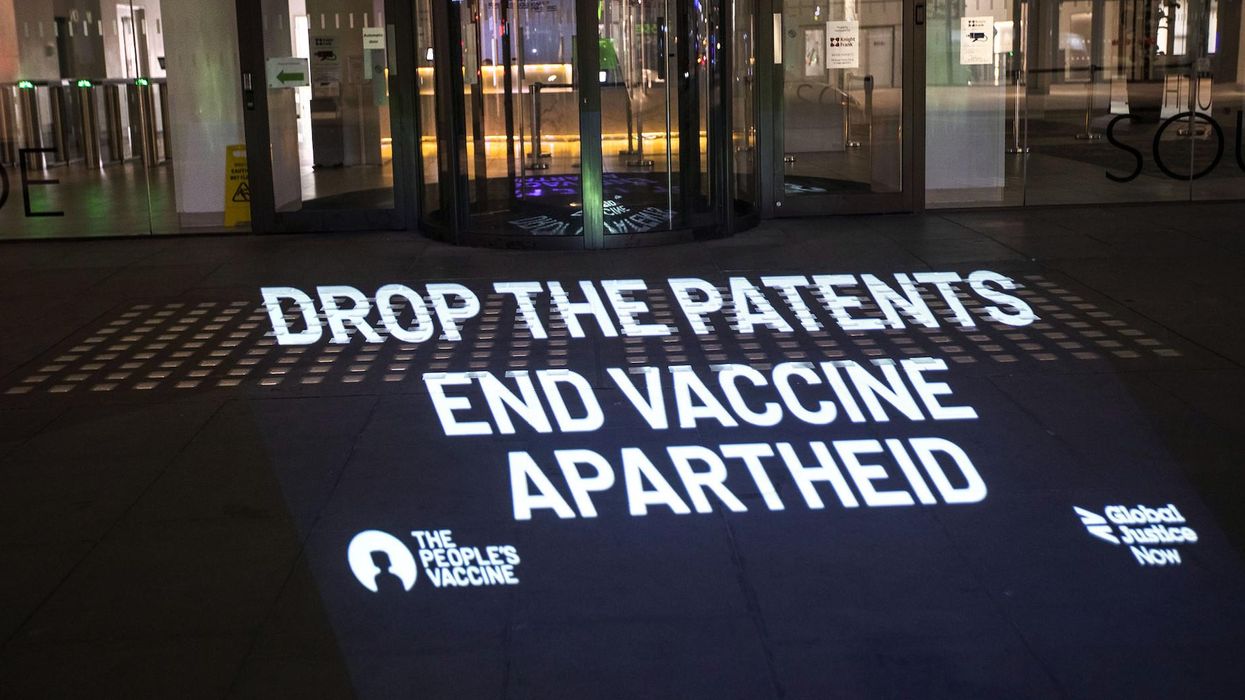 "At a time when online mobilizations were one of the few forms of protest available to the public, Twitter was seemingly asked to shield the powerful from criticism," said one campaigner. "That should worry all those who care about accountability."
Drugmaker BioNTech and the German government pushed Twitter to "hide" posts by activists calling on Big Pharma to temporarily lift patents on Covid-19 vaccines—a move which would have given people the Global South greater access to the lifesaving inoculations, a report published Monday by The Intercept revealed.
Twitter lobbyist Nina Morschhaeuser "flagged the corporate accounts of Pfizer, BioNTech, Moderna, and AstraZeneca for her colleagues to monitor and shield from activists," according to The Intercept's Lee Fang. An email from Morschhaeuser said the German Federal Office for Information Security also contacted Twitter on behalf of BioNTech, whose spokesperson, Jasmina Alatovic, asked the social media giant to "hide" activist tweets targeting her company's account for two days.
Morschhaeuser, meanwhile, requested that colleagues track the hashtags #PeoplesVaccine—a movement for the temporary lifting of patent protections—and #JoinCTAP, a reference to the World Health Organization's Covid-19 Technology Access Pool. Morschhaeuser further warned that the advocacy group Global Justice Now shared an online signup form for a December 2020 People's Vaccine Day of Action.
"The allegations in this article suggest that government and industry tried to silence legitimate criticism during a crisis," Maaza Seyoum, Global South convener at the People's Vaccine Alliance, said in a statement Monday. "At a time when online mobilizations were one of the few forms of protest available to the public, Twitter was seemingly asked to shield the powerful from criticism. That should worry all those who care about accountability."
\u201c\ud83d\udce2 REACTION: German government and @BioNTech_Group asked Twitter to censor vaccine equity critics.\n\nNew #TwitterFiles piece by @lhfang shows how they worked to silence activists demanding a #PeoplesVaccine\n\nRead our reaction: https://t.co/VyaSBIbWnS\n\n1/\u201d

— The People's Vaccine (@The People's Vaccine) 1673889107
Global Justice Now director Nick Dearden also noted the troubling timing of BioNTech's censorship request during a period of global pandemic lockdowns.
"To try and stifle digital dissent during a pandemic, when tweets and emails are some of the only forms of protest available to those locked in their homes, is deeply sinister," he told The Intercept.
Fang writes:
It is not clear to what extent Twitter took any action on BioNTech's request. In response to Morschhaeuser's inquiry, several Twitter officials chimed in, debating what action could or could not be taken. Su Fern Teo, a member of the company's safety team, noted that a quick scan of the activist campaign showed nothing that violated the company's terms of service, and asked for more examples to "get a better sense of the content that may violate our policies."
But it shows the extent to which pharmaceutical giants engaged in a global lobbying blitz to ensure corporate dominance over the medical products that became central to combating the pandemic. Ultimately, the campaign to share Covid vaccine recipes around the world failed.
While U.S. President Joe Biden in 2021 heeded activists' calls and joined most of the Global South in backing a Trade-Related Aspects of Intellectual Property Rights (TRIPS) waiver at the World Trade Organization, most rich nations—including Germany—oppose the policy and have, along with Big Pharma, fought to thwart it.

"If the German government wants to show that it is now willing to side with public health over private profit, it must change its approach to pandemic response," Seyoum asserted. "That means backing efforts at the World Trade Organization to improve access to generic Covid-19 medicines and treatments, supporting the World Health Organization's mRNA Hub in South Africa, and standing up to corporate interests in negotiations over a Pandemic Treaty."
News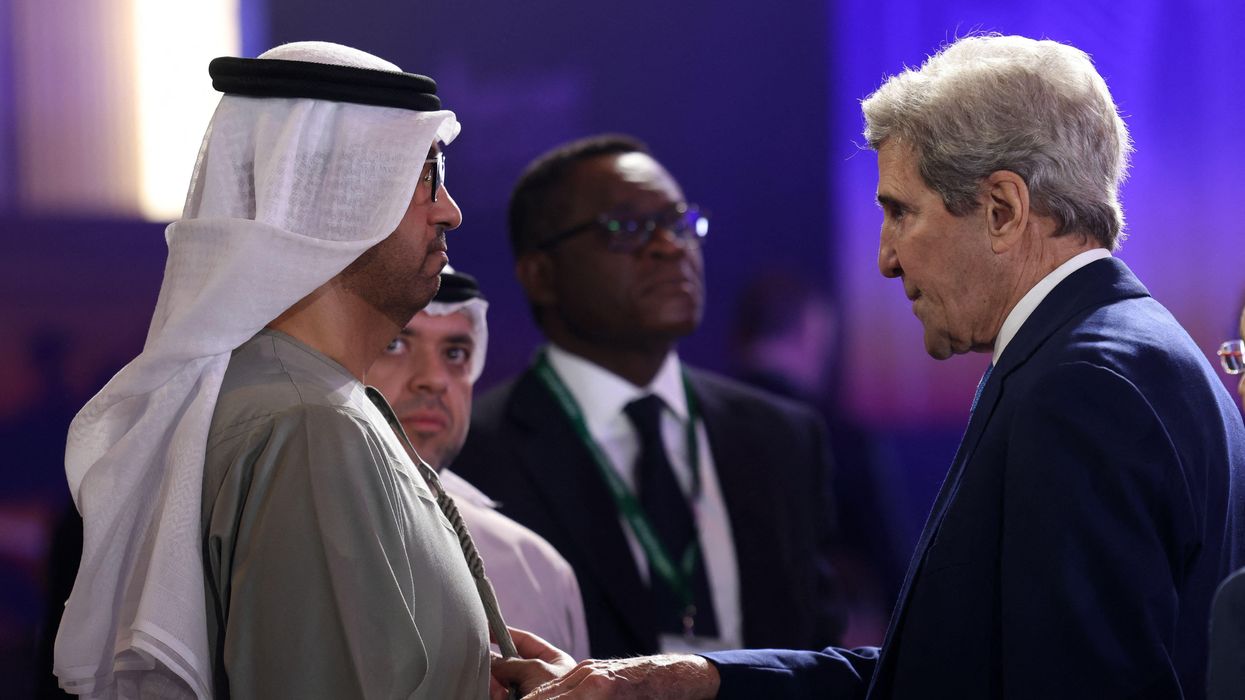 Critics rebuke U.S. climate envoy for calling Sultan al-Jaber a "terrific choice."
Progressives on Monday reacted with outrage and disbelief after U.S. climate envoy John Kerry backed the appointment of Sultan al-Jaber to lead the the United Nations' annual conference on the climate emergency, saying the CEO of the United Arab Emirates' state-run oil company was not only qualified to preside over the summit, but that his background strengthened the case for his presidency.
As Common Dreamsreported last week, the UAE named al-Jaber as president of the 28th United Nations Framework Convention on Climate Change (COP28), scheduled to begin in November—a decision that was met with scorn from campaigners as al-Jaber is heads the Abu Dhabi National Oil Company (ADNOC) and a renewable energy firm in which ADNOC holds a 24% stake.
"I think that Dr. Sultan al-Jaber is a terrific choice because he is the head of the company. That company knows it needs to transition," Kerry told the Associated Press Sunday, despite the fact that scientists and advocates across the globe have also known for decades that policymakers must lead a rapid transition away from oil and gas-generated energy. "He knows—and the leadership of the UAE is committed to transitioning."
Advocates have warned that the UAE has not made clear how it plans to reach its stated goal of being carbon neutral by 2050, especially as it plans to increase production of crude oil by a million barrels per day.
The UAE is expected to become "the third largest expander of oil and gas production" between 2023 and 2025 as ADNOC embarks on the second-largest expansion of oil production of any company in the world, locking in more than 2.7 gigatonnes of CO2 emissions.
But when asked by Sky News Arabia about whether al-Jaber would have a conflict of interest at the conference, where leaders are expected to be pushed to take significant emissions-reduction steps, Kerry dismissed the concern.
"That's a first blush, very simplistic way to look at this," Kerry said, adding that "the only way we will meet this crisis and protect our citizens and build an economy for the future, is by reducing emissions."
Putting the ADNOC executive—who is also the UAE's climate enjoy and minister of industry and technology—in charge of COP28 drew comparisons from Progressive International leader Yanis Varoufaki to naming "a jihadist to oversee religious tolerance" or "a Nazi to oversee racial harmony."
"What could go wrong?" labor historian Erik Loomis asked sardonically.

\u201cJeffrey Dahmer placed to oversee anti-cannibalism commission. \n\nhttps://t.co/D7Yyz2MMAw\u201d

— Erik Loomis (@Erik Loomis) 1673888060
COP28 will follow the two most recent international climate conferences, held in Glasgow, Scotland and Sharm el-Sheikh, Egypt, where hundreds of fossil fuel lobbyists were in attendance and policymakers failed to hammer out a final agreement requiring countries to phase out oil, coal, and gas extraction.
Kerry toldSky News Arabia that the UAE was not "involved in changing" the outcome of the COP26 and COP27 talks.
The former secretary of state acknowledged that there would be "a level of scrutiny" aimed at al-Jaber's appointment.
"And I think that's going to be very constructive," he told the AP. "It's going to help people, you know, stay on the line here. I think this is a time, a new time of accountability."
Acknowledging Kerry's negotiating of the Paris climate agreement in 2015—which despite its many flaws and shortcomings represents the strongest global pact ever reached on the issue—Leo Roberts of the climate think tank E3G said on social media that the U.S. politician's endorsement of el-Jaber represents "a really rather spectacular fall from grace."
News
SUPPORT OUR WORK.
We are independent, non-profit, advertising-free and 100%
reader supported.