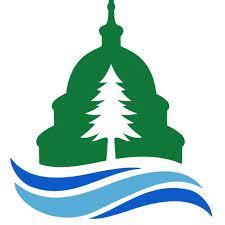 For Immediate Release
Contact:
Kyla Bennett (617) 291-0872; Kirsten Stade (202) 265-7337
Loss of Streams and Wetlands Will Widen with New Corps Rules
Green Power Encouraged to Leave Brown Footprints under New Exemptions
WASHINGTON
The U.S. Army Corps of Engineers is poised to approve rules that will destroy hundreds of miles of streams and thousands of acres of wetlands under the guise that there will only be minimal impacts, according to formal comments filed today by Public Employees for Environmental Responsibility (PEER) and other groups. The rules would for the first time permit destruction of wetlands and streams and ocean floor to accommodate renewable power facilities.
"The Army Corps is doing the nation a disservice with this proposal by permitting massive losses of freshwater swamps, streams, and ocean habitat," stated New England PEER Director Kyla Bennett, a former wetlands specialist with the U.S. Environmental Protection Agency. "The Clean Water Act only allows this type of permit for projects with 'minimal adverse environmental effects' but the Corps has plowed a battleship through this narrow loophole."
Today is the final day for public comments on the latest version of the Corps rule for Nationwide Permits, a regulatory device to streamline the permitting process for minor projects. However, PEER estimates that the permits authorize a minimum of 328 miles of American streams to be filled each year and likely substantially more. The environmental groups charge that the Corps proposal -
Violates the Clean Water Act requirement that this type of permit may only be issued for activities that "will cause only minimal adverse environmental effects when performed separately, and will have only minimal cumulative adverse effects on the environment." By contrast, the plan could allow unlimited wetland losses and allow the Corps to waive acreage limits where they exist;
Strips away comprehensive review by the federal resource agencies, allowing sensitive habitats to be sliced apart bit-by-bit without looking at cumulative effects; and
Allows wind, solar, biomass, and geothermal energy to gratuitously destroy wetlands, streams and seabed, even when there are available alternatives. The Corps would even allow wetlands destruction for parking lots, access roads and other "attendant features" of these energy projects.
"The Corps has turned wetlands protection into a regulatory car wash where the permits are spit out in assembly line fashion," added Bennett, noting that in 2003, the Corps issued 74,000 Nationwide or other permits. "These Nationwide Permits subject natural places to death by a thousand cuts."
The Corps plan would allow up to 1/2 acre of wetland fill per renewable energy structure as well as the loss of up to 300 linear feet of stream, or more, at the Corps' discretion. In November 2010, PEER published a draft of this Corps plan which authorized up to 1 acre of fill for each wind turbine and no limit on the number of turbines but the final version is limited to 1/2 acre of fill for a maximum of 10 turbines.
Look at the problems with the renewable energy wetland permits
See the eco-significance of nationwide permits
Public Employees for Environmental Responsibility (PEER) is a national alliance of local state and federal resource professionals. PEER's environmental work is solely directed by the needs of its members. As a consequence, we have the distinct honor of serving resource professionals who daily cast profiles in courage in cubicles across the country.
LATEST NEWS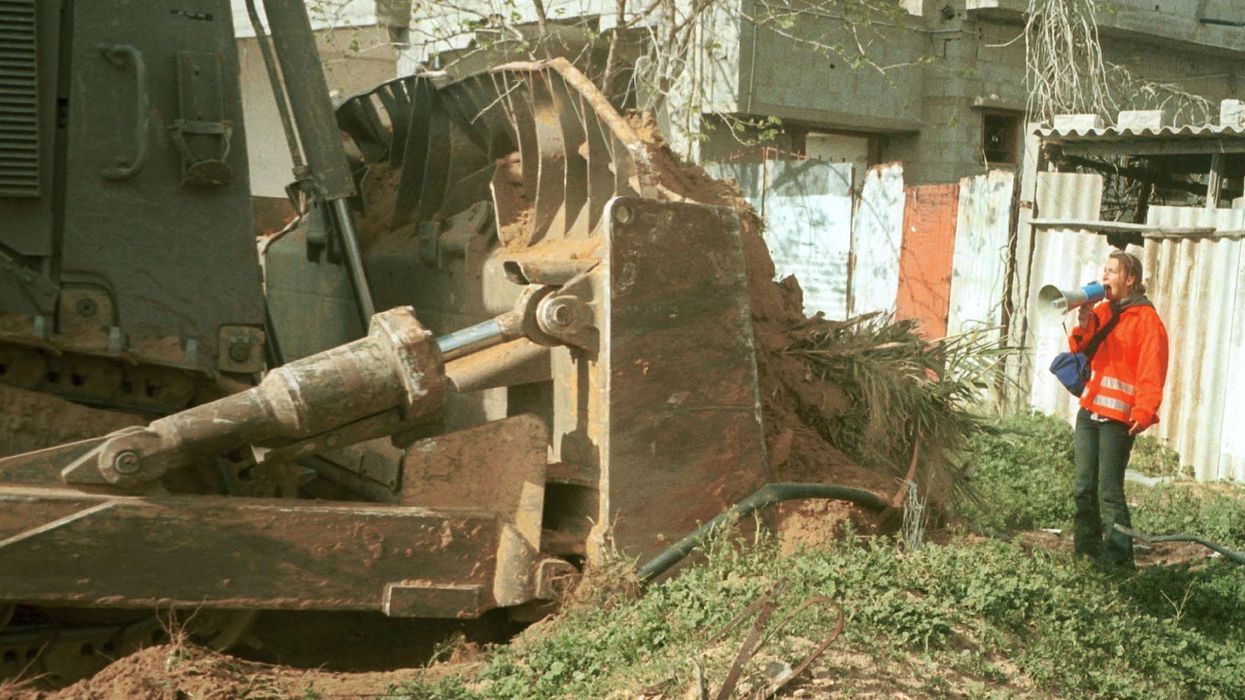 One Palestinian journalist said the slain American activist "became a worldwide symbol of freedom and a source of inspiration for everyone who dreams of a world of justice and peace."
Palestinian rights activists on Thursday remembered the life and legacy of Rachel Corrie, the American human rights defender who was crushed to death by an Israeli military bulldozer on March 16, 2003 while trying to shield a Palestinian home from demolition in occupied Gaza.
"Rachel was 23 when she was killed. She could have satisfied her conscience by protesting against global injustice in a demonstration in America or by calling for a boycott of the aggressors," Palestinian journalist and activist Ahmed Abu Artema—who is from Rafah, where Corrie was killed—wrote for Mondoweiss.
"But her high sense of morality was not satisfied with these symbolic gestures," he added. "Her conscience would not rest without complete involvement, without standing side-by-side with us. That's why she came to Palestine."
Hanan Ashrawi, a Palestinian politician, scholar, and activist, called Corrie "an icon of resistance, freedom, and self-sacrifice."
"Palestine is forever grateful," she added. "Always in our hearts. Rest in love and peace."
Corrie, who hailed from Olympia, Washington, was a volunteer with the International Solidarity Movement (ISM), a Palestinian-led group resisting the Israeli occupation of Palestine through nonviolent direct action.
"No amount of reading, attendance at conferences, documentary viewing, and word-of-mouth could have prepared me for the reality of the situation here," Corrie wrote to family and friends on February 7, 2003, adding that she had "very few words to describe" what she saw in Gaza.
"An 8-year-old child was shot and killed by an Israeli tank two days before I got here," she said.
"I feel like I'm witnessing the systematic destruction of a people's ability to survive," Corrie told a reporter two days before she was killed.
On the afternoon of March 16, Corrie received an urgent call from ISM activists telling her to rush to the home of Samir Nasrallah, a pharmacist who lived with his wife and three children near the Egyptian border in Rafah. Israel Defense Forces (IDF) troops were in the process of destroying homes in the area and ISM activists feared the Nasrallah's residence was next, as it was one of the few houses left standing in the area.
Corrie hurried to the home, clad in a fluorescent orange jacket and carrying a megaphone. As the IDF's American-made Caterpillar D9R armored bulldozer approached Nasrallah's home, Corrie stood in its path and was fatally injured. She was rushed to a nearby hospital, where she died.
Corrie was not the last ISM activist to be killed or seriously wounded by Israeli forces. A month after her death, 21-year-old British student Tom Hurndall was shot in the head by an IDF sniper as he attempted to rescue Palestinian children from an Israeli tank that was firing in their direction. The shooting left Hurndall in a coma; he died nine months later in a London hospital.
IDF officials denied intentionally killing Corrie, despite court testimony from army officers that Corrie and other activists were legitimate military targets who were "doomed to death" for resisting Israeli occupation forces.
An IDF investigation concluded that Corrie had not been crushed to death by the bulldozer, despite an Israeli autopsy that concluded her death was caused by "pressure on the chest with fractures of the ribs and vertebrae of the dorsal spinal column and scapulas, and tear wounds in the right lung."
The IDF called Corrie's death a "regrettable accident" while blaming the ISM activists for their own harm because by "placing themselves in a combat zone."
Efforts in the United States by Corrie's family, activist groups, and U.S. Rep. Brian Baird (D-Wash.) to achieve accountability and justice for Corrie bore no fruit.
While Corrie once wrote that she felt protected by "the difficulties the Israeli army would face if they shot an unarmed U.S. citizen," there were no such difficulties, just as there were no repercussions after Israeli warplanes killed 34 American sailors and wounded 173 others during a 1967 attack on the USS Liberty—an attack numerous top U.S. officials believe was deliberate.
In 2012, an Israeli court ruled against Corrie's parents, who had sued the IDF, with the judge claiming the activist's death was the "result of an accident she brought upon herself."
Former U.S. President Jimmy Cartercondemned the ruling as a confirmation of the "climate of impunity which facilitates Israeli human rights violations."
"Rachel's case was cast aside by Israel's colonial courts. But Rachel won," Abu Artema wrote Thursday. "She became a worldwide symbol of freedom and a source of inspiration for everyone who dreams of a world of justice and peace."
"Israel may have killed her," he added, "but Rachel Corrie lives on in all of us."
News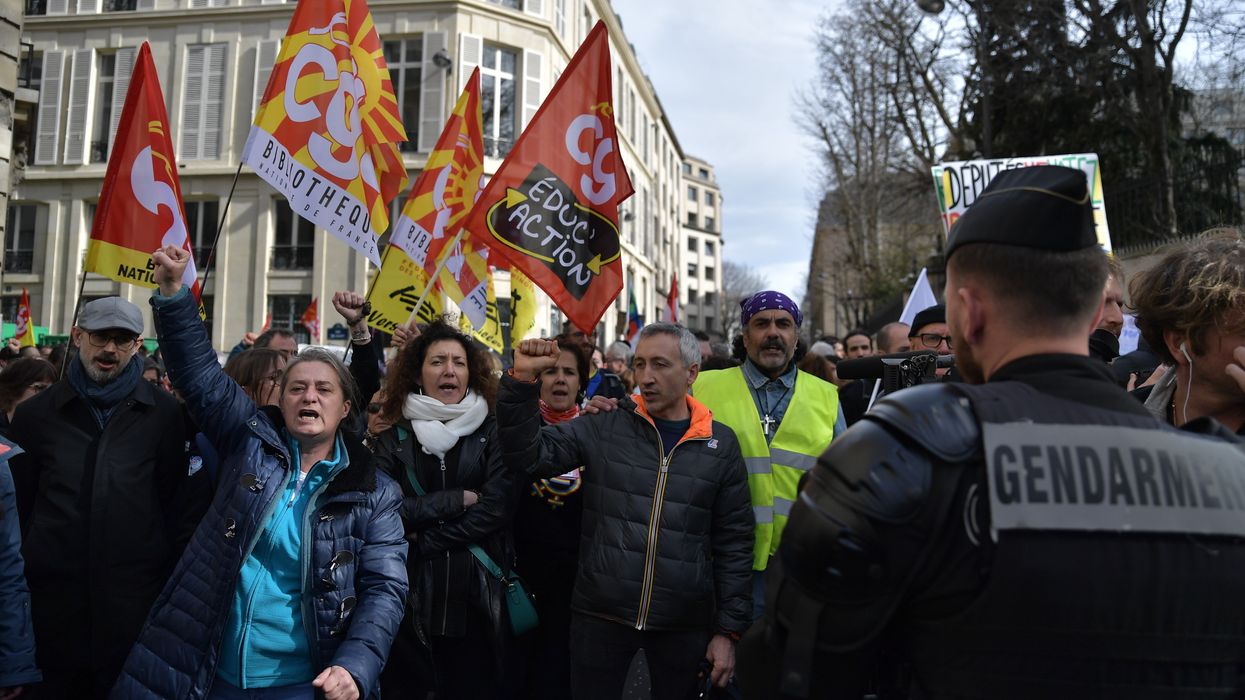 "What the government is doing makes people sick of politics. It should improve people's lives, not destroy them," said Rachel Keke, a leftist in France's National Assembly.
Amid protests against French President Emmanuel Macron's unpopular plan to overhaul the country's pension system, his government on Thursday chose the "nuclear option," opting to use a constitutional procedure to force through reforms, including raising the retirement age from 62 to 64, without a vote in the lower house of Parliament.
While the proposal passed the Senate, the upper chamber of Parliament, 193-114 Thursday morning, "reports indicated that the ruling party, which lost its overall majority in elections last year, was a handful of votes short" in the National Assembly, which led to an emergency Council of Ministers meeting about triggering the Article 49.3, Le Mondeexplained.

After announcing the government was invoking executive privilege, French Prime Minister Élisabeth Borne "faced scenes of anger and unrest in the National Assembly," reportedPolitico. "Far-left lawmakers belonging to the France Unbowed party booed and chanted the national hymn the Marseillaiseas far-right National Rally MPs shouted 'Resign! Resign!'"
Using the controversial procedure to push through the plan is risky for Macron—founder of the Renaissance party—because it allows members of Parliament "to submit motions of no-confidence within 24 hours," Politico added. "While the government has survived motions of no-confidence in recent months, the stakes are much higher this time around. If a majority of MPs vote in favor of a motion, Borne's government would be forced to resign."
While multiple opposition groups in Parliament may respond with no-confidence motions, Marine Le Pen's far-right National Rally party has already pledged to do so.
"It's a total failure for the government," Le Pen told reporters of the Article 49.3 decision, calling for Borne's resignation. "From the beginning, the government fooled itself into thinking it had a majority."
Socialist Party chief Olivier Faure also criticized the approach, saying that "when a president has no majority in the country, no majority in the National Assembly, he must withdraw his bill."
Fabien Roussel, head of the French Communist Party, declared that "this government is not worthy of our Fifth Republic, of French democracy. Until the very end, Parliament has been ridiculed, humiliated."
MP Rachel Keke of the leftist party La France Insoumise stressed that "what the government is doing makes people sick of politics. It should improve people's lives, not destroy them."
Former French presidential candidate and MP Jean-Luc Mélenchon, who launched La France Insoumise, tweeted: "It is a spectacular failure and a collapse of the presidential minority. United unions call for continued action. This is what we are going to focus on."
French trade unions have led national demonstrations and strikes against the overhaul since January. While protesters were oscillating "between rage and resignation" earlier this week, they filled the streets of Paris on Thursday, and "the leader of the CFDT labor union, Laurent Berger, announced there would be new protest dates," according to Le Monde.
The General Confederation of Labor (CGT) said in a statement that "this reform is unfair, unjustified, and unjustifiable, this is what millions of people have been asserting forcefully for weeks in the demonstrations, with the strike, and in all the initiatives. These massive mobilizations are supported by a very large majority of the population and almost all workers."
"The only response from the government and employers is repression: requisitions, police interventions on workplace occupations, arrests, intimidation, questioning of the right to strike," the confederation added. "We won't let it happen! What the CGT denounced as unfair yesterday is even more so today! This can only encourage us to step up mobilizations and strikes, the fight continues!"
News
In a sign of a major shift in U.S. public perception that's largely generational, U.S. Democrats favor Palestinians by an 11-point margin. A decade ago, the gap was 36% in favor of Israelis.

Gallup poll results revealed Thursday that while, for the first time, more U.S. Democratic voters now sympathize with Palestinians than with Israelis, left-leaning respondents also "want solutions that respect Israel's needs as well."
According to the survey of 1,008 U.S. adults, 49% of Democrats said they sympathize more with Palestinians, while 38% favored Israelis and 13% chose neither side or said they sympathize equally with both. A decade ago, 55% of Democrats sympathized more with Israelis, while only 19% said they had more sympathy for Palestinians.
Republican respondents overwhelmingly continue to favor Israelis, with 78% saying they sympathize with them, compared with just 11% for Palestinians. Independents backed Israelis by 17 percentage points, 49%-32%.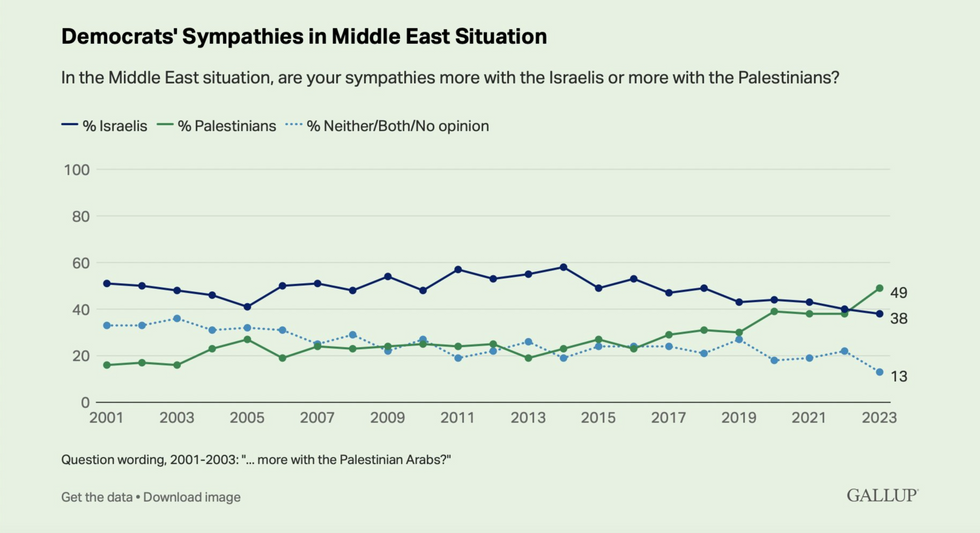 Gallup noted:

Aside from partisan differences, Gallup continues to see generational distinctions in how U.S. adults view the Palestinian-Israeli conflict. Net sympathy toward Israel—the percentage sympathizing more with the Israelis than the Palestinians—is solidly positive among older generations, including baby boomers (+46 points), Generation X (+32), and the silent generation (+31). By contrast, millennials are now evenly divided, with 42% sympathizing more with the Palestinians and 40% with the Israelis, yielding a -2 net-Israel sympathy score.

There are too few adult members of Generation Z (aged 18 to 22) in the recent poll to report, but the limited available data suggest their views on this question are similar to millennials'.
"Today's attitudes reflect an 11-percentage-point increase over the past year in Democrats' sympathy with the Palestinians," Gallup said. "At the same time, the percentages sympathizing more with the Israelis (38%) and those not favoring a side (13%) have dipped to new lows."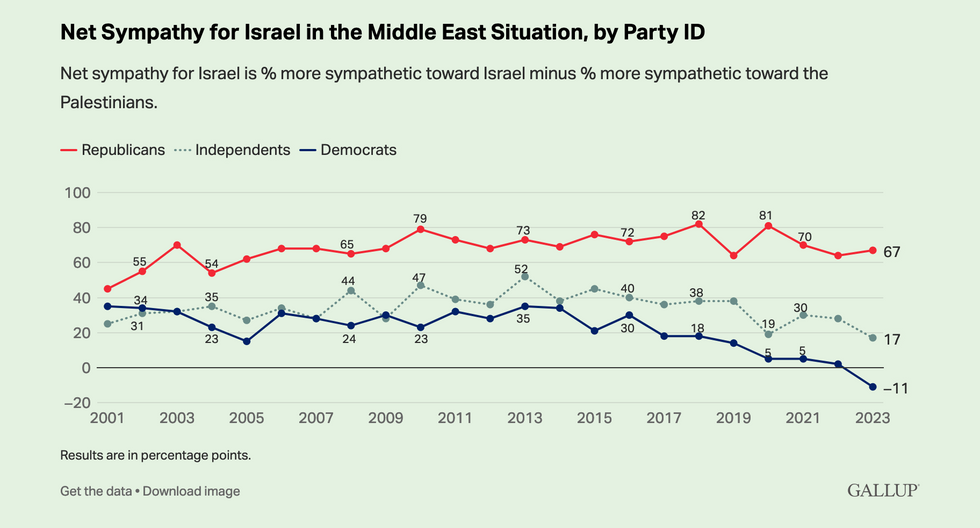 Gallup said "the high number of Palestinians killed" by Israeli forces last year—the deadliest year for West Bank residents since the end of the second intifada a generation ago—"could partly explain the most recent shift in Democrats' perspective."
The rise to power of far-right Israeli politicians and parties—who are escalating policies of apartheid and Jewish supremacy at the expense of Palestinian lives, land, and liberty—and the increasingly vocal opposition by congressional Democrats to Israeli crimes including apartheid, illegal occupation, ethnic cleansing, and settler colonization have played a role in the shift as well.
"Just a few years ago, it would have been unthinkable to have 12 members of Congress refer to Israeli occupation as colonialism, so I have no doubt that the needle on Palestinian human rights is moving," Rep. Rashida Tlaib (D-Mich.), the first Palestinian-American woman elected to Congress, said in 2021.
Gallup also said "Democrats' waning religiosity" could be a factor in declining support for Israel, as "sympathy for Israel has historically been highly correlated with religion."
The poll was published on the 20th anniversary of the killing of Rachel Corrie, an American volunteer with the International Solidarity Movement who was crushed to death by a Caterpillar bulldozer supplied by the U.S. to the Israeli military while trying to shield Palestinian homes from demolition.

News
SUPPORT OUR WORK.
We are independent, non-profit, advertising-free and 100%
reader supported.