SEIU: With Eyes of the Word Focused on Arizona, We Need Balanced, Practical Immigration Solutions More Than Ever
Senate Immigration Bill Starts Process but Needs Serious Fixes to Provide the Immigration Solutions America Needs
WASHINGTON
Today,
Senators Charles Schumer, Robert Menendez and Harry Reid will introduce
an immigration reform outline. In anticipation, SEIU Executive Vice
President Eliseo Medina issued the following statement:
"As the eyes of the world focus on Arizona, it
is clear that we need balanced, practical immigration solutions more
than ever. While SEIU appreciates the leadership of Senators Schumer,
Menendez and Reid, we are deeply concerned with elements of their reform
outline that appear to put enforcement-only mandates ahead of the
practical immigration solutions that America needs.
"If we have learned anything from Arizona, it
is that "tough" enforcement is not "smart" enforcement; that enforcement
first is really just the same as enforcement only. Instead of fixing
the underlying problems, putting enforcement before comprehensive reform
just wastes over $18 billion a year on border walls and worksite round
ups; it wreaks havoc in local communities and leads to the kind of
racial profiling our nation left behind years ago, but solves nothing.
"SEIU is committed to working with Senators
Schumer, Menendez and Reid to fix this framework and move a balanced,
comprehensive bill that gets
undocumented immigrants into the system and under the rule of law;
passes smart enforcement on the border and in our workplaces; and
creates a visa system that protects labor rights and meets the economic
needs of our future.
"In order to do that,
Republicans must join with Democrats and show they have the will to fix
our broken immigration system once and for all. It's time to put smart
policy ahead of partisan politics.
"On behalf of the thousands of Americans who
are marching in over 80 sites across the country this Saturday to call
for real solutions, Congress must enact real and lasting solutions. On
behalf of Arizonans who will soon be stopped on the street just because
of the color of their skin, the clothes they wear and the language they
speak, Congress must get this bill done and get this bill done right.
"SEIU will not back down until Congress can
deliver a balanced, workable immigration bill that will truly reform
immigration for America. Diverse
groups are aligned on the need for a comprehensive solution. A majority
of Americans are in support. Now we need Congress to take bold steps,
roll up their sleeves and pass smart reforms once and for all.
SEIU's Comprehensive Immigration
Reform Principles:
A comprehensive solution would
couple enforcement at the border and in the workplace with a path to
earned legalization for all hard working immigrants. It will also replace guest worker programs
with a system that guarantees immigrant workers full labor and civil
rights protections, and a path to U.S. citizenship. Done together, these reforms will
finally restore the rule of law and eliminate an informal labor market
that drives down wages and labor protections for all U.S. workers. Read more about the Change to Win and AFL-CIO's Unified
Immigration Reform Framework.
With 2 million members in Canada, the United States and Puerto Rico, SEIU is the fastest-growing union in the Americas. Focused on uniting workers in healthcare, public services and property services, SEIU members are winning better wages, healthcare and more secure jobs for our communities, while uniting their strength with their counterparts around the world to help ensure that workers--not just corporations and CEOs--benefit from today's global economy.
LATEST NEWS
"It's like the tobacco companies that knew the addictive and lethal nature of cigarettes yet continued to get millions of teenagers hooked on them," said one African critic.

With the world hurtling toward catastrophic temperature rise, "Saudi Crown Prince Mohammed bin Salman is overseeing a sweeping global investment program" intended to "ensure that emerging economies across Africa and Asia become vastly more dependent on oil" even as the international community tries to phase out planet-heating fossil fuels.
That's according to a sixth-month undercover investigation by the U.K.'s Center for Climate Reporting (CCR) and Channel 4 News, based on regulatory filings, documents from Saudi officials, and secret recordings.
The findings were published Monday in the leadup to the United Nations Climate Change Conference (COP28) set to kick off Thursday in the United Arab Emirates.
As CCR detailed:
The Oil Demand Sustainability Program (OSP) is a vast government program with dozens of projects aimed at embedding a high-carbon, fossil fuel-dependent development model in countries across Africa and Asia. This includes meticulously researched plans to drive a major increase in gasoline and diesel-fueled vehicles and boost jet fuel sales via increased air travel.

It brings together the most powerful arms of the Saudi state, including the $700 billion Saudi Public Investment Fund; the world's largest oil company, Saudi Aramco; petrochemicals giant, Sabic; and the kingdom's most important ministries—all under the auspices of the crown prince's supreme committee of hydrocarbon affairs.

When asked by an undercover reporter whether the aim of the program is to artificially stimulate oil demand to counter global efforts to reduce oil consumption and tackle climate change, a Saudi official responded: "Yes... it is one of the main objectives that we are trying to accomplish."
Saudi Arabia's Ministry of Energy—which did not respond to a request for comment—mainly "characterizes the OSP as a sustainable development initiative" to aid developing countries, CCR reported.
However, as the center highlighted, key pieces of the kingdom's plot include plans to promote oil-based power generation, deploy petrol and diesel vehicles in Africa and Asia, work with a global auto manufacturer to make a cheap car, lobby against government subsidies for electric vehicles, and fast-track commercial supersonic air travel.
Power Shift Africa director Mohamed Adow told CCR that "the Saudi government is like a drug dealer trying to get Africa hooked on its harmful product. The rest of the world is cleaning up its act and weaning itself off dirty and polluting fossil fuels and Saudi Arabia is getting desperate for more customers and is turning its sights on Africa."
"It's like the tobacco companies that knew the addictive and lethal nature of cigarettes yet continued to get millions of teenagers hooked on them," Adow added, "it's repulsive."
Rapid Transition Alliance coordinator Andrew Simms similarly said on social media, "Straight outta the tobacco companies' playbook."
The Saudi investigation was released on the same day that the center and BBCrevealed that Sultan Ahmed Al Jaber, CEO of the UAE's Abu Dhabi National Oil Company and president of COP28, used meetings about the summit to push for foreign fossil fuel deals.
"This undermines essential impartiality and the integrity of the talks, and will accelerate devastating global heating," said the Environmental Justice Foundation, pointing to both revelations. "These backroom deals serve wealthy nations and fossil fuel profiteers at the expense of everyone else."
Also noting both reports, American author and climate activist Bill McKibben wrote Tuesday that "the new documents, which really must be read to be believed, perform the same essential task as the revelations almost a decade ago about Exxon's climate lies. They end any pretense that these countries are engaged in good-faith efforts to wind down the industry."
"It's difficult, I think, to imagine anything much more systemically evil than this spate of bids by the oil companies and oil countries to keep wrecking the planet; it's akin to the way that tobacco companies, facing legal losses in the U.S., pivoted to expand their markets in Asia instead," he added, describing the Saudi plot as "almost cartoonishly villainous."
The kingdom has a long history of impeding climate action—particularly progress at global talks, as three experts laid out in a paper released last week by the Climate Social Science Network at the Institute at Brown for Environment and Society.
"Saudi delegations to the U.N. climate talks are highly skilled, well-organized, and have been extremely successful over decades at slowing the efforts of the world community on climate change to a crawl," the trio wrote. "Saudi Arabia's actions should be seen as part of a wider web of obstruction to an effective response to climate change, which includes fossil fuel industry groups and other (predominantly U.S.-based) political lobbyists and elites, and allied intergovernmental organizations."
As Common Dreamsreported last week, the U.N. has allowed at least 7,200 delegates for fossil fuel companies and industry trade groups to attended climate talks since 2003. This year, attendees must disclose their affiliation under new transparency rules.
The summit comes as scientists warn that 2023 is projected to be the hottest year in 125,000 years and currently implemented emissions policies will likely lead to 3°C of temperature rise by the end of the century—or double the 1.5°C goal of the Paris agreement.
"Leaders must act to limit global temperature rise to 1.5°C, protect people from climate chaos, and end the fossil fuel age," United Nations Secretary-General António Guterres declared Monday. "They must make COP28 count."

News
In a letter to Chemours, the experts said they were worried about the company's "apparent disregard for the well-being of community members, who have been denied access to clean and safe water for decades."
United Nations human rights experts have expressed concerns over "alleged human rights violations and abuses" against people living along the lower Cape Fear River in North Carolina due emissions of per- and polyfluoroalkyl substances, or PFAS, from a Fayetteville chemical plant.
Five U.N. experts signed letters to Chemours—the plant's current operator—as well as DuPont, Corteva, the U.S. Environmental Protection Agency (EPA), and Dutch environmental regulators. The action marks the U.N. Human Rights Council's first investigation into an environmental problem in the U.S., The Guardianreported Tuesday.
"We are especially concerned about DuPont and Chemours' apparent disregard for the well-being of community members, who have been denied access to clean and safe water for decades," the U.N. experts wrote in the letter to Chemours.
"We hope the U.N.'s action will induce shareholders to bring DuPont and Chemours in line with international human rights law."
The Fayetteville Works manufacturing plant has been releasing toxic PFAS into the environment for more than four decades, according to the allegations detailed in the letter. PFAS dumped in the Cape Fear River have made it unsafe to drink for 100 river miles, and pollution from the plant has contaminated air, soil, groundwater, and aquatic life.
PFAS are a class of chemicals used in a variety of products from nonstick, water-repellent, or stain-resistant items to firefighting foam. They have been linked to a number of health issues including cancers and have earned the name "forever chemicals" for their ability to persist in the environment and the human body. One study found PFAS in 97% of local residents who received testing.
The letter also repeated allegations that DuPont, the plant's previous owner, and Chemours, a spinoff company, had not taken responsibility for cleaning up the local environment and compensating community members, and that DuPont had known about the dangers of PFAS for several years, but chose to hide this information from the public.
"We remain preoccupied that these actions infringe on community members' right to life, right to health, right to a healthy, clean, and sustainable environment, and the right to clean water, among others," the U.N. experts wrote.
The letters were sent in response to a request made in April by Berkeley Law's Environmental Law Clinic on behalf of local environmental advocacy group Clean Cape Fear. In the request, the groups said the matter was particularly urgent because Chemours plans to expand its making of PFAS at the plant.
The U.N. experts, or special rapporteurs, reviewed existing legal and scientific documents and media reports, rather than completing their own investigation, NC Newsline reported. They sent the letters in September, but made them public on Thanksgiving, 60 days later, according to Clean Cape Fear. During that time, Chemours, Corteva, and the Dutch regulator responded, but DuPont and the EPA did not.
"We are grateful to see the United Nations take action on behalf of all residents in our region suffering from decades of human rights abuse related to our PFAS contamination crisis," Clean Cape Fear co-founder Emily Donovan said in a statement. "Clearly, the U.N. recognizes international law is being violated in the United States. We find it profoundly troubling that the United States and DuPont have yet to respond to the U.N.'s allegation letters."
Clean Cape Fear called Chemours' response "classic corporate gaslighting." Chemours claimed to be "a relatively new company," despite being staffed by senior DuPont executives, focused mainly on the PFAS GenX despite the presence of several other pollutants, and focused on the impacts on private well owners, ignoring public utility customers who must pay to filter their own water because of PFAS contamination. However, the letter did acknowledge that Chemours knew about the PFAS pollution before the public learned of it in 2017 and tried to both resolve it internally and prevent the public from finding out.
"If corporate malfeasance had a name in N.C., it would be Chemours," said Rebecca Trammel, leadership team member of Clean Cape Fear and founder of Catalyst Consulting & Speaking. "Impunity is the accomplice of injustice. It is the obligation of governments and regulatory agencies to ensure that innovation, economic gain, and progress are in service of humanity, not at its expense. I extend my deepest thanks to the United Nations for its defense of our right to safe water and life itself."

The letter to the EPA focused in part on its failure to study the health impacts of PFAS exposure on the community, while the letter to the Netherlands focused on imports of GenX from that country to Fayetteville Works.
Clean Cape Fear said it hopes the letters will put pressure on both the private companies and the government regulators to act.
"We hope the U.N.'s action will induce shareholders to bring DuPont and Chemours in line with international human rights law," the group tweeted, noting that both companies are publicly traded.
"We also hope that the risk of being named a violator of international human rights laws will give the U.S. EPA the political courage to do what it must to curb toxic PFAS pollution in North Carolina and nationwide," the group added.
News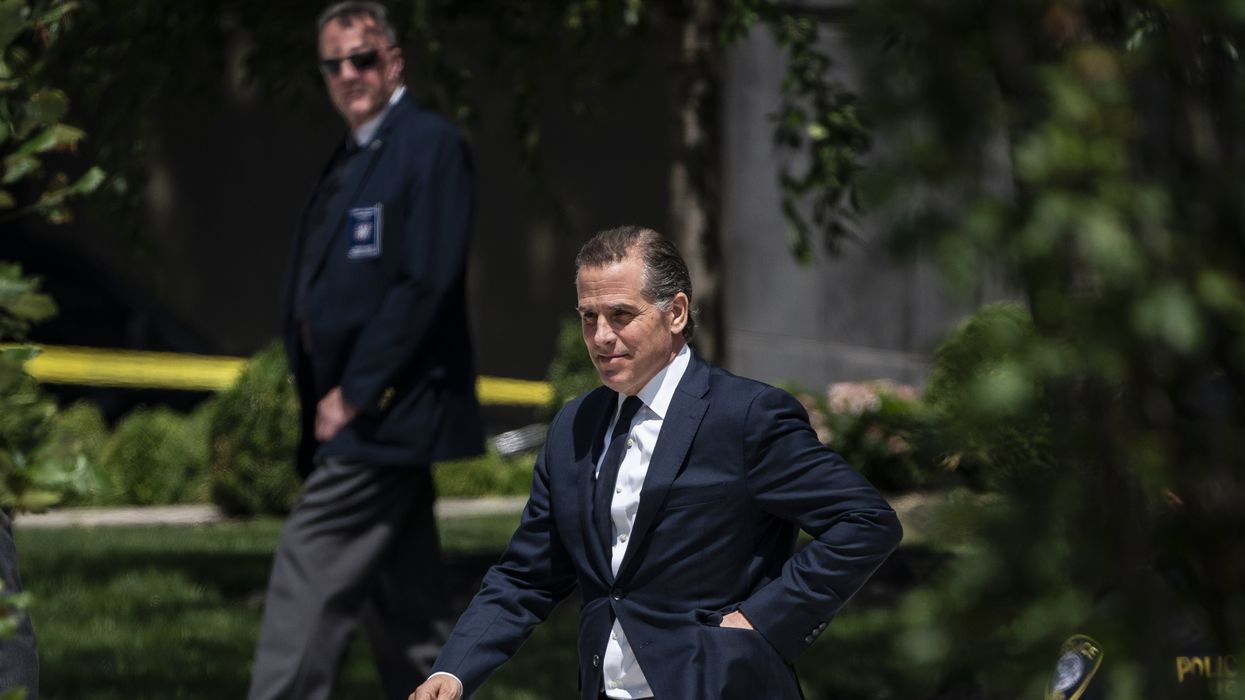 "Chairman Comer's insistence that Hunter Biden's interview should happen behind closed doors proves it once again. What the Republicans fear most is sunlight and the truth," said Rep. Jamie Raskin.
Democratic U.S. Rep. Jamie Raskin on Tuesday issued a scathing statement mocking Republicans on the House Oversight Committee after the GOP chair of the panel rejected Hunter Biden's offer to testify publicly next month as part of an ongoing impeachment probe into his father, President Joe Biden.
Rep. James Comer (R-Ky.), who leads the oversight committee, accused Hunter Biden of "trying to play by his own rules instead of following the rules required of everyone else."
"Our lawfully issued subpoena to Hunter Biden requires him to appear for a deposition on December 13," Comer said in a statement, adding that the president's son could get a chance to testify publicly at an unspecified "future date."
Raskin (D-Md.), the top Democrat on the House Oversight Committee, said in response that "after wailing and moaning for ten months about Hunter Biden and alluding to some vast unproven family conspiracy, after sending Hunter Biden a subpoena to appear and testify, Chairman Comer and the oversight Republicans now reject his offer to appear before the full committee and the eyes of the world and to answer any questions that they pose?"
"What an epic humiliation for our colleagues and what a frank confession that they are simply not interested in the facts and have no confidence in their own case or the ability of their own members to pursue it," said Raskin. "After the miserable failure of their impeachment hearing in September, Chairman Comer has now apparently decided to avoid all committee hearings where the public can actually see for itself the logical, rhetorical, and factual contortions they have tied themselves up in."
"The evidence has shown time and again President Biden has committed no wrongdoing, much less an impeachable offense," Raskin added. "Chairman Comer's insistence that Hunter Biden's interview should happen behind closed doors proves it once again. What the Republicans fear most is sunlight and the truth."
Hunter Biden's offer to appear publicly before the House Oversight Committee came in a letter that his attorney, Abbe Lowell, wrote to Comer. The push for a public appearance stems from concerns that Republicans would selectively leak any closed-door testimony.

"Your empty investigation has gone on too long wasting too many better-used resources. It should come to an end," the letter reads. "Consequently, Mr. Biden will appear at such a public hearing on the date you noticed, December 13, or any date in December that we can arrange."
"If, as you claim, your efforts are important and involve issues that Americans should know about," the letter adds, "then let the light shine on these proceedings."
News