Farm Workers and Allies Ask Gov't to Protect Kids From Toxic Pesticide Drift
Petition to EPA includes immediate no-spray buffer zones around homes, schools, day care centers for most toxic pesticides
LINDSAY, Calif.
Luis Medellin and his three little sisters - aged 5, 9 and 12 - live in
the middle of an orange grove in this small Central Valley town. During
the growing season, Luis and his sisters are awakened several times a
week by the sickly smell of nighttime pesticide spraying. What follows
is worse: searing headaches, nausea, vomiting.
But if a coalition of farm worker, public health, and children's
advocates are successful, Luis and his little sisters may one day be
able to sleep through the night without these toxic disruptions.
The public interest law firms Earthjustice and Farmworker Justice filed a petition today
(PDF) asking the U.S. Environmental Protection Agency to set safety
standards protecting children who grow up near farms from the harmful
effects of pesticide 'drift'
- the toxic spray or vapor that travels from treated fields. The groups
are also asking the agency to immediately adopt no-spray buffer zones
around homes, schools, parks and daycare centers for the most dangerous
and drift-prone pesticides.
The petition was filed on behalf of farm worker groups United Farm
Workers, Oregon-based Pineros y Campesinos Unidos del Noroeste,
California Rural Legal Assistance Foundation, and the Farm Labor
Organizing Committee, AFL-CIO as well as Physicians for Social
Responsibility, Washington-based Sea Mar Community Health Center,
Pesticide Action Network, and the million-plus member MomsRising.Org
The Medellin family's story is not unique. From apple orchards in
Washington to potato fields in Florida, poisonous pesticide 'clouds'
plague the people who live nearby - posing a particular risk to the
young children of the nation's farm workers, many of whom live in
industry housing at the field's edge.
"When farm workers come home after a long day in the fields and
orchards, they're faced with yet another worry - the poisons that are
settling in their homes, their lawns, their children's bodies," said
Erik Nicholson, National Vice President of United Farm Workers. "We
can't let another growing season go by. EPA needs to put an end to this
today."
In 1996, Congress required EPA to set standards by 2006 to protect
children from pesticides. Three years have passed since that deadline,
and EPA's job is only partially complete. The agency has made some
progress - banning the use of some pesticides in the home and on lawns.
But the agency has failed to protect children from these same
pesticides when they drift from treated fields into nearby yards,
homes, schools, parks and daycare centers.
"In farming communities throughout the country, children have been
abandoned by federal pesticide protections," said Earthjustice attorney
Janette Brimmer. "We're asking EPA to finish the job it started so
children who live, go to school, or play near farms and orchards are
kept safe from poisonous pesticides."
EPA has acknowledged the risk of pesticide drift, but still chose to go
ahead with a double-standard: protecting urban and suburban areas,
while leaving the children of farm workers and other rural kids
vulnerable.
"We traditionally think of farms as healthy places," said MomsRising.org
President Joan Blades. "But children and families across the country
are being poisoned by pesticides that travel from the fields into their
houses and bedrooms, causing serious and long-lasting damage to their
health. We already have standards barring the use of such pesticides
for homes and lawns to protect children. But all children deserve such
protection. You shouldn't have to live in the suburbs to be safe from
deadly pesticides."
"It's time the EPA put an end to this double-standard for farm
workers. EPA's policies must protect farm workers and their children
from unnecessary poisoning," said Farmworker Justice attorney Virginia
Ruiz.
"It's outrageous that our own government isn't protecting our children
from being poisoned by pesticides drifting on their homes and schools,"
said Julie Montgomery, Project Director and Attorney with California
Rural Legal Assistance Foundation. "How can parents possibly protect
their children from these dangers on their own?"
Pesticide poisoning reports and scientific studies show that pesticides are ending up in the air and in people's bodies at unsafe levels. Among a host of examples: recent air monitoring
(PDF) conducted near the Southwoods Elementary School in Hastings,
Florida, detected pesticides in every sample, sometimes at levels that
may pose serious health risks to young children.
"Children are especially vulnerable to pesticide exposures both because
their smaller bodies cannot break down toxins as well as adults, and
because their developmental processes are prone to being derailed --
even by very low-level exposure," explains Dr. Margaret Reeves, Senior
Scientist for Pesticide Action Network. "The particular pesticides
we're finding in our drift catching and biomonitoring results are some
of the worst: chlorpyrifos, diazinon, endosulfan...these are associated
with serious short- and long-term health effects. They are also
entirely unnecessary."
One of the pesticides identified as being so dangerous that the groups
have asked EPA to adopt immediate no-spray buffer zone is chlorpyrifos
- initially developed as a nerve toxin by the Nazis. The short term
effects of exposure to chlorpyrifos have been likened to a
chemically-induced flu: chest tightness, blurred vision, headaches,
coughing and wheezing, weakness, nausea and vomiting, coma, seizures,
and even death.
A copy of the petition is available here: https://www.earthjustice.org/library/legal_docs/petition-pesticides-in-the-air-kids-at-risk.pdf (PDF)
A fact sheet with background information on today's petition is available here: https://www.earthjustice.org/library/factsheets/pesticides_kid_factsheet.pdf (PDF)
A fact sheet detailing the specific health risks linked to pesticide exposure is available here: https://www.panna.org/node/2392
A background piece on the science behind pesticide drift is available here: https://www.panna.org/drift/science

The four-page results of Hastings, FL drift-catcher results are available here: https://www.panna.org/files/hastingsFLSum20080923.pdf (PDF)
Also available for interviews:

Janette Brimmer, Attorney, Earthjustice, (206) 343-7340, ext. 29, jbrimmer@earthjustice.org
Patti Goldman, Vice President of Litigation, Earthjustice, (206) 343-7340, ext. 32, pgoldman@earthjustice.org
Dr. Margaret Reeves, Senior Scientist, Pesticide Action Network, cell: 415.593.4351, mreeves@panna.org
LATEST NEWS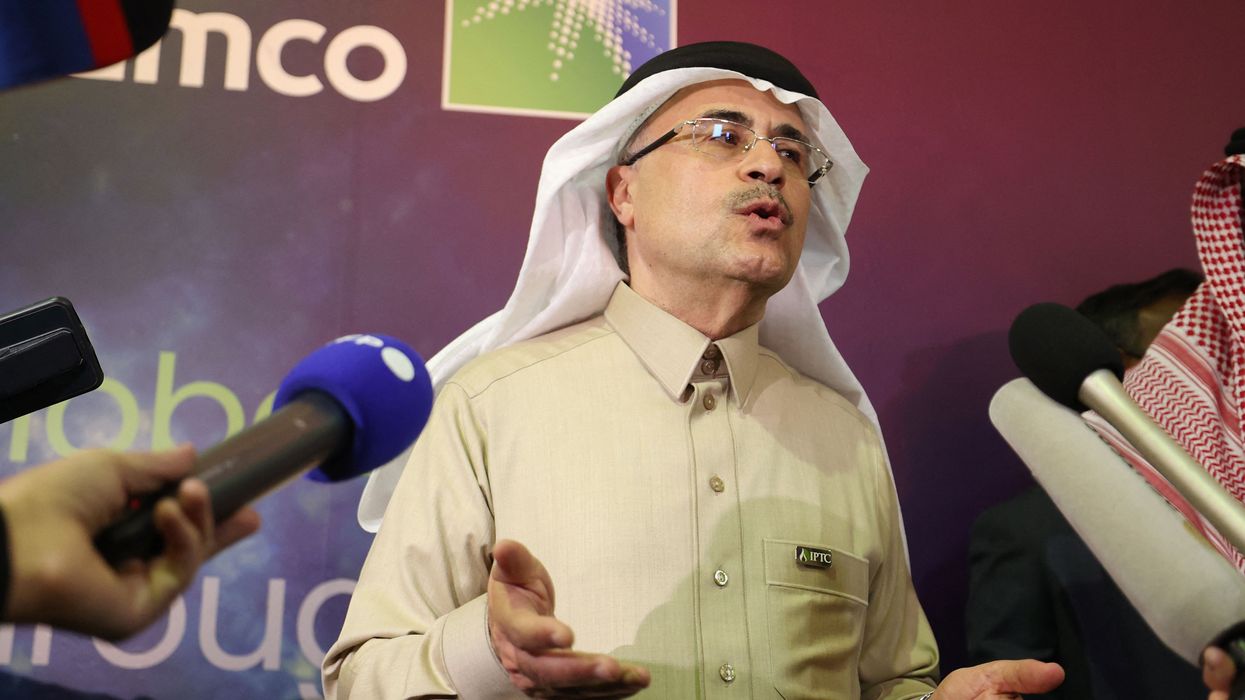 "These extraordinary profits, and any future income derived from Aramco, should not be deployed to finance human rights abuses, cover them up, or try and gloss over them," said Amnesty International.
Saudi Aramco, an oil giant almost entirely owned by the government of Saudi Arabia, announced Sunday that it brought in a staggering $161.1 billion in profits last year as it joined other fossil fuel companies in capitalizing on energy market turmoil sparked by Russia's invasion of Ukraine.
The company's profit figure for 2022 is the largest ever recorded by an oil corporation. Amin Nasser, Aramco's CEO, declared on an earnings call that "this is probably the highest net income ever recorded in the corporate world."
For comparison, ExxonMobil—the second-largest oil company in the world behind Aramco—reported $56 billion in net income last year, a record for the U.S. firm but nowhere close to the Saudi corporation's haul.
"It is shocking for a company to make a profit of more than $161.1 billion in a single year through the sale of fossil fuel—the single largest driver of the climate crisis," Agnès Callamard, secretary-general of Amnesty International, said in a statement. "It is all the more shocking because this surplus was amassed during a global cost-of-living crisis and aided by the increase in energy prices resulting from Russia's war of aggression against Ukraine."
Aramco said its banner profits—driven by "stronger crude oil prices, higher volumes sold, and improved margins for refined products"—were up nearly 47% compared to 2021, a windfall the company has used to reward investors.
"Aramco declared a dividend of $19.5 billion for the fourth quarter, to be paid in Q1 2023," the oil firm said in a press release. "This represents a 4.0% increase compared to the previous quarter, aligned with the company's dividend policy aiming to deliver a sustainable and progressive dividend. Additionally, the Board of Directors also recommended the distribution of bonus shares to eligible shareholders in the amount of one share for every 10 shares held."
While Aramco said it intends to devote resources to "lower-carbon technologies" and carbon-capture initiatives that climate campaigners have dismissed as false solutions, the company made clear that it has no intention of shifting aggressively away from fossil fuel production—a transition scientists say is necessary to avert climate catastrophe.
In its earnings announcement, Aramco said it is committed to "expanding oil, gas, and chemicals production."
Saudi Arabia is the second-largest oil producer in the world behind the United States. Late last year, the Saudi-led Organization of the Petroleum Exporting Countries (OPEC) agreed to slash oil production by 2 million barrels a day in a bid to keep prices high—benefiting companies like Aramco, Exxon, and other fossil fuel majors that have posted record-shattering 2022 profits as households struggle to heat their homes.
"It is past time that Saudi Arabia acted in humanity's interest and supported the phasing out of the fossil fuel industry, which is essential for preventing further climate harm," Callamard said Sunday. "These extraordinary profits, and any future income derived from Aramco, should not be deployed to finance human rights abuses, cover them up, or try and gloss over them."
News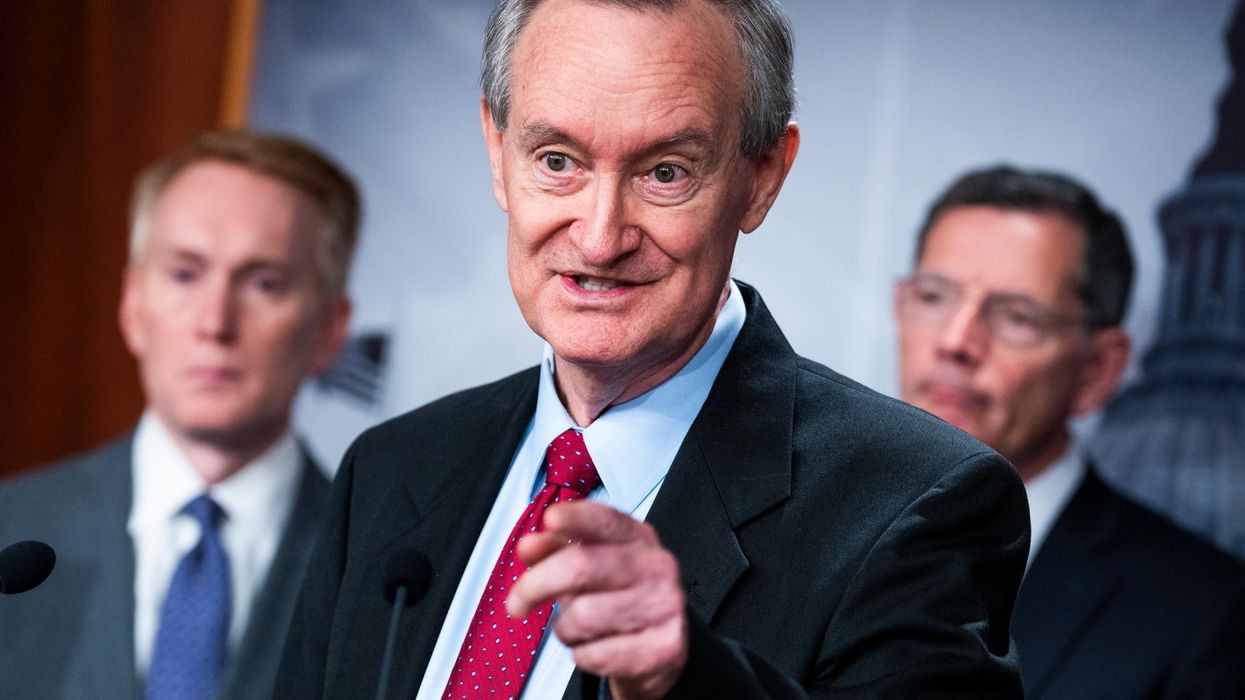 "President Trump and congressional Republicans' decision to roll back Dodd-Frank's 'too big to fail' rules for banks like SVB—reducing both oversight and capital requirements—contributed to a costly collapse," said Sen. Elizabeth Warren.
In 2018, ignoring the vocal warnings of experts and advocacy groups, the then-Republican-controlled Congress passed legislation that weakened post-financial crisis regulations for banks with between $50 billion and $250 billion in assets, sparking fears of systemically risky failures and more taxpayer bailouts.
Silicon Valley Bank (SVB), the California-based firm that collapsed on Friday, controlled an estimated $212 billion, leading analysts and lawmakers to argue that the 2018 law made the institution's market-rattling failure and resulting federal takeover more likely.
Sen. Elizabeth Warren (D-Mass.), who was an outspoken opponent of the deregulatory measure, said in a statement Friday that "President Trump and congressional Republicans' decision to roll back Dodd-Frank's 'too big to fail' rules for banks like SVB—reducing both oversight and capital requirements—contributed to a costly collapse."
But the GOP wasn't alone in its support for Sen. Mike Crapo's (R-Idaho) Economic Growth, Regulatory Relief, and Consumer Protection Act, which critics dubbed the Bank Lobbyist Act.
As Warren noted as the bill was flying through Congress, a number of Democrats—including Sens. Mark Warner (D-Va.), Joe Manchin (D-W.Va.), and Jon Tester (D-Mont.)—were integral to the legislation's passage, which led almost immediately to more bank consolidation.
Prior to the enactment of the Crapo bill, which then-President Donald Trump signed into law on May 24, 2018, banks with more than $50 billion in assets were subject to enhanced liquidity mandates and more frequent stress tests aimed at ensuring they could weather economic turmoil.
The 2018 law raised the threshold for the more stringent regulations to $250 billion or higher, a gift to banks like SVB that had been working for years to gut post-crisis regulations implemented under the Dodd-Frank Act of 2010. The diminished oversight, some argued, is at least partly to blame for SVB's crisis.
"The collapse of Silicon Valley Bank was totally avoidable," Rep. Katie Porter (D-Calif.) wrote on Twitter. "In 2018, Wall Street pushed a deregulation bill that allowed banks like SVB to take reckless risks. It passed, even as I and many others warned of the risks. I am writing legislation to reverse that law."
As The Leverreported Friday, SVB specifically pushed Congress in 2015 to hike the regulatory threshold to $250 billion, with the bank's president touting its "strong risk management practices."
"Three years later—after the bank spent more than half a million dollars on federal lobbying—lawmakers obliged," the outlet added.
The collapse of SVB, a major lender to tech startups, was the second-largest bank failure in U.S. history and the biggest since the 2008 crisis. SVB's failure came days after it announced it sold $21 billion worth of bonds at a substantial loss, triggering fears about the firm's health and a run on the bank that was intensified by venture capitalists' calls for startups to pull their money.
The bank's last-ditch efforts to raise capital and find a buyer failed, prompting regulators to seize its assets and begin efforts to make depositors whole. (SVB reportedly paid out bonuses to U.S. employees just hours before federal regulators took over.)
The American Prospect's David Dayen noted that "because the depositors holding the bag at SVB are Very Important People, there's going to be intense pressure for a bailout."
"Hedge fund titan Bill Ackman is already calling for one," Dayen observed. "Larry Summers told Bloomberg that the financial system should be fine, as long as depositors get every penny of their money back, which would be a $150 billion bailout."
In an appearance on "Face the Nation" Sunday morning, Treasury Secretary Janet Yellen pledged that "we are not going to do that again," referring to the bank bailouts of 2008.
"But we are concerned about depositors," Yellen said, "and we're focused on trying to meet their needs."
The Federal Deposit Insurance Corporation (FDIC) is currently seeking a buyer for SVB, with final bids due by Sunday afternoon, according toBloomberg.
The Washington Postreported Sunday that "federal authorities are seriously considering safeguarding all uninsured deposits at Silicon Valley Bank, weighing an extraordinary intervention to prevent what they fear would be a panic in the U.S. financial system."
"Although the FDIC insures bank deposits up to $250,000, a provision in federal banking law may give them the authority to protect the uninsured deposits as well if they conclude that failing to do so would pose a systemic risk to the broader financial system," the newspaper reported. "In that event, uninsured deposits could be backstopped by an insurance fund, paid into regularly by U.S. banks."
"This predictable disaster should give serious pause to the current MAGA House majority who are pursuing further rollbacks of consumer financial protections after taking money hand over fist from Wall Street banks."
In a statement on Saturday, Liz Zelnick of the watchdog group Accountable.US said that "this mess was left behind by congressional Republicans and the Trump administration, who were too deep in the big banks' pocket to care about the consequences of gutting financial industry oversight."
"The chickens came home to roost this week in the Republican war against Wall Street reform and consumer financial protections," Zelnick continued. "This predictable disaster should give serious pause to the current MAGA House majority who are pursuing further rollbacks of consumer financial protections after taking money hand over fist from Wall Street banks—but don't count on it."
Some expert observers were quick to voice concern that SVB's collapse is just the start of broader chaos in the financial industry and the overall economy.
Dennis Kelleher, the president of Better Markets, warned that the fall of SVB "is going to cause contagion and almost certainly more bank failures," noting that the Federal Reserve's rapid and large interest rate increases left many financial institutions without "time to reposition their balance sheets and portfolios."
"That's why SVB is just the beginning," Kelleher argued. "Contagion, likely more bank failures, and various bailouts are almost certainly coming. While the immediate financial stability threats will materialize or be addressed, the underlying fundamental problems caused in large part by the Fed will remain and likely get worse."
"The Fed's actions to fight increasing inflation will need to be materially adjusted, which it should be anyway because inflation is driven by many factors that are beyond the Fed's control," he said. "Causing financial instability and a recession (of any depth and length) while missing the mark on inflation should cause a fundamental rethinking of the Fed's powers, authorities, and role."
This story has been updated to include comments from Treasury Secretary Janet Yellen.

News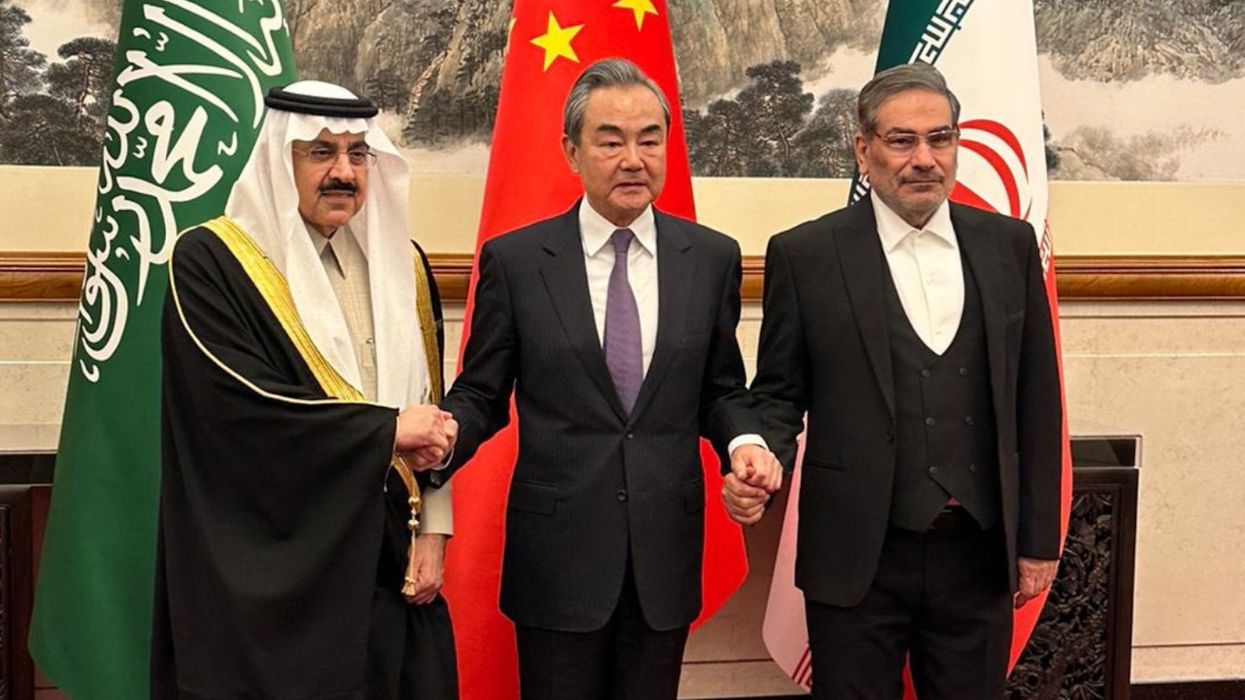 One American intelligence expert urged the U.S. to maintain friendly relations with "barbarous, but long-standing allies" in the Middle East lest China fill the vacuum.
While advocates of peace and a multipolar world order welcomed Friday's China-brokered agreement reestablishing diplomatic relations between Iran and Saudi Arabia, U.S. press, pundits, and politicians expressed what one observer called "imperial anxieties" over the deal and growing Chinese influence in a region dominated by the United States for decades.

The deal struck between the two countries—which are fighting a proxy war in Yemen—to normalize relations after seven years of severance was hailed by Wang Yi, China's top diplomat, as "a victory of dialogue and peace."
The three nations said in a joint statement that the agreement is an "affirmation of the respect for the sovereignty of states and non-interference in internal affairs."
"The U.S. encourages war while China pushes the opposite."
Iran and Saudi Arabia "also expressed their appreciation and gratitude to the leadership and government of the People's Republic of China for hosting and sponsoring the talks, and the efforts it placed towards its success," the statement said.
United Nations spokesperson Stéphane Dujarric thanked China for its role in the deal, asserting in a statement that "good neighborly relations between Iran and Saudi Arabia are essential for the stability of the Gulf region."
Amy Hawthorne, deputy director for research at the Project on Middle East Democracy, a Washington, D.C.-based nonprofit group, toldThe New York Times that "China's prestigious accomplishment vaults it into a new league diplomatically and outshines anything the U.S. has been able to achieve in the region since [President Joe] Biden came to office."
Yun Sun, director of the China program at the Stimson Center, a think tank in Washington, D.C., called the deal a sign of "a battle of narratives for the future of the international order."
CNN's Tamara Qiblawi called the agreement "the start of a new era, with China front and center."
Meanwhile, Ahmed Aboudouh, a nonresident fellow at the Atlantic Council, another D.C. think tank, wrote that "China just left the U.S. with a bloody nose in the Gulf."
At the Carnegie Endowment, yet another think tank located in the nation's capital, senior fellow Aaron David Miller tweeted that the deal "boosts Beijing and legitimizes Tehran. It's a middle finger to Biden and a practical calculation of Saudi interests"

Some observers compared U.S. and Chinese policies and actions in the Middle East.
"The U.S. is supporting one side and suppressing the other, while China is trying to make both parties move closer," Wu Xinbo, dean of international studies at Fudan University in Shanghai, told the Times. "It is a different diplomatic paradigm."
Murtaza Hussein, a reporter for The Intercept,tweeted that the fact that the agreement "was mediated by China as a trusted outside party shows shortcomings of belligerent U.S. approach to the region."

While cautiously welcoming the agreement, Biden administration officials expressed skepticism that Iran would live up to its end of the bargain.
"This is not a regime that typically does honor its word, so we hope that they do," White House National Security Council Strategic Coordinator John Kirby told reporters on Friday—apparently without any sense of irony over the fact that the United States unilaterally abrogated the Iran nuclear deal during the Trump administration.
Kirby added that the Biden administration would "like to see this war in Yemen end," but he did not acknowledge U.S. support for the Saudi-led intervention in a civil war that's directly or indirectly killed nearly 400,000 people since 2014, according to United Nations humanitarian officials.
U.S relations with Saudi Arabia have been strained during the tenure of President Joe Biden. While Biden—who once vowed to make the repressive kingdom a "pariah" over the gruesome murder of journalist Jamal Khashoggi—has been willing to tolerate Saudi human rights abuses and war crimes, the president has expressed anger and frustration over the monarchy's decision to reduce oil production amid soaring U.S. gasoline prices and Russia's invasion of Ukraine.
Nevertheless, the Biden administration is currently trying to broker a peace deal between Saudi Arabia and Israel following the Trump administration's mediation of the Abraham Accords, a series of diplomatic normalization agreements between Israel and erstwhile enemies the United Arab Emirates and Bahrain.
The United States, which played a key role in overthrowing Iran's progressive government in a 1953 coup, has not had diplomatic relations with Tehran since shortly after the current Islamist regime overthrew the U.S.-backed monarchy that ruled with a brutal hand for 25 years following the coup.
Jonathan Panikoff, director of the Scowcroft Middle East Security Initiative in the Middle East Programs for the Atlantic Council, urged the U.S. to maintain friendly relations with brutal dictatorships in the region in order to prevent Chinese hegemony there.

Panikoff wrote in an Atlantic Council analysis:

We may now be seeing the emergence of China's political role in the region and it should be a warning to U.S. policymakers: Leave the Middle East and abandon ties with sometimes frustrating, even barbarous, but long-standing allies, and you'll simply be leaving a vacuum for China to fill. And make no mistake, a China-dominated Middle East would fundamentally undermine U.S. commercial, energy, and national security.
Other observers also worried about China's rising power in the Middle East and beyond.
New York Times China correspondent David Pierson wrote Saturday that China's role in the Iran-Saudi Arabia rapprochement shows Chinese President Xi Jinping's "ambition of offering an alternative to a U.S.-led world order."
According to Pierson:

The vision Mr. Xi has laid out is one that wrests power from Washington in favor of multilateralism and so-called noninterference, a word that China uses to argue that nations should not meddle in each other's internal affairs, by criticizing human rights abuses, for example.

The Saudi-Iran agreement reflects this vision. China's engagement in the region has for years been rooted in delivering mutual economic benefits and shunning Western ideals of liberalism that have complicated Washington's ability to expand its presence in the Gulf.
Pierson noted Xi's Global Security Initiative, which seeks to promote "peaceful coexistence" in a multipolar world that eschews "unilateralism, bloc confrontation, and hegemonism" like U.S. invasions and the North Atlantic Treaty Organization.

"Some analysts say the initiative is essentially a bid to advance Chinese interests by displacing Washington as the world's policeman," wrote Pierson. "The plan calls for respect of countries' 'indivisible security,' a Soviet term used to argue against U.S.-led alliances on China's periphery."
The U.S. has attacked, invaded, or occupied more than 20 countries since 1950. During that same period, China has invaded two countries—India and Vietnam.
"The Chinese, who for years played only a secondary role in the region, have suddenly transformed themselves into the new power player."
New York Times chief White House correspondent Peter Baker also published an article Saturday about how the "China-brokered deal upends Mideast diplomacy and challenges [the] U.S."
"The Americans, who have been the central actors in the Middle East for the past three-quarters of a century, almost always the ones in the room where it happened, now find themselves on the sidelines during a moment of significant change," fretted Baker. "The Chinese, who for years played only a secondary role in the region, have suddenly transformed themselves into the new power player."
Some experts asserted that more peace in the Middle East would be a good thing, no matter who brokers it.
"While many in Washington will view China's emerging role as mediator in the Middle East as a threat, the reality is that a more stable Middle East where the Iranians and Saudis aren't at each other's throats also benefits the United States," tweeted Trita Parsi, executive vice president of the Washington, D.C.-based Quincy Institute for Responsible Statecraft.
"Unfortunately, the U.S. has adopted an approach to the region that has disabled it from becoming a credible mediator," he lamented. "Too often, Washington takes sides in conflicts and becomes a co-belligerent—as in Yemen—which then reduces its ability to play the role of peacemaker."
"Washington should avoid a scenario where regional players view America as an entrenched warmaker and China as a flexible peacemaker," Parsi cautioned.
News
SUPPORT OUR WORK.
We are independent, non-profit, advertising-free and 100%
reader supported.