For Immediate Release
Contact:
Tel: +1-212-216-1832,Email:,hrwpress@hrw.org
Don't Let Any Nations Derail UN Racism Conference
Ahmadinejad's Presence and US Absence Raise Concerns
GENEVA
The likely presence of Iranian President Mahmoud Ahmadinejad at the UN's upcoming conference on racism should strengthen the resolve of governments to attend the talks and ensure the adoption of a strong declaration against racism, Human Rights Watch said today. Ahmadinejad has announced he will attend the Durban Review Conference to be held on April 21-24, 2009 in Geneva, while the United States has said it will not participate because of continuing concerns about the proposed text.
"We've made enormous progress to overcome the problems surrounding the preparatory process of this conference and produce a declaration to unite the world against the scourge of racism," said Juliette de Rivero, Geneva advocacy director at Human Rights Watch. "Governments should stand firm in Geneva to ensure that Ahmadinejad's presence isn't used to undermine a process that's now backed by so many nations, or to undercut the constructive spirit of the negotiations."
There was a significant turning point in the negotiations leading up to the review conference a few weeks ago when participating nations agreed to remove any reference to the Israeli-Palestinian conflict (or any other specific situation) and to "defamation of religion." These two issues had polarized delegations and damaged prospects of a successful outcome to the conference.
On April 15, the Russian chair of the preparatory negotiations produced a new, revised version of the draft declaration for the conference which provides a basis for a broad global agreement. The document takes stock of efforts to end racism, racial discrimination, xenophobia, and related intolerance and paves the way for future UN action. On April 21, the representatives of nearly every member state of the UN will meet to finalize this text and pledge themselves to a renewed commitment to defeat racism.
Ahmadinejad's past statements on Israel and the Holocaust have made him a divisive figure. Some fear that during his appearance at the conference he could make controversial comments on the two issues that the other countries agreed to keep out.
"It's clear Iran stood isolated when it tried to reintroduce the concept of defamation of religion in negotiations last week," de Rivero said. "If Ahmadinejad tries to reopen issues that states have taken off the table, delegations should react firmly to uphold the current consensus."
Human Rights Watch said that governments should deepen their engagement with the conference to ensure that it stays on track, focusing on the important issues of addressing racism in the world.
"The issue of fighting racism and discrimination is too important to be derailed by anyone," de Rivero said.
Human Rights Watch called on Ahmadinejad to use his presence at the UN racism conference to announce an end to repression of the Baha'i people in Iran and a commitment to allow freedom of expression - an essential protection in the fight against racism worldwide.
Ahmadinejad's government routinely represses dissent and has continued the decades-old repression of Iran's religious and ethnic minorities, including the Baha'i religious minority (https://www.hrw.org/en/news/2006/06/04/iran-scores-arrested-anti-baha-i-campaign), Human Rights Watch said. Iran's record of repressing peaceful dissent does great injustice to the struggle against racism and discrimination.
Human Rights Watch criticized the continued failure of the Obama administration to commit to participate in the racism conference. After attending previous discussions the United States had publicly announced key changes that it required in the draft final text before joining in. This week, US officials acknowledged that most of the requested changes had been made, including the removal of references to "defamation of religion" and the Middle East, but still said the United States would not return to the negotiations until all of its demands were met.
"Saying you won't negotiate unless everyone else accepts all your demands first is not the way to get the changes you want," de Rivero said. "This attitude is especially disappointing given President Obama's promise to engage with other nations rather than trying to impose Washington's will upon them."
Human Rights Watch is one of the world's leading independent organizations dedicated to defending and protecting human rights. By focusing international attention where human rights are violated, we give voice to the oppressed and hold oppressors accountable for their crimes. Our rigorous, objective investigations and strategic, targeted advocacy build intense pressure for action and raise the cost of human rights abuse. For 30 years, Human Rights Watch has worked tenaciously to lay the legal and moral groundwork for deep-rooted change and has fought to bring greater justice and security to people around the world.
LATEST NEWS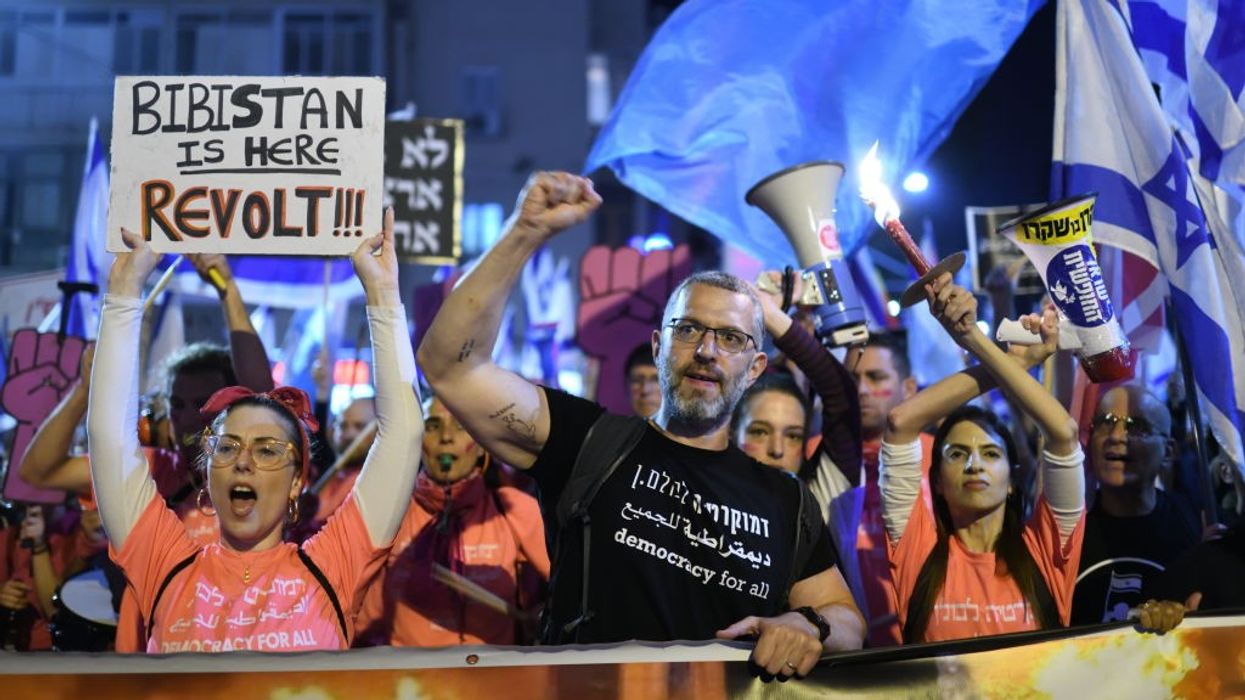 "There's a great danger that Israel will turn into a dictatorship," warned one protester.
Ongoing protests against the far-right Israeli government of Prime Minister Benjamin Netanyhu were larger than ever on Saturday night as an estimated 200,000 people or more took to the streets in Tel Aviv and other cities to denounce judicial reforms they warn put the nation on a path towards dictatorship.
For over two months, weekly protests—mostly on the weekends but increasingly during the workweek as well—large demonstrations have taken place in response to Netanyahu and his coalition government pushing a judicial takeover that critics say would curtail democracy.
Haaretzreported Saturday's turnout as a record since the movement started in early January.
"There's a great danger that Israel will turn into a dictatorship," Ophir Kubitsky, a 68-year-old high school teacher at the demonstration, toldReuters. "We came here to demonstrate over and over again until we win."
\u201cAn incredible photo. \n\nDowntown Tel Aviv is flooded with Israelis protesting the government\u2019s judicial reform package.\u201d

— Aviva Klompas (@Aviva Klompas) 1677972433
The demonstrations in Tel Aviv and other locations "began peacefully," reports Reuters. "However, footage released by police later showed protesters breaking down barriers in Tel Aviv and igniting fires as they blocked roads. Police sprayed water cannons at the protesters."
While Israeli liberals increasingly register fear and discomfort over the direction of its government's growing autocratic tendencies, Palestinian rights advocates have noted that the right-wing slide is a direct and predictable continuation of a system that denies its Palestinian citizens full rights under the law while overseeing a brutal and repressive apartheid regime.
As American-Palestinian scholar Yousef Munayyer recently wrote in a column about the protest movement for +972 Magazine:
As tens of thousands of Israelis protest the reforms that Netanyahu's government seeks to ram through in hopes of "saving the essence" of Israeli democracy, they are largely avoiding a confrontation with the foundational problem, namely that the essence of the Israeli system is to put settler colonialism ahead of any liberal principles around democracy, equality, or human rights.
A key question for many concerned not only about Israel's increasingly autocratic and right-wing lurch, but its ever-worsening treatment of the Palestinians living under hostile military occupation is this: "Does this loose group oppose the settler-colonial system that these legal reforms would further enable, or does it simply seek a return to the settler-colonial system, but without Netanyahu at its head?"
Munayyer believes all evidence thus far indicates the latter is the unfortunate answer, which is why Palestinians are noticeably absent from celebrating the display of dissent and opposition in Tel Aviv and elsewhere.
"For all Palestinians, including those with Israeli citizenship, there is little urgency to try to 'save' Israeli democracy, primarily because for them it has never existed," Munayyer concluded. "Not only is a political system that is constructed to be democratic toward some, but not all, not a democracy, it is also not going to seem worth saving to those it disadvantages."
News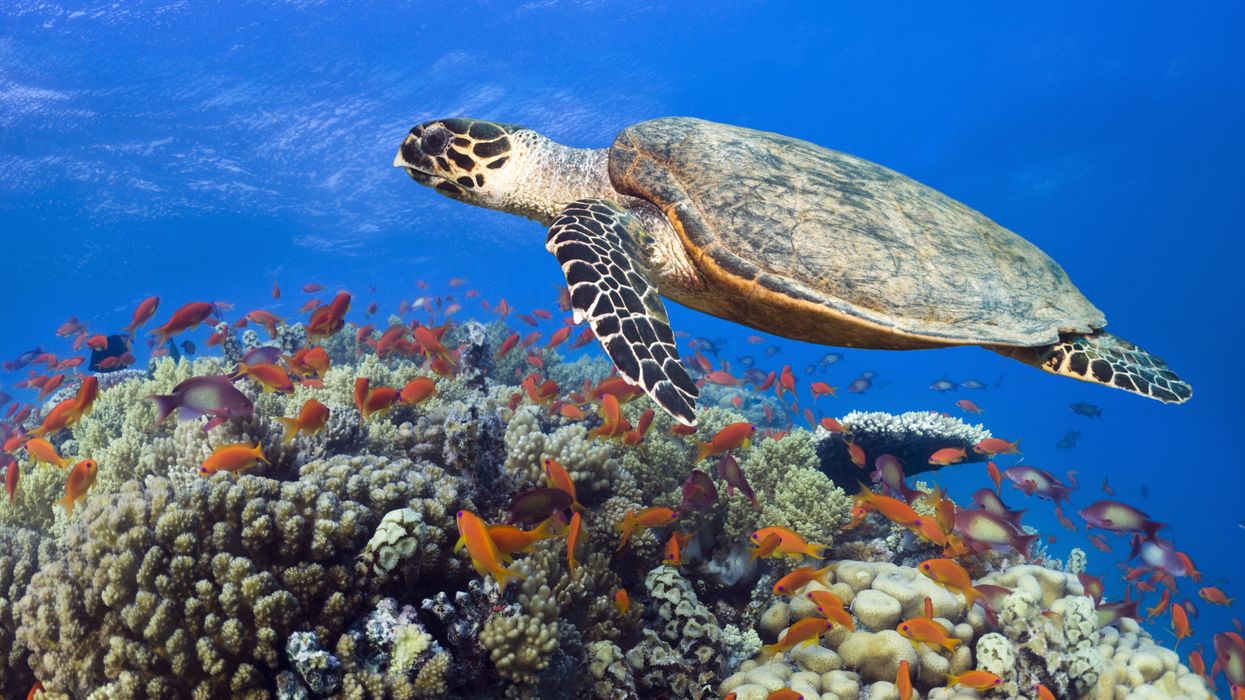 "This is a historic day for conservation and a sign that in a divided world, protecting nature and people can triumph over geopolitics," said Greenpeace in response to an agreement to protect world's marine biodiversity.
Ocean conservationists expressed elation late Saturday after it was announced—following nearly two decades of consideration and effort—that delegates from around the world had agreed to language for a far-reaching global treaty aimed at protecting the biodiversity on the high seas and in the deep oceans of the world.

"This is a historic day for conservation and a sign that in a divided world, protecting nature and people can triumph over geopolitics," declared Dr. Laura Meller, the oceans campaigner for Greenpeace Nordic.
"We praise countries for seeking compromises, putting aside differences, and delivering a Treaty that will let us protect the oceans, build our resilience to climate change and safeguard the lives and livelihoods of billions of people," Meller added.
The final text of the Global Ocean Treaty, formally referred to as the Biodiversity Beyond National Jurisdiction treaty (BBNJ), was reached after a two-week round of talks that concluded with a 48-hour marathon push between delegations at the United Nations headquarters in New York.
"The High Seas Treaty opens the path for humankind to finally provide protection to marine life across our one ocean."
"This is huge," said Greenpeace in a social media post, calling the agreement "the biggest conservation victory ever!"
Rena Lee of Singapore, the U.N Ambassador for Oceans and president of the conference hosting the talks, received a standing ovation after announcing a final deal had been reached. "The shipped has reached the shore," Lee told the conference.
\u201cBBNJ President Rena Lee: "The ship has reached the shore."\n\nThe BBNJ Agreement is agreed.\u201d

— Duncan Currie (@Duncan Currie) 1677984046
"Following a two-week-long rollercoaster ride of negotiations and super-hero efforts in the last 48 hours, governments reached agreement on key issues that will advance protection and better management of marine biodiversity in the High Seas," said Rebecca Hubbard, director of the High Seas Alliance, a coalition of over 40 ocean-focused NGOs that also includes the International Union for the Conservation of Nature (IUCN).
Minna Epps, director of the Global Marine and Polar Programme at the IUCN, said the agreement represents a new opportunity.
"The High Seas Treaty opens the path for humankind to finally provide protection to marine life across our one ocean," Epps said in a statement. "Its adoption closes essential gaps in international law and offers a framework for governments to work together to protect global ocean health, climate resilience, and the socioeconomic wellbeing and food security of billions of people."
Protecting the world's high seas, which refers to areas of the oceans outside the jurisdiction of any country, is part of the larger push to protect planetary biodiversity and seen as key if nations want to keep their commitment to the UN-brokered Kunming-Montreal Global Biodiversity Framework—also known as the known as the 30x30 pledge—that aims protect 30 percent of the world's natural habitat by 2030.
"With currently just over 1% of the High Seas protected," said the High Seas Alliance in a statement, "the new Treaty will provide a pathway to establish marine protected areas in these waters." The group said the treaty will make acheiving the goals of the Kunming-Montreal agreement possible, but that "time is of the essence" for the world's biodiversity.
"The new Treaty will bring ocean governance into the 21st century," said the group, "including establishing modern requirements to assess and manage planned human activities that would affect marine life in the High Seas as well as ensuring greater transparency. This will greatly strengthen the effective area-based management of fishing, shipping, and other activities that have contributed to the overall decline in ocean health."

According to Greenpeace's assessment of the talks:
The High Ambition Coalition, which includes the EU, US and UK, and China were key players in brokering the deal. Both showed willingness to compromise in the final days of talks, and built coalitions instead of sowing division. Small Island States have shown leadership throughout the process, and the G77 group led the way in ensuring the Treaty can be put into practice in a fair and equitable way.

The fair sharing of monetary benefits from Marine Genetic Resources was a key sticking point. This was only resolved on the final day of talks. The section of the Treaty on Marine Protected Areas does away with broken consensus-based decision making which has failed to protect the oceans through existing regional bodies like the Antarctic Ocean Commission. While there are still major issues in the text, it is a workable Treaty that is a starting point for protecting 30% of the world's oceans.

The group said it is now urgent for governments around the world to take the final step of ratifying the treaty.

"We can now finally move from talk to real change at sea. Countries must formally adopt the Treaty and ratify it as quickly as possible to bring it into force, and then deliver the fully protected ocean sanctuaries our planet needs," Meller said. "The clock is still ticking to deliver 30×30. We have half a decade left, and we can't be complacent."
News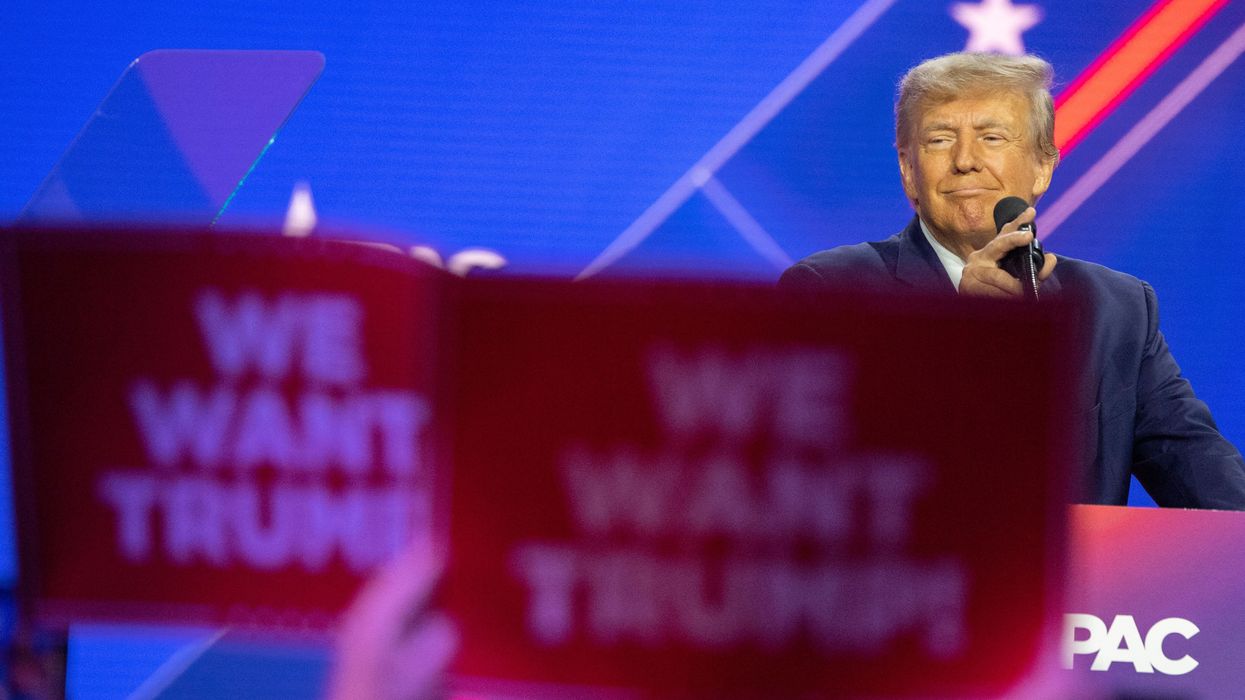 Former U.S. president headlines ousted autocrat double-header by following Brazil's Jair Bolsonaro at annual far-right convention.

The former presidents of Brazil and the United States took the stage CPAC on Saturday where both fascist politicians continued to sow doubt about their respective electoral defeats as they received standing ovations from the annual convention's far-right attendees.
Brazil's disgraced former leader Jair Bolsonaro—whose supporters stormed government offices in January after his successor, leftist President Luiz Inacio Lula da Silva, was sworn into office—was brought onto the stage this year's "diminished" CPAC gathering to blaring rock music and loud cheers from the crowd.
Addressing the American audience, Bolsonaro indicated once more his doubts that he lost the Brazilian election fairly, saying, "I had way more support in 2022 than I had in 2018, and I don't understand why the numbers said the opposite."

"I thank God for the mission of being president of Brazil for one term," he said, but hinted at a possible third run for president by adding: "But I feel deep inside that this mission is still not over."
When Trump took the podium as the convention's keynote appearance, there again was raucous applause.
During his speech, he singled out Bolsonaro in the audience and said it was a "great honor" to be appearing with the "very popular" former president.
"Our getting back in the White House is their worst nightmare," Trump said of Democrats and his other political opponents. "But it is our country's only hope."
Trump went on to call the electoral process in the United States a "very bad" and a "very dangerous system" that only he and the far-right attendees at CPAC can overcome.
\u201cTrump claims the 2020 election was so bad, that instead of Biden serving four years, people he talked to in early 2021 were saying "you'll be back [in office] in six weeks, sir"\u201d

— Aaron Rupar (@Aaron Rupar) 1677970747
During the speech, Trump vowed to "finish what we started" as the enthusiastic crowd chanted "Four more years! Four more years!"

In the traditional straw poll taken each year by CPAC attendees, Trump won in a landslide, the convention's organizers announced on Saturday, with the former president taking 65 percent of the vote.
The second-place finisher was Florida's far-right Gov. Ron DeSantis, who did not attend the gathering this year despite many viewing him as the strongest GOP challenger to Trump in a possible 2024 primary matchup.

News
SUPPORT OUR WORK.
We are independent, non-profit, advertising-free and 100%
reader supported.