For Immediate Release
March, 04 2009, 11:27am EDT
Labor Leaders Demand That 'Single Payer' Be Part of Obama Healthcare Reform Discussions
WASHINGTON
The Obama administration's plans to hold a "Health
Care Summit" that excludes advocates of single-payer healthcare reform
has drawn a sharp response from labor leaders around the country.
"President Obama has indicated that his
administration is committed to the passage of a new 'universal'
national health care program for all Americans, and he wants it done
this year. For working people, and particularly the 48 million
Americans currently without health insurance, this is welcome news. We
also applaud the President's efforts to provide immediate relief to the
growing number of unemployed workers faced with the loss of their
health insurance," said Mark Dudzic, National Coordinator of the Labor
Campaign for Single Payer Healthcare.
"At the same time," he continued, "we are deeply
concerned by the apparent failure of the administration to include a
single supporter of HR 676 among the 120 invited participants to
Thursday's Health Care Reform Summit. We are calling on our supporters
to call and write the White House and demand that our voice be heard."
HR 676, the "Expanded and Improved Medicare for All"
Act, was re-introduced this year by Congressman John Conyers. It
currently has 59 congressional co-sponsors. Because it eliminates the
private insurance industry from profiting from people's misfortunes
and, like Medicare, establishes the federal government as the "single
payer" of everyone's medical bills, HR 676 can provide healthcare for
all with no co-pays or deductibles in a fiscally prudent manner. HR 676
has the endorsement of hundreds of state and local labor federations
and local unions as well as many other civic and religious
organizations.
"The first step is to ensure that HR 676 has a 'seat
at the table' in the upcoming healthcare reform debates," said South
Carolina AFL-CIO President Donna Dewitt. "It needs to be given the same
degree of attention as all other credible proposals for reform and
subjected to a side-by-side 'facts based' analysis with those
proposals."
Leaders of the Labor Campaign for Single Payer are
urging President Obama to consider alternatives which, like Medicare,
would not rely on private, for-profit insurance companies to ration
health care to the American people. "Proposals which funnel our
precious healthcare dollars into the pockets of the for-profit
insurance industry and other special interests will do nothing to
contain and control costs or improve the quality of care," said
Fernando Gapasin, President of the West Central Oregon Central Labor
Council.
Labor leaders from Massachusetts are particularly
concerned that their state's law requiring all individuals to purchase
private health insurance is being touted as a model for the nation.
"Last month 40 of my fellow union leaders wrote to
President Obama to urge him to reject a Massachusetts-style plan that
would leave private insurance companies at the center of the system
through an individual mandate and expensive public subsidies supported
by taxes for plans that still don't provide enough coverage. The
Massachusetts plan is widely recognized as unsustainable and now that
we are facing an economic crisis, it is even more problematic." said
Peter Knowlton, president of the Northeast Region of the United
Electrical Workers Union (UE).
"If anyone should be excluded from this summit," said
Ray Stever, New Jersey State Industrial Union Council President, "it
should be the representatives of the health insurance industry. These
are the very people who caused the crisis in the first place. They will
move heaven and earth to continue to deny Americans the healthcare
justice that citizens of all other industrialized countries enjoy."
The Labor Campaign for Single Payer Healthcare joins
other single payer advocates and organizations who are demanding that
their views be represented in the growing debate over health care
reform. These include the Leadership Conference for Guaranteed
Healthcare, Healthcare-NOW, the All Unions Committee for Single Payer,
the Physicians for a National Health Program and the California Nurses
Association/National Nurses Organizing Committee whose Co-president,
Geri Jenkins, RN, recently warned, "Any reform premised on expanding
the insurance-based system will likely fail, frustrate the public
desire for a real solution to our healthcare crisis, and undermine the
political capital the administration has earned for reform."
"That is why it is so important to speak up at this
moment," said Clyde Rivers of the California School Employees
Association. "The stakes are too high to allow special interests to
hijack a discussion whose outcome will so importantly affect the lives
and livelihoods of the American people. We call on President Obama and
the leaders of both houses of Congress to give HR 676 the fair and open
hearing that it deserves."
The primary purpose of the Labor Campaign for Single-Payer Health Care is to increase grassroots labor support for H.R. 676 as an essential element in winning the support of Congress to enact the National Health Care Act "Medicare for All" as the public policy of this country because we believe that health care is a human right.
LATEST NEWS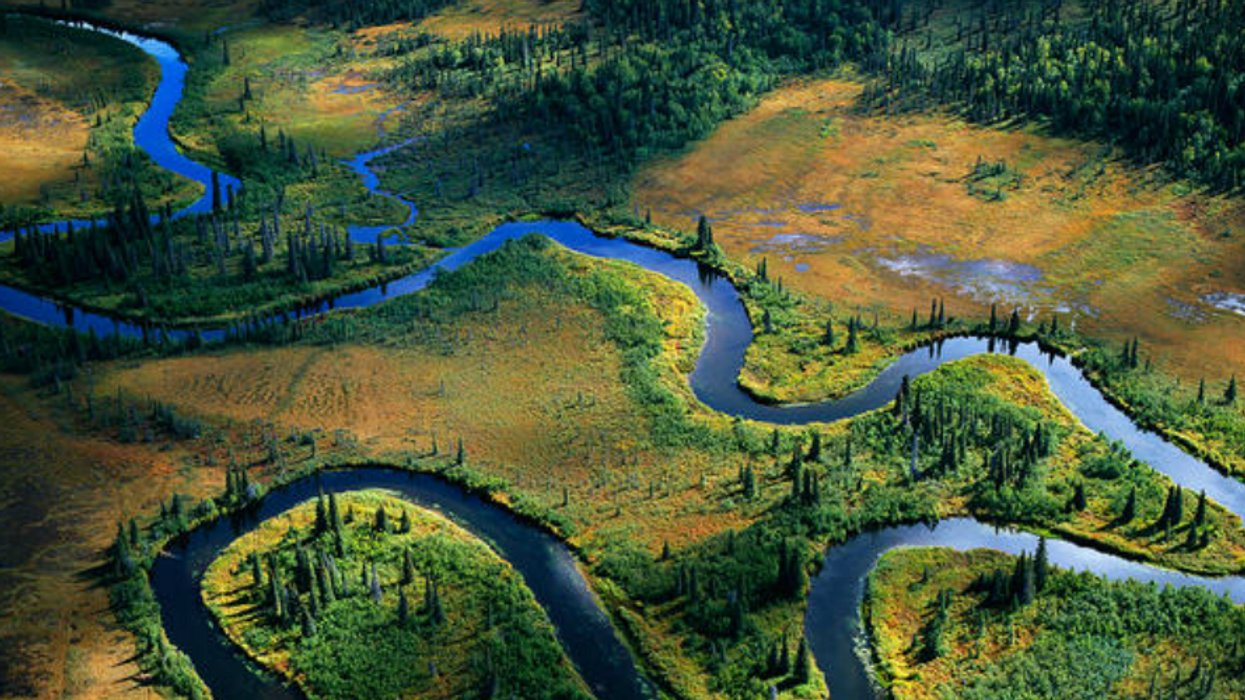 "Thousands of Alaskans and over a million Americans from across the political spectrum have called for protection of Bristol Bay's one-of-kind salmon resource from massive open pit mining and today, the EPA delivered."
Environmental advocates in Alaska and across the United States on Tuesday applauded what one Indigenous campaigner called "historic progress" in the fight to protect Bristol Bay's ecosystems from the developers of Pebble Mine, a proposed open-pit copper and gold mine that would have led to the dumping of waste in the world's largest sockeye salmon run.
The Environmental Protection Agency (EPA) announced on Tuesday its long-awaited "Final Determination" regarding protections for Bristol Bay, following more than a decade of litigation and campaigning by Alaska Natives and advocates.
Under Section 404(c) of the Clean Water Act, the agency said, the EPA will prohibit "certain waters of the United States in the South Fork Koktuli River and North Fork Koktuli River watersheds from being used as disposal sites," and "prohibits future proposals to construct and operate a mine to develop the Pebble deposit."
"Today is a new day for Bristol Bay," said Earthjustice.
\u201cBREAKING: Today is a new day for Bristol Bay. After years of advocacy & litigation, @EPA has issued a Clean Water Act veto to ensure the proposed Pebble Mine won't destroy the Bristol Bay watershed, an Alaskan treasure & home to the world's largest remaining salmon runs.\u201d

— Earthjustice (@Earthjustice) 1675175188
The decision is the outcome of a 2019 lawsuit filed by Earthjustice on behalf of tribal organizations and the advocacy group Earthworks, and follows "a fierce, decades-long battle waged by the people of Bristol Bay and so many others," said Earthjustice senior attorney Erin Colón.
"EPA today followed the law and science to establish enduring protections for the Bristol Bay watershed under the Clean Water Act," said Colón in a statement. "This is a major victory worth celebrating, but we cannot rest until even more permanent protections are in place. The Bristol Bay watershed is one of the world's great ecosystems, and the way of life and the abundant future it supports is worth the fight."
Advocates first challenged Pebble Limited Partnership's plan for the mine in 2010, when six tribes in the Bristol Bay area called on the EPA to protect the watershed, which is home to a 37.5 million salmon annually, supports a $2 billion commercial fishing industry, and has provided sustenance for Alaska Natives for generations.
The EPA restricted parts of the watershed from being used by the mining company in 2014, but the developers challenged those protections. In 2017, the agency withdrew them in a settlement with Pebble Limited Partnership.
The U.S. Army Corps of Engineers also denied a key permit for the project in 2020—a decision that is now under appeal by the company.
Dyani Chapman, state director for Alaska Environment Action, said the previous restrictions and Tuesday's determination are in line with what Alaska Natives and environmental advocates have known for decades: "The headwaters of Bristol Bay are, quite simply, a really bad place for a mine."

"The region is home to an incredible range of wildlife and remains healthy because it's been spared a lot of the harsher touches of industrialization," said Chapman. "Over the past 20 years, scientists, the local Indigenous communities, fishermen, and broader public have asked repeatedly for strong and permanent protections for Bristol Bay. This EPA determination is a long-awaited win for sockeye salmon and the entire Bristol Bay region."
Advocacy group SalmonState noted that with two out of three Alaskans opposing the Pebble Mine, the EPA's decision "may be the most popular thing the federal government has ever done for Alaska."
"Thousands of Alaskans and over a million Americans from across the political spectrum have called for protection of Bristol Bay's one-of-kind salmon resource from massive open pit mining and today, the EPA delivered," said executive director Tim Bristol. "This is a victory for every single person—from Bristol Bay's tribal citizens, commercial fisherman, sport anglers, business leaders, chefs, scientists, and so many more—who [has] spoken out over the years, and we thank the EPA and the Biden administration for this well-considered, heavily documented, overwhelmingly popular move."
While celebrating the EPA's determination, advocates said they will continue pushing for congressional protections for the Bristol Bay watershed and acknowledged that the Biden administration's decision could be overturned by a future president. Pebble Limited Partnership also said it will likely appeal the decision.
"Today is a great day for Bristol Bay, and one that many thought would never come," said Bristol Bay Native Corporation CEO Jason Metrokin. "While the immediate threat of Pebble is behind us, BBNC will continue working to protect Bristol Bay's salmon-based culture and economy and to create new economic opportunities across the region."
Verner Wilson, senior oceans campaigner at Friends of the Earth, called the action "a positive step forward" but expressed concern that "it doesn't go far enough."

"Given that Bristol Bay is the largest wild salmon fishery on the planet," said Wilson, "Congress and the state of Alaska must work together to protect it permanently."
News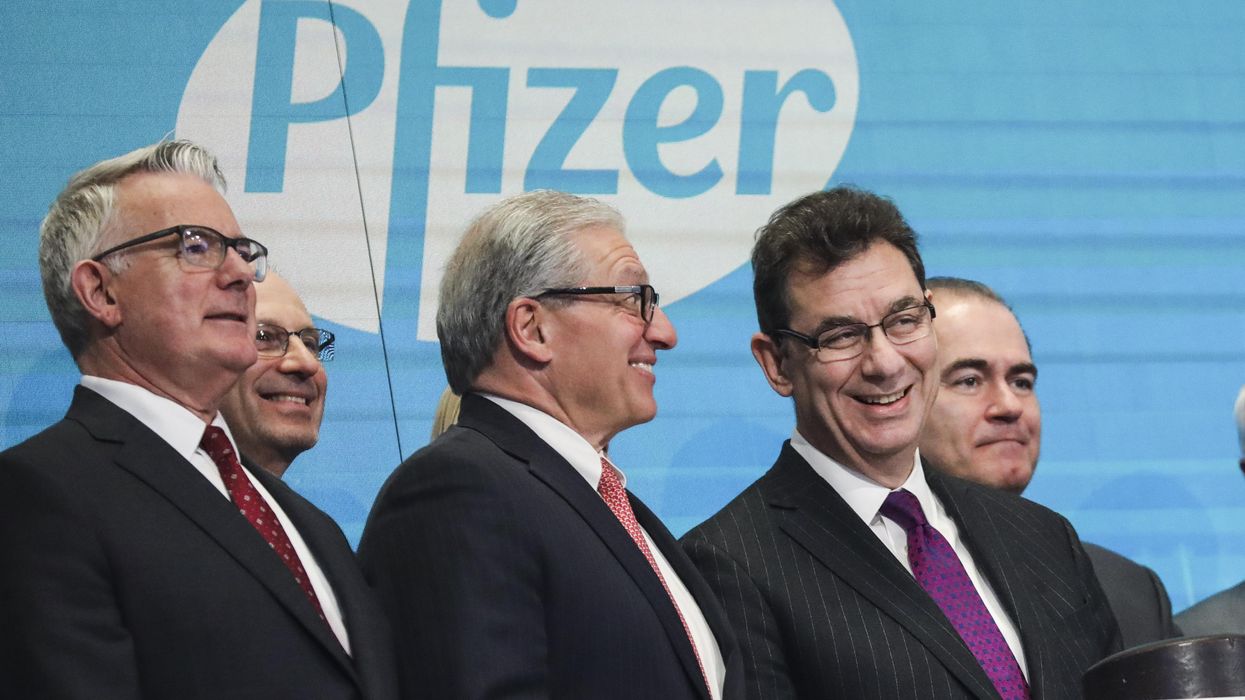 "Put simply, Pfizer has plundered health systems for profit," said the People's Vaccine Alliance.
The U.S.-based pharmaceutical giant Pfizer reported Tuesday that it brought in a record-breaking $100.3 billion in revenue in 2022 and $31.4 billion in profit, sums that campaigners decried as "sickening" in the face of an ongoing pandemic and persistent inequities in coronavirus vaccine access.
"In one year alone, Pfizer's revenue has exceeded the total health expenditures of more than 100 countries combined," Julia Kosgei, policy co-lead for the People's Vaccine Alliance, said in a statement. "If it were a country, Pfizer would sit in the wealthiest third of nation-states. And it has amassed this fortune while jacking up prices on Covid-19 vaccines amid a pandemic that has devastated people's livelihoods. Put simply, Pfizer has plundered health systems for profit."
Pfizer, led by CEO Albert Bourla, is the manufacturer of one of the two available mRNA vaccines for Covid-19, as well as the oral coronavirus treatment Paxlovid. The company reported $56 billion in sales of its Covid-19 vaccine and Paxlovid, though it said it expects sales to drop in the coming year as it moves to hike prices significantly on its vaccine—a plan that has drawn international alarm and outrage.
Globally, more than 2,600 people are dying from Covid-19 each day on average. According to Our World in Data, just over 26% of people in low-income nations have received at least one coronavirus vaccine dose as Pfizer and other pharmaceutical giants refuse to make their vaccine technology available to all—even though it was developed with the help of government funding and scientific advancements.
"Billions of people in developing countries still cannot access affordable Covid-19 medicines," said Kosgei. "Companies like Pfizer are gobbling up ever-greater proportions of health budgets and handing the spoils to wealthy shareholders—all while treating access for developing countries as little more than a PR initiative. We cannot go on like this."
The U.K.-based advocacy group Global Justice Now called Pfizer's record earnings report "sickening."
"With this latest 'all-time high' announcement, Pfizer now has revenues higher than the GDP of 133 countries, including 8 E.U. member states, and is the first pharma company ever to make $100 billion in a year," noted Tim Bierley, the group's pharma campaigner. "But not content with doubling its revenues with a pandemic windfall, they are now still moving to aggressively hike the price of Covid-19 booster doses, putting even more pressure on already struggling public health systems."
"Their latest record-breaking revenues are further proof that the company treated the pandemic as an opportunity to enrich its shareholders," Bierley added. "We can't allow Big Pharma companies to hold us to ransom in this way. We need the government to be bold and break with the monopoly patent model that fails people everywhere. It's time to put people's lives above corporate profit."
"A people-funded vaccine should be cheap and freely available."
Both Pfizer and Moderna have signaled plans to raise the prices of their vaccines to somewhere between $110 to $130 per dose in the U.S. as the Biden administration moves ahead with the commercialization of coronavirus inoculations, tests, and treatments—shifting costs onto patients and insurers and leaving the uninsured to shoulder significant payments.
The U.S. government has previously paid around $30 per dose for Pfizer's vaccine.

In recent days, the Biden administration has faced growing calls to use the federal government's ownership of key patents and other leverage to force Moderna and Pfizer to make their vaccines affordable and readily available to all who want them.
"The Biden administration should not allow Moderna to more than quadruple the price of the Covid vaccine to $130 when it costs just $2.85 to produce," Sen. Bernie Sanders (I-Vt.) tweeted on Sunday. "The Covid vaccine must be used to save lives, not to further enrich the billionaire owners of Moderna."
Moderna and Pfizer are also facing backlash from lawmakers overseas over their planned price increases.
In a letter to Bourla and Moderna CEO Stéphane Bancel on Tuesday, British MP Caroline Lucas of the Green Party and three other lawmakers wrote that with the National Health Service "already under significant pressure and the costs of medicines increasing year on year, we are extremely concerned about the multiple impacts of a possible price hike."
"Throughout its development, the Pfizer/BioNTech vaccine received huge amounts of public money and support internationally," the lawmakers wrote. "Even the mRNA technology that Pfizer/BioNTech employed in the Covid-19 vaccine is rooted in decades of publicly funded research. A people-funded vaccine should be cheap and freely available."

News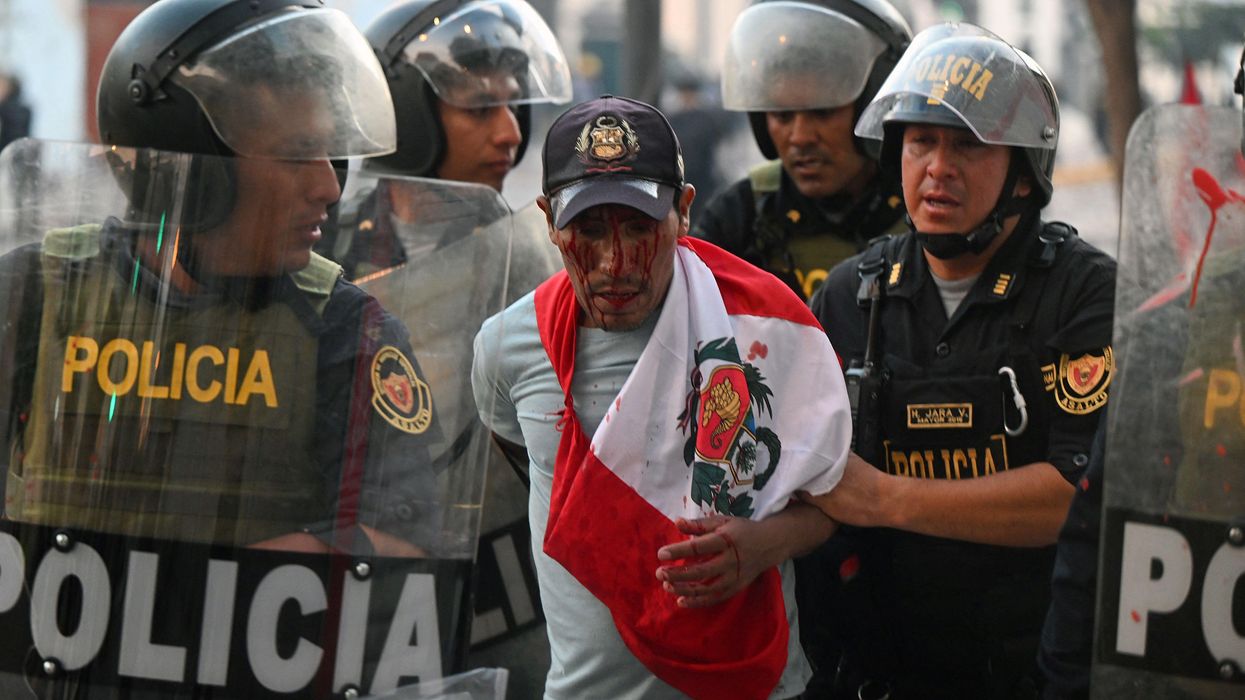 Peruvian security forces have met protests against unelected President Dina Boluarte with "indiscriminate violence," the U.S. lawmakers wrote.

Twenty House Democrats on Monday pressed the Biden administration to immediately halt the flow of security funding to the Peruvian government over its vicious crackdown on protests against unelected President Dina Boluarte, who rose to power following the arrest of leftist President Pedro Castillo last month.
Since Castillo's arrest and imprisonment—which drew vocal opposition from political leaders in the region—mass demonstrations have broken out and spread across Peru as largely low-income and Indigenous supporters of Castillo mobilize to demand his release, Boluarte's resignation, and sweeping constitutional reforms. Peru's security forces have swiftly and violently cracked down in an unsuccessful attempt to quell the uprising, killing more than 50 people and injuring hundreds more.
In a letter to U.S. President Joe Biden, a group of House Democrats led by Reps. Susan Wild (D-Pa.) and Chuy Garcia (D-Ill.) condemned the "indiscriminate violence" and "consistent use of excessive force" by Peruvian security forces and urged the administration to "publicly denounce these ongoing human rights violations."
The lawmakers also called on Biden to pause all security funding to Peru, which amounts to tens of millions of dollars annually. The House Democrats pointed with alarm to the U.S. ambassador to Peru's "recent meeting with the Peruvian minister of defense and announcement of $8 million in further U.S. funding for CORAH, a Peruvian government coca eradication program, which includes funding for forces involved in the egregious human rights violations that are currently taking place."
"We urge your administration to immediately suspend U.S. security assistance to Peru until the violent repression of protests ends and steps are taken by the country's authorities to investigate human rights crimes and prosecute those responsible," the lawmakers wrote.
\u201cThank you to @RepRaulGrijalva, @RepChuyGarcia, @JanSchakowsky and so many other colleagues for joining me in standing with the people of Peru. It is past time to demonstrate a dedication to human rights through actions, not just words.\nhttps://t.co/2joPwBZcBE\u201d

— Rep. Susan Wild (@Rep. Susan Wild) 1675120811
The letter came days after police killed a 55-year-old demonstrator in the Peruvian capital of Lima, where protests have swelled in recent days.
Boluarte, who has imposed curfews in several regions and curtailed civil liberties, is urging Peru's conservative-dominated Congress to approve a plan to hold new elections this year instead of in 2024 in an effort to end the demonstrations. Resisting pressure to resign, Boluarte—who served as vice president under Castillo—has pledged to stay on as president until new elections are held.
As Agence France-Presse reported Monday: "Boluarte said that if lawmakers refused to bring forward the vote, she would propose a constitutional reform so that a first round of elections would be held in October and a runoff in December. Demonstrators are calling for immediate elections, as well as Boluarte's removal, the dissolution of Congress, and a new constitution."
In their letter, the 20 House Democrats raised concern that the Biden administration has granted legitimacy and support to the Boluarte government as it rolls back basic freedoms and kills demonstrators.
Less than two weeks after Castillo's arrest, U.S. Secretary of State Antony Blinken held a call with Boluarte in which he said he "looks forward" to working with her "on shared goals and values related to democracy, human rights, security, anti-corruption, and economic prosperity."

The Democratic lawmakers also pointed to the Biden administration's expressed support for "peace on all sides," a message that the members of Congress called "ambiguous" in the face of massive human rights violations.
"The U.S. government can and must do more," the lawmakers wrote. "We believe our proposed actions would send a powerful signal in support of fundamental rights and help promote effective engagement for a political resolution."

News
SUPPORT OUR WORK.
We are independent, non-profit, advertising-free and 100%
reader supported.