For Immediate Release
December, 02 2008, 07:27pm EDT
Contact:
Isabel Macdonald
Communications Director
212 633 6700 x 310
Media Still Letting Bush Lie on Iraq Inspectors
ABC, Washington Post Fail to Challenge President's Misinformation
WASHINGTON
In a December 1 interview with ABC anchor Charles Gibson, George W. Bush
gave a grossly erroneous history of the run-up to the Iraq War--a false version
of events that Gibson failed to challenge and the Washington Postglossed over the following day.
When Gibson asked
if Bush wished he had any "do-overs," Bush
responded:
BUSH: I don't know--the biggest regret
of all the presidency has to have been the intelligence failure in Iraq. A lot of people put their
reputations on the line and said the weapons of mass
destruction is [sic] a reason to remove Saddam Hussein. It wasn't just
people in my administration; a lot of members in Congress, prior to my arrival
in Washington D.C., during the debate on Iraq, a lot of leaders of nations
around the world were all looking at the same intelligence. And, you know,
that's not a do-over, but I wish the intelligence had been different, I guess.
GIBSON: If the intelligence had been
right, would there have been an Iraq War?
BUSH: Yes, because Saddam Hussein was
unwilling to let the inspectors go in to determine whether or not the U.N.
resolutions were being upheld. In other words, if he had had weapons of mass
destruction, would there have been a war? Absolutely.
GIBSON: No, if you had known he didn't.
BUSH: Oh, I see what you're saying. You
know, that's an interesting question. That is a do-over that I can't do. It's
hard for me to speculate.
The Washington Post's write-up (12/1/08), praising Bush's "new candor,"
reported that he admitted to errors and regrets in several
key areas. He said he wished "the intelligence had been different" on
Iraq but declined to speculate on
whether he still would have decided to go to war. "That is a do-over that
I can't do," he said.
As Greg Sargent of Talking Points
Memo (12/2/08)noted: "For Bush to blame the failure of intel
for his decision to invade is not a
concession at all, and it is not an admission of failure on his
part.... It is an evasion of
responsibility for what happened."
But there was an
even more glaring distortion of history in Bush's statement: his claim that
Saddam Hussein prevented weapons inspectors from conducting searches in Iraq. In reality, the inspections were
a well-publicized process that attracted international news coverage and were
the subject of lengthy discussions at the United Nations.
This is not the
first time Bush has denied this history. As FAIR pointed out (7/18/03), in July 2003 Bush made a similar comment
("We gave him a chance to allow the
inspectors in, and he wouldn't let them in"), which the Post soft-pedaled by saying these words
"appeared to contradict the events leading up to war this spring."
And reporter Robert Parry (Consortium News,
12/2/08) noted after the ABC interview that Bush has made similar
declarations (1/27/04,
3/21/06,
5/24/07 )--none of which
generated much interest from the corporate media.
It is troubling that Gibson would not challenge Bush
on this fundamental misrepresentation of reality--and that the Post would let Bush's lie go unreported.
ACTION: Ask
ABC and the Washington Post to clarify--and
fact-check--Bush's statements on the prelude to the Iraq War.
ABC News
Charles Gibson
212-456-4040
charles.gibson@abc.com
Washington Post
Deborah Howell, Ombud
202-334-7582
ombudsman@washpost.com
Please
post any responses you receive from ABC or the Washington Post
on the FAIR Blog:
https://www.fair.org/blog/2008/12/02/responses-from-abc-or-wapo-on-bushs-iraq-inspectors-lie/
FAIR, the national media watch group, has been offering well-documented criticism of media bias and censorship since 1986. We work to invigorate the First Amendment by advocating for greater diversity in the press and by scrutinizing media practices that marginalize public interest, minority and dissenting viewpoints.
LATEST NEWS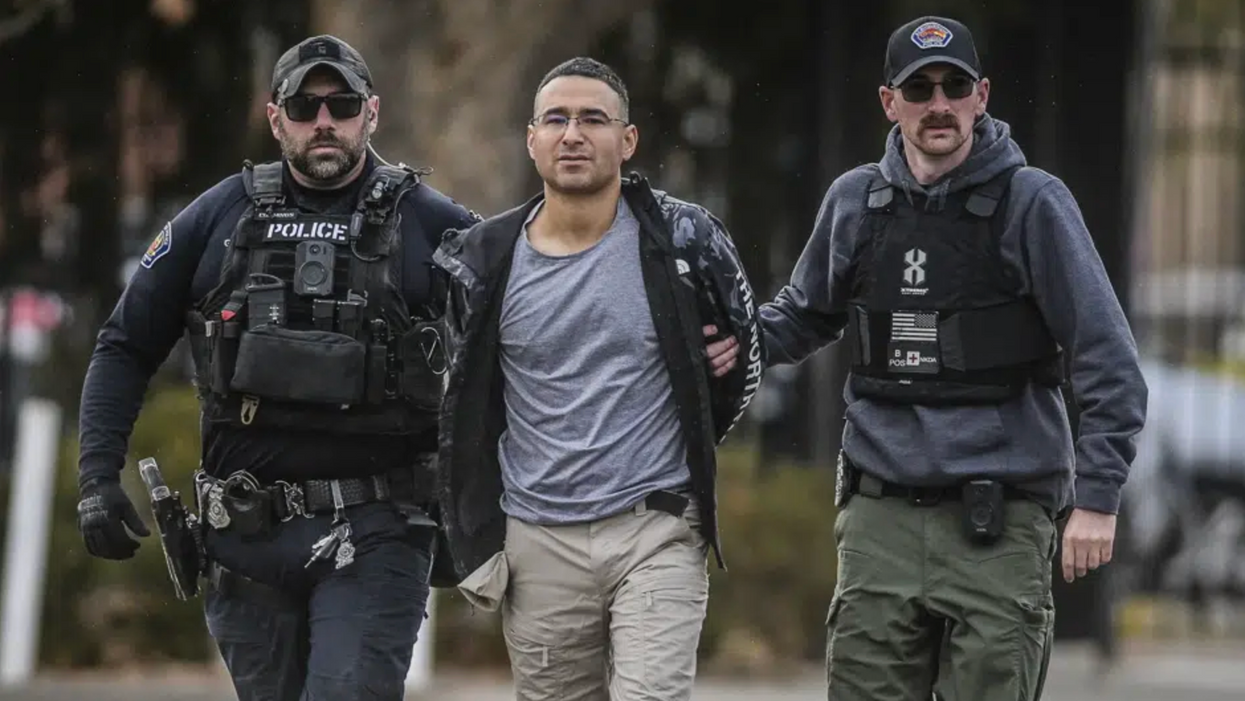 Republican Solomon Peña is suspected of hiring gunmen to help carry out drive-by shootings targeting the homes of Democratic lawmakers in the state.
Solomon Peña, a Republican former candidate for New Mexico's state House, was arrested by Albuquerque police on Monday in connection with a string of recent drive-by shootings targeting the homes of Democratic lawmakers.
Peña, who lost his November race by an overwhelming margin of 26% to 74%, is suspected of orchestrating the four shootings that began in early December. Local authorities accused Peña of hiring four men to help carry out the attacks, and Peña himself "pulled the trigger" in one of the shootings.
An outspoken supporter of former President Donald Trump, Peña "has made repeated claims that the election was rigged and appears to have attended the January 6, 2021 riot in Washington, D.C.," the Albuquerque Journalreported Monday.
"He also visited three of the targeted officials' homes unannounced in November complaining the election was fraudulent and should not be certified," the newspaper added.
The Democratic lawmakers targeted were Bernalillo County Commissioner Adriann Barboa, State House Speaker Javier Martinez, Bernalillo Commissioner Debbie O'Malley, and state Sen. Linda Lopez. No one was injured in the attacks but, as the Associated Pressreported, three bullets "passed through the bedroom" of the state senator's 10-year-old daughter.
At a press conference following Peña's arrest, which came after a standoff with police, Albuquerque Mayor Tim Keller (D) said that police "essentially discovered what we had all feared and what we had suspected—that these shootings were indeed politically motivated."
"They were dangerous attacks not only to these individuals," Keller added, "but, fundamentally, also to democracy."
\u201cThank you to our @ABQPOLICE officers and partners in law enforcement who worked tirelessly to make this arrest. \n\nThis radicalism is a threat to our city, our state, and our nation. We will continue to push back against hate in all forms and stop political violence.\u201d

— Mayor Tim Keller (@Mayor Tim Keller) 1673916021
New Mexico Gov. Michelle Lujan Grisham said in a statement that "there is no place in our society or our democracy for violence against any elected official or their families, and I trust the justice system will hold those responsible for such attacks to full and fair account."

NBC News reported Monday that "a key to the investigation, police said, was a traffic stop early January 3 of Peña's Nissan Maxima, driven by a man named Jose Trujillo, who was arrested based on a felony warrant."
The outlet continued:
The arrest triggered an "inventory search" of the vehicle, a sweep allowed under law in order to impound it safely, and authorities discovered more than 800 fentanyl pills in the center console, police said.

More crucial to the case were the two handguns found in the Nissan, one of which appeared to have fired shots outside the home of state Sen. Linda Lopez roughly 40 minutes before the traffic stop and 4 miles away, according to the latest police statement.

One of the guns matches the description of one police allege Peña took to one of the four shootings with plans to join in the gunfire, according to the statement. The gun malfunctioned, and he left the shooting to one of the men he hired, police alleged. "Another shooter fired more than a dozen rounds from a separate handgun," police said in their statement Monday night.
Speaking to reporters on Monday, Albuquerque police spokesperson Gilbert Gallegos said of Peña, "He was an election denier—he doesn't want to accept the results of his election."
News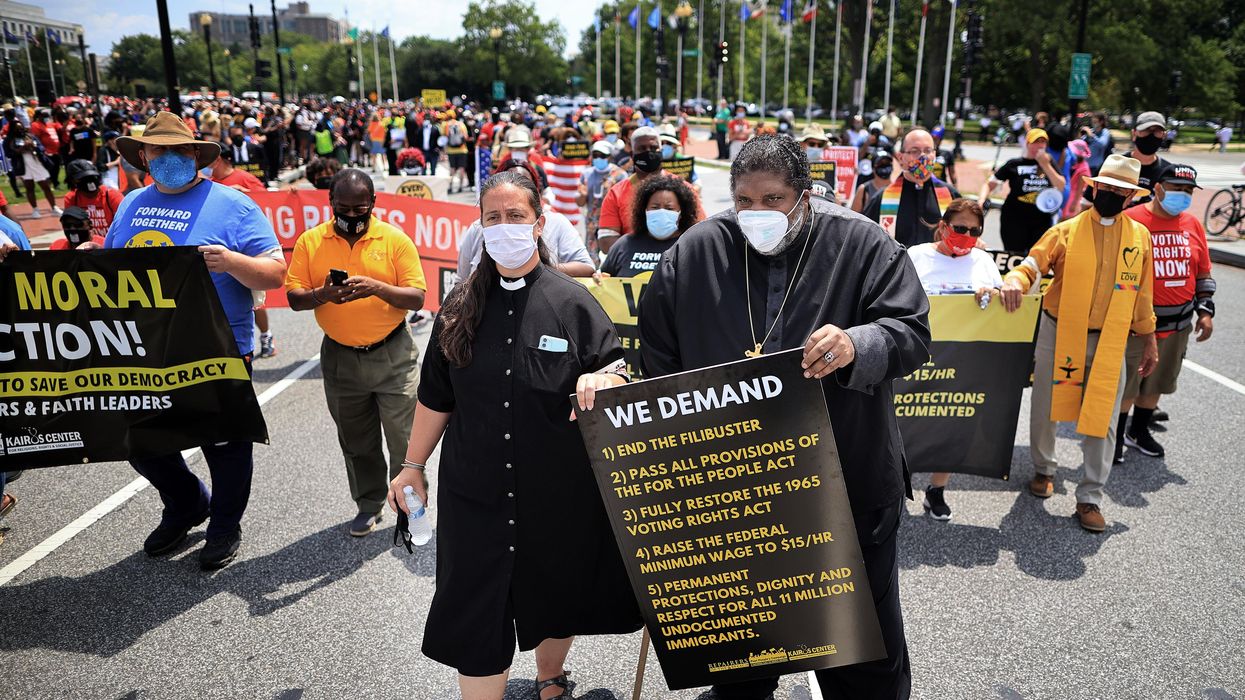 "Today and every day let's honor King as we end racism, poverty, ecological devastation, the denial of healthcare, militarism, and this false narrative of Christian nationalism," said Rev. Dr. Liz Theoharis.
To mark Dr. Martin Luther King Jr. Day on Monday, leaders of a modern iteration of the slain civil rights champion's final campaign called on U.S. politicians from both sides of the aisle—many of whose policies and actions are like those King condemned as the "evil triplets of racism, materialism, and militarism"—to step up and meet the needs of the country's poor and low-income people.
Poor People's Campaign: A National Call for Moral Revival released a video demanding the Biden administration and every member of Congress "meet with poor and low-wealth people, religious leaders, economists, lawyers, and public health specialists to address the systemic policy violence that threatens the soul of our nation."
"When prophets are killed or assassinated, our job is to pick up the baton and continue the work," campaign co-chair Rev. Dr. William J. Barber II said in the video. "Sadly, many will go to King events today and claim to honor the prophet. Elected officials on both sides of the aisle will go while even today, they are standing diametrically opposed to the things he fought for: addressing systemic poverty, addressing racism, ensuring voter protection, just immigration policy, just treatment of Indigenous people, healthcare for all, and dealing with the war economy and militarism."
As they do each year, officials—including Republican lawmakers who voted against an MLK Day holiday, the U.S. government King called "the greatest purveyor of violence in the world today," and its agencies like the FBI that tried to destroy King—all took to Twitter to sing his praises.
Poor People's Campaign Petition Congress to Truly Honor MLK Legacy | Press Conferencewww.youtube.com
Rev. Liz Theoharis, also a co-chair of the Poor People's Campaign, said in the video that "this Martin Luther King Day, we must continue a campaign for social, political, and economic rights, not simply commemorate a man. Today and every day let's honor King as we end racism, poverty, ecological devastation, the denial of healthcare, militarism, and this false narrative of Christian nationalism. Let us fight poverty, not people."
The video also includes messages from low-income Americans and advocates calling for healthcare, living wages, "and more so everyone can thrive."
"I live in North Carolina. I work 60 hours a week and more and I still don't make enough money to live comfortably," Matthew Byars said in the video. "I'm chasing the American Dream, but I'm living the American nightmare. Raise the minimum wage. Impacted people matter too."
King, along with the Southern Christian Leadership Conference, launched the original Poor People's Campaign in December 1967, months before he was assassinated in Memphis while supporting a strike by Black sanitation workers. King said the movement's demands were $30 billion for anti-poverty programs, full employment for all, a guaranteed universal income, and the annual construction of 500,000 affordable homes.
SCLC president Ralph Abernathy led the campaign after King's murder, and in May 1968—just weeks after King's murder—his widow, Coretta Scott King, led demonstrators in a two-week protest in Washington, D.C., where participants demanded an Economic Bill of Rights.
Camp life in Resurrection City 1968www.youtube.com
Thousands of poor people camped on the National Mall in a community called Resurrection City, which stood for six weeks—including on the day when Sen. Robert F. Kennedy (D-N.Y.) was assassinated on June 5—until police violently destroyed it and evicted the protesters.
News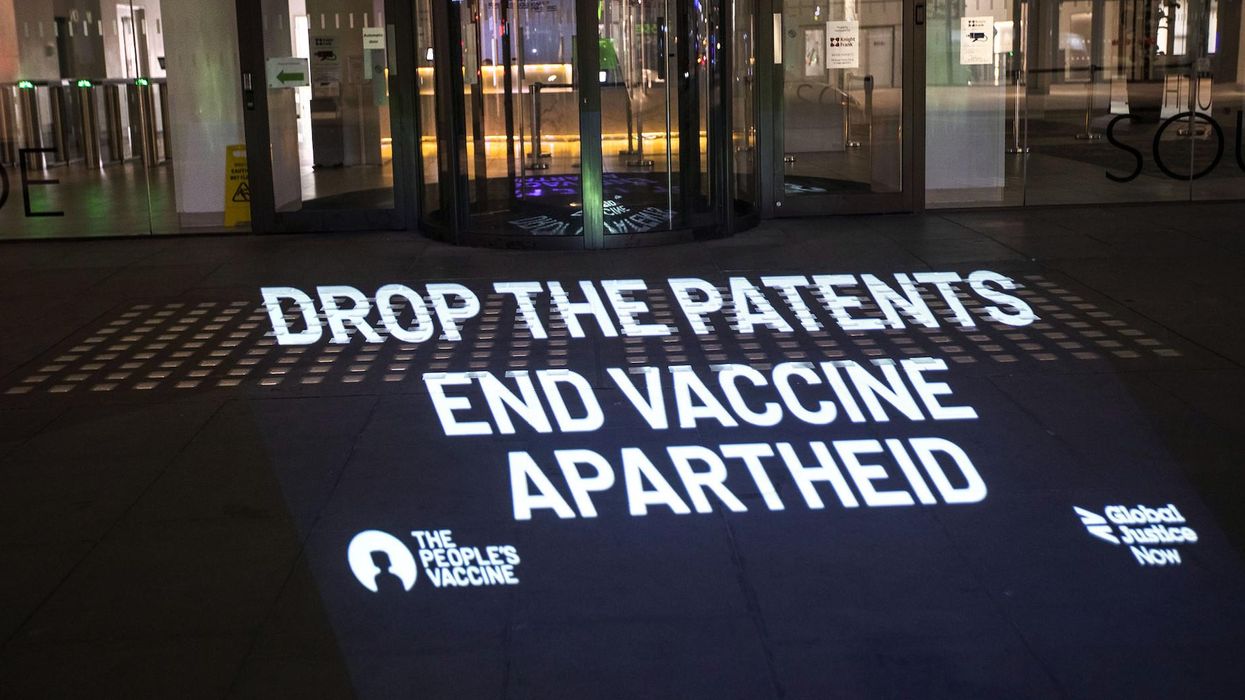 "At a time when online mobilizations were one of the few forms of protest available to the public, Twitter was seemingly asked to shield the powerful from criticism," said one campaigner. "That should worry all those who care about accountability."
Drugmaker BioNTech and the German government pushed Twitter to "hide" posts by activists calling on Big Pharma to temporarily lift patents on Covid-19 vaccines—a move which would have given people the Global South greater access to the lifesaving inoculations, a report published Monday by The Intercept revealed.
Twitter lobbyist Nina Morschhaeuser "flagged the corporate accounts of Pfizer, BioNTech, Moderna, and AstraZeneca for her colleagues to monitor and shield from activists," according to The Intercept's Lee Fang. An email from Morschhaeuser said the German Federal Office for Information Security also contacted Twitter on behalf of BioNTech, whose spokesperson, Jasmina Alatovic, asked the social media giant to "hide" activist tweets targeting her company's account for two days.
Morschhaeuser, meanwhile, requested that colleagues track the hashtags #PeoplesVaccine—a movement for the temporary lifting of patent protections—and #JoinCTAP, a reference to the World Health Organization's Covid-19 Technology Access Pool. Morschhaeuser further warned that the advocacy group Global Justice Now shared an online signup form for a December 2020 People's Vaccine Day of Action.
"The allegations in this article suggest that government and industry tried to silence legitimate criticism during a crisis," Maaza Seyoum, Global South convener at the People's Vaccine Alliance, said in a statement Monday. "At a time when online mobilizations were one of the few forms of protest available to the public, Twitter was seemingly asked to shield the powerful from criticism. That should worry all those who care about accountability."
\u201c\ud83d\udce2 REACTION: German government and @BioNTech_Group asked Twitter to censor vaccine equity critics.\n\nNew #TwitterFiles piece by @lhfang shows how they worked to silence activists demanding a #PeoplesVaccine\n\nRead our reaction: https://t.co/VyaSBIbWnS\n\n1/\u201d

— The People's Vaccine (@The People's Vaccine) 1673889107
Global Justice Now director Nick Dearden also noted the troubling timing of BioNTech's censorship request during a period of global pandemic lockdowns.
"To try and stifle digital dissent during a pandemic, when tweets and emails are some of the only forms of protest available to those locked in their homes, is deeply sinister," he told The Intercept.
Fang writes:
It is not clear to what extent Twitter took any action on BioNTech's request. In response to Morschhaeuser's inquiry, several Twitter officials chimed in, debating what action could or could not be taken. Su Fern Teo, a member of the company's safety team, noted that a quick scan of the activist campaign showed nothing that violated the company's terms of service, and asked for more examples to "get a better sense of the content that may violate our policies."
But it shows the extent to which pharmaceutical giants engaged in a global lobbying blitz to ensure corporate dominance over the medical products that became central to combating the pandemic. Ultimately, the campaign to share Covid vaccine recipes around the world failed.
While U.S. President Joe Biden in 2021 heeded activists' calls and joined most of the Global South in backing a Trade-Related Aspects of Intellectual Property Rights (TRIPS) waiver at the World Trade Organization, most rich nations—including Germany—oppose the policy and have, along with Big Pharma, fought to thwart it.

"If the German government wants to show that it is now willing to side with public health over private profit, it must change its approach to pandemic response," Seyoum asserted. "That means backing efforts at the World Trade Organization to improve access to generic Covid-19 medicines and treatments, supporting the World Health Organization's mRNA Hub in South Africa, and standing up to corporate interests in negotiations over a Pandemic Treaty."
News
SUPPORT OUR WORK.
We are independent, non-profit, advertising-free and 100%
reader supported.