Glenn Greenwald
Glenn Greenwald is a Pulitzer Prize-winning journalist, constitutional lawyer, commentator, author of three New York Times best-selling books on politics and law, and a former staff writer and editor at First Look media. His fifth and latest book is, "No Place to Hide: Edward Snowden, the NSA, and the U.S. Surveillance State," about the U.S. surveillance state and his experiences reporting on the Snowden documents around the world. Glenn's column was featured at Guardian US and Salon. His previous books include: "With Liberty and Justice for Some: How the Law Is Used to Destroy Equality and Protect the Powerful," "Great American Hypocrites: Toppling the Big Myths of Republican Politics," and "A Tragic Legacy: How a Good vs. Evil Mentality Destroyed the Bush Presidency." He is the recipient of the first annual I.F. Stone Award for Independent Journalism, a George Polk Award, and was on The Guardian team that won the Pulitzer Prize for public interest journalism in 2014.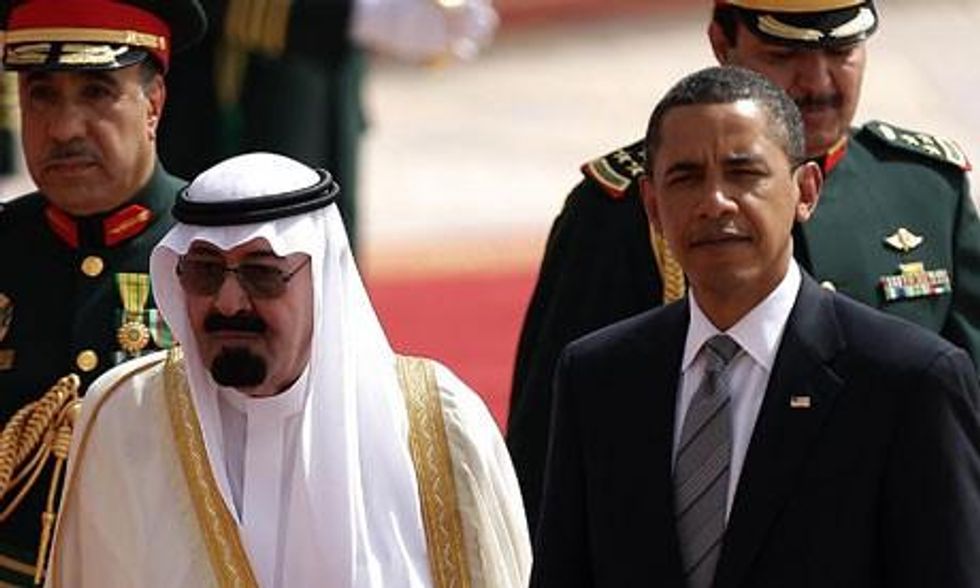 The most significant problem in political discourse is not that people embrace destructive beliefs after issues are rationally debated. It's that the potency of propaganda, by design, often precludes such debates from taking place. Consider how often one hears the claim that the US is committed to spreading democracy and opposing tyranny in the Middle East in light of this fact from a New York Review of Books article by Hugh Eakin reviewing three new books on Saudi Arabia (via As'ad AbuKhalil):
"The US does more trade - overwhelmingly in oil and weapons - with Saudi Arabia than any other country in the Middle East, including Israel, and depends on close Saudi cooperation in its counterterrorism efforts in Yemen."
Indeed, President Obama has repeatedly touted what he calls "the strong partnership between the United States and Saudi Arabia" and "the importance of our bilateral relationship" and often vows "to continue cooperating closely on a range of issues".
In other words, the single most repressive regime in that region is also America's closest ally. Eakin also notes that while Saudi leaders have exploited the rhetoric of the Arab Spring to undermine leaders its dislikes (primarily in Syria and Iran), its only direct action was to send its troops into Bahrain "to stave off a popular revolt and prop up the Bahraini monarchy" and use "its influence in the Gulf Cooperation Council, the alliance of autocratic Persian Gulf states, to pull together support for the beleaguered royal houses of Morocco and Jordan." About all of this Saudi bolstering of tyranny, Eakin says: "The White House has remained silent."
Actually, that's not quite accurate. The US has been there every step of the way with its close Saudi allies in strengthening these same tyrannies. As the Bahraini regime has systematically killed, tortured, and imprisoned its own citizens for the crime of demanding democracy, the Obama administration has repeatedly armed it and trumpeted the regime as "a vital US partner in defense initiatives" and "a Major Non-NATO Ally". The US continues to be a close partner of the Yemeni dictator ("elected" as the only candidate allowed on the ballot). And it stands as steadfastly as ever behind the Gulf State monarchies of Jordan, Kuwait and Qatar as, to varying degrees, they repress democratic movements and imprison dissidents.
There is, of course, a long-standing debate about whether there's anything wrong with the US supporting and allying itself with repressive regimes. A popular strain of foreign policy thought has long held that the US should be guided primarily by self-interest rather than human rights concerns: hence, since the US wants its Fifth Fleet to remain in Bahrain and believes (with good reason) that these dictators will serve US interests far better than if popular will in these countries prevails, it is right to prop up these autocrats.
That's all well and good, but then there should be nobody willing to believe US political leaders when they claim that they are engaging in military action or otherwise interfering in other parts of the world in order to subvert despotism and spread democracy. When President Obama stands up and says - as he did when he addressed the nation in February 2011 about Libya - that "the United States will continue to stand up for freedom, stand up for justice, and stand up for the dignity of all people", it should trigger nothing but a scornful fit of laughter, not credulous support (by the way, not that anyone much cares any more, but here's what is happening after the Grand Success of the Libya Intervention: "Tribal and historical loyalties still run deep in Libya, which is struggling to maintain central government control in a country where armed militia wield real power and meaningful systems of law and justice are lacking after the crumbling of Gaddafi's eccentric personal rule").
The US is not committed to spreading democracy and freedom in the US. "Freedom" and "democracy" are concepts it exploits to undermine regimes that refuse to serve its interests. Indeed, there is virtually an inverse relationship between how democratic a country is in the Muslim world and how closely allied the US is to it.
Yes, all of this is obvious and not novel to point out. Still, it needs to be pointed out because of how often the US government succeeds in leading people to believe that these are its goals. It's just extraordinary that so many people are willing to believe and advocate that the US ever acts in the world with the goal of undermining tyranny when "the US does more trade - overwhelmingly in oil and weapons - with Saudi Arabia than any other country in the Middle East". That this blatant sham is so widely accepted is a testament to the potency of propaganda, bolstered by the willingness of people to embrace self-flattering claims.
We've had enough. The 1% own and operate the corporate media. They are doing everything they can to defend the status quo, squash dissent and protect the wealthy and the powerful. The Common Dreams media model is different. We cover the news that matters to the 99%. Our mission? To inform. To inspire. To ignite change for the common good. How? Nonprofit. Independent. Reader-supported. Free to read. Free to republish. Free to share. With no advertising. No paywalls. No selling of your data. Thousands of small donations fund our newsroom and allow us to continue publishing. Can you chip in? We can't do it without you. Thank you.